Doing interior design for a larger home has its pros and cons. On one hand, you have lots of space to unleash your creativity and personal style. But at the same time, more floor area means more spaces that need to have a consistent look throughout.
That's why, if you have a larger home, it's recommended to hire the services of an interior design firm in Malaysia. A professional interior designer will help you achieve a cohesive look, even in areas such as the backyard, balconies and staircase. They will ensure that every single part of your home stays in sync with a common design theme while filling your entire home with creative and practical details.
Ready to elevate your interiors to new heights? Here are some of our favourite, luxurious bungalow and semi-d interior designs from our interior design professionals on Recommend.my.
Create the home you've always wanted
With so much space in your house, you need the right creative designers to turn it into a truly luxurious and sophisticated home. But, it can be a challenge to find the right interior designers who will "click" with you and work to realise your vision. Recommend.my can help you find a trusted and reliable interior designer in Malaysia to turn your dreams into reality. Let us know your style and budget, and we will notify our most suitable interior designers to get back to you and arrange an appointment.
3-Storey House Interior Design in Jade Hills, Kajang
Nestled within the lush acres of the community jade hills in Kajang, this luxurious 3-storey home spans across its 6700 sq ft interiors hosting 7 bedrooms, 2 living rooms plus an extensive music room that houses a family with grown-up children. Designed in neutral colours and a calming palette of light natural timbers, lacquered panels with elegant taupe tinted glass to maximise functionality without compromising on sophisticated styling.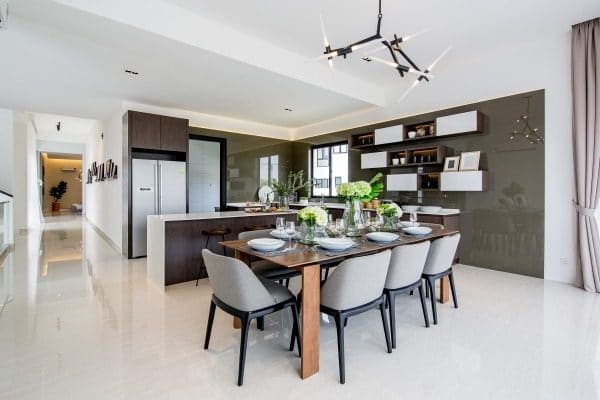 The spacious dining area provides plenty of space for the family to entertain guests or have intimate family gatherings amidst ample natural lighting.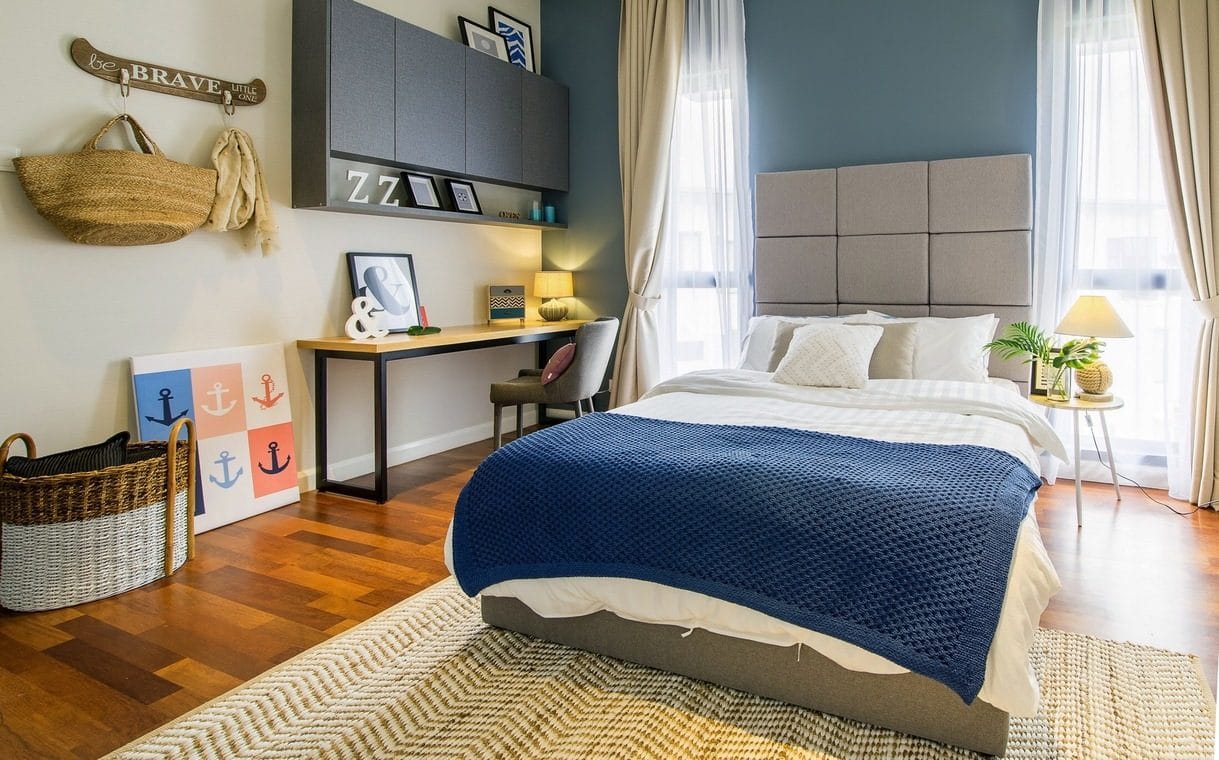 This eclectic navy bedroom decor creates a dynamic interior to add contrasting textures and colours for some posh navy sophistication.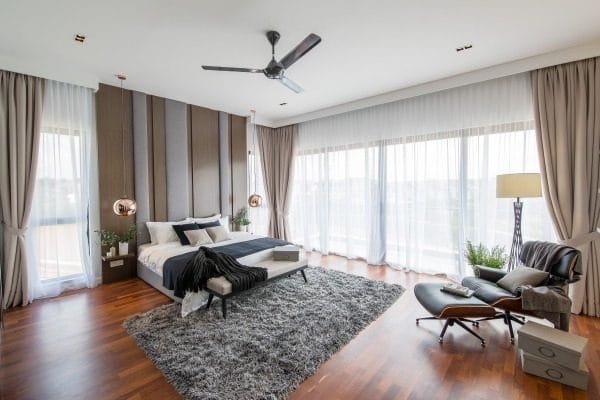 Dark wooden floors, full-height wall sheers and leather ottoman create superb aesthetics for this luxury bedroom interior. Project by: MIL Design and Construction
Semi-D Interior Design in Kota Kemuning
This newly completed 2-storey semi-D home is infused with light and airy home features to offer space and functionality to meet the needs of a growing family. Inspired by contemporary rustic characteristics using natural walnut timber cabinets and linen white walls to allow the home to exude a homely yet sophisticated ambience. Featuring plenty of built-ins to enhance functionality and aesthetics, this 3400 sqft home boasts the epitome of a luxury home.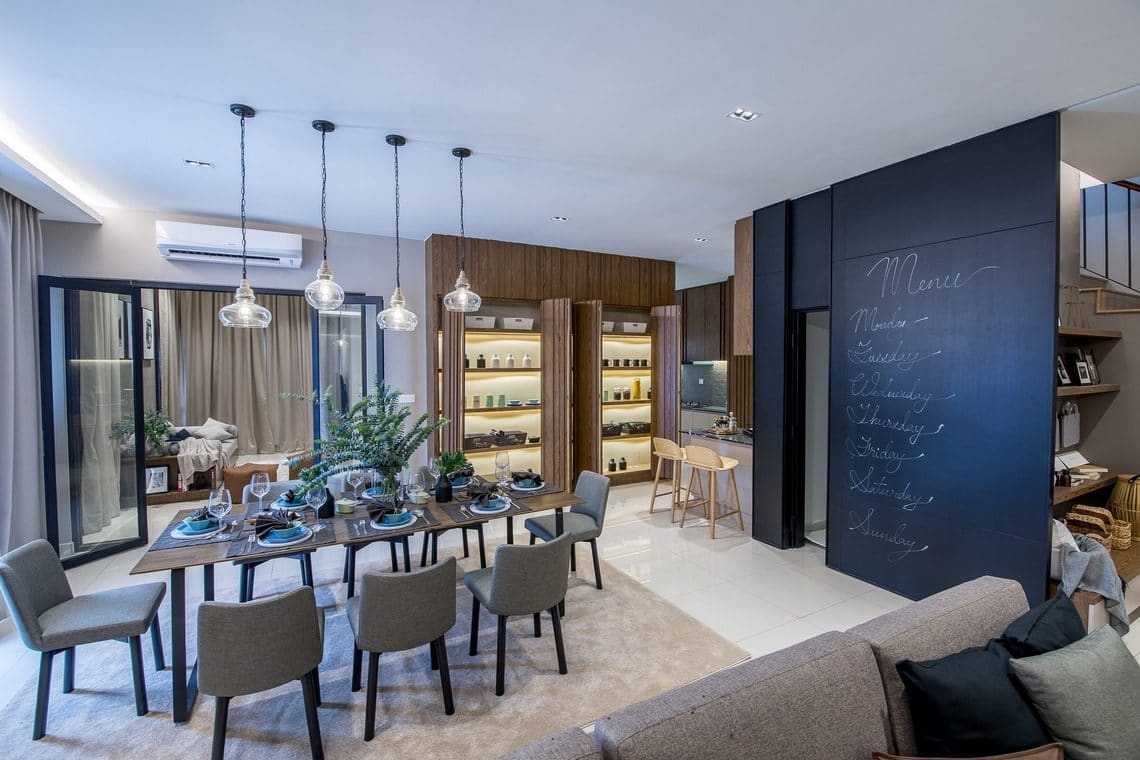 Sophisticated chalkboard paint provides ample space for creativity, transforming the overall appearance of the dining area at a glance.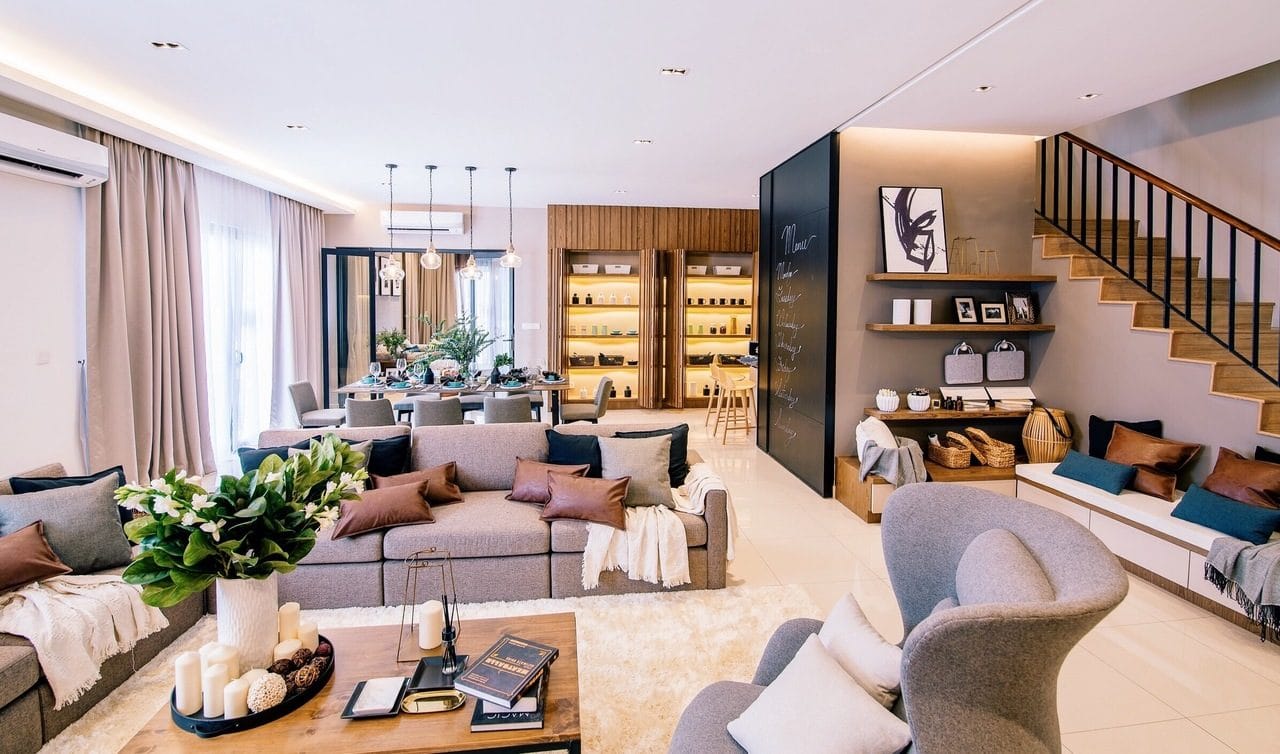 Bright ambient lighting gets paired with tasteful, distinctive furniture to craft a classic and timeless contemporary interior.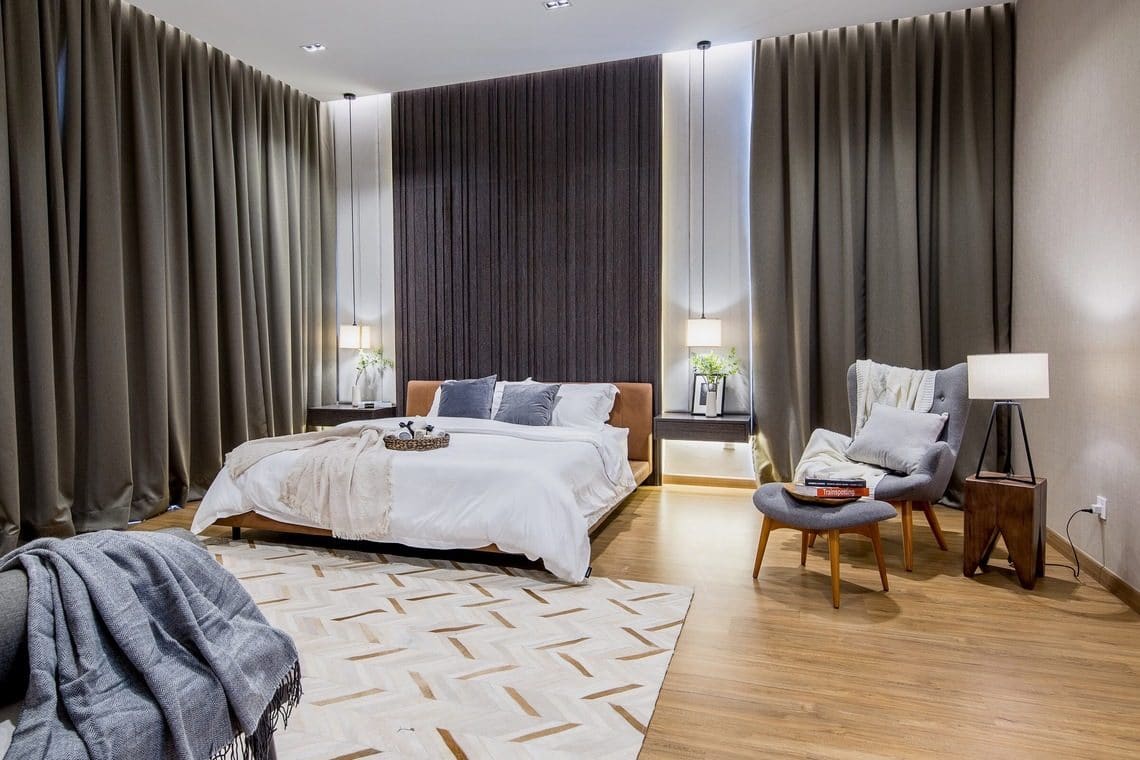 The gorgeous bedroom brims with luxurious decor as floor-to-ceiling drapes create an illusion of an open, wide space to unwind and relax. Project: MIL Design and Construction
Modern Bungalow Interior Design in Twin Palms Sungai Long, Selangor
Space and light are the high points of this 5000 sq ft living room in this 5-bedroom and 6-bedroom modern-styled home plan with contemporary touches. Tall glass windows and pendant lights enhance the effect of the high ceiling, creating an immediate sense of space, air and light.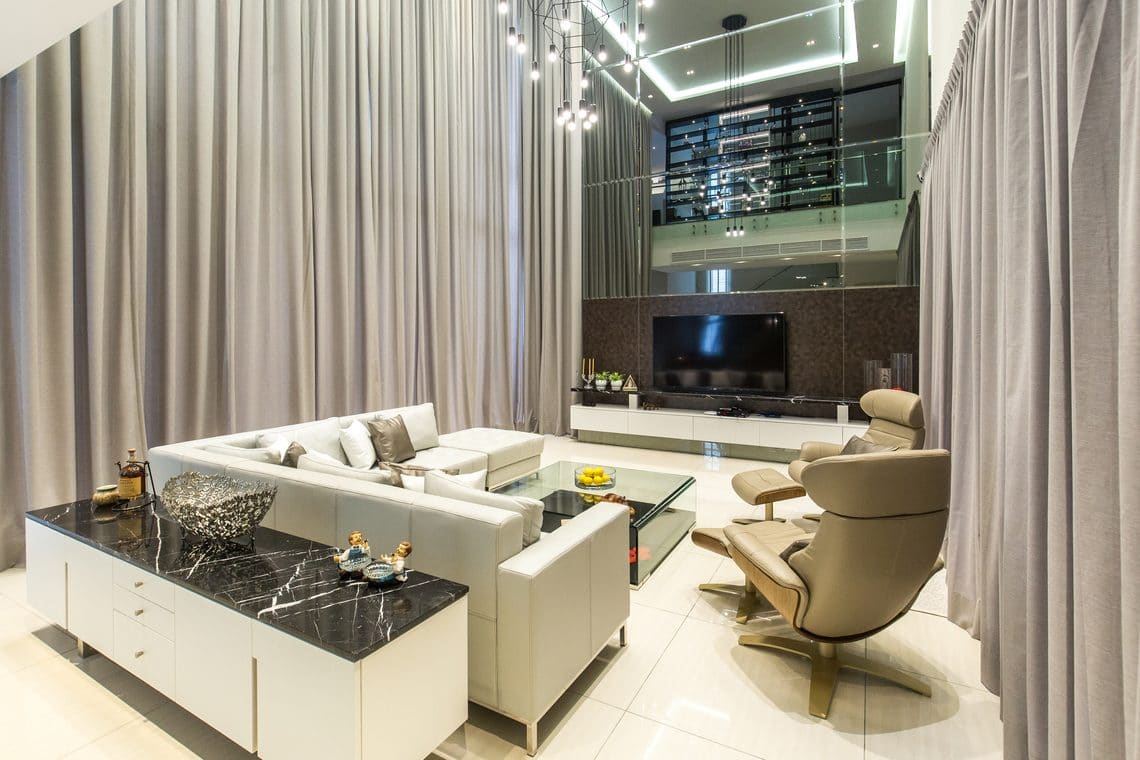 Reflective mirrors and floor-to-ceiling curtains express an exuberant interior to reflect an expansive floor plan.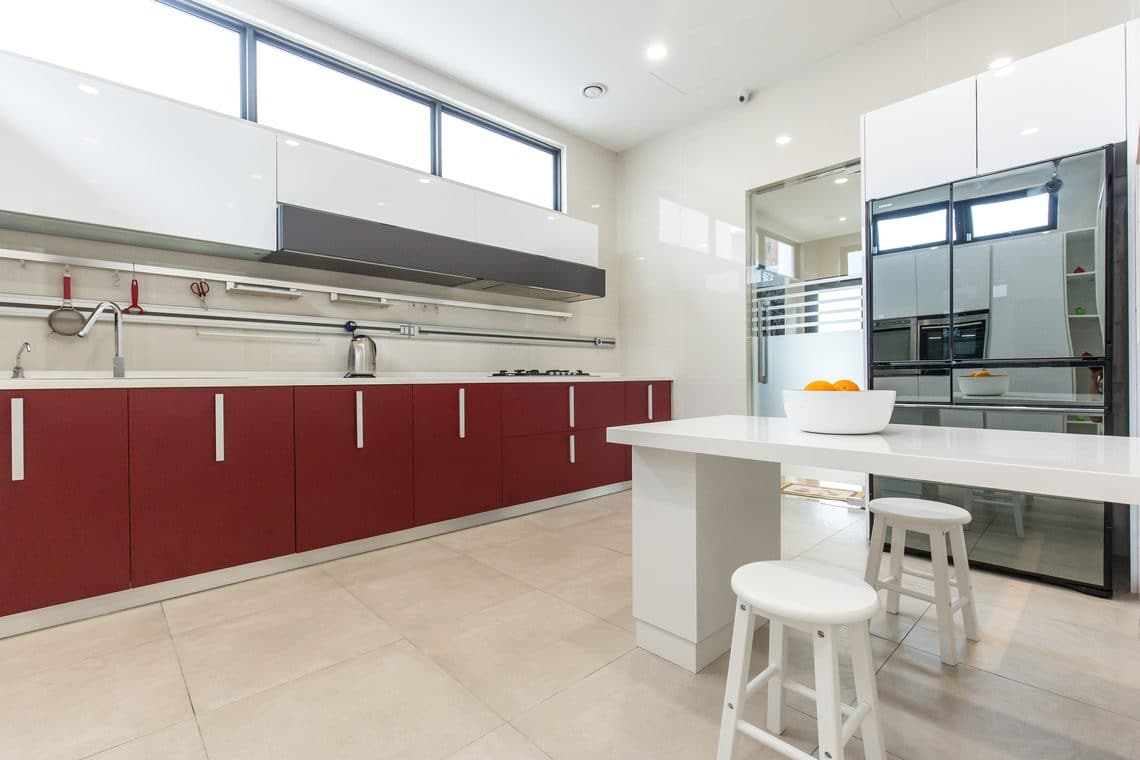 Above: Spacious kitchen interiors are complemented by bold and attractive red kitchen cabinets to add a dash of colour into an otherwise colour-neutral space.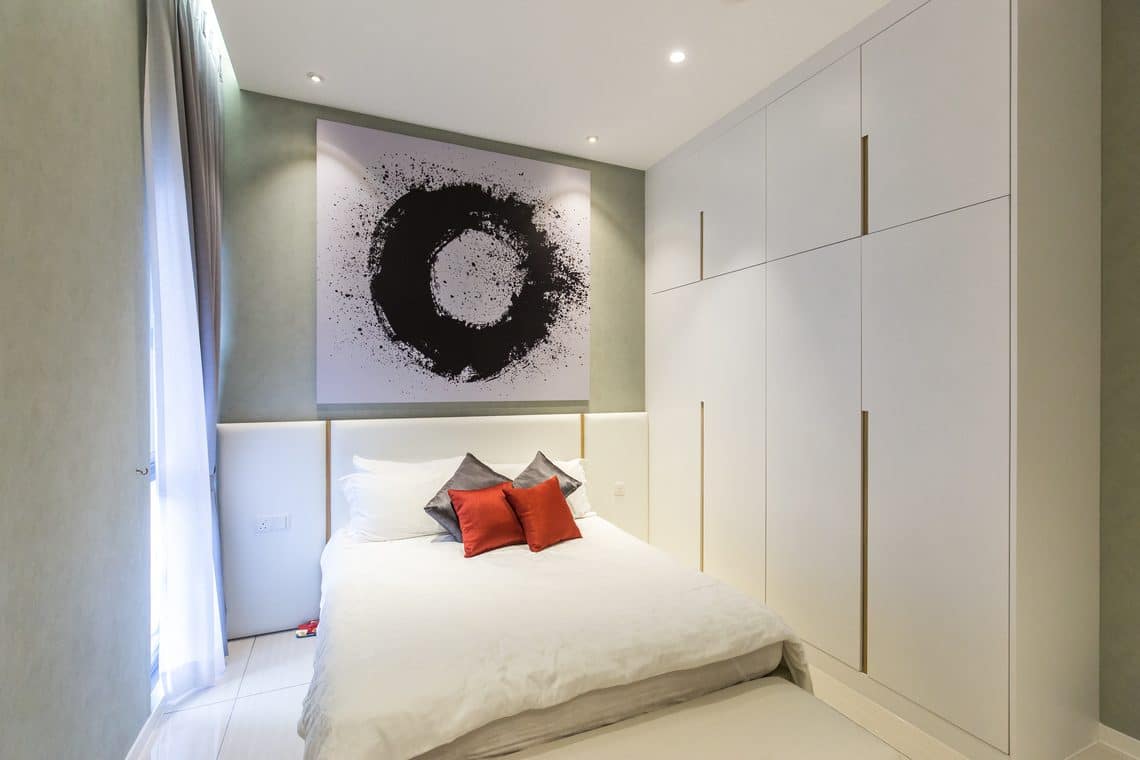 This all-white bedroom interior includes a splash of colour to create a tranquil atmosphere.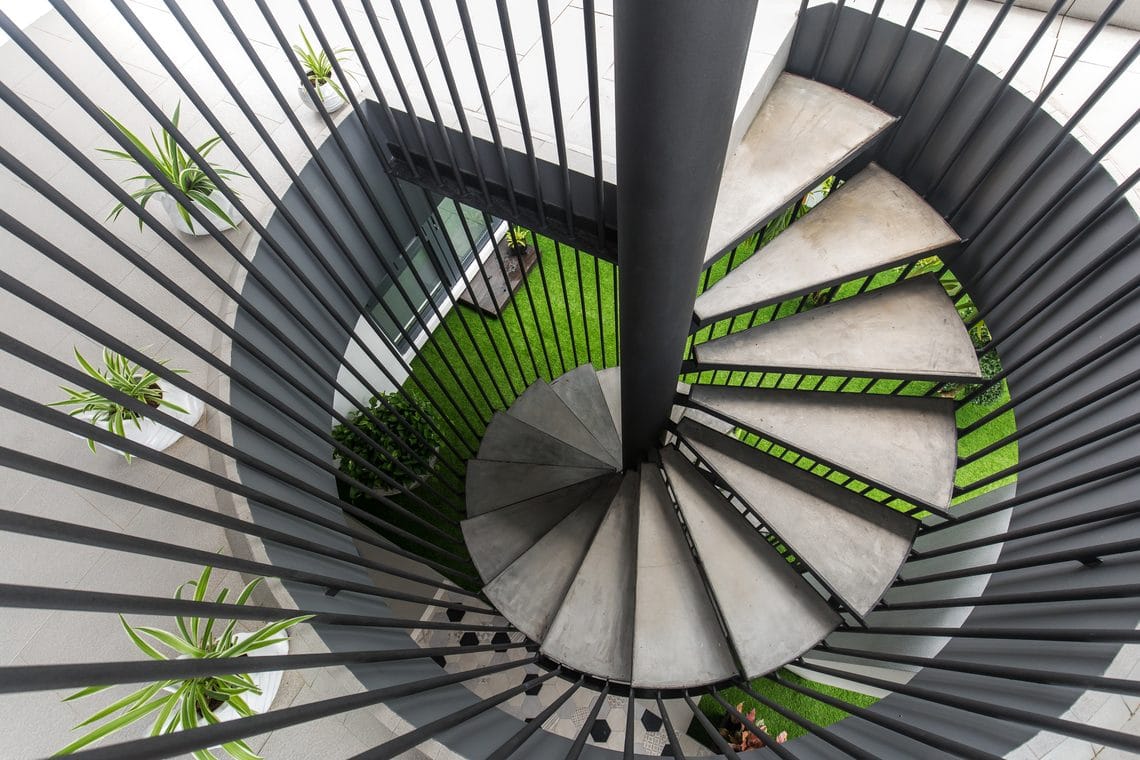 Helical stairs create a glamorous outdoor centrepiece for this home. Project: Klaas Design and Build
Bungalow Interior Design at Taman Tar, Ampang
The aesthetic of this 7000 sq ft home oozes with timeless appeal thanks to its classic architectural pieces and modern design throughout this 5-bedroom, 6-bathroom home. Featuring a country-inspired interior that utilises plenty of high-end wooden elements within, this spacious home provides an earthy atmosphere for a dynamic and soothing place to call home.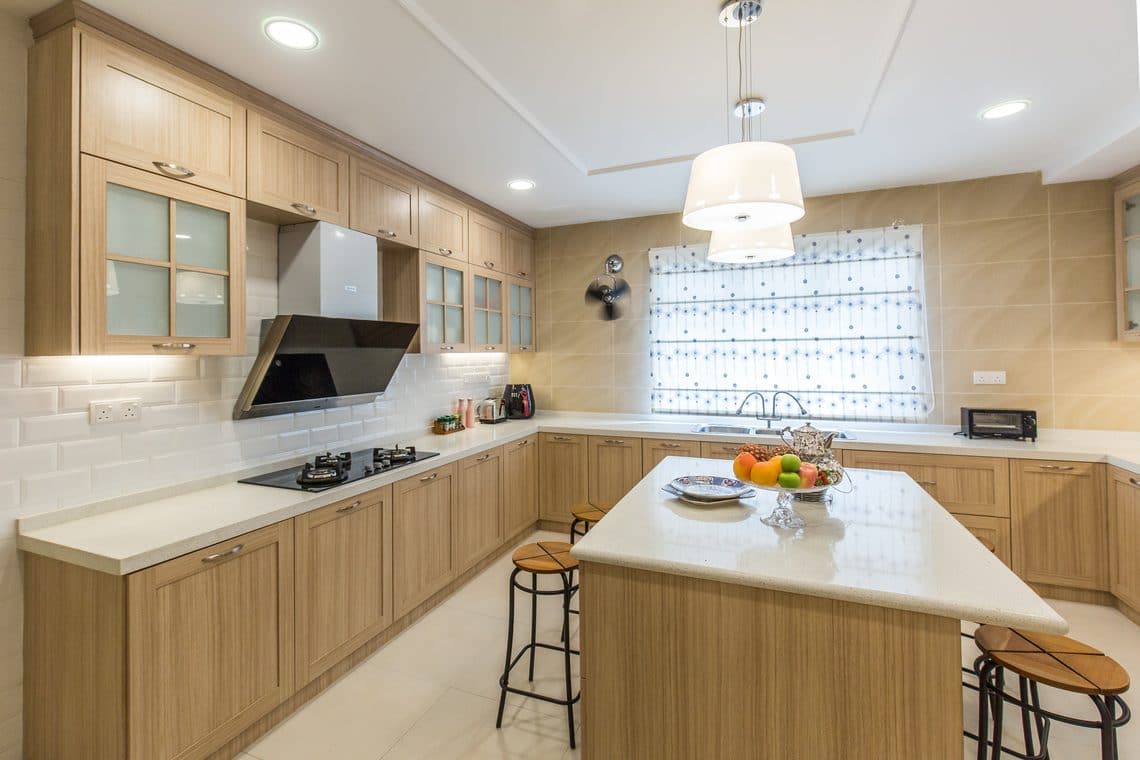 Sleek walnut cabinets create the ideal atmosphere for family dinners or hosting guests.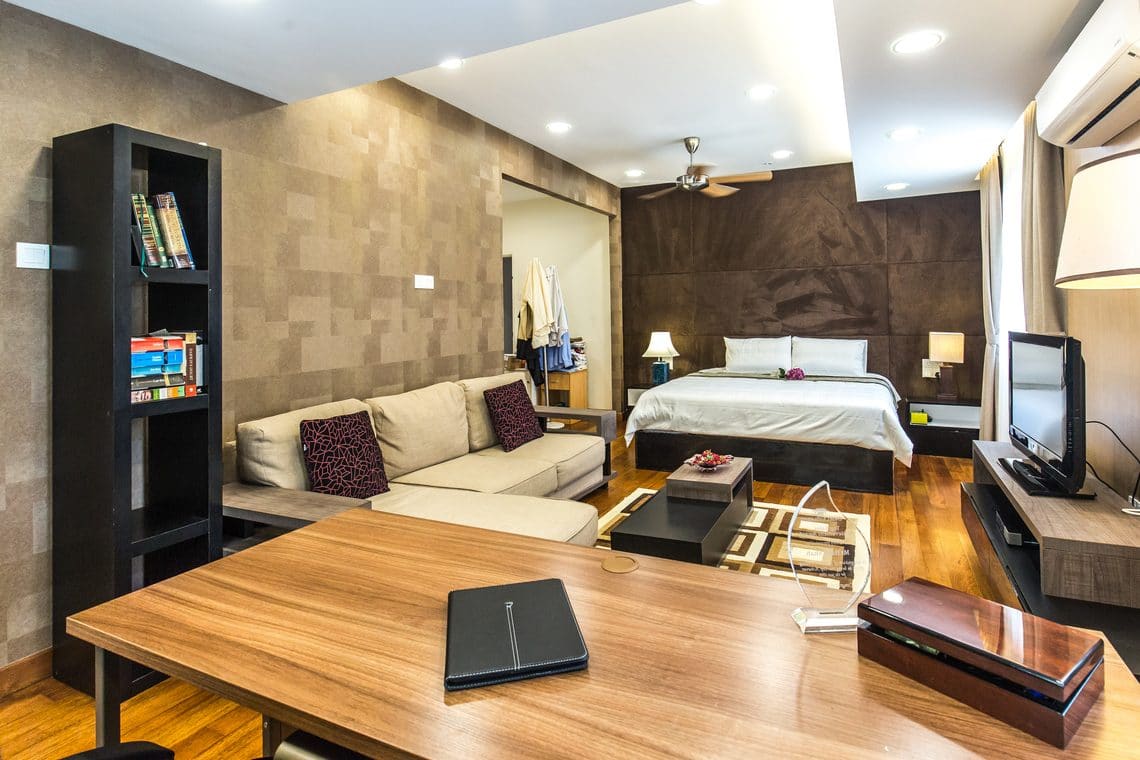 The spacious bedroom uses oak furniture to nurture a long-lasting and aesthetically satisfying interior to lounge and relax.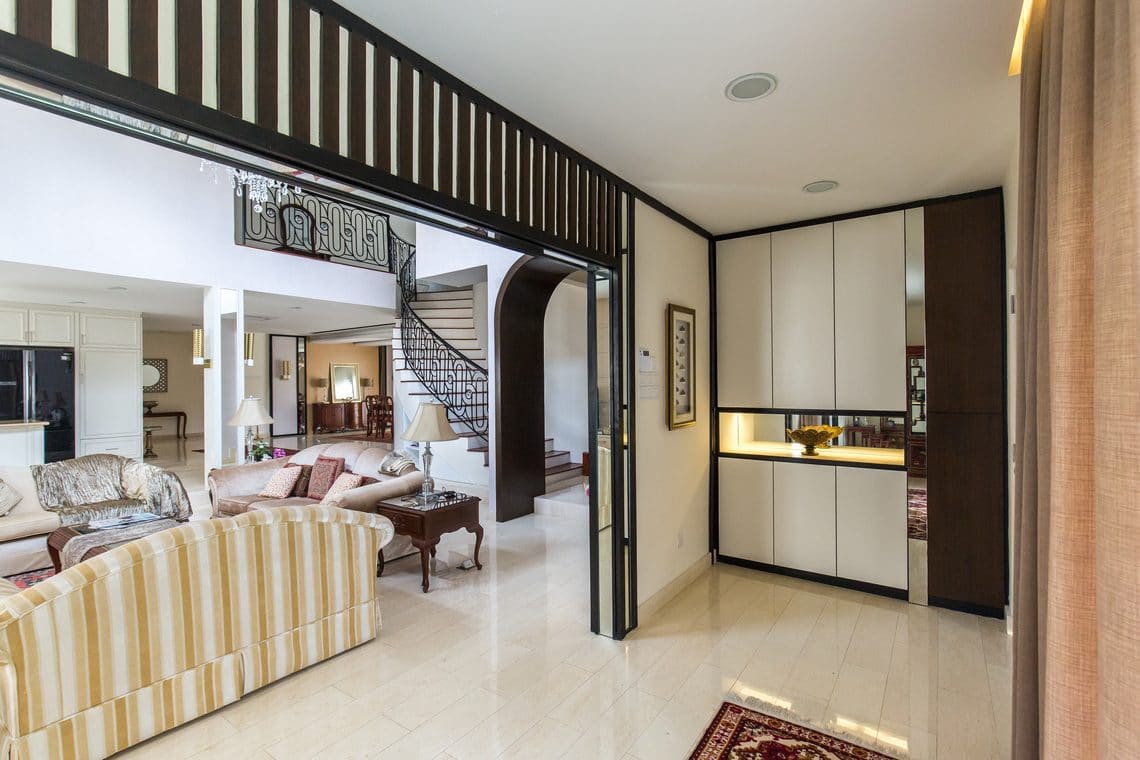 Stunning retro-inspired stair panels harmonise with neutral blacks-and-whites followed by a striped yellow settee to add a streak of colour into the living sanctuary.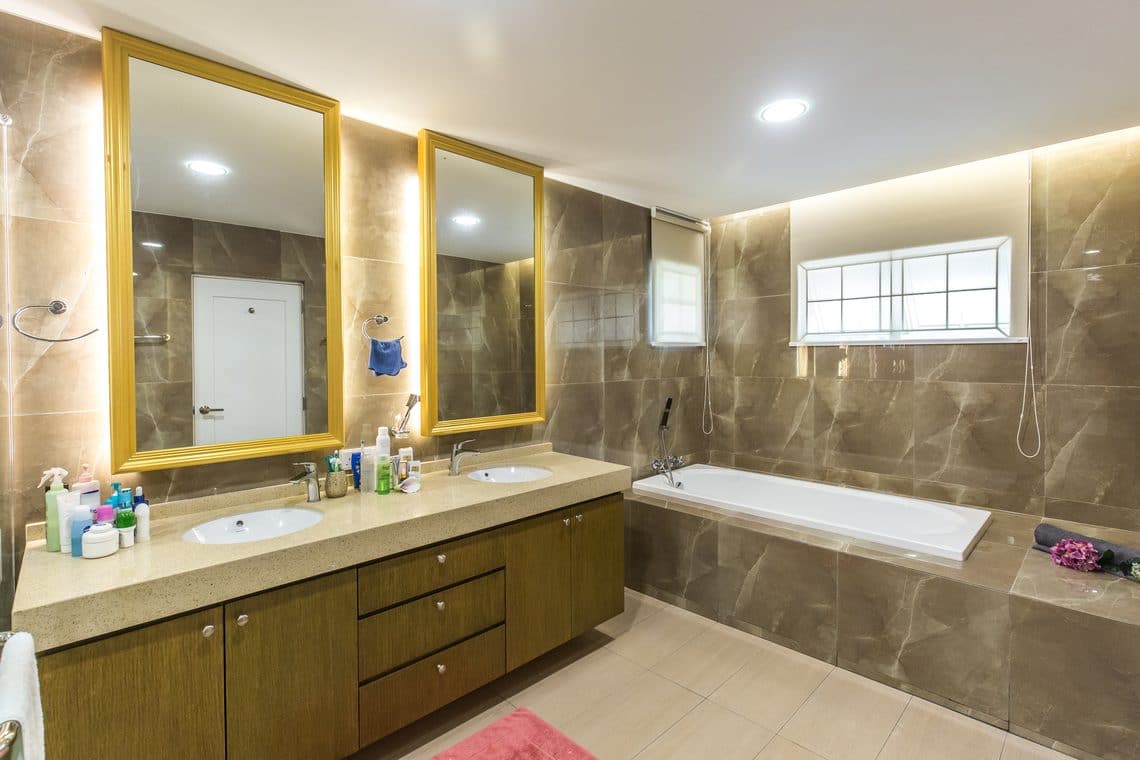 Marble-tiled interiors add an opulent finish to this impressive bathroom, mixed in with yellow-framed vanity mirrors and wooden cabinets. Project: Klaas Design and Build
Modern Bungalow Interior Design in Wira Heights, Bandar Sungai Long, Kajang
Timeless and practical, this 5005 sq ft home has been given a trendy upgrade using traditional materials, colours and furnishings to express personality in every room. Keeping the space modern and contemporary, pendant lights in gold complement the striking yellow highlights in the room such as the TV cabinets and display shelves for a cheerful and uplifting abode.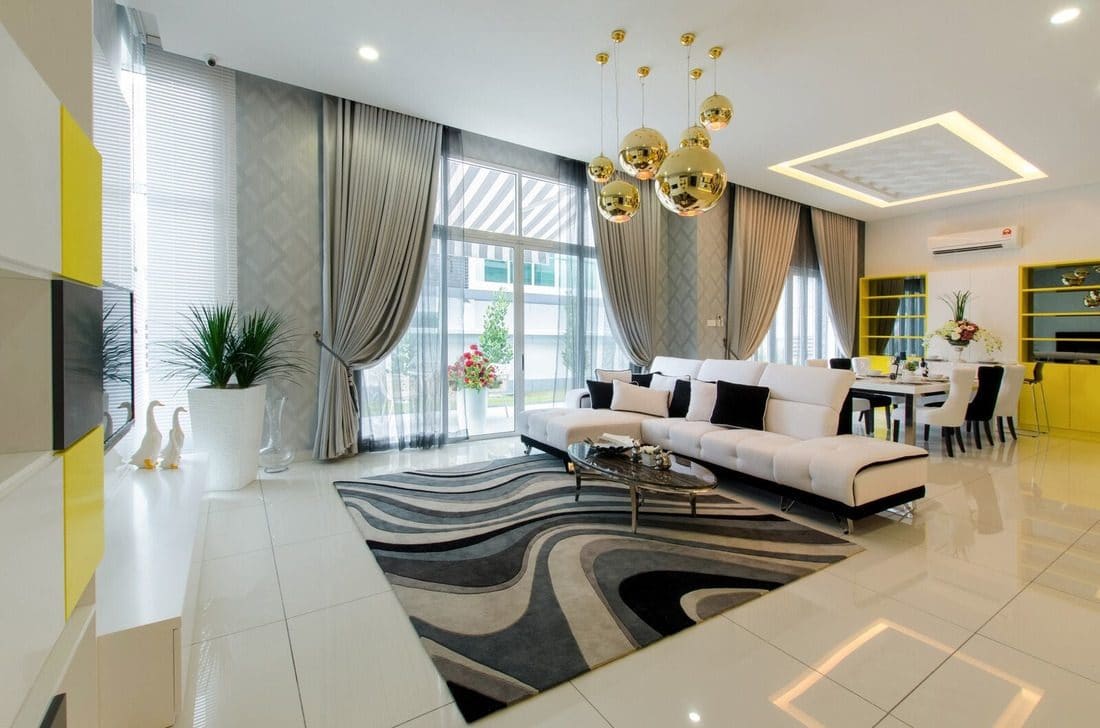 Above: The modern-contemporary styled living space provides ample amount of space to create a light-infused living area.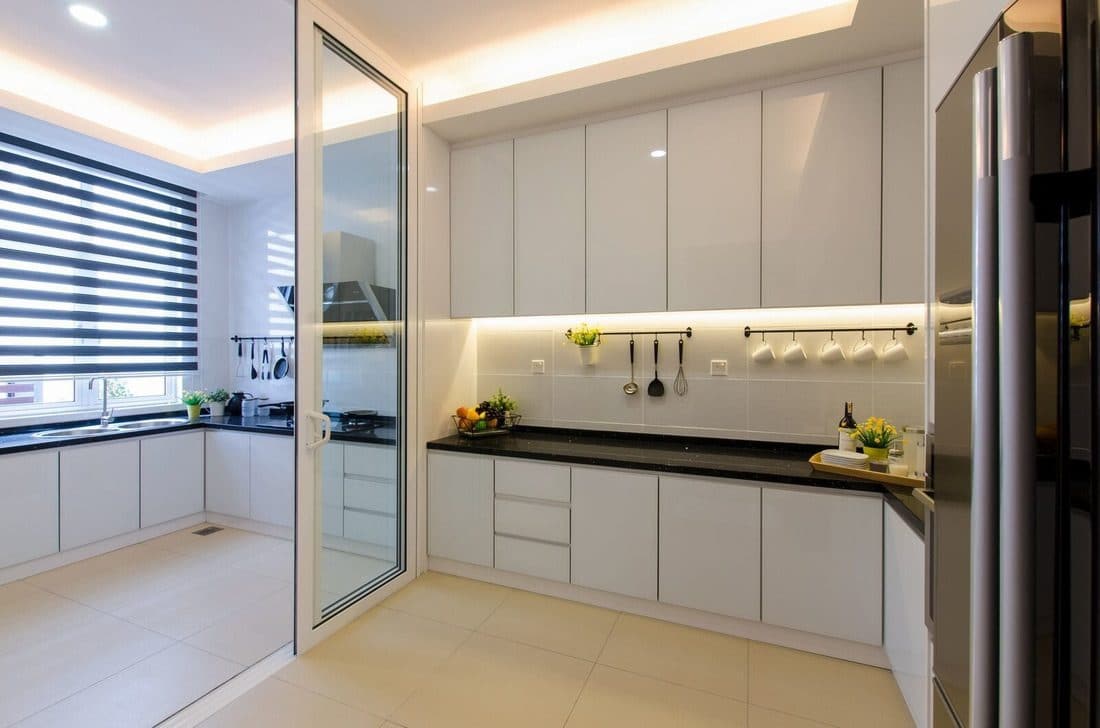 The monochromatic wet and dry kitchen is partitioned with an invisible glass door to create a seamless effect of unity between the two areas.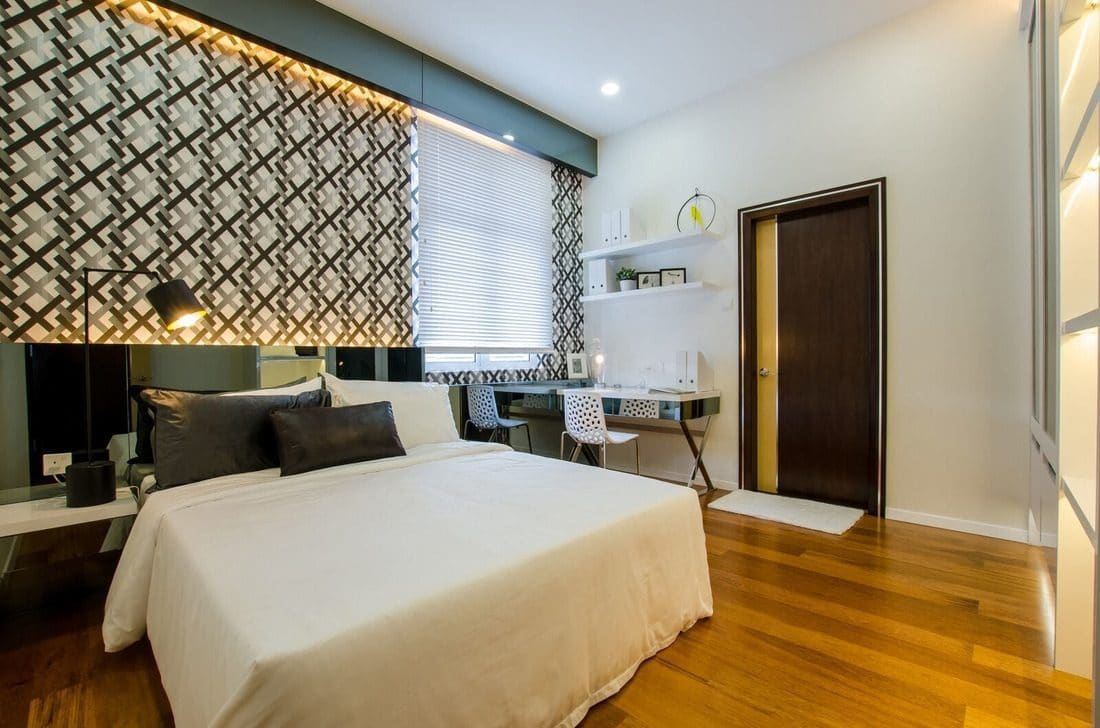 Patterned wallpaper transforms the bedroom into a unique and sophisticated executive lounge for work and rest. Project: Mous Design
Modern and Simplistic Semi-D Interior Design in Setia Utama, Shah Alam
Using ultra-sleek finishings combined with a neutral colour palette, the designer created a visually-stunning interior that epitomises modern luxury. Applying monochromatic colours as the forefront throughout the home's 3000 sq ft interiors to earn a minimalist aesthetic, elements of wood are chipped in to create calm and polished interiors in this 4 bedroom and 4 bathroom luxury home.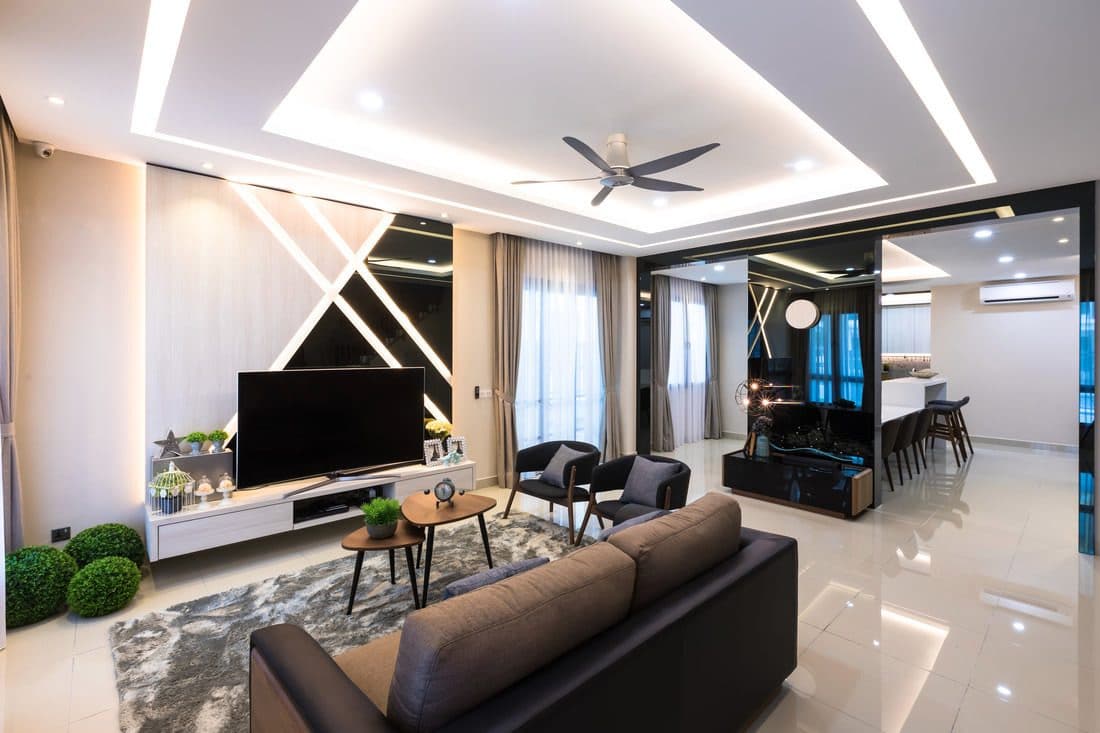 Monochromatic interiors create a sleek and extravagant aesthetic.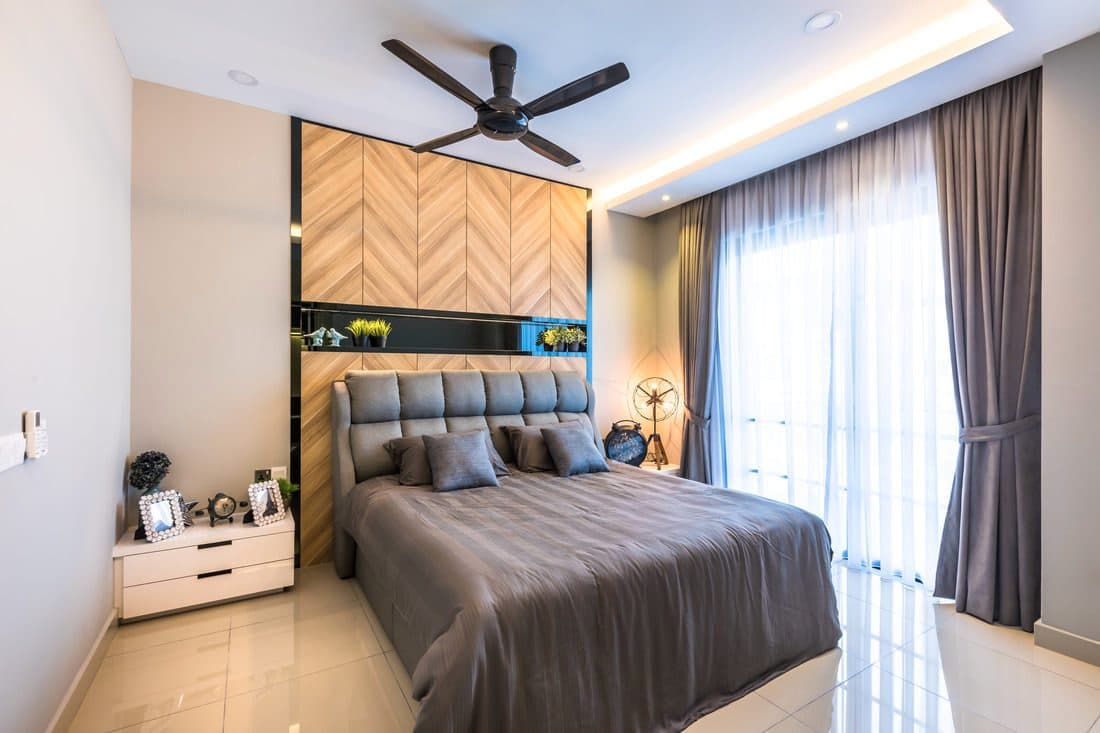 The herringbone-patterned backdrop creates an undisputed elegance for the bedroom to complement its ash-grey curtains and bedding.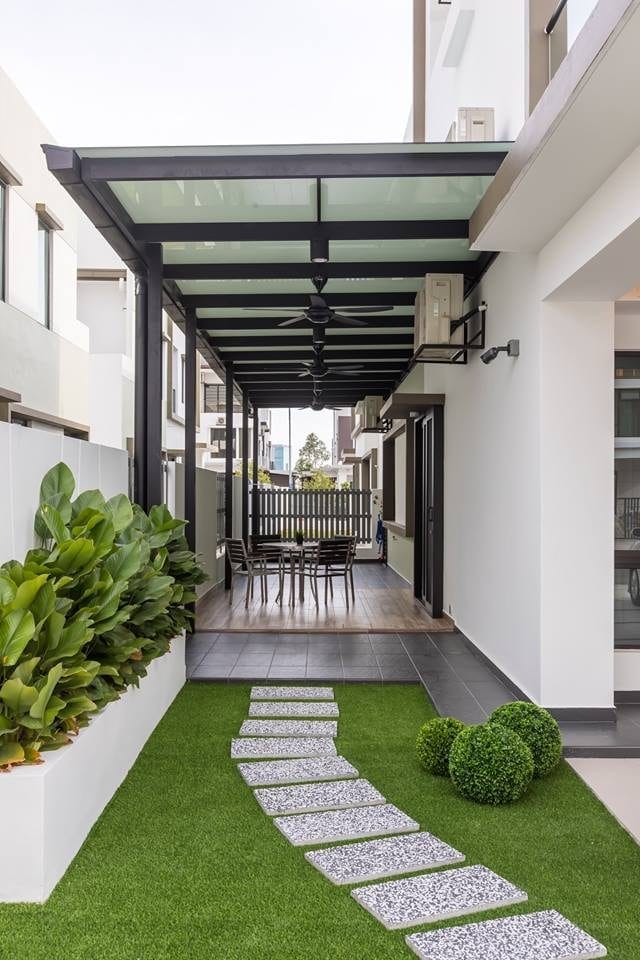 The pathway leading to the patio is surrounded by lush greens and a textured stone pathway.
Warm, cosy and functional, the kitchen is aesthetically pleasing with its thoughtful design pieces. Project: Mous Design
Contemporary and classic bungalow interior design in Long Branch Residences at HomeTree, Kota Kemuning
Dazzling pendant lights are merged with palatial design elements that convert this spacious 5169 sq ft home into a Pinterest-worthy home. Fused between contemporary and classic interiors, the designers used plenty of neutral colours and materials to harness textural contrast and visual interests by using marbled flooring and decorative lighting to unify the interiors.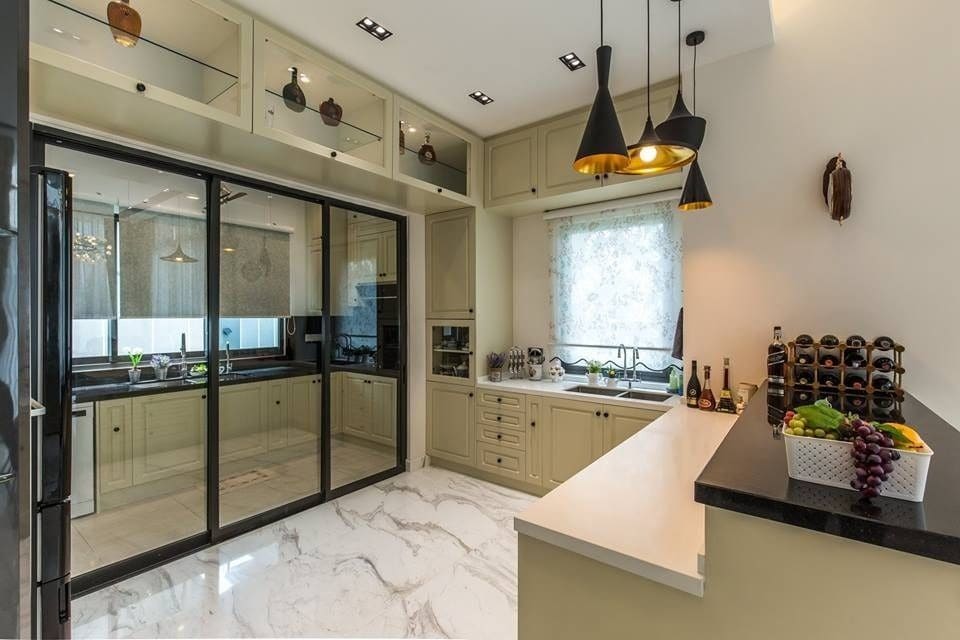 Ivory-coloured kitchen cabinets are matched with pristine white walls to create spatial depth between two kitchen areas.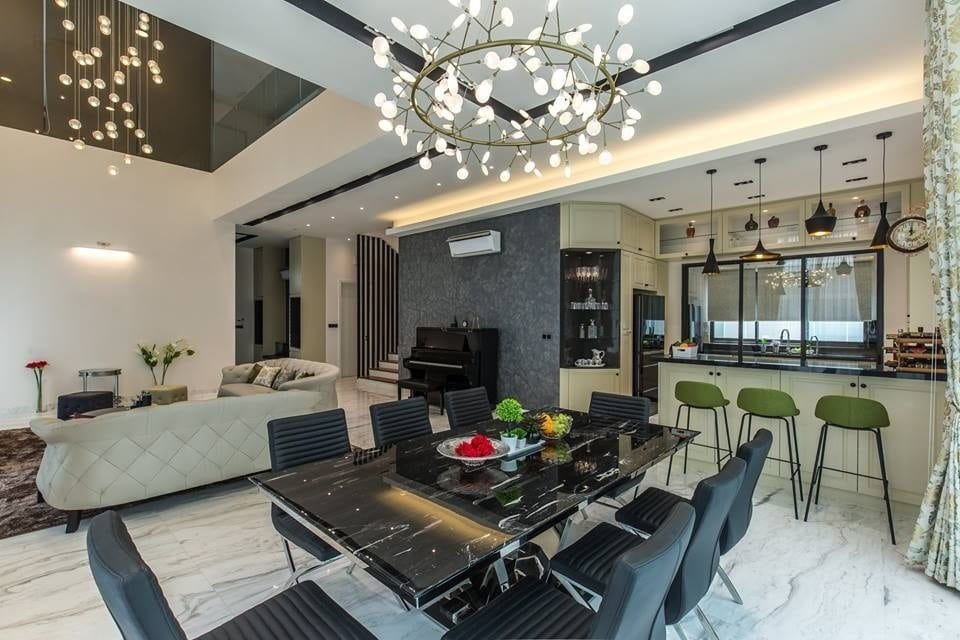 Above: Sculptural lighting design, like the luxurious modern chandelier in this living room immediately acts as a focal point for the room.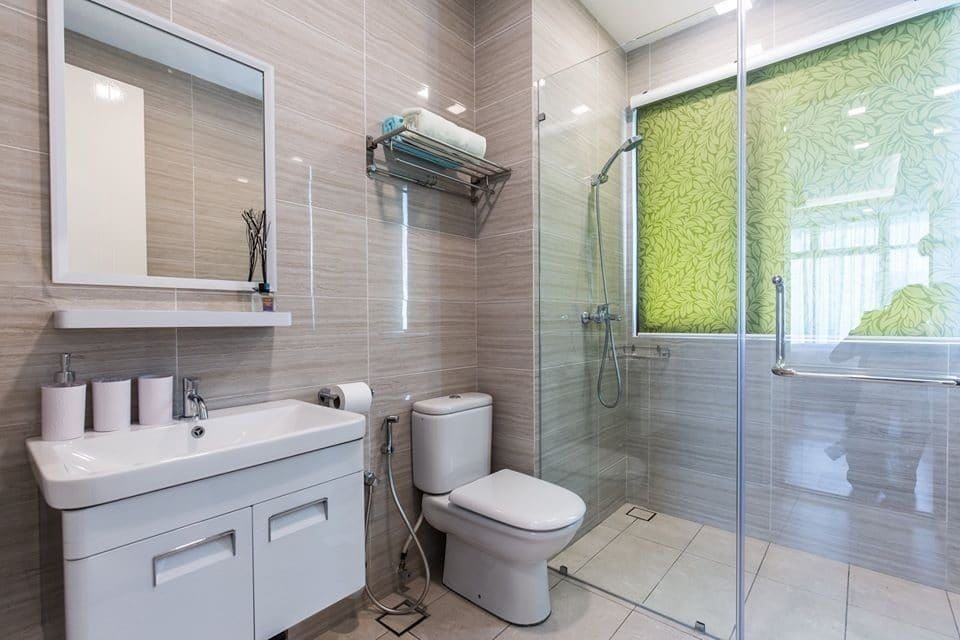 Designed for functionality, this bathroom uses natural materials and textures to exude sophistication.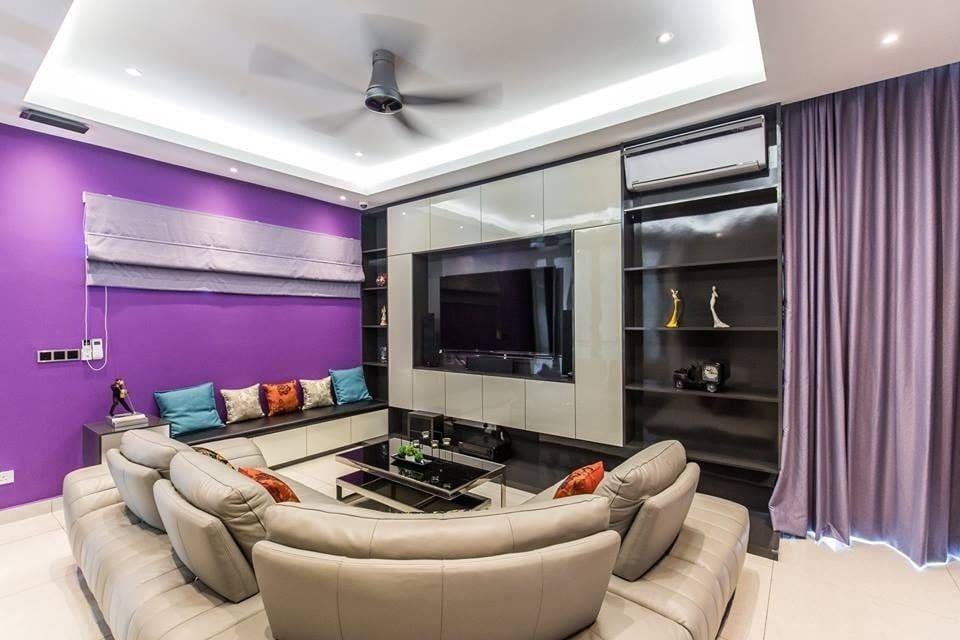 Bright pops of purple hues on the walls create a contrast between the neutral shades of furniture in the family living room. Project: MAA Design
Contemporary Semi-D Interior Design in Viridian Cheras Idaman, Kajang
A luxury 5133 sq ft cabin built for the modern age, this well-built Kajang home has been thoughtfully-designed with strong wood accents to combine rustic charm with unbeatable modern touches. From quality polished interiors to modern contemporary settings, this magnificent cabin offers much more than just a visual treat for the eyes.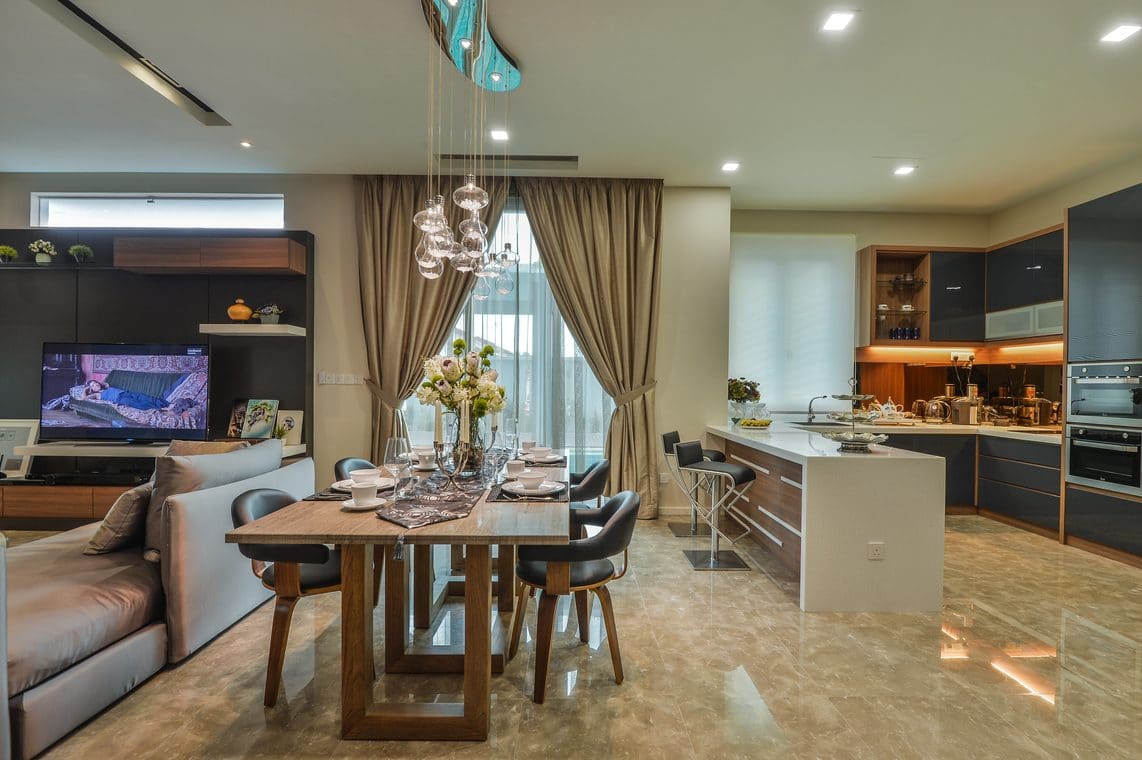 Strong wood accents and top-notch appliances throughout the home give this home an air of luxe and grandeur.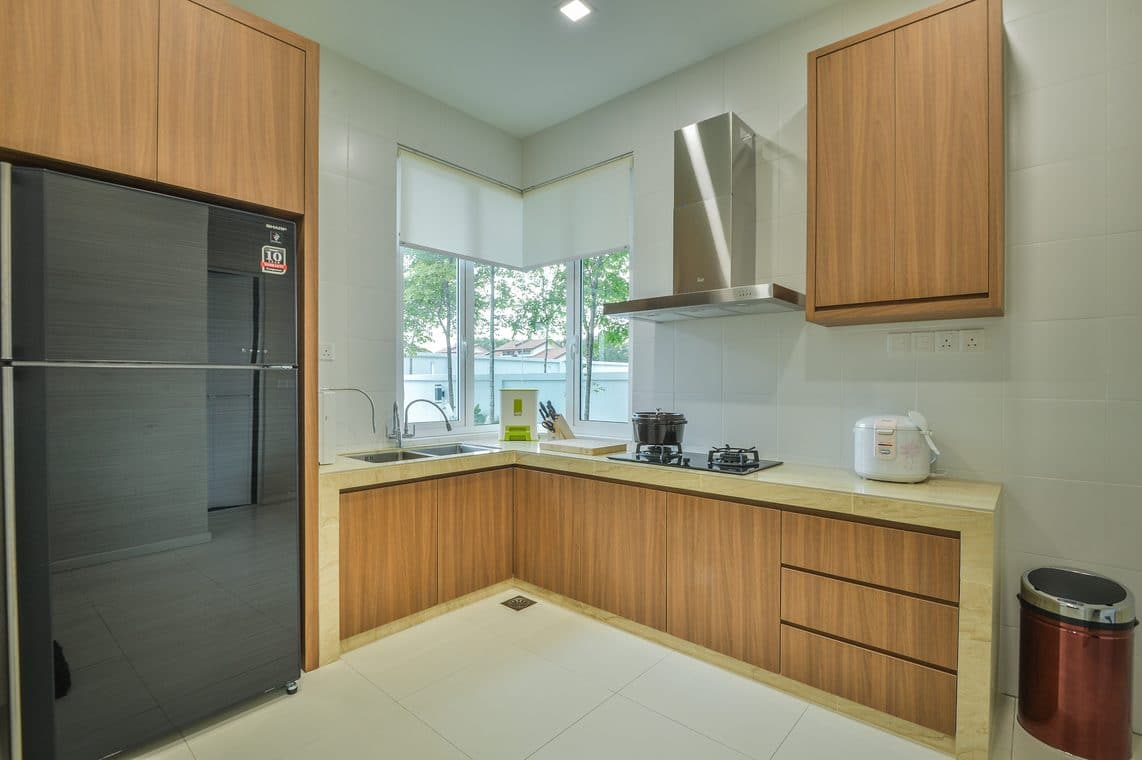 Wooden cabinets provide ample storage to hide away clutter.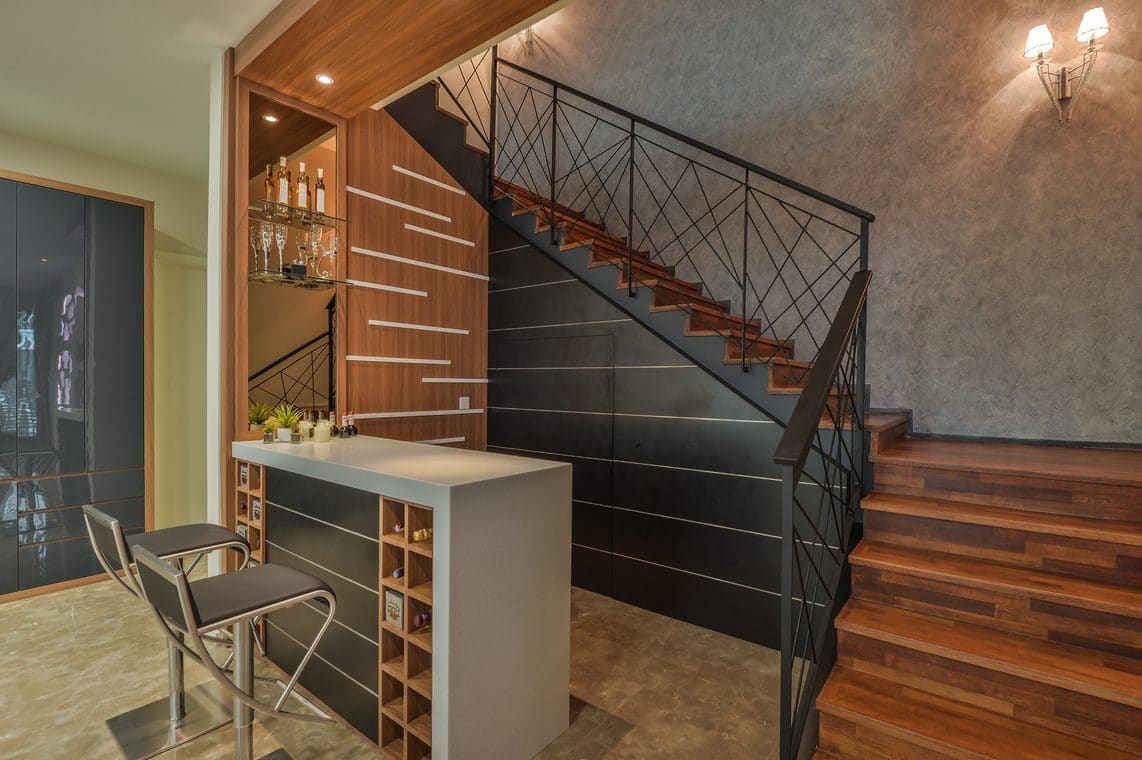 The designers used the idle space under the stairs to transform it into a well-stocked minibar.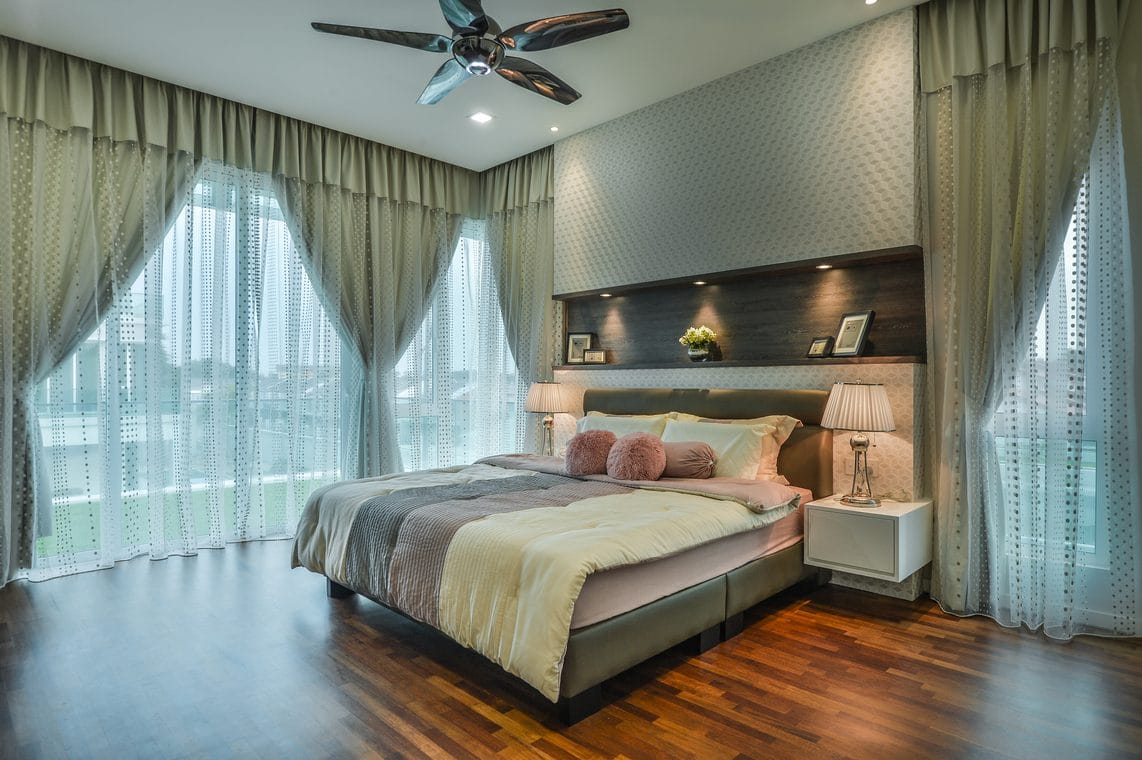 Providing chic and comfort, the bedroom interiors are decorated with soft pastel shades to exude elegance.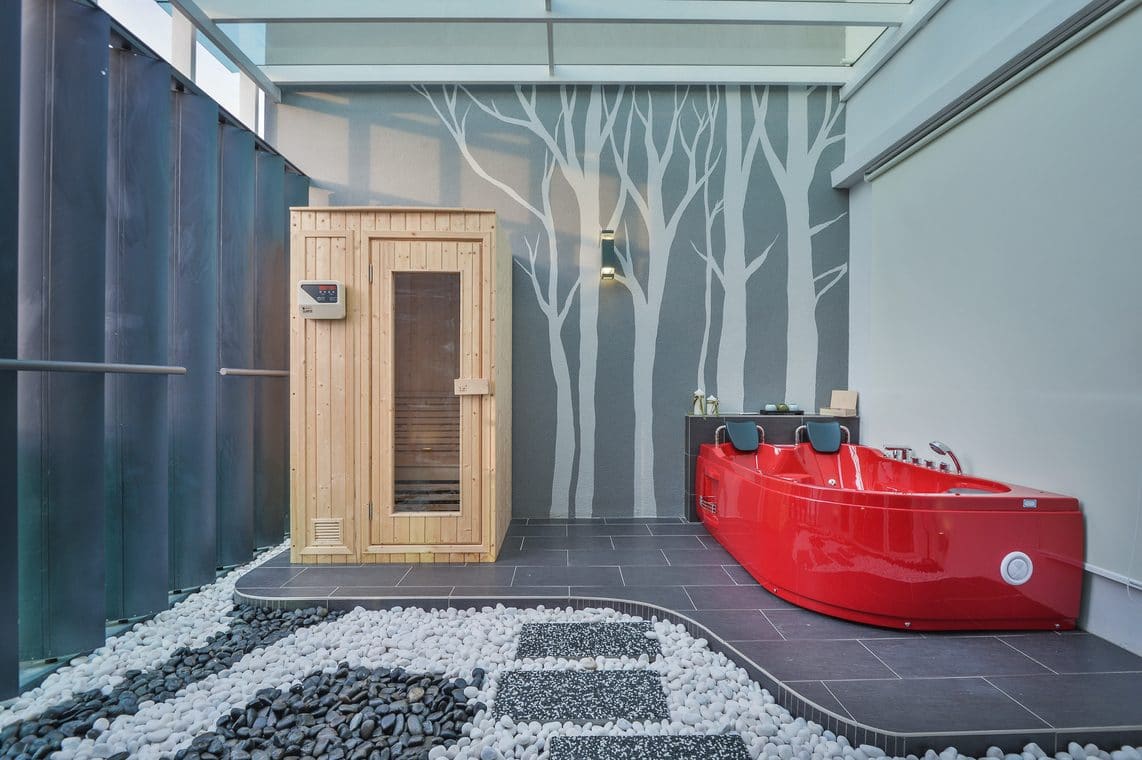 A sauna and jacuzzi allow an elevated cabin experience for spa-day retreats. Project: Moonlit Inspiration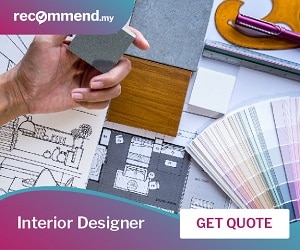 Bungalow at Kajang Jade Hill
Modern splendour meets classical charm in this impressive 3197 sq ft bungalow tucked away in Kajang Jade Hills. Encapsulating the essence of luxury living, opulent embellishments captured by the dining chairs and table bring a snow-like luxury to the room. Harmoniously matching coloured walls, lighting and furniture further create the ideal luxurious and glamorous interior to lift the aesthetic to elegant heights of glamour.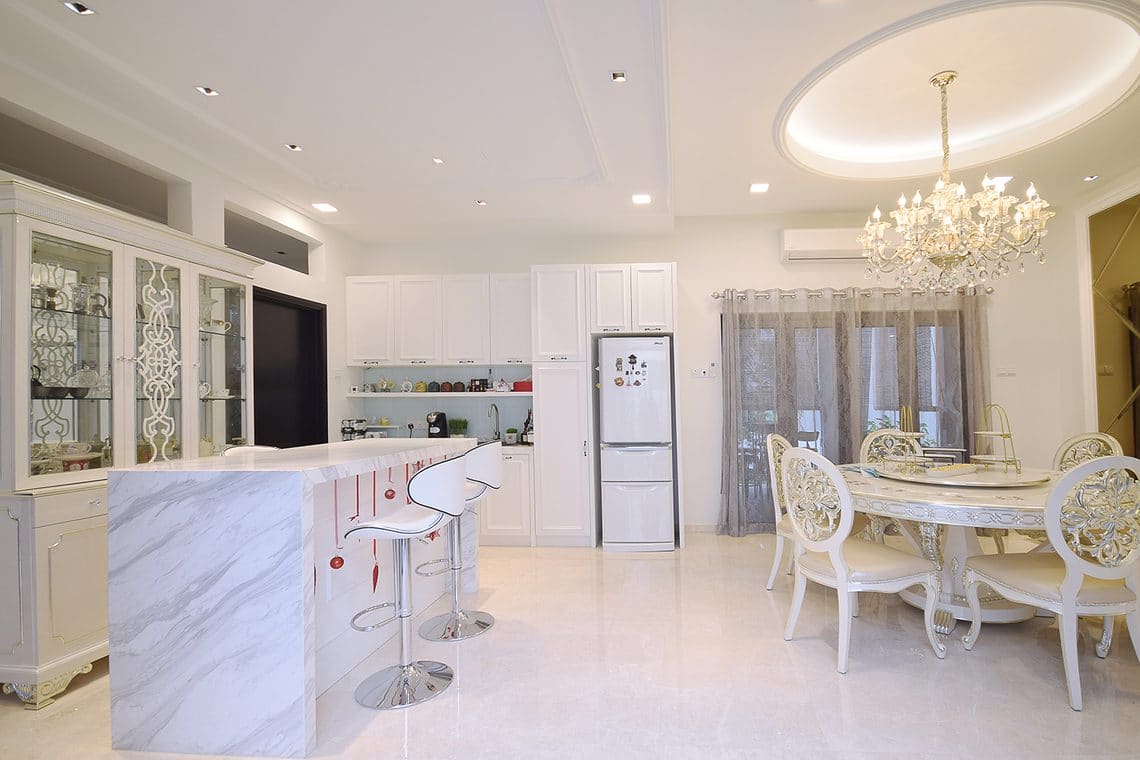 Bespoke dining chairs, marble detailing and sparkling chandeliers provide a glitzy allure to the entire home.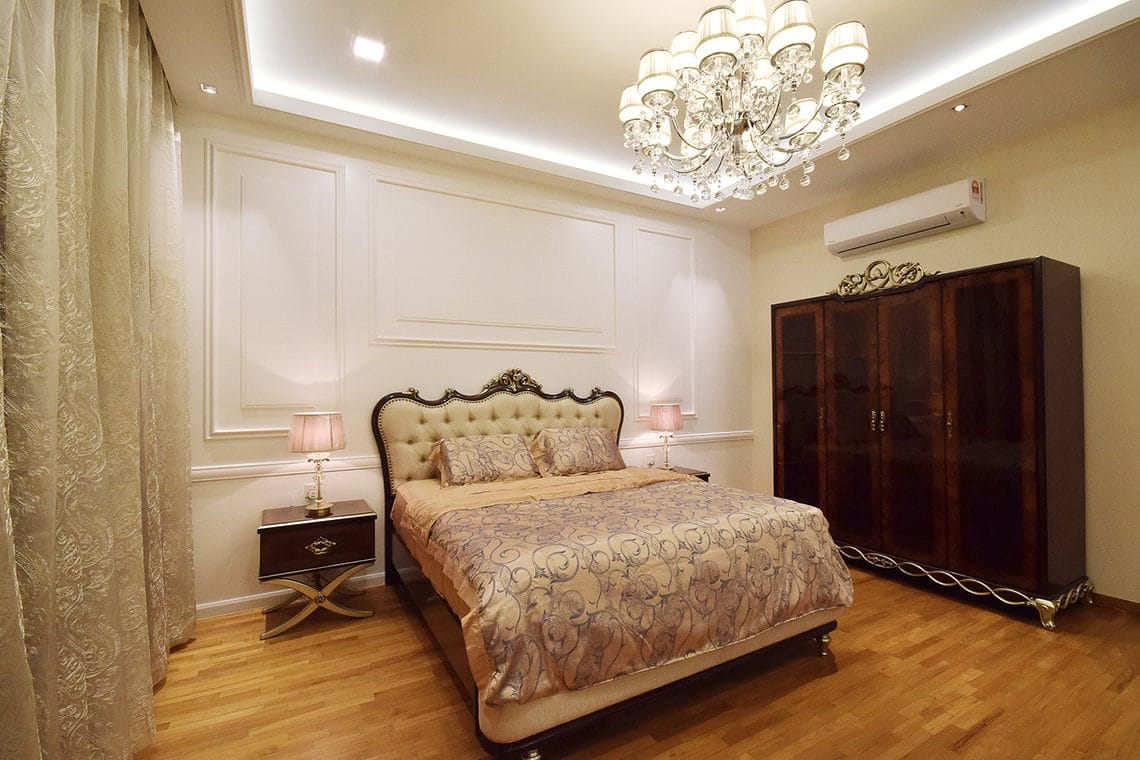 Chandeliers, patterned duvet quilts, blackout drapes and intricate wardrobe detailings mimic the perfect classical mid-century English bedroom interior.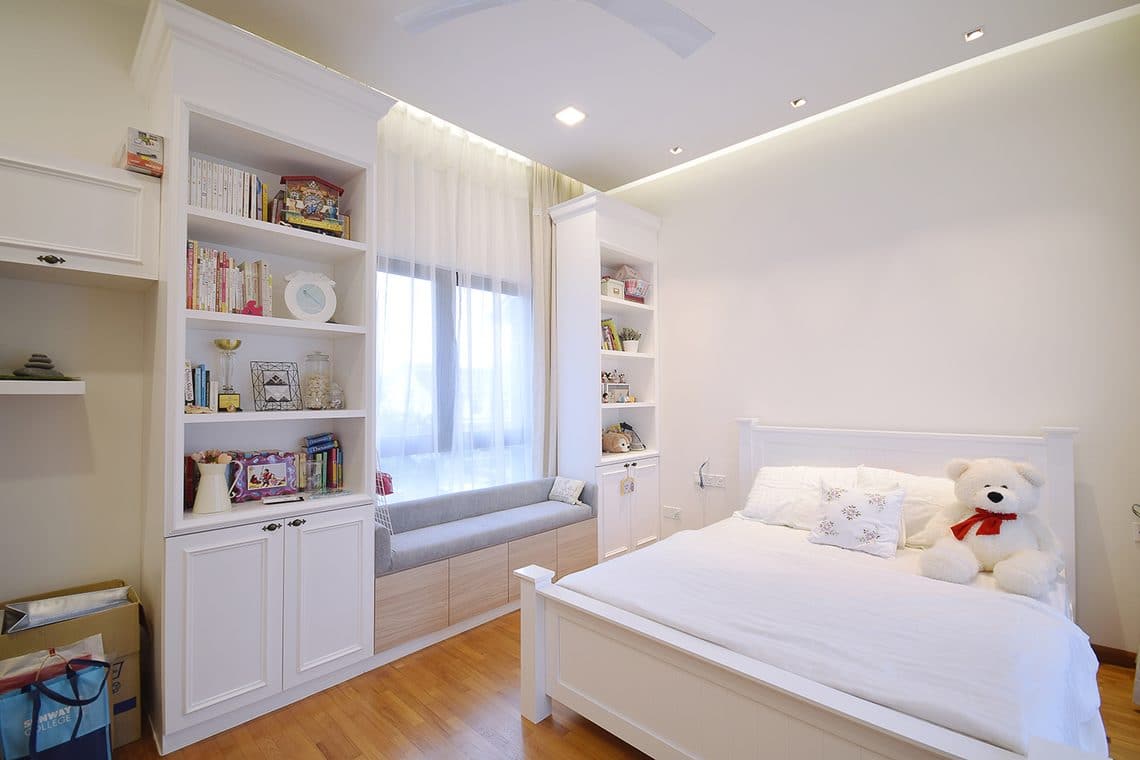 A contrast between the master room, the children's bedroom is themed in white to reflect a pure aesthetic that remains timeless for years to come.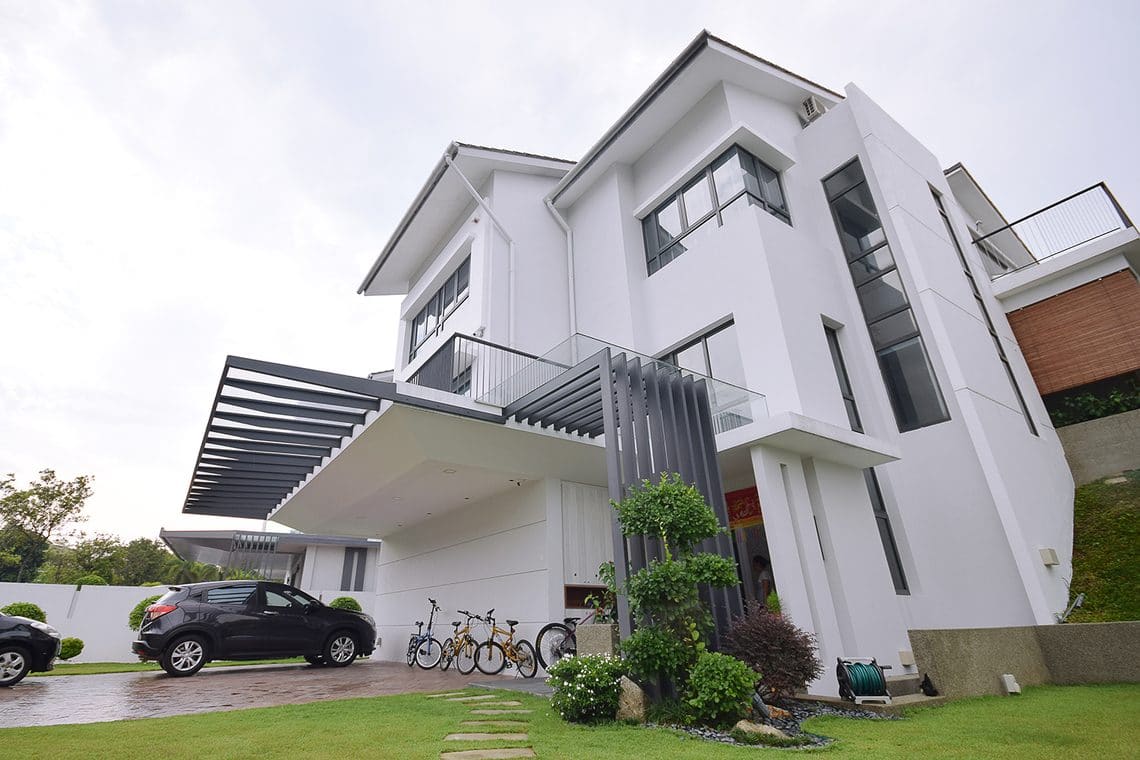 Marvel at the stunning exterior structure with smooth and stylish interiors to match. Project: Hatch Design
Modern Industrial Semi-D in Ambang Botanic, Klang
This splendid 3,400 sqft home in Ambang Botanic, Klang flaunts an in-trend modern industrial design, rich in grey cement textures and tones to capture the boldness of this concept. The unit is home for a family of 7 with 3 storeys and a grand amount of space with many custom designed attributes.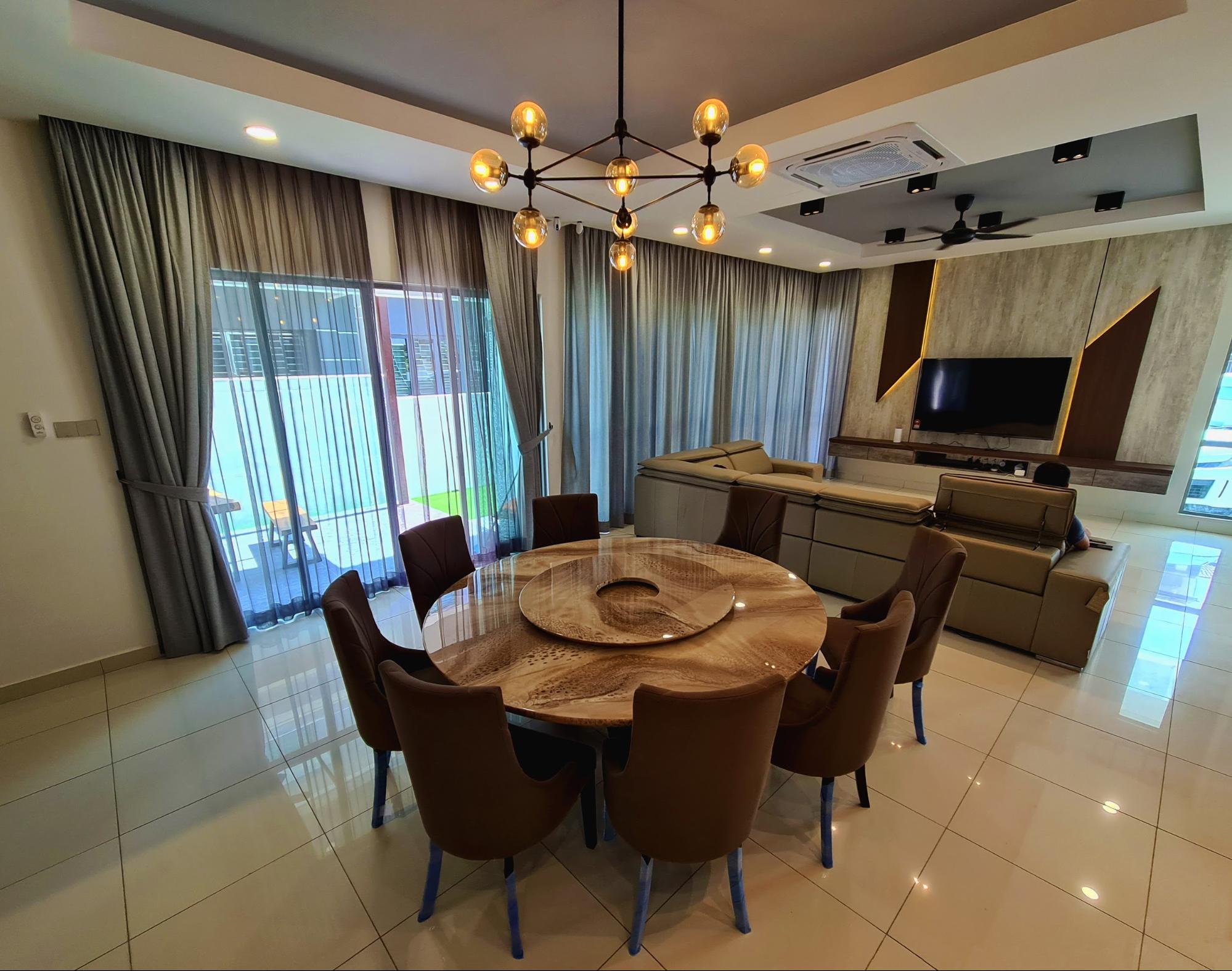 The major highlight of this resplendent home is the stairway feature wall made of Vasari cement texture paint with LED light strips to gently illuminate the way while providing a stunning sight across all floors of the house.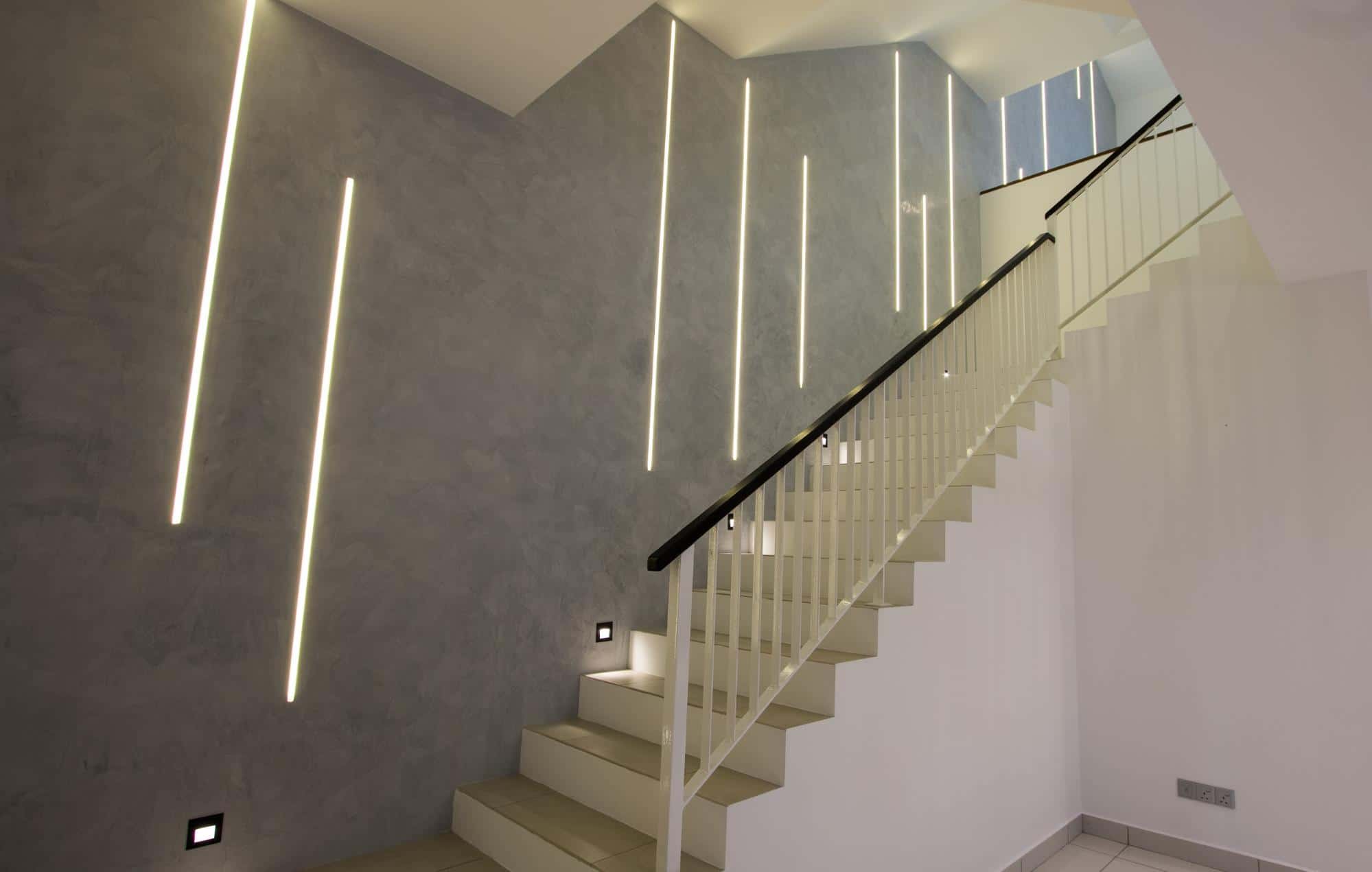 The children's bedroom also features a bespoke double-decker bed structure and a wall panel neatly concealing a walk-in wardrobe, both made of cement textured laminates. Together, the design creates a timeless appearance of modern and industrial components that pans throughout the home, resulting in a marvellous family abode.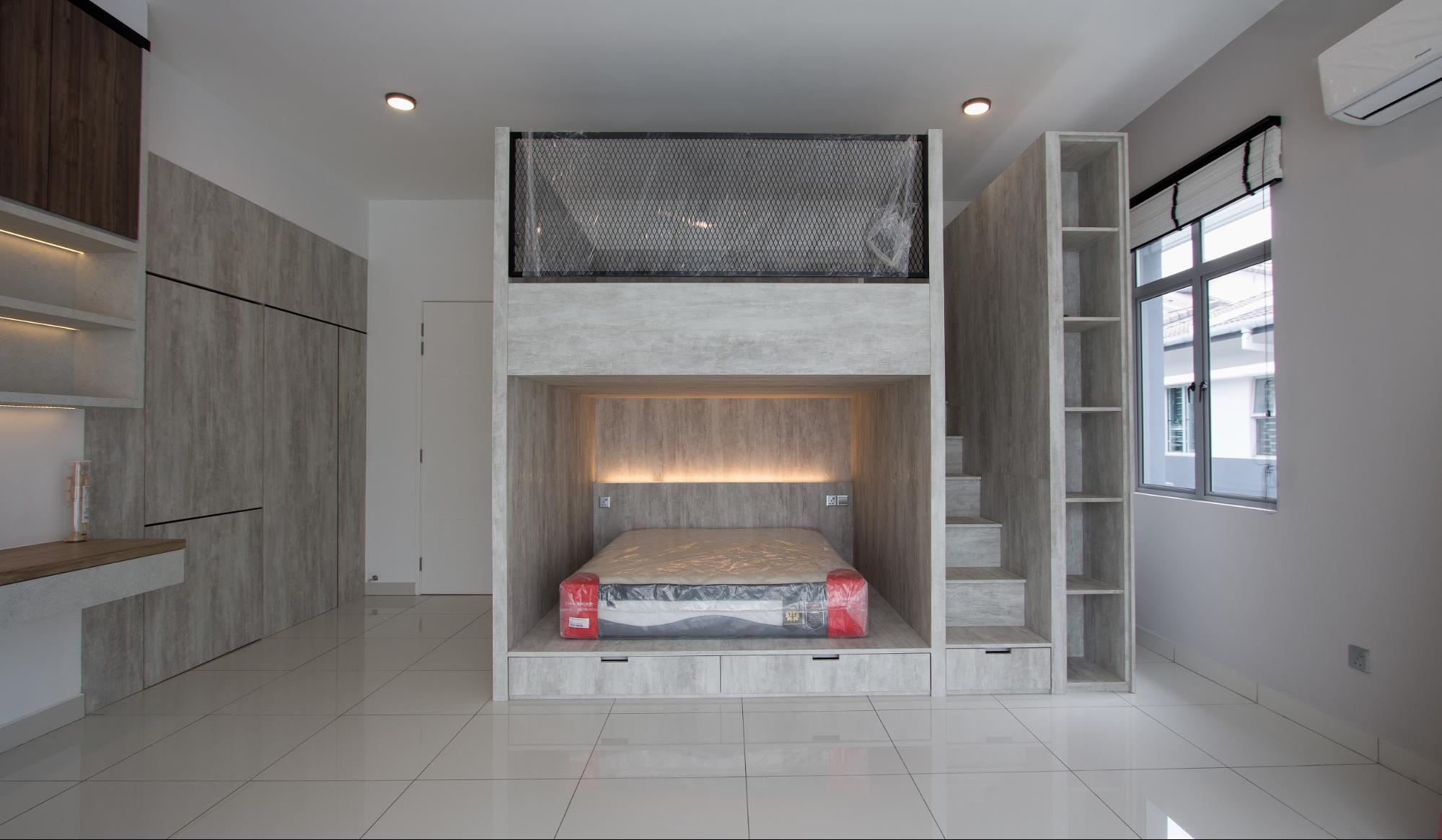 Create the home you've always wanted
With so much space in your house, you need the right creative designers to turn it into a truly luxurious and sophisticated home. But, it can be a challenge to find the right interior designers who will "click" with you and work to realise your vision. Recommend.my can help you find a trusted and reliable interior designer in Malaysia to turn your dreams into reality. Let us know your style and budget, and we will notify our most suitable interior designers to get back to you and arrange an appointment.