Generally, bathrooms are home to toiletries, towels, tissues, medicine, cleaning supplies, hygiene products, and the like! But how to store them efficiently?
When it comes to storage, more is less. Especially when it comes to the tiny shared space in the house used by everyone every day!
Here are a few custom-built bathroom cabinetry ideas to help you organize, keeping the bathroom officially "clean" and clutter-free. 
Pull out storage cabinet next to the sink
Regardless of the size of the bathroom, this can be easily done either with pull-out cabinets adjacent to the sink or around it. Utilizing vertical space and slight gaps provide handy storage space that you can just slide out.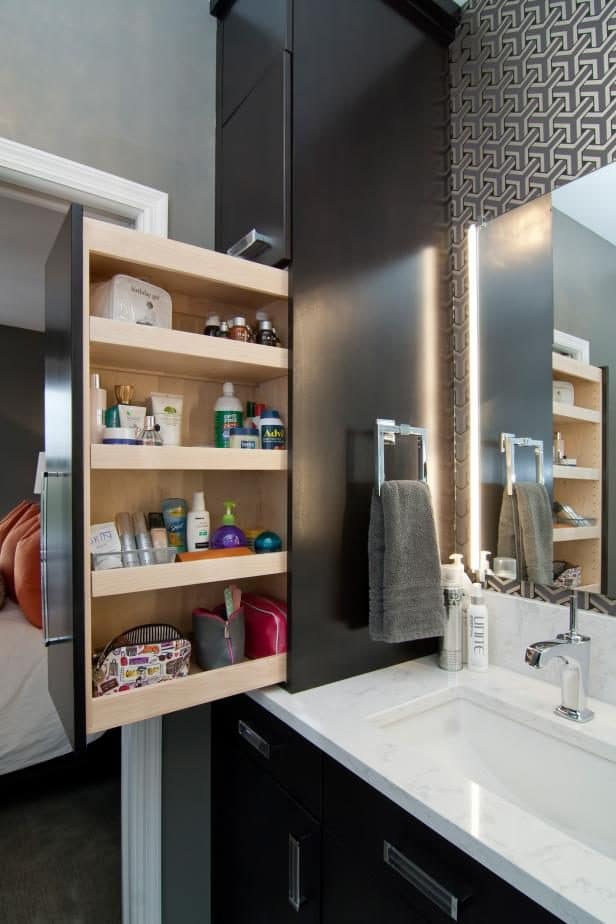 Full height slim storage cabinet
Some bathrooms also double as storage for mops and brooms. With a tall storage cabinet, you don't need a separate space to keep them. If you add internal shelves, they also work great to store towels, spare soap and shampoo bottles and more.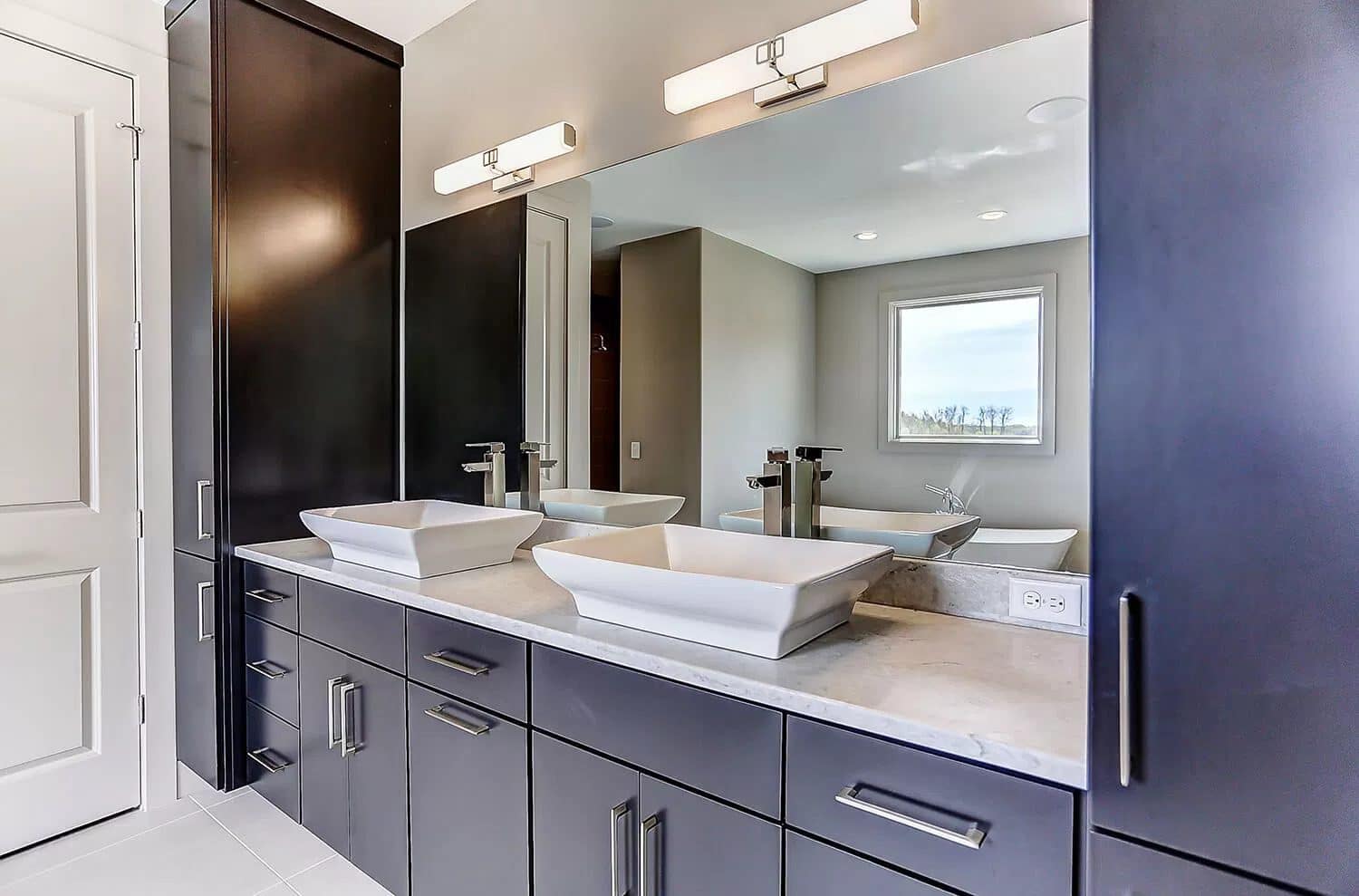 Under-sink floating bathroom cabinet
Whether it's the kitchen or bathroom, under-sink storage is the easiest to reach. Apart from small items, you can store heavier products like tissue rolls, cleaning product bottles, garbage disposals, and more. It also conveniently conceals the sink drain for a better overall appearance. Mount it to the wall for a floating effect, making it easier to clean the floor.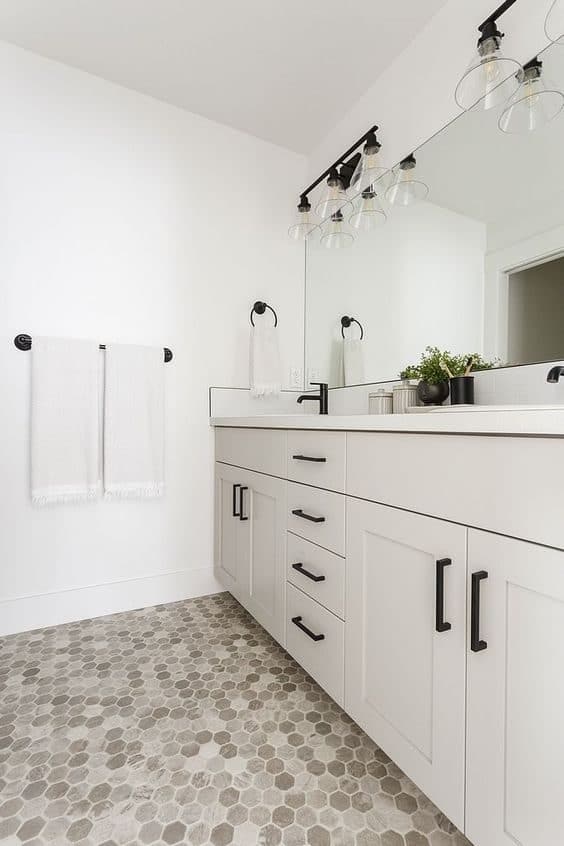 Open shelves under the sink
These open cabinets are great to store frequently-used items, like towels and toilet paper.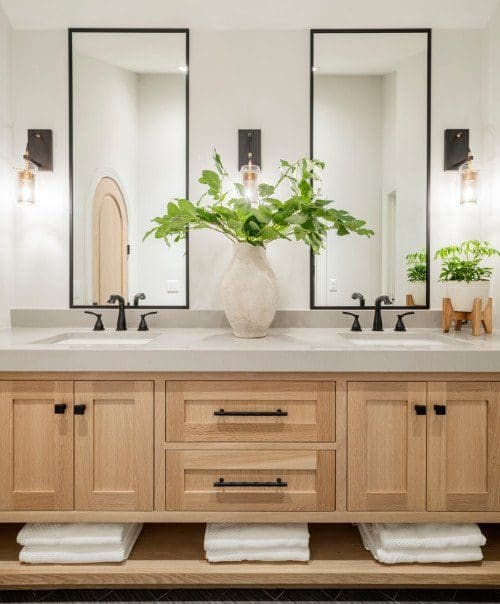 Bathroom cabinet for washing machine
Stashing away your laundry nook in the bathroom kills two birds with one stone, to keep your home looking prim. Hide your washing machine away in a special built-in cabinet or fit it under the sink countertop to seamlessly blend it in. But, remember to leave the cabinet doors and washing machine door open for half an hour after each use, to let it air out properly.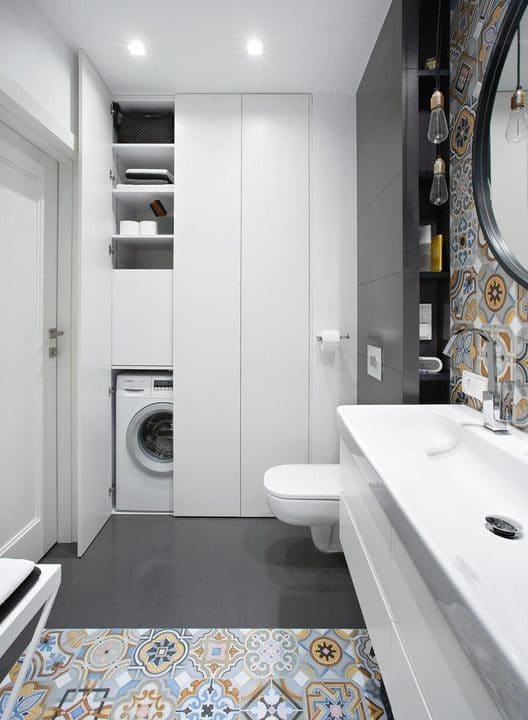 Open space under bathroom sink counter
If you just need more counter space but less cabinets, you can extend your bathroom counter from wall to wall, creating a ton of space. Show off your potpourri, diffusing oils, or even your electric toothbrush charger here, while creating a neat area for the washing machine to live.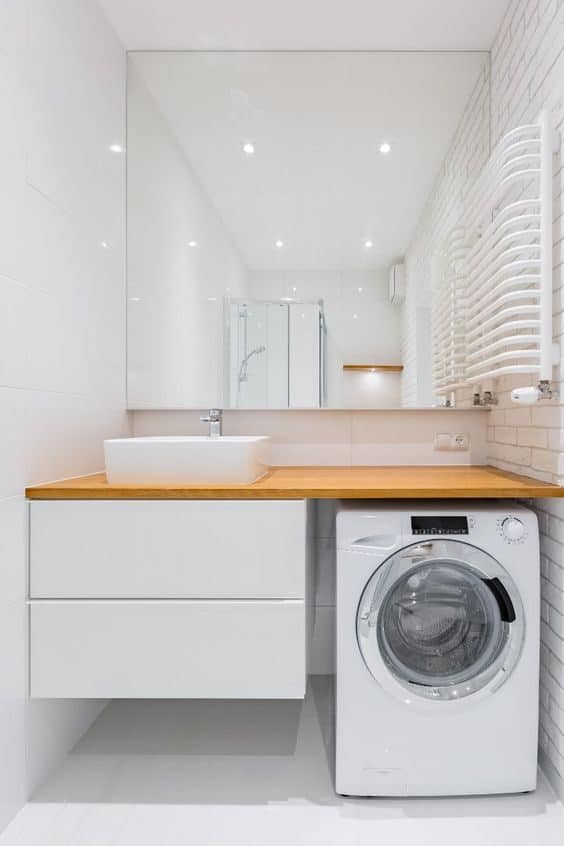 Built-in bathroom cabinet and built-in toilet
You can create a beautiful built-in cabinet space above the toilet, giving you ample space for storing bathroom essentials. Just make sure that the counter space is removable so you can troubleshoot any problems with the concealed toilet tank later on.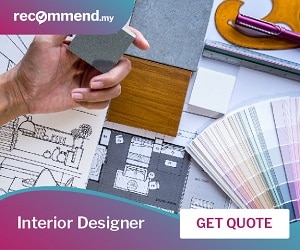 Read more: 18 Over-the-Toilet Storage Solutions for Small Bathrooms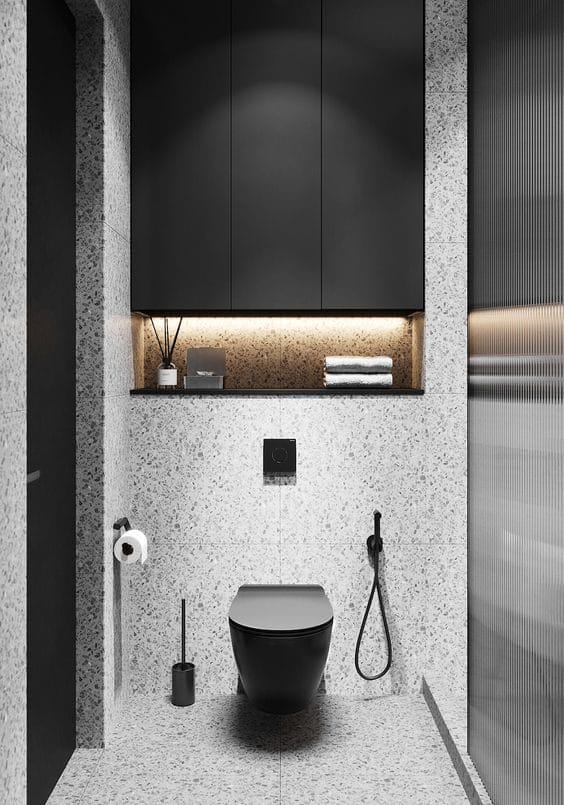 Mirrored bathroom cabinet over concealed toilet
Another example of a full height cabinet to conceal the toilet tank. This time, the cabinet doors are mirrored to make the space feel bigger even though you have taken up an entire wall.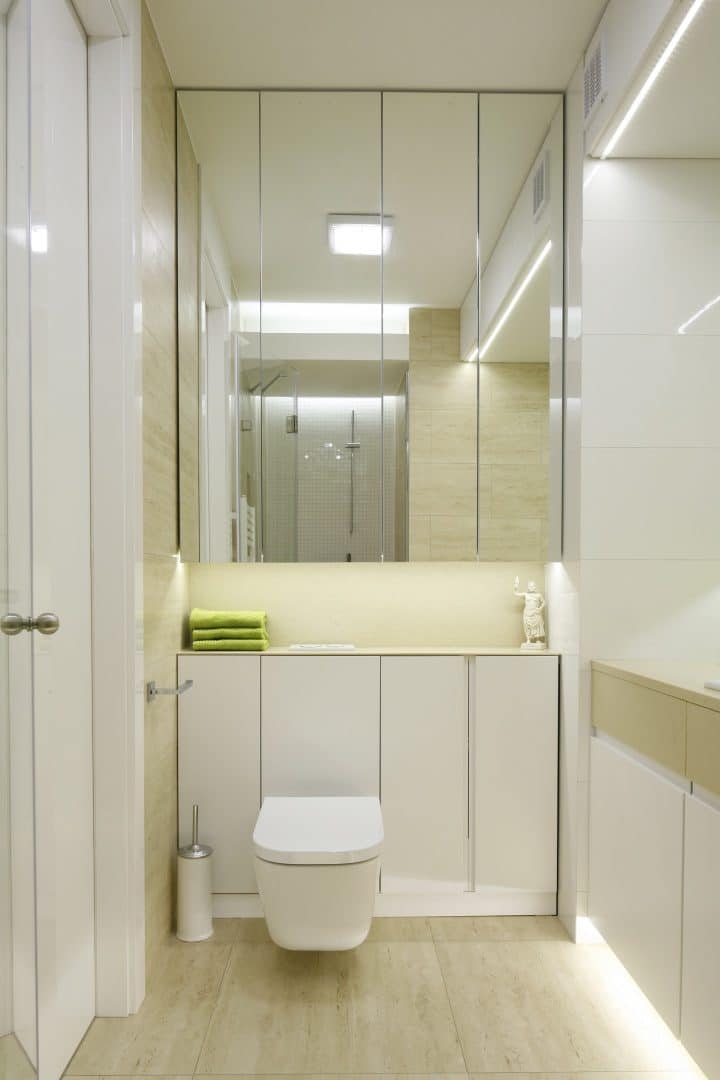 Full-height bathroom cabinet
Some bathrooms might come with an empty niche or wall space that is too narrow to fit the shower area or sanitaryware. Use it for built-in cabinetry instead to store toiletries, cleaning supplies, or storage for spare items.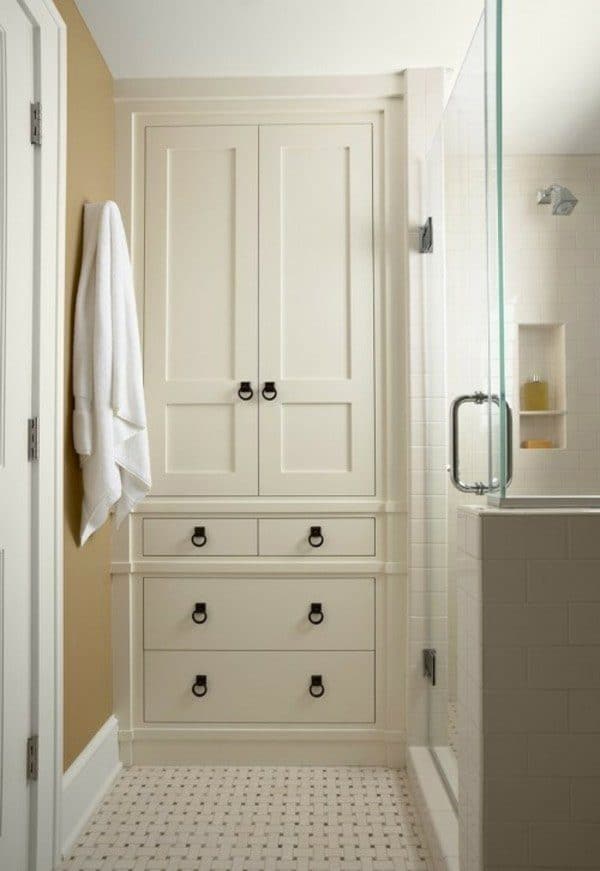 Full-height bathroom cabinet with open shelving
This idea is particularly useful for the guest bathroom. You can use the open shelving to lay out toiletries, a towel, toothbrush and more for your house guests. So they don't have to rummage around your cupboards.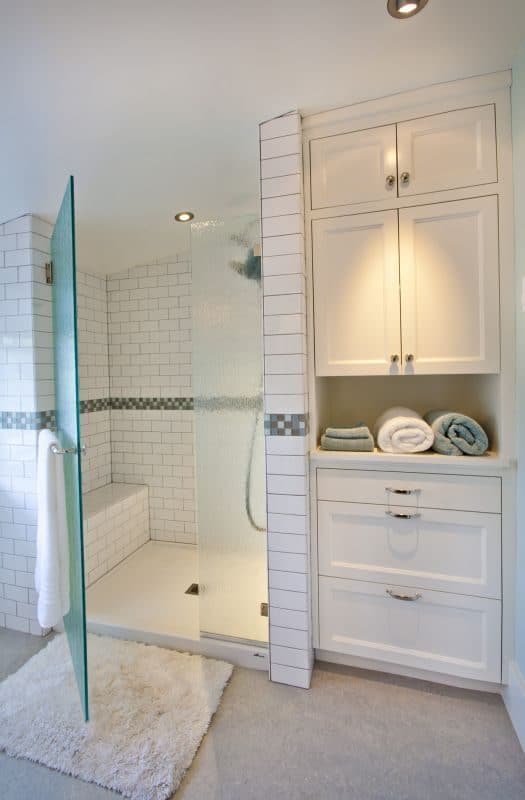 Multi-layer bathroom shelf with built-in cabinet
If your layout doesn't allow for counter space at the sink, you can always build your counters upwards, by embedding them into the side of a bathroom cabinet. This is a great way to maximise the floor space, while having lots of things within easy reach.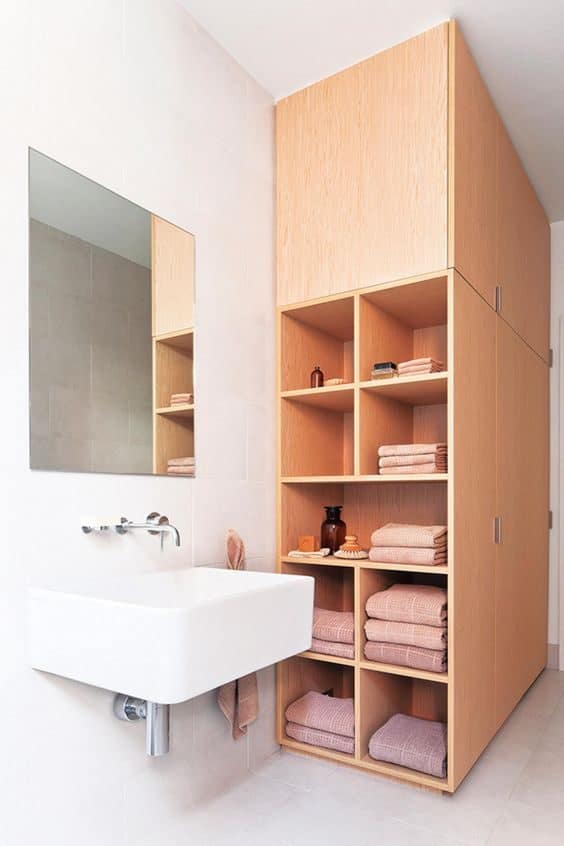 Wall-mounted mirrored cabinets
A mirrored cabinet as an elegant touch to get ready serving as a practical storage solution. Mirrors also have an added advantage for creating the illusion of space, perfect for small bathrooms.
Need built-in bathroom cabinets?
Achieve the bathroom of your dreams with our verified renovation contractors on Recommend.my. Tell us about your project and get multiple quotations from our pros.