Whether you have just moved in or have stayed for a while, every home could do with an update. A small change in any one of your rooms can drastically improve the way the space is used, and have your guests talking about it for years to come!
Here are some gorgeous transformations from our interior designers and architects. See how they've managed to add interesting qualities to each space; from condos to bungalows. These Malaysian homes are now anything but typical!
1. Turn one wall into exposed brick surface
Midfields Condominium in Sungei Besi by Surface R Sdn Bhd
What we like: Using the same brick surface, the designers managed to transition from cool living room to warm dining area, just by changing the lighting and fixtures
2. Paint the ceiling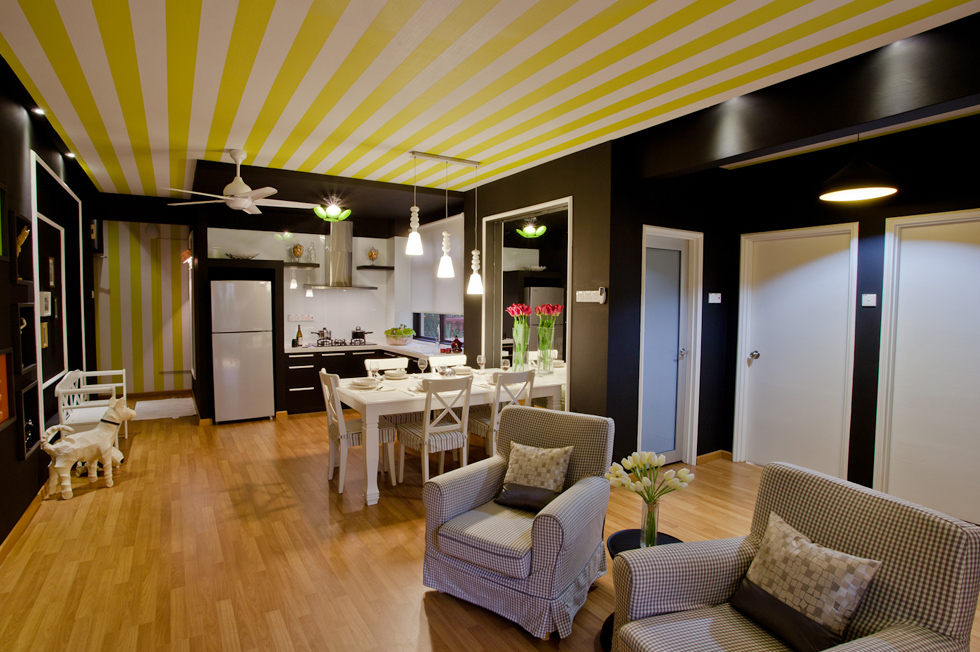 Apartment in Gohtong Jaya, by Design Spirits
What we like: How the ceiling stripes match the orientation of the flooring. A great look for this cozy 1000 sq ft apartment.
3. Leave pipes and wiring uncovered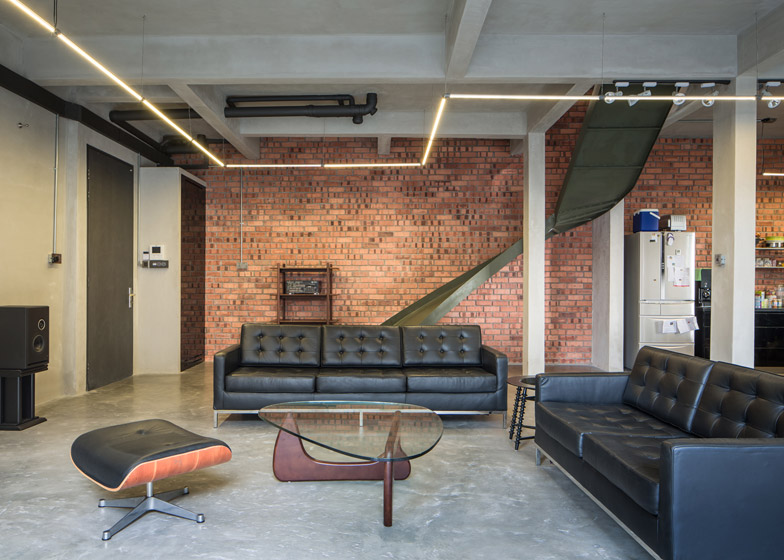 Vermani House, Kuala Lumpur (Source: DeZeen)
What we like: No frills, yet functional
4. Replace doors with glass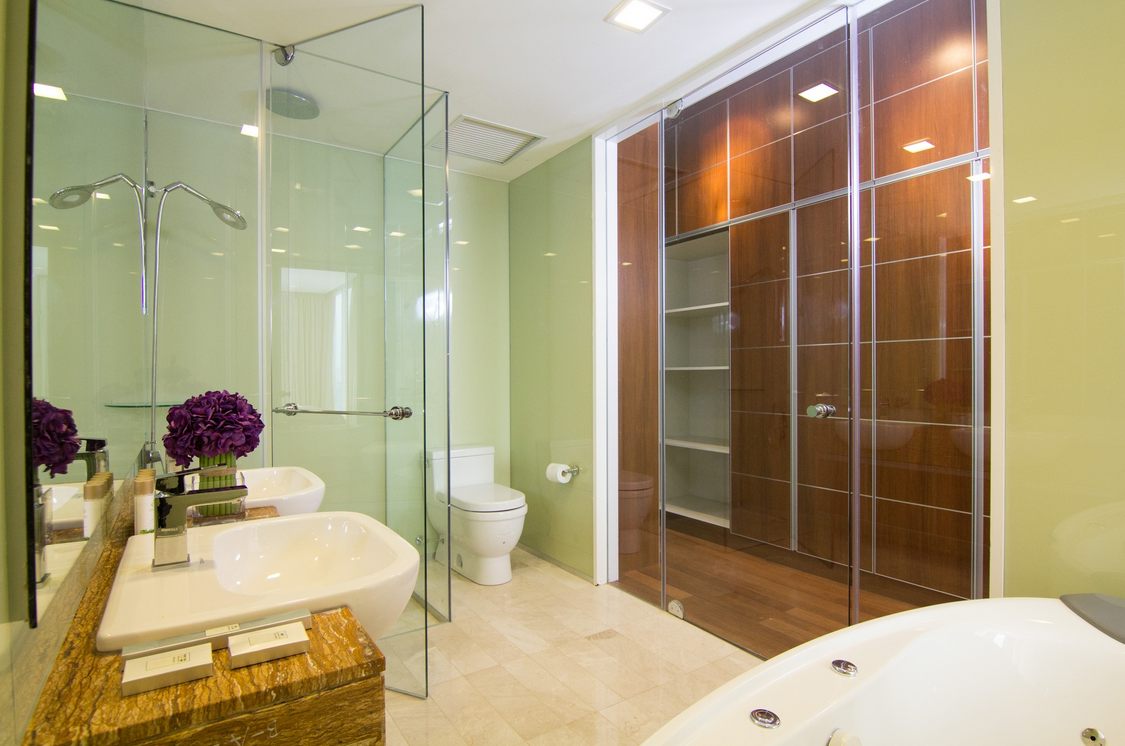 ViPod Residences, KLCC by Quest Designs
What we like: Glass door to the walk-in wardrobe lets you plan your outfit, while steam and moisture from the bathroom won't affect your clothes
5. Add a skylight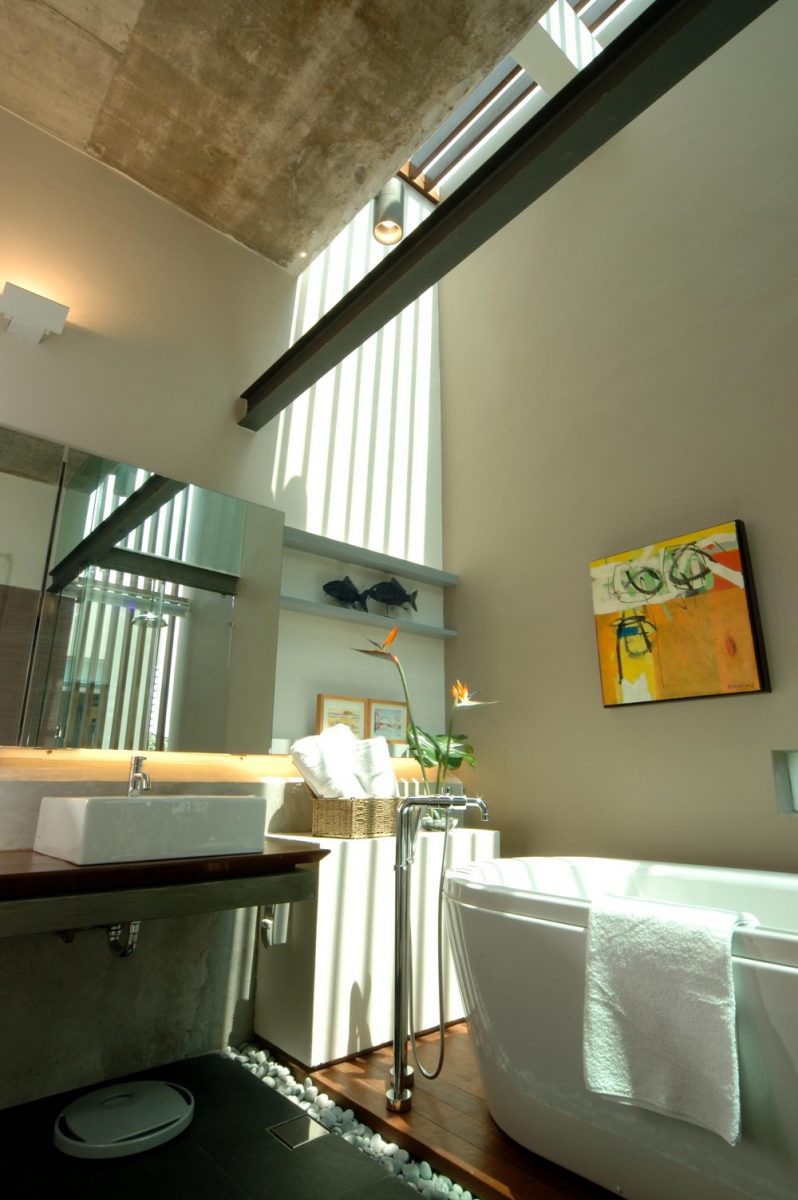 Semi-D in Tropicana Indah (Source: HabitatMY)
What we like: Strategically-placed rafters means that sunlight gives the bathtub area a lovely warmth
6. Tile all the way up the walls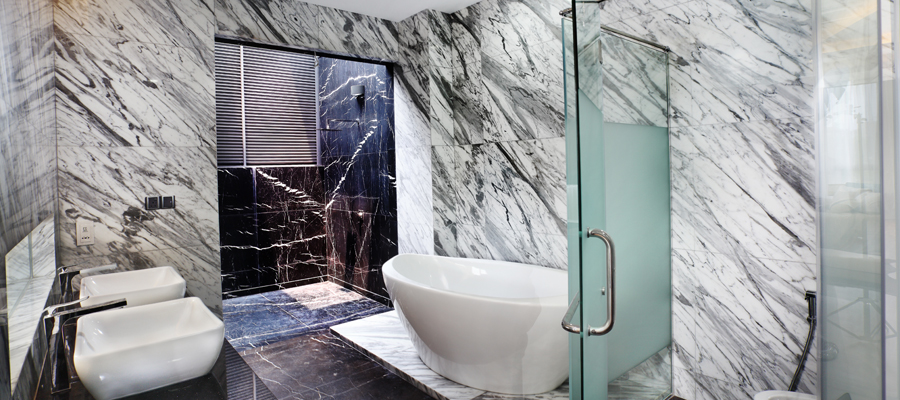 Setio Eco Park by Damansara Uptown Interiors
What we like: Floor-to-ceiling streaked marble tiles, with reversed tiles in the shower area
7. Add a jacuzzi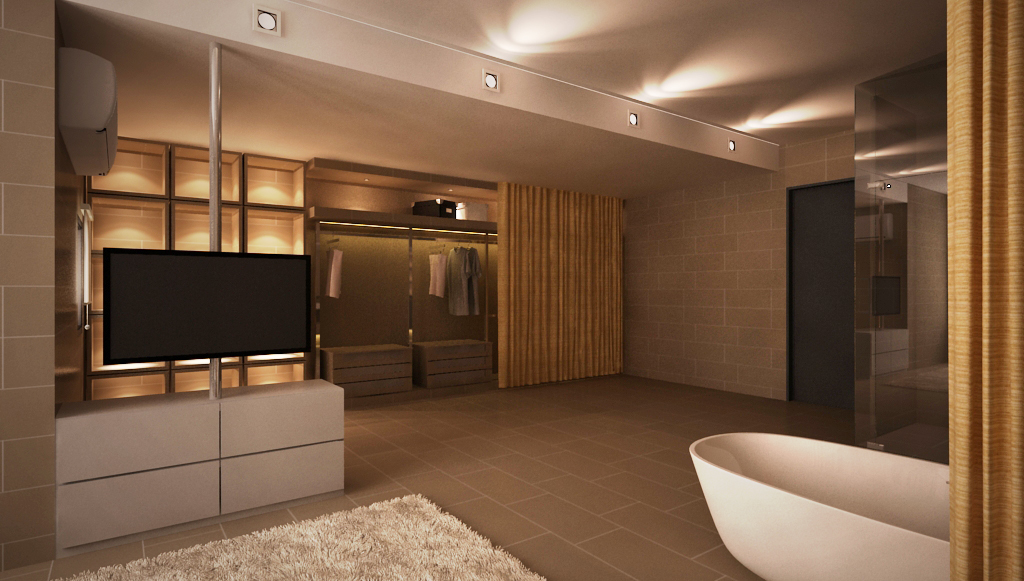 E Residence in Damansara by The Door Interiors
What we like: Did we mention there's a jacuzzi. In the master bedroom?
8. Add soft, soothing wallpaper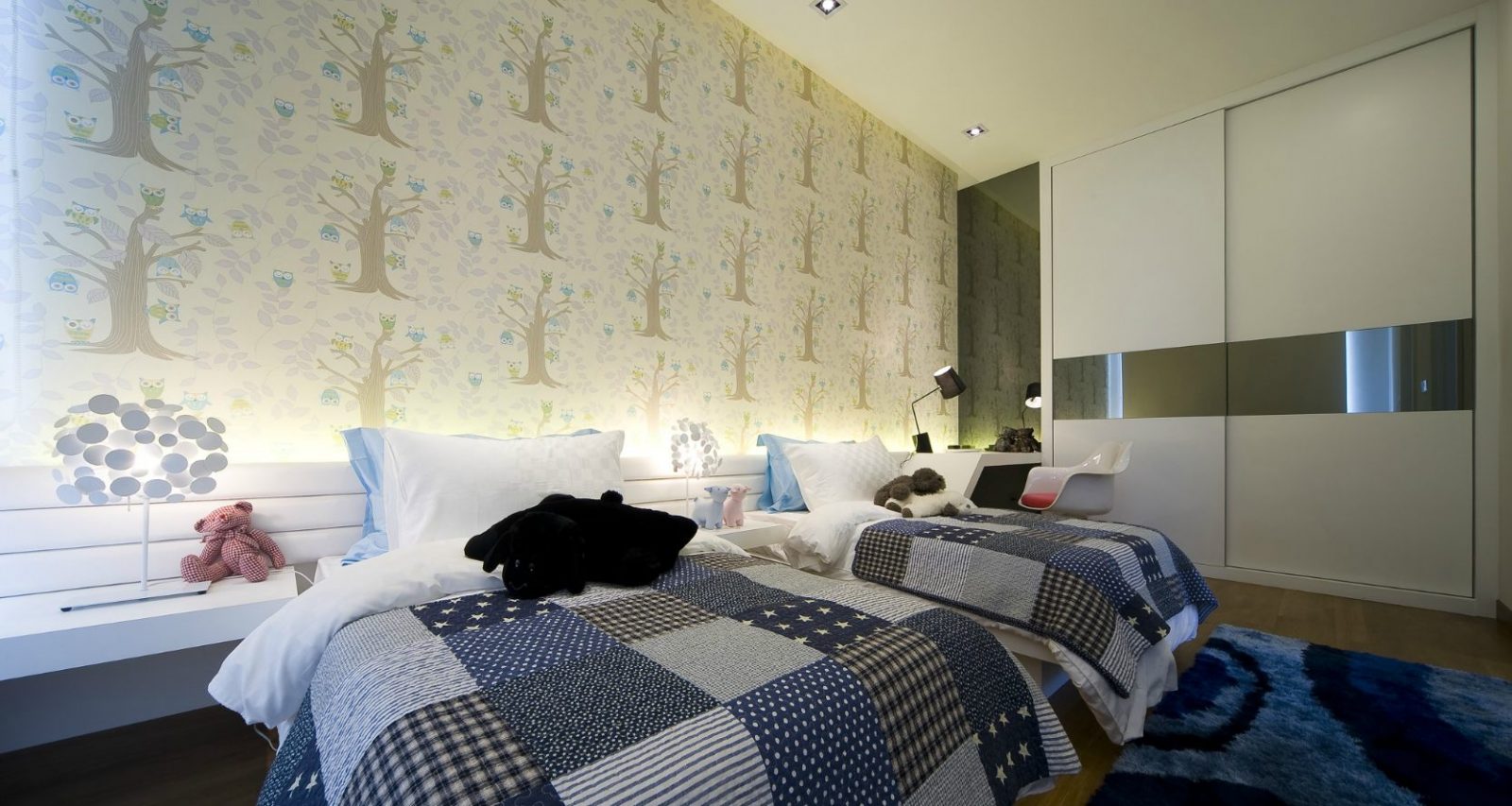 Semi-D in Plentong, Johor by Q1 Interior Concept
What we like: How the bedside lamps and bed linen all work together with the wallpaper
"I met Steven from Q1 Interior for the interior design work of my house in Mont Kiara. He had very interesting ideas for the transformation of my kitchen to an open-plan concept, and had a very good grasp of the practical details as well." – review of Q1 Interior Concept at Recommend.my
Visit Recommend.my for a list of recommended Malaysian interior designers and architects. If you sign up with your Facebook account, you also get to see which ones have been reviewed by your friends. 
Get your free account now
.
9. Paint stripes on the wall
Duplex condo in Persiaran KLCC by Bonnieblue Furniture & Interiors

"Thank you Valarie and assistant for such a fantastic job on my kitchen cabinets!! Valarie is definitely a perfectionist, and that translated into top quality workmanship. She's a joy to communicate with and is always present with a smile. Thanks so much Valarie for making my white kitchen come true 🙂 Cheers!" – Review of Bonniblue at Recommend.my
What we like: A room that perfectly balances between boys' and girls' themes, just right for the 2-year old twins who live there (one boy one girl)
Valarie Heng of Bonnieblue Furniture & Interiors explains, "Almost every design element you see in the room can be a do-it-yourself project. From the chest of drawers, pictures, monograms, curtains and even lampshades. The best part for me is the striped walls where many people thought were wallpapered but it is actually paint!"
Request quote
10. Get see-through lights and furniture to keep the space open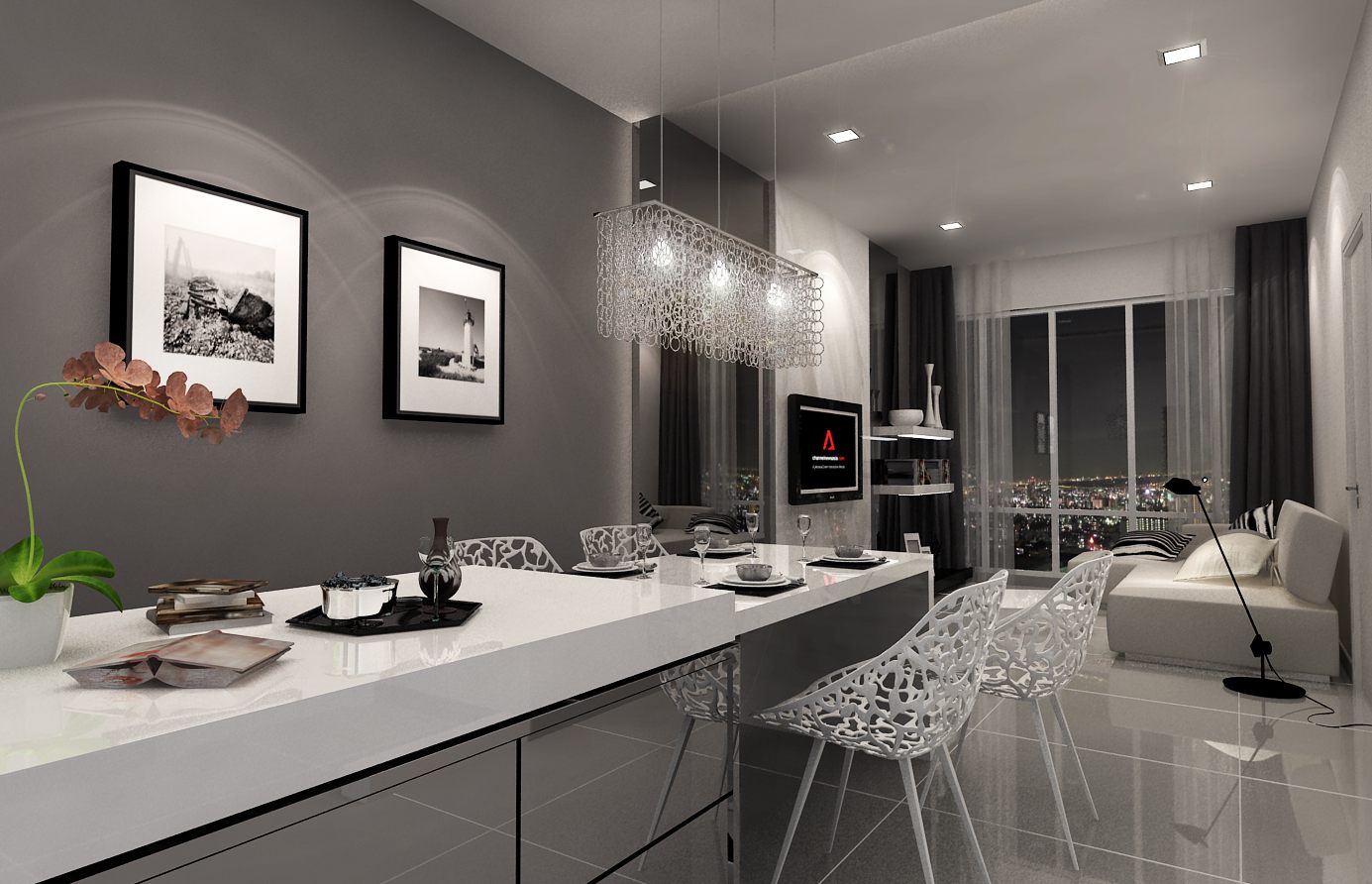 Serviced Apartment in Mutiara Anggerik by Dnito Studio
What we like: The matching floral patterns of the dining lights and chairs
Get free quotes from interior designers
Recommend.my connects you with interior designers around your area. Receive and compare free quotes from IDs and decide which one is the best before you hire.
11. Add a mirror above the island counter
Home in Cheras Hartamas by Urban Group
What we like: Achieve a high-ceiling effect to give your kitchen an airy feel.
12. Add some gloss and stainless steel for that industrial kitchen look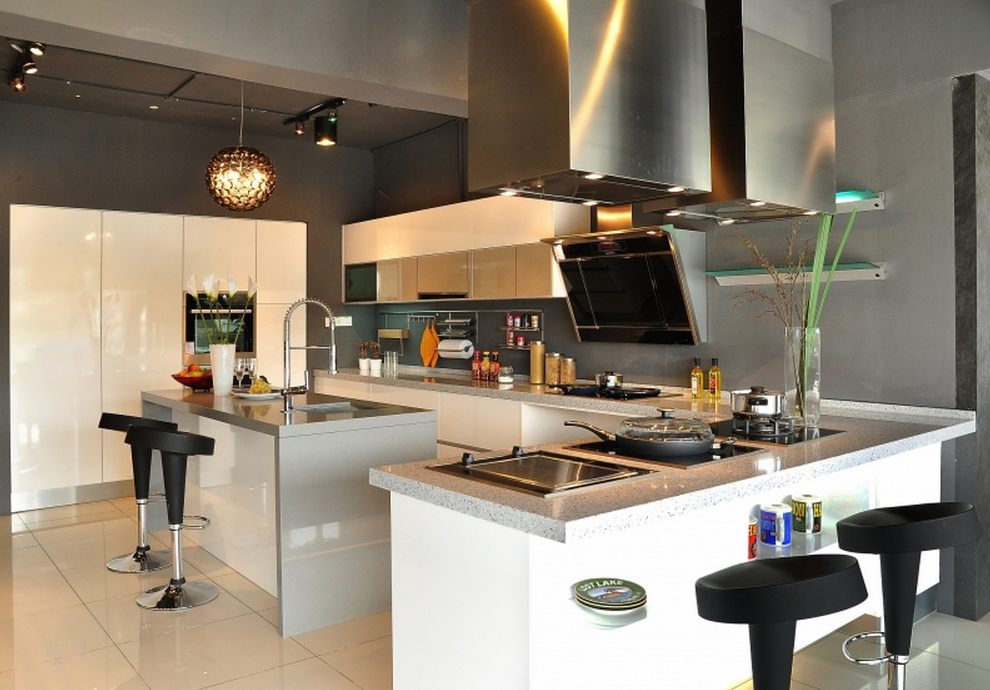 Modern Design by Rowenda Kitchen
What we like: With a kitchen like this, your guests have to take your food seriously
13. Create a pebble-lined walkway into the living room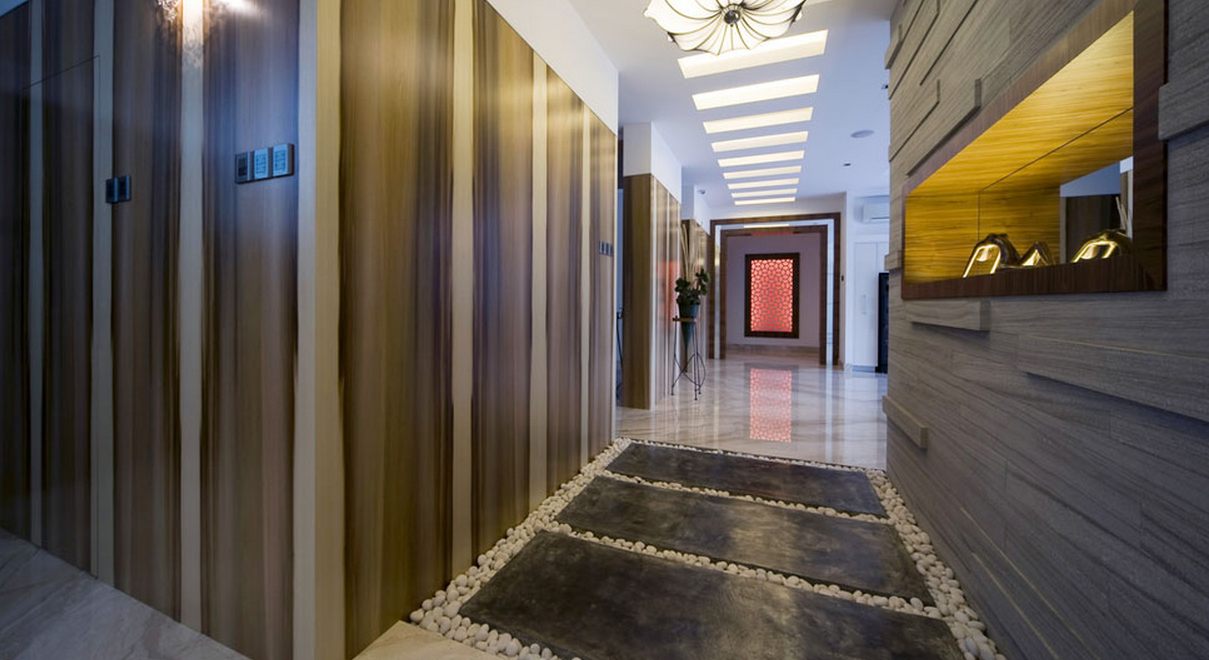 Country Heights Kajang by Design Spirits
What we like: The way the walls, floor and even ceiling creates a "tunnel" effect into the living room
14. Or a feature wall made of flat stacked stone slabs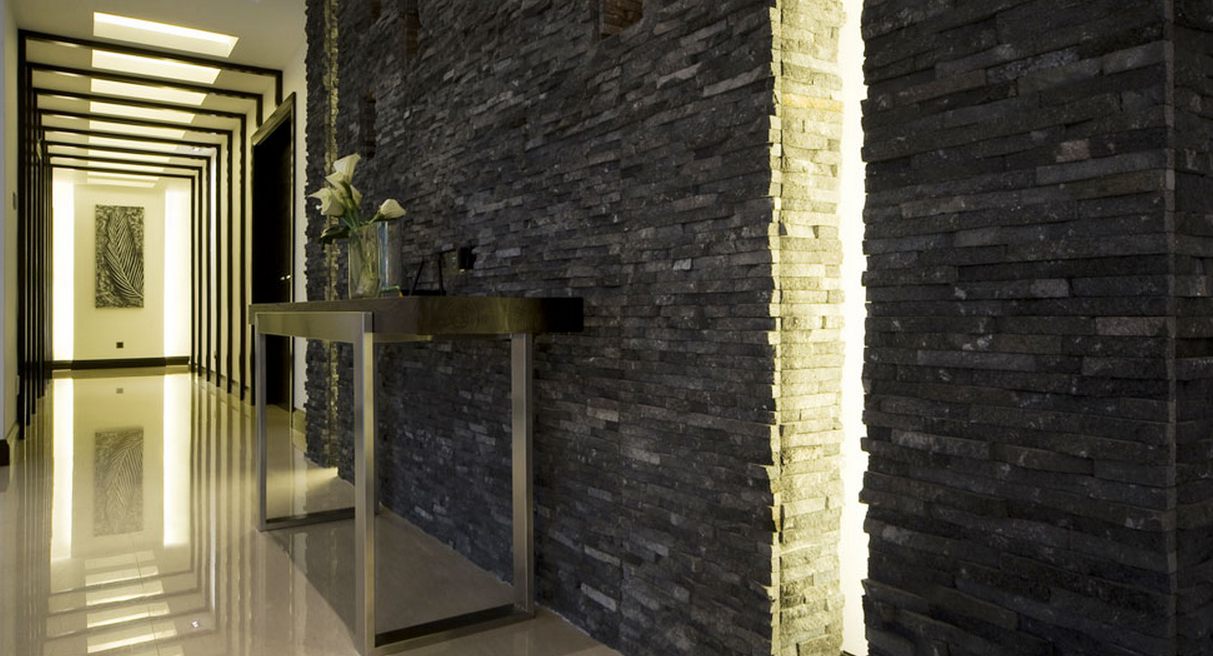 Setia Eco Park by Design Spirits
What we like: The way the feature wall is broken by a lightbox, letting you feel the depth of the stone slabs
15. Sliding doors to convert an indoor space to an outdoor space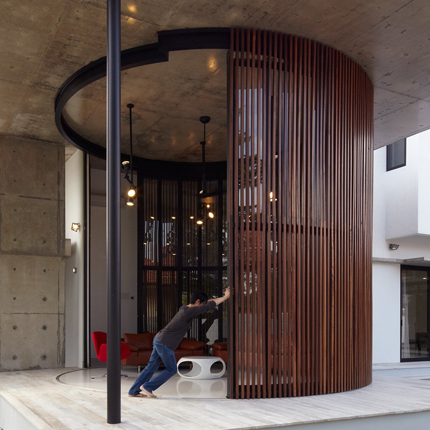 What we like: Completely enclosed to completely open garden view, with no pillars or columns in the way
16. Build an outdoor breakfast porch
Before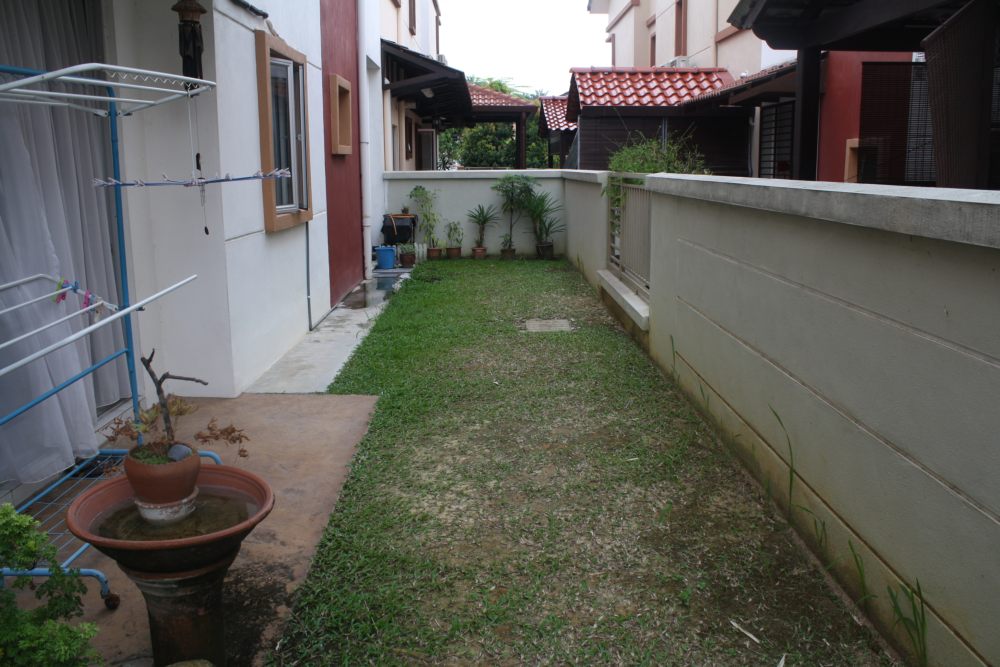 After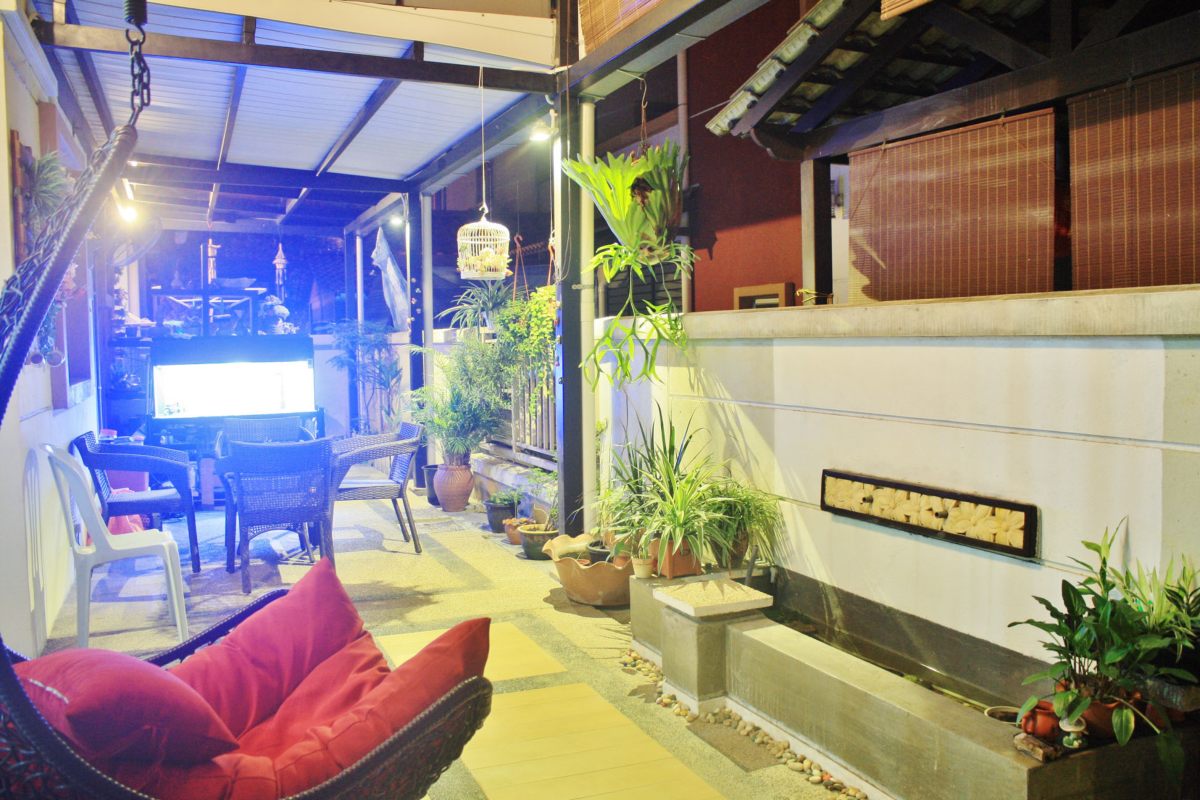 Semi-D in Setia Alam by Lakar Design Builder
What we like: Water feature, bird cage, easy chair, and more. From an open space, this area has now become a central area for family time.
As Lakar Design Builder explains, "The client wanted a breakfast porch at the side of their home. From an open area, we created a simple structure that blocked off the daytime heat from the West, allowing the porch to stay cool throughout the day. We made sure that our designs are highly functional, and look better with more use and time."
17. Add flowing water for good feng shui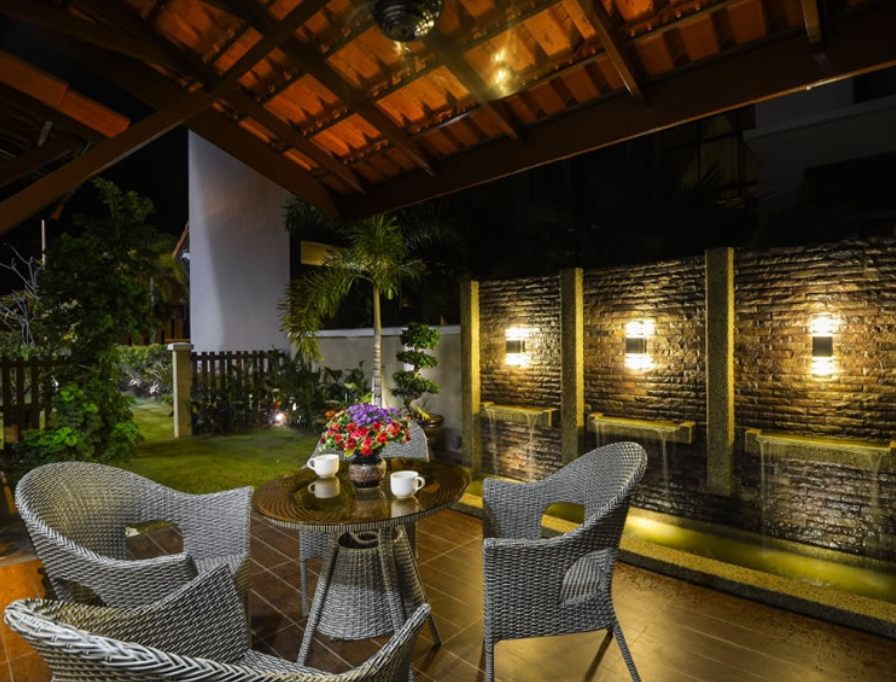 Setia Eco Park by Surface R Sdn Bhd
What we like: The cascading pools provide tranquil background sound, and look beautiful!
Need to find recommended home improvement professionals?
Recommend.my helps you find reliable, efficient and trusted professionals in Malaysia.
Tell us what you are looking for, and we'll find good vendors to contact you with their quotes. We have hundreds of professionals listed, from home renovation to interior design to even small repairs.
Best of all, it's completely free to use!