Our bedrooms may be getting smaller, but that doesn't mean you need to sacrifice any functionality.
These homeowners have done some clever bedroom renovations to create a combination dressing table and study area. So now they can get ready for work in the morning, and catch up on work in the evening, both at the same spot!
Not only do they look great in the bedroom, many of them come with ceiling height mirrors to make the bedroom feel bigger. And since you don't end up buying two pieces of furniture, your floor space doesn't get cluttered as well.
Need custom cabinetry contractors?
If you already have a design in mind, talk to our recommended carpenters to help you build and install your study table or dressing table in your bedroom.
1. Built-in makeup vanity with backlit mirror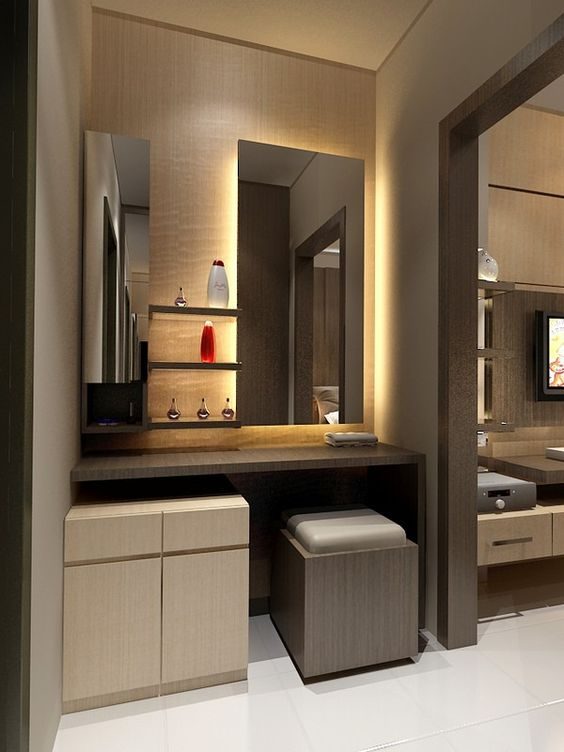 A lighted mirror dressing table is on every girl's list to have when they are older. This type of backlit mirror is commonly shown on Hollywood TV shows where the makeup artist glams up the casts. However, this built-in makeup vanity design is very comfortable because of it's dark colour interior and it's functional. Overall, it is good to have a large mirror with light and extra storage cabinet for you to store your stuff.
2. All-white custom study table for kids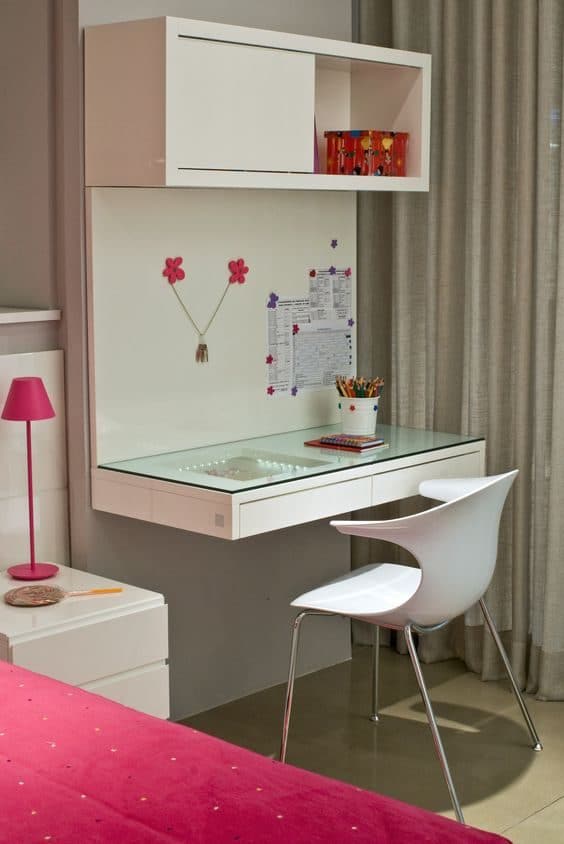 Ideally, a proper study table at home for kids is very important for them to revise their studies. Putting a separate workstation for the kids is indeed a must for every home. An all-white customised study table that comes with mounted shelving to display books and stationery sets is a great idea to have. Besides, this study table design is quite comfortable to revise all day without being distracted in the room.
3. Wall mounted study table with shelves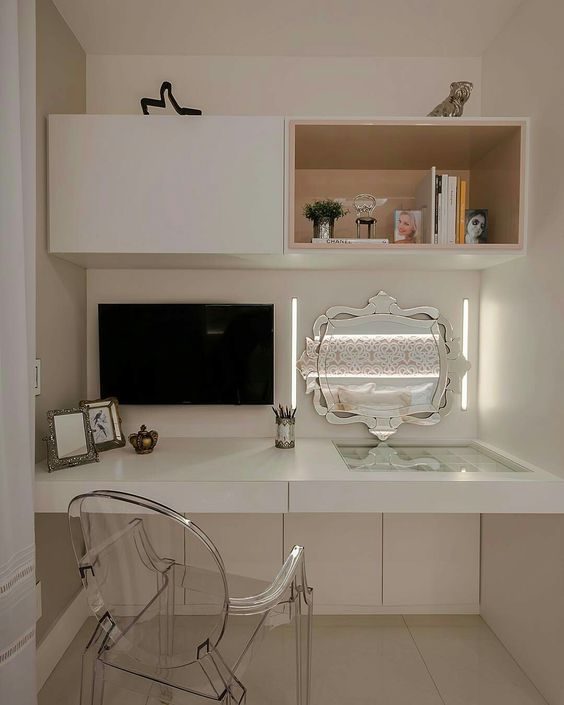 A wall mounted study desk is such a space-saver as it's multi-functional and stylish to have in your bedroom. Plus, wall mounted cabinets are a great way to display decorative items or books. Considering this study table is tucked away in a corner of your small bedroom, it still has enough space for you to work!
4. Attached dressing table with cupboard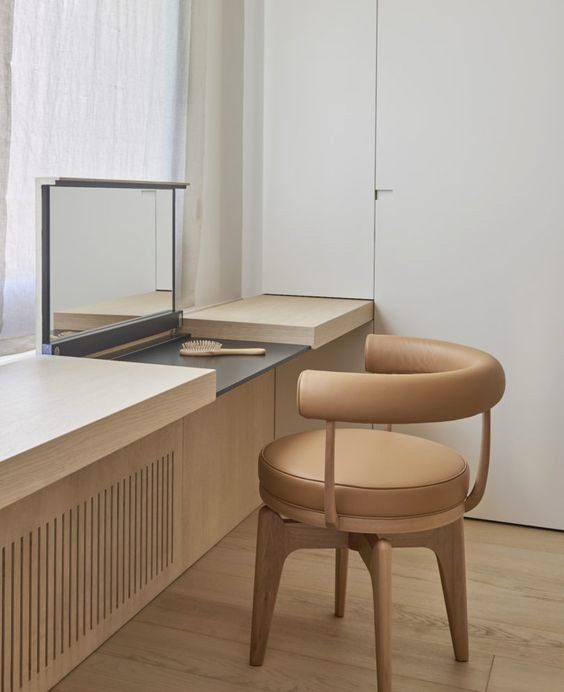 This minimal dressing table attached from a wall to the closet is such a brilliant design! What's convenient is that it has a built-in folded mirror on the table top. You can simply tuck it away after getting ready and use it as a work table as well. However, to make the table less boring, you may decorate it with artificial plants or display your makeup collection.
5. Minimal study table with attached drawers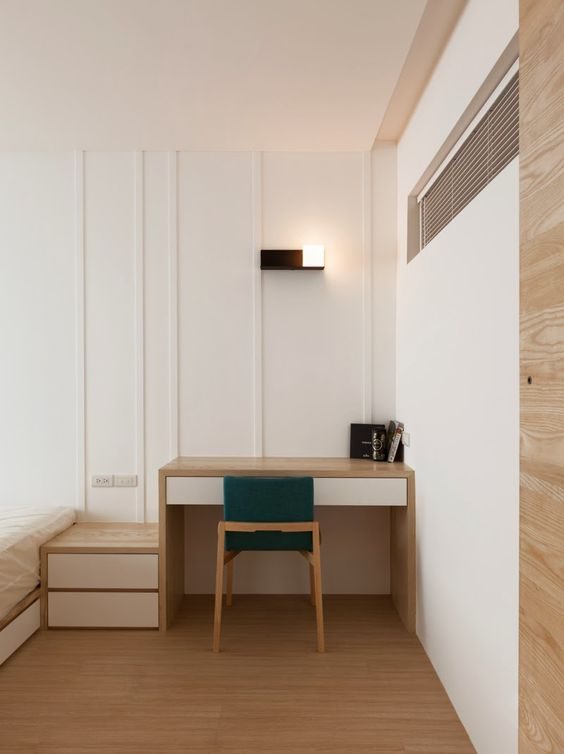 How amazing is this minimal small study desk with custom-made low drawers for storage? The look of it is so clean and vibrant. You can never go wrong with white and brown interiors! Besides, all this study table, flooring, wall, and bedding can be all custom-made with the same design to make it a whole room set.
6. Slim dressing table with built-in mirror opening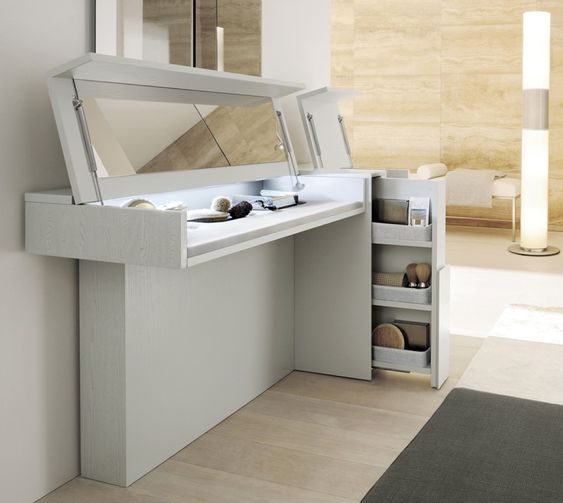 If you love makeup, then you need to customise your own makeup dressing table. It helps you to keep all your makeup organised and will give you a comfortable space to apply it. For instance, how genius is this slim dressing table for your small bedroom? It does not take up too much space in your bedroom. It has pulled out drawers where you can keep your makeup and a good mirror length that you can push up from the top.
7. High ceiling mirror vanity makeup table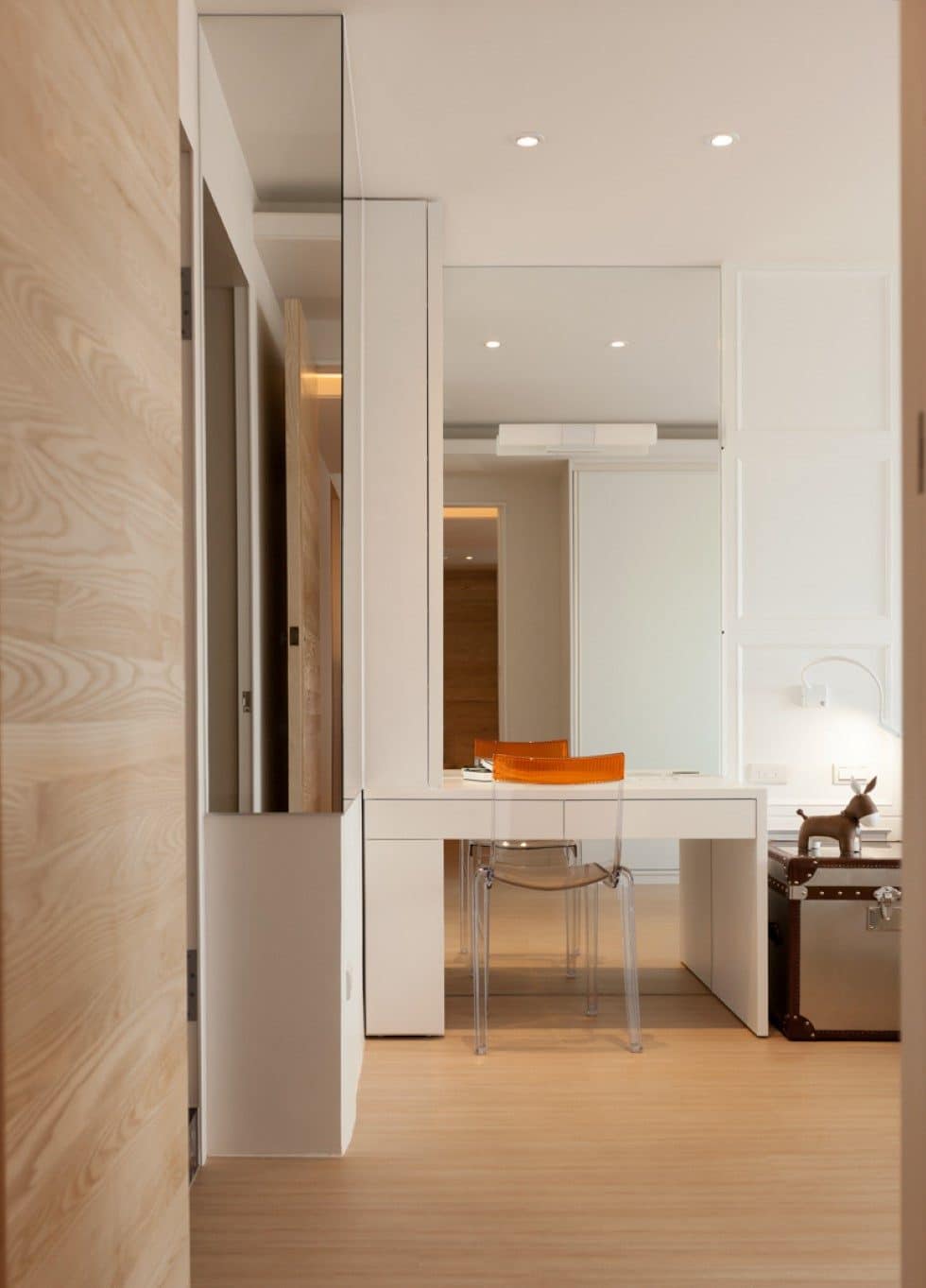 This contemporary design for your makeup table is so beautiful with its high ceiling mirror and drawers. A mirror is a must-have when it comes to designing a makeup table. It is good to make sure it's large enough and situated at the right height when seated at your vanity.
8. All-white vanity with drawers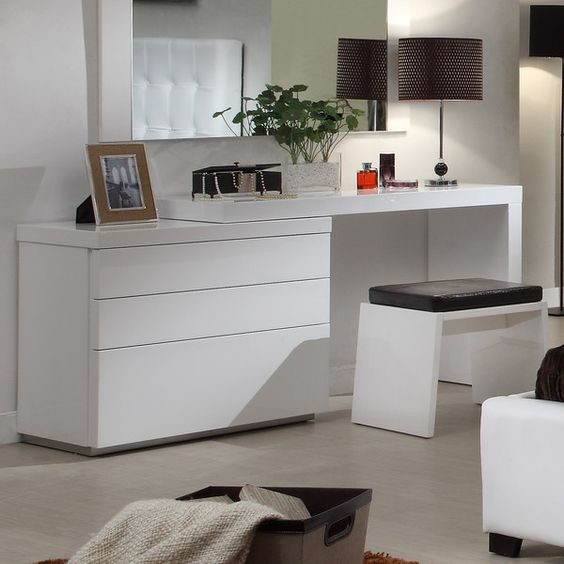 Who doesn't love plenty of storage space for the bedroom? A dressing table combined with chest drawers are great for you to tuck away your items neatly. Also, choosing an all-white furniture makes it easier to match with other loose items in the bedroom.
9. Full-length mirror vanity with custom bench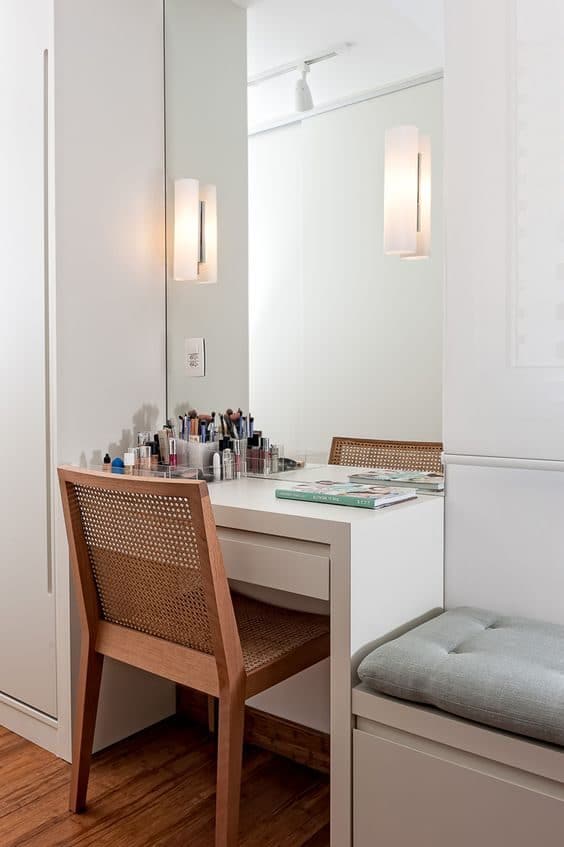 A vanity makeup table with an attached bench is the ultimate place for pampering. It's all in one built-in matching set for your bedroom with bench seating area and a separate dressing table. Hence, this design gives you plenty of storage space in the drawers and bench area.
10. Dressing table with built-in TV cabinet in a bedroom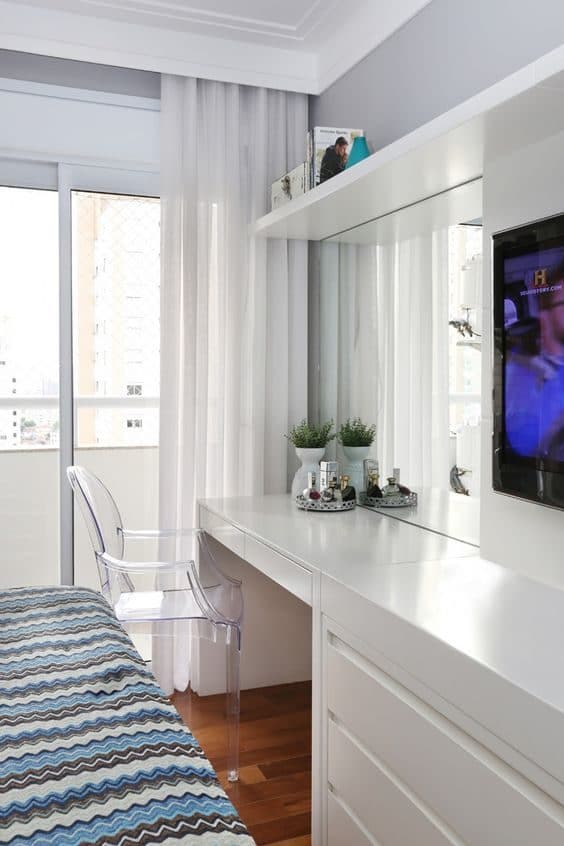 This is another spectacular dressing table design for your small bedroom. It has space for you to display your books, makeup and a TV. Plus, this simple all-white design comes with attached chest drawers, mounted shelves and dressing table. It's such a good area for you to relax or work whenever you want to.
11. Executive style dressing table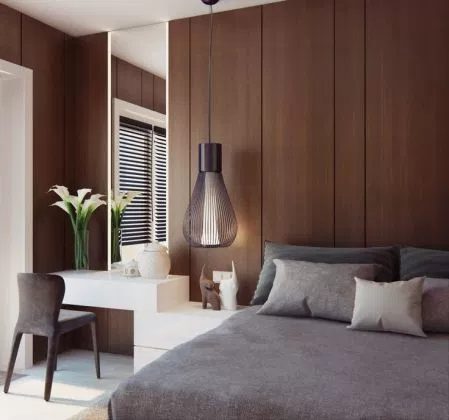 If you are looking for a more classy yet simple dressing table design, then this might be perfect for you. Such design like this will not take up too much space in your bedroom. Besides, it's tucked right next to the bed and you're getting a side table and dressing table. Top it up with fancy light fixtures on the ceiling for a touch of classiness to the bedroom.
12. All mirrored dressing makeup table with light fixtures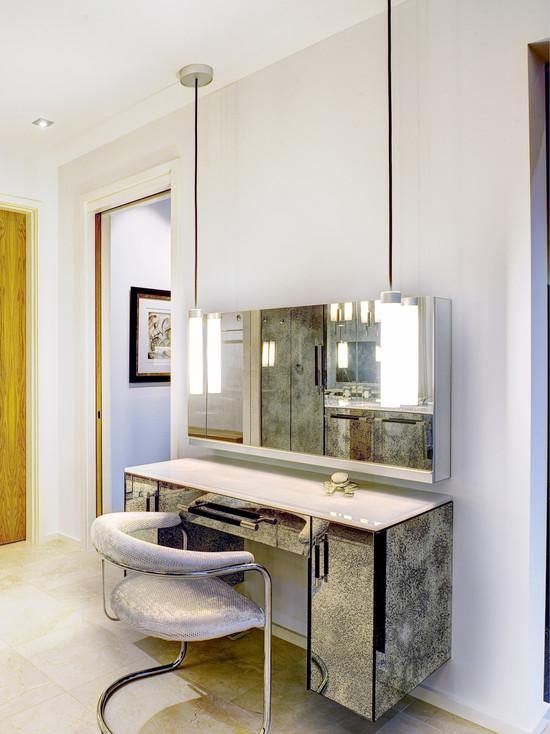 This sophisticated all mirrored makeup dressing table is definitely one of its kind. A custom-made wall mounted table and mirror accompanied with a unique chair design. It blends in well with just a plain white wall in the bedroom.
13. Luxurious built-in closet vanity station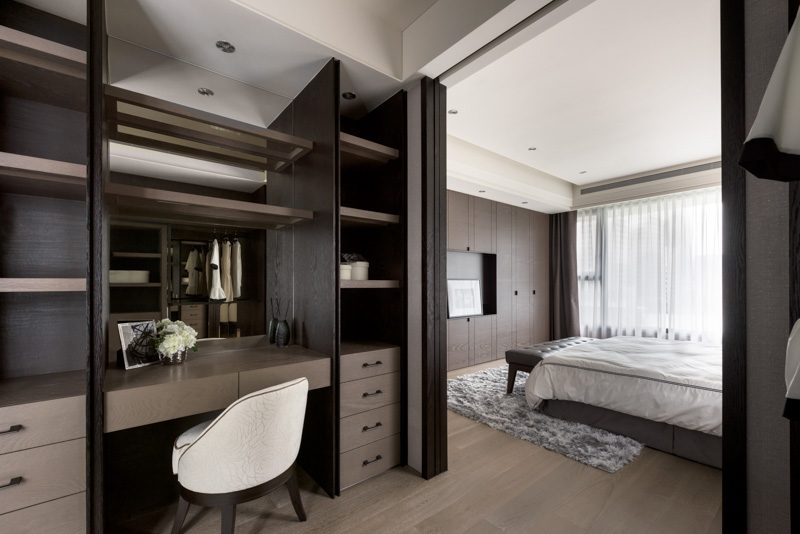 Walk-in closets have always been the symbol of luxury, but these days you do not need a mansion to own one. This built-in all dark wood walk-in closet vanity space is functional, beautiful and yet compact to help you store your makeup. On the other hand, having a dedicated storage space for all your accessories makes it clutter-free too.
14. Open shelving study table with mirror
Even the smallest spaces can be recreated to allow some space for a study table. This brown interior colour for your study table is the way to go. In brief, you get divided shelving to display your books and a countertop to work at.
15. Dressing makeup table with storage space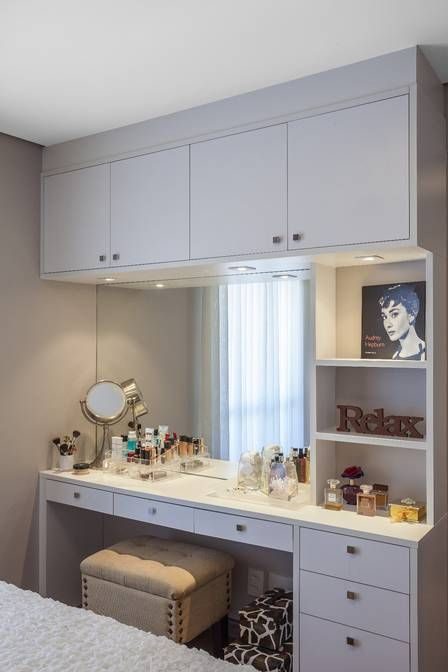 Built-in dressing tables are ideal, they are totally made for your needs and your small bedroom space. The upper cabinet is very useful for you to keep your necessities. Also, this vanity allows you to tuck your chair under the table without taking up the walkway space.
16. Large mirror dressing makeup table with attached cupboard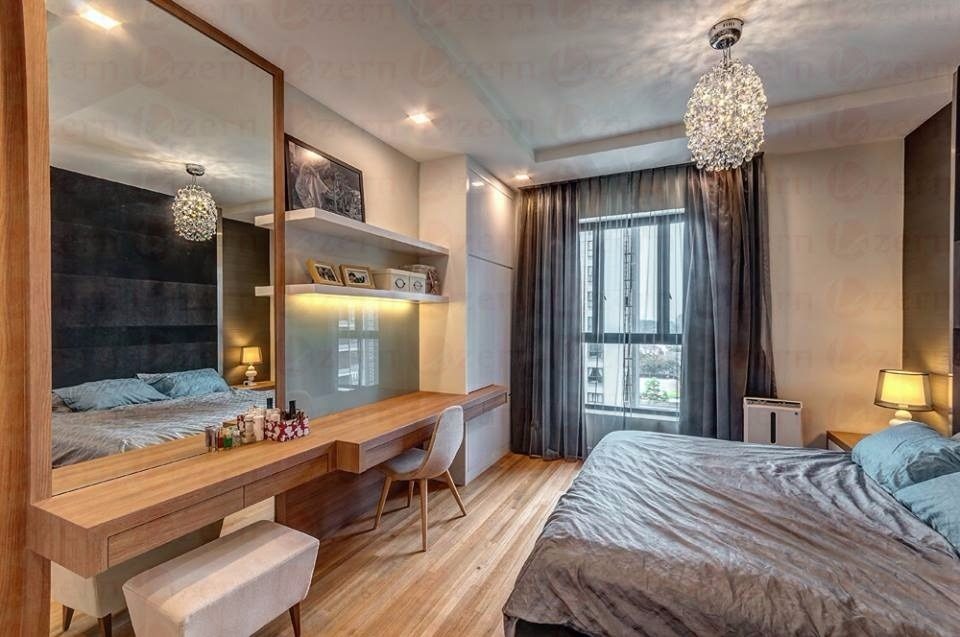 If you prefer a wider and more open type of dressing table design, then the picture above might spark your interest. You can fill up the double mounted shelving, drawers and the cupboard space.
Generally, this type of design is combined with a dressing makeup table and a study table. It comes with the same table top, but just different seating chairs which are practical.
17. Custom-made dressing table with mounted shelving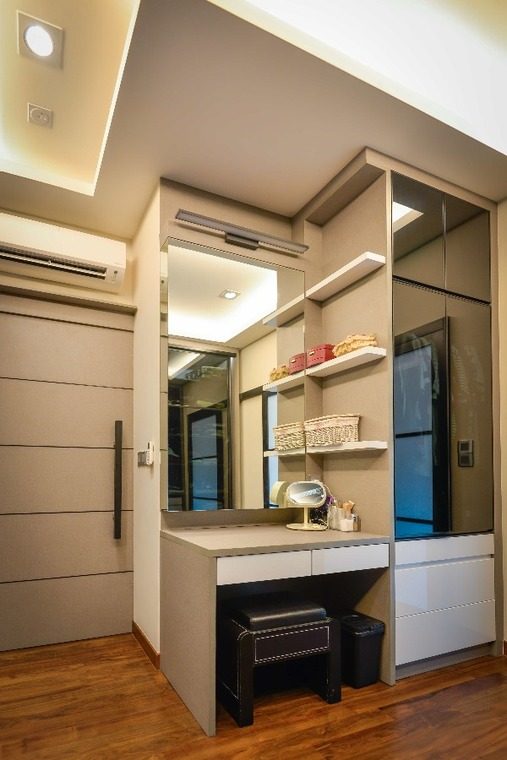 This custom made dressing table is stylish and minimal. The white cabinet goes so well with the brown top and the mirror closet door. It comes with 3 shelves on the wall which are great to display your makeup. It is definitely one of the most inviting parts of the room because of its design.
Need custom cabinetry contractors?
If you already have a design in mind, talk to our recommended carpenters to help you build and install your study table or dressing table in your bedroom.