Why are low platform beds so popular? Maybe it's because they give the room a wonderfully clean and sleek aesthetic. Especially if you are looking for interesting master bedroom ideas.
Instead of putting a mattress on a bed frame, many homeowners are skipping the bed frame altogether, and putting it on a low platform instead.
The platform could be just a few inches high. And the mattress itself is usually smaller than the platform, so you can step around the mattress.
Why build a low platform bed in your bedroom?
A low platform bed serves several purposes.
Firstly, creating a custom-built platform allows you to create some storage space under the mattress, or even around the mattress. Having more storage is a luxury, so this is great if you for small bedrooms.
By putting the mattress and storage space in the same footprint, you avoid cluttering the bedroom.
But in larger bedrooms, a low bed serves a second purpose. It helps to divide the bedroom space while keeping it open. This gives the viewer a clear view across the bedroom, making it feel more open.
The platform marks out the sleeping area without adding too much height, giving the illusion of an open, airy bedroom.
And if you extend the platform to make it larger than the mattress, it also makes the mattress feel smaller, contributing to the illusion of having more floor space.
When you create a custom-made platform bed, you can also create low bedside tables and bedside shelves too. This gives the added benefit of bedroom furniture that goes perfectly with the style of the room.
Create your dream home on Recommend.my
Schedule an appointment with our panel of experienced cabinet and renovation contractors from all over Malaysia!
Check out these great platform bed designs in Malaysia
Low platform beds are perfect for those who think that chunky, big, four-legged traditional beds are so yesterday.
Today is the era of simplicity and minimalist interior designs. This applies too, to any furniture filling your house, including beds.
Combined with the right interior design, a platform bed just feels comfortable. And what's better than feeling comfortable in your own bedroom? You'll feel more relaxed when recharging your energy at night, and as the result, of course, much better quality sleep.
We found these beautiful platform bed ideas from our recommended interior designers in Malaysia to help and inspire your bedroom transformation!
1. A platform bed with geometric accent lighting
Project by: Grov Design Studio
Here is one example of a nice low platform bed with a simple headboard. With a touch of wood elements in the interior design, it helps add a natural mood to your bedroom. The designer added a nice touch with the accent lighting to simulate natural sunlight entering a window. Complete the comfort of your bedroom by adding a comfortable rug.
2. A full bed that fills the room proportionally
Project by: Grov Design Studio
This room is the real representation of a small room gone big. As you can see, there are several factors that make it the way it is. First, the placement of the bed that is right in the middle, so the room feels balanced. Second, the usage of vertical stripes on the wall that makes the ceiling appear higher. And third, the hanging lamps on each side of the bed that certainly play a great role in beautifying the look of the room.
3. Raised platform in light wood with integrated bay window shelving
Project by: Grov Design Studio
This room is an example of a great application of Japanese-style interior design in neutral colours, which are white, grey, and brown. The bed is covered in grey-coloured sheet to match the wall decoration and curtains, which complement the appearance of the platform itself and the closet at the side. It's also an interesting hack to incorporate the headboard directly to the platform. You can place a small window side table, too!
4. Superlink Terrace House in Bukit Raja
Project by: M&C Design
The bedroom incorporates a floor-to-ceiling bookshelf and replaces the headboard area with a feature wall of glass and wood. The medium-height platform bedframe is done in a light grey tone that resembles stone.
5. A simple, contrasting platform bed in the corner for a sophisticated look
Product by: Millimetric Studio
To soften the marble floor, a sophisticated and simple raised platform is added near the bay windows. The usage of the simple, nice platform bed in this room with a colour that contrasts to the overall white scheme is a great idea to try. By extending the platform to create a study table, the design feels like it's growing into the walls. There is also a motif of angular shapes in the wall and ceiling to create a truly unique bedroom.
6.  Bungalow in Mont Kiara
Project by: Hatch Design
An ultra-minimalist bedroom that cleverly uses a platform bed in medium height which can function as bedside tables and storage, and putting a full bed mattress with a standard thickness on top of it. Instead of using a curtain, the owner opted for roller window blinds that keep the clean lines intact, compared to drapes which add lots of vertical fold lines. Across the bedframe is a ceiling-height bookshelf with ladder access. This keeps everything off the floor and tabletops.
7. Bungalow in Cyberjaya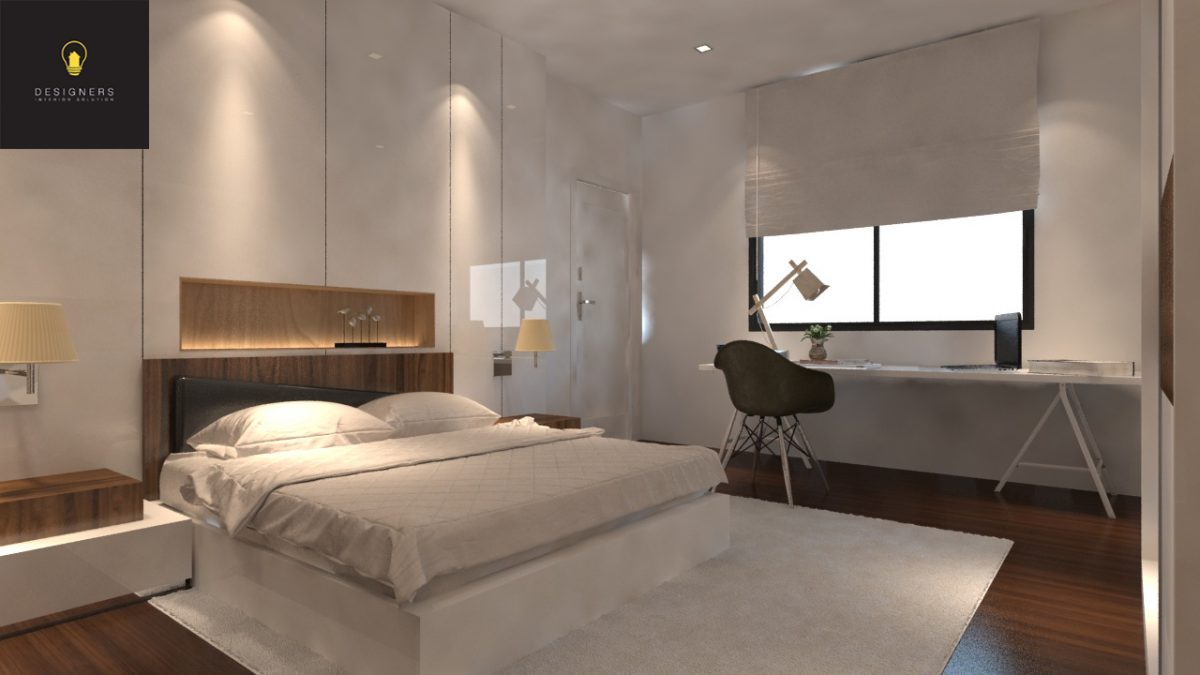 Project by: Designers Interior Solution
This light-dimmable, well-arranged bedroom is what you need for great quality sleep. Who will refuse to sleep on this platform bed? It has anything you need, from the perfect height of the platform and mattress, to the clean and sleek look it gives. Reflective wall closet and great lighting above the platform bed creates a cosy atmosphere in the bedroom.
8. Bungalow in Mont Kiara
Project by: Hatch Interior Studio
White-coloured walls, built-in closet, a low-height simple platform bed, and a roller window blind are a perfect combination to make the most of this bedroom! Not only does this platform bed make the room feel comfortable, but it also provides more space for wall storage. The addition of a shelf along the window adds lots of display space, or doubles up as sitting space for reading by the window.
9. Platform Bed Concept for The Chan Family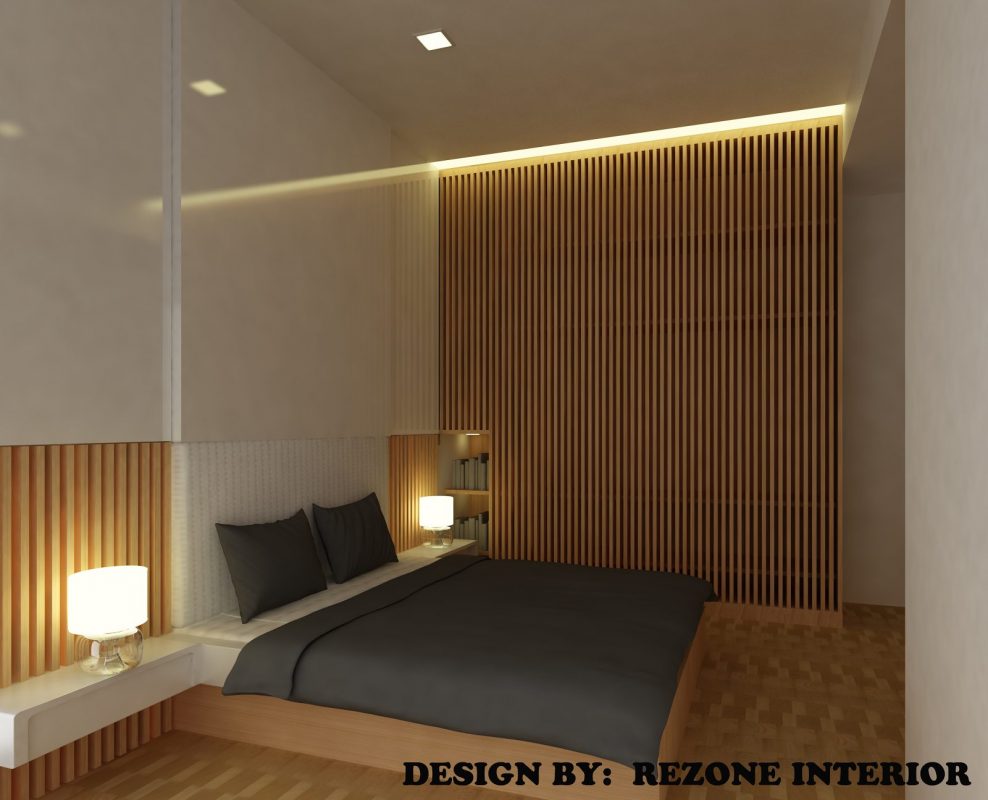 Project by: Rezone Interior Design
This design helps elevate a low ceiling. By putting a platform bed on the floor, and vertical timber strips on the wall, the ceiling feels like it is higher up than it really is. The bed is kept simple with a fabric headboard with similar vertical lines.
10. Condominium in Radius Residence, Selayang
Project by: Dash Design
The modernity and warmth is strongly felt in this bedroom, as a result of brilliant combination between platform bed and polygon art in gold color palette. This room shows you the right way possible to arrange a bedroom with a bed mattress put on a raised platform. The medium height of the bed surprisingly gives airy feels to the room. The platform area also uses a flooring material that blends nicely with the concept design.
11. Platform Bed Concept for Master Bedroom
Project by: Urban Structure Construction
This comfortable, modern, and contemporary bedroom incorporates various elements in its design. One of which is that this room left behind the usual wooden platform and changed it with a modern platform with a sleek full bed mattress on top. It feels even more complete with the addition of a comfortable fluffy rug on the wooden floor, and a big ceiling fan. The placement of a TV right across the bed can help provide entertainment for the homeowner, and the use of a big mirror also helps the room feels more spacious.
12. Semi-D House in Old Klang Road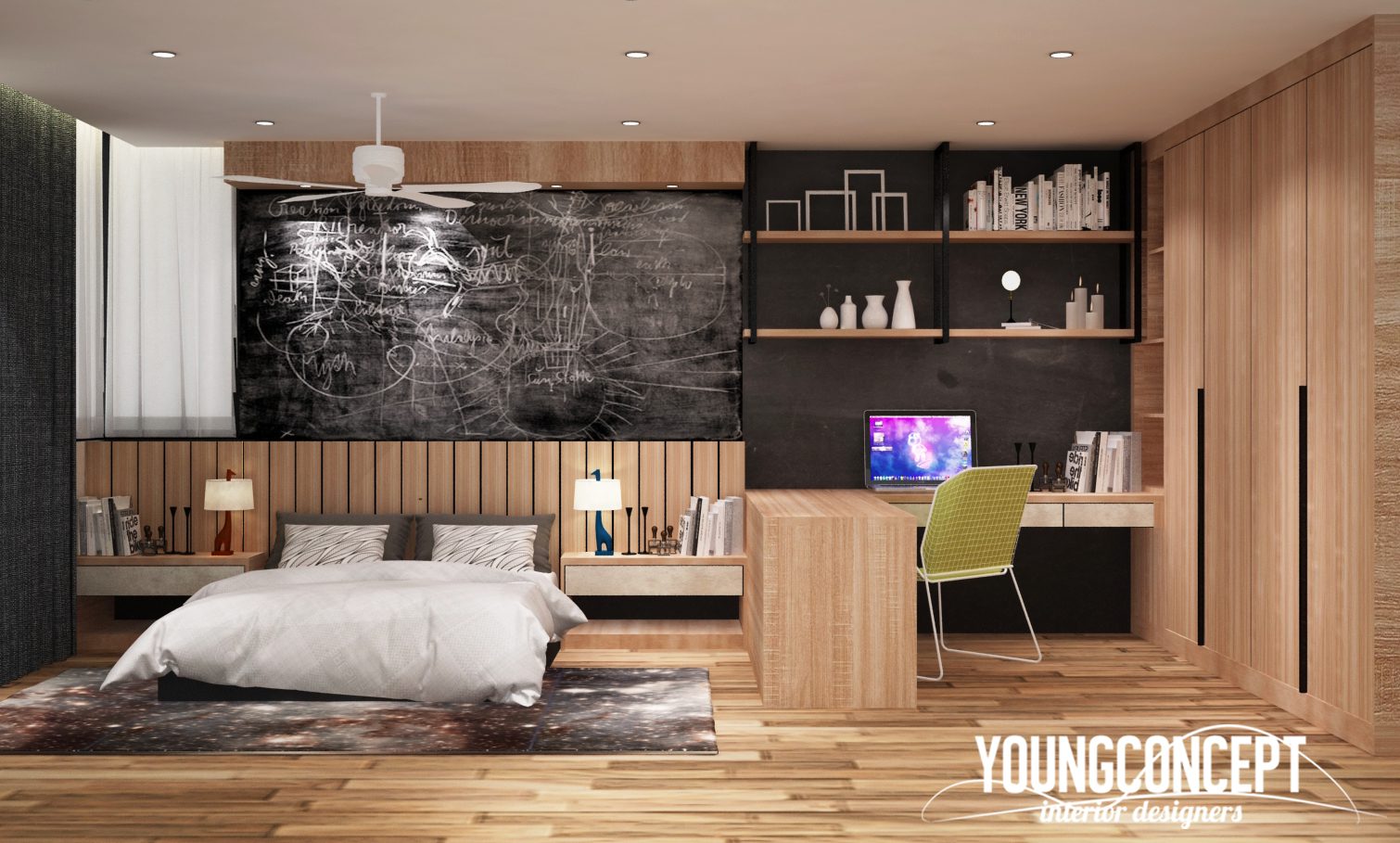 Project by: Young Concept Design
This room incorporates the elements of modernity in its design very well, such as light wood tones for wall and floors. Since the platform bed is low, the designer managed to add a chalkboard above the bed as a unique wall decoration idea.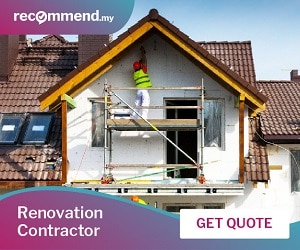 13. Double Storey House in Semenyih
Project by: Young Concept Design
This design makes the most of a small-sized window. The platform bed stays low to the ground to let in as much light as possible. Looking at the beautifully designed room below, you can mix a bit touch of blue in the wall decoration and this platform bed which looks incredibly simple with sufficient room lighting to create a well-lit bedroom design.
14. Platform bed design for condominium showroom concept
Project by: IA3D Studio
Minimalist rooms don't have to be plain. As seen in this condominium, the room shows off some striking features by using a distinct element for its wall with a wooden cut out pattern partition, a brilliant feature for a focal point. The bed and shelving is also raised with a floating effect.
15. Semi-D House in Cheras, Kuala Lumpur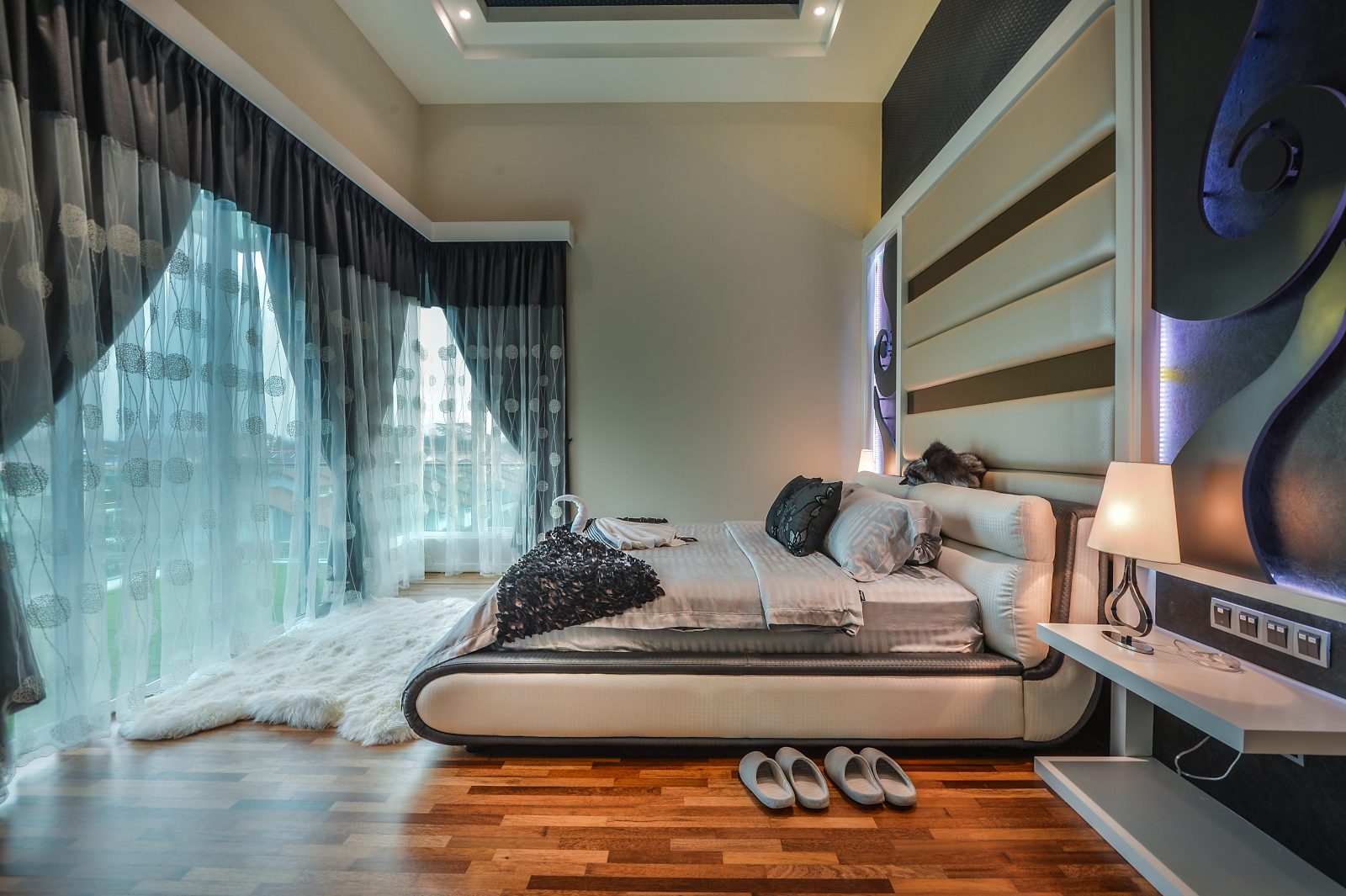 Project by: Moonlit Inspiration
Raised platform beds don't always have to have angular edges. A round-edged platform goes well too with luxurious theme. Just choose a round-edged, one-piece bed, and place it in the middle of the room. You will need to choose the right curtains and wall decoration with colours that complement each other to have a room looking this elegant.
16.  Condominium in Casa Tropicana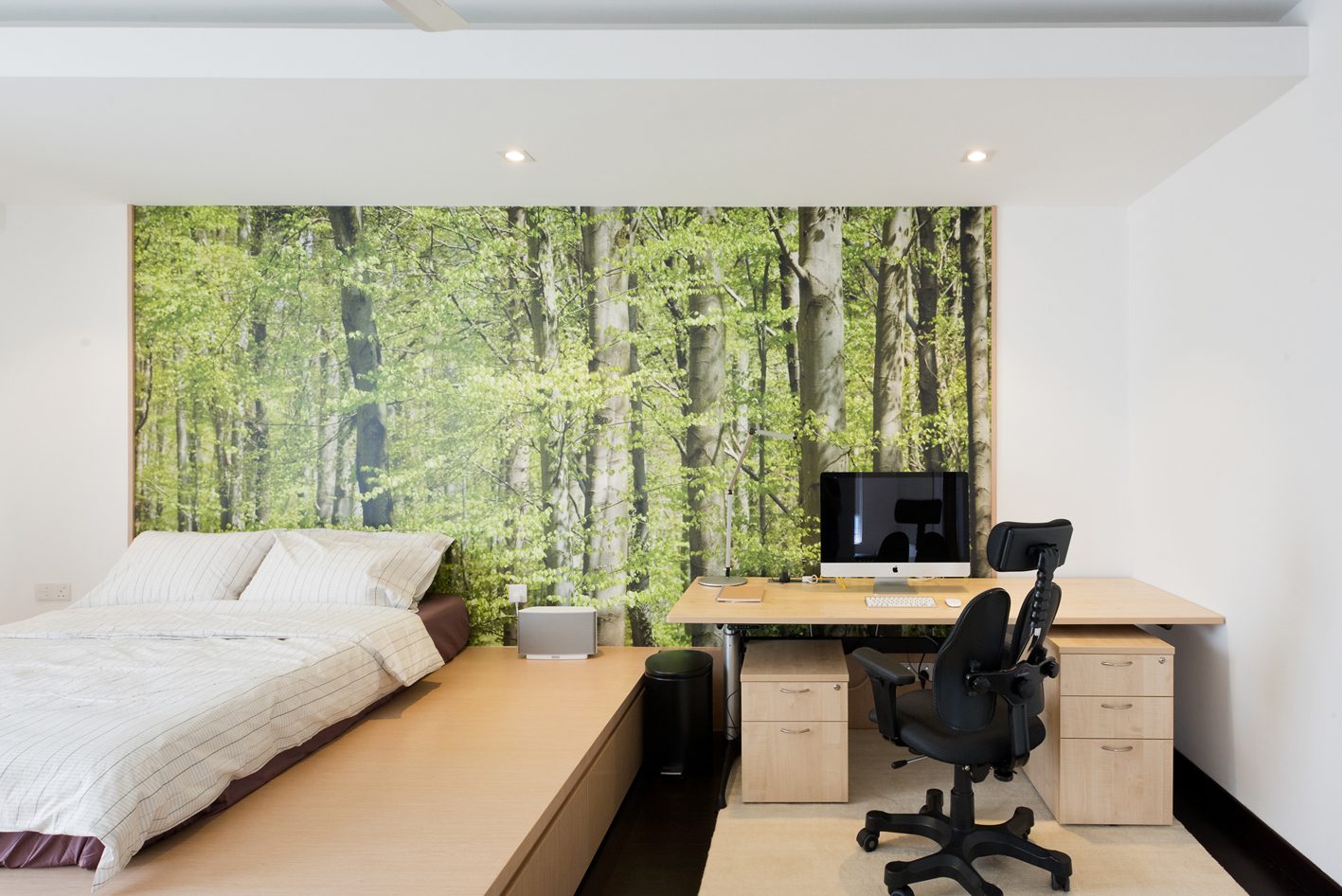 Project by: Pocket Square
Scandinavian design advocates the idea of bringing the outdoors in. But if live plants are not possible, a life-size wallpaper mural of the rainforest along one side of the wall will make you instinctively breath deeper. No matter how hectic and busy your work life is, feeling refreshed is what will you will get being in this bedroom. The addition of raised platform storage and study table with light wooden tones keeps the room airy, light and clutter-free.
17. Condominium in La Costa Condo, Bandar Sunway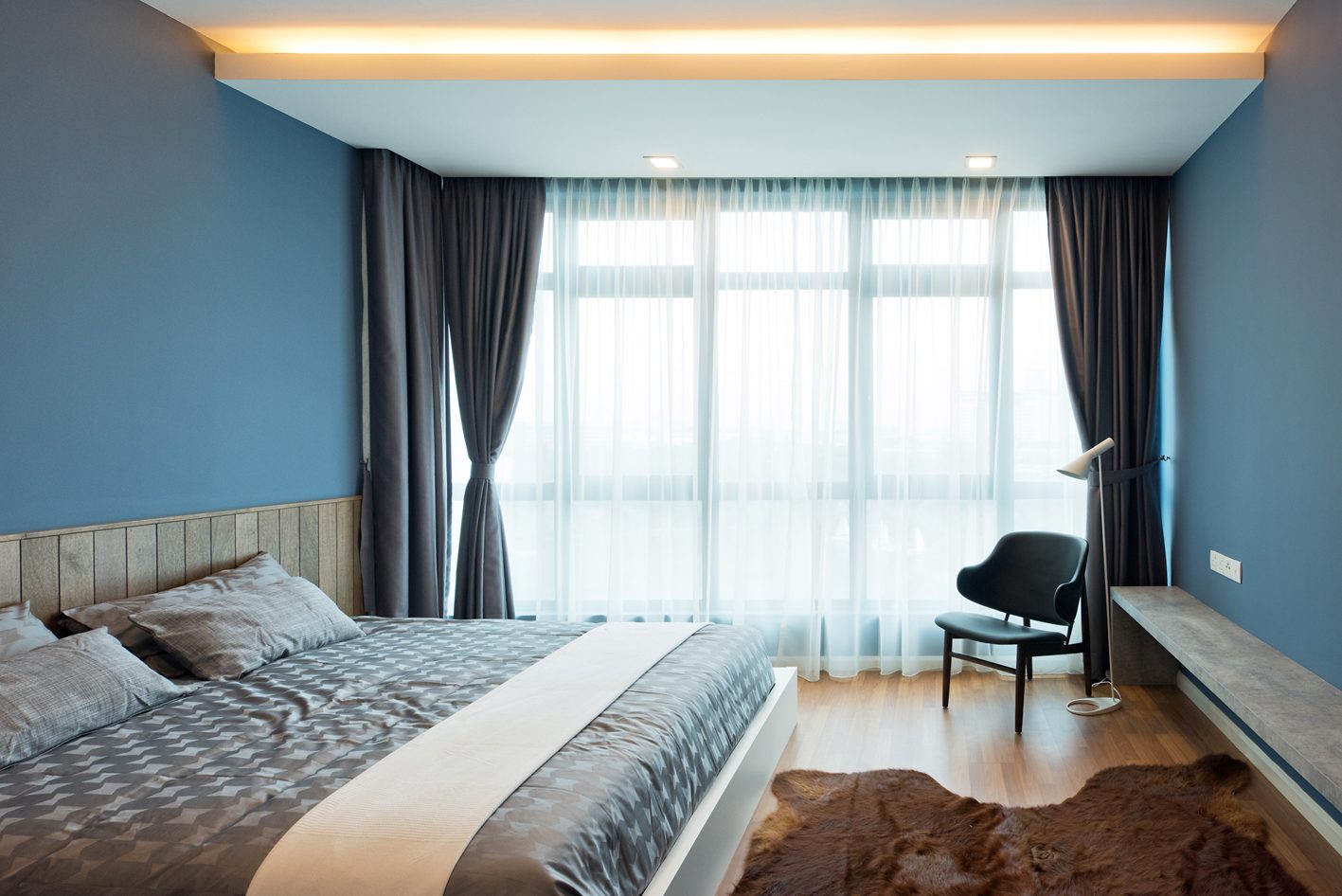 Project by: Pocket Square
An inviting room does not need to have a lot of furniture. This room gives the feeling of both comfort and elegance. The presence of a queen-sized platform bed here succeeds in making the room feel spacious and airy. Also, the colours of which goes well with the overall colour scheme. As for lighting, using warm-coloured lighting on the ceiling can create a mesmerizing contrast.
18. Condominium in Cheras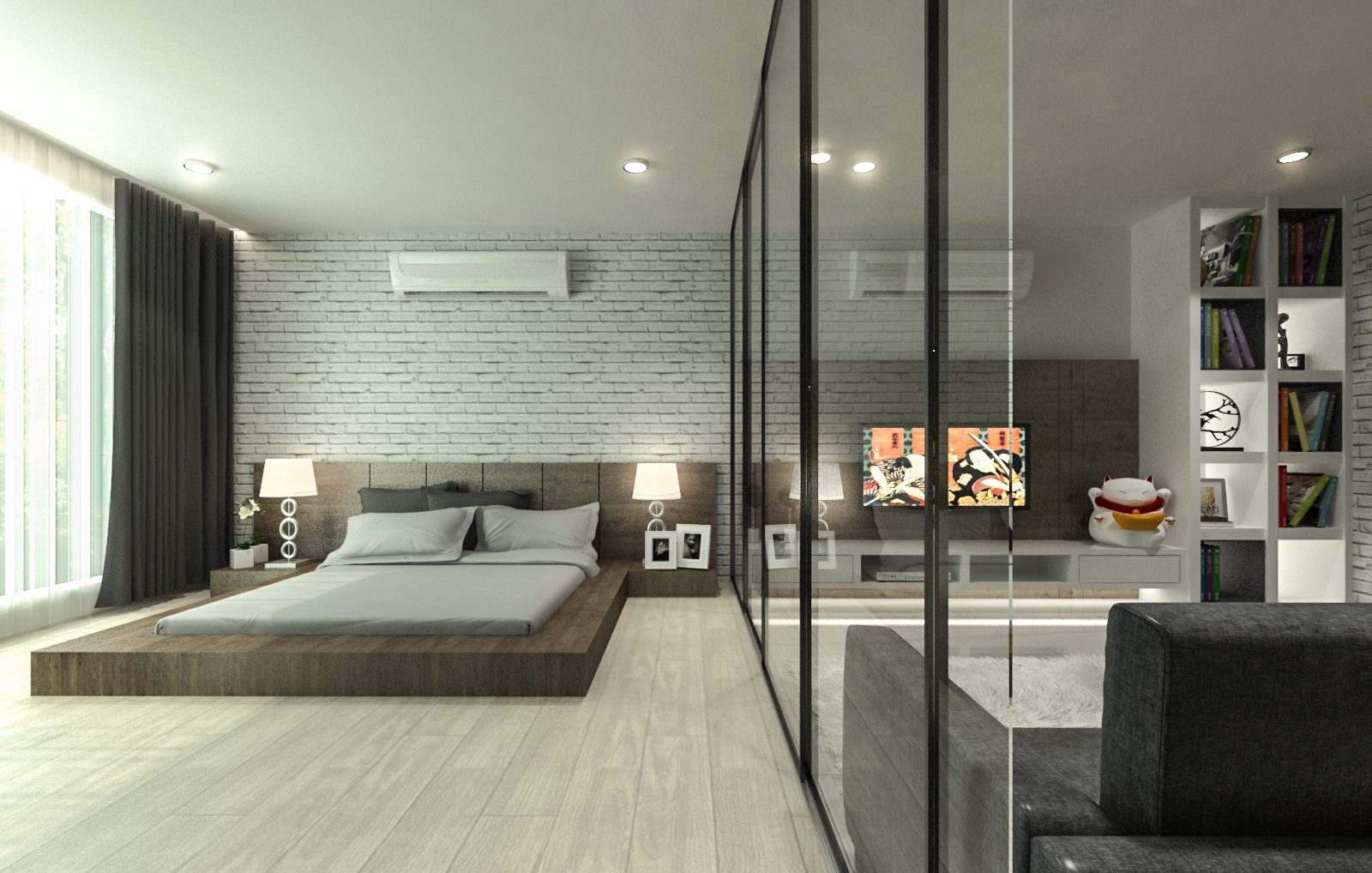 Project by: Neo In Design
One thing really noticeable in this room is that it looks incredibly airy. The usage of bed mattress that sits really close to the ground gives the room more open space. Thanks to the help of this huge closet with mirror doors, the room feels twice as big. Despite its low height, the floor level is multifunctional. Besides being the platform for your bed, it can also function as a nightstand where you can place bedside lamps and the pictures of your loved ones.
19. Platform Bed Concept with Exposed Brick and Concrete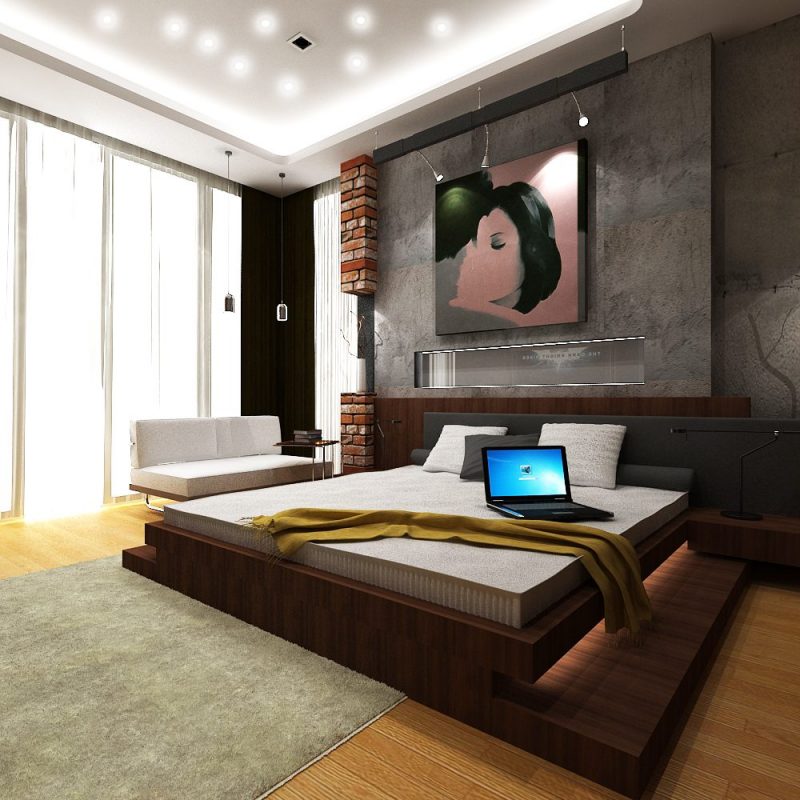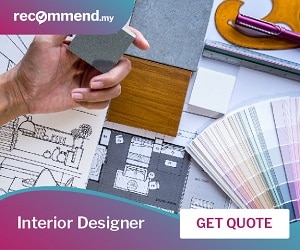 Project by: Reve Designo
This room uses a mix of materials for dramatic effect. From the cement feature wall,  multi-level platform bed, to the exposed brick elements. The bed itself is made to float on the platform, and feels like it goes on forever.
20. Concept for Terrace House Bedroom
Project by: Dans De Design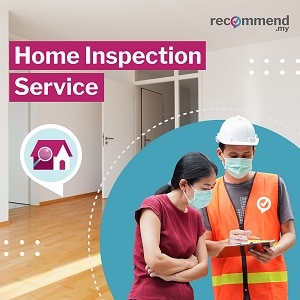 The use of dark wood elements in the platform, floor and walls (even the TV console) makes this room look rich and luxurious. The sleeping area is demarcated by a slightly raised platform with built-in lighting.
21. Bungalow in Modern Classic Design
Project by: Xenn Interior Design
The look of classic, simple and sleek is reflected in this room design. If mostly people prefer a simple low platform for the bed, this room chose a whole different way. By using a bulky platform, it looks like the bed mattress sits firmly on top of it, and thus, gives the impression of a strong bed built. The rectangular wall decoration can also be an addition for storage.
22. Condominium in Saujana, Subang Jaya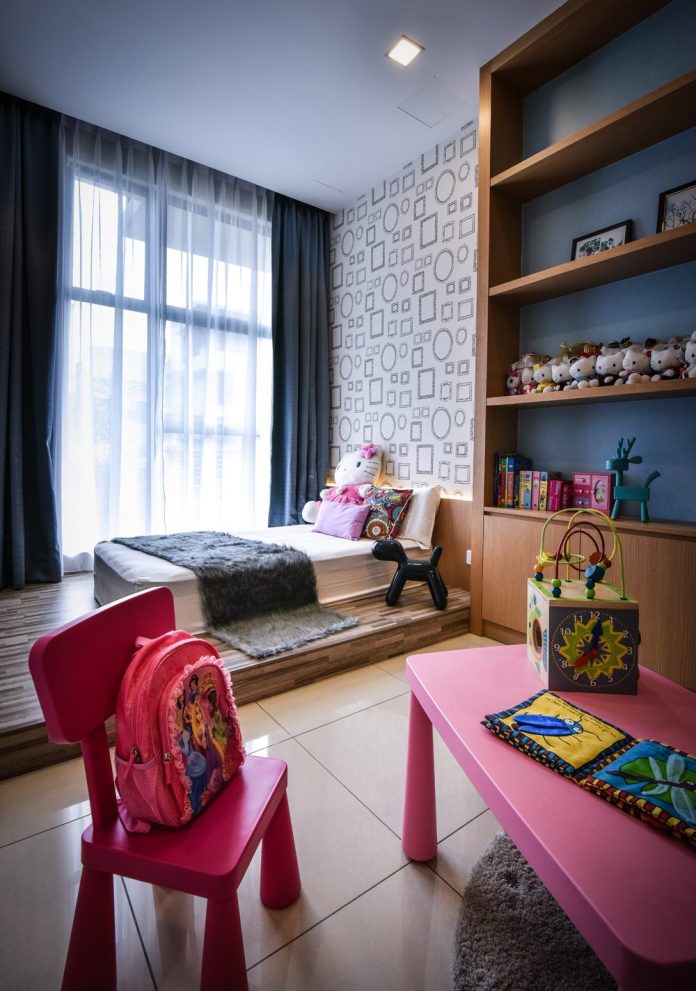 Project by: TDI Living Concept
A platform bed can also be an alternative for a safe kids room. The lower a bed stands from the floor, the more it reduces any risk of accidents, as seen in this room. This room ís a well-designed kids' room with the placement of a twin bed near the window, and the bold choice of color for its furniture. A raised floor level can be a platform for the mattress, and a big wall shelving can be used to show the displays such as family pictures, toys or dolls.
Create your dream home on Recommend.my
Schedule an appointment with our panel of experienced cabinet and renovation contractors from all over Malaysia!