We Malaysians are crazy about food. So it's no surprise that this obsession shows up at home in the kitchen, too. Whether it is a small or large, narrow or wide kitchen, everyone wants to create their own perfect kitchen design that will turn them into master chefs (or appear to be one).
With the right layout, countertops, cabinets, backsplash, and appliances, you can make your kitchen space as functional and stylish as you want.
To get you inspired, take a look at these great kitchen design ideas from our recommended Malaysian Interior designers.
Find more kitchen design ideas in Malaysia
Get an estimated quote by sharing details about your kitchen design project.
1. Industrial and Metallic in Bukit Jalil
This galley type kitchen can be both functional and sleek. Lots of stainless steel creates an industrial, no nonsense kitchen where  everything is clean and streamlined.
2. Mixed Materials
Hardwood floors, laminate cabinets, steel skirting, and a tiled backsplash gives this kitchen a strong, durable feel. The ceiling fan helps in air circulation.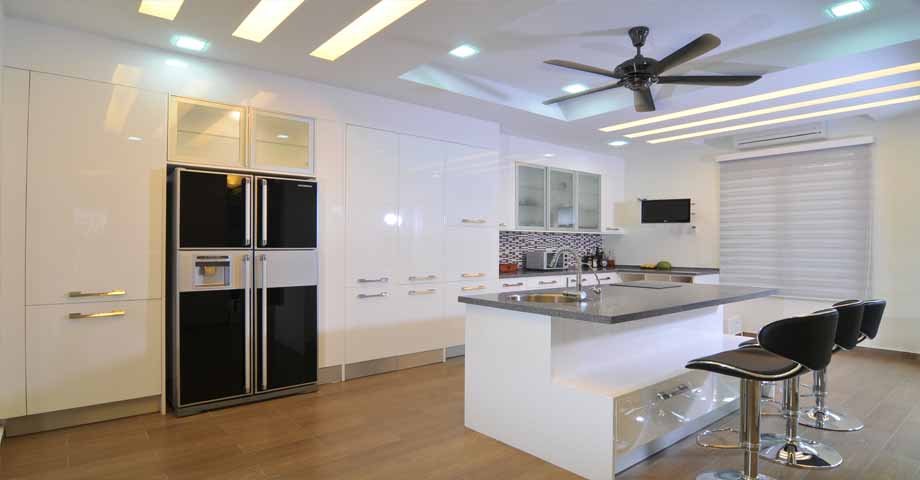 3.  Seamless in Bukit Ceylon
Floor-to-ceiling mirrors create the illusion of height and reflect light, along with transparent chairs to keep the space brighter.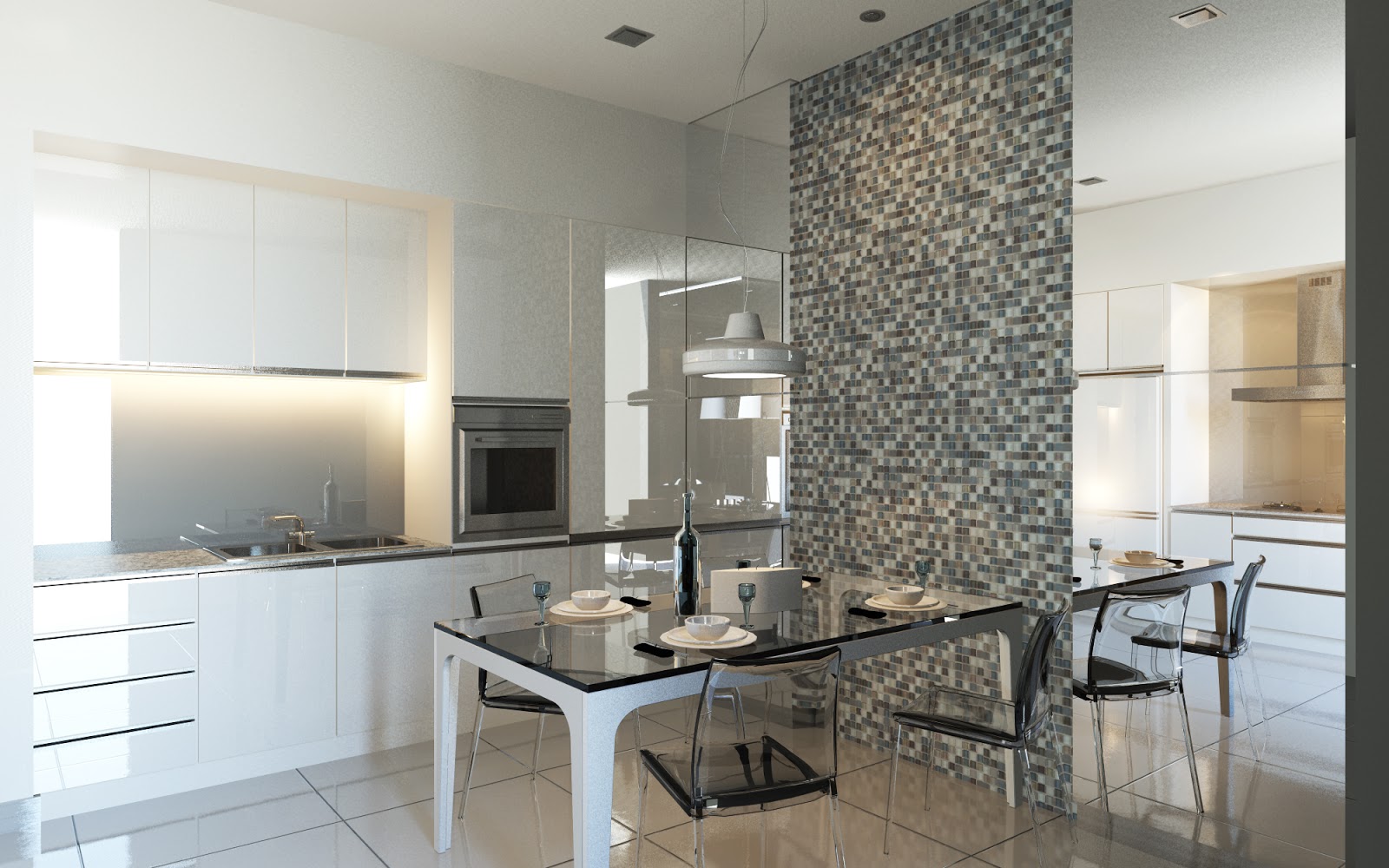 4. Illusion of Depth in Wangsa Maju
A reflective wall along the entire length of the countertop helps extend the kitchen design, while strategically placed task lighting provides ample illumination on the work surfaces, giving both a functional and aesthetically pleasing space.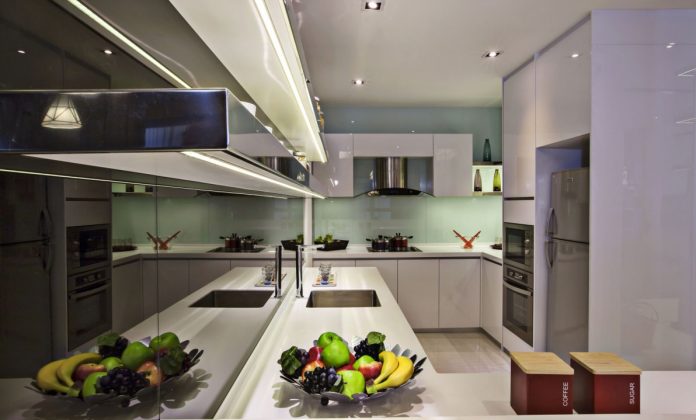 5. Wood and Stone in Kota Damansara
The textures are superbly rich in this kitchen.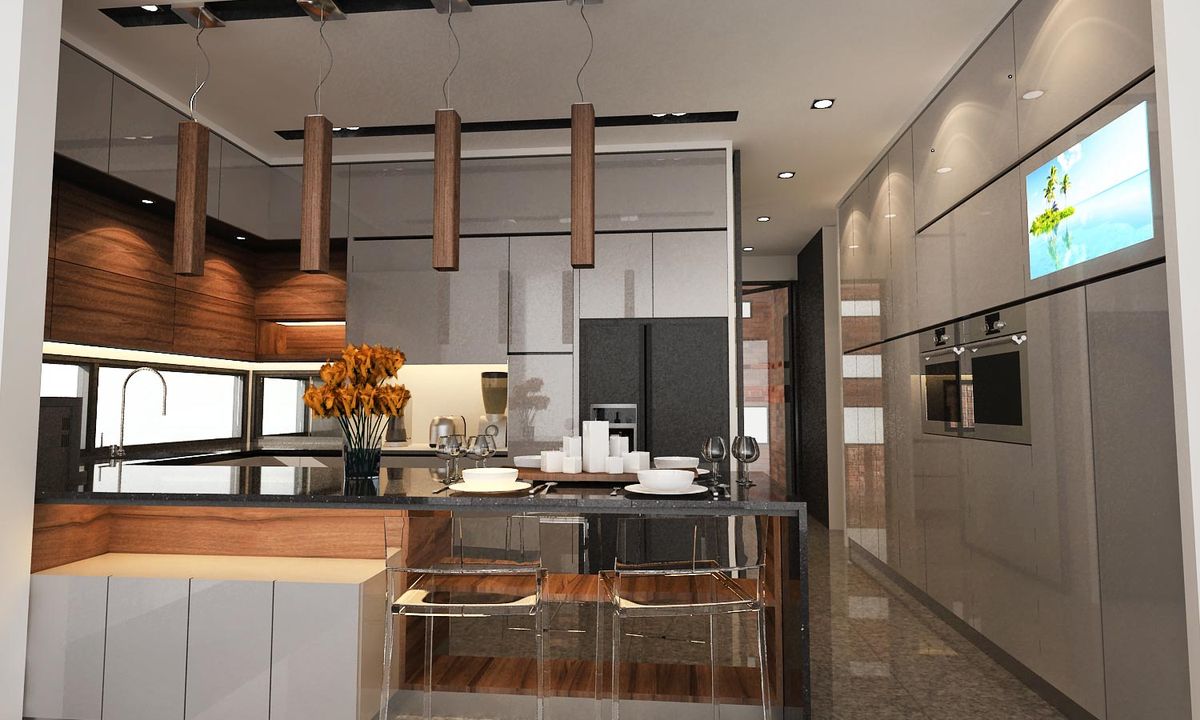 6.  Classic American
Cream-colored cabinets give this kitchen some country style, adding warmth and coziness to this small space.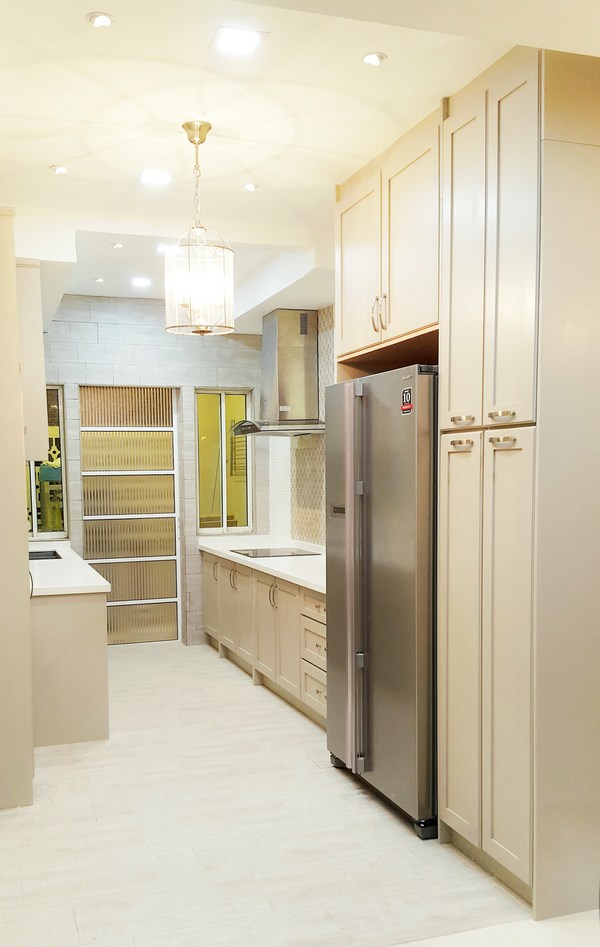 7.  A Small Space for Entertaining in Bukit Tinggi, Klang
Add some decorations to your kitchen that will not interfere with your food preparation. Shelving creates an ornamental touch to wall by keeping things neatly displayed.
8. Space Age in Ambang Botanic, Klang
This clean and green kitchen looks like the inside of a spaceship in a sci-fi movie.
9.  A Touch of Whimsy in Kepong
Chalkboard walls and veneered cabinets give the space that fun vibe. This can be ideal for kitchen owners with young children to develop their creativity by giving them a wall to illustrate your latest recipes.
10.  An Island of Many Uses in Gurney Drive, Penang
This kitchen island can be used for food preparation, dining area, breakfast nook and even working table.
11.  The Floating Counter in Bukit Pantai
This kitchen island cleverly uses reflective walls so that even in a small kitchen, the space doesn't feel cramped.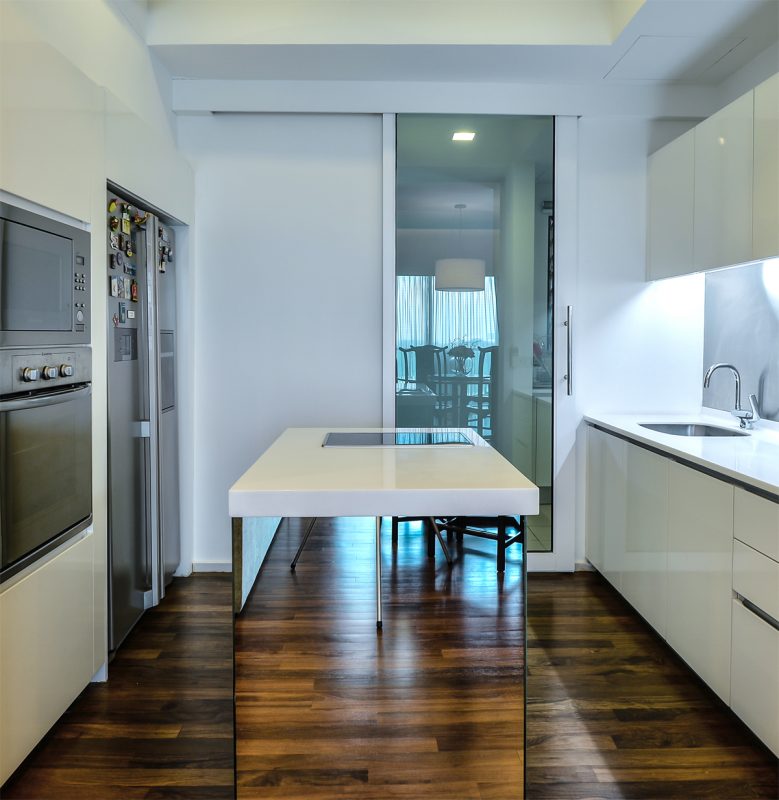 12. Corners and Angles in Sunway
When you have a small space, every nook and cranny can be used as storage space. This kitchen even features a corner bookshelf where you can easily access those cookbooks for your favorite recipes.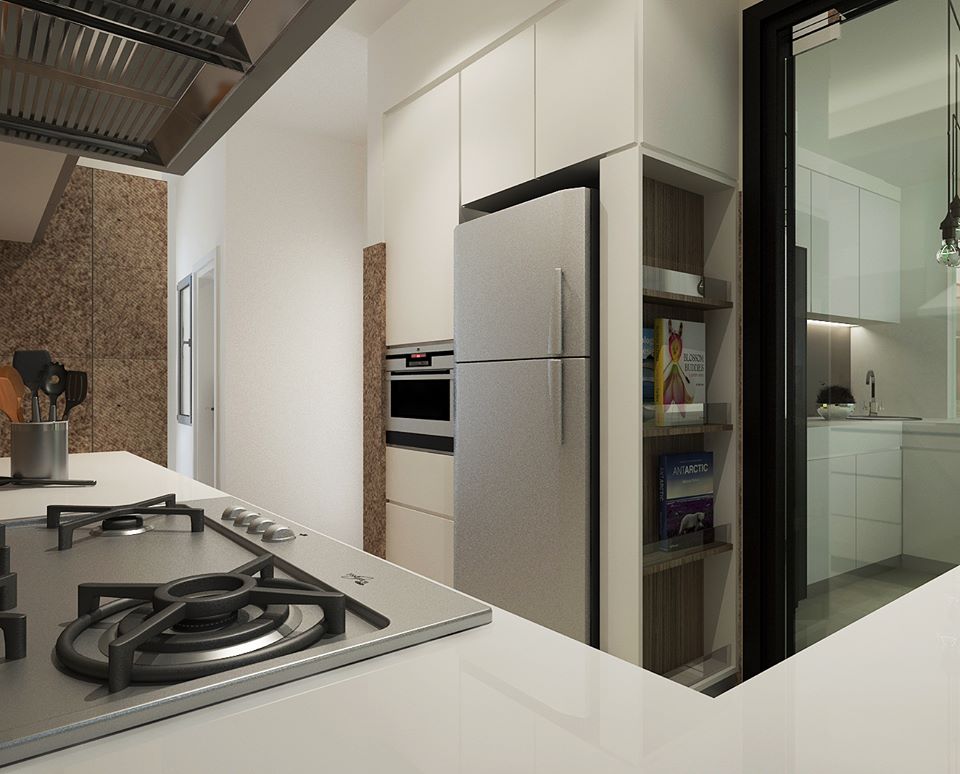 13. Add depth and function to a tiny kitchen
Many tricks are used here, including a fully mirrored wall, mirrored cabinets, display shelves, and counter seating.
14. A Warm and Cozy Cafe
This kitchen opts for parquet and wood-panelled walls to create a space that entertains while preparing.
15.  Rustic
Even with sleek and modern appliances, using wood for the interiors creates an organic feel to the space. By sourcing from local wood suppliers in Malaysia, you will also help reduce your carbon footprint.
Find more kitchen design ideas in Malaysia
Get an estimated quote by sharing details about your kitchen design project.
OR
16. Farmhouse Style in Puchong
Brick and tile gives this kitchen a spacious, homey feel.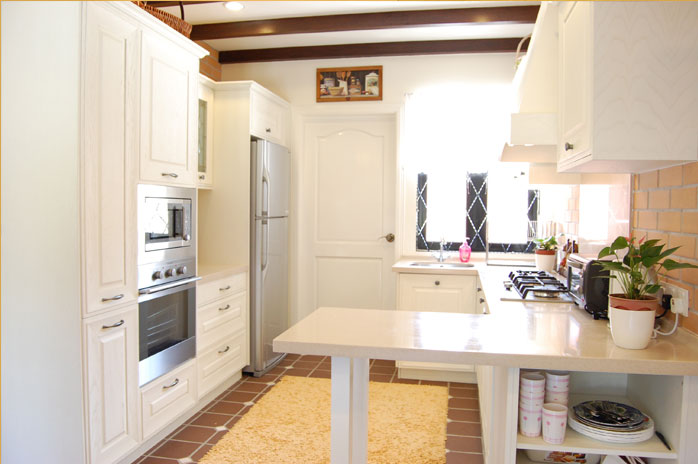 17.  High Ceiling in Cheras
Make use of the vertical space to make a grand statement.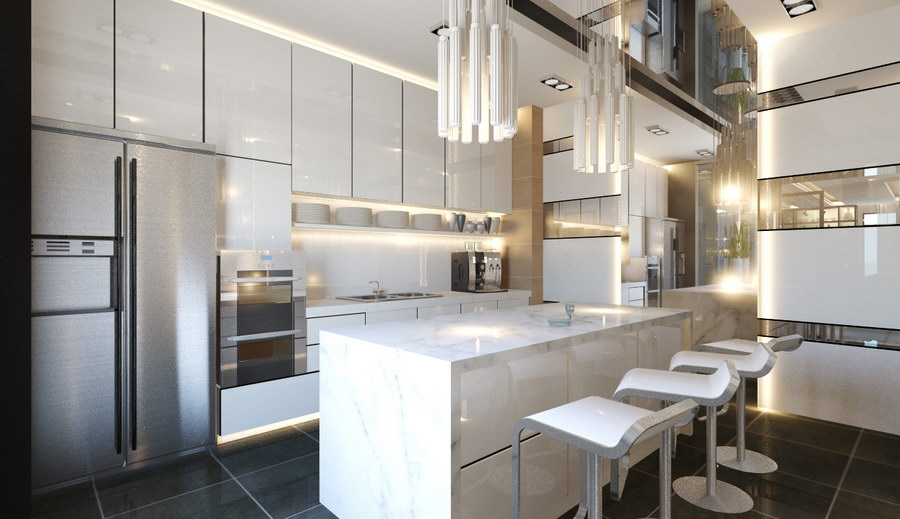 18. Elegance in Black
Only the finest quality ingredients are allowed in this kitchen.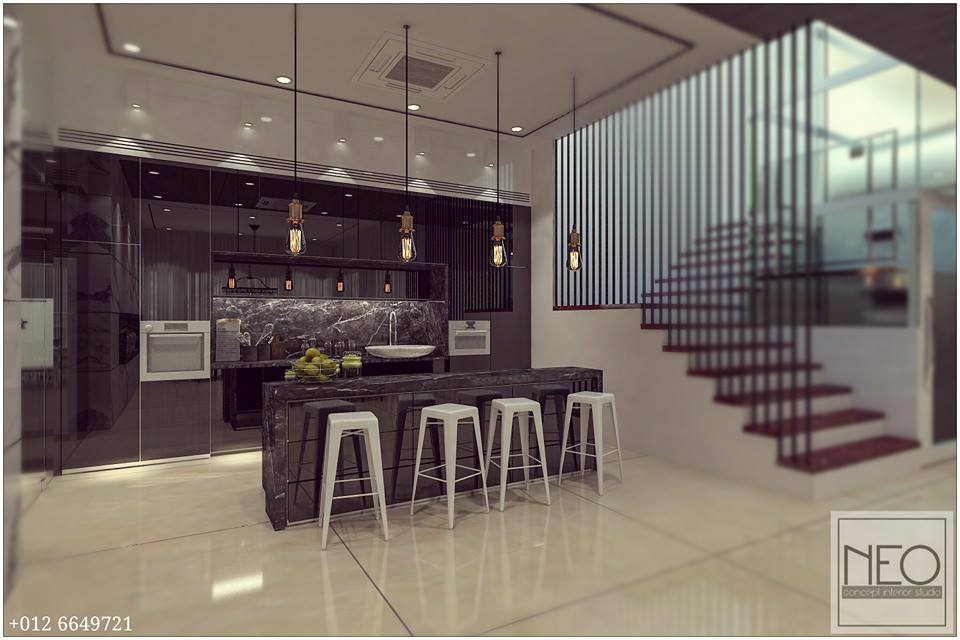 19.  Marble Transitional
This kitchen combines old and new with modern appliances, marble backsplash, panelled cabinets, and a kitchen mantel.
20.  Wet and dry
Where space allows, many Malaysians would opt for a dry and wet kitchen. This kitchen uses stainless steel as the main workhorse in the wet section, and an all-white design in the dry area.

21.  Red Accents in Lakefield, Sungei Besi
A touch of red adds a nice touch to an otherwise monochrome kitchen.
22. A Backsplash that Really Pops in Bayan Mutiara, Penang
The stone tiles are the hero feature in this kitchen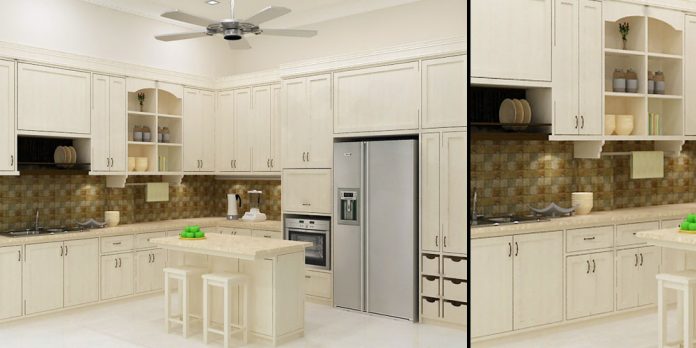 23. Scarlet Statement in Kuchai Lama
Generous use of red and orange creates a cheerful space and happy cooks.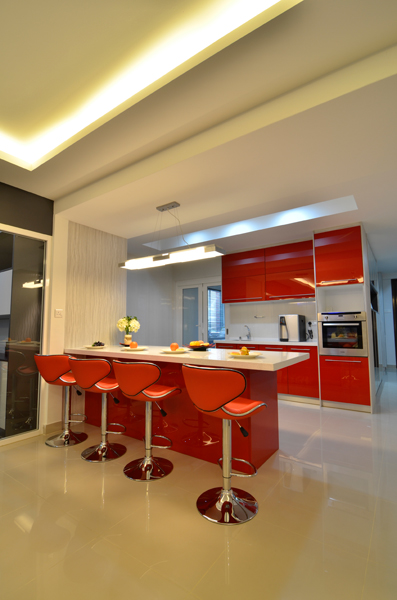 24.  Black and White in Skudai, Johor Bahru
Clean is still in and that can easily be achieved with the black and white color combination. When mixed with clean lines and ample lighting, it easily becomes a comfortable space to unwind.
25.  Texture and Prints in Tropicana
Wooden textures and designer tiles on a mostly white space are surprising touches to the space. These design elements are not often used in a kitchen but when done right, they become conversation pieces.
26. A Canvas That Can Be Changed Easily in Kiara Hill
When everything is white and airy, it is easy to add accent pieces to create different looks for the space. Today, you can add potted plants and herbs to the kitchen, and tomorrow, a bowl of fruits can be that decorative element. A white color scheme adds versatility to the design.
27.  One-wall kitchen in Desa Park City
When living in a condominium or an apartment, keeping everything in one side of the unit is a clever trick. This minimize visual clutter especially when you live in a limited space.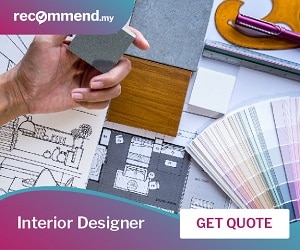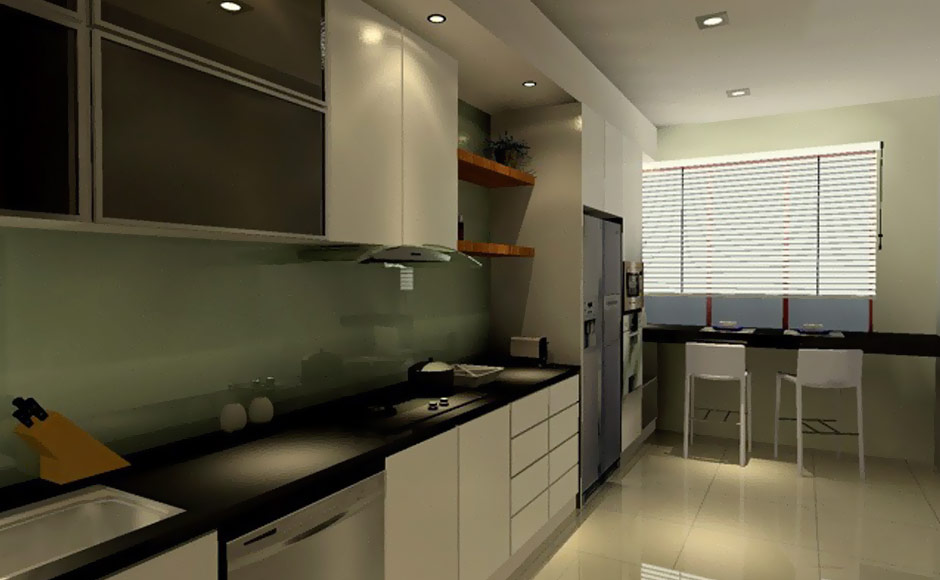 28. Minimalist
Minimalist design can be achieved by choosing the right appliances, furniture and accessories. Use storage space underneath sinks and counter space. Overhead are wide storage cabinets that can fit items of different sizes.
29.  Cellar in Kajang
The bar and kitchen are clearly sectioned in this space. You can easily prepare your favorite cocktails along with some bar appetizers when the kitchen is easily accessible.
30. Veneer in Ara Damansara
This kitchen uses veneer cabinets for texture, while the unusual layout helps divide the space into different work areas.
Find more kitchen design ideas in Malaysia
At Recommend.my, you can browse projects from top recommended interior designers in Malaysia all in one place! Get an estimated quote by sharing details about your kitchen design project.
With over 600 interior designers listed, you're sure to find a recommendation that suits your style and budget. View more kitchen design ideas in Malaysia.