The RecomN.com team was at the MaGIC Career Fair 2015 to showcase our amazing platform and try to attract the brightest, most ambitious, most fun people to join our awesome team.
It's Sep 12 2015, and we are at the MaGIC Career Fair 2015 #ma2015, where 250 startup companies would descend upon Cyberjaya to try and attract precious talent from all over the country.
Below: It's a nice feeling setting up with the likes of GrabTaxi, AirBNB, KFit, etc.
We started preparations at 9am (Huda is a slave driver), lugging in our materials, T-shirts and bright smiles.
Below:
Kai Yeow: "Eh you think it's high enough?"
Jes Min: "Why, you can't reach the ceiling?"
Below: Us with all our swag! L to R: Kai Yeow, Jes Min, Ari, Huda
Below: Here we are again with TC, the man behind the system you use today (and yes, that's the maximum smile he can give you)
Was it worth it?
Oh yeah! 6 reasons why:
1. We got a chance tell the whole world why we love RecomN.com
Our website may have great customer testimonials, and our Facebook page filled with high star ratings; but nothing is more convincing than explaining how the system works in person, and why people love it!  And why also we choose to work here rather than anyplace else.
Below: The youngest (and best looking) members of our team tell us what they love about working at RecomN.com
Below: Ari telling students why they should not search for a job but look for an adventure in life
2. We got to meet the service professionals that use us to grow their business!
It's a great feeling when someone comes up to you and says, "Hello, I don't know if you remember me, but I am a Professional listed on RecomN, just got a job through you last week!"
Below: Us with Simply Cookies, one of the bakers on our system.  They employ single mothers to give them a source of income along with the flexibility of taking care of their kids.
3. We got to meet up with other awesome startups around Malaysia and South East Asia
One of the amazingness of the MaGIC ecosystem is the feeling of being part of a family of entrepreneurs who understand your challenges, celebrates with you during successes, and generally just pushes you to keep going when the going gets tough.  Thank you guys for always rallying us on.
Below: Wai Hong Fong from Storehub), Feng Lim from MaGIC, Jes Min, and Norita, COO of MaGIC!
Below: Wai Hong, Ehon Chan (who has hung out with the Dalai Lama) from MaGIC, and Ian Ng who's about to launch his own amazing startup
Below: Chee How from Tapway retail analytics, Warren, the Executive Director of Entrepreneurship Development at MaGIC, Jes Min, and Vince from Shock Media Studio and Edupow 
4. We met hundreds of awesome young people (and of course take selfies with them)
There's nothing like meeting these young entrepreneurial people to convince you that Malaysia will truly be the hub of small businesses in the coming years.
5. We got HUNDREDS of CVs and contacts!
We've exhibited at many events all over South East Asia, but we've never got as many contacts as we did here! If anyone didn't manage to register with us – the email is [email protected] and we will contact you quickly!
"Tulis nama bapa, emak, girlfriend (kalo cantik)…" Ari Miraj
6. We got to hear Sarah Yong from Vulcanpost sing
To top it all off, Sarah Enxhi Yong from Vulcanpost entertained us with some rock numbers while we queued for our food in the haze:
Just kidding, I have no idea who this guy is – anyone knows?
Thank you MaGIC for giving us this opportunity to grow our startups, and have fun as a team – looking forward to the next one definitely!
The Heck is RecomN.com anyway?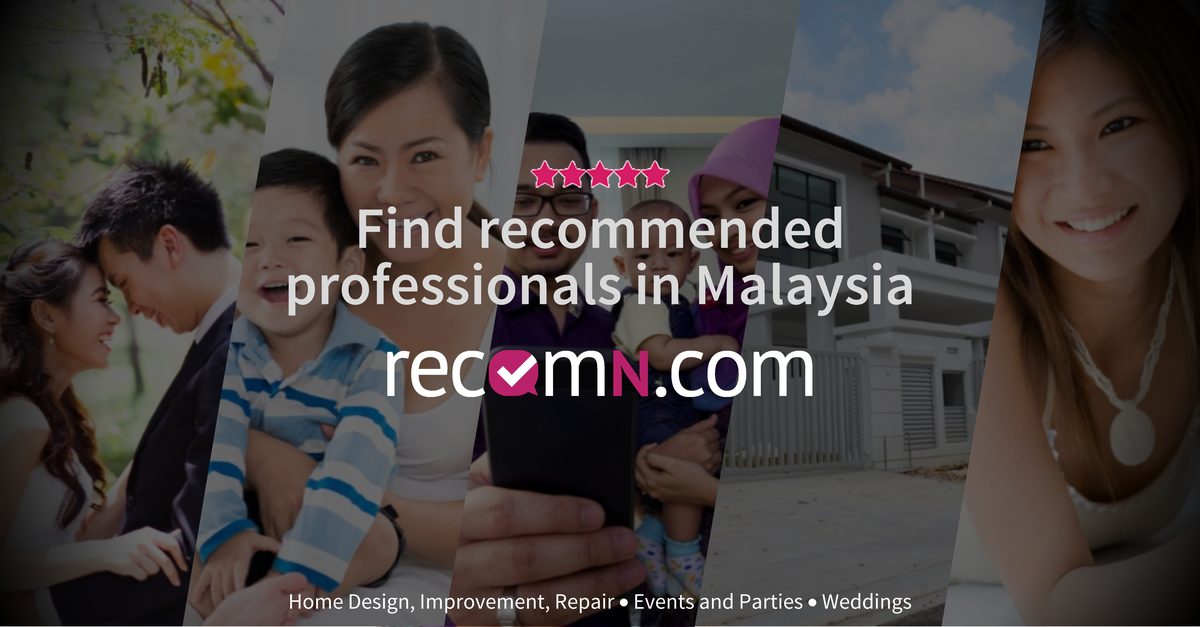 RecomN.com is a place to find recommended services in Malaysia. We recommend professionals based on things like the location of your job, your budget, and whether that service professional has good reviews from other customers. For free.
RecomN.com has service listings covering home improvement (such as renovators and handymen), events (such as party planners and caterers), weddings (such as photographers and planners) and lots lots more. Tell us what you need, and we will find service professionals to send you their quotes within hours, so you can compare and hire the best.