Solid surface countertops are popular choices in many Malaysian kitchens.
And why not? They're strong, non-porous and highly customisable, it's hardly surprising that solid surface countertops are quickly replacing more traditional countertops like mosaic, granite and cement in domestic kitchens.
From food preparation, cooking, and wash-ups,  your countertop is also constantly exposed to water, raw food, cold temperatures, and extreme heat. That's why it's incredibly important for any kitchen counter to be hygienic, long-lasting and durable.
Luckily for you, solid surface countertops tick most of the checkboxes of your requirements.
Get solid surface kitchen countertop installation prices
Whether if you want to install solid surface or other kitchen counter material – Recommend.my connects you with trusted local contractors. Get free cost estimates for installation and more when you submit your request.
What is solid surface?
Solid surface was invented by DuPont in the 1960s, under the brand named Corian. Today, Corian is still the most recognised name when it comes to solid surface countertops.
Solid surface is made by combining plastic or acrylic polymer with aluminium trihydrate (a white powder derived from bauxite ore). By combining these two materials, you get something that resembles pancake batter, which is spread out into thin slabs and dried. These slabs are made with thicknesses of 6mm, 8mm or 12mm thick.
The slabs are then used as the building blocks of a solid surface kitchen counter. They are incredibly versatile and can be cut using a table saw, grinded to create different edges using a mill, bent to different curved shapes using heat, or polished using a sanding tool.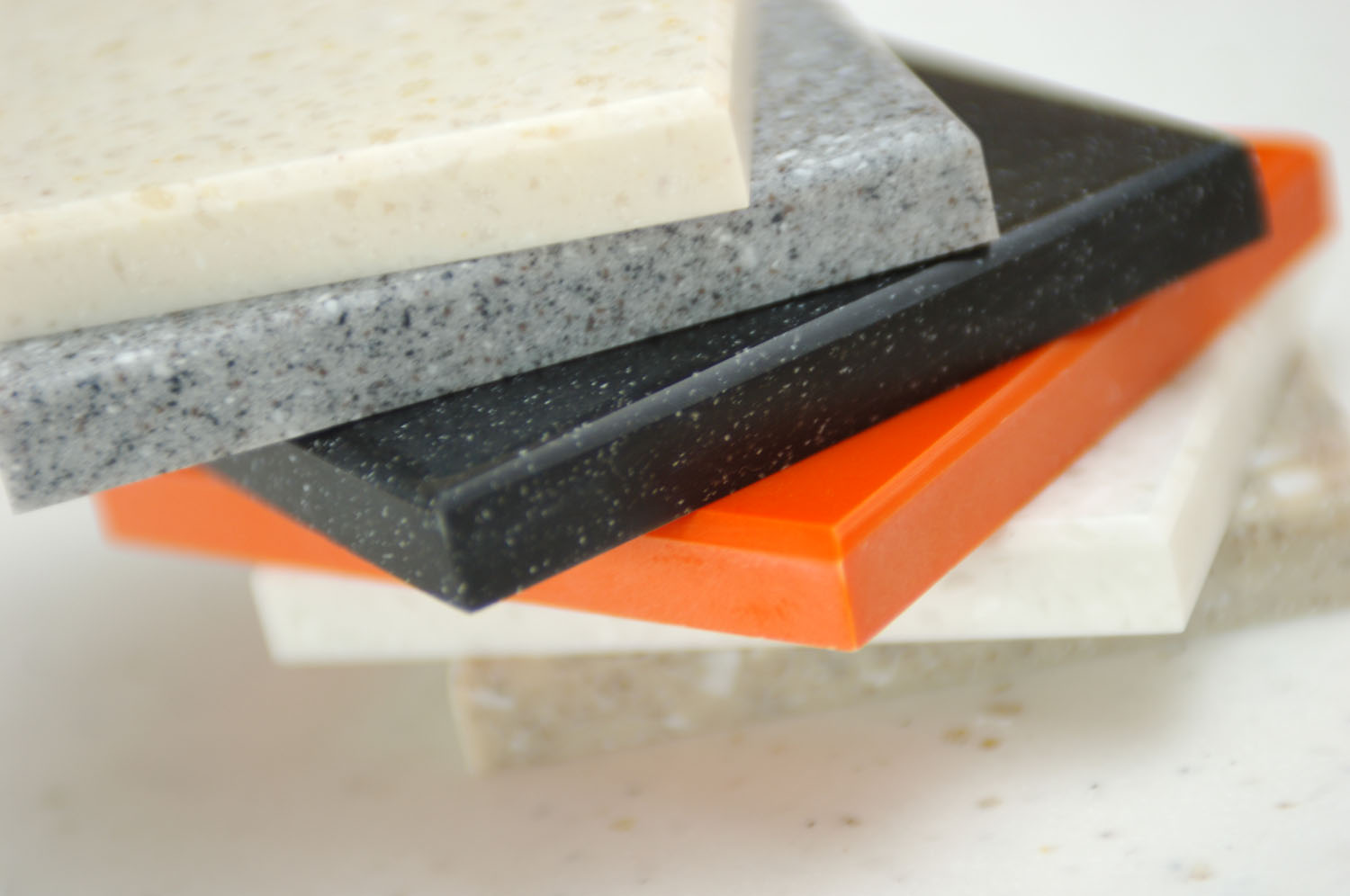 Solid surface can also contain a combination of plastic resins, pigments, stone pieces, minerals and colours to create different colours and effects.
After the patent from DuPont expired, many other manufacturers have replicated the process to create their own offerings. They are as durable as they are versatile, and are practical choices for reception desks and restaurant tables; while their sanitary prowess also makes them ideal for hospitals, where hygiene is crucial.
For residential homes, they are manufactured to use as kitchen countertops, sinks, bathtubs, and backsplashes, among many other things.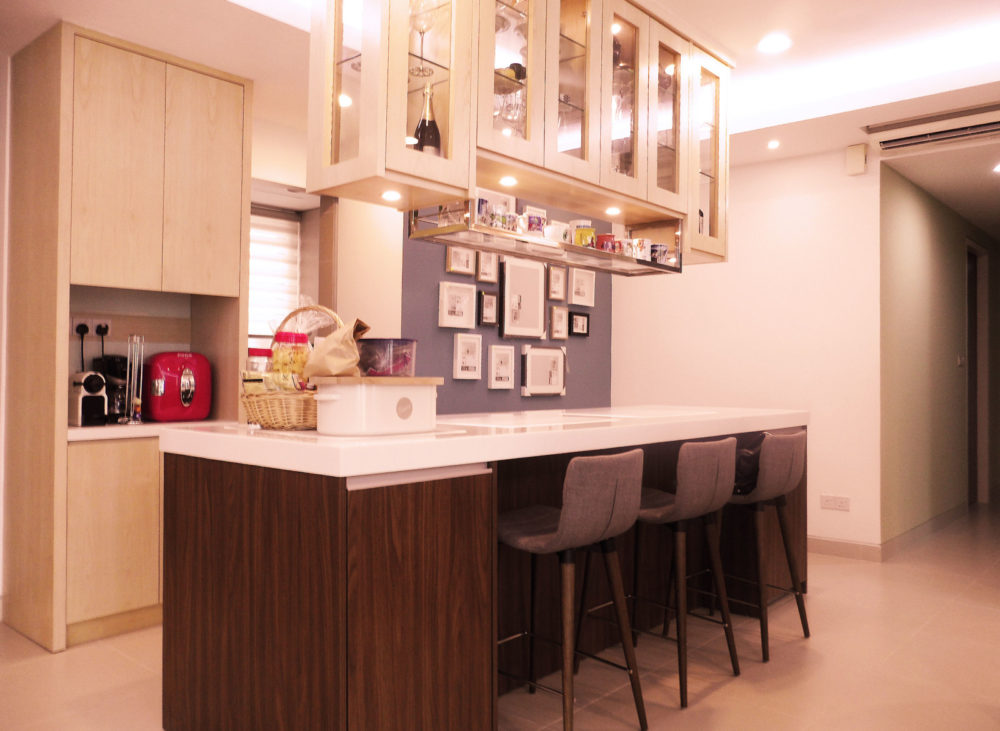 What are the advantages of solid surface countertops in your kitchen?
Affordable: Because they're generally more entry-point friendly than most high-end materials, solid surface countertops are not only easier on your wallet, but they're also comparatively valuable for money, especially when you consider the quality and price that you are getting against premium materials like granite, marble and quartz.
For example, you can get solid surface for as low as RM135 PFR (per foot run) in comparison with quartz and granite which starts from RM180 PFR.
Versatile: Solid surface sheets can be carved and cut to fit any layout. It can even be shaped and curved through a heating process called thermoforming.
Availability: Solid surface countertops are widely available in different textures and an almost infinite variety of colours, which gives them the flexibility over natural stones like marble and granite.
Durable: Tough and resistant to both scratches and impacts,  solid surface countertops have a high tensile strength and can easily withstand heavy use – even after years of usage. Even if they are damaged, they can be repaired with minimal fuss.
Sanitary: Perhaps the main allure of solid surface is that they are non-porous and are resistant to stains and moisture. The lack of cracks and corners also makes it difficult for dirt and bacteria to accumulate, which means cleaning your countertop will be a breeze – a stark contrast to a material like marble, which is porous and easily stained.
Several solid surface sheets can be joined together to create a continuous counter, with no unwanted gaps between sinks and countertops, thus eliminating areas where dirt, water and bacteria often accumulate.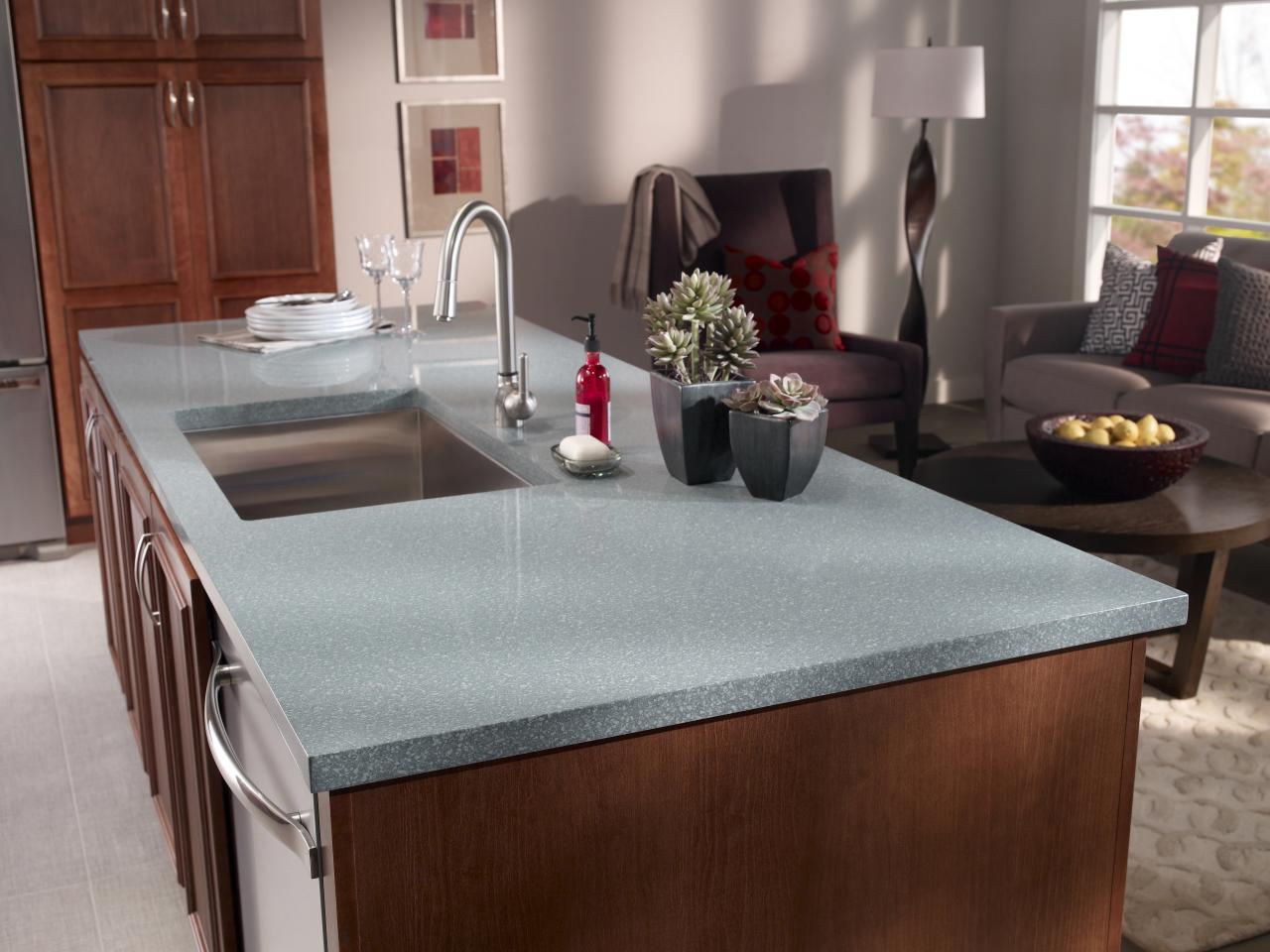 What are the disadvantages of solid surface countertops?
However, like many other materials, solid surface is not without its flaws as well:
Vulnerable to strong heat and deep scratches: Solid surface isn't the best heat-resistant material, as direct contact with strong heat may scorch, discolour and in some cases, crack the surface. Though they are vulnerable to deep scratches, the damage can be easily repaired.
As such, don't put your hot pans directly on it after cooking, and don't put your baking tray on it immediately after taking it out of the oven.
Vulnerable to potent chemicals: Nail polishes, thinners, oven cleaners, paint removers and other strong chemicals can damage solid surface.
Can't be easily installed: Unlike concrete counters or tiles, installing a solid surface counter requires specialised skills, which adds to the cost. However, on the flip side, the warranty for solid surface tends to be longer.
What colours are available?
From solid white to designs that mimic the aesthetics of granite and stone, solid surface countertops come in a variation of colours and designs. Manufacturers all have their own distinct designs and colours for your preferences, Corian alone has 118 colours to choose from!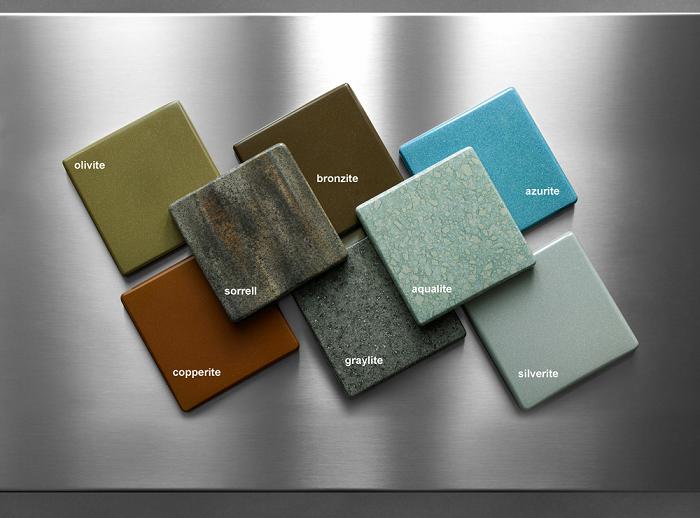 White Solid Surface Kitchens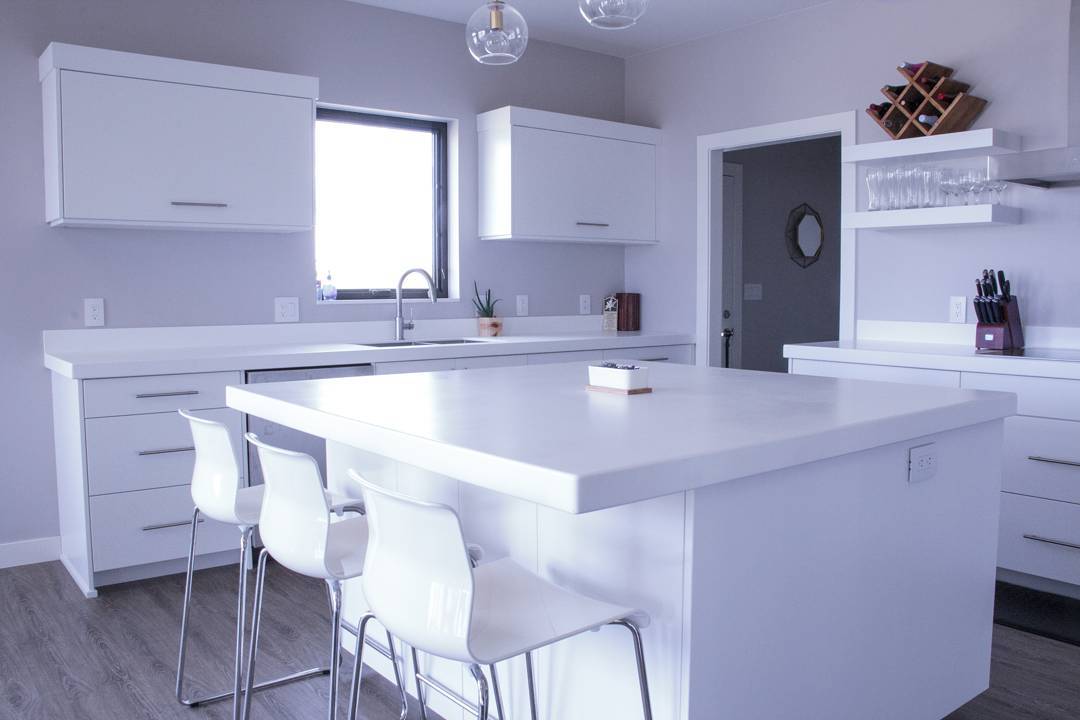 Dark Solid Surface Kitchens
Bright Coloured Solid Surface Kitchens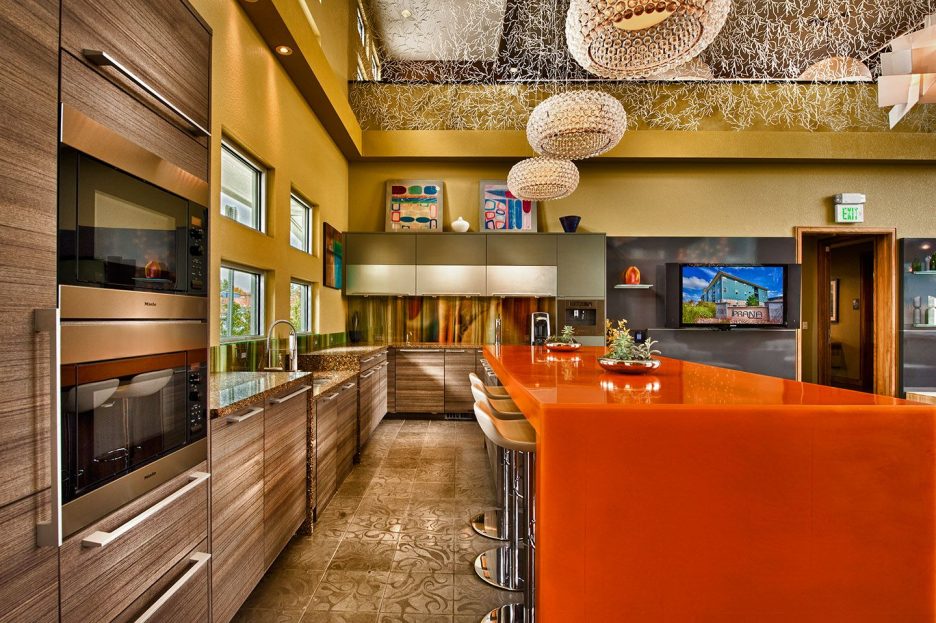 Solid Surfaces Made to Resemble Wood and/or Stone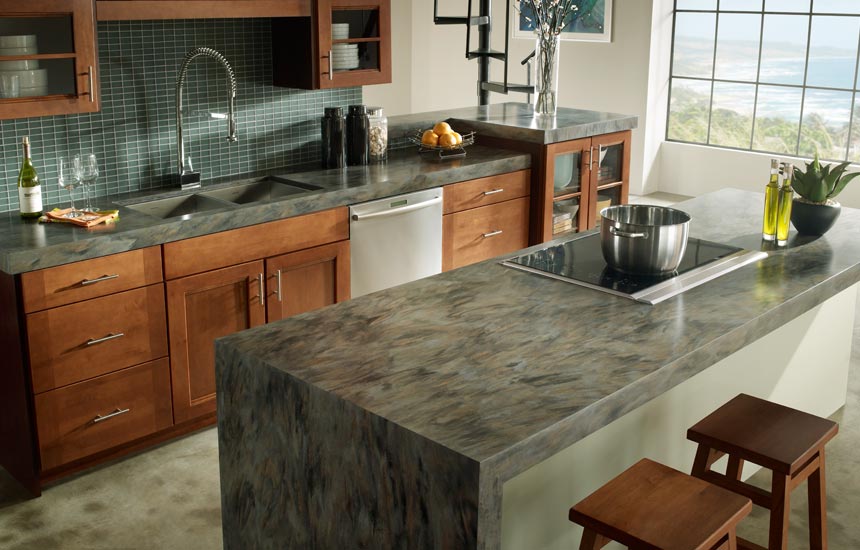 How are solid surface counters installed?
Most of the fabrication is done off-site. First, your kitchen specialist will take the measurements of your kitchen, and work out the placement of the sink, cooking hob and other fixtures.
Then, at the factory, sheets of solid surface will be cut to size. Holes will be cut to fit your sink and cooking hob, and the corners will be rounded and smoothed out.
Additional sheets will be added to form a "lip" down the front of the counter to wrap around the kitchen cabinet frame. Another upward "lip" may be added to attach to the wall.
The fabrication work usually takes about 10-14 days in the factory, and assembly usually takes 1 to 2 days on site, depending on the complexity of your kitchen design.
If your counter is very long, several sheets will be joined together with glue, and sanded down to create a seamless connection.
Here's a video on how solid surface countertops are produced:
How do you clean and maintain solid surface countertops?
Unlike most materials, cleaning and maintaining solid surface is incredibly easy.

All you need is a microfiber cloth, and some soapy water/mild abrasive cleaner/general purpose cleaner. Just remember to avoid using strong chemicals like paint removers and nail cleaners.
As for maintenance, regular, long-term maintenance is not required. Visible damages like scratches and burns can be easily filled and repaired.
What are the common options that are available in Malaysia?
There is a selection of both international and local brands to choose from.
Corian, under the name DuPont, is probably the most prominent manufacturer of solid surface countertops.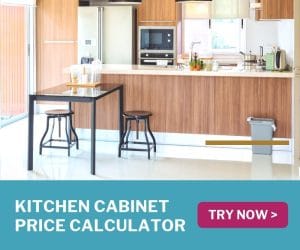 Avonite, Formica, and Wilsonart are also some of the top international brands out there. Then there are local brands like Yaxis, Marbon and Bensonite.
Is there a variation of quality for different prices of solid surface countertops?
Solid surface price ranges from RM135 to RM245 PFR. The price is mainly affected by the colours or the designs of the solid surface. For example, solid surface with translucent effect/marble pattern, will be more costly than plain colours of solid surface.
It's important to note, however, that not all solid surfaces are constructed with the same ingredients, as there are mainly two types of solid surfaces: acrylic and polyester.
The differences between the two are mainly the durability, price, and appearance. If you want a glossy appearance or colour, and want a more affordable alternative, opt for polyester. Acrylic meanwhile, are more resilient and are more seamless when it comes to thermoforming, but they only come in plain colours.
While the majority of the solid surface manufacturers out there like Corian are acrylic, some manufacturers like Avonite Studio Collection have polyester versions.
What can I do if my solid surface counter is damaged?
In most cases, the supplier will provide you a certain period of warranty, which is usually 10 years, but this differs from one manufacturer to another.

Brands like Corian, Avonite and Yaxis for instances, provide 10 years of warranty for residential homes, so if you encounter any problems that concern your solid surface in within that time span, you may refer to the salesperson, or visit their respective websites to claim the warranty.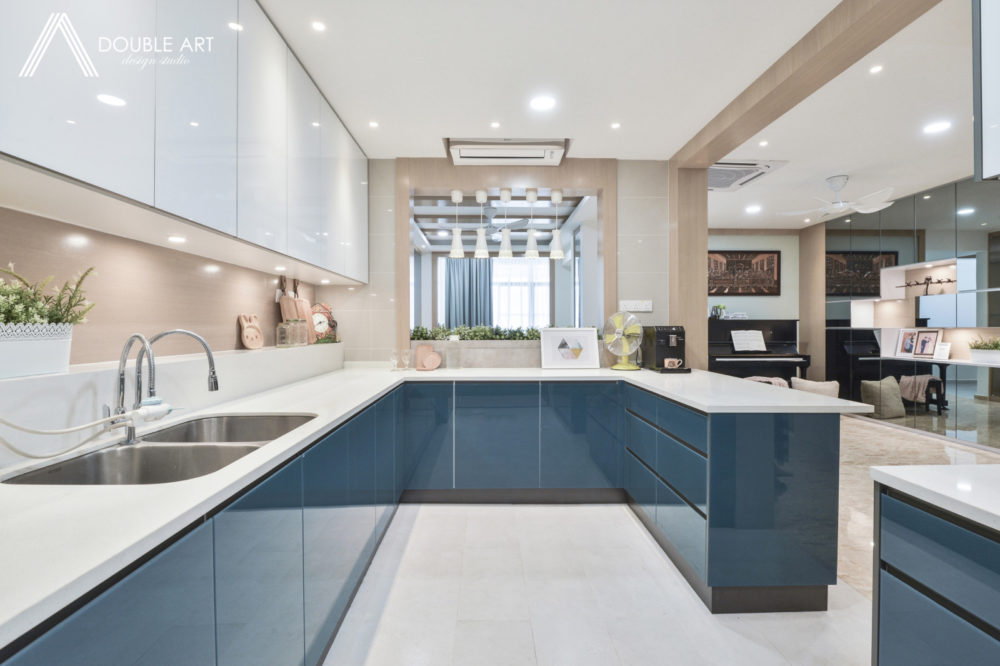 Conclusion: A versatile and affordable material for the kitchen
In the old days, household kitchens countertops in Malaysia would normally be made of mosaic tiles or bare cement. Natural materials, such as granite stone, or solid wood were also used.
Today, kitchen counters made from solid surface are an affordable and stylish option. Besides having a huge variety of colours and effects to choose from, solid surface counters are hygienic, long-lasting and durable, with little to no maintenance needed.
Get solid surface kitchen countertop installation prices
Whether if you want to install solid surface or other kitchen counter material – Recommend.my connects you with trusted local contractors. Get free cost estimates for installation and more when you submit your request.
P.S: Think solid surface countertops aren't for you? Here's what you need to know about different countertop materials like quartz, granite and marble.