It's not easy to get a straight-up list of aircon servicing price in Malaysia. For Klang Valley, prices can vary wildly due to dishonest contractors who may inflate prices. So, it's hard to get a fixed price list for aircon services covering the urban areas of Selangor and Kuala Lumpur.
That's why, Recommend.my has prepared a price list of the most common aircon services. These tasks are performed by verified and reliable air conditioning service companies that we have compiled from across Klang Valley (and throughout Malaysia, too). Plus, all services come with 14-day service guarantee.
List of Aircon Servicing Prices in Malaysia (as of Oct 2021)
All prices are indicative only and subject to change at the contractor's discretion. Prices also include the cost of common aircon repair services, such as aircon leaking, aircon not cold, and more.
AIRCON CLEANING (NORMAL)
Wall unit (up to 2.5 HP)
Single unit: RM100 / unit
2 – 3 units: RM80 / unit
4 or more units: RM60 / unit
Cassette unit (up to 2.5 HP)
Single unit: RM250 / unit
2 – 3 units: RM230 / unit
4 or more units: RM200 / unit
Services include:
Cleaning & Washing of indoor air filters (without chemicals)
Wiping of blower and Fan Blade
Cleaning of Indoor Unit Housing
Cleaning & check-up on outdoor condenser unit
Checking for abnormal noises, adjust & calibrate
Checking temp sensor & visible electrical components
AIRCON CHEMICAL CLEANING
Wall unit (up to 2.5 HP)
Single unit: RM135 / unit
2 – 3 units: RM120 / unit
4 or more units: RM100 / unit
Service includes free R22, R410 or R32 gas top-up up to optimum level**
Cassette unit (up to 2.5 HP)
Single unit: RM370 / unit
2 – 3 units: RM350 / unit
4 or more units: RM320 / unit
Service includes free R22 gas top up up to 20PSI
Services include:
Cleaning & washing indoor air filters (with chemicals)
Cleaning of indoor evaporator coil (with chemicals)
Wiping of blower & fan blade
Cleaning of indoor unit housing (with chemicals)
Cleaning & check-up on outdoor condenser unit
Checking for abnormal noises, adjust & calibrate
Checking temp sensor & visible electrical components
Checking & gas top-up (up to 20psi) for R-22
GAS TOP-UP PRICES
R-22: RM20 per 20 PSI
R-410: RM40 per 20 PSI
R-32: RM40 per 20 PSI
Additional parts and labour charges may apply depending on the type of repair needed.
If you need our technician to check for a specific problem, e.g. noisy, smelly, leaking, a basic RM80 charge is applicable. However, this charge is waived if there is any repair done during the same visit.
AIRCON INSTALLATION PRICE (per unit)
SPLIT UNIT WALL AIRCON
1 HP: RM250
1.5 HP: RM290
2 HP: RM330
2.5 HP: RM370
3 HP: RM410
CASSETTE (CEILING) UNIT AIRCON
1 HP: RM450
1.5 HP: RM500
2 HP: RM550
2.5 HP: RM600
3 HP: RM650
All services include:
Installation of indoor unit
Installation of outdoor unit with bracket
Include gas top-up for R22, R410, or R32
Include up to 10 feet copper piping with 3/8" Insulation
Include up to 10 feet wiring
Include up to 10 feet 1/2" drain piping
Cost of additional copper piping, wiring and drain piping:
1.0 HP: RM18 per ft
1.5 HP: RM20 per ft
2 HP: RM24 per ft
2.5 HP: RM28 per ft
3 HP: RM30 per ft
Notes:
All prices inclusive of 10 feet copper pipe, 10 feet wiring, 10 feet drain piping and gas top up (R-22 or R-410)
For unit that requires R-32 gas top-up, add RM50/ unit
If dismantling of existing unit is required, add RM100 per unit
If there is existing copper piping and wiring, discount of RM50 applies for each unit
Price does not include power supply wiring, wall hacking and conceal piping
Aircon switch can be installed at RM120 which also include surface wiring with casing up to 10ft
Socket can be installed at RM70 which also include surface wiring with casing up to 10ft
OTHER AIRCON REPAIRS
Replace aircon capacitor
Compressor capacitor: RM150
Outdoor unit motor capacitor: RM80
Indoor unit blower capacitor: RM80
Extend aircon piping
Details of Recommend.my aircon servicing price
Aircon general cleaning
An aircon general cleaning is done to clear dust, grime, mould and other debris from the indoor blower unit or the outdoor compressor unit. It should be routinely carried out every 3 to 4 months to keep your aircon in top working condition. Otherwise, dust buildup can overwork your aircon may cause damage. A dirty aircon will also pollute the indoor air.
An aircon general cleaning will typically involve wiping and vacuuming the fan blades and fins, washing the dust filters, vacuuming cleaning the rotary blades, checking the drainage pipes, and inspecting the gas/refrigerant pressure levels.
Aircon chemical cleaning
An aircon chemical cleaning is a more detailed and thorough cleaning compared to general cleaning. In addition to general cleaning, this task also includes opening the blower unit and removing the rotary blades for cleaning. The outdoor compressor is also opened to clean the fan and inside of the casing. All cleaning is done using a special chemical wash to remove dirt and grime. Aircon chemical cleaning is normally done every year.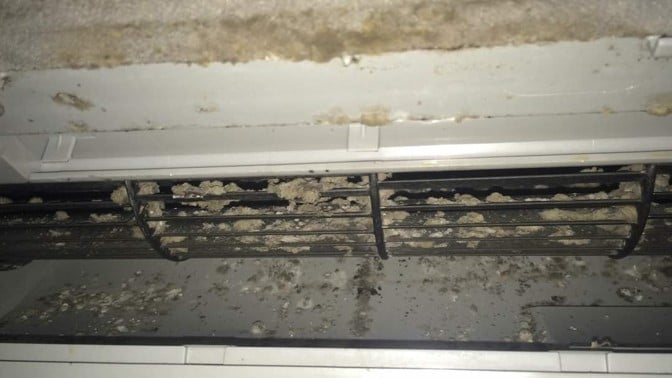 Top-up gas
The refrigerant gas (sometimes known as the coolant or freon gas) is an important component of any aircon unit. It flows back and forth in a closed system between the outdoor compressor and the indoor blower through the aircon piping. Aircon gas is compressed by the outdoor compressor, where it cools down. Then the aircon pipes carry it to the indoor blower unit. As the indoor air is circulated over it, the air is cooled down, and the gas is warmed up. Then the warm gas is brought outside to the compressor to be cooled down again.
But, if there is a tiny leak in any part of this process, the aircon gas can gradually seep out of the aircon system. As a result, cooling is affected, and warm air starts coming out of the blower unit. To fix this, the aircon technician will need to fix any leaks, then top up the aircon gas to full pressure.
If the leak is not severe; for example, the warm air only occurs every 2 years, your aircon pro can simply top up the gas once every 6 months. But, if your aircon starts blowing warm air every 2 months, then you have a bigger leak, and the aircon unit needs to be inspected to fix it.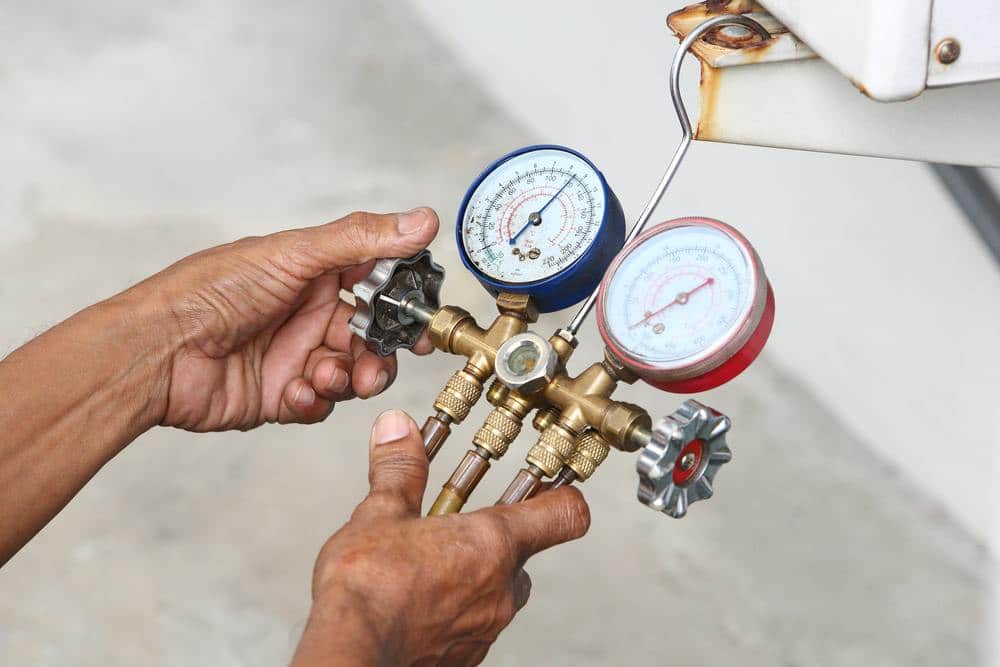 Types of aircon refill gas
Different types of aircon units may use different types of refrigerant gas. The most common ones in Malaysia are R22, R410A and R32.
R22 is one of the most common aircon gas used in split unit aircons. However, it is harmful to the ozone layer, and Malaysia has plans to phase it out over the next few years. R410 and R32 are newer types of aircon gas that have less impact on the environment and are commonly used in newer inverter units. Read more: Difference between an inverter and non-inverter aircon
Aircon units are designed with a specific type of aircon gas. So, if your aircon currently uses R22, it's not possible to replace it with R410, for example. The best way to minimise the environmental impact is to maintain your aircon regularly to prevent leaks.
Dismantle Aircon
Homeowners moving into a resale home may want to dismantle existing aircon units. For example, if they don't need any aircon in a certain room. Or, if the existing aircon is an old-fashioned casement (the one that leaves a big square hole in the wall). While it's possible to dismantle an aircon yourself, it is recommended to leave it to a professional. This is because the dismantling may release harmful aircon gas into the atmosphere. A professional technician will have the right equipment to store waste aircon gas for proper disposal.
Install Aircon
Aircon installation should only be done by a professional. This involves four main parts: installing the outdoor compressor unit on a suitable bracket, cutting access ports in the wall to lay aircon piping, mounting the indoor unit in different rooms, and cutting access ports in the wall to lay drainage piping.
The number of compressors compared to the number of indoor blower units are expressed as a system. For example, System 2 means 1 compressor can support 2 blower units. Similarly, System 3 means that 1 compressor can support 3 blower units.
When installing System 2 and higher, you may need much longer piping to connect the compressor to the blower units that are further away.
Extend Aircon Piping
If your blower unit is very far away from the outdoor compressor, you will need to extend the aircon piping to reach it. An aircon installation contractor will usually provide 10 feet of piping for free, but there will be a charge for every additional foot of piping beyond that.
There is also piping with different thicknesses. The thicker the piping, the more resistant it is to wear and tear or leaks. Some homeowners may choose thicker piping if their pipes are exposed to strong sunlight.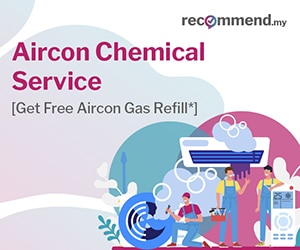 Replace aircon capacitor
A common electrical problem that may cause your aircon to stop running is a faulty capacitor. A capacitor is used to start and stop the aircon, and is found in the blower unit, the outdoor compressor, or the outdoor motor. Your technician will know how to open the casing and replace the capacitor with the correct replacement parts.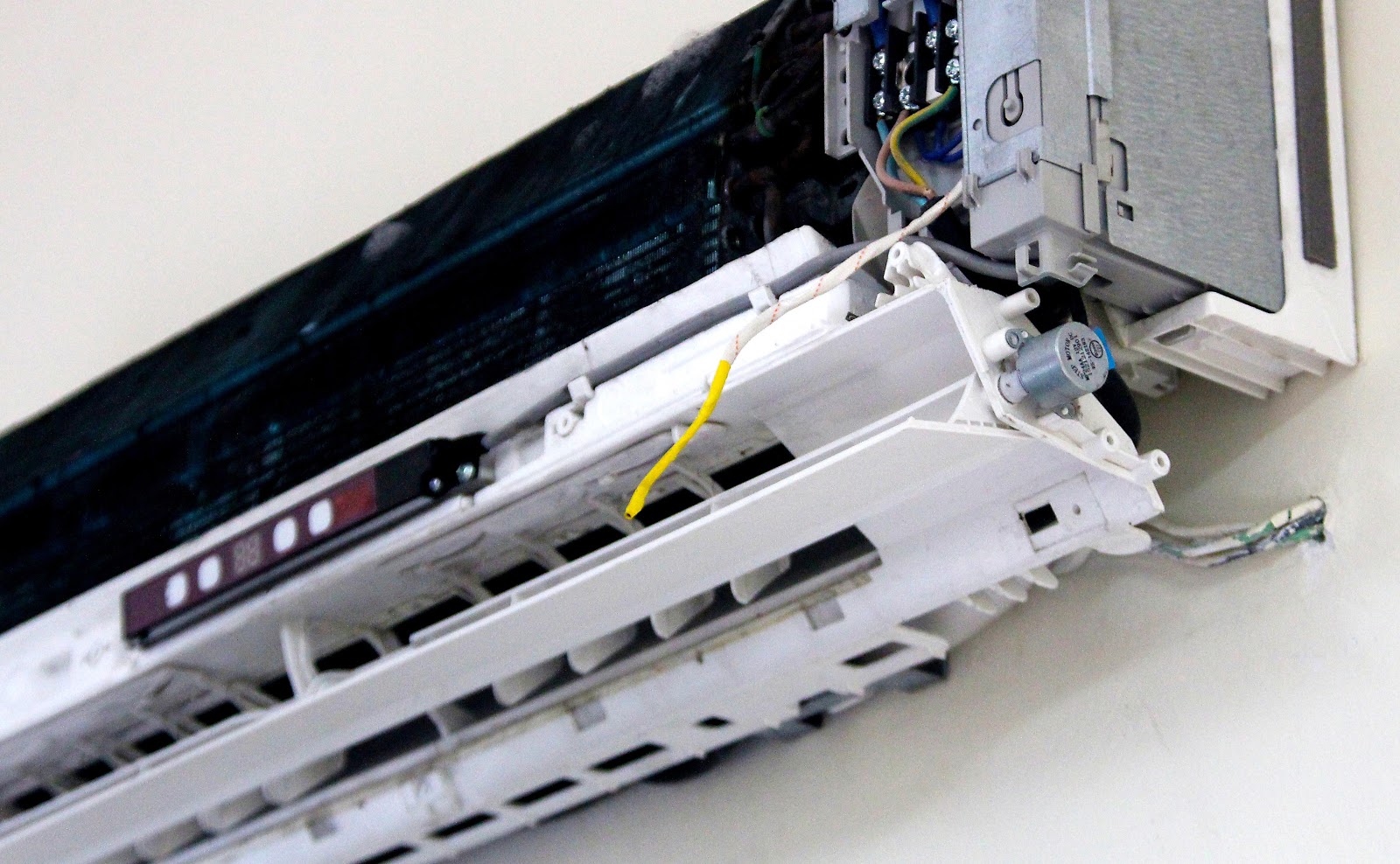 Aircon Checking
Some aircon problems are hard to diagnose. For example, water dripping, odd smells, noises, or even ice forming on the aircon units. In such cases, you will need to ask your aircon repairman to do a full diagnostic check on the unit before recommending a suitable fix. A service charge may be required even if the repair is not carried out.
How to book aircon servicing at Recommend.my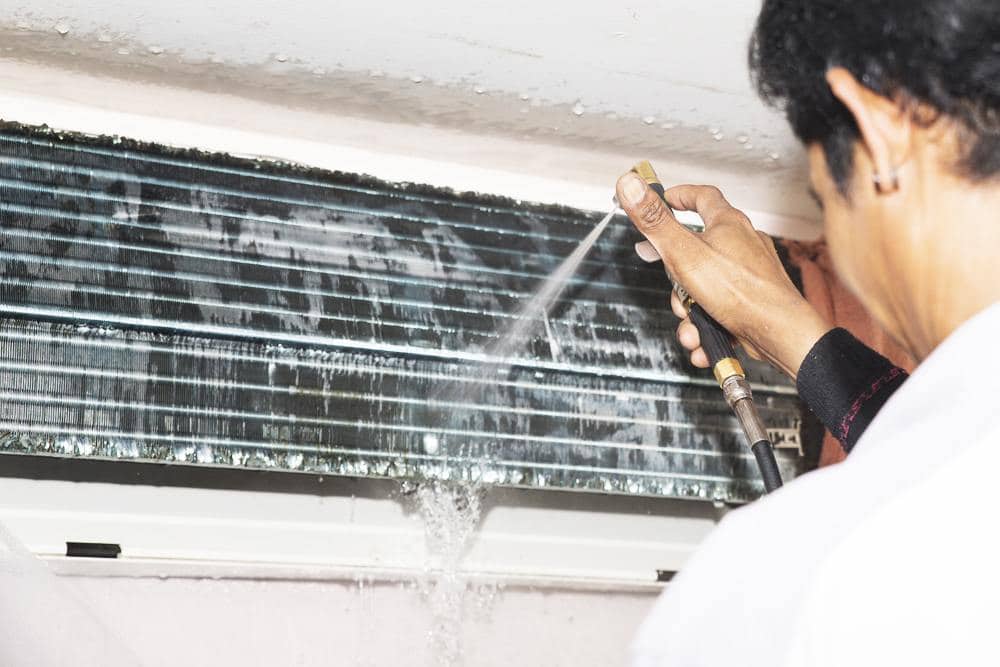 To order aircon servicing, just visit the Recommend.my website and choose "aircon service" or "aircon installation". Enter some details such as your location, number of units to service, and the updated price will be displayed.
When you submit your order, we will find the next available contractor to the job. They will contact you within a few minutes to confirm the appointment.
Get FREE GAS REFILL when you book aircon chemical service
Our technicians will ensure that your aircon is installed and maintained in tip-top condition!
"Quick turnaround, from call to completion of service within 2 days. Highly recommended" – Wei Min, Seri Kembangan
"The technician arrived on time as promised and did a great job!! He knows very well what needs to be repaired after having a look at the aircond. Good service and very polite … TQ" – Enita, Batu Caves