Clean, clutter-free and with only the bare essentials in sight, many have come to love a minimalist interior design style. The concept usually features clean, bright and light decor aesthetics and interior design principles that encompass the ideas of minimalism.
It's a simple and inviting space that can be reincarnated into any room, of every home. There is a sense of zen that circulates the atmosphere of these spaces that draws in so many. A refreshing ambience that is designed to let the eyes rest, providing a calm space to rest, relax and focus on tasks at hand.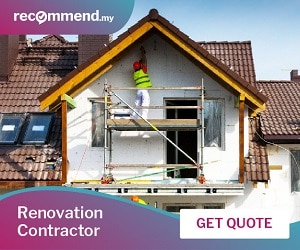 The minimalist design concept is similar to the modern interior design concept. Both incorporate the idea of simplicity in order to create an uncluttered space. Focusing heavily on clean lines and a monochromatic palette, that incorporates colours and textures as accents. However, the main difference between the two is the fact that modern interior design allows for a degree of spontaneous decorating, while minimalist design is about designing with pieces that serve a purpose.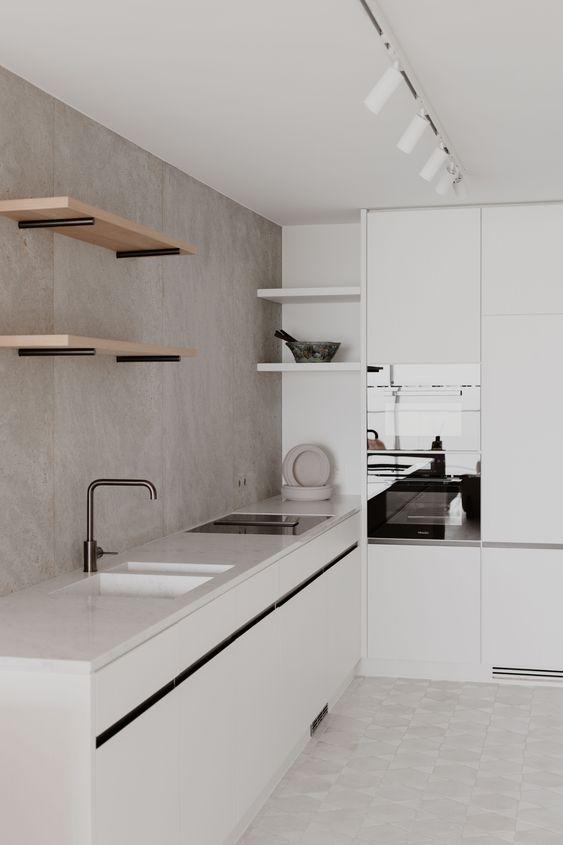 Kitchens have recently become a popular minimalist space in the homes of many Malaysians. Neutral tones and fully white walls and off-white counters with textures, along with accent pieces that bring the space together. All of these elements provide a relaxing and functional kitchen to cook classic favourites from Nasi Lemak to Mac 'N' Cheese.
But if the neutral palette of traditional minimalist design is not for you, perhaps consider something darker and edgier with the same interior design principles of minimalism. There are some fantastic kitchens with bolder and moody aesthetics that are sophisticated and elegant with clean and clutter-free counters.
Here are 12 minimalist black kitchens to inspire you to be bold with your design yet particle for full kitchen functionality:
1. Black Cabinetry With Gold Accents
Minimalistic designs don't have to be various shades of just one colour. Instead, accents of metal such as gold and brass will create a sleek and luxurious look and feel against a black minimalist kitchen.
You can opt for a black marble backsplash with hints of gold or white throughout the pattern to elevate further. Simple industrial low hanging lighting help tie the space together when paired with chairs that are a mix of the primary and accent colours.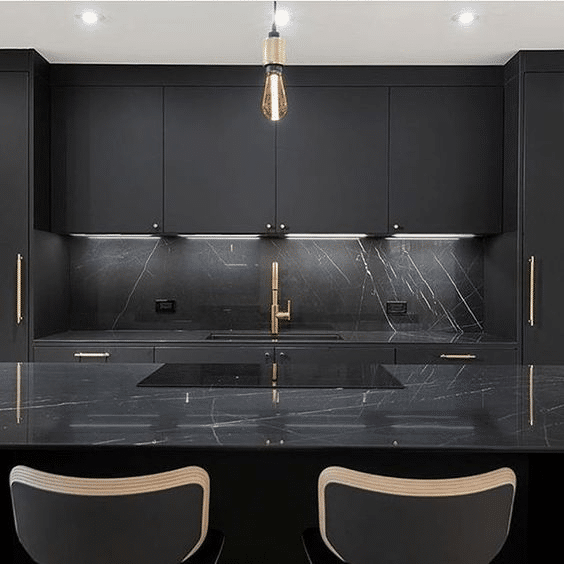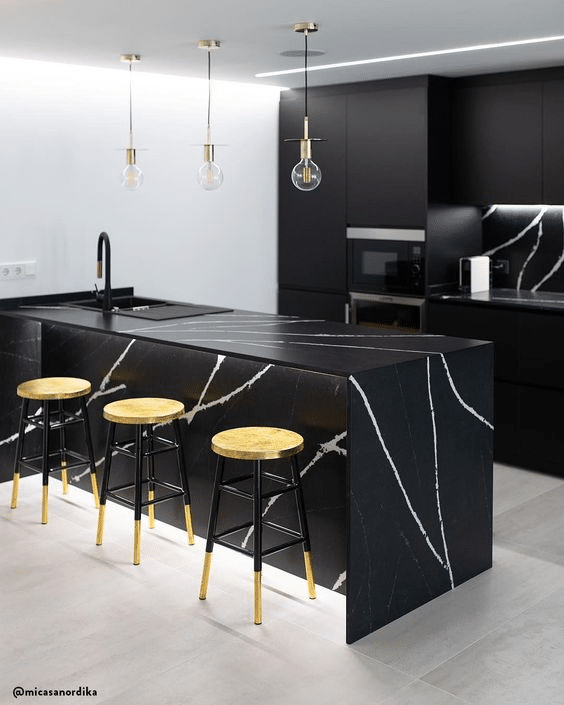 2. Modern Designed Black Kitchen
Modern kitchens come in various designs and colour schemes, from clean white to bold reds and brilliant blues. An underrated design is the classic and sophisticated black modern kitchen.
Create a distinguished look by mixing textures, such as metals, marble, wood finishes and even leather. These various textures can be designed into the backsplash, open shelving or flooring. White and grey countertops are a great way to make the kitchen feel homely and look elegant.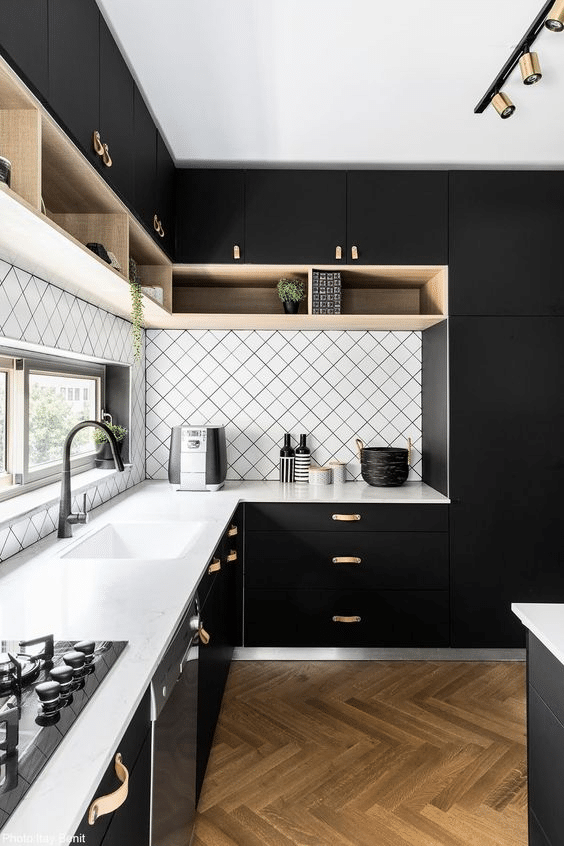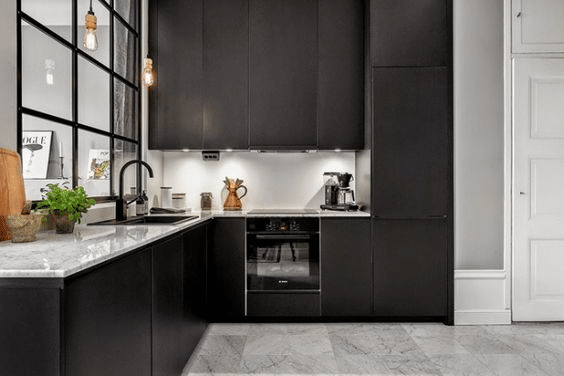 3. Seamless Minimalist Black Kitchen
A seamless black kitchen design is a great option for those looking to create a Scandinavian inspired kitchen. Clutter-free countertops and cabinetry with a seamless look to store away everything you need all while trying to utilise every inch of space.
Enjoy the practicality of wall to wall storage with simple cabinet doors, a favourite feature of this design type.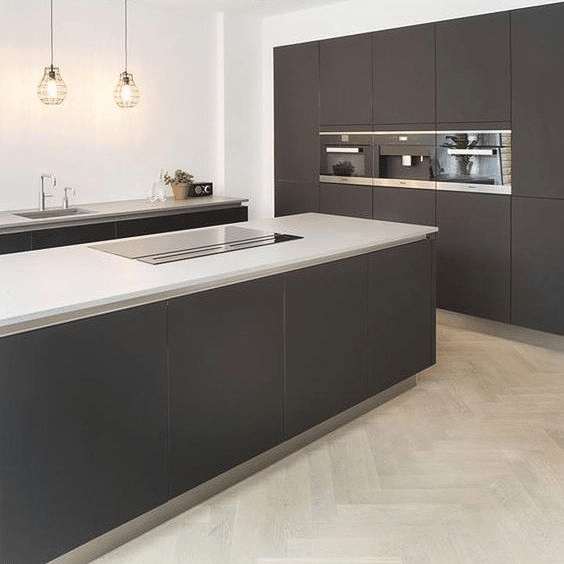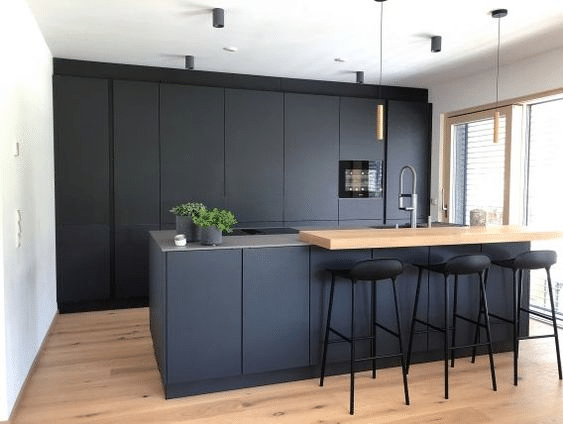 4. Kitchens With Black Kitchen Islands
Most all-black kitchens are designed with light coloured countertops to add a pop of brightness to the space. However, an all-black counter is a unique and sleek design idea. The black kitchen island space pops against a wall of white shelving and cabinetry.
Have the counter be an island or emerging through the wall, it will be a bold alternative that is a subtle version to an all-black kitchen.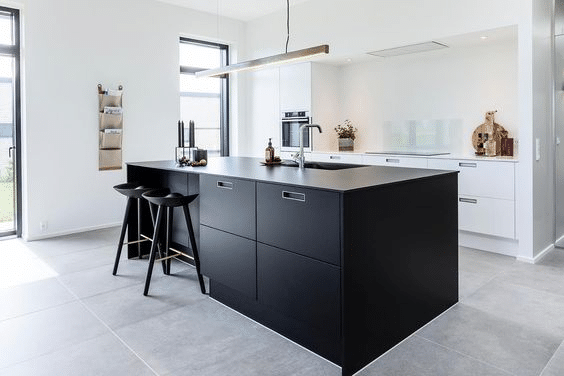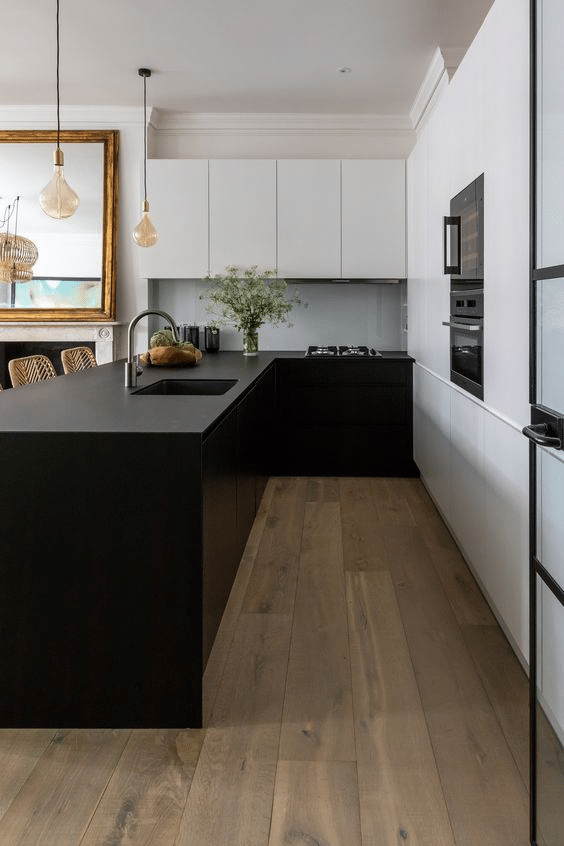 5. Full Black Kitchens
Create a clean, edgy and sophisticated kitchen with one solid colour by making sure to incorporate different textures throughout. You can do this with textured black backsplash and black wood finishing or matte black cabinets with the right lighting, such as puck lights, LED lights, or fluorescent bar lights.
Any of these lightings will help make sure that the space doesn't feel cramped, which might happen with dim lighting. Black on black can be striking when done right, and with pops of colour with flowers or fruit bowls to draw the eye into the space.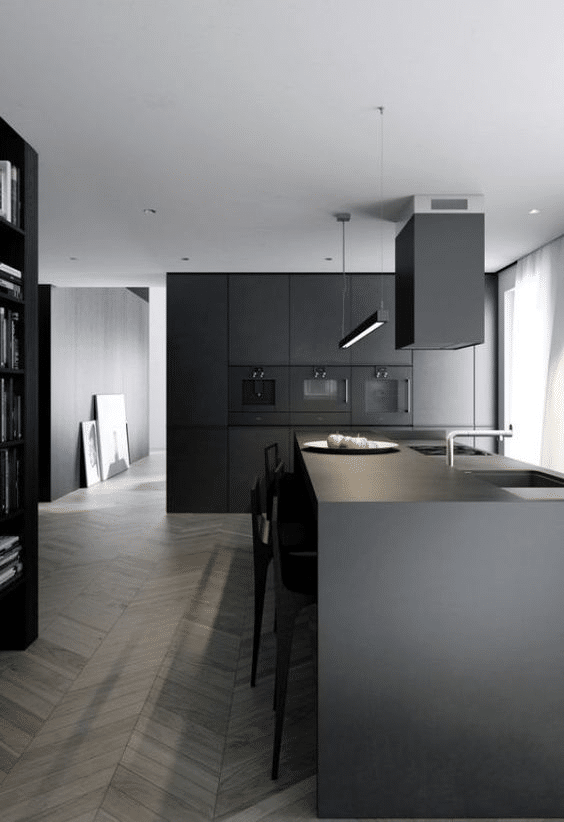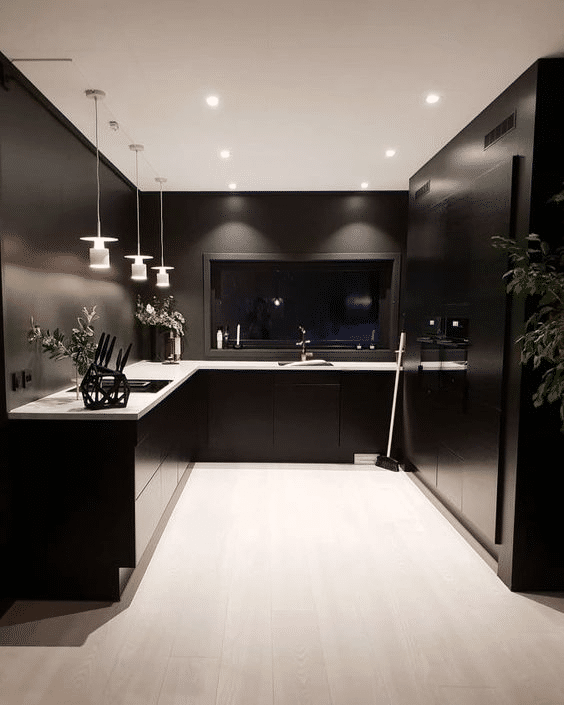 6. Black Kitchen With Marble Touches
Nothing screams elegance like black with marble incorporated spaces, and the kitchen is no exception to this much-loved interior design theme. Marble backsplashes and countertops help give black kitchens a mature and luxurious atmosphere.
The right colour, texture and design of the marble play an essential role in creating an interesting and stunning kitchen.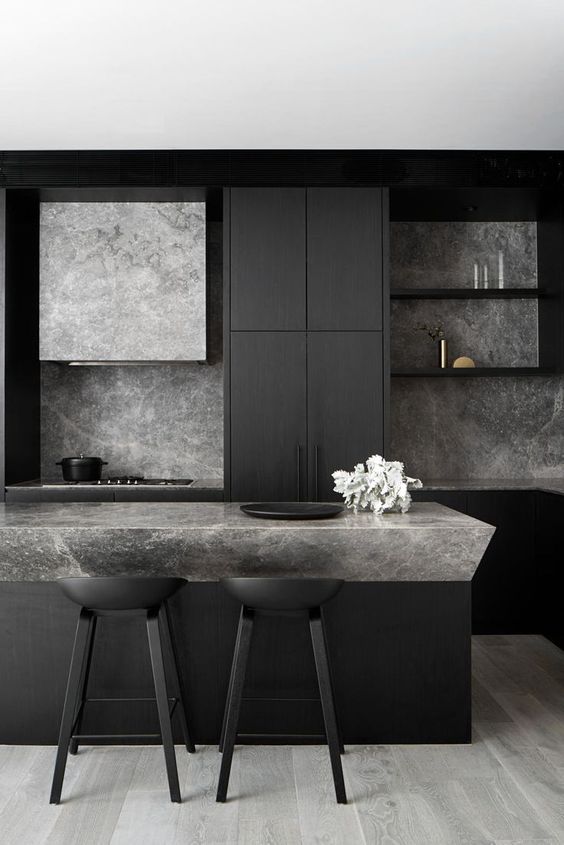 Step into the dark side
Have you found the perfect inspiration for your minimalist black kitchen? Take the next step and find the best cabinet contractors in Malaysia to compare quotes and provide reliable consultation!
With Recommend.my, not only are our service pros background-checked and verified but your project will also be insured from start to finish through safe online payment using Recommend Pay.
Submit your details and achieve your dream kitchen today!
Get quotes for your kitchen cabinet