If someone wanted to renovate their house in Malaysia, the first thing they worry about is whether their contractor will run away with their money.
But it doesn't have to be that way.
The home improvement industry in Malaysia has the unfortunate reputation of being a "cowboy" industry. With little regulation, almost anyone can set up a renovation business, including the bad apples looking to fleece unsuspecting customers.
Since 1995, the Construction Industry Development Board (CIDB) requires all contractors to be registered in its database. Requirements include (i) proof that you have at least RM5,000 in the bank, and (ii) payment of RM50 for the application fee.
Find suitable renovation contractors now
At Recommend.my, we have hundreds of trustable renovation contractors. Hassle free and efficient for you! Let us know what are your requirements and we will match you with a suitable pro.
In reality, many contractors looking to scam their customers typically get away without registering. In most cases, the contractors disappear after the owner has prepaid a large sum of money towards the work:
Example 1:
In July 2014, 63-year old Ng Weng Sing paid a deposit of RM10,000 to a contractor to install solar panels at his home. After nearly 16 months, the work was still not done and the contractor was no longer contactable – The Star Online, 2015
Example 2:
In July 2015, an engineer from Kedah paid RM50,000 to contractors to renovate his home. After 4 months, the contractor had gone missing, and the house was left in complete disarray. – Sinar Harian Online, 2015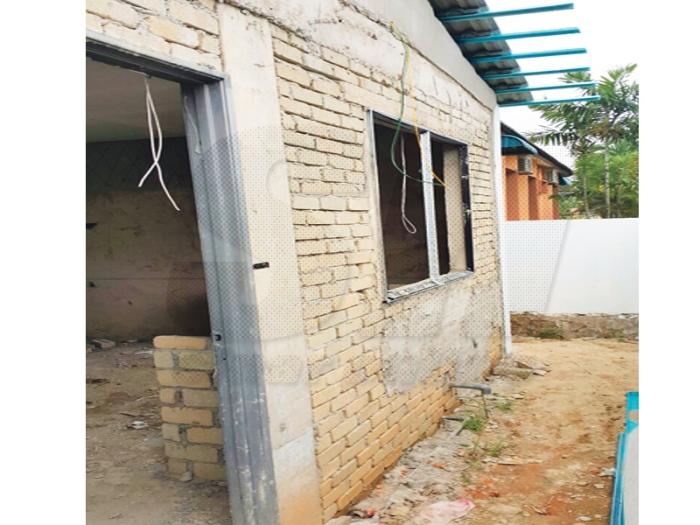 What are the common ways people have gotten cheated by renovation contractor?
The contractor collects a large deposit up-front to "purchase materials". As you wait for materials to be delivered, he starts doing some hacking work. After hacking up your place, he disappears, and the materials are never delivered
The work is almost done, but the contractor suddenly wants to add a huge sum of money to the cost, because of "unforeseen circumstances" such as a missing support beam, or termite damage
The contractor does the work using inferior or recycled waste material, but charges the price of premium materials
The contractors tend to delay their renovation progress but insist on the payment to be done first
Should you make a police report?
A police report is used to trigger a police investigation of a crime.
The problem is, it can be difficult to prove whether or not a "renovation gone bad" is classified as a crime. According to an article published in The Malaysian Bar,
"…a police report serves as a first information report, which triggers police investigations if, and when, an offence or crime occurs. However, where a contractor has not completed the job, it could, at most, be an offence only if at the commencement of the arrangement entered into, the contractor had a pre-conceived intention to abandon the job or abscond with the money. However, this would be difficult to prove, even if prosecution was instituted."
In other words, if your contractor says that he can't finish the job because of money or worker problems, it's not classified as "cheated by renovation contractor". At most, it's a civil dispute.
Even if he runs away and can no longer be contacted, it is not necessarily "cheating" because you can't necessarily prove that this was his plan all along.
Instead of a police report, one option is for the homeowner to go through a tribunal that exists for the purpose of civil disputes.
Here are the most relevant channels of consumer tribunal in Malaysia to lodge such a complaint:
The National Consumer Complaints Centre (nccc.org.my) is a platform that records complaints from consumers, gives advice on what needs to be done and acts as the mediator between the complainant and related parties (government, supplier, seller, distributor, accused party).
Being a national centre, there are hundreds of categories of complaints that can be made through the centre which includes Construction, Carpentry, Electrical Goods, Housing Maintenance and Other Professional Services, to name a few.
NCCC also works very closely with other bodies such as the Tribunal for Consumer Claims Malaysia (TTPM), Ministry of Domestic Trade and Consumer Affairs (MDTCA) and the Bar Council. So, if you are looking for a platform that can assist you in getting your complaint heard, the NCCC would be the best starting point for you. Learn about the process of lodging a complaint with the NCCC.
In some cases, the NCCC will refer you to the Tribunal For Consumer Claims (Tuntutan Tribunal Pengguna Malaysia – TTPM), an entity under the Ministry of Domestic Trade and Consumer Affairs. They can be reached at https://ttpm.kpdnkk.gov.my
The Tribunal For Consumer Claims is an independent body established under Section 85, Part XII of The Consumer Protection Act 1999 with an objective to act as an alternative forum for consumers to file claims in a simple, inexpensive and speedy manner.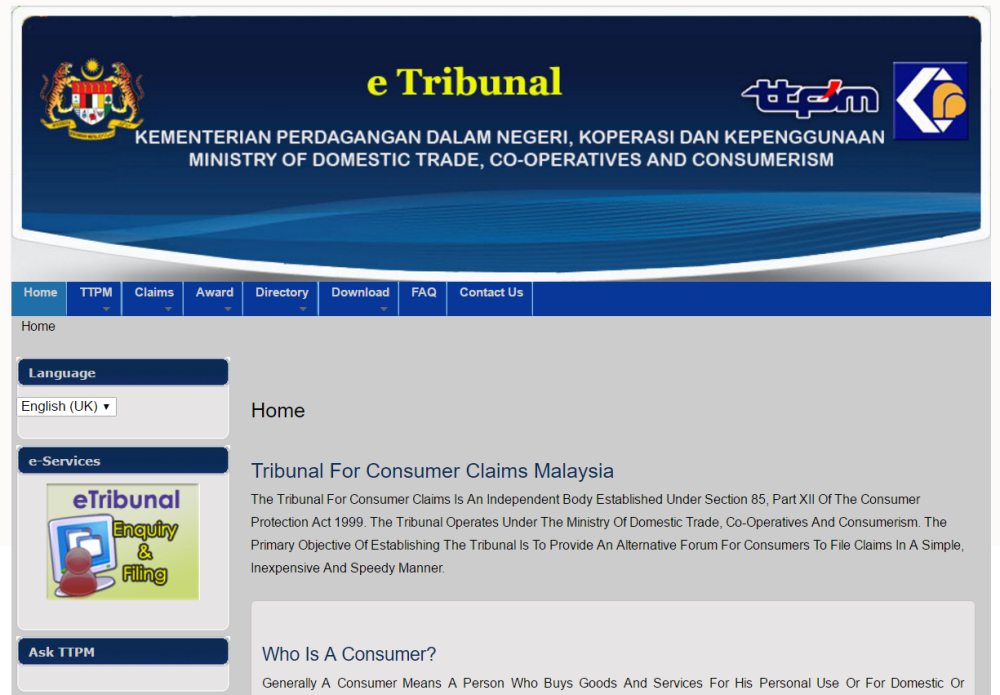 Before you file a claim, be sure to read carefully and find out if your case is under the jurisdiction of TTPM, as there are lots of clauses and areas covered.
Also, take note that TTPM will only cover claims of a total amount not exceeding RM25,000. If the value of your loss is below that, you can lodge your claim right away.
Should I sue the contractor?
If the small claims tribunal does not get any results, another option that gets mentioned a lot is to hire a lawyer privately to start a civil claim for "breach of contract". This assumes that a contract was actually drawn up.
However, this method may not be worth it. Court fees may cost tens of thousands of ringgit and will take a long time to resolve. In addition, the contractor's business may be on the verge of closing down anyway, and suing them will not result in any compensation.
Should I bash his company online?
This is something that happens quite often in Malaysia. The homeowner will visit forums to share their bad experience in great detail. They will also post the contractor's name and phone number to "name and shame" the company online. In some extreme cases, they will start an entirely new blog just to document the project.
Leaving a bad review is one thing, but it can go too far when emotions are running high. The homeowner may start to veer away from the facts, and may make claims that cannot be proven e.g. theft: "During his last visit, he took my Uncle's handphone. We confronted him but he denied it". They may even go as far as to post the contractor's home address, family details and more, in their rage to "get back at them".
We don't advocate anyone to be an Internet vigilante. Anything you post about the company or the contractor can be viewed as defamation if the facts turn out to be untrue.
However, we do encourage you to leave them a review and provide details about your experience online, whether in a directory such as Recommend.my, or on the contractor's Facebook page. If they are serious about protecting their reputation, they may take steps to rectify the problem.
How to protect yourself from getting cheated by renovation contractors in the first place
As with any project, prevention is better than cure. Do your homework before engaging the renovation contractor using the following guidelines:
1. Never rush into the project
This is one of the biggest contributing factors to a bad home renovation experience. We get it; you just got your keys, and you're eager to move it (or rent our your property), so you need to find a renovation contractor as soon as possible.
However, before you sign on the dotted line, you should always conduct a thorough investigation of:
Their business set-up and number of employees
Their past work
Any reviews and opinions on their workmanship
Any customer's experience about their service standards of responsiveness
Their after-sales service
Learn more: How to Pick The Right Renovation Contractor in 10 Steps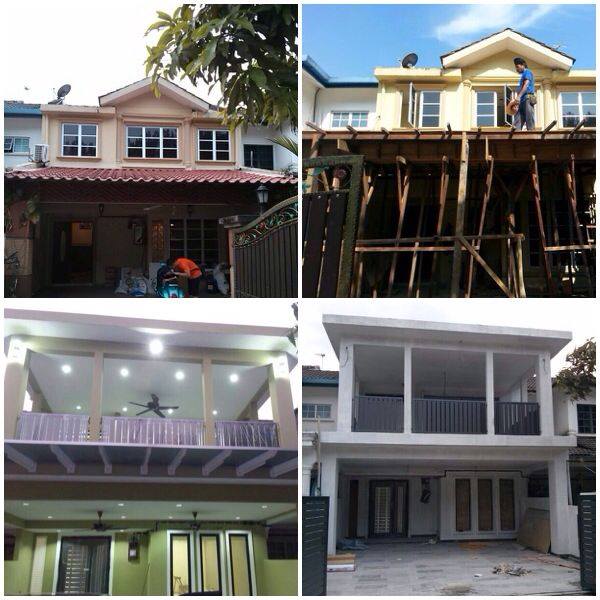 2. Don't leave important details out of the scope of work
Make sure every single item is laid out in the contract, from the brand of the shower head to discussing penalties for late job completion. Among the items that must not be left out include:
Detailed work schedule. What will be completed? When will it complete?
Detailed drawing and measurements
List of materials selected, and their specifications
Labour charges
Any insurance application
Does the project require any permits from city hall
Payment schedule
Penalties for late delivery
Post-job cleaning
Grace period and warranties after job completion
Deposits paid by the contractor to the management office
Any changes to the plan should be documented even after the renovation project has started. Any verbal promises after the project commences are not binding unless they are put in writing.
3. Never pay upfront in full
Every renovation project should have a proper contract and payment schedule, signed by both parties, before work commences. In addition, no contract should ever stipulate that the homeowners pay upfront in full.
In addition, don't pay more than 50% as your initial deposit. For even bigger projects, don't go beyond 30%. And, further progress payment should be made only after a particular phase is completed, not before.
Another good practice is to retain a final sum of 20% of payment until you have checked the workmanship and are fully satisfied with the job done.
4. Never trust an unbelievably low first estimate
Some contractors would show up, take a quick look inside your home, and quote you an impossibly low price estimate for the renovation works that need to be done.
After tearing down your home to start working on it, they'll probably turn around and say how they estimated poorly in the beginning, thus pressuring you to continue with them in order to fix the repairs.
The best way to avoid this is by surveying for a few quotations from other renovation contractors for a better average. With Recommend.my, you'll be able to get multiple quotations from our trustworthy contractors for you to choose the best one.
5. Get recommendations
As you shortlist your renovation contractors, get recommendations from people you trust. Ask about their experience and make comparisons between several good contractors.
If you need introductions to vetted contractors with customer testimonials, you can get quotes from reliable contractors at Recommend.my.
6. Get protection in case a renovation job runs into problems
There are two ways to do this. The first is to insist on progress payments, and pay a deposit to get the job started. This way, only when a particular phase is complete, then you can release the funds. If you pay for a renovation contractor using Recommend Pay, we can take care of the progress payments for you.
Using Recommend Pay, you can pay for a particular phase in full, but we will only transfer 50% of your payment to the contractor. The remaining 50% will only be released upon your approval, after the job is done.
The second method is to get renovation insurance. Most homeowners get mortgage insurance, but forget to protect themselves during the renovation itself. Recommend.my has partnered with Allianz Malaysia to provide coverage of up to RM100,000 in public liability, RM50,000 in fire and structural damage, and RM5,000 in theft. The best part is that all this comes at no cost to you. You simply need to pay using Recommend Pay and we will take care of the rest.
Get Peace of Mind for Your Next Renovation
Minimise your risk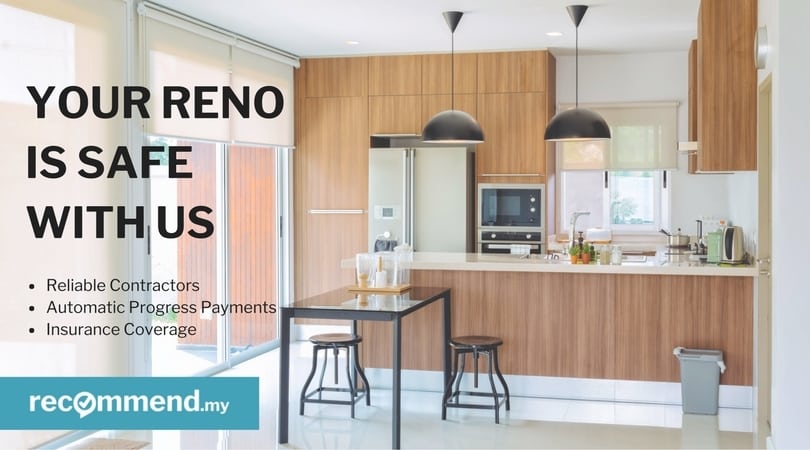 Recommend.my can help minimise your risk during your home renovation. We find only the most reliable contractors to quote you. And if you pay online using Recommend Pay, you ensure the contractor will do a good job. Finally, we protect the project with RM100,000 insurance coverage.
To get started, visit Recommend and share the details of your home improvement project. Our trusted contractors will respond within hours, with a free initial estimate.