Your home interior design has a big impact on its value and its appeal. Why not create a style that Insider.com says is the next big trend, yet costs less than RM85K? We're talking about industrial interior design.
What is industrial interior design?
Industrial interior design is an affordable way to add character and style to your home. The style refers to old factories that were converted into homes. The look involves having "raw" elements such as exposed piping or metal frames, unfinished brick walls, bare cement, or even recycled items, all while giving it a modern edge.
But, don't be fooled into thinking that industrial house design is expensive. As the examples below demonstrate, it's possible to get affordable industrial interior design in Malaysia at under RM85,000. All the examples below show how easy it is to create a clean, uncluttered home filled with lots of character. And apply it to practically any room in your home.
Create the home you've always wanted
With so much space in your house, you need the right creative designers to turn it into a truly luxurious and sophisticated home. But, it can be a challenge to find the right interior designers who will "click" with you and work to realise your vision. Recommend.my can help you find a trusted and reliable interior designer in Malaysia to turn your dreams into reality. Let us know your style and budget, and we will notify our most suitable interior designers to get back to you and arrange an appointment.
1200 sqft home in Nidoz 38, Desa Petaling
In this home, examples of industrial design style include the exposed electrical trunking for the living room spotlights; the suspended cabinet over the TV that is made from steel frames; as well as the bar counter that has an outer metal frame with industrial bar stools. Budget for this design and renovation: RM80,000.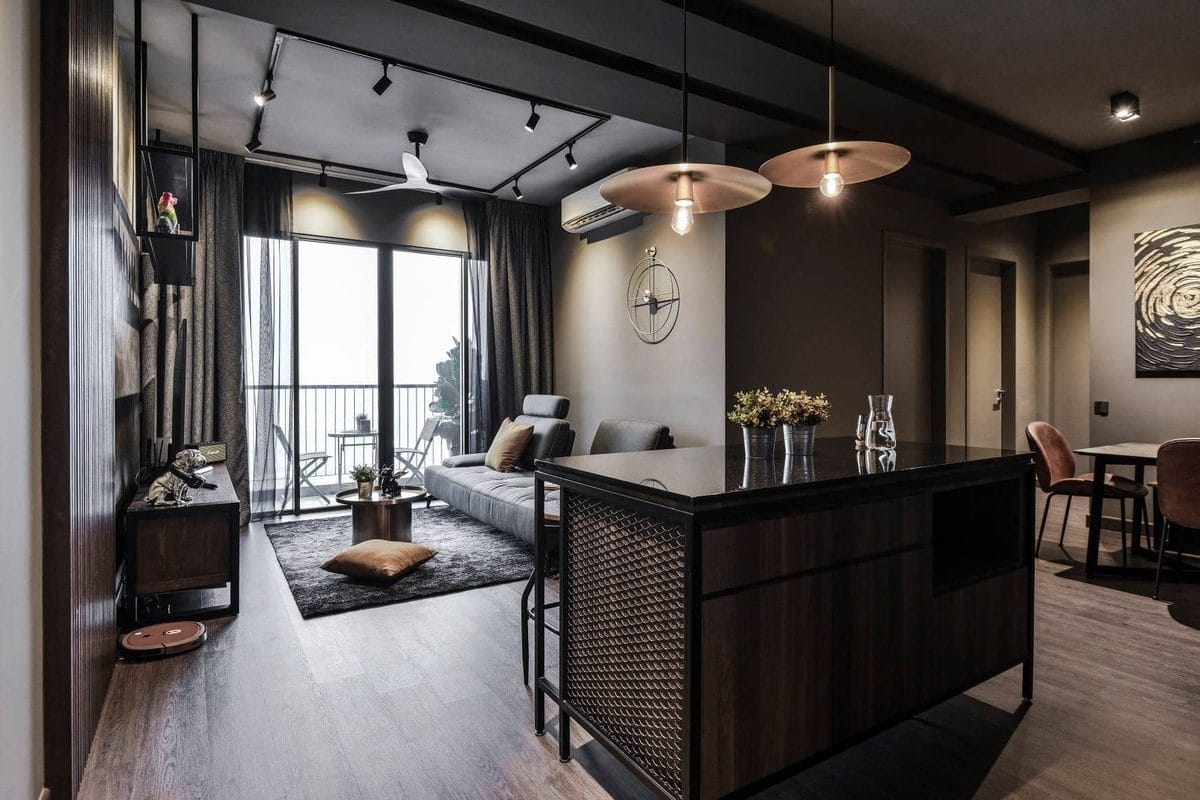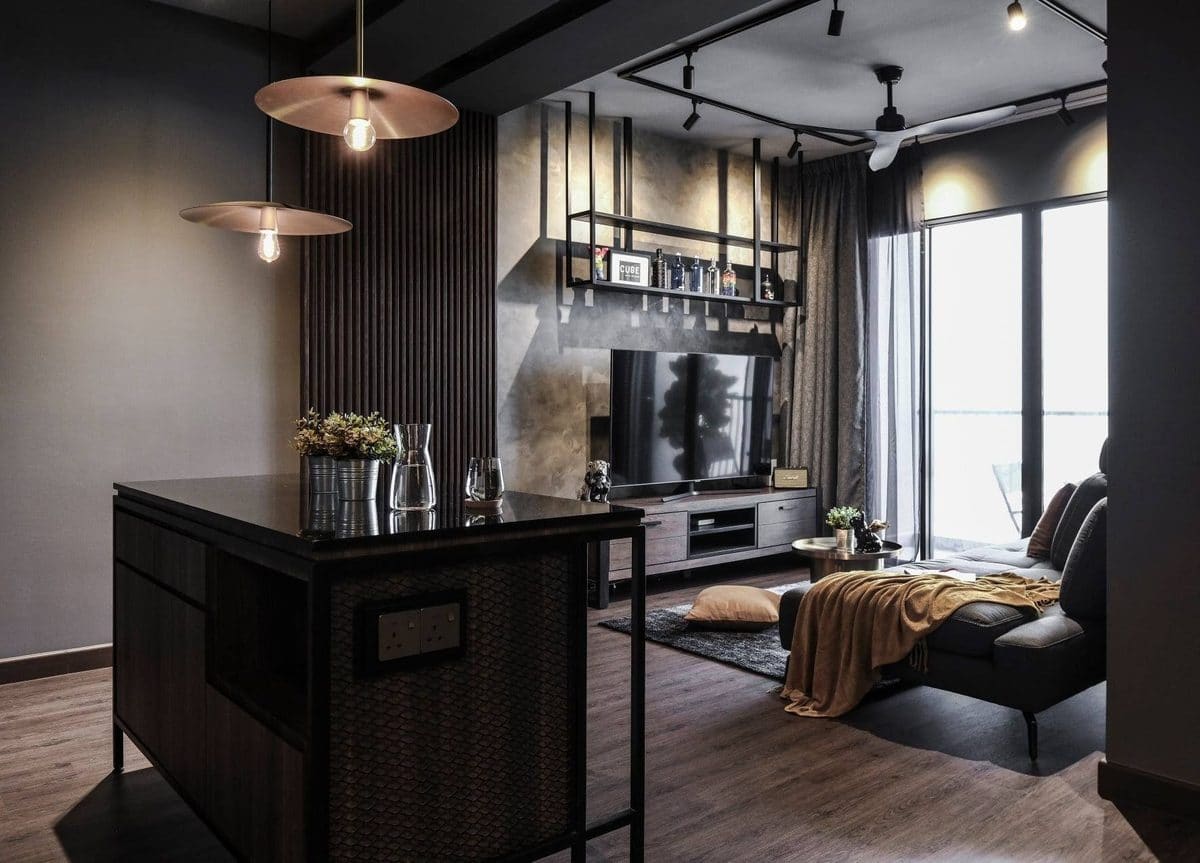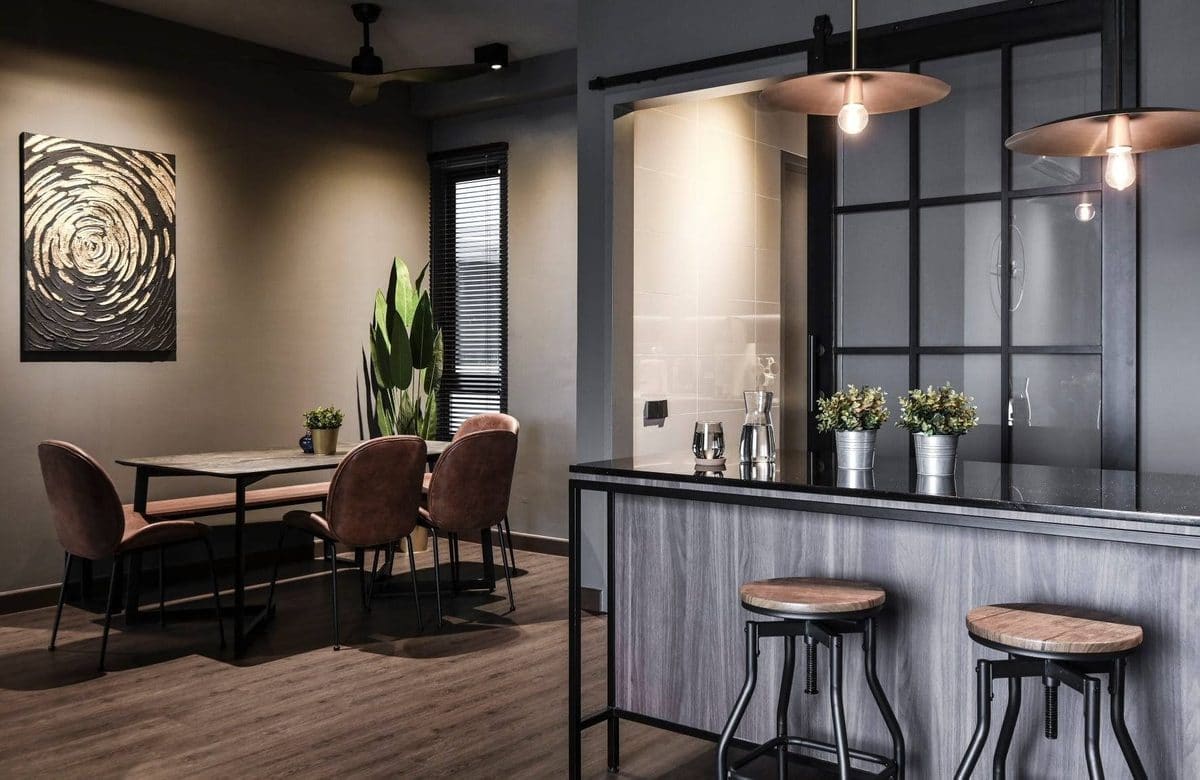 Project by Cube Asia Design
1550 sqft home at The Waterfront, Penang
There is a mix of surfaces that contribute to the industrial feel in this home. First is the wooden planks that make up the kitchen backsplash (most likely done using high-pressure laminate); the cement textured-wallpaper at the dining area; and finally the concrete coffee table. Budget for this design and renovation: RM80,000.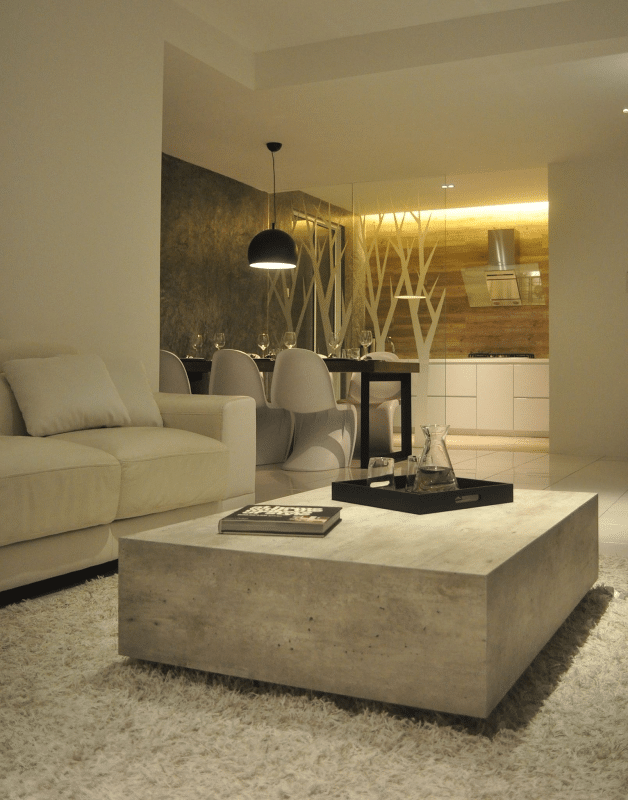 Project by Nevermore Group
1182 sqft condo at Bennington Residence, Kuala Lumpur
Clever use of paint creates an industrial feel in this condo unit. By using a textured painting technique, the designers manage to add a concrete effect to the walls. The same effect is carried over to the bedroom. Budget: RM65,000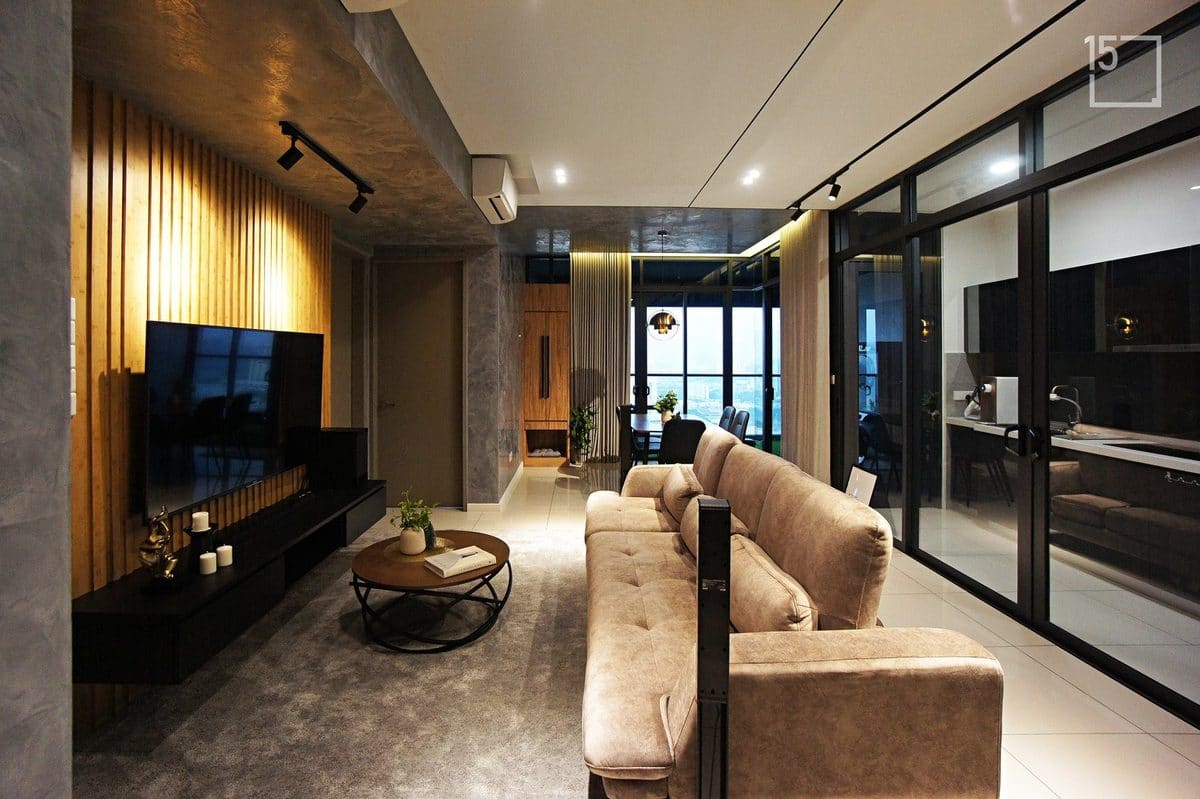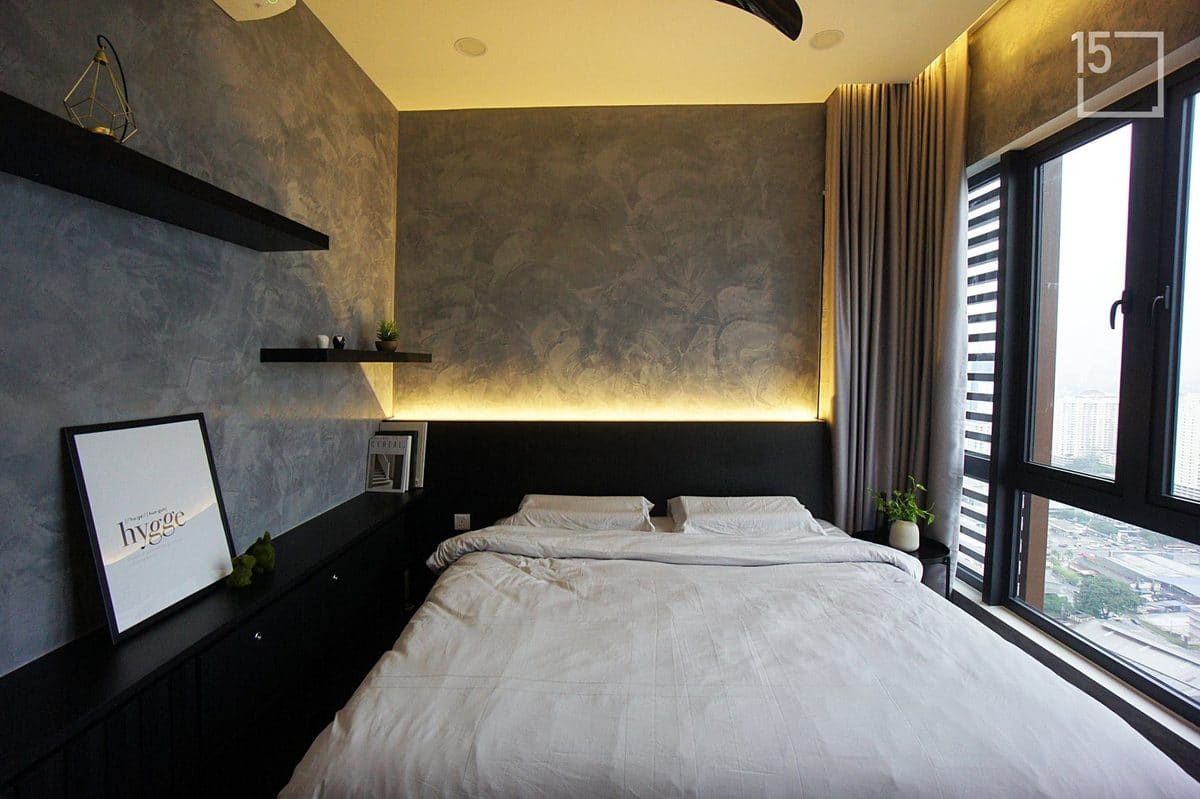 Project by Fifteen Interior Design
1300 sqft home in Lakefront Cyberjaya
Another cement-effect feature wall in this home, but also accompanied by a industrial-style coffee table with geometric design in the metal base. The entrance also has a timber divider that adds to the style. In the dining area, the centrepiece is the solid wood dining table with a natural edge. Budget: RM70k.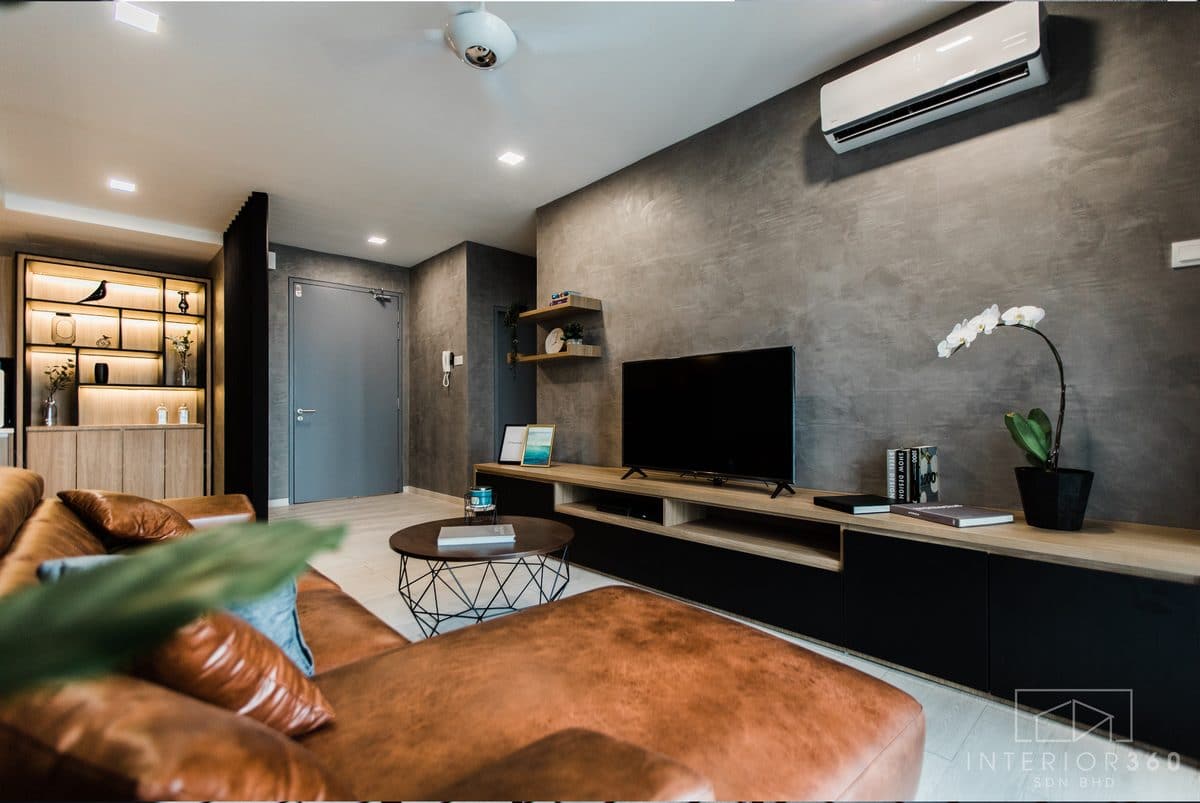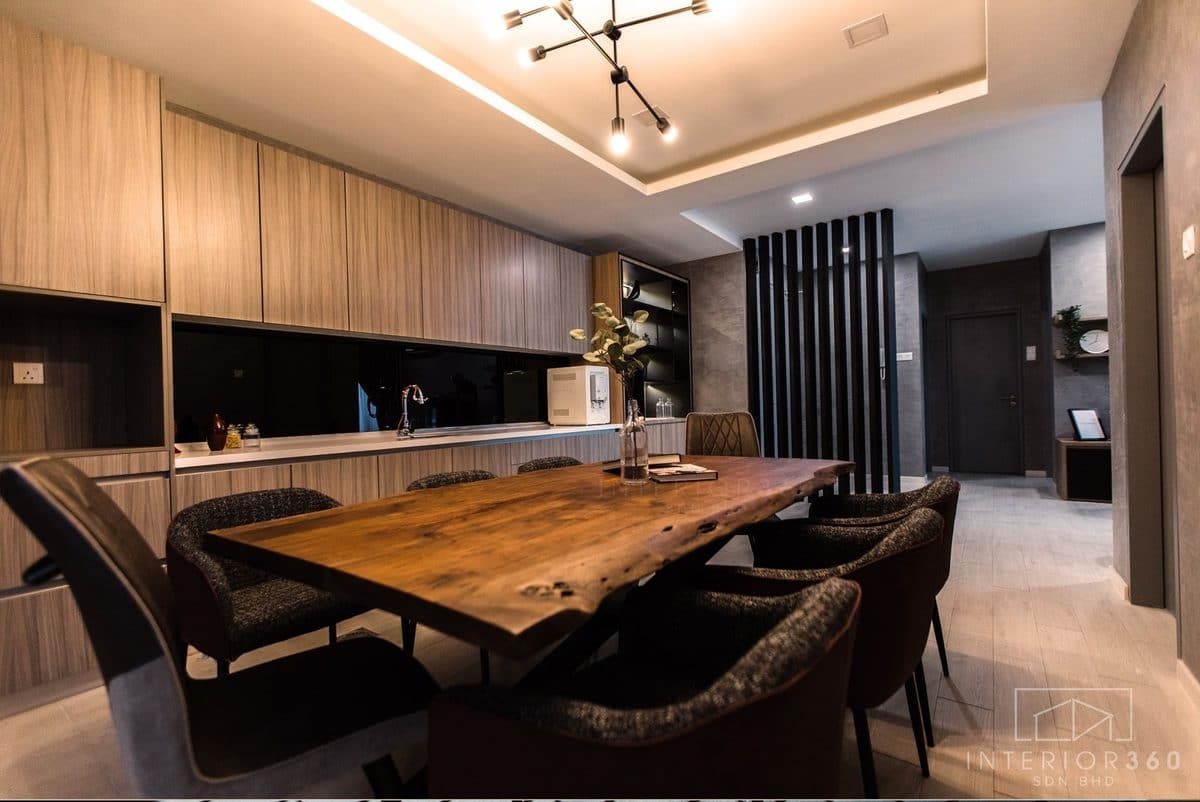 Project by Interior 360
Industrial Style Cabinet Work in Puchong
A suspended kitchen cabinet with metal frame adds the industrial touch to this kitchen. Budget: RM40k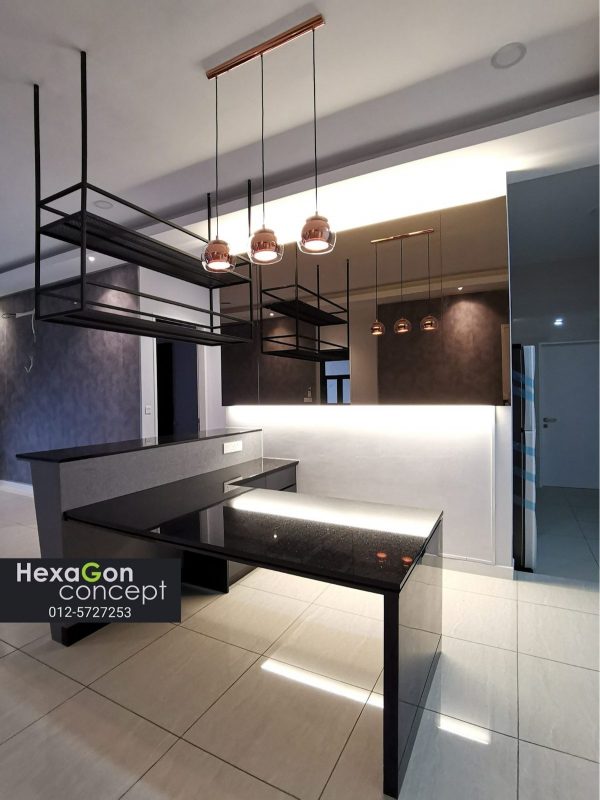 Project by Hexagon Concept
495 sqft Summer Suite Condo in KL
If you need industrial interior design for small spaces, check out this example. An exposed brick wall effect is added to this studio unit through the clever use of textured wallpaper. Industrial style furniture included the bar counter, dining lights, and coffee table. Budget: 25K.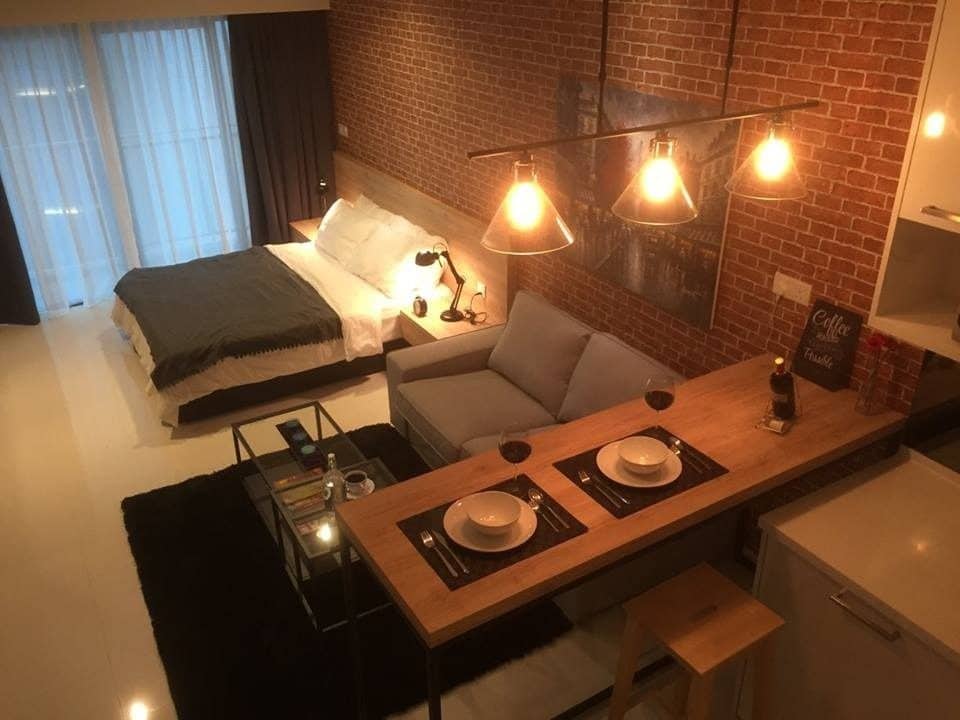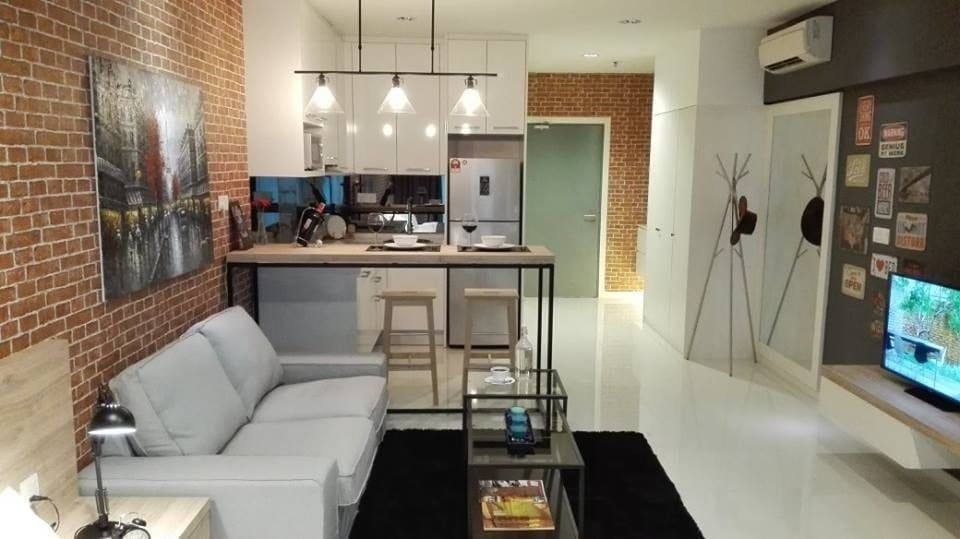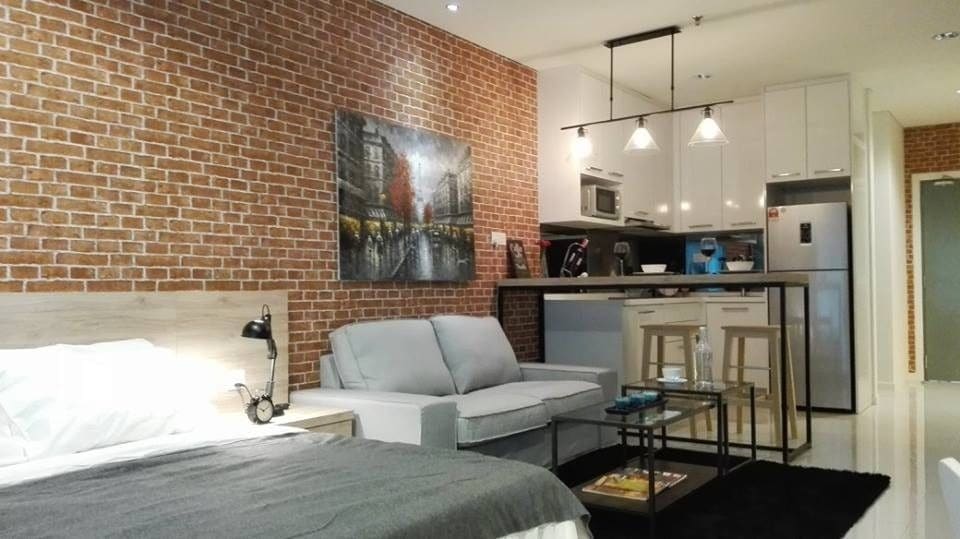 Project by Amorphous Design 
The Nest @ Jalan Klang Lama, Kuala Lumpur
Lots of industrial design elements here. The cement screed wall frames the TV area, which also includes a black framed TV console and coffee table. On the ceiling, the spotlights are connected by exposed cable trunking, also in black. In the dining area, metal chairs are combined with a long wooden bench along the wall. Budget: RM85,000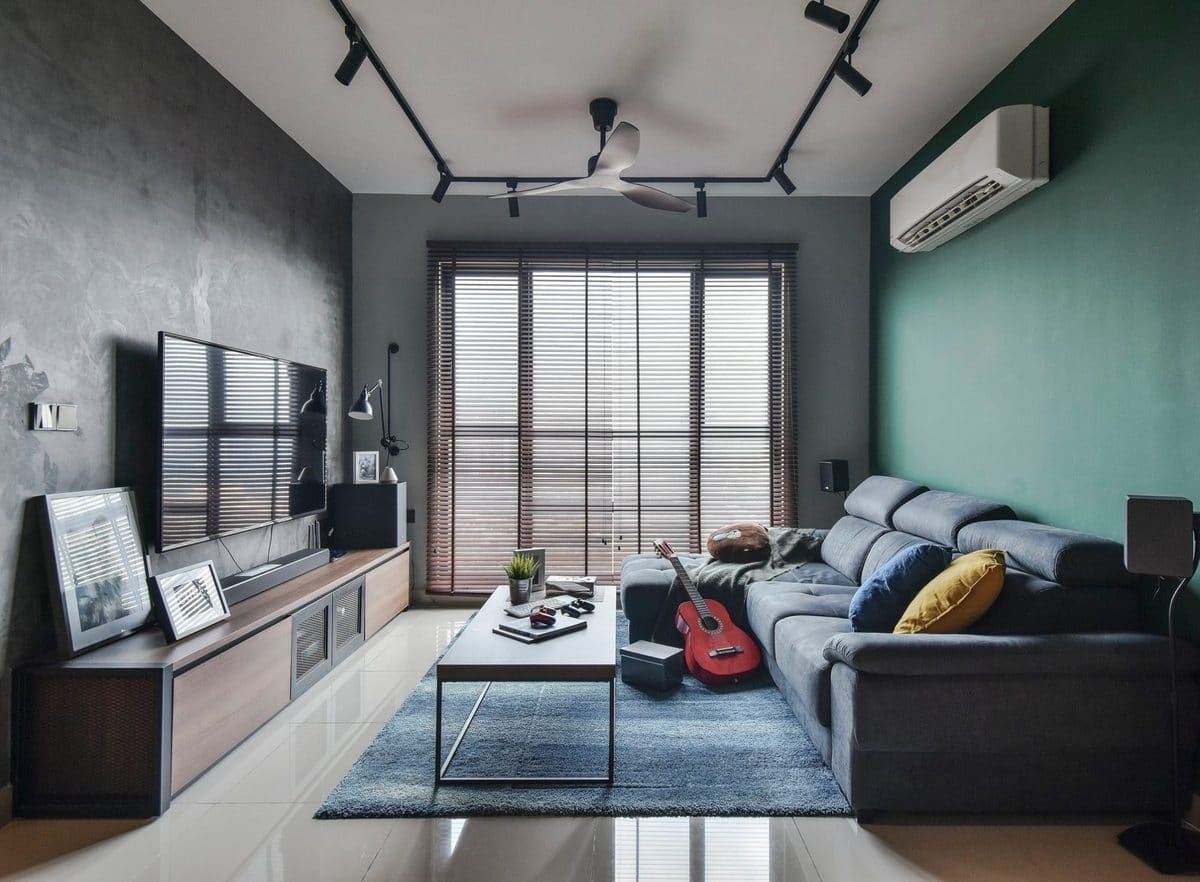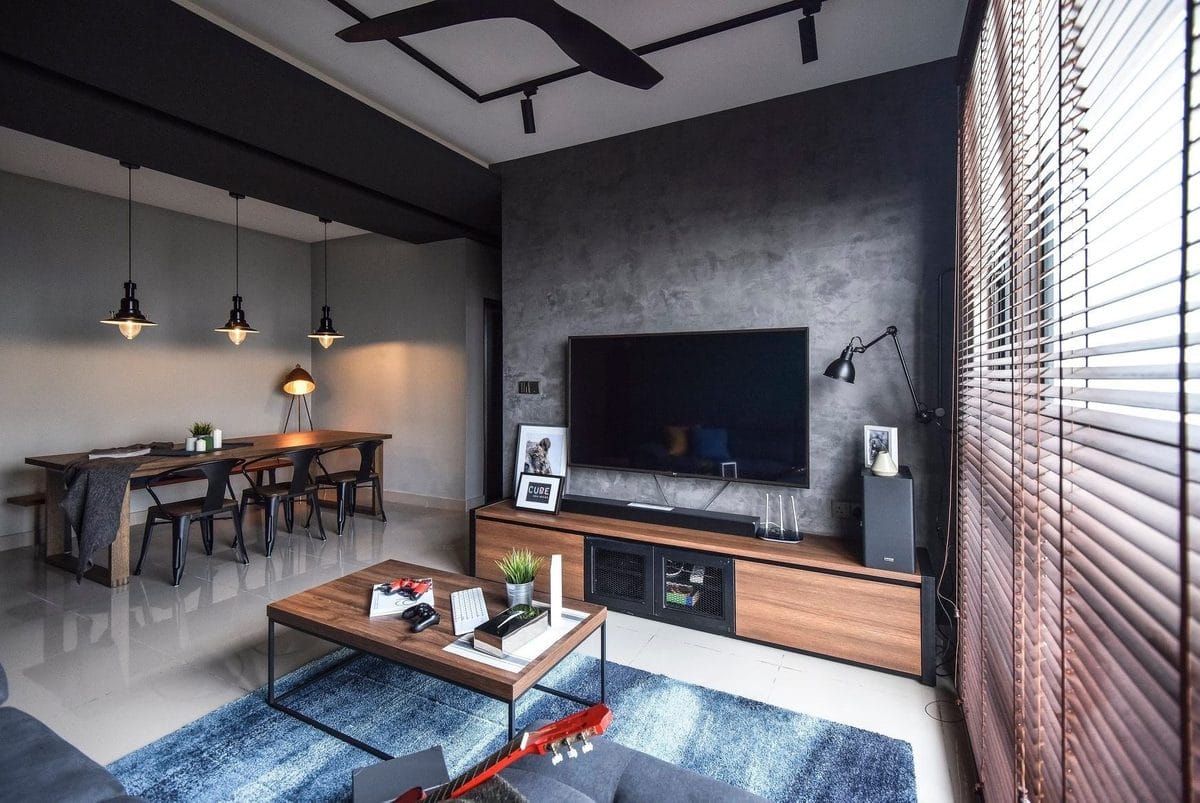 Project by Cube Asia Design
Looking for interior designers in Malaysia?
Recommend.my is the leading home improvement platform where you can get quotes for all your home improvement projects, from interior design to flooring to house painting. Or book home maintenance like aircon servicing or house cleaning. Our pros are verified, and all projects paid through Recommend.my come with our money-back guarantee.