Upon stepping inside this 3,600 sq ft terrace house in Lakeview Kuala Lumpur, you will find yourself immersed in the clean lines and natural forms of a modern home.
All the signature styles of Nu Infinity home interior design are there; the different wood combinations, as well as the blend of raw finishes and textures, help make this house a home. But what gives it a distinct character are the various homages to the British flag.
You'll be welcomed by the contrasting white pillars and exposed brick. The contrast of the patio's black rocks and white marble draw visitors toward the pale door.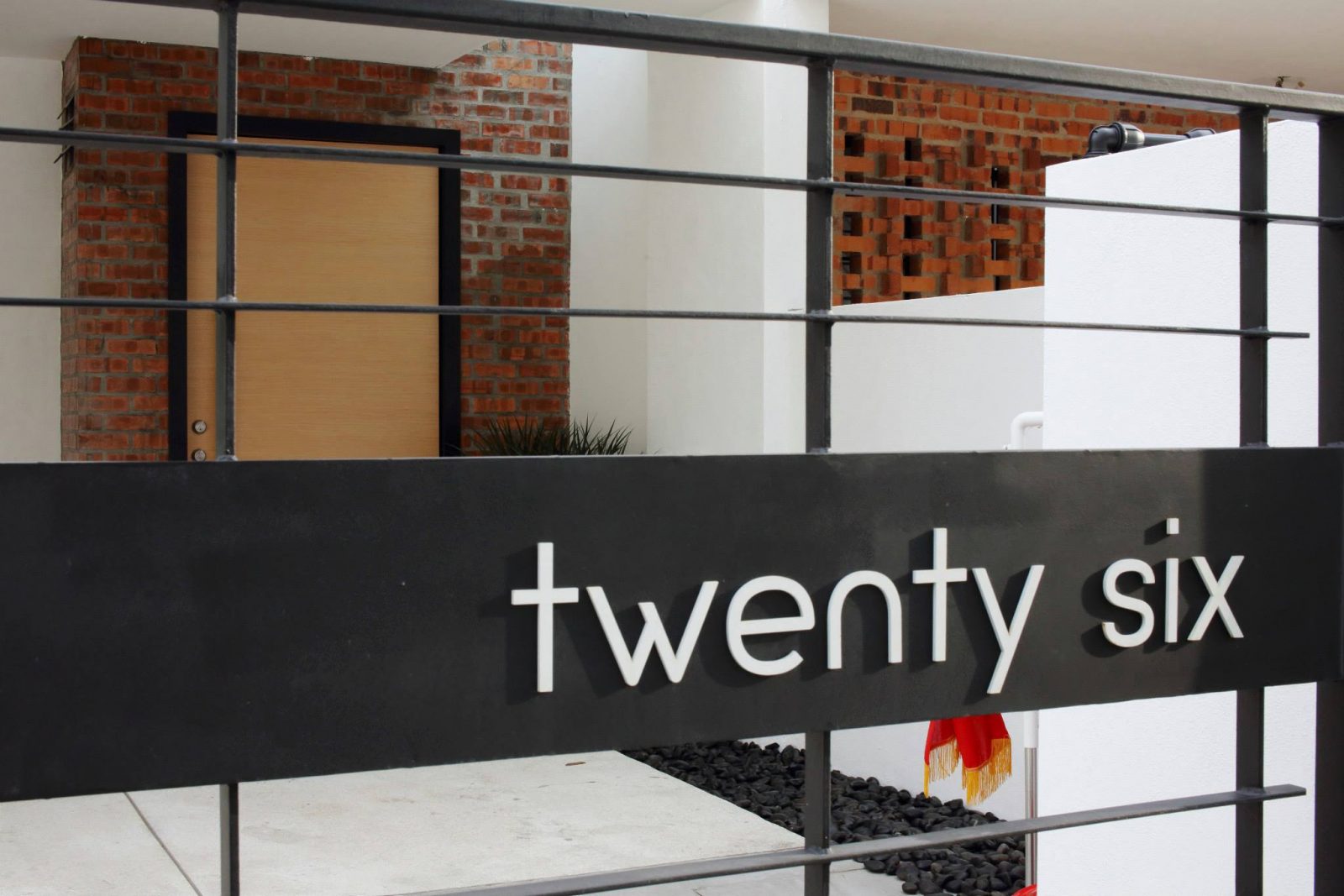 In stepping into this home, you'll be welcomed by an array of tropical plants that echo the overall modern yet natural feel.
From their Facebook page: "The entrance foyer where we made an extension to the existing home. The purpose of the extension was not just for aesthetic purpose but was also as a functional shoe storage and a seating space as you put on your shoes. The cement render flooring and exposed red brick walls creates a very outdoor yet indoor feel to the entrance as you step into the house."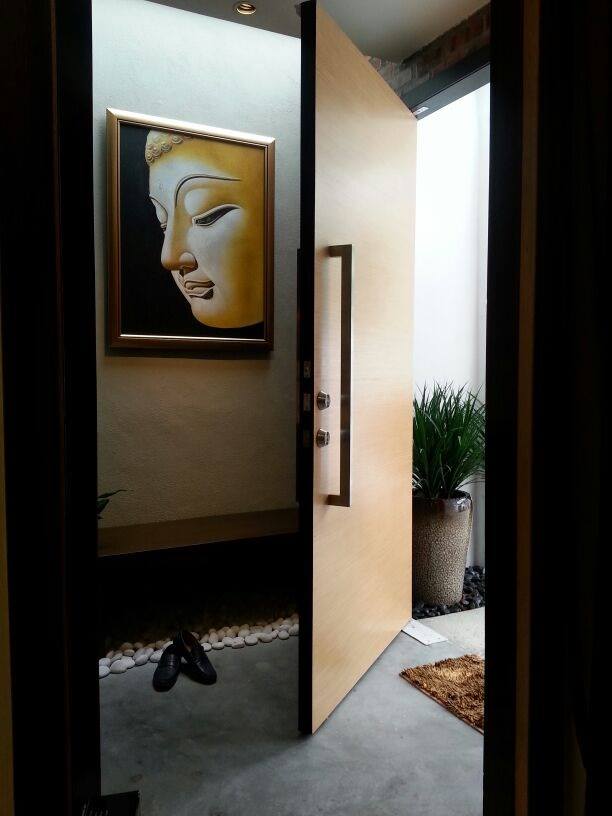 Just beyond, the living room's high ceiling draws you upward while the white and grey marble on the wall ground the space.
"Once you step in the high double volume and the wide continuous TV cabinet adjacent to the dining feature and followed by the dry kitchen space, which overlooks the back yard garden makes the entire home feel spacious yet fulfilled."
The dining space continues the modern and natural design with grey cushioned chairs, brown wall paneling, and the serpent-like mirror. While a union jack table runner sets off the room, the entire space draws you into the kitchen.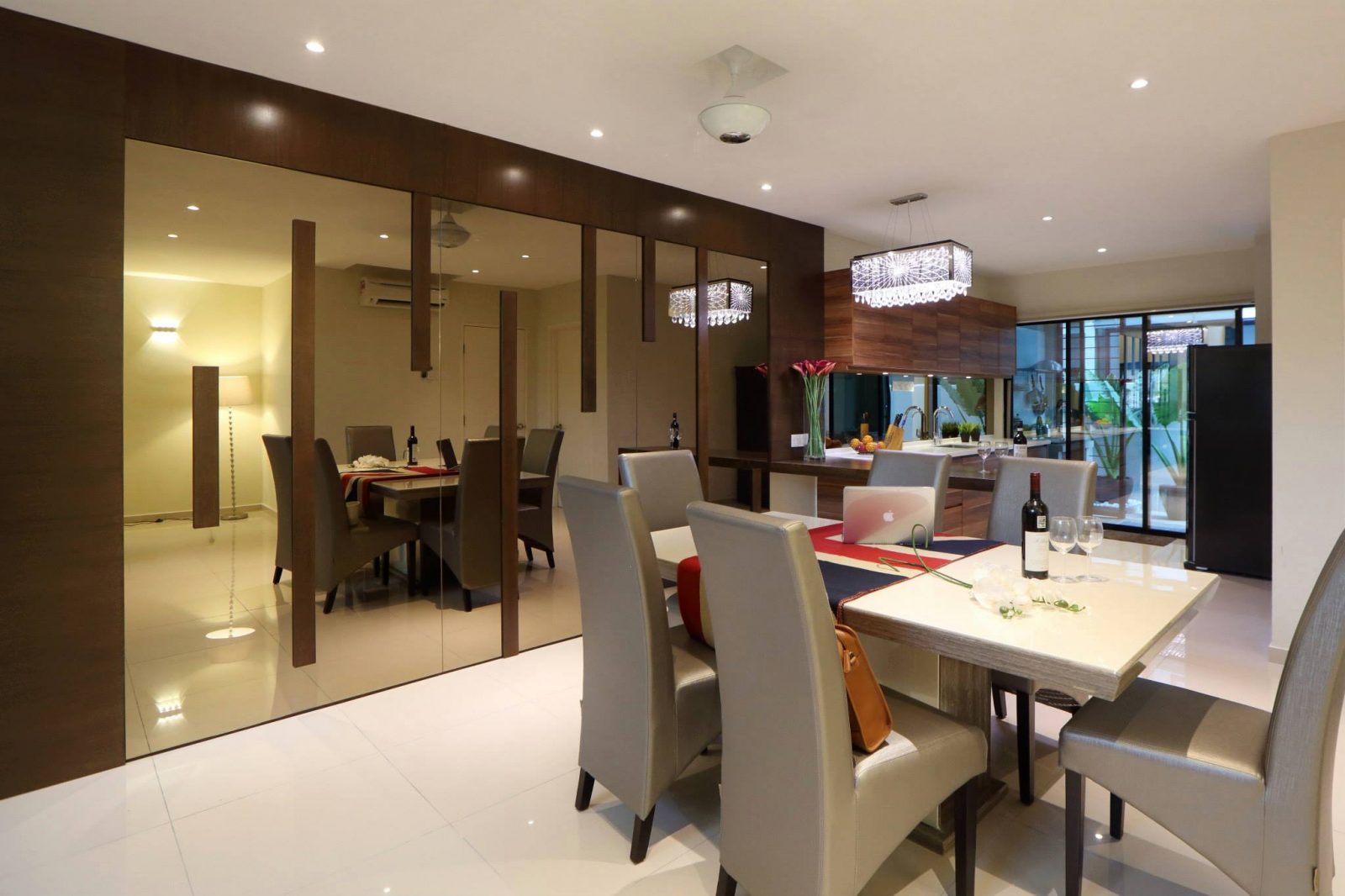 The kitchen maintains this natural tone with a mirror splash and natural wood cupboards and cabinets, even as the white tile floor draws you through the sliding door and into the plant-filled atrium.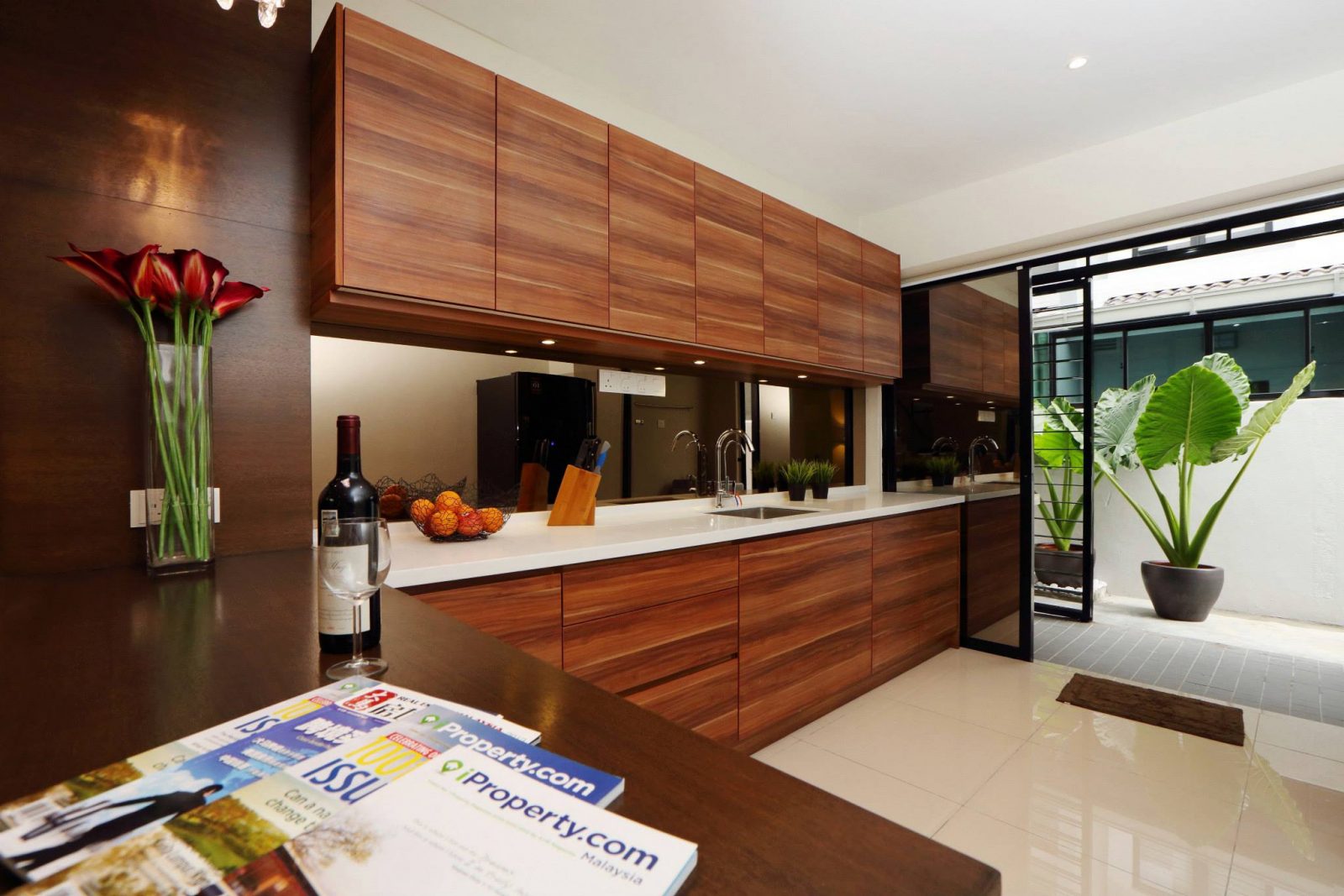 Returning into the living room, globe lights above draw attention to the short white table and grey couches on the fur-like, black and white rug below, opening the space, even as the Union Jack pillows add a sense of personality.
Climb the stairs behind the couches to the master bedroom, where the expansive bed, short bedside tables, wood-motif lamps, and white plush carpet together draw your eye to the room's length.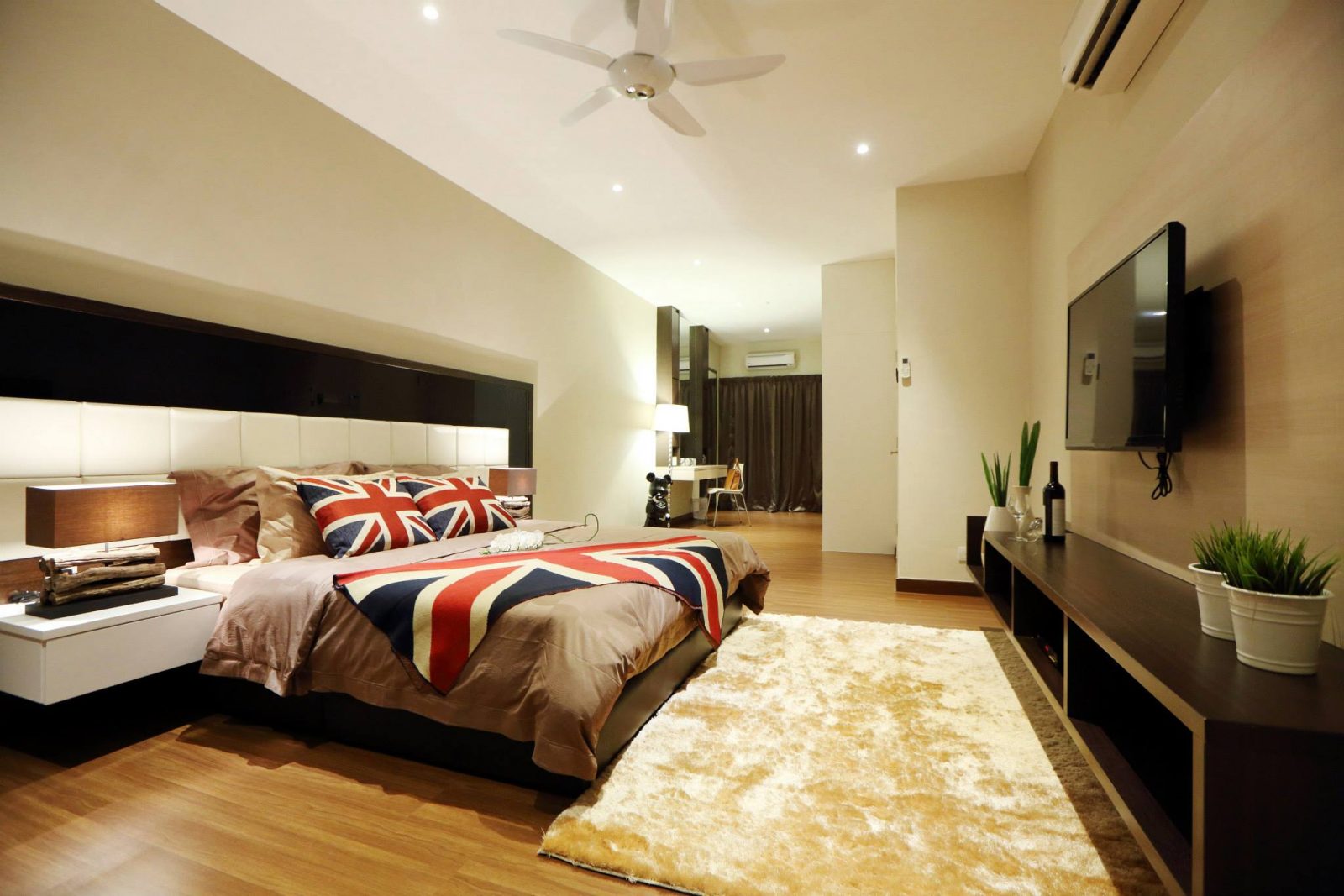 A floating desk with dark wood pillars stands at end of the bedroom, where the natural light of floor-length windows reflects off of the floor-length mirror and subtly accentuates the space.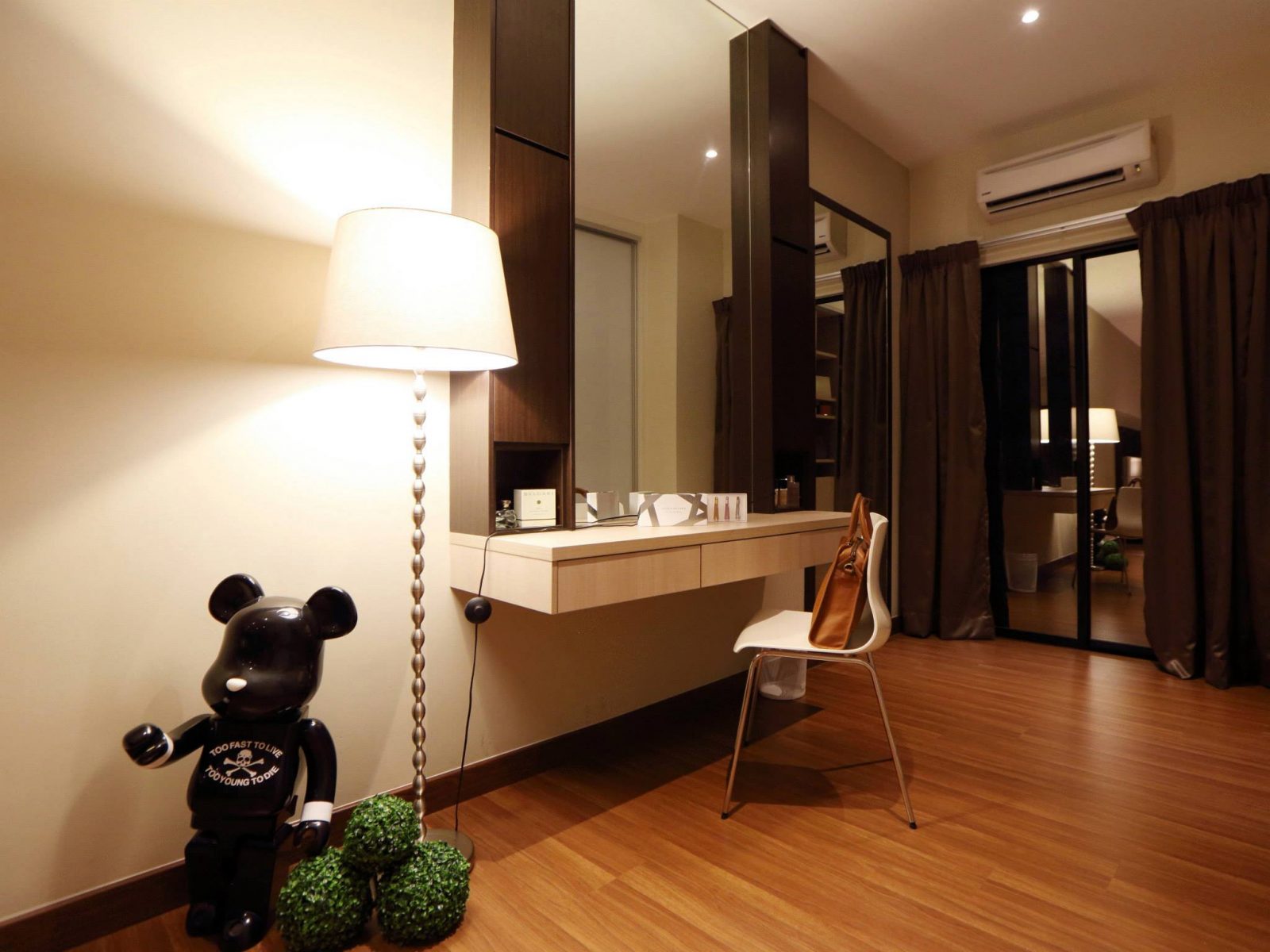 Get online quotes for home interior design Kuala Lumpur