[UPDATE] The Ministry of International Trade and Industry (MITI) has issued standard operating procedures for different industries during the Conditional Movement Control Order (CMCO), beginning on 4th May 2020. We have updated this article to reference those procedures.
With the lifting of the Movement Control Order (MCO) on May 4th, businesses will be allowed to operate and office workers will begin settling back into the everyday 9-6 routine.
However, it is clear that it will not be business as usual for many offices. Workers are now conditioned to be naturally wary of returning to public places, including the office. And this feeling will not go away anytime soon.
Workers (as well as customers) just aren't going to feel comfortable entering any business premises right away. Professor Joseph T Wu from the University of Hong Kong believes that COVID-19 cases could easily resurface once businesses resume and social interactions increase, even with the control measures in place.
Due to this, it's imperative that business owners and management take precautionary steps to ease people's minds.
Depending on your commercial sector, The Ministry of International Trade and Industry (MITI) has issued standard operating procedures for different industries during the Conditional Movement Control Order (CMCO), beginning on 4th May 2020.
Here are the ways to prepare your workspace and business premises to resume operations once the MCO is lifted.
Note: These suggestions apply to offices providing professional services only. Refer to this list for sectors that are not yet allowed to operate.
1. Ask employees to come to the office in phases
Even before restrictions, many companies (Recommend.my included) had already implemented split team initiatives. For example, implementing alternating work-from-home days for employees, also known as telecommuting arrangement.
Splitting the workforce allows everyone to ease into the "new normal" of post-MCO without forcing all employees to come to work. Employers could also extend the leniency to staff members travelling to work via public transport.
In fact, some studies suggest that many workers prefer to continue work-from-home arrangements for the longer term. Therefore, business owners will need to invest in teleconferencing and video call solutions as a permanent means of communicating.
This method avoids overcrowding the office immediately, where social distancing can be comfortably practised to reduce the risk of exposure.
Is this step required by MITI SOP? No. The SOP for professional services does not require split initiatives. Offices are allowed to operate up to 24 hours at 100% employee capacity, as long as social distancing of at least 1m is implemented.
2. Implement regular temperature screenings
To ensure that everyone, staff and customers alike, are fit to be out in public or come into work, taking temperature checks before they enter is one precautionary step to take. Anyone with a temperature above 37.5 celsius should be sent home to self-quarantine or asked to seek medical attention.
This is particularly important for retail locations and other business premises with lots of customer traffic. Places such as Village Grocer, The Store and Tesco already do temperature checking before entering, and this practice is sure to continue.
Temperature checks are a way to show staff and visitors that you are protecting their well-being. Temperature checks are definitely not 100% foolproof, but they remain a useful additional measure.
Is this step required by MITI SOP? Yes. Offices are required to be equipped with thermometers, and to take temperatures daily at the entrance. Anyone with a temperature of 37.5 degrees Celsius or more needs to see a doctor, and will not be allowed in.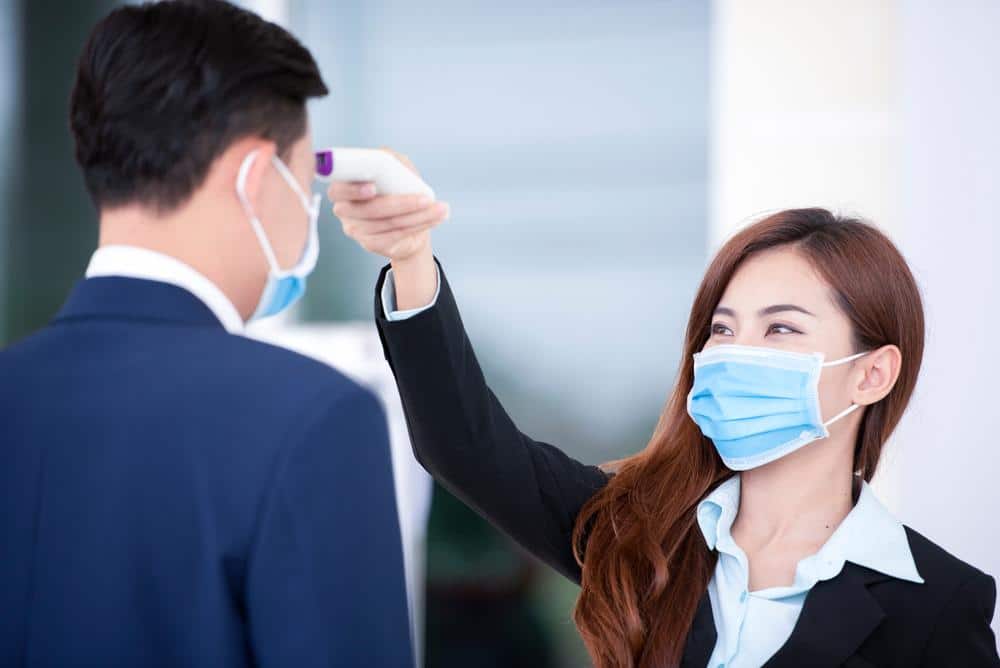 3. Prepare hand sanitizer points
Now more than ever, bottles of hand sanitizers should be placed at various posts of an office or business premises. Employers and business owners should constantly emphasize on hand hygiene and avoid hand-touching altogether.
In the office, most common points would be at the entrance, in meeting rooms, by the pantry/dining area, and desks. For shops, stores, or any other business premises, front counters and cash registers should always keep a bottle of sanitizer available to customers.
For hand sanitizers, not all types are effective for killing viruses and bacteria. Make sure the ingredients contained are certified to act against COVID-19 like alcohol (isopropyl alcohol, ethanol, or n-propanol at 60-95% concentration).
An alcohol-free alternative would be quaternary ammonium compounds. Most commonly used is benzalkonium chloride for hand sanitizers, although it isn't as potent as alcohol.
If there are no hand sanitizers, a hand wash station works just as well. Any type of hand soap works well, as long as you wash your hands for up to 20 seconds thoroughly.
Is this step required by MITI SOP? Yes. The SOP for professional services requires all offices to prepare hand sanitizers at the entrance and common areas within the premises.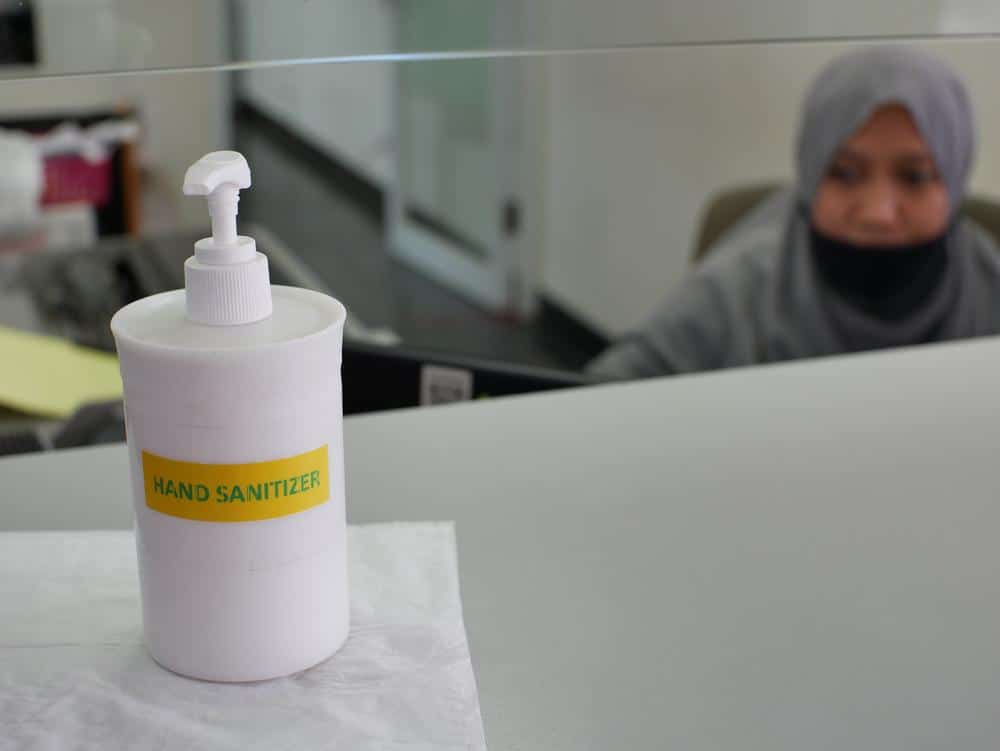 4. Alternate seating and improving your office design
To practice social distancing within the work environment, seating patterns also need to change. One suitable method is to leave one desk spot empty between each employee.
When split teams are being enforced, there should be enough empty space to have alternate seatings in the office without running out of places. If there are no more spots, some can take up the meeting room spaces to work.
If your workplace is tight on space, one feasible method would be to seat everyone with their backs to each other rather than facing their fronts.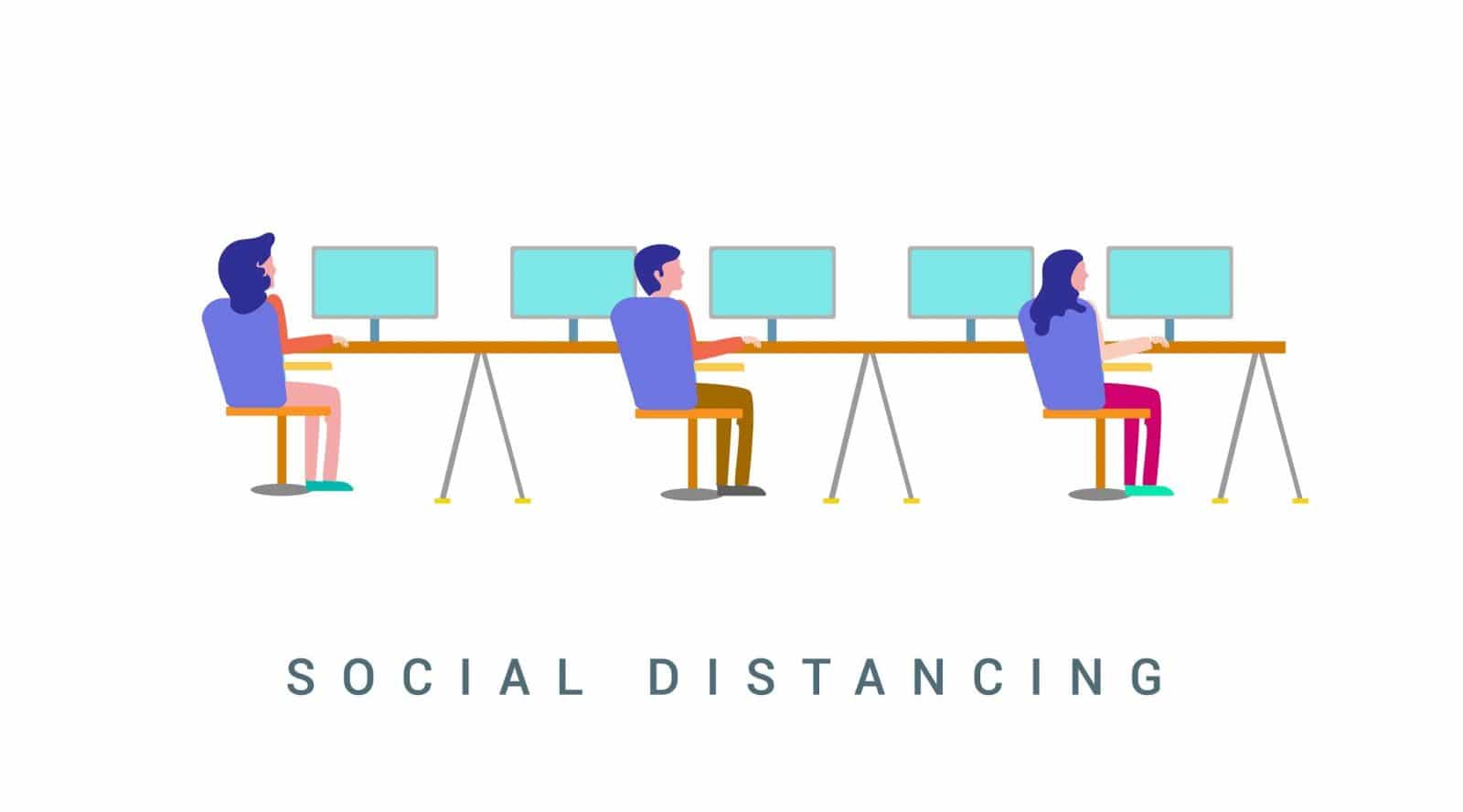 For a longer-term change, the management can change your open office plans. A professor from the University of Pennsylvania stated, "If you drum it into everybody's heads that they should be six feet away from each other and then you go back to an office and you're in the cubicles or an open office plan, in particular, that will be creepy for people".
"If you drum it into everybody's heads that they should be six feet away from each other and then you go back to an office and you're in the cubicles or an open office plan, in particular, that will be creepy for people"
Clearly, everyone has normalized keeping a 1-meter distance from each other since the MCO began, and the habit should continue.
Offices should begin by maximizing spaces, using spare rooms and empty spaces to widen the gap between each other. The need to revert back to old-school cubicles, dividers and closed workspaces might increase as well.
Is this step required by MITI SOP? Yes. Offices are required to practice social distancing of at least 1m between seats. Guidelines should be clearly marked, especially in common areas such as the cafeteria, meeting rooms, surau and multipurpose halls.
For more permanent arrangements, this would be a great opportunity to renovate your office design to reconfigure your space. You can find trustworthy contractors at Recommend.my for your office renovation project after the MCO.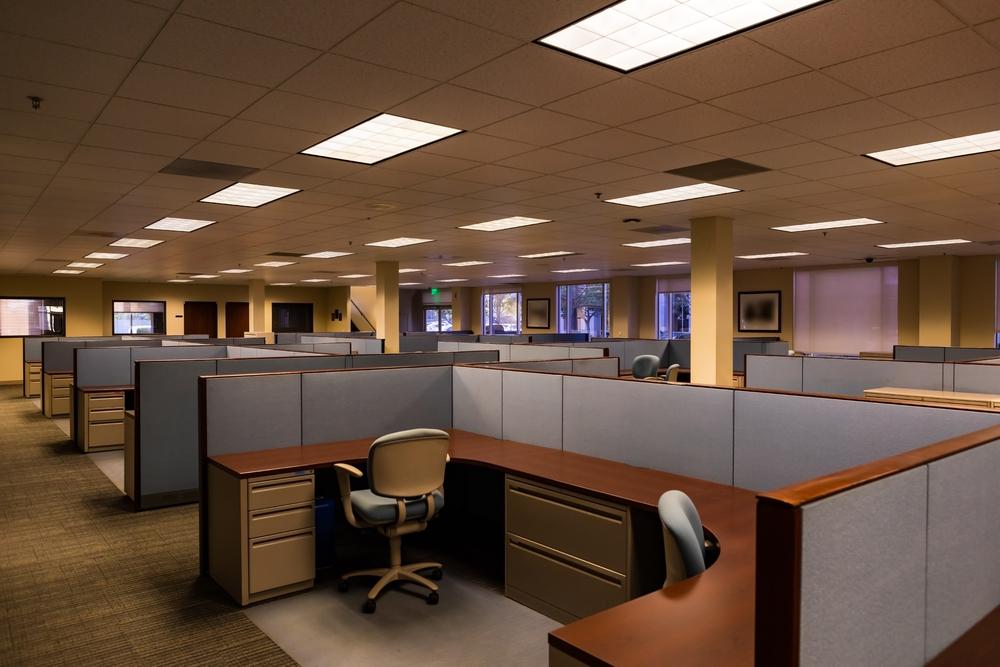 5. Disinfect the office regularly with professional help
To guarantee a virus-free environment apart from taking these precautionary steps, disinfection services are definitely required. It's a thorough method for destroying traces of virus and bacteria on exposed surfaces or in the air, and you can do it just before resuming operations.
Is this step required by MITI SOP? Yes. The SOP requires that business premises undergo a sanitization process each time operation begins every day, covering the lifts, cafeteria, meeting rooms, surau, company vehicles, indoor recreation areas, washrooms and waste disposal areas.
The level of sanitization is not stated in the SOP. However, for practical reasons, this likely to be a basic disinfection process that involves cleaning and wiping the areas with common household disinfectants that are effective against coronaviruses.
Should companies do more than just basic disinfecting?
As offices may also receive customers, it may be prudent to conduct a more thorough office disinfecting to further reduce the risk of infection, and give visitors the confidence to set foot in your office.
For more complete coverage, Recommend.my provides professional office disinfection services which consists of three main steps, namely (i) surface disinfection, (ii) spraying / coating, and (iii) cold fogging / misting.
Many companies, such as entertainment centres are already doing this in preparation for when they eventually reopen to the public.
What's included in professional office disinfecting services?
The first step is surface disinfection. This involves wiping down all high-touch surfaces and objects using the PECA Disinfectant Water, our disinfectant solution containing an active ingredient, sodium hypochlorite. This non-toxic solution is effective for killing bacteria and viruses and is alcohol-free.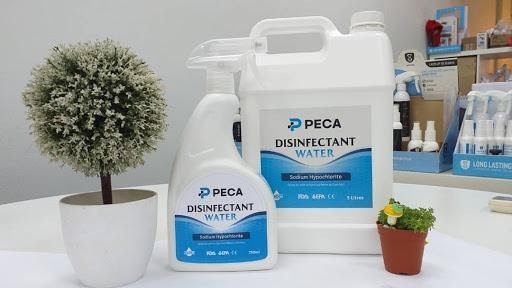 The next step is to apply a protective coating, where high-touch surfaces are sprayed with a non-toxic, antimicrobial solution containing Titanium Dioxide (TIO2). This includes lift buttons, door handles and more.
This form of disinfection is effective for long-term protection. Any bacteria coming in contact with the coated surface is deactivated. The layering's effectiveness can last up to 3 months.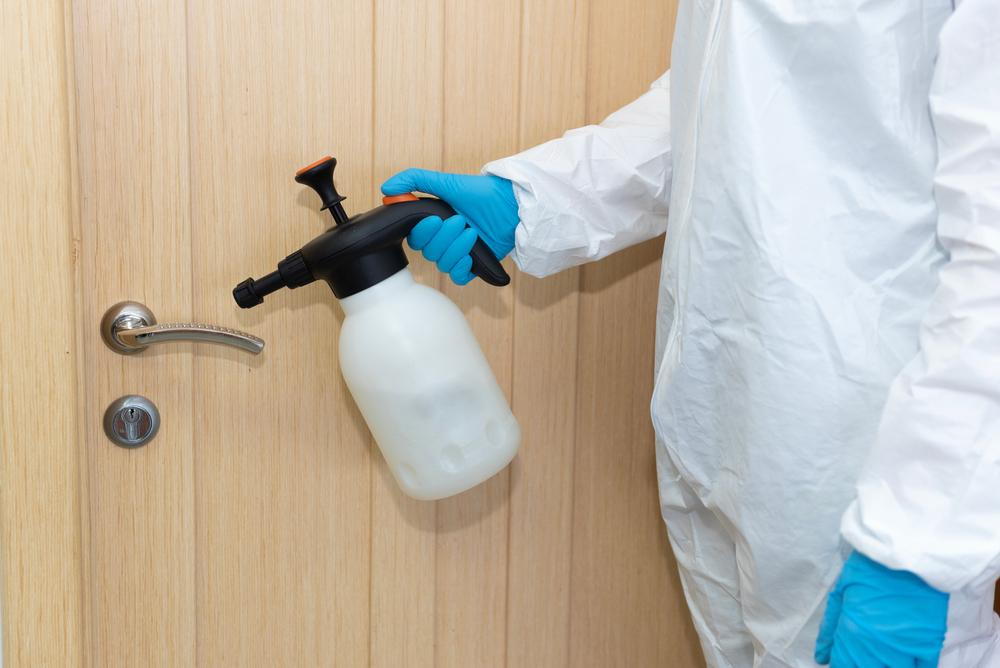 The final step is fogging or misting. This step helps to decontaminate hard-to-reach spots as well as the air in an enclosed space.
The effective ingredient used in fogging is a quaternary ammonium compound, potent in killing 99.999% germs and eradicates any potential of microbial contamination. It's a method often employed in factories, hospitals, clinics, and offices.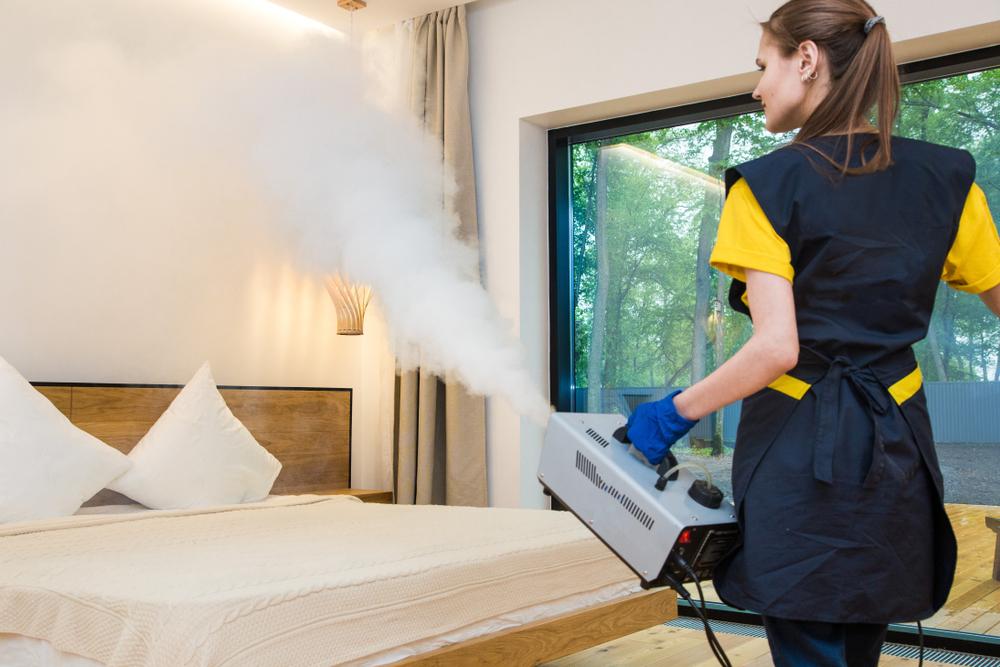 The active ingredient may vary depending on the environment. An assessment of the area is usually done before choosing the right compound.
Professional disinfection services offered by Recommend.my uses only non-toxic solutions so it's suitable for all facilities including schools and kindergartens, senior care centres, shared residential facilities (e.g gyms and function halls), healthcare facilities, F&Bs, and offices.
Once the disinfection service is complete, we will provide you with a sticker badge to certify that "the premise has officially been disinfected" to clear any doubts from walk-in customers or workers.
Conclusion
As offices reopen after the MCO, it is important for business owners to reassure workers and customers that the premises are safe, and that steps have been taken to protect their health.
The "new normal" is here to stay, and everyone from corporations to small businesses must find new ways to ensure business continuity and operations.
The government guidelines for offices reopening post MCO outlines the key steps that are needed, such as proper distancing, temperature checks, and daily disinfecting.
For greater peace of mind, businesses can also book a professional office disinfection service right before you reopen your premises.
To get quotes and make a booking, submit your details at our online form and you will receive a response within 24 hours. Our professional office disinfecting services are also available during any movement restrictions, as it is classified as an essential service.