Considering between IKEA or built-in kitchen cabinets?
The kitchen cabinet takes up a large portion of your renovation budget. So it's natural to want to find the right balance of price, durability and style.
In Malaysia, IKEA produces a range of modular kitchen cabinets in a range of designs. So you can pick and choose your layout, the frames, colours, drawer fronts and build up your cabinets as you need.
On the other hand, there are also local factories that produce quality kitchen cabinets in various designs. The suppliers can customise the cabinets to any design you like (not just Scandinavian).
To understand whether you should pick IKEA or built-in cabinets, consider the following factors:
Find contractors that you can trust
If you're looking to install custom cabinets, submit your request now and contractors will respond with free estimates.
1. Range of design options
IKEA ready-made cabinets
The designs offered by IKEA are based on Scandinavian design, so you will find mostly clean lines and flat panel doors. Being modular, you can mix and match the frames with any doors and any handles. Available colours are mostly natural wood, white, black and dark brown.
The IKEA METOD kitchen is the current flagship series of modular kitchens, with over 20 cabinet front designs. Pair that with different worktops and knobs/handles and you can create lots of different combinations and looks to your style.
Custom-made cabinets
The range of design options for a custom-made cabinet is only limited to the designer's imagination. For instance, you can play around with the cabinet fronts and drawer fronts, where you can request a louvre door with horizontal wood slats or flat wood doors with exposed hinges for your custom cabinets.
And, if wood and melamine are not your style, a custom-made cabinet can include other materials like tiles, solid surface, and even concrete.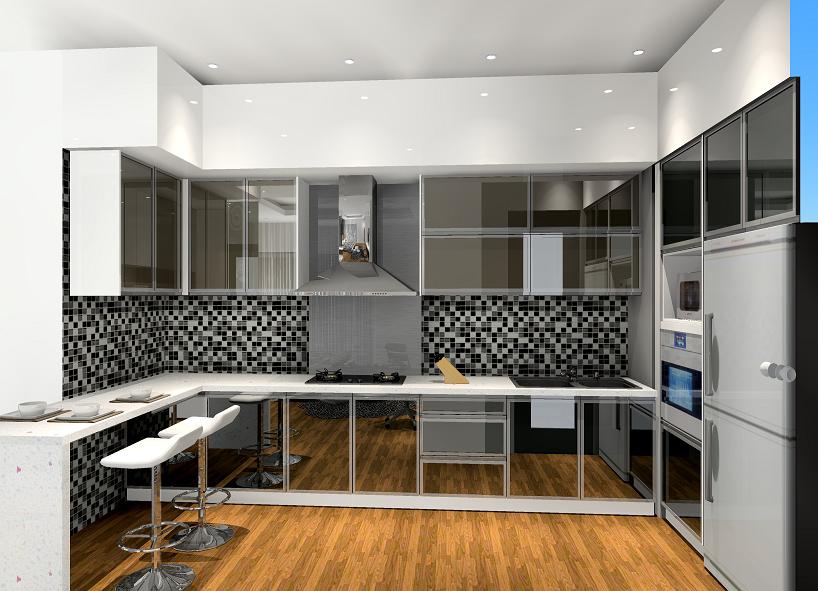 2. Layout
IKEA ready-made cabinets
IKEA flat-packed cabinets come in standardised sizes. The measurement for every single design are given in centimetres, and can easily be found on their catalogue and boxes. This makes them highly modular so they will fit together perfectly.
But this also means that by using IKEA cabinets, you may end up with extra space left over in between the cabinet and the wall, or between the ceiling. It won't be possible to extend your cabinets all the way to the ceiling.
Custom-made cabinets
If your space has some unconventional corners or requires detailed design, go for custom cabinets. A creative and innovative designer would be able to come out with the best design to make sure all areas are functional and practical for storage.
Another consideration: IKEA kitchens do not have options for island counters. So if you want to create an island kitchen that has an integrated sink, or cooker, or electrical outlets, you will need to hire a kitchen specialist to design and build it.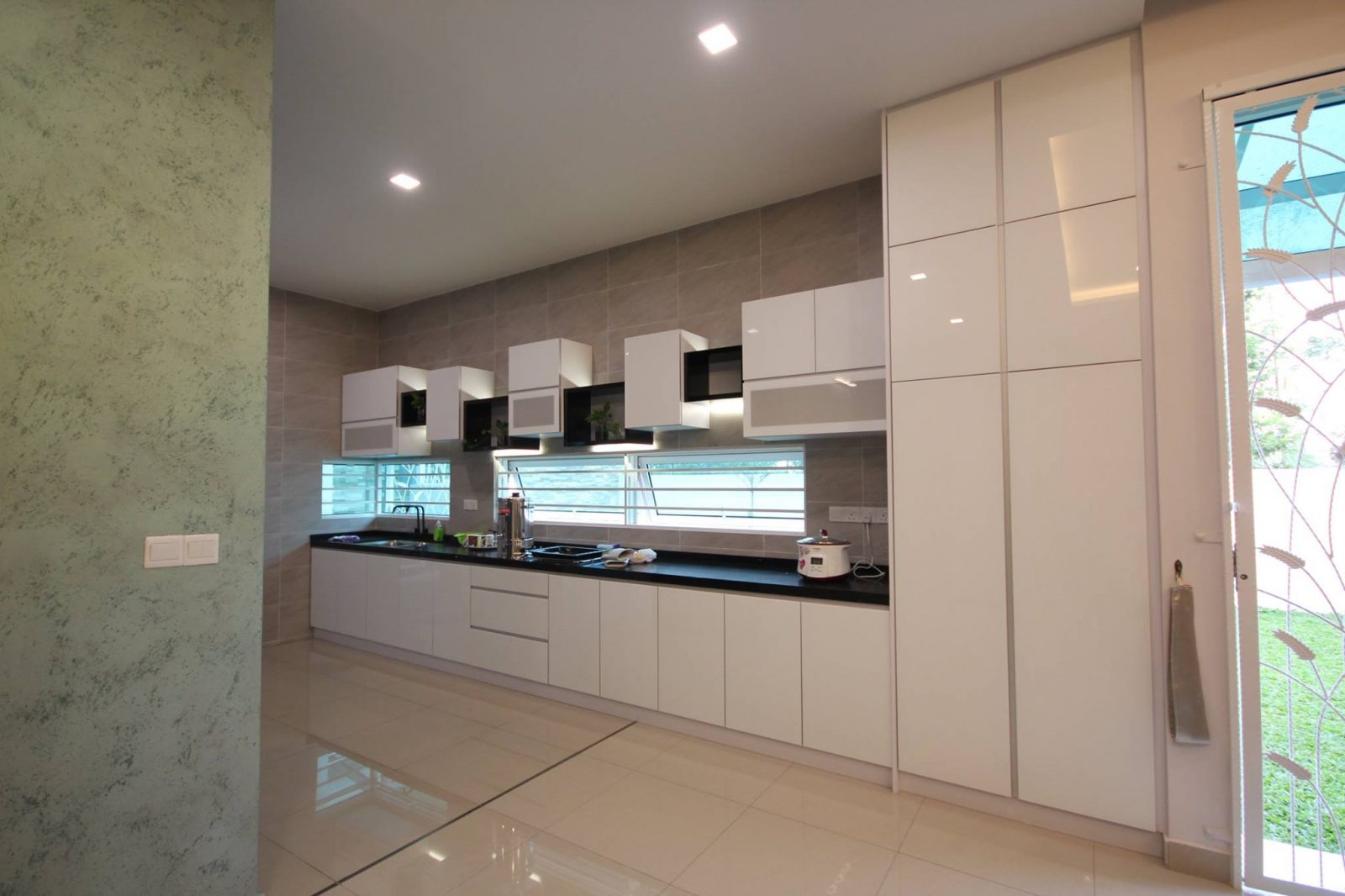 3. Assembly and Time to completion
IKEA ready-made cabinets
While the products may be readily available at IKEA Cheras or Damansara, you may spend a lot more time and effort to get an IKEA kitchen.
For one, there is the time needed to browse the website, design your kitchen using the self-service kitchen designer tool, and print out the items list. Then, you need to bring the list to IKEA and place your order.
After the delivery, there may be more back and forth running between your home and the IKEA outlet to pick up any missing parts. And if you go there on a weekend, be prepared to wait 😀
When the items are all delivered, you will be overwhelmed by the amount of boxes. Since everything is flat packed, there will be boxes for everything, from the drawers to knobs to handles to hinges. You will need to put it together yourself (or hire a third-party IKEA installer to do it for you.
Custom-made cabinets
In the case of built-in cabinets, there is less legwork involved.  You can request for a kitchen specialist to drop by for a site visit. They will get the exact measurements, draft a rough sketch of the layout, and show you a catalogue of their various designs. All designs and materials are customisable, from the doors, to the frames, counter top, hinges and knobs.
It might take between four to eight weeks to start production and installation for a regular sized cabinet.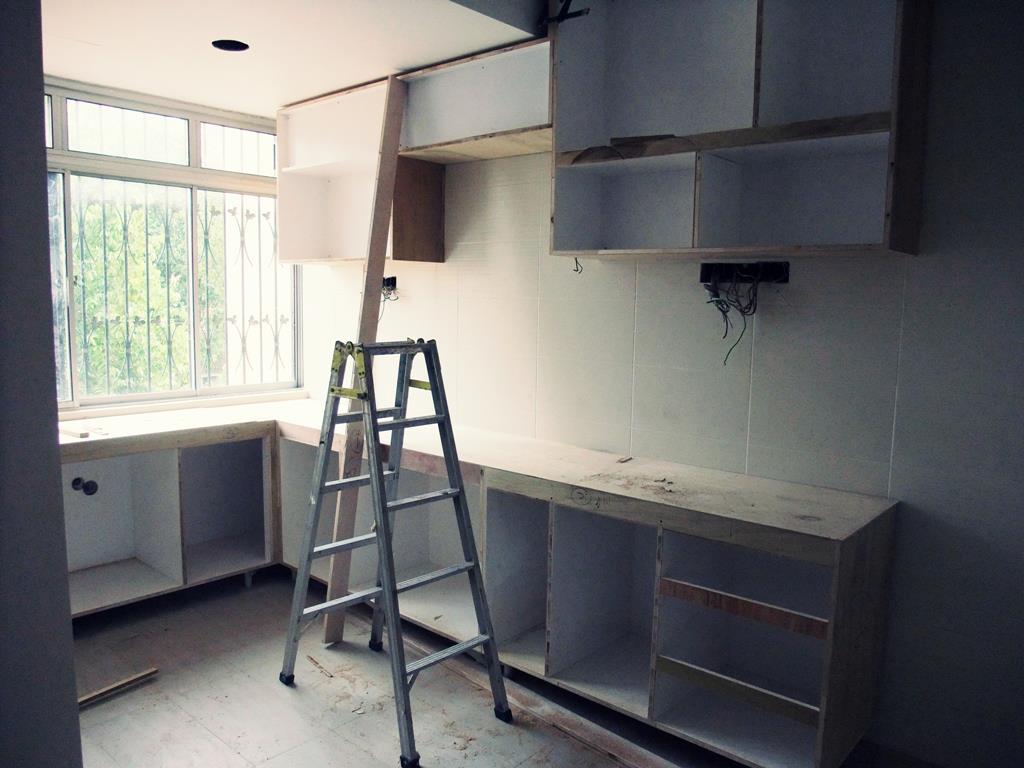 4. Materials used
IKEA ready-made cabinets
IKEA cabinets are mass-produced. But that doesn't mean that the build quality is bad. With proper assembly and usage, the cabinets should be able to withstand heat and moisture.  
But it does mean that IKEA cabinets come in limited varieties of wood, whether it is solid wood, compressed chipboard, layer-glued, veneer, or plywood form.
As for the kitchen countertops, they come as compressed chipboard wrapped in high-pressure melamine laminate. 
IKEA also has solid wood countertops that can withstand heat and water but need to be treated regularly.
Custom-made cabinets
Custom cabinets have no limitations on types of materials. In Malaysia, there are several common materials used in the construction of kitchen cabinet frames:
Chipboard with melamine finishing
Blockboard with melamine finishing
Plywood with laminate finishing
Plywood with veneer finishing
Learn more about choosing kitchen cabinet materials
Of course, you can also build the cabinet frames out of cement and concrete, and tile it over to create a traditional kitchen (that will last practically forever).
For the door and drawer fronts, you also have the option of glass, acrylic and solid wood. If you want your door to be made of solid wood, your cabinet maker will show you a giant sample board that consists of more than 30 types of designs like cherry wood, deep forest, ginger, camel dark, Firestone, church and many more.
Learn more about choosing kitchen cabinet doors
You also get access to a huge range of solid surface countertops that are made from plastic resin. These countertops can be made in modern colours, or resemble wood, stone, or cement.
5. Durability and maintenance
IKEA ready-made cabinets
Another feature of IKEA items is the availability of spare parts and repair resources. Its large customer base allows IKEA to easily prepare spare parts for the convenience of all.
However, as with any product range, some of their designs may be discontinued by the time you need a replacement. For example, if one of the door handles has broken, and it is no longer in production, you may need to replace all the handles in your kitchen to maintain the look.
In addition, many IKEA products are made of compressed chipboard, and may start to swell if it comes into contact with water, making repairs impossible. This can drastically shorten the life of your cabinets.
IKEA famously provides their 25-year guarantee for kitchen products. However, it is unclear whether these guarantees are applicable if you DIY the installation, or hire a third party to do it for you.
Custom-made cabinets
Custom cabinets also mean customised after-sales service and repairs. As long as your cabinet maker is still in the business, they will be able to do repair works and refurbishment if need be.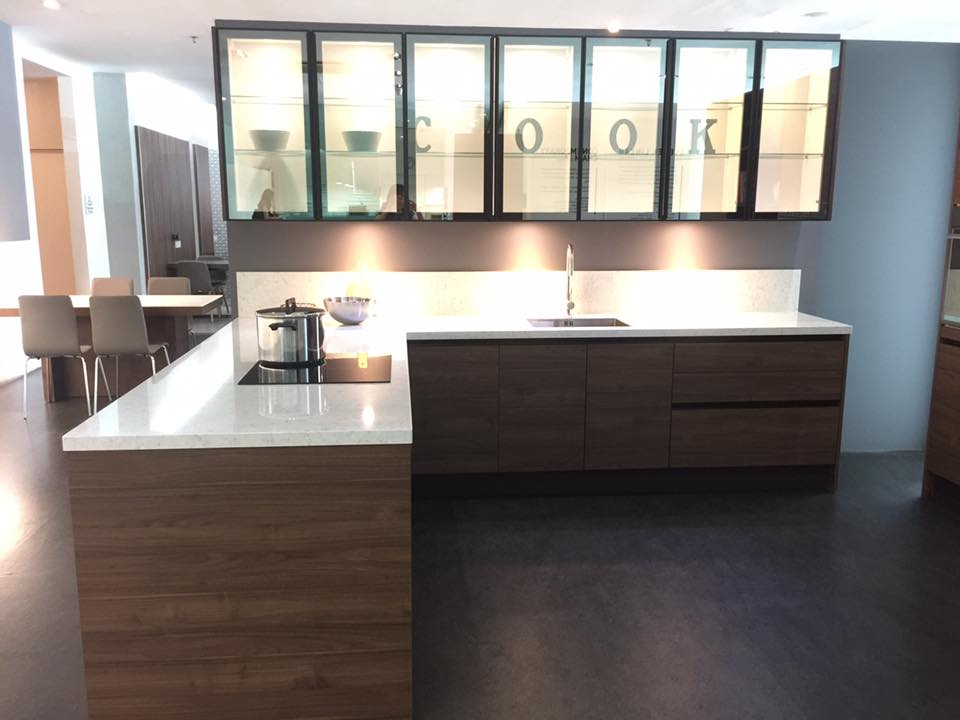 And, if you have invested in higher-quality solid wood or MDF, repairs can be made on the existing doors or frames (depending on the severity of the wear and tear).
If the materials are no longer available in the market, the carpenter would need to do some minor adjustment to your old cabinet with the new spare parts and materials, and your cabinet will look as good as new.
6. Modification / repurpose
IKEA ready-made cabinets
IKEA is so popular that you can easily find tutorial videos on how to assemble or hack your cabinets should the need arises. For example, you can even turn IKEA cabinets into a full-sized bed!
If you have a very specific  design in mind, but still want to use IKEA products, you can DIY or hire an IKEA specialist to help you out
Custom-made cabinets
There is no need for modification if you install a built-in cabinet. After all, the entire cabinet is built to your specific design.
Should you plan to move to a new house and would like to bring your old cabinet, a good carpenter will be able to grant your wish. They can dismantle and install it at your new place with some modification and refurbishment work done.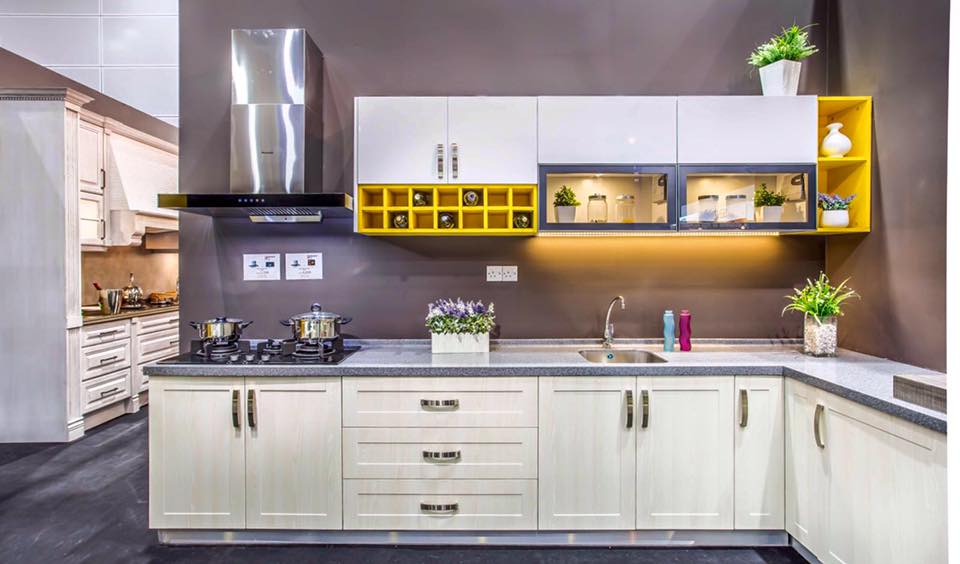 7. Price
IKEA ready-made cabinets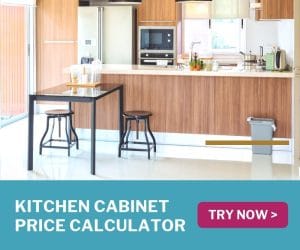 IKEA positions their products as affordable, flat-packed furniture that can easily be self-assembled with very minimal tools needed. Since their product are mass-produced, the price tags are relatively lower compared to built-in furniture and cabinets. For example, a METOD base cabinet costs RM370 for a 60cm x 60cm x 60cm size, complete with doors and shelves. 
Custom-made cabinets
The price for any cabinetry work varies and depends on factors such as:
Design (e.g. adding glass or acrylic doors)

Material (e.g. using plywood instead of compressed chipboard)

Length of the cabinet (priced per foot run)

Accessories (handles, knob, soft-closing hinges)

Countertop (e.g. quartz vs solid surface)
Need an estimate price for your custom kitchen cabinet? You can get a rough estimate for your kitchen cost by using our online kitchen cabinet price calculator
In the example below, I used the IKEA room planner to get the price for an 11-foot kitchen, complete with base cabinet, wall cabinets and a high cabinet. Total cost was near RM8.5K.
Compared to an equivalent custom-made kitchen of the same length, the cost from our online calculator came out to be roughly RM13K. But for that amount, you get a fully customised design, laminated plywood frames, and a solid surface countertop.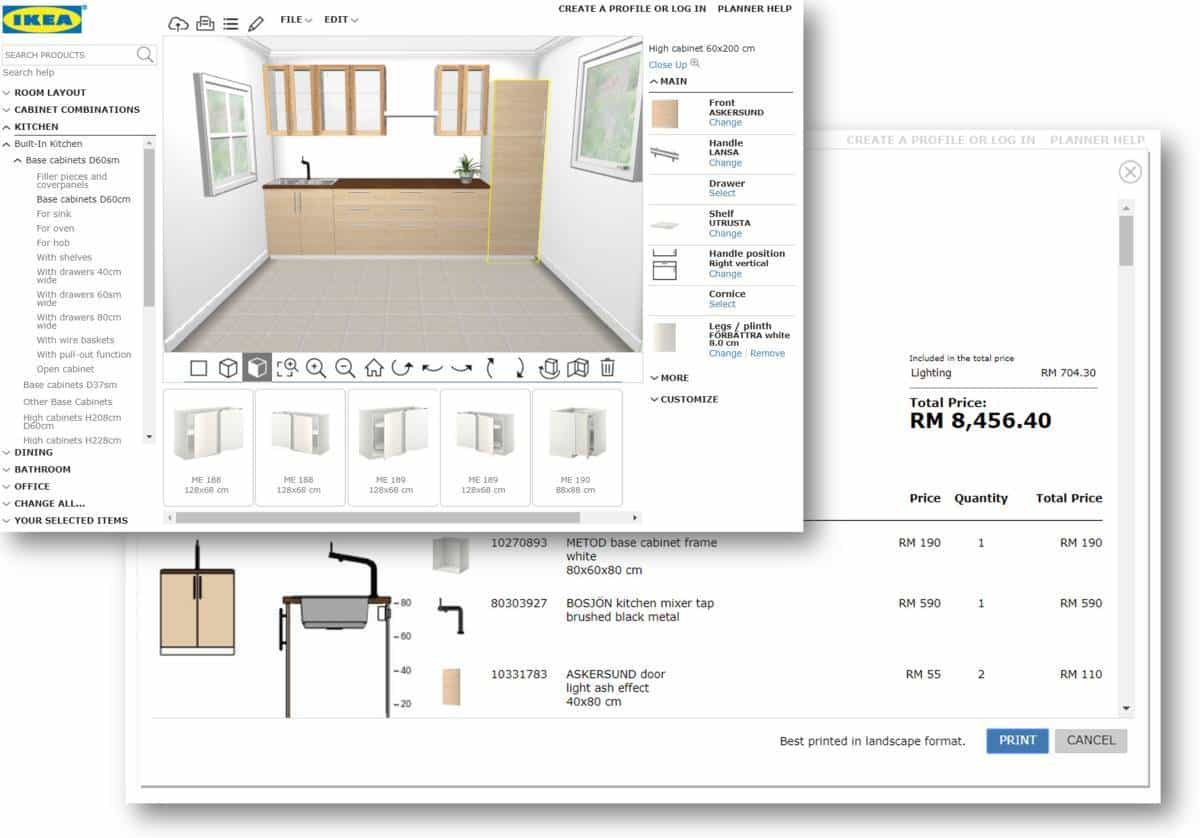 Conclusion
Deciding between an IKEA kitchen or a built-in kitchen is a personal choice. The IKEA designs are consistent around the globe and are highly modular, but you will need lots of time and effort to purchase and install it.
On the other hand, if you are looking for a something entirely unique and built exactly to your specifications and layout, then built-in cabinets are the way to go. Choose your materials and carpenter wisely, and you will end up with cabinets that will last for a long time.
Find contractors that you can trust
If you're looking to install built-in cabinets, submit your request now and contractors will respond with free estimates.