To many of us, IKEA products are like frienemies.
While we can't refrain ourselves from marvelling at all the eye-candy products as we flip through the pages of IKEA catalogues, we spend so much time assembling, taking it apart, and putting the pieces again and again, that the only thing more baffling than figuring out how to assemble the parts correctly is the absurd Swedish names that IKEA has slapped onto their products.
But even if assembling IKEA products may require PhD degree in the near future, there's no denying that they have an appealing aura; they're modern, stylish and largely inexpensive.
There are also a wide variety of products to choose from (most of which can tempt you to impulsively purchase things that you don't even need).
To top it all off, as a proud Swedish company, it's hard to look past IKEA if you want Scandinavian furniture filling up your home.
So if you're a big fan of IKEA, and if storage space has become a bit of a problem for you lately, here are some DIY IKEA kitchen hacks that will make the most of out your kitchen:
1. Mini herb garden by the window
If you don't have the luxury of having a garden, or if herbs are a big part of your cooking, imagine how handy it would be to have a kitchen garden.
This IKEA garden hack proves that you can do precisely just that just by using simple IKEA products!
All you need are a BOTAREN shower rod, a FINTORP cutlery stand, and some GRUNDTAL hooks and your kitchen will be filled with the aromatic smell of herbs such as basil, rosemary and coriander!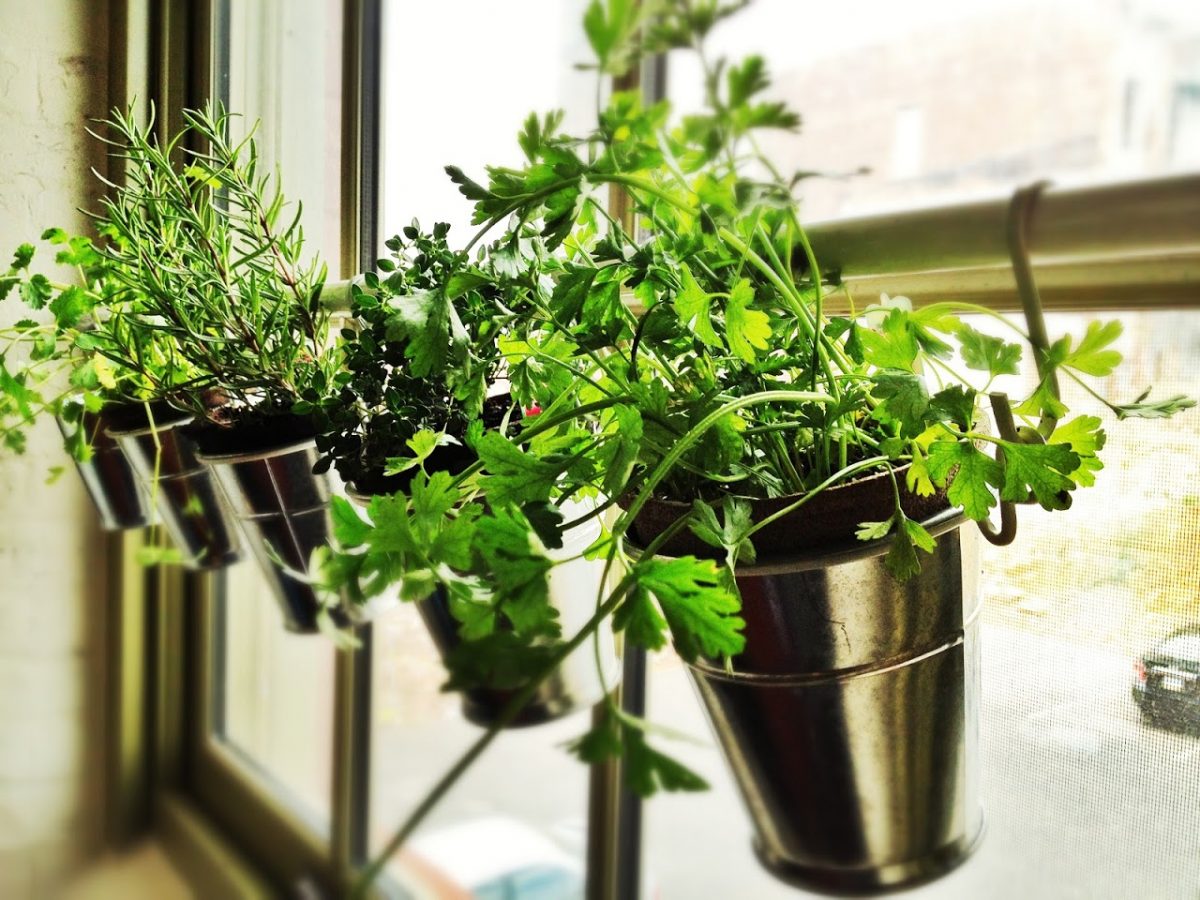 2. Rolling kitchen
If you have a kitchen that doesn't have a smooth kitchen workflow, you might find yourself walking back and forth in your kitchen, whether if it's for just a pinch of salt or for a cooking utensil, which can be frustrating.
Wouldn't it be great if you had a portable kitchen that you can just roll around?
Thankfully, a RASKOG cart works wonderfully to create extra storage for your condiments and spices, while you can also place your cooking utensils.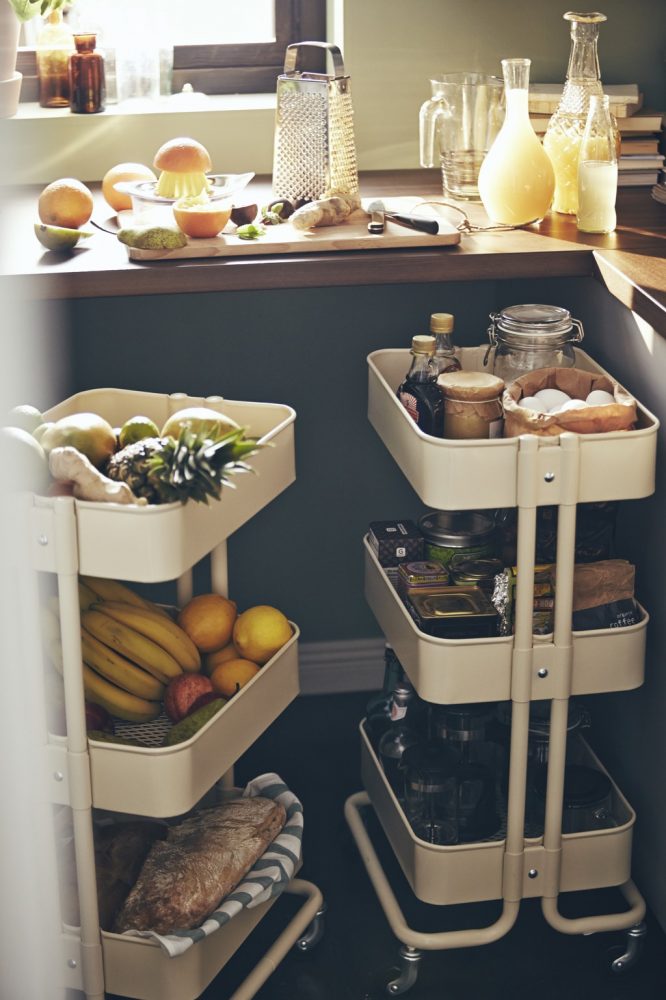 You can also use it to put a mini garden and as an extension of your kitchen island, among many other things.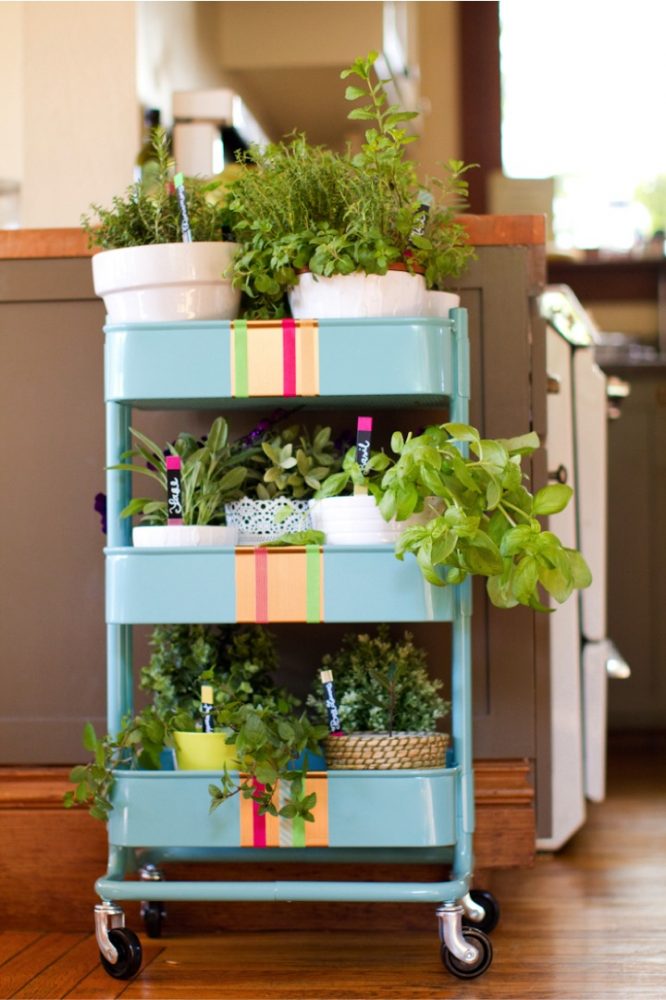 3.  Hanging kitchen storage
Run of cabinets and countertop space for storage?
This simple DIY IKEA kitchen hack by Ich Designer uses a LUROY slatted bed base as the main board as a hanging storage space. All you need are some BLECKA hooks to support the weight of the items (and the bed base of course), and some GRUNDTAL hooks to hang anything from a chopping board to cutlery.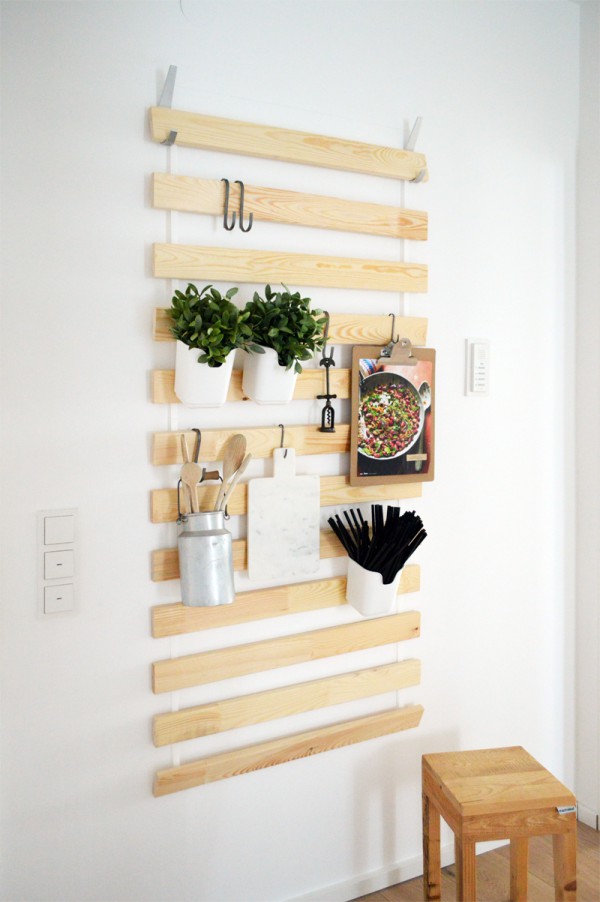 4. Wall shelves and cabinets
Small kitchen owners will know that you need to make use of what little space that you have, and most of the time this means that you'll need to get creative and efficient.
With only two IVAR cabinets and EKBY LAIVA wall shelves, this brilliant idea by The Fresh Exchange will help to transform your kitchen into a storage oasis. Give it a try!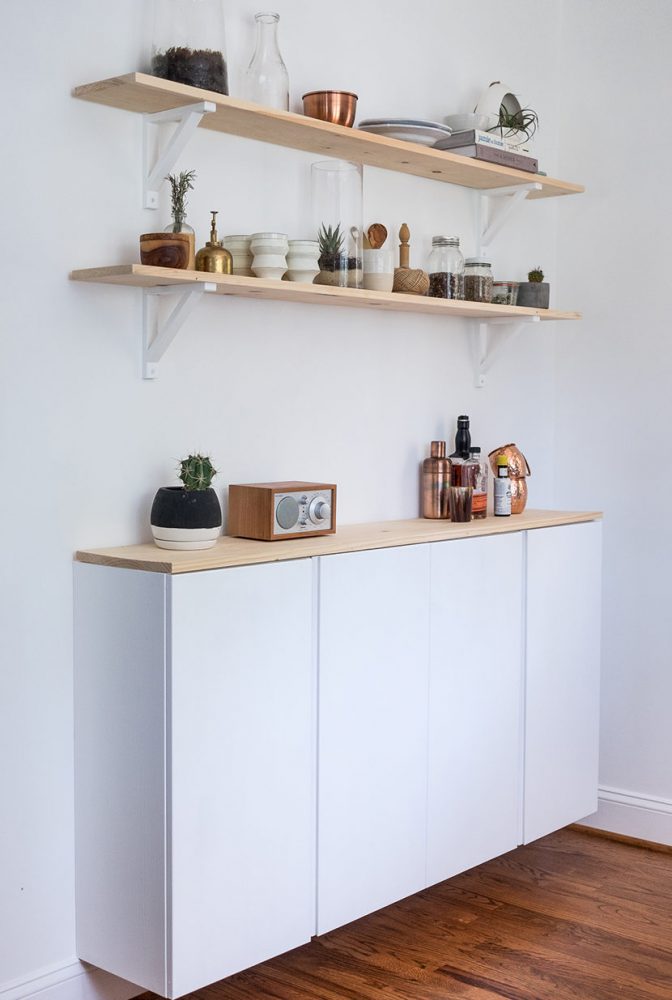 5. DIY wine bottle and glass rack
Do you happen to have a RAST drawer sitting by? Are you a fan of wines but is the price of a wine rack weighing you down? Or do you simply have bottles of wine around your house that's just eating up your storage space?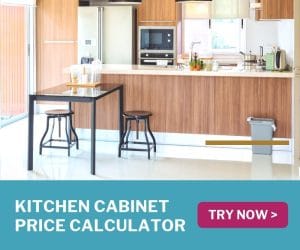 Wipe the sweat off your forehead because you can transform a RAST drawer into a wine rack. Yes, you read that right, a wine rack!
Don't believe us? Just see how Weekend Craft DIYed it into this gorgeous wine rack that is also one part glass rack, and one part cloth/cooking utensils rail.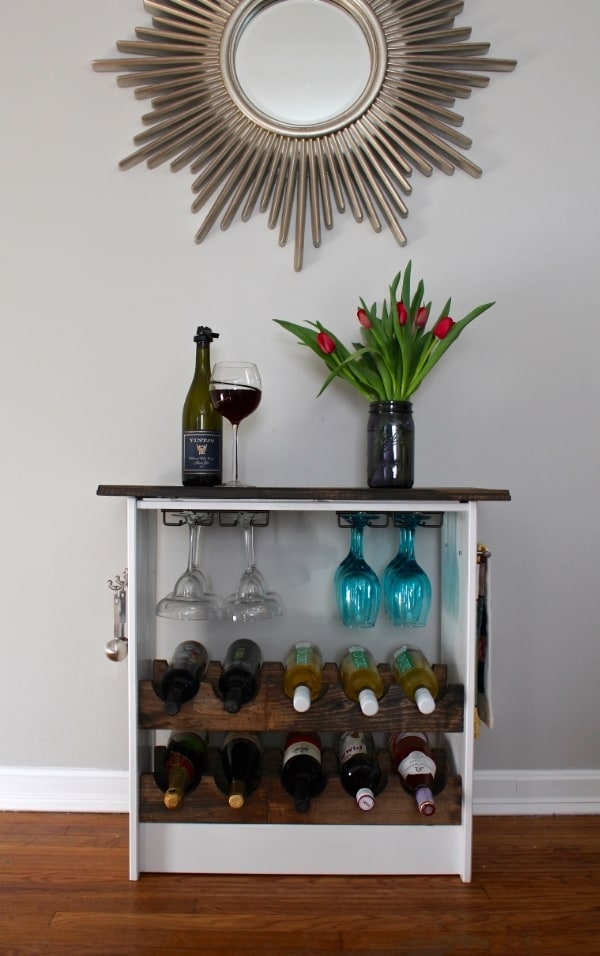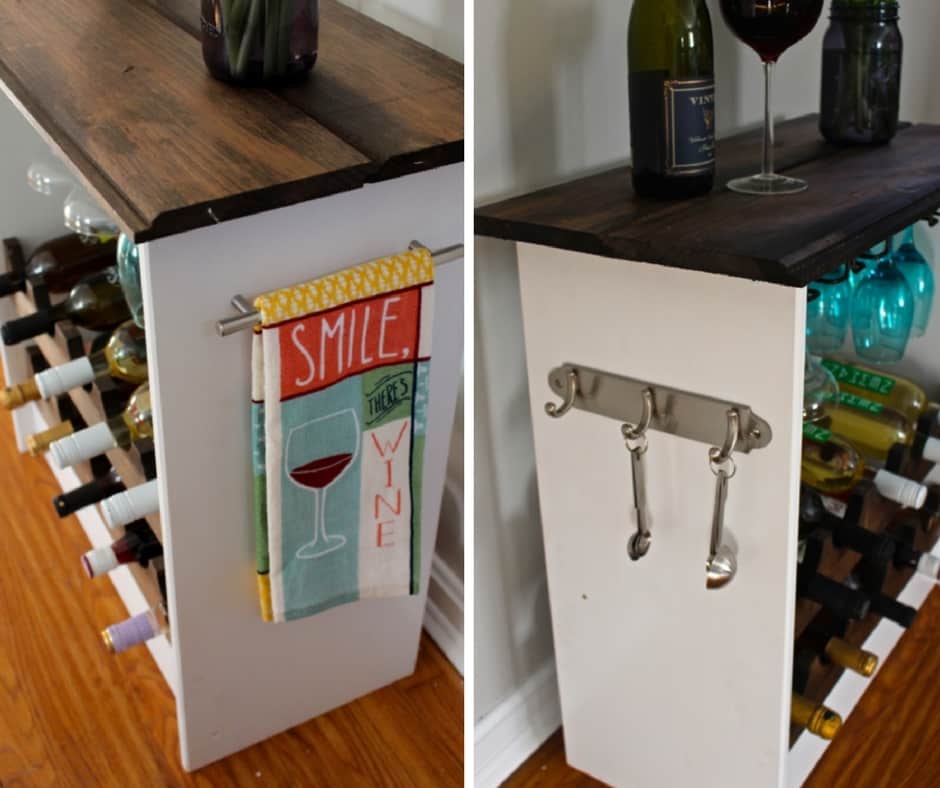 6. Rail-ly good ways to organise lids
Install a couple of VOXNAN towel rails at the cabinet door where you would normally store your pots and pans, and you won't be ransacking the whole kitchen the next time you try to find the correct lid.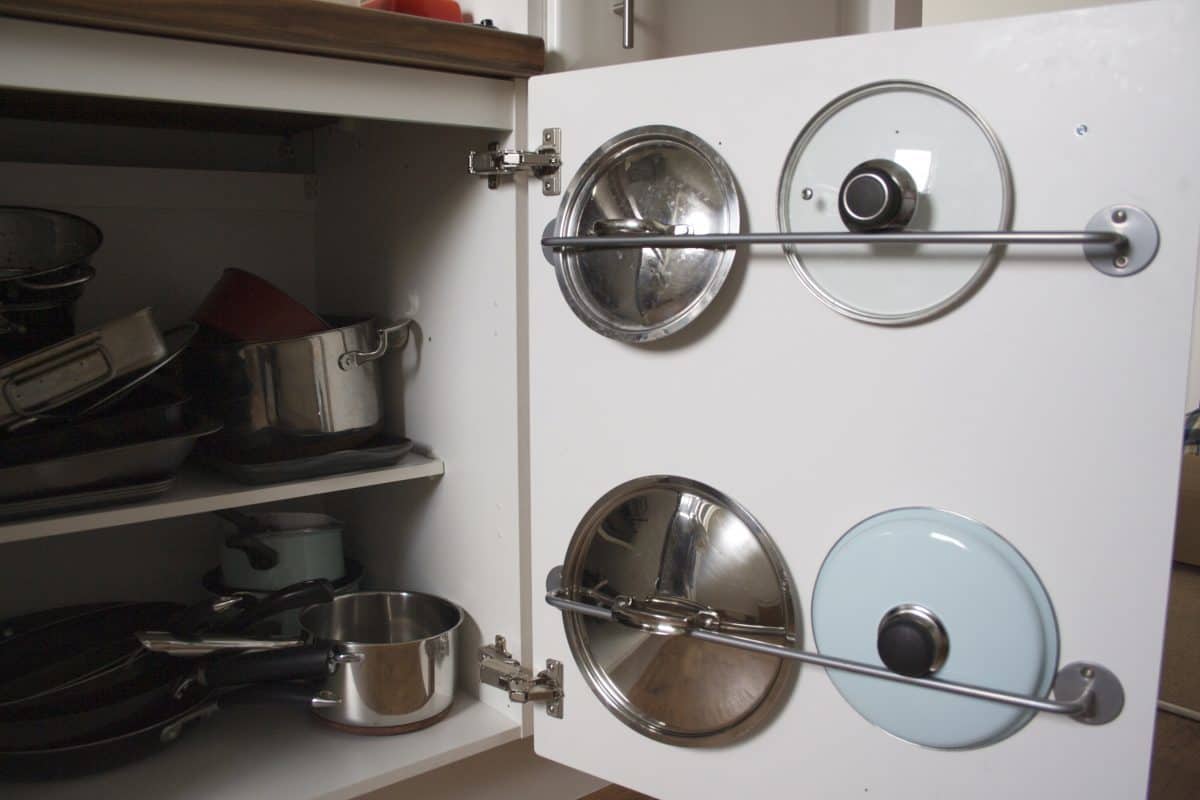 If you have too many mugs filling your cupboard, install a GRUNDTAL rail and just hang your mugs with some GRUNDTAL hooks.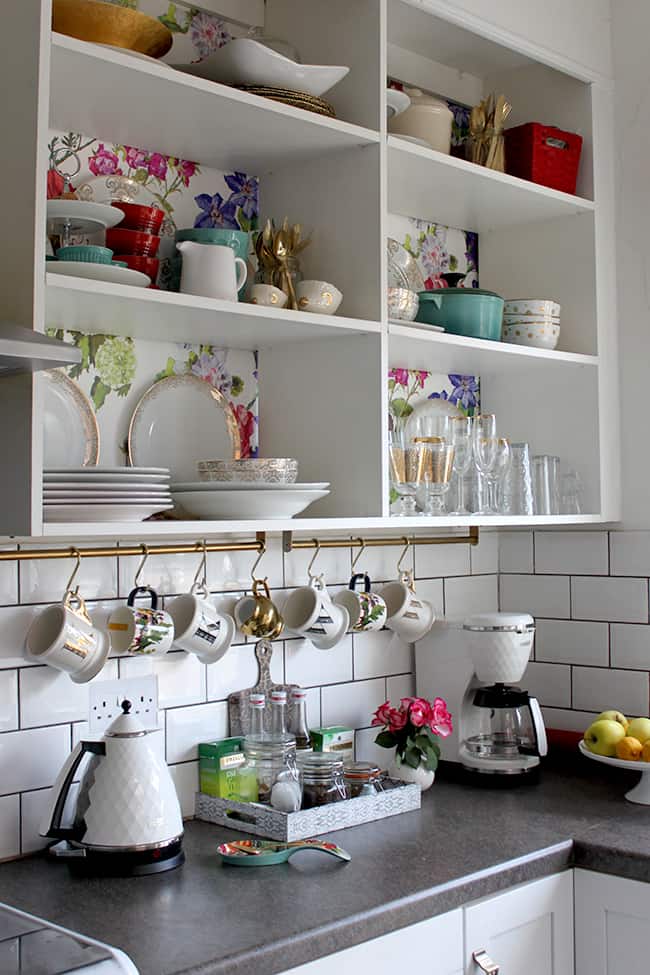 You can use them to hang your cooking utensils too: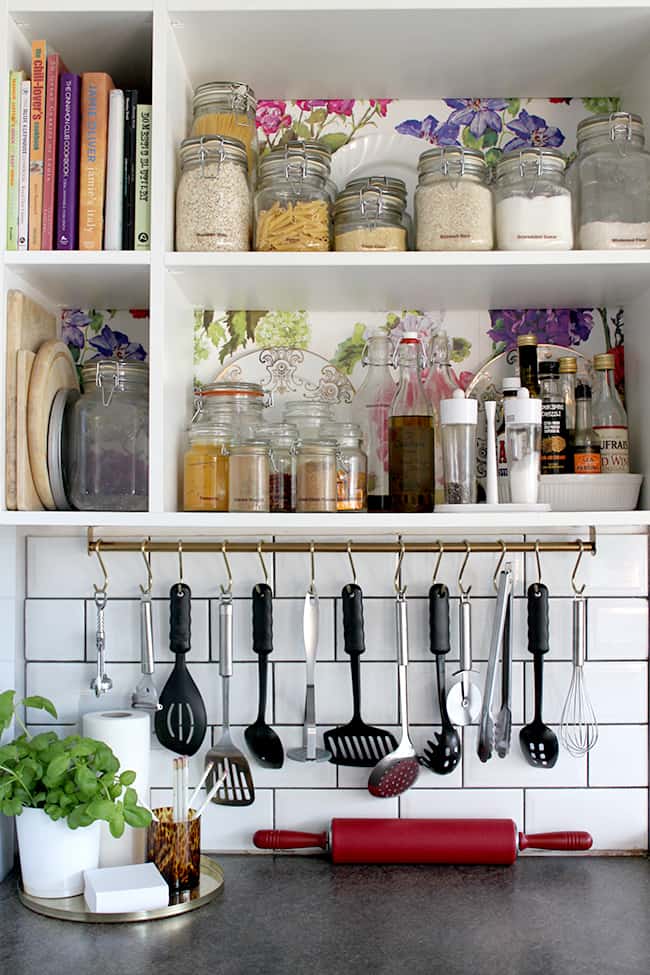 7. Rolling kitchen island
Imagine how convenient it would be to an extra countertop space that you can just roll around whenever you need.
Thankfully, this brilliant IKEA kitchen hack by Club Crafter turns a regular and dull KALLAX shelf into a rolling, portable, and a multi-functional countertop space for you to eat as well as for an additional space, while you can also place your laptop on top and roll it around if you need to work.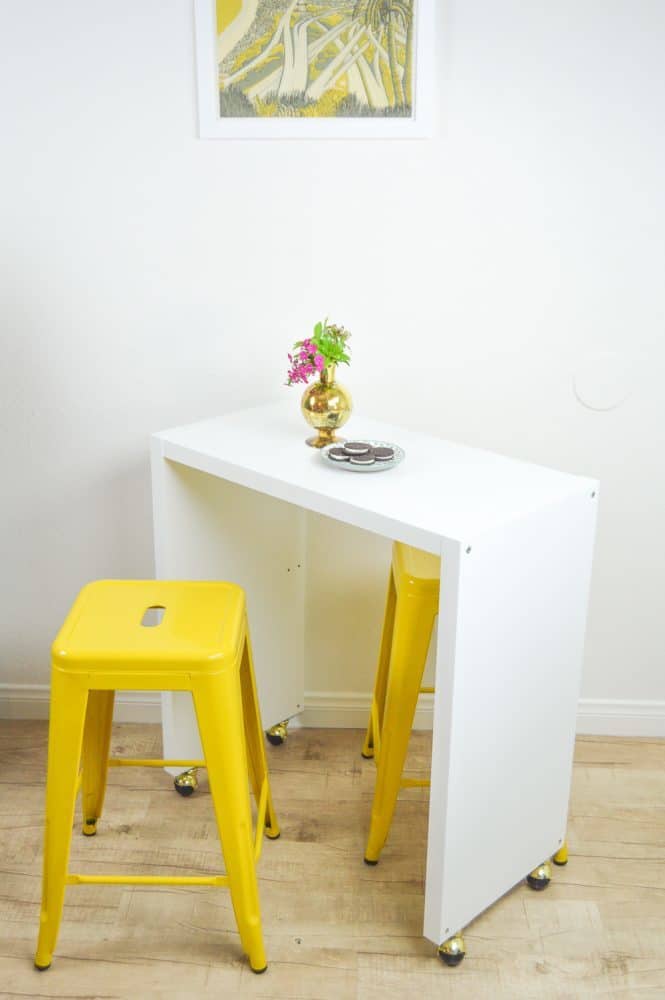 8. Hack a magazine file to organise your aluminium foil
This is probably the most simple IKEA hack on this list, but it's also one that utilises the word IKEA hacking brilliantly. Who knew that a KNUFF magazine file – so commonly seen in the living room – could be handy in organising your aluminium foils and cling wraps?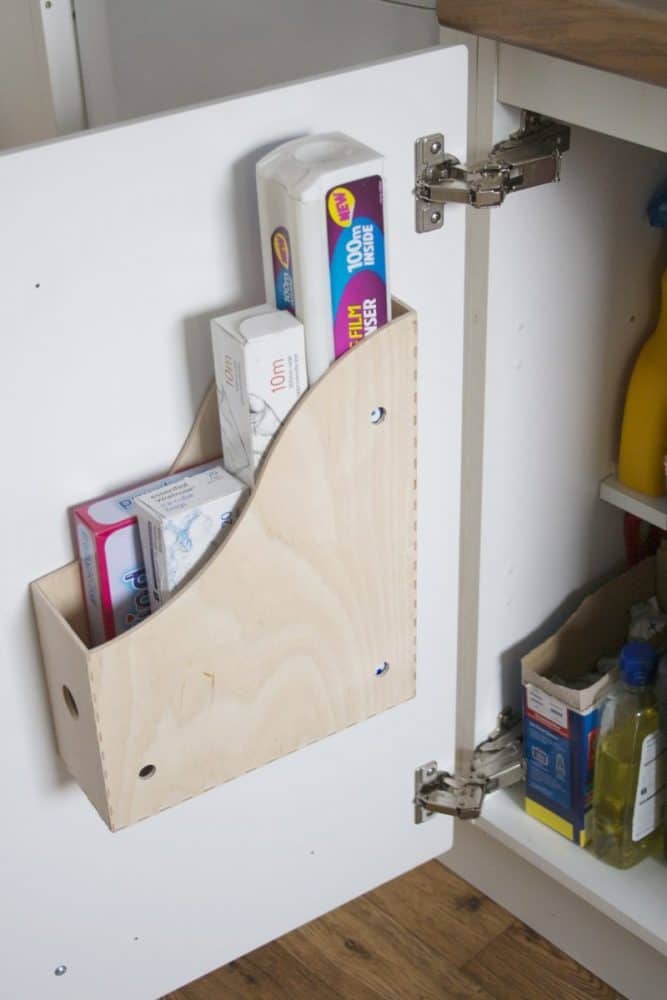 Are you still limited by space?
Though DIY IKEA hacks are always nice for all the little bits and pieces, sometimes, having proper built-in cabinet space is a more permanent solution. Fortunately, our reputable cabinet contractors here at Recommend.my can help and consult you on the type of storage space that you need. Hire a cabinet contractor now!