The dining and café scene in KL (and Klang Valley) has never been more interesting, with great examples of commercial interior design that you can replicate at home.
New establishments seem to pop up daily, with tongue twisting items on their menus. But beyond the quirky menu, the cafe interior design of some of these places would look awesome in your dining space at home. These places are highly instagrammable, and are great places to just hang around for hours.
So, why not take inspiration from them to give your own dining area at home the same vibe with a chic, stylish makeover? We rounded some of the best café and restaurant interiors in KL to inspire your dining room design.
Need interior designer quotes?
1. The Antipodean Café, Mid Valley
What we like: The high ceilings with full windows, the pendant lights, the dark wood, the blackboard menu, and the deep red walls.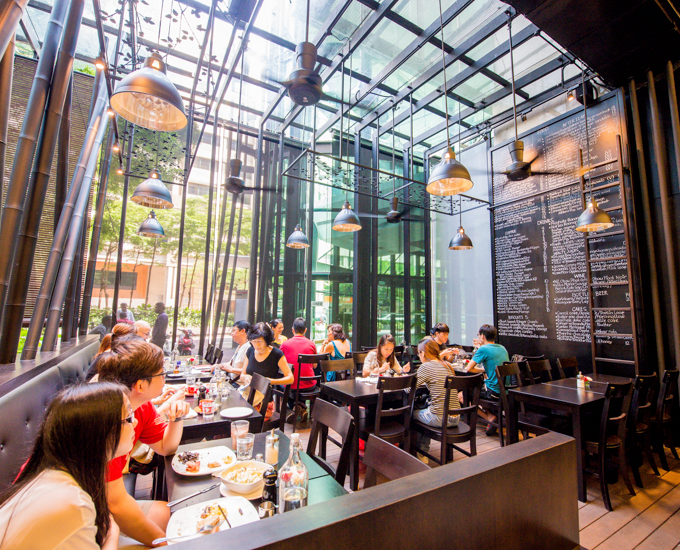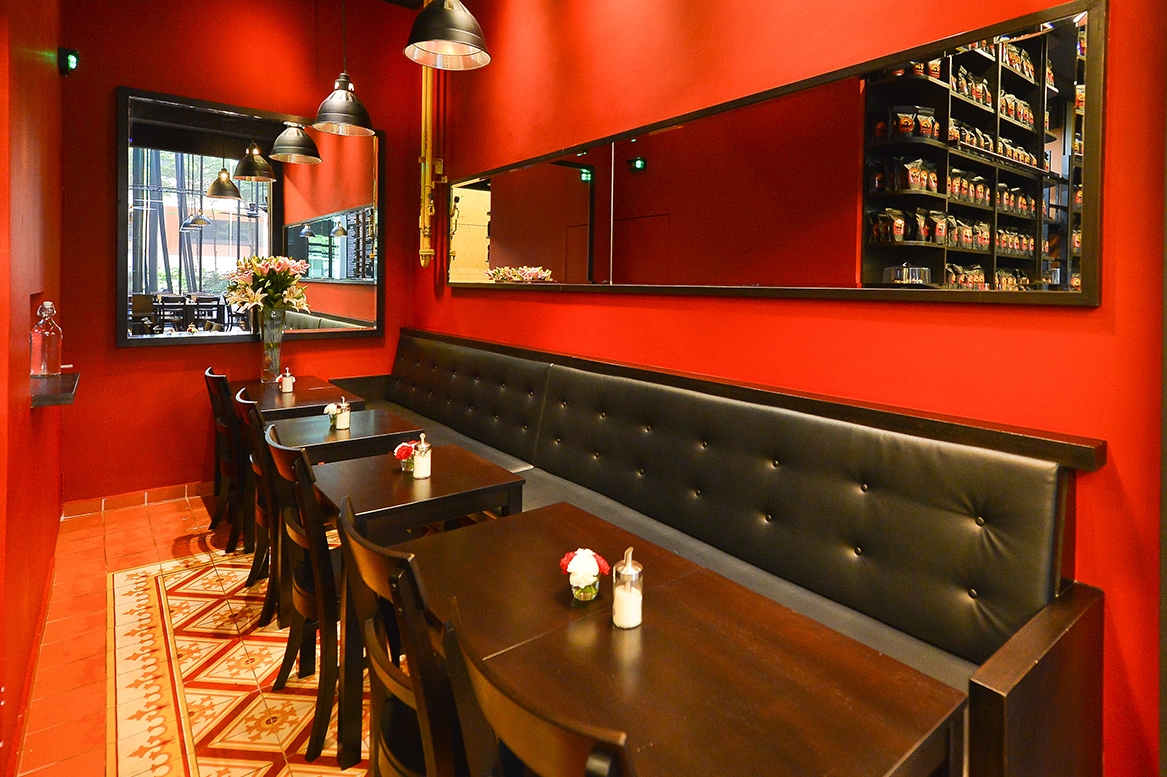 Images from Mid Valley Megamall
2. BEAM, Bandar Sri Damansara
What we like: The industrial feel with bare metal stairs and exposed cement and brick, with touches of greenery.
Images from qpeiyin.blogspot.sg and eatdrinkkl.blogspot.sg
3. Grey Sky Morning, Subang
What we like: The monochromatic, minimalist feel.
Images from thedeckzine.com
4. Feeka, Bukit Bintang
What we like: The peeling paint and weathered masonry. Not something you may want to replicate at home, but great atmosphere! Oh, and the main barista area is located in a tall airwell, flooding it with lots of light. Nice!
Images from Feeka FB page.
5. Garage 51, Bandar Sunway
What we like: As the name suggests, this place really IS a converted garage. Lots of metal, chains and piping, including furniture made from oil barrels. There's even a converted VW Beetle in front.
Source: theculturetrip.com, Garage51MY Facebook page, and shilianglim.wordpress.com
6. Plan b, Publika
What we like: Lots of unfinished wood that still manages to give a comfortable vibe. And check out that ceiling!
7. Pickle and Fig, TTDI
What we like: Bare concrete dominates the cafe interior design here. Simple to clean, keeps cool, and easy to change the look with different furnishings.
Photo: Malaysian Flavours
8. LOKL
What we like: From the main entrance, visitors can easily see a wall full of interesting artwork hung on cinderblock walls, through the full glass doors.
Image from perkygraphy.wordpress.com
9. V1 Concept, Puchong
What we like: Not really a cafe, but we simply had to show you those chilli-red bucket seats and racing memorabilia.
Images from rarerestaurant.blogspot.sg and winnienee-s.blogspot.sg
10. Aku Cafe & Gallery
What we like: Mismatched, handcrafted wood furniture, combined with the clean white walls make the perfect canvas for sculptures and artwork.
Images from oldchina.com.my and josephinetly.blogspot.sg
11. DR.Inc, Bangsar
What we like: Lovely little corners that have been perfectly setup using a mix of wallpaper, tapestry and quirky furnishings. You could browse for hours! Recommend.my and The Malay Mail Online recently had their event here.
Images from sharkingforchipsanddrinks.com and Dr.Inc FB page
12. Awesome Canteen
What we like: Earth tones give this place a nice natural feel.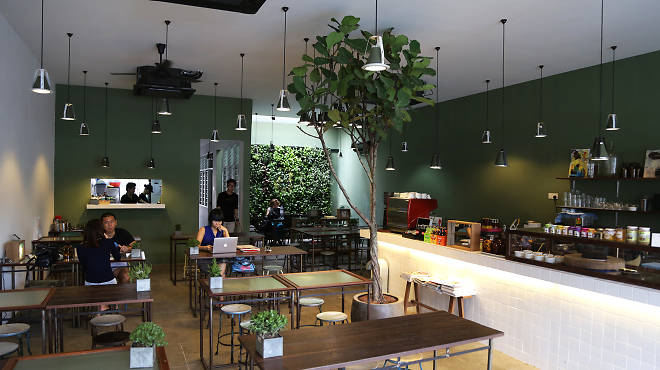 Images from TimeOut KL and sarahlow.net
13. The Library
What we like: While this chain has over 10 branches already, we love their style of keeping the bookshelves close by so you can linger at the table with a good book and coffee.
Images from eatdrinkkl.blogspot.sg and thelibrarycoffeebarMY FB page.
14. École P
What we like: This classroom-inspired cafe invokes lots of nostalgia. We don't know how it will look in your dining room, though.
Images from foodnframe.com and shamainehappybee.blogspot.sg
15. Wood & Steel
What we like: As the name suggests, this cafe is also deals in wood furniture. We love the bolted-on side tables and light fixtures that resemble piping.
Images from hinika.net
16. 3 Bags Full
What we like: The clever use of wood panelling and ribbed wood ceiling
Images from malaysianflavours.com and 3 bags Full FB page
[Added] 17. VCR, Bukit Bintang
What we like: That lovely aged wooden floor mixed with dark industrial steel frames.
Images from mecoffeyjourney.com.
Inspired? Need interior design?
Get quotes for your interior design!

Recommend.my is a new way to hire interior designers in Malaysia. Tell us your brief requirements, and in just a few hours, you will get cost estimates from recommended IDs! Complete with reviews and portfolio, so you can find the right one for your needs.
We have over 700 interior designers in Malaysia ready to quote for your home or commercial makeover. Whether you need office interior deisgn, retail interior design, or f&b interior design, we have recommendations for you. Submit your interior design request now and get free quotes.