Red Box is a popular karaoke company in Malaysia. Established in 2000, the company runs a chain of eight family entertainment centres throughout the country, with the aim of creating a safe and professional environment for customers to express their creativity in song.
When the COVID-19 pandemic began spreading through Southeast Asia, Malaysia was one of the earliest countries to detect a rapid increase in infections. This led to the government announcing a movement control order (MCO) beginning 18 March 2020, which was extended twice.
As part of the MCO, all retail and entertainment outlets had to close, including all Red Box branches.
During the shutdown, the management team at Red Box were already working on plans for its eventual reopening. Noting that customer sentiment would be much lower post-MCO, the company needed to put measures in place to reassure its customers that it was safe to visit its branches once again.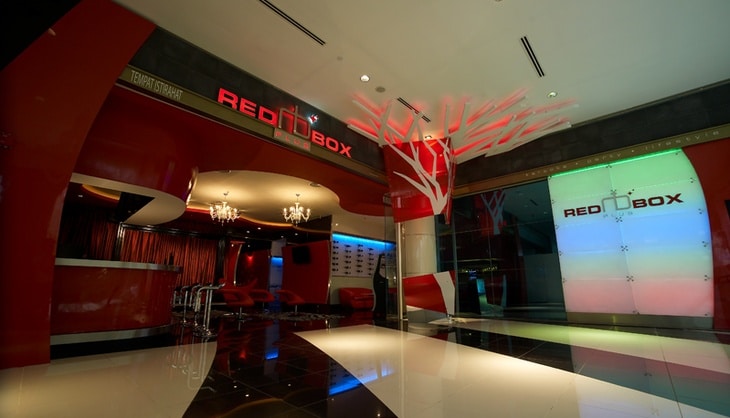 Creating a germ-free environment
Red Box was acutely aware that customers would be wary of returning to its centres after any restrictions were lifted. Coronaviruses are spread through saliva and droplets, and karaoke centres include activities that increase the chances of exposure. For example, people will share microphones during singing, or touch a common touch screen to select songs.
One of the plans to boost consumer confidence was to carry out a thorough disinfection at all eight of its premises, and ensure that all centres are protected for the longer term.
"Disinfecting all our branches helps boost customer confidence when we reopen"

Red Box representative
To find a professional commercial disinfecting service for its karaoke centres, Red Box approached Recommend.my, a platform that connects home and business owners to the best professional services in Malaysia, including renovation contractors, air-con maintenance services, cleaning and repairs, as well as disinfection services.
"We contacted the Recommend.my team who explained the steps of their disinfection process"

Red Box representative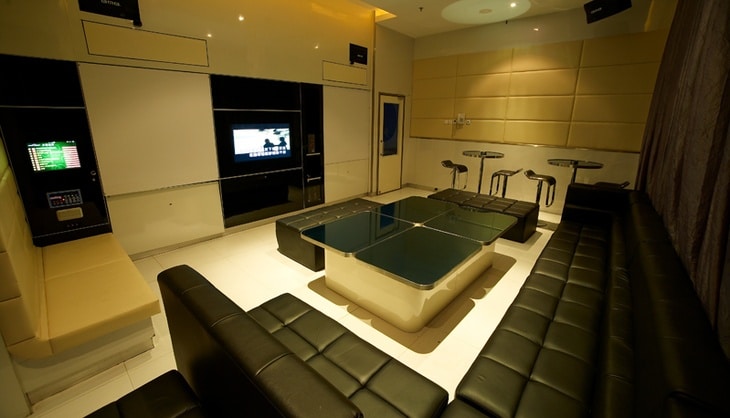 A comprehensive approach to disinfection
Disinfecting an office or retail space is different from performing a basic cleaning (such as wiping, mopping and vacuuming). Essentially, if you clean something, it removes dust, hair, as well as germs, but it may not kill them.
On the other hand, disinfecting a space means that suitable chemicals are used to kill (or deactivate) any viruses or bacteria that may linger after cleaning.
For more complete and effective elimination of bacteria and viruses, the disinfection service offered by Recommend.my is designed to kill harmful germs on exposed surfaces AND germs that remain in the air, in just minutes.
This service is divided to three parts:
Wiping: Immediately after a regular cleaning, all high-touch surfaces will be wiped with disinfectant. The effective ingredient used is bleach or sodium hypochlorite in the correct concentration. High-touch surfaces include door handles, touch screens, microphones, taps and more.
Coating: All high-touch surfaces are then sprayed with a non-toxic, antimicrobial protective coating. Once coated, the surface effectively becomes "self-sanitising" when exposed to light, and lasts up to 6 months. The effective ingredient used here is Titanium Dioxide (TiO2). This method is also used successfully in hospitals.
Fogging: Finally, a room is fogged to decontaminate difficult-to-reach surfaces and disinfect the air. The effective ingredient used here is a quaternary ammonium compound, also commonly used in food production facilities.
The process was carried out near the end of April 2020, at all eight karaoke centres.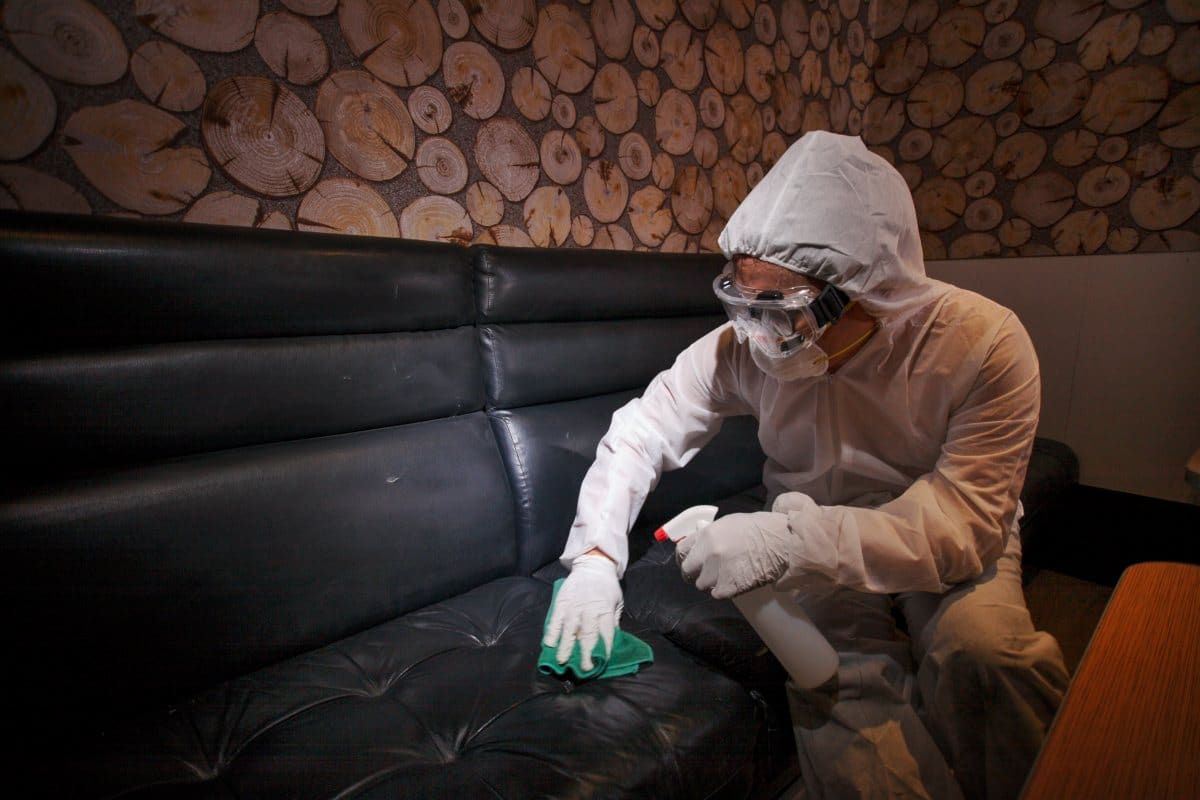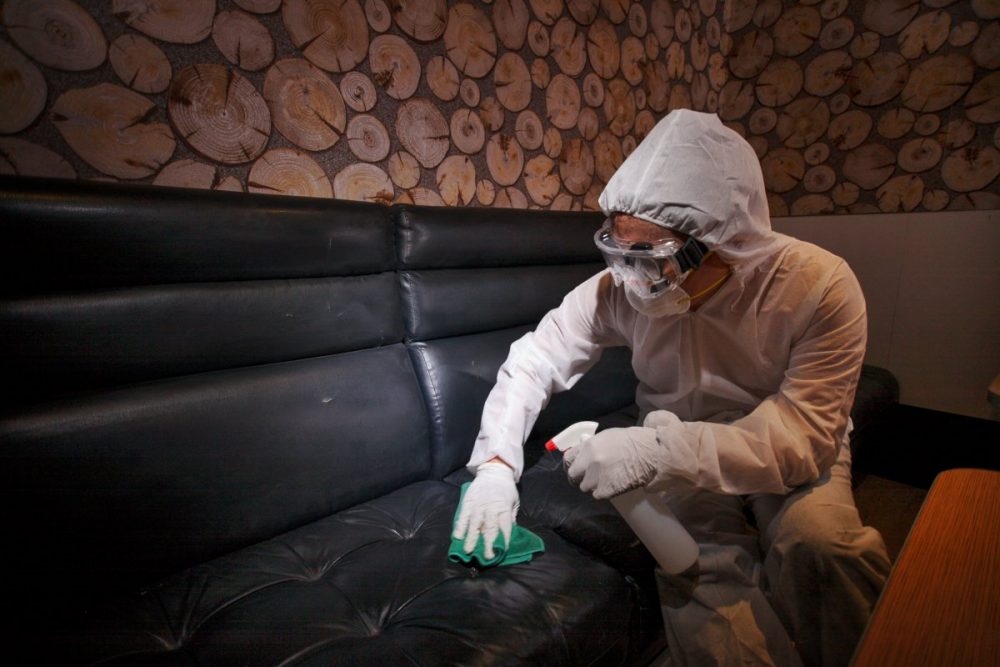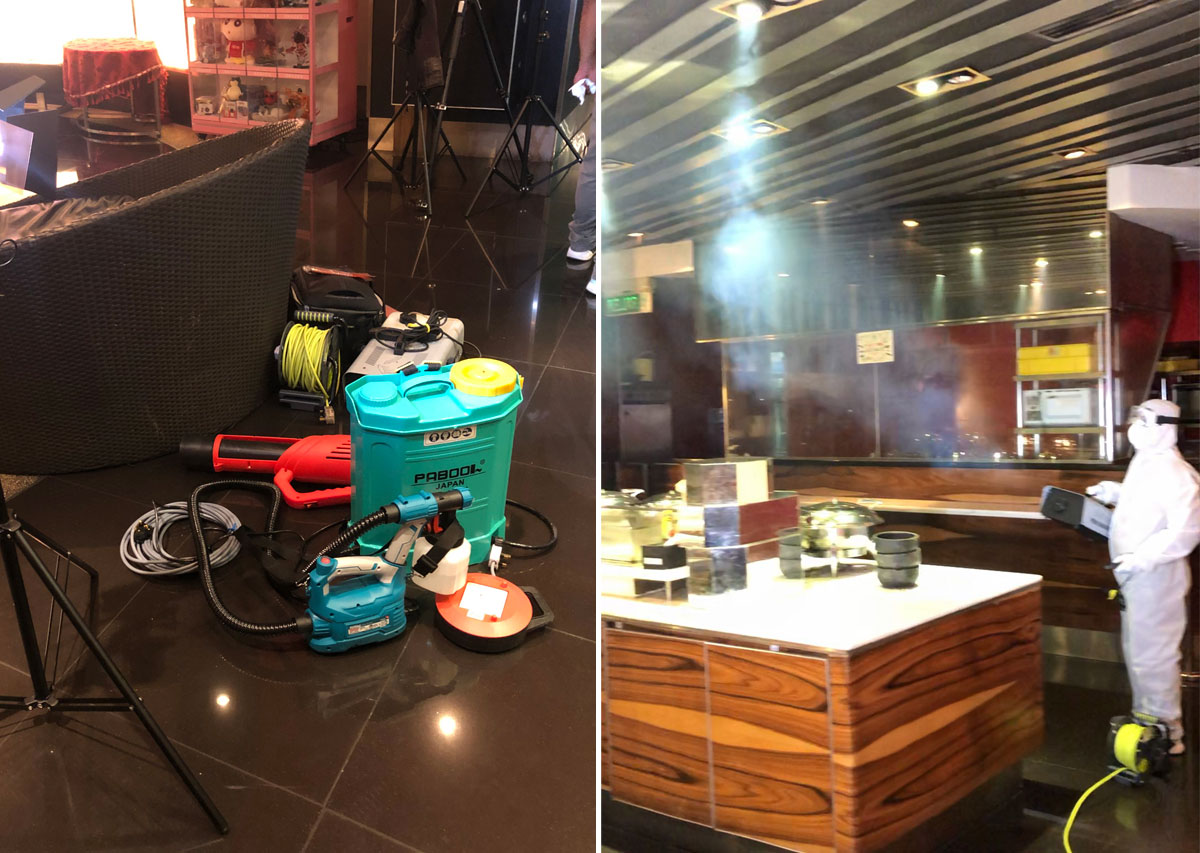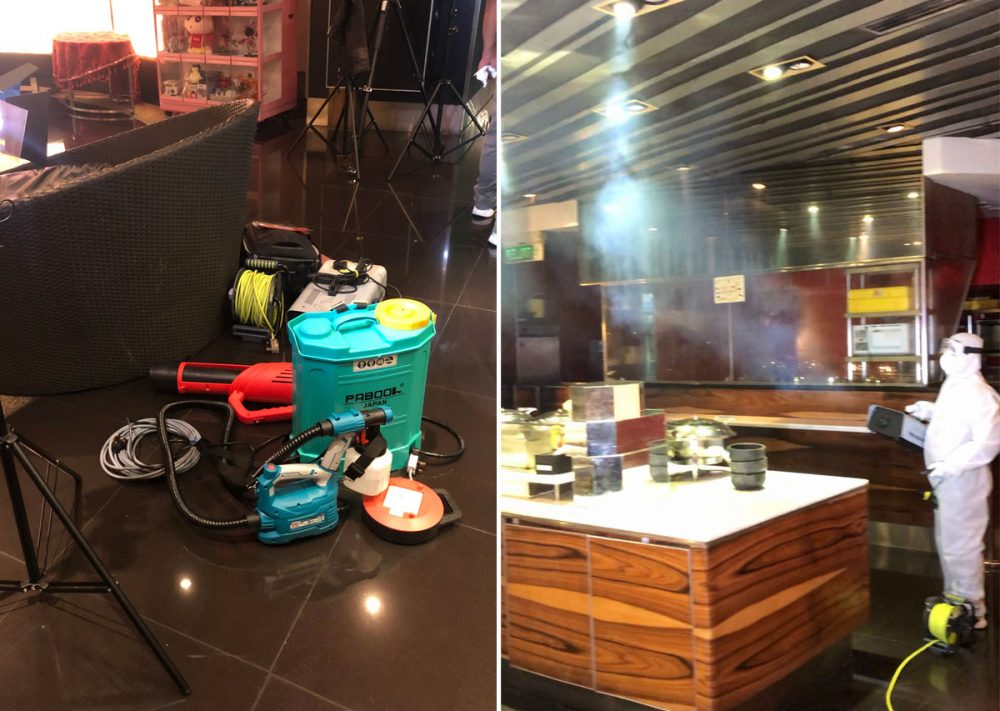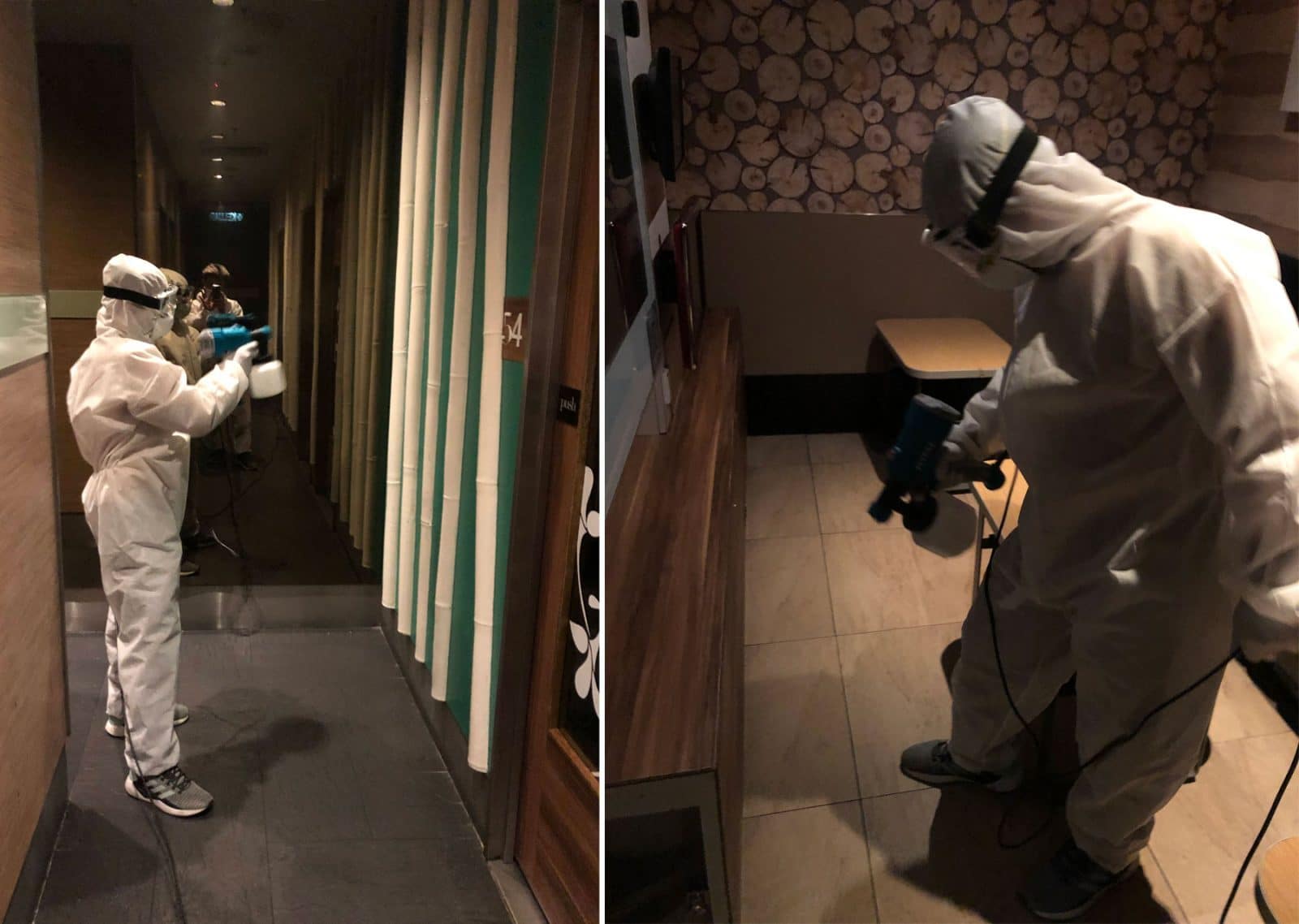 Why Red Box chose Recommend.my Disinfecting Service
Key reasons why Recommend.my was chosen:
More effective than cleaning alone. Red Box could have relied on its regular cleaning schedule, and enhanced it to use more powerful disinfectants. However, the service from Recommend.my included two important steps for more complete protection, namely coating and fogging.
Acts within minutes; lasts for months. At the right concentrations, the disinfecting compounds used during wiping and fogging will act immediately on microbes, including coronaviruses. And the coating has been shown to be effective for up to 12 weeks.
Non-toxic and safe for food handling. The compounds used during fogging are the same as those used to disinfect restaurants and food-making factories. Therefore, it was suitable for Red Box, as its centres also offer food and buffet services to its customers.
Improved customer confidence. All premises disinfected by Recommend.my will be able to display a "germ-free" label at its entrance. This gives consumers and staff the assurance that the risk of exposure is reduced.
Ready for business
Now that all eight centres have been thoroughly cleaned and disinfected, Red Box is ready to reopen its doors to the public.
Even though karaoke centres such as Red Box are still not allowed to operate under the Conditional MCO beginning on 4 May 2020, the company is confident that business will resume soon after that, and they have an edge over their competitors by disinfecting early instead of waiting for the restrictions to end. If the company waits for a confirmed date before disinfecting, they may not be able to get a slot due to the high demand later.
By getting a professional disinfection service, companies like Red Box are taking proactive steps to boost customer confidence, and adjust to the realities of business in the post-pandemic Malaysian economy.
Learn more
Professional disinfection service by Recommend.my
For offices, educational institutions, entertainment outlets and more
Learn more
Get immediate quote
Response within 24 hours
Get immediate quote