Want to know how much the most expensive wedding package costs in Kuala Lumpur? We did the research.
The definition of a "dream wedding" varies from one couple to another. Some may want an intimate, private event at a small wedding venue with families and friends, while others will settle for no less than the title of Wedding of The Year.
If you want an insanely grand wedding banquet in a five-star hotel in Kuala Lumpur, look no further than these wedding venues:
Hire suitable wedding planners to plan your dream wedding
Recommend.my is a perfect place for you to find wedding planners. Tell us your wedding requirements and we will get in touch with you immediately.
1. Mandarin Oriental Kuala Lumpur (Majestic Wedding Package, RM3,804.08 per table)
Coming in at the top of the list is the Mandarin Oriental KL. The most exclusive wedding package is priced at RM3,280++ or RM3,804.08 nett for 10 people serves under its Majestic Wedding Package.
With a minimum of 300 people, this package is inclusive of complimentary decorations for the main table and entrance arch, 8-tier ceremonial wedding cake, door gifts for the guests and one night stay at honeymoon-suite for the newlywed.
2. Grand Hyatt Hotel Kuala Lumpur (Grand Wedding Package, RM3,484.01 per table)
The banquet hall at Grand Hyatt KL is magnificent. And for the princely sum of almost RM3,500 for a table of 10 people, you and your guests will get a memorable night, with a tailored-made menu from the hotel's Executive Chefs. The Grand Wedding Package provides favours for all guests, a wedding cake with genuine top tier and free flow drinks.
3. Shangri-La Hotel Kuala Lumpur (Indulgence Package, RM3,466.08 per table)
Also known as The Shang, the highest priced Indulgence Package Western Wedding package costs is RM2,988++ or RM3,466.08 nett for a table of 10 people. This package offers a 6-course meal and free corkage for beer, wine, hard liquors and champagne all in. Swan-shaped ice carving and wedding floral arrangements are included in the package as well.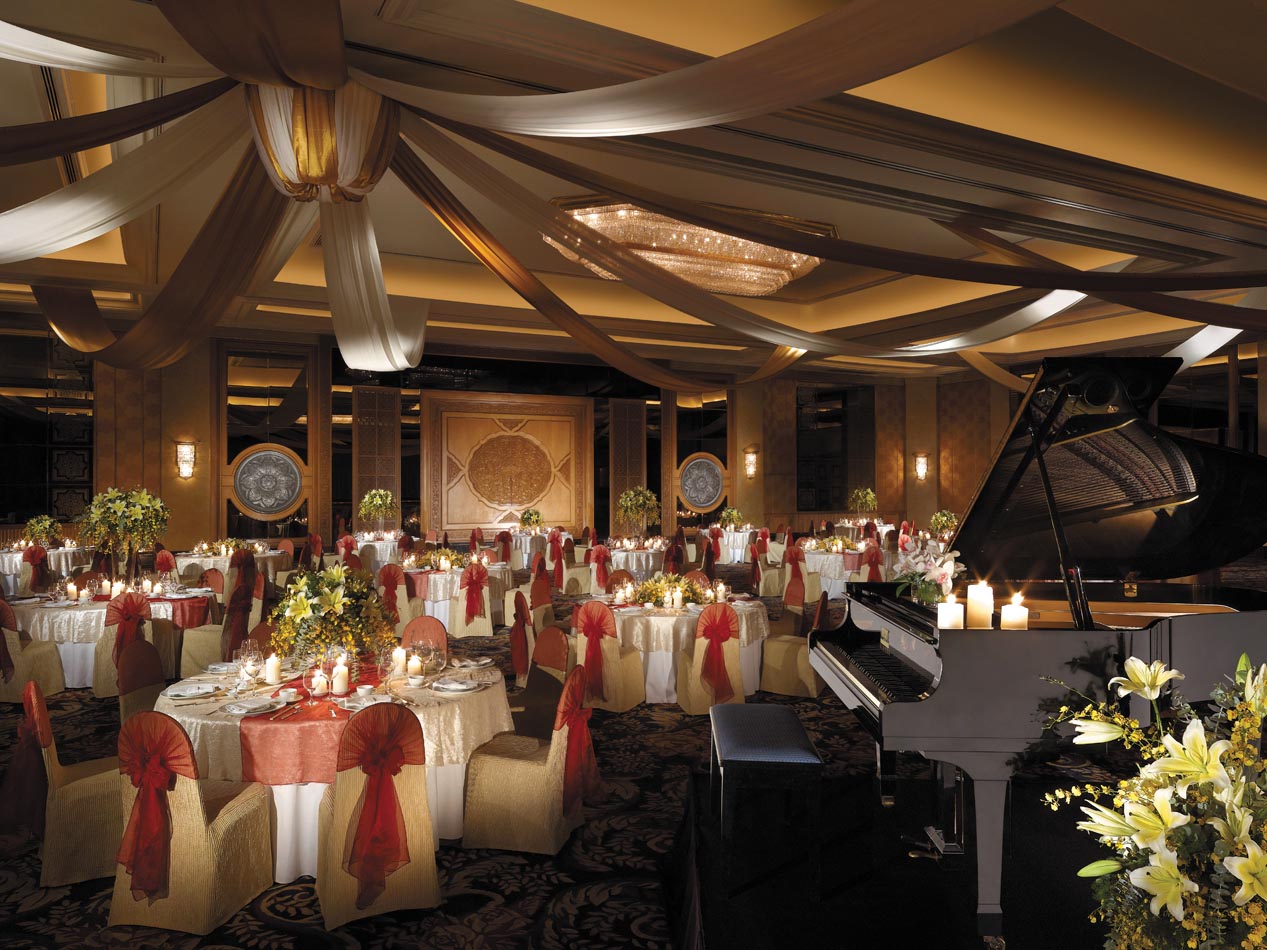 4.Hilton Kuala Lumpur (Fairy-Tale and Eternity Wedding Package, RM3,234.08 per table)
Serving a tailor-made menu by award-winning chefs, Hilton Kuala Lumpur is the place to go if you are looking for flexibility in the menu for your wedding ceremony. Priced at RM2788.0++ or RM3,234.08 nett per table of 10 guests for the Fairy-Tale and Eternity Wedding Package, it includes favours for guests, floral arrangements and ceremonial wedding cake.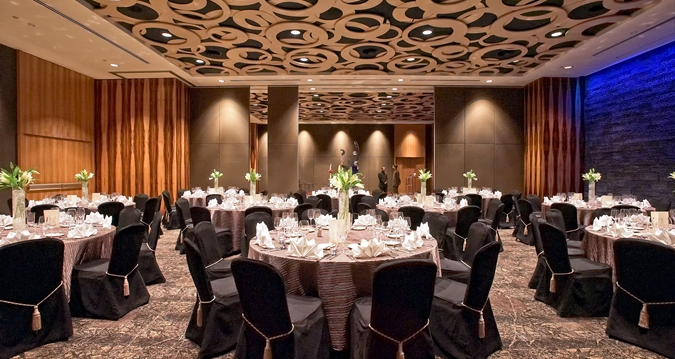 5. The Westin Kuala Lumpur (Canvas of Love Wedding Package, RM3,188.00 per table)
Priced at RM3188.00 nett per table of 10 people, this Westin Canvas of Love Wedding Package comes with 6-course meals and pre-dinner canapés for the guests to enjoy the night. Enjoy dishes like the 'Steamed Stuffed Shell Abalone with Sea Asparagus Roulade' and 'Crispy Shanghainese Thousand Happiness Bag' in their signature menu.
6. Sheraton Imperial Kuala Lumpur (Everlasting Wedding Package, RM2,901.01 per table)
Sheraton Imperial KL is a venue for you to consider if you want to lavish your guests with an authentic 9-course Chinese cuisine. Besides plenty of menu selection, the Everlasting Wedding Package also includes complimentary favours for the guests, ceremonial tier cake and floral decoration to make your wedding a night to remember. The hosts will also receive additional benefit of using a private function room for a tea ceremony session at no additional costs.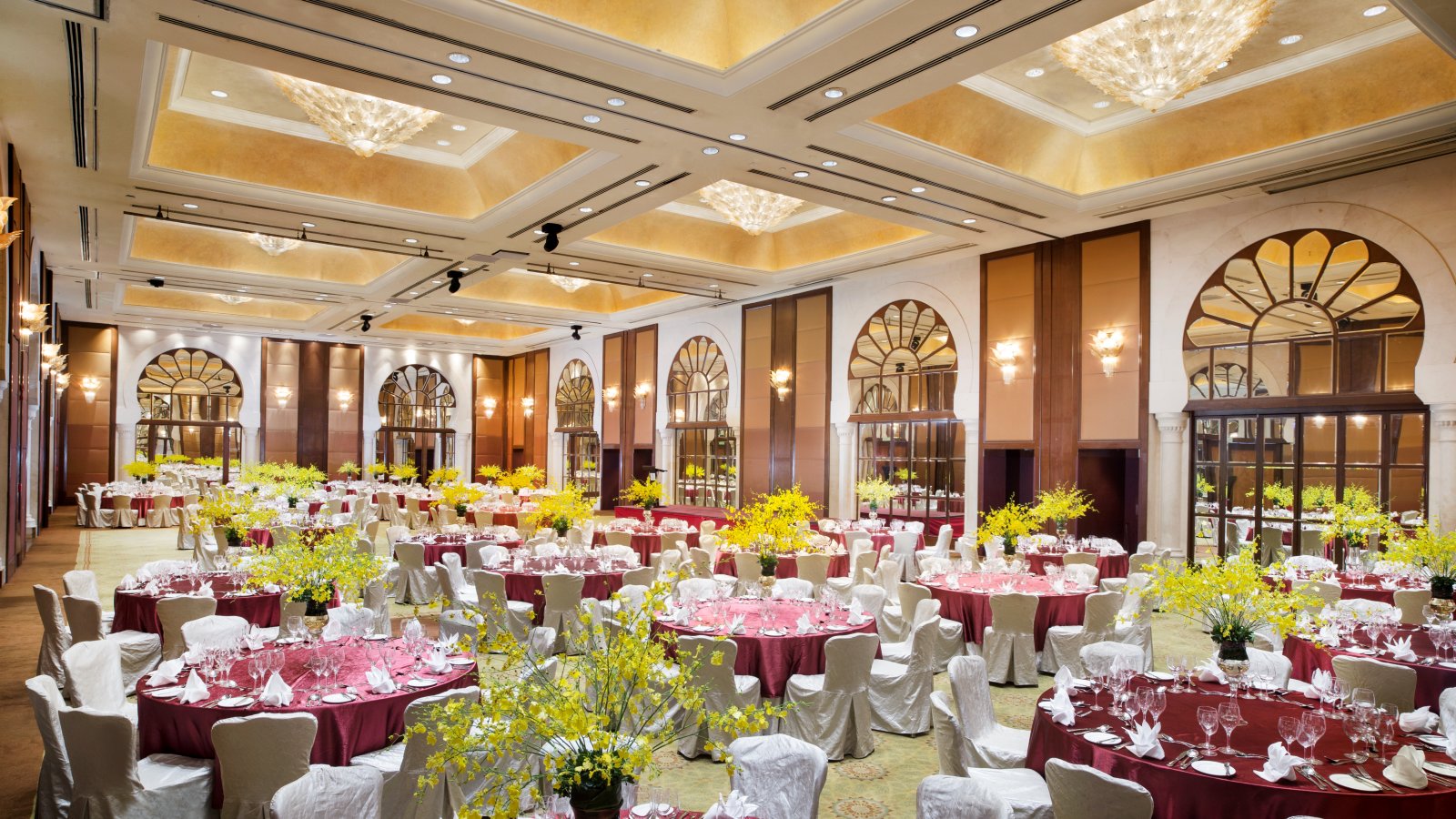 7. Renaissance Hotel Kuala Lumpur (Premium Elegance Wedding Package, RM2,788.00 per table)
Claiming to have the biggest pillar-free ballroom in Malaysia, Renaissance KL's Grand Ballroom is able to host 2000 guests for a theater seating or 750 guests for a banquet seating. The Premium Elegance Wedding Package offers an exquisite 9-course Chinese dinner menu with bottomless soft drinks and mixers throughout the event. With the assistance of their Marriott Certified Wedding Planner, most of the to-do list prior to the event will be taken care of.
8. Aloft Kuala Lumpur (RM2,422.08 per table)
Aloft at Kuala Lumpur Sentral describes itself as exciting, sassy and happening (and we think so too!). Perfectly located at the centre of KL's main transportation hub, with connections to various locations around the country, your guests will have no excuse to make a trip to attend your wedding.
Priced at RM2,088++ or RM2,422.08 nett per table, the venue can accept up to 72 tables of 10 people each in a banquet sitting arrangement. With its modern ambience, high-tech programmable lighting system and state-of-the-art audio visual systems, this pillar-free hall will give your guests a grand environment to enjoy the celebrations.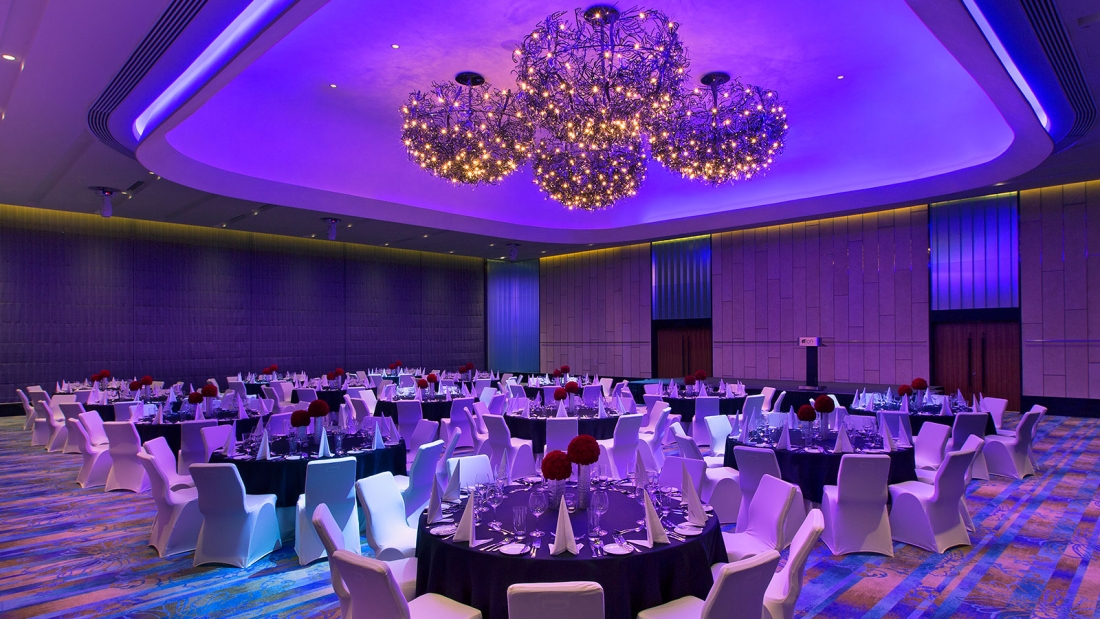 9. St. Giles The Gardens (Eternal Bliss Wedding Package, RM2,208.00 per table)
For those who are looking for a 5-Star venue situated out of the City Centre, St. Giles The Gardens should be on top of your list. Priced at RM2,208.00 nett for a table of 10 people in their Eternal Bliss Wedding Package, guests will be served with a 9-course meal during the ceremony.
Besides complimentary floral arrangements that adds a magical touch to the space, there will also be a champagne tower carefully arranged just for the event. Rooms ranging from Executive Premier for the newlyweds to Deluxe Room for the family to have a good night sleep after the ceremony is inclusive in the package too.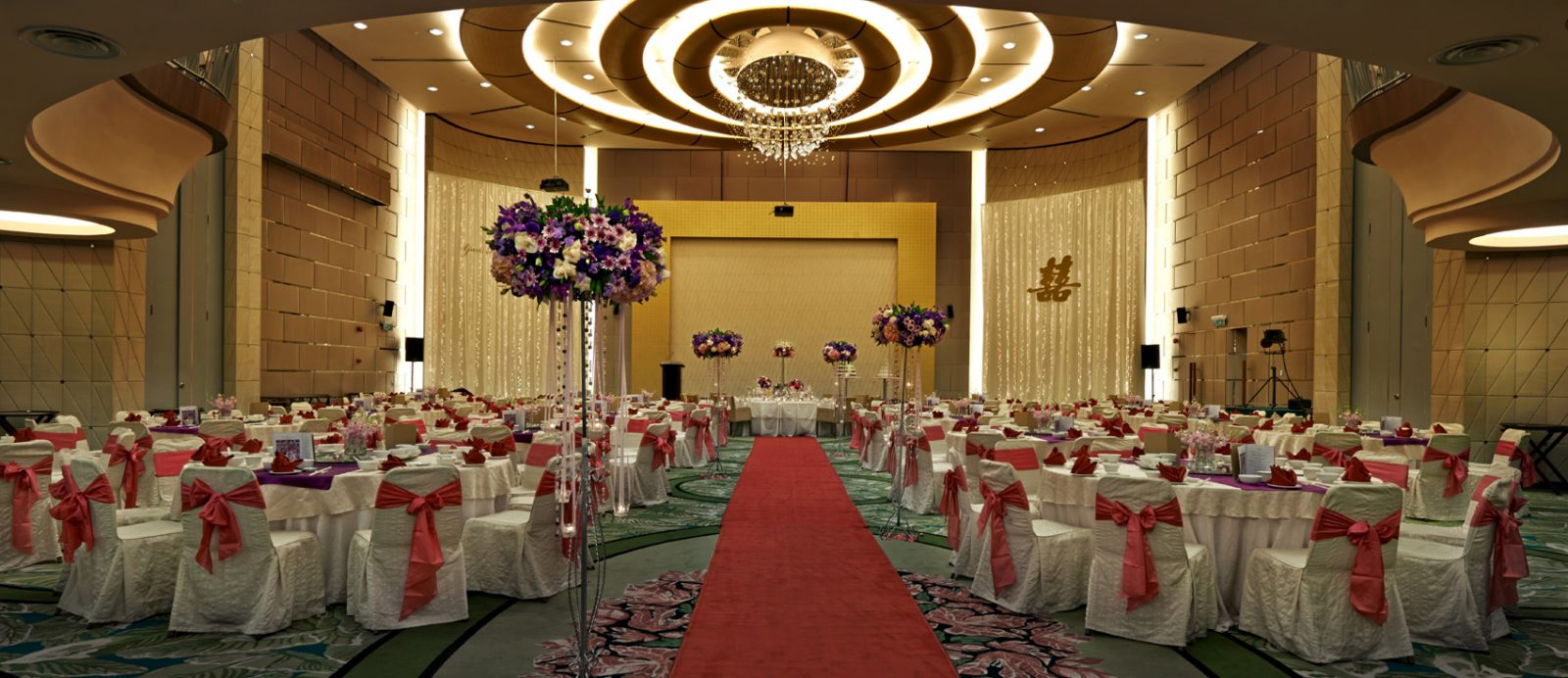 10. Kuala Lumpur Convention Centre (RM2,236.00 per table)
It's not a hotel, but the KLCC Convention Centre also offers a wedding package priced from RM2,236 per table of 10 persons (with plenty of hotels nearby).
Hosts will be able to choose either the Malay or Chinese Wedding Packages containing a variety of menu options. Besides the usual complimentary floral decoration and free flow drinks, the Centre will also provide a dedicated professional photographer during the pre-dinner cocktail reception for free.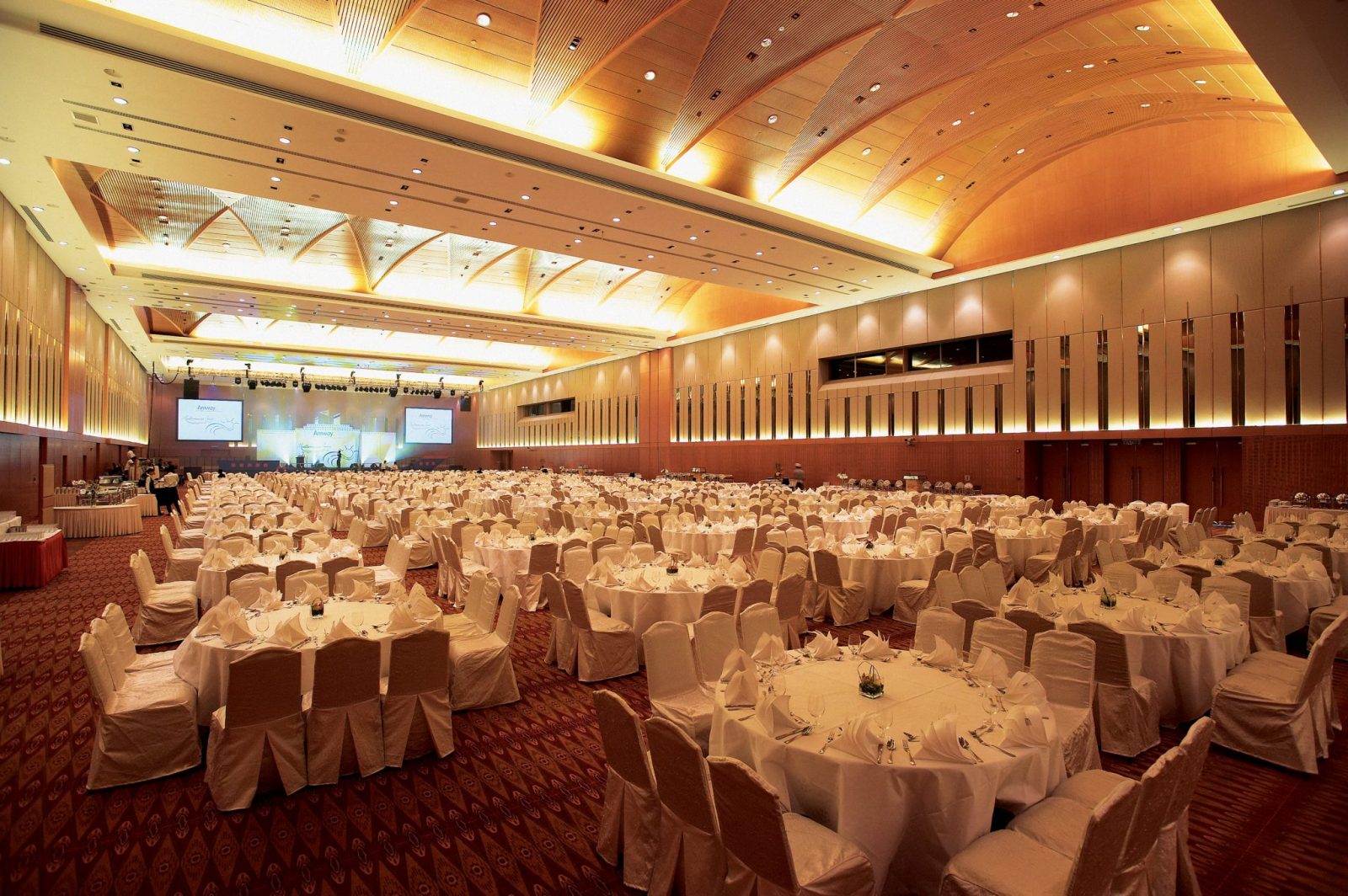 The best wedding venues in Kuala Lumpur, if you can afford it
With 5-star ambience, food and service at these hotels and venues, these are not your average banquet hall prices. Any of these wedding venues would give you and your guests a night to remember.
But having a luxurious wedding venue in a five-star hotel is just the beginning. The next thing you need is to engage other wedding services to complete the celebration, and make sure your best-laid wedding planning is executed flawlessly.
Platforms like Recommend.my give couples an easy way to get cost estimates and proposals from the top wedding service professionals in the country.
For example, you can hire a wedding planner to work out the theme and logistics, a wedding decorator to turn the place into an enchanted garden, and hire wedding photographers and wedding videographers to capture the scene for eternity.
Hire suitable wedding planners to plan your dream wedding
Recommend.my is a perfect place for you to find wedding planners. Tell us your wedding requirements and we will get in touch with you immediately.
Note: All prices correct at time of publishing. Prices are nett pricing per table.