After a long day at work, the last thing you want to do is clean your home.
But, if you don't do the cleaning, the tasks will start to pile up. Clothes need to be washed, the bathroom needs to be scrubbed, the floor needs to be mopped; the list goes on and on.
If you have limited time to keep your home clean, you have two options: hire a live-in domestic helper, or hire a part-time cleaner.
But, unless you have special requirements, have kids or ageing parents at home, then you may not need a live-in domestic helper. Instead, a part-time cleaning service will be more economical since they only need to come in a few times a week.
Get your own personal maid from as low as RM60 per session
Let Recommend.my's professionally trained cleaners take care of your home cleaning, whether it's one-time or regular cleaning.
But, how much do home cleaning services cost in Malaysia, specifically, in KL or Klang Valley? Here are the prices for home residential cleaning:
Price for home cleaning service (Kuala Lumpur / Selangor)


Even though the rate does not change whether you need 1, 2 or 3 cleaners to visit your house per session, it's good to stick to the same arrangement for every session, so that your cleaning service provider can plan ahead.
The prices above assume a once-a-week cleaning session. But if you need the cleaners to visit your house more often (e.g. twice or three times a week), it can be arranged in advance at no additional charge.
What's included in our home cleaning services?
A typical home cleaning service will include:
Vacuuming or sweeping the floor
Mopping the floor
Rubbish clearing
Wiping of surfaces and windows
Scrubbing bathroom sinks and toilet bowl
Cleaning areas include bedroom, bathroom, living room, dining room, kitchen, front porch and balcony
Your home cleaning service provider may also levy an additional charge if you need them to provide their own cleaning equipment, such as mops, brooms, vacuum cleaners, cleaning chemicals and detergents, sponges and brushes, wiping cloths, pails and trash bags.
The average add-on cost for supplying cleaning equipment is RM30 per session, regardless of the duration of each session.
What is not included?
Laundry, ironing, folding clothes and dishwashing is not included in the cleaning sessions by default. If you need these tasks to be done on a regular basis, let your cleaning provider know so that they can estimate the additional time needed (or remove tasks that you don't need).
Also, the tasks above assume that you need a regular cleaning session. But, if you need to hire cleaners for a special spring cleaning (e.g. before Chinese New Year, Hari Raya or Deepavali), you will need to inform your cleaning provider that you need extra tasks such as cleaning of fixtures (e.g. ceiling fans and ceiling lights).
Another point to note is that the home cleaning services above are not suitable if you have just completed a home renovation, or if the house is in between tenants. For these occasions, you will need to book a post-renovation cleaning, or a move-in/move-out cleaning instead.
Why hire a professional home cleaning service at Recommend.my?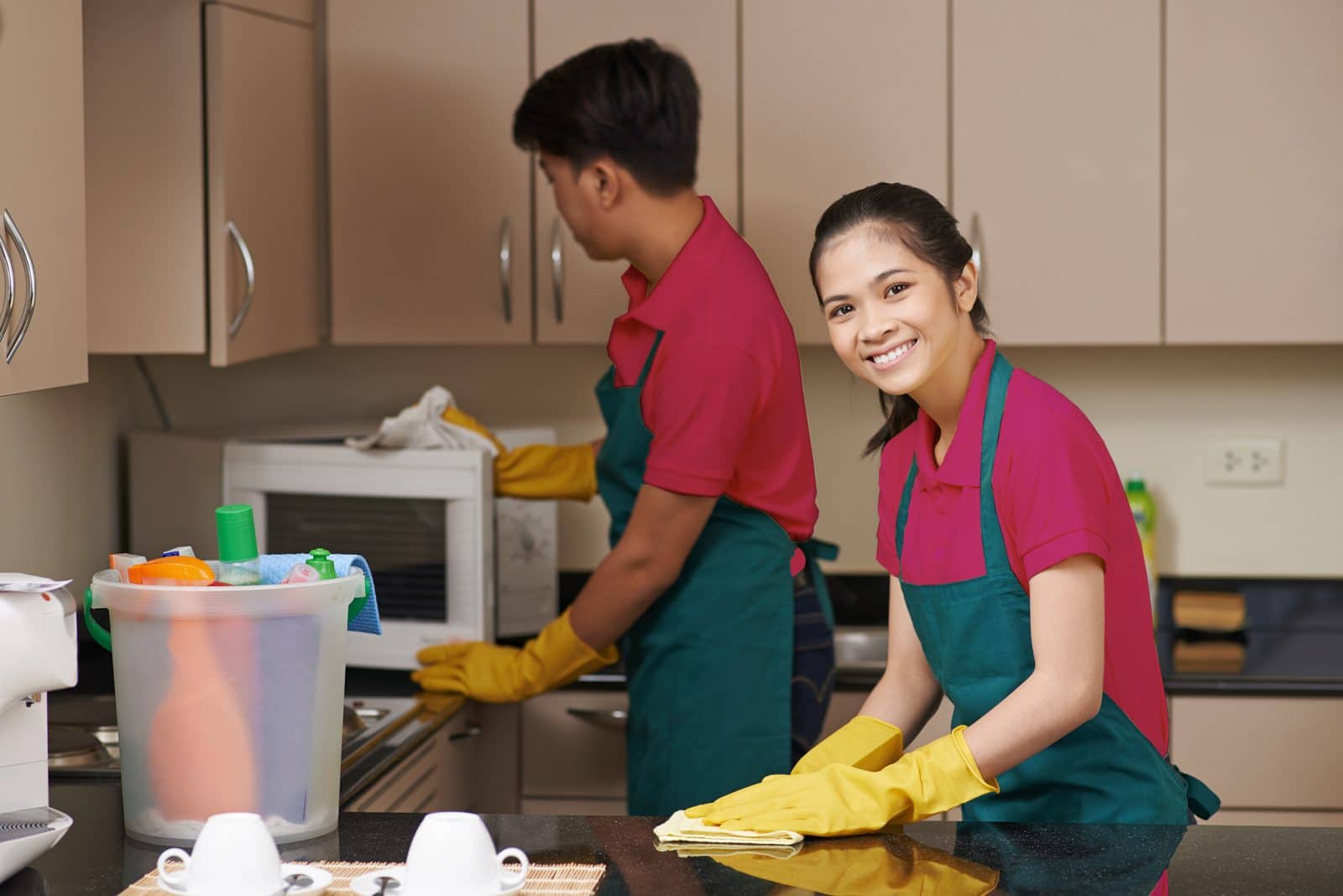 Save time. The biggest benefit you can get from hiring a cleaning service is time-saving. With so many things taking up your day, it feels great to know that you can outsource lots of things to a skilled team.
The amount of time that you save can be put to better use, such as bonding with your family, socialising with friends, or simply having some time to yourself to relax.
Easy booking. Fill in our online booking form to get an instant quote for your cleaning. Our verified and reviewed cleaners will contact you to confirm the appointment once you submit the form.
Regular schedule. When you purchase a home cleaning package, you get your house cleaned on a regular schedule, and no cleaning tasks will pile up. Work out the best time with your cleaning provider so that you will be at home when they arrive.
Fast results. Doing cleaning on your own can take a long time. But with a team of professionals visiting your home on a regular basis, the tasks can be completed within a fixed time, and you can even add more tasks if needed.
Peace of mind. All our cleaning services come with a 14-day service guarantee and are backed by our home service guarantee that protects your home against damage, theft or public liability.
Get your own personal maid from as low as RM60 per session
Let Recommend.my's professionally trained cleaners take care of your home cleaning, whether it's one-time or regular cleaning.