The years 2020 and first half of 2021 were challenging for the Home Services industry, amidst the pandemic and periodic lockdowns affecting the industry. The second half of 2021 marked the rapid immunisation of the Malaysian population, and the reopening of the Malaysian economy. How did SMEs in the home and local services industry perform in 2021? We find out. Report by Recommend.my
Background
In January 2021, barely two weeks into the New Year, then Prime Minister Muhyiddin Yassin announced yet another Movement Control Order (or MCO 2.0, as widely known) to combat a spike in COVID-19 infections. By 29 March 2021, new daily infections had been reduced to 941, and the country began to transition to a Conditional MCO.
But just one month later, daily cases had climbed to a new high of 3788 new infections, forcing the government to declare MCO 3.0. By 1 June, the entire nation was in "total lockdown" (also known as FMCO), with over 8000 new daily cases.
At that time, the Small & Medium Enterprises Association (Samenta) painted a bleak picture, saying that, after over a year of disrupted business, 30% of SMEs would have run out of cash during the FMCO, and two-thirds of SMEs saw no hope of recovery in 2021.
However, fast forward to November 2021, and a different picture began to emerge. With most states having moved to Phase 4 of the National Recovery Plan, and 78.4% of the population had been fully-vaccinated, business appeared to be in full swing again.
With full economic activity resuming with practically no restrictions, SMEs were suddenly seeing a surge in pent up demand for home services. Recommend.my witnessed this first hand, as the number of renovation and interior design jobs requested on the platform grew by more than double from July to September 2021. Similarly, on-demand bookings for services professionals such as cleaners, aircon maintenance, plumbers and electricians nearly doubled from September to November 2021.
We recently surveyed home and local service professionals to get a "report card" for the year 2021, whether they expect this trend to continue, and what they expect to be their main challenges in 2022.
Report Highlights
57.5% of businesses maintained or increased revenues by the end of 2021
50% of SMEs surveyed made profits in 2021, while the remaining 50% dipped into company or personal reserves to stay afloat
68% of them cited increased business costs
Looking ahead, 60% of businesses believe their business will recover before the end of 2022
The biggest challenge to their recovery will be hiring local manpower with the right skills
Increasing revenue and cash flow are the main priorities in 2022
57.5% of businesses managed to maintain or increase revenues in 2021 compared to the previous year
Chart 1: Revenue change in 2021 compared to 2020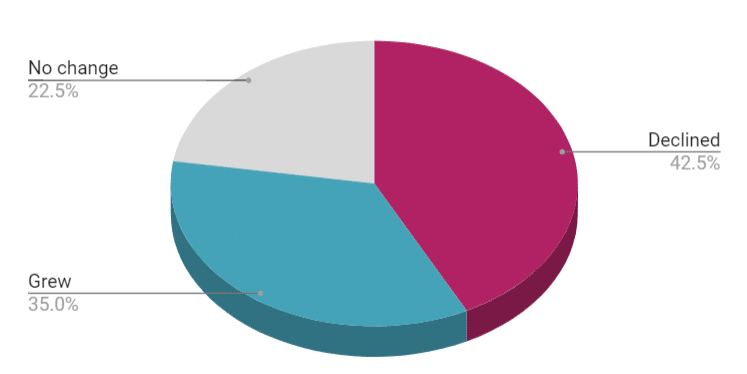 When the first Movement Control Order (MCO) was implemented in March 2020, we reported that 68.9% of SMEs suffered a more than 50% drop in business within the first week. Eighteen months on, 57.5% of businesses surveyed managed to maintain or increase their revenues in 2021 compared to the previous year, while the remaining 42.5% reported a continued decline.
Chart 2: Breakdown of revenue change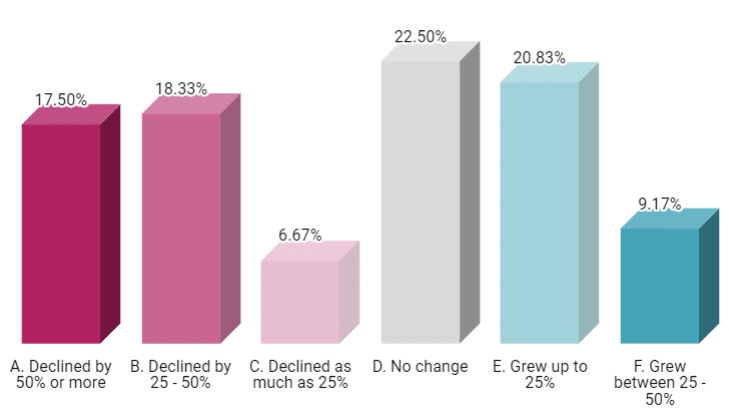 When we studied the further breakdown, it became clear that the group that suffered a revenue decline was significantly impacted (where the average business lost 50% of their revenue). However, for those that enjoyed a revenue gain, the quantum was more modest at below 25%.
Chart 3: Comparison in revenue change of home improvement vs home maintenance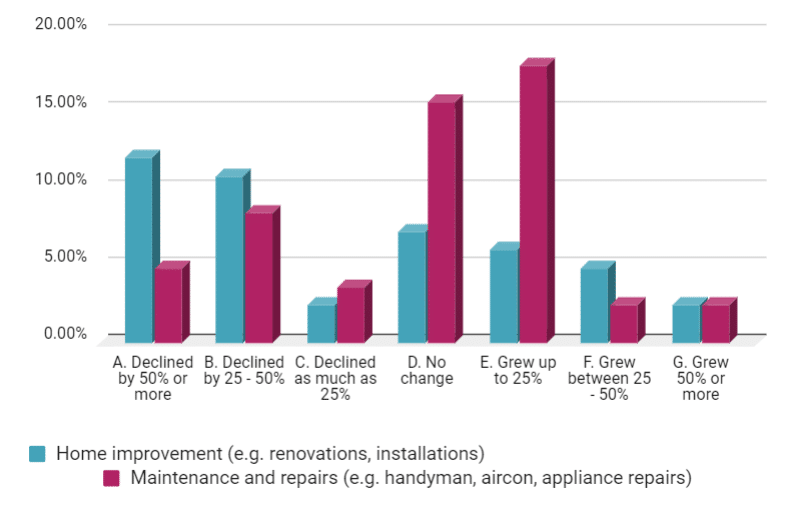 In the Recommend.my platform, home improvement vendors are those that typically carry out larger upgrading works in new and existing homes. These include renovation contractors, interior designers, cabinet contractors and more. On the other hand, home maintenance vendors are specialised in repairs and simple installations. These include electricians, handymen, aircon servicing technicians, and plumbers.
Home maintenance was the bright spark
The comparison chart above shows that the decline in revenues were largely felt by home improvement vendors. On the other hand, home maintenance providers experienced the opposite, with gains in revenue.
This could be due to the fact that many home maintenance professionals (such as plumbers and electricians and appliance repairmen) could continue operating during MCO, as long as it was for essential repairs (e.g. water leaks, electrical blackouts, etc).
We also theorise that, due to the prolonged lockdowns from the pandemic, consumer spending power has decreased. This would explain the shift from home improvements to home maintenance. In other words, homeowners are choosing to make smaller fixes over time, rather than carry out a major project.
50% of SMEs surveyed made profits in 2021, while the remaining 50% dipped into company or personal reserves to stay afloat
Chart 4: Profit vs loss by the end of 2021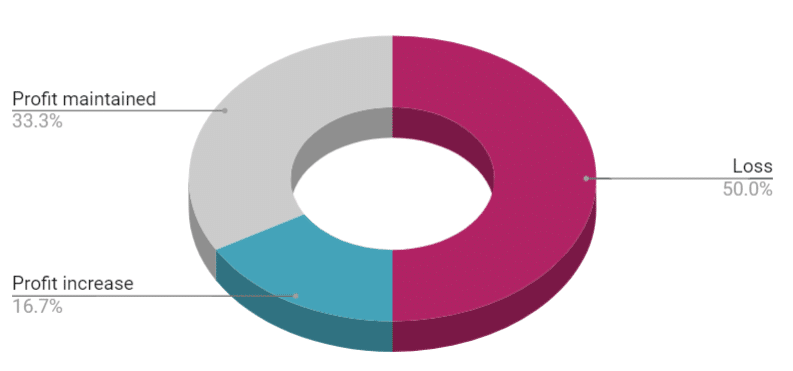 Even though 57.5% of businesses managed to maintain or increase revenues by the end of 2021 (see Chart1), only 16.7% of them reported any increase in profits (Chart 4). Instead, half of them reported losses (50%), while a third of them managed to maintain profit levels.
Chart 5: Breakdown of profit vs. loss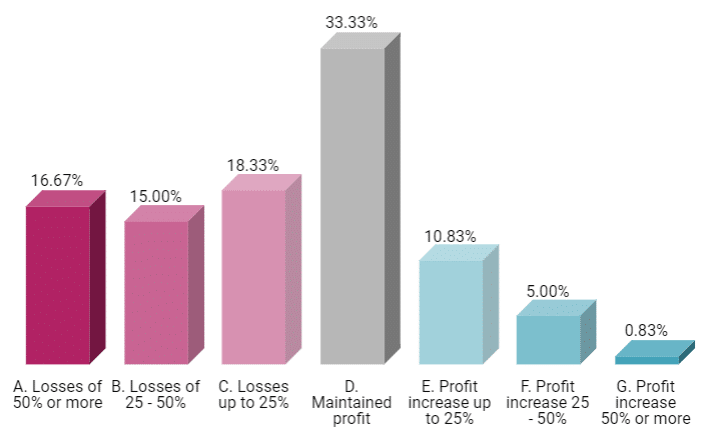 The breakdown of profits and losses show that SMEs that managed to achieve any profits at all, only increased it by less than 25% (10.83%). As mentioned earlier, half of all respondents reported losses, meaning that they continue to have to dip into reserves to stay afloat.
68% of businesses experienced increased business costs
Chart 6: Business costs increase

More than two-thirds of respondents reported increased business costs for 2021. The main reason given was due to rising costs of materials. Indeed, those in home improvement works have already experienced a 41% increase in prices of mild steel and 20% increase for sand since October 2020.
60% of businesses are optimistic about recovery by 2022
Chart 7: How much longer do you think it will take for your business to recover to pre-pandemic levels?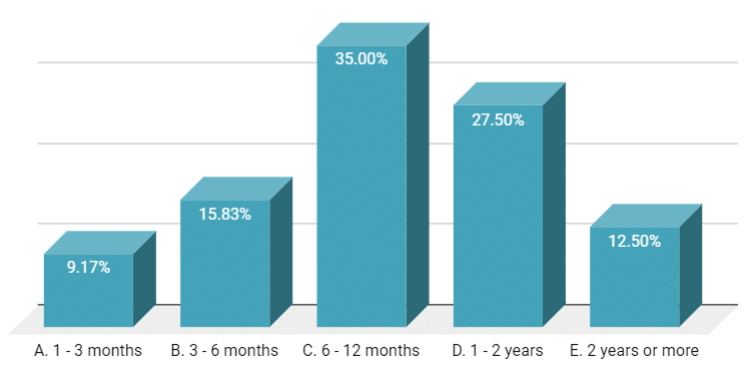 The majority of businesses believe that they will recover to pre-pandemic levels by 2022 (60%). Others feel that it may take longer, with 27.5% aiming for the end of 2023, and 12.5% looking at 2024 and beyond.
The biggest challenge: hiring local manpower with the right skills
Chart 8: What are the biggest concerns impacting your business today?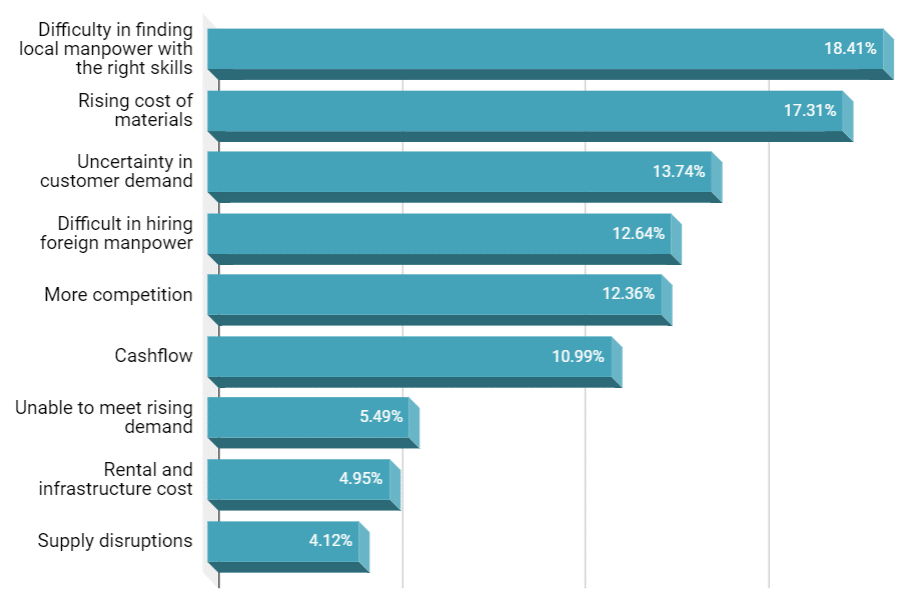 When asked about their biggest business challenges, the most common reason given was "difficulty in finding local manpower with the right skills" (18.4%). This is in addition to the difficulty in hiring foreign manpower (12.6%), who constitute a large percentage of the workforce.
One way that businesses can improve the efficiency of their teams is to leverage on platforms like Recommend.my that automate marketing, sales, payment and workforce management functions to save on hiring more staff.
Revenue and cash flow are the main priorities in 2022
Chart 9: What are your business priorities in 2022?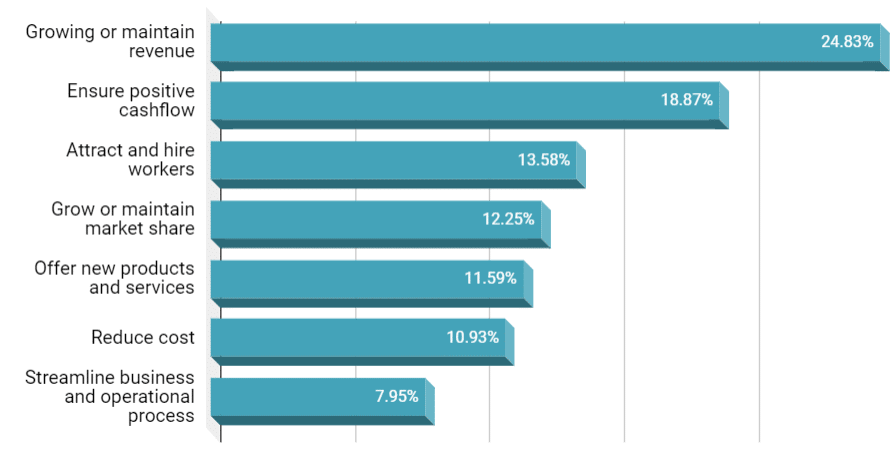 The two most common areas of focus for home and local service businesses in 2022 is to "grow or maintain revenue", and "ensure positive cashflow" (43.7% combined). These go hand-in-hand, since the more jobs they are able to win and complete, the more revenue they will have to offset rising material costs.
Recommend.my expects the volume of home and local services projects to increase in 2022, and is taking steps to acquire more high-quality service professionals to meet the demand. The platform has already vetted over 10,000 companies and independent service professionals in Malaysia, and is actively working with them to standardise service scope and prices, improve service quality, enable cashless payments, and provide strong service warranties and insurance protection.
Conclusions
The survey results show that SMEs expect a recovery in 2022, as long as they can overcome their shortage in skilled manpower. While uncertainties remain, such as fears around the new Omicron variant of COVID-19, the primary focus will be to win and complete more projects. Throughout 2021, half of SMEs on Recommend.my managed to maintain or grow their profits, as the platform helped attract more customers, and enabled SMEs them to digitalise their payments and workforce management processes.

About this survey
This survey was conducted among 120 SMEs in the home and local services industry in Malaysia between 15 – 28 Dec 2021.
Chart 10: Breakdown of service industries of survey respondents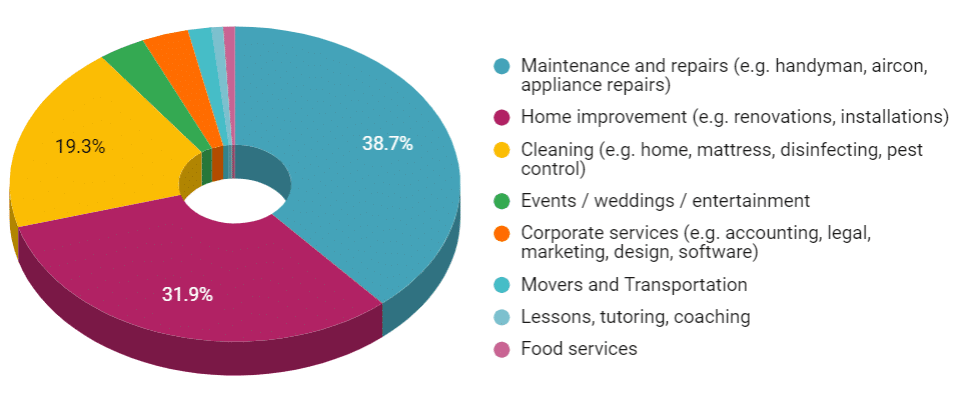 About Recommend.my
Recommend.my is Malaysia's leading Home and Local Services platform, established in 2014. Thousands of service professionals use our platform to receive bookings and quotation requests for jobs including cleaning, disinfection, plumbing, electrical, aircon servicing, renovations, handyman services, interior design and more. To date, the service professionals on our platform have served hundreds of thousands of customers, homeowners, and businesses in Malaysia.
Learn more: Recommend Group celebrates 1 million homes served
Previous surveys: