After a gruelling day at work, most of us just want to kick off our shoes to relax.
If you're like most Malaysians, you will be familiar with keeping your slippers outside your main door while keeping your 'good shoes' inside your shoe cabinets.
While storage can be a key factor in investing in a shoe cabinet, it can also play a part in enhancing the whole atmosphere of your living space.
Depending on one's preference, shoe cabinet designs come in all shapes, designs, colour and even materials to enhance your living space.
If you're keen on bringing the idea to life to your home, look no further for inspiration on some shoe cabinet designs below!
REQUEST FOR A QUOTE FROM OUR LIST OF CERTIFIED CONTRACTORS
We offer hundreds of cabinet contractors, interior designers and flooring experts in Malaysia who are ready to take on any of your home improvement projects. Simply tell us what you need, and we will recommend suitable pros to give you a quote for free.
1. Built-in shoe cabinets with multi-functional storage seating
Shoe cabinets don't always have to serve one purpose in your home. When designed for functionality, it can serve as a space for extra storage and can be used as a centrepiece for your home.
The perks of hidden storage space are ideal for people who own multiple pairs of shoes because it gets hidden out of sight without obstructing the busy entryway.
If you want to add personality to your space, placing a portrait, mirror or memorabilia in the background can also add some personality to the overall look.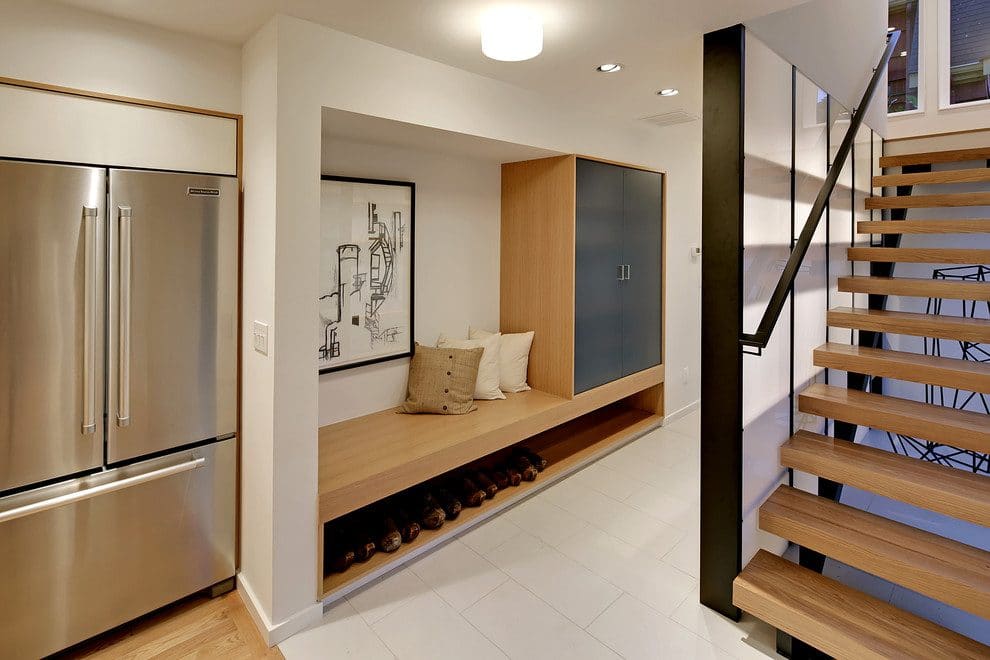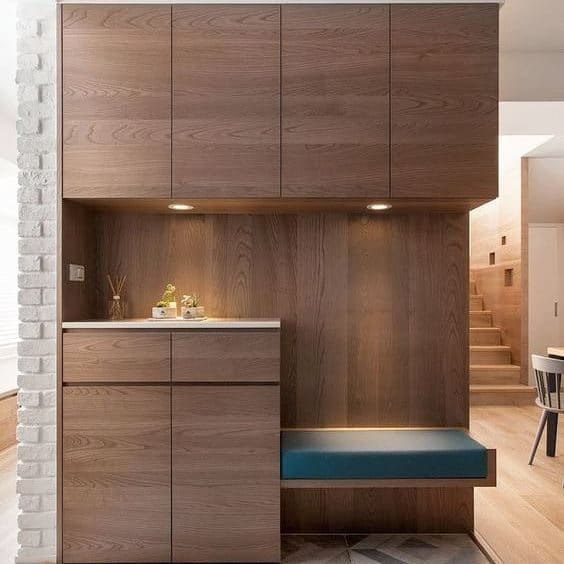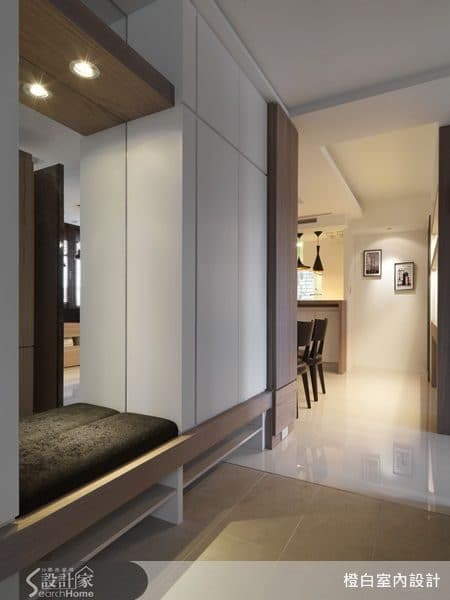 2.  Minimalism with a splash of colour
The minimalism trend has been on the rise, and it is easy to see why.
It's sleek and neutral colour palette usually used in this particular style is a great way to add a modern touch to your home without being overboard, especially if you're someone who dislikes cluttered surroundings.
This enclosed built-in shoe cabinet is ideal for stowing away shoes, clothes and other belongings out of sight.
You can even utilize the space to store extra magazines, tools, makeup, bags and more.
Attaching mirrors on the cabinet doors can also make space seem larger than it actually is. Optionally, adding a bright accent colour such as yellow on walls or detailing can further define your space.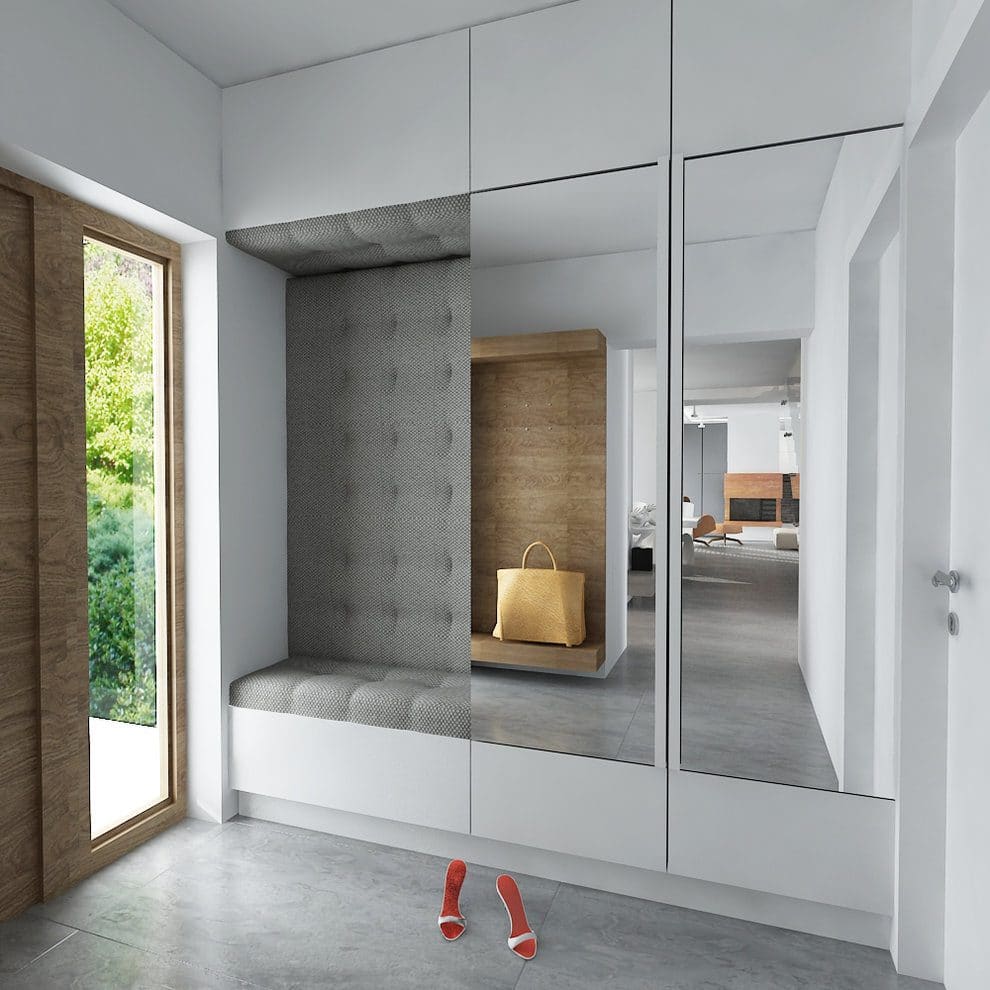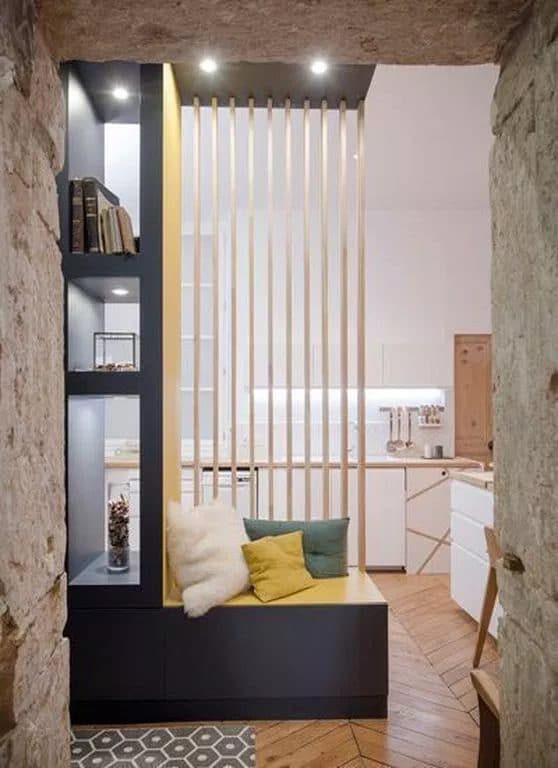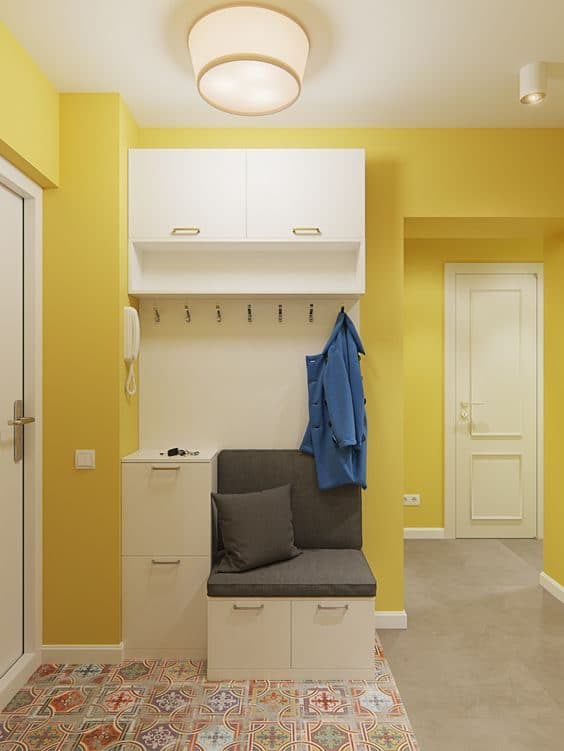 3.  Ease your worries with Japanese-inspired colours
Shoe cabinet designs don't always have to be over-the-top, colourful or flamboyant to be eye-catching.
Why not opt for a Japanese Zen-inspired built-in shoe cabinet design colour palette that is easy-going on the eyes and reflective of nature?
Personalise this space by adding shades of green amidst the woody features of this modern, and sleek Japanese-inspired design with plenty of hidden storage to get the most out of your space.
Multiple shelving and chest drawers also encourage clever storage ideas to ensure every belonging has its own space to call home.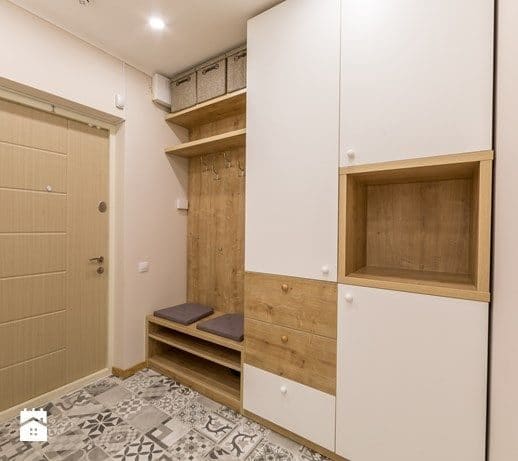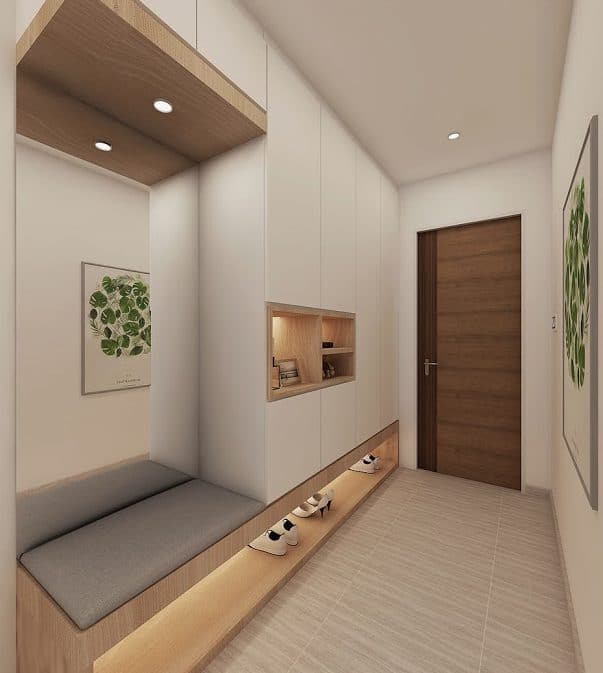 4. Keeping it simple like the Scandinavians
If you live in a small apartment and space is limited, building a multi-tier shoe cabinet is beneficial as it saves space by stacking storage one on top of the other.
An elevated bench like the one below is useful to create an enclosed space that functions as a key access area to store coats, handbags or even pet collars for easy access to your frequently used items.
Moreover, elevated storage crates define the space by creating a contrast between high and low shelving and cabinets.
Keep it minimal and clean like the Scandinavians by matching neutral and earthbound colours to complete the look.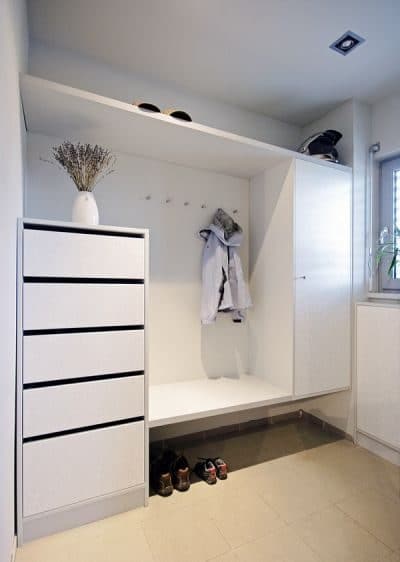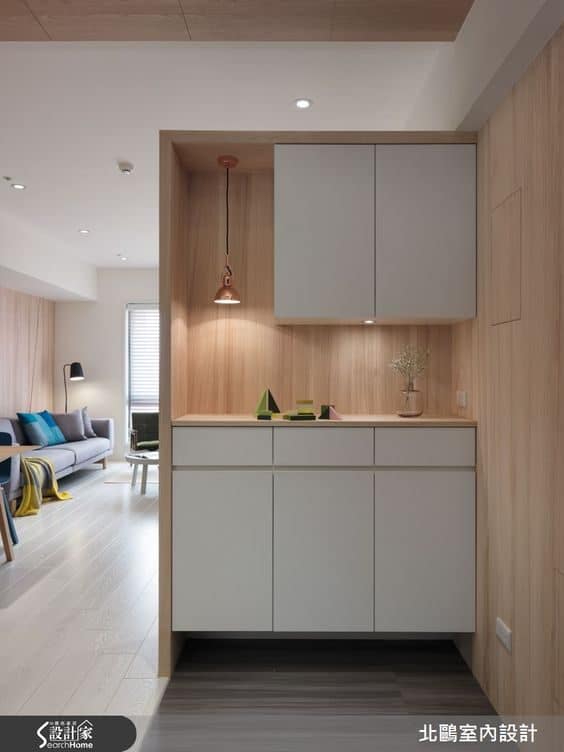 5. Compact and elegant
Even if you are working with a small area, an ideal built-in shoe cabinet should provide you with sufficient storage space for your shoes and other belongings despite the limitations.
Since an entryway is where keys and other personal belongings are most accessible before you head out the door, a functional shoe cabinet design with an open shelf is ideal for quick access, easing your early morning rush hour.
Pair it with similar colour-palette tones to match the setting of the overall theme of the room by using spotlights to accentuate the details while keeping the space bright and inviting.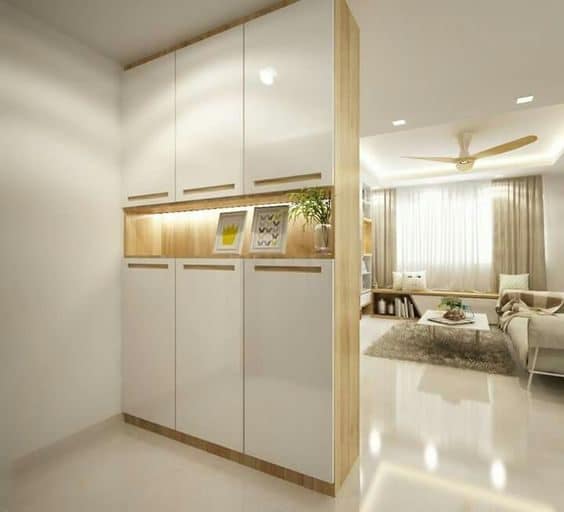 6. Classic luxury meets modern sophistication
A simple, colour matching shoe cabinet adds dimension and personality to the entryway of this house.
This multi-functional shoe cabinet design provides lots of storage space for your shoes and even comes with a cabinet and display table for even more functional storage.
These customisations are a brilliant solution when you want your built-in shoe cabinet to suit your needs no matter what size of space you're working with.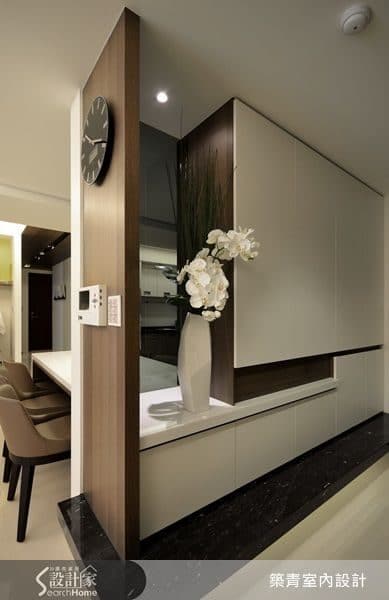 7. Contemporary and convenient
This shoe cabinet idea is unique as the colour scheme is used to match the rest of the wooden entrance door.
This concept is a refresher as the cabinet has a cut-out design and is easily accessible right after the entrance because it is strategically placed at hand-eye level.
The cabinet space can be used as additional storage for out-of-season items or simply transformed into a kitchen pantry with just a few adjustments or alterations.
Optionally, configure wirings to transform the space into a charging station for your electronics and devices. This can be done by hiring a certified electrician from our website to get the job done professionally and safely for you.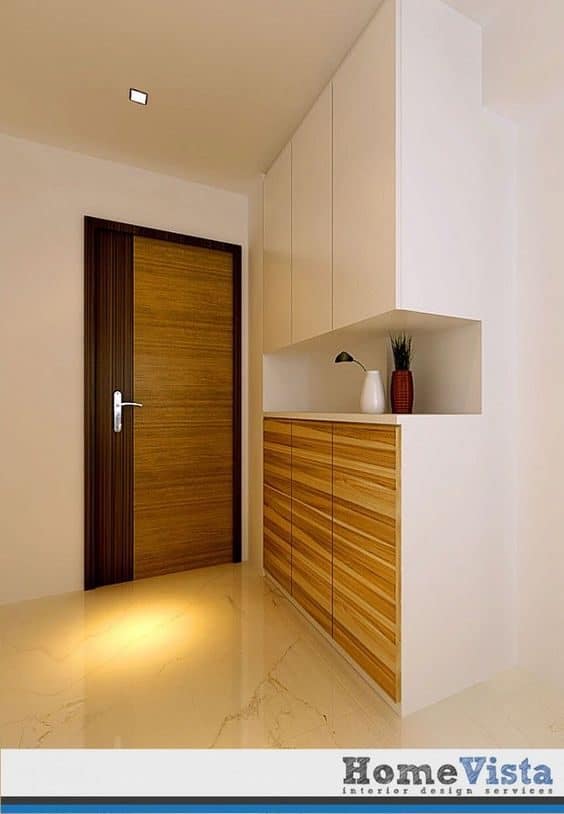 8. Neutralize your colour palette
Whether you have a large space to work with or a tiny space in general, colour coordinating your space with neutral colours can mask the illusion that your space is larger than it actually is.
This full-height cabinet design is also ideal for those that require just the right amount of storage space as it maximizes space from the top to bottom.
Building a cabinet that best suits your needs will ensure your space stays relevant and functional to you and the people living within it.
Pairing it with earth tones like brown and black adds contrast while pairing other areas with white undertones achieves a soothing effect.
Experimenting with different textures using furniture, photos and even materials such as clothes hangers can add a different dimension to the room.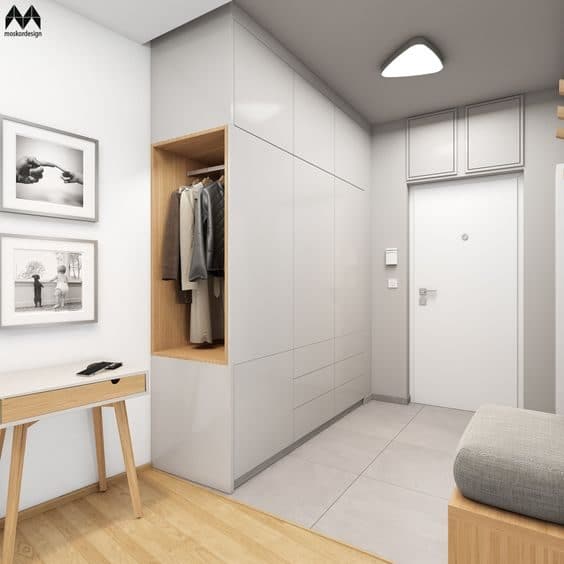 9. Playing with contrast
This design is unique because not many people are bold to experiment with different textures and colour schemes and place it within the same room.
What's unique about this design is the contrast between the rustic brick detailing amidst the modern features of the shoe cabinet across one another.
The multi-tier cabinet can be used as an art, toy or crystal display cabinet by placing a small downlight above the empty shelf areas to create a beautiful centrepiece for your entrance way.
The harmony of colours and textures present within the space strike a perfect balance between a warm and inviting atmosphere without being too industrialised or rustic.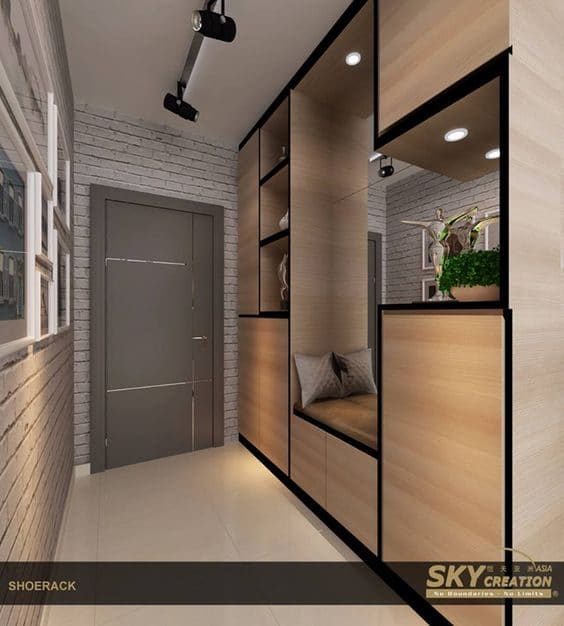 10. Store belongings along the walkway
For many of us, we tend to think of built-in shoe cabinets simply as a storage space to help with stowing our items away.
However, a design tucked away at the side of your space will definitely add a touch of class while helping you to stay organized.
Monochrome colours help achieve a polished look, while the partial wood features on the cabinet doors and seating area help neutralise the setting from being too bold.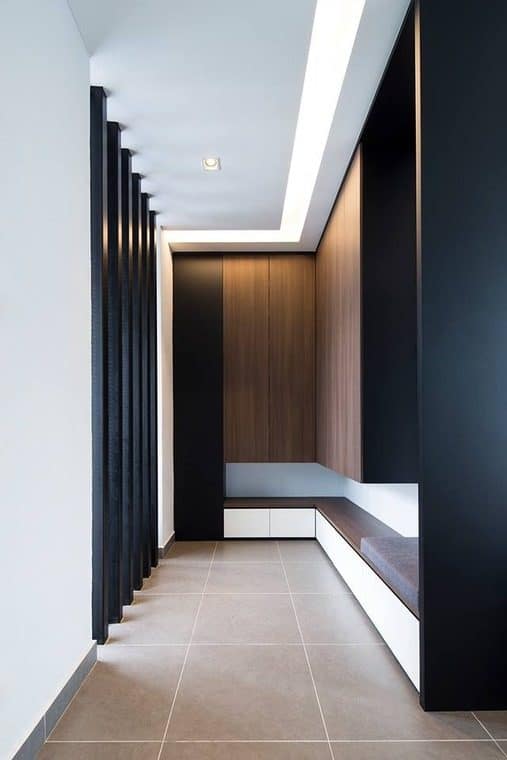 11. Compact slide-outs
Who doesn't like a built-in shoe cabinet that saves space while giving you all the same features of a conventional shoe rack?
This nifty sliding door cabinet shifts in and out while storing multiple pairs of shoes (or more), ensuring quick and efficient organization even on your busiest mornings out the door.
The design is great for spaces that are limited without compromising on storage as it utilizes the entire storage space from the front to the back.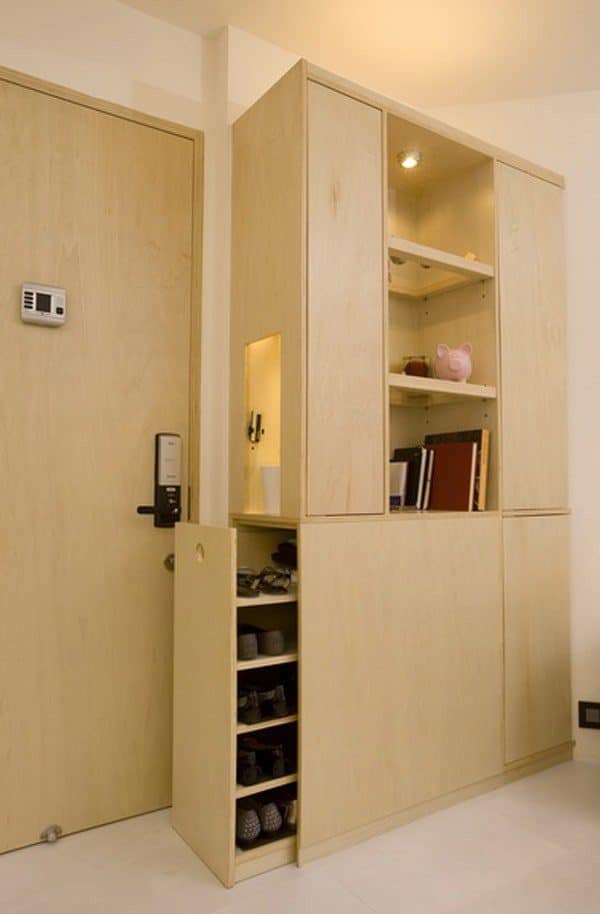 Shoe cabinets are an excellent example of multi-functional furniture that has the ability to transform your space using a myriad of designs, textures and layouts. Selecting one to fit your lifestyle and needs are crucial to ensure better productivity and storage solution needs are met. Experimenting with colours by merging similar colour spectrums together are worth a try as it could enliven your space like never before.
Like what you see and keen on customizing your built-in shoe cabinet?
Recommend.my offers contractors who are pioneers in the field to ensure your living space gets only the best to suit your needs.
We have hundreds of pros in Malaysia with the expertise to transform your dream space into reality.
Let us know your requirements and we will find qualified pros to contact you within a matter of hours. The best part? Get guaranteed project protection when you secure payment via Recommend Pay!