When you think of kitchen cabinets, you normally think of a frame made of wood, with wooden doors, and a stone countertop.
However, kitchen cabinets that are made from aluminium instead of wood are getting popular in Malaysia.
Waterproof, rust-proof, and easy-to-clean are just some of the main benefits of aluminium kitchen cabinets Homeowners no longer need to worry about wooden kitchen cabinets getting ruined by moisture or humidity, for example if the kitchen sink drain starts to leak into it.
Apart from water resistance, there are many other reasons why an all-metal cabinet works well in the kitchen. To know if aluminium kitchen cabinets are the right choice for your home, let's take a deep dive into its benefits.
What is an aluminium kitchen cabinet?
An aluminium kitchen cabinet is exactly the same as a regular kitchen cabinet, but made out of aluminium components.
Any kitchen cabinet will be made of these main parts:
The carcass, or frame. Instead of using blockwood, aluminium square tubes are used instead to make a framework
Face panel and end panels. Aluminium sheets are used instead of plywood or laminates
Shelves and drawers. Made from rectangular aluminium tubes with aluminium sheets
Countertop. For floor standing cabinets, a granite, quartz or solid surface worktop is added
Learn more about kitchen cabinet materials such as plywood, blockwood and laminates
During construction of an aluminium cabinet, the aluminium tubes are joined to make the frame. Then, aluminium sheets are added to cover the frame, and make the back, side and front panels. Finally, aluminium shelves, drawers and cabinet doors are added, along with a countertop.
Video: Manufacture and assembly of aluminium cabinet. Source: E&Q Cabinet
Pros and cons of aluminium kitchen cabinets compared to wood
Why do people prefer aluminium compared to wooden kitchen cabinets? There are 5 main reasons:
1. Pros: Won't bend or warp in Malaysian weather
Wooden cabinets are typically made from compressed wood or plywood panels with a blockboard core. Over time, humidity and heat in the kitchen may cause the wood to bend or warp; the shelves to curve downwards; or the laminate to peel away.
However, aluminium is unaffected by moisture or heat, so it will not bend over time (unless you overload the shelves). If you need more proof that aluminium can withstand our climate, just look at a typical window frame or window grille. Most are made from powder-coated aluminium, and will last for years and years without any change in appearance or structure.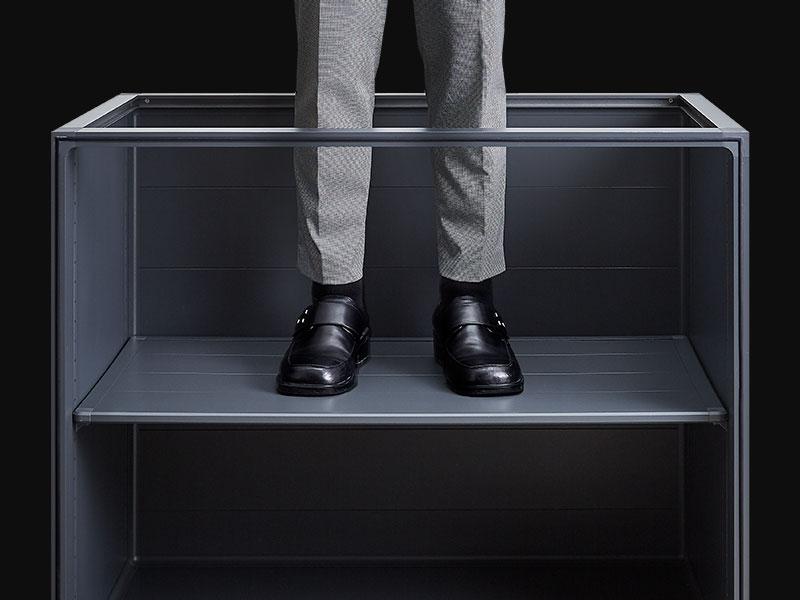 2. Pros: Immune to termites or other infestations
As wooden cabinets age, they may attract insects. Termites may start to eat away at the structure, or ants may start to move around through the porous fibres. This is made worse if the wood begins to split or expand from humidity. However, an aluminium cabinet suffers from no such problems.
3. Pros: Heat resistant
If you have ever accidentally touched a hot pan to your wooden cabinet panels, it can leave a burn mark that is hard to remove. While plywood can char at temperatures of around 110°-150°, aluminium can operate safely at much higher temperatures. If you have ever cooked something in aluminium foil, you will know that it can handle very high temperatures indeed!
4. Pros: Hygienic and non-toxic
Wooden furniture uses glue and varnish during its construction. Over time, it can emit harmful volatile organic compounds (VOCs) such as formaldehyde, a process known as off-gassing. Aluminium cabinets do not use glue, so it does not suffer from VOC emission.
Even if the aluminium panels were to be spray painted or varnished, the VOC has been shown to dissipate quickly, unlike varnish on wood, which is slowly released over time.
5. Pros: Waterproof
Water will quickly damage wooden cabinets. But aluminium is completely waterproof. Since it is non-porous, water will not be able to seep through and cause swelling or bacterial growth. A layer of oxidation also protects the material from rusting, so you don't need to worry about spills or leaks from the sink.
But, there are some disadvantages as well:
6. Cons: Can be noisy
If you tap on bare metal, it will have a harsher clanging noise, compared to wood which emits a duller sound. But, the sound can be reduced by adding proper soft-closing hinges and rubber bumpers. Aluminium cabinets are also not as noisy as bare metal, because they will either be spray painted, powder coated, or have a design layer wrapped around it.
7. Cons: Can dent
Just like a car door, a metal cabinet door can dent if you accidentally kick it. Small scratches can be painted out, but large dents will need to be replaced.
What designs do aluminium kitchen cabinets come in?
Aluminium kitchens are best for modern, minimalist kitchen designs. This means clean lines and drawers/doors without handles.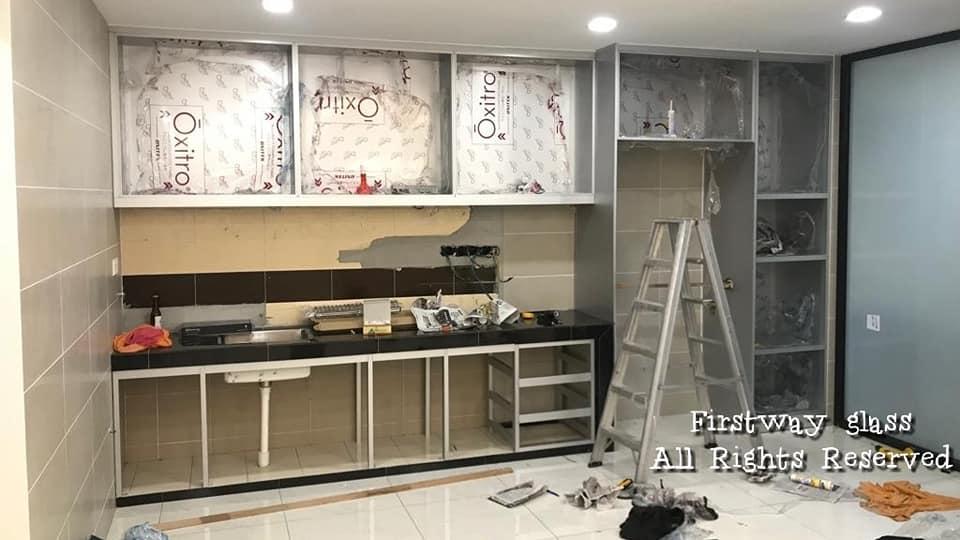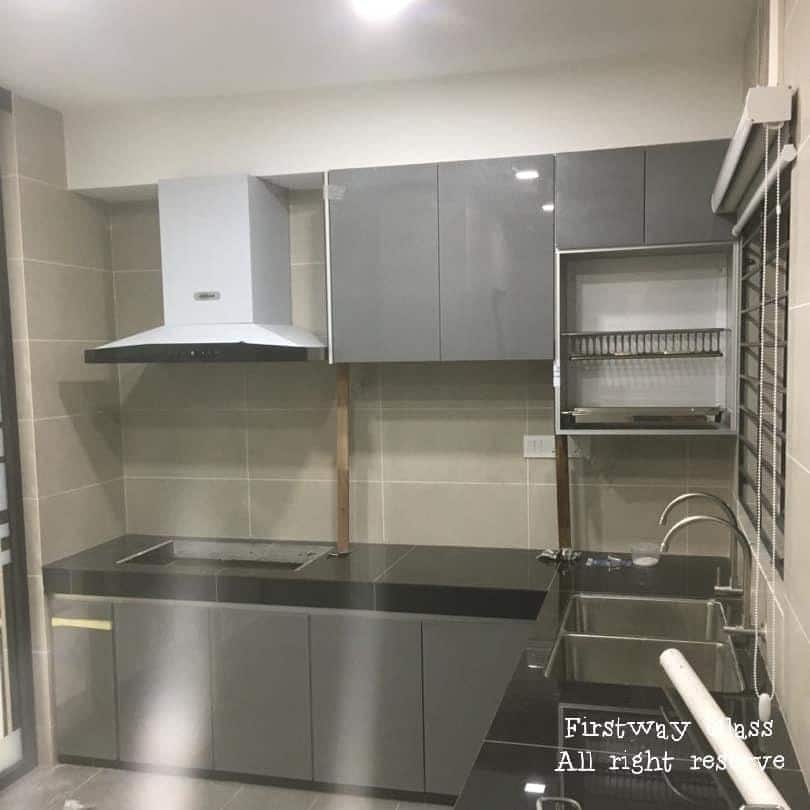 You can even build an aluminium kitchen that looks just like real wood. Using advanced painting and coating processes (either powder coating or sublimation), manufacturers can produce hundreds of wood-like colours.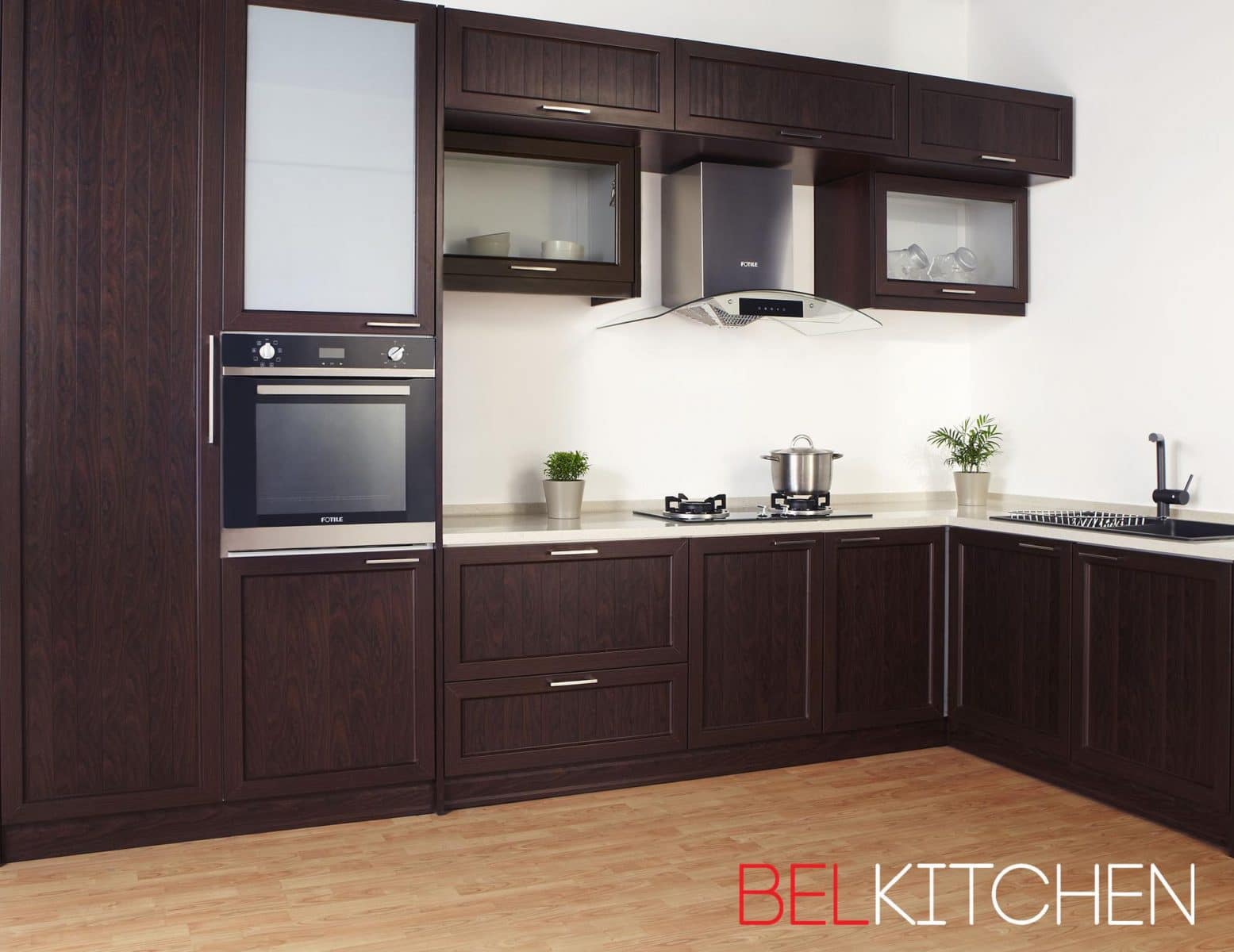 Depending on whether you prefer a light or dark wood grain, common colours include Oak, Walnut, Cedar, Chestnut, Cherry, Gum and more.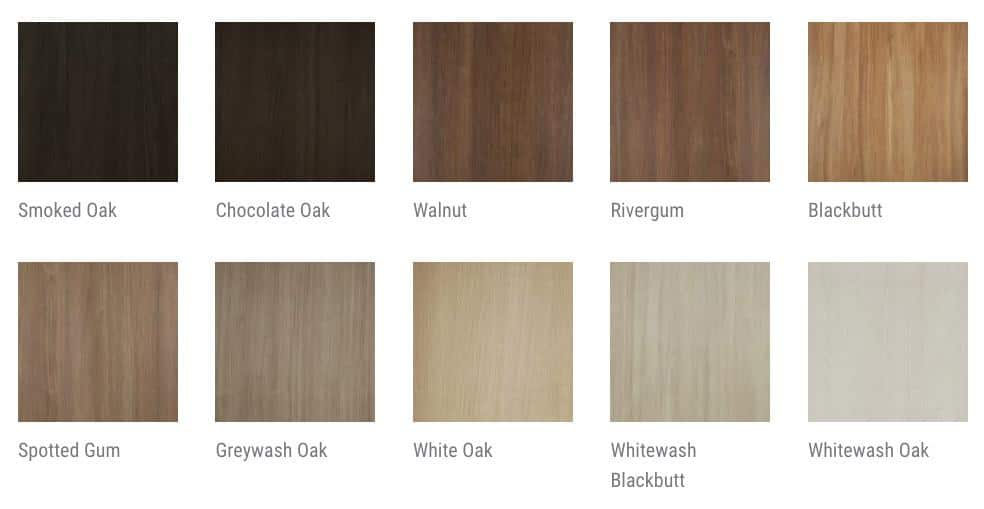 If you prefer the feel of a traditional kitchen, such as louvred doors or shaker doors, this can be done with aluminium too. Louvered doors can be created by attaching several interlocking planks together, each having an angled profile or cross section. Then, the planks are put inside a frame to create the door.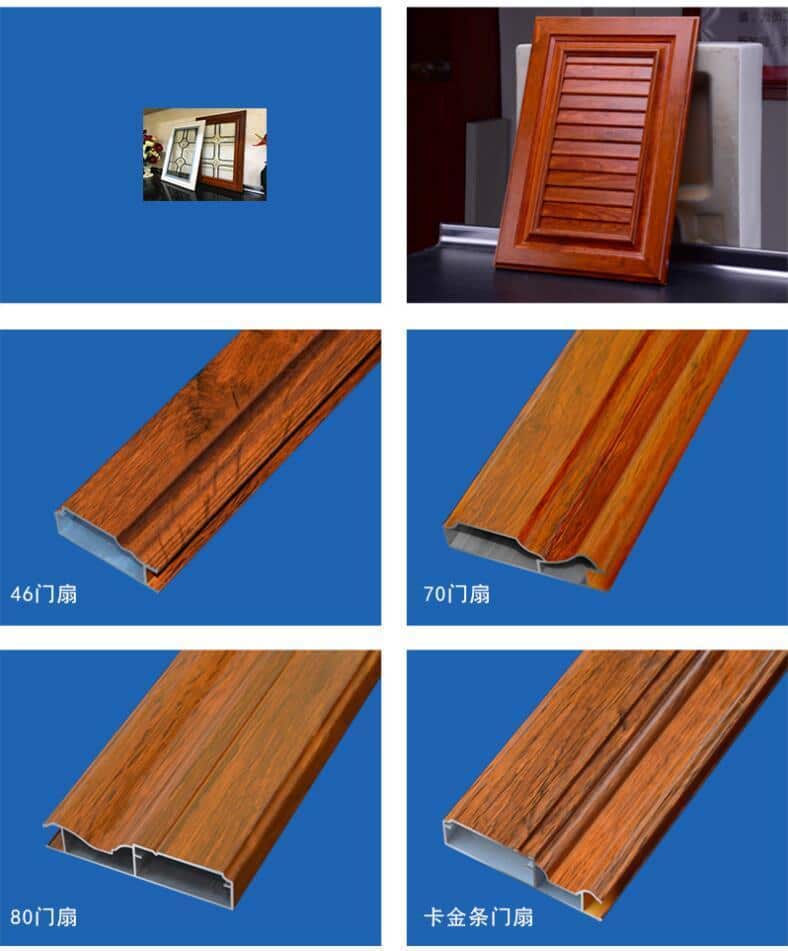 How are the wood grain designs applied to aluminium components? This video from Jotun Powder Coatings gives a simple explanation:
Watch: Metal components are given a wood grain design using a process called powder coating
Are aluminium kitchen cabinets easy to repair?
Aluminium panels are tough, but they can still suffer from scratches and dents, the same as a car door or window frame.
If it is a scratch without any dent, it may be possible to restore the surface by lightly polishing the scratch and then painting it.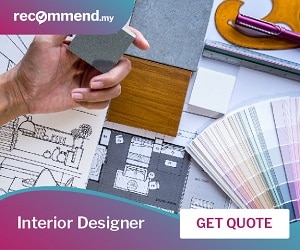 However, for noticeable dents, you will need the help of a cabinet specialist to push the panel back to shape. The surface may even need to be heated beforehand.
But if that fails, then the panel will need to be replaced entirely.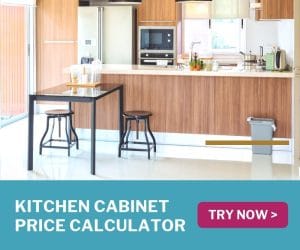 Prices of aluminium kitchen cabinets
Generally, aluminium cabinets have a per-foot-run (pfr) price of starting from RM400, but can go up to RM600 pfr. This is higher compared to a melamine/compressed wood price that starts from RM290 pfr.
Of course, the pfr price can increase depending on other factors such as the thickness of the aluminium panels used, whether the frame is made of stronger aluminium planks, or simpler sheet panels, as well as the choice of wood grain textures or colours.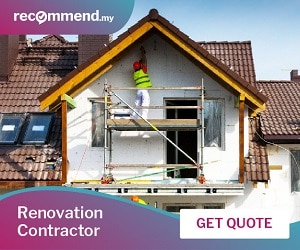 Where to buy aluminium kitchen cabinets in Malaysia
The best place to start your kitchen renovation project is to visit Recommend.my.
Recommend.my provides quotes from multiple firms for all kitchen renovation projects. Submit your requirements, such as foot run, dimensions, preferred material, and get a few quotes to compare within a few hours.
We have compiled a database of reputable aluminium kitchen cabinet designers and suppliers in Malaysia, along with customer reviews and project photos.
Get instant quotes and free site-visit