We are honoured to announce a new partnership with The Sunway Group.  If you are a Sunway Pals member, you can now redeem your Pals points for a wide range of home maintenance services on Recommend.my!
What is Sunway Pals?
Sunway's loyalty programme, known as Sunway Pals, allows its 570,000 members to enjoy a vast range of discounts, rebates, points redemption, and other special privileges when they spend at participating merchants, including those in Sunway establishments such as Sunway Pyramid, Sunway Velocity Mall, Sunway Carnival Mall, Sunway Giza Mall, Sunway Nexis, and Sunway Putra Mall.
Accumulated points can then be used or redeemed in various categories ranging from hospitality to malls by various participating Sunway merchants, which now also includes Recommend.my.
What can I redeem on Recommend.my?
If you're a Sunway Pals member, you can use your points and redeem it on a list of redeemable services including carpet cleaning, sofa/mattress cleaning, home cleaning, aircon servicing, and domestic movers.
Besides home improvement, you can also redeem your Pals points for event and wedding services such as makeup services, catering services, made-to-order cakes, photography, and videography services.
Even if you are not redeeming your Pals points for our services, you can earn one Sunway Pals point per RM100 spent on Recommend.my. This is provided you pay for your service through our online payment system, Recommend Pay. You can pay using credit card as well as bank transfer.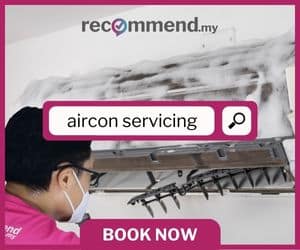 As always, any services requested on Recommend.my will be fulfilled by one of our 10,000 verified service professionals listed on Recommend.my.
How can I redeem my Pals points?
To redeem your points, head on over to Recommend.my/sunwaypals, select the type of service that you want to redeem and click "redeem". Then, fill in your Sunway Pals ID and IC number for validation.
For more information:
About Sunway Pals and how to redeem Sunway Pals Points on Recommend.my, visit sunwaypals.com.my/merchants/recommend-my.
View the full list of available services on Recommend.my, visit www.recommend.my/sunwaypals.  
Check out our interview with the Head of Marketing for Sunway Pals, Kevin Wong: https://www.facebook.com/RecomN/videos/858355771042078/
Read more about our collaboration with Sunway Pals on Digital News Asia: https://www.digitalnewsasia.com/startups/recommend-collaborates-sunway-pals-malaysia