Get your business premises ready for reopening. Suitable for offices, gyms, kindergartens and more.
Harmful viruses and bacteria can build up on exposed surfaces, like door knobs, light switches, handles, desks, toilets, and electronics – spreading disease and harming the health of your family, friends and employees.
For complete peace of mind, our Professional Office Disinfection Service will kill harmful germs that remain in the air and on exposed surfaces, in just minutes. We use a combination of active ingredients that are proven effective against bacteria and coronaviruses, yet non-toxic and safe even for children and pets.
Professional Office Disinfection Service
Wiping (Effective within minutes)
Coating (lasts 12 weeks)
Fogging (safe on food)
Regular cleaning can only remove viruses, but does not kill them
Our three-step disinfecting process provides peace of mind for staff and customers in your premises. Combined with testing, vaccination, and existing SOPs such as face masks, frequent hand-washing and social distancing, you reduce the risk of closure for your business due to infection.
Effective, Long-Lasting Protection

More effective than basic disinfection alone. The Ministry of International Trade and Industry (MITI) standard operating procedures requires offices to disinfect common areas every day. Our service offers more complete protection by adding coating and fogging.
Acts within minutes; lasts for months. Our disinfecting compounds will act immediately on microbes, including coronaviruses. And the coating has been shown to be effective for up to 12 weeks.
Non-toxic and safe for food handling. The compounds used during fogging are the same as those used to disinfect restaurants and food-making factories.
Improve staff and customer confidence. All premises disinfected by Recommend.my will be able to display a "germ-free" label at its entrance. This gives consumers and staff the assurance that the risk of exposure is reduced.
Three-Step Office Disinfecting Process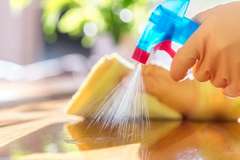 Surface Disinfecting (From RM0.05psf)
We wipe all high-touch surfaces with disinfectant. Surfaces include door handles, switches, stair railing, taps, fingerprint locks, work desks, chair arm rests, etc.
Effective ingredient*: Sodium hypochlorite
Method of application: Spray bottle and microfibre cloth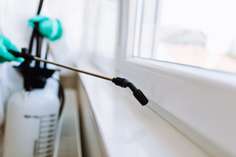 Spray and Coat (from RM0.75psf)
Surface is sprayed with a non-toxic, antimicrobial protective coating that continually disinfects itself. Surfaces include door handles, switches, stair railing, taps, fingerprint locks, work desks, chair arm rests, etc. This coating can last up to 12 weeks or more.
Effective ingredient*: Titanium Dioxide (TiO2)
Method of application: Electrostatic sprayer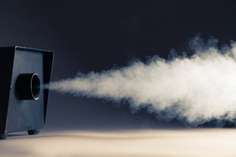 Fogging / Misting (from RM0.20psf)
The room is fogged to decontaminate difficult-to-reach surfaces and disinfect the air. Employees can return to work within minutes with no downtime.
Effective ingredient*: Quaternary ammonium compound
Method of application: ULV cold fogger / Thermal fogger
* Our team will conduct an assessment of the environment to be disinfected before selecting the appropriate compounds to be used. As such, the active ingredient used may vary.
Used in all types of commercial properties
Our disinfection service can be done for offices and meeting spaces, educational centres and daycare centres, senior care facilities, retail and entertainment, shared residential facilities (e.g. gyms, function rooms), clinics, dentists and pharmacies, as well as cafeterias and central kitchens.
Entertainment: Red Box Family Karaoke
Red Box disinfected all eight of its family karaoke centres across Malaysia. Full story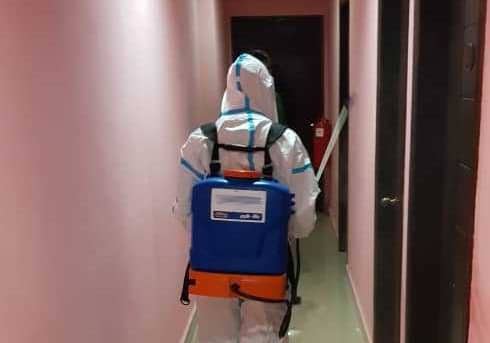 Hospitality
A hotel chain in Bandar Baru Klang being disinfected.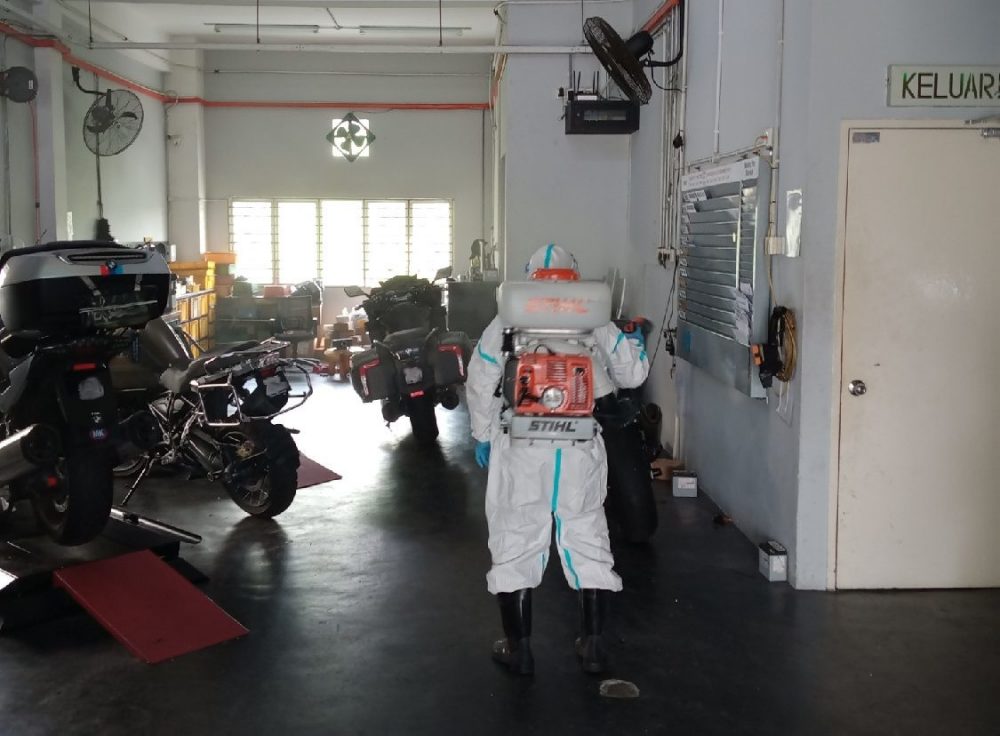 Automotive
Disinfecting this motorcycle dealership in Puchong.
How Effective is Disinfecting Against COVID-19?
As the COVID-19 virus is new, there is still a lack of scientific studies that show how effective our disinfectants are against it specifically. However, our disinfectants have been proven to work on coronaviruses in general (COVID-19 is a type of coronavirus) as well as on 99.9% of other bacteria and viruses.
Disinfectants work on coronaviruses by destroying its proteins and ribonucleic acid (RNA) of the virus, rendering it ineffective at reproducing itself in your body.
During wiping: We use sodium hypochlorite for wiping. According to this study, a concentration of 0.1% was effective against human coronavirus (HCoV) within 1-5 minutes.
During coating: Titanium dioxide has been shown to be effective against a wide range of bacteria, filamentous and unicellular fungi, algae, protozoa, mammalian viruses and bacteriophage.
During fogging: This last step in the disinfection process is aimed at disinfecting hard-to-reach places. However, it will not be as effective if the other two steps are not carried out. Many airlines in the US, as well as Singapore Airlines already implement fogging for its planes.
Frequently Asked Questions
What is office disinfection services for COVID-19?
Many commercial spaces and offices carry out disinfection as a way to ensure that the space is free of bacteria and viruses, so that it can reopen for general use again. In Malaysia and KL, office disinfecting has been the preferred way to clean commercial spaces, following a report of any confirmed COVID-19 cases.
How do I book an office disinfection service in KL?
Simply fill in our online form to get several quotes within 24 hours. Depending on your choice of disinfection techniques, the quote will vary.
Can you provide office disinfection service during any Movement Control Order?
Yes, cleaning and disinfecting is considered an essential service and can operate during any MCO.
Can the office disinfection be done while my staff are at work?
Yes it can. There is minimal downtime while the coating and fogging is being done. The process will take less than 20 minutes, and your staff can return to their desks once the coating has dried and the fog has cleared.
How long does disinfecting last?
For surface wiping, microbes will be killed within minutes of exposure to the disinfectant. But for long-term protection, the surface will be sprayed and coated. This coating will continue to disinfect for up to 12 weeks. Similar disinfectant coatings have also been used in airports and hospitals.
After office disinfecting, can we resume operations as normal?
Disinfecting is just ONE of the recommended steps outlined in the Ministry of International Trade and Industry (MITI) standard operating procedures. Even after disinfecting, you will need to adhere to safety guidelines, such as ensuring seating distance of at least 1m apart, taking regular temperature checks, and sanitising often.
Do you provide office disinfecting service in Malaysia?
Our focus area in Klang Valley (Selangor and Kuala Lumpur), but we are hard at work recruiting more disinfecting teams across other cities too, including Penang and Johor. Let us know where you need the service and we will do our best to find a pro for you.
Related