Did you know that the land surface temperature of some major cities in Malaysia shows an upward trend in the past 10 years?
Think City did a study on the changes in land surface temperature in a few major cities in Malaysia and revealed that George Town Penang showed an increase of 6.37°C between 1998 to 2019, while Kuala Lumpur City Centre showed an increase of 1.64°C between 1989 and 2019 (read more about the study here).
So if you ever feel like the days are hotter now than it was back in the days, what you're experiencing is actually legit. It's not (entirely) an exaggeration.
Now, it has been more than a year of working from home (WFH) since the government announced MCO 1.0 back in March 2020. And with 20K daily reported Covid-19 cases, most Malaysians still prefer to continue WFH, until more people are vaccinated.
This means those who continue to WFH would be using their aircons a lot more regularly in order to create a conducive and comfortable working environment. Living in a country with hot and humid weather all year long, it is just impossible to stay in a room with a faulty aircon that blows hot air, instead of cool air.
Therefore, your aircon must be serviced every 6-12 months to ensure that it always functions in its best working condition. However, if you notice that the aircon is not cold as usual, here are some potential underlying problems.
Clogged air filters
The aircon filters are the first line of defense and should be taken care of regularly. Make it a once or twice a month routine to clean up the dirt and dust that are trapped in the filters. With a clogged filter, the cool air would be blowing unevenly or in the wrong direction.
It is even worse if the cool air is completely blocked and leads to water leaking from the aircon. To prevent this from happening, use a vacuum or wash the filter with water and let it dry before putting it back into the aircon.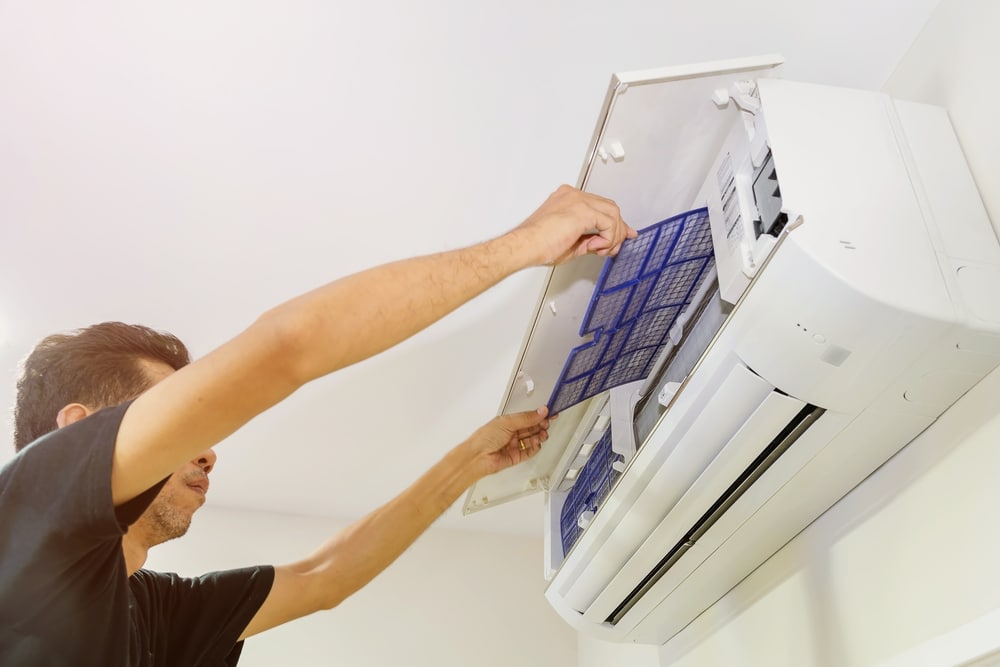 Dirty condenser coil
Noisy motor sounds, aircon not cold as usual and aircon needing a longer time to bring down the room temperature are the symptoms of a dirty condenser coil. If this occurs, a chemical cleaning to remove the grime buildup around the coil needs to be done immediately. Or else you can expect a higher electricity bill because the aircon is not working as efficiently as it should be. In the long run, it would also lead to faster wear and tear of the aircon.
Faulty thermostat
A thermostat is a sensor inside the indoor unit that reads the temperature that passes through. It will compare the reading with the desired temperature that you set on the remote.
If the thermostat is faulty, it can't tally the reading and desired setting correctly. You will end up having a room that is warmer or colder than it is supposed to be. Get an aircon technician to get it fixed or replaced immediately.
Compressor not running
The compressor plays an important role in moving the refrigerant that cools the air to be released back into the room. So, when an aircon is switched on, the outdoor unit where the compressor is located should be running as well.
If the outdoor unit often turns on and off or there is a clanking metal sound coming from it, the compressor could be malfunctioning. This is usually due to loose and worn-out parts, and wiring. A thorough inspection will allow the technician to find the parts to be replaced.
Insufficient refrigerant
For an aircon system to work efficiently, it needs to have a sufficient amount of refrigerant at all times. When there's a low refrigerant left in the system, it would not be able to cycle and cool the air as it normally would, making the aircon not cold. Low refrigerant usually happens when there is a leakage somewhere in the aircon system.
Sometimes, you could hear a hissing and bubbling sound coming from the aircon but usually, you wouldn't even notice it. During an aircon maintenance service, the technician will measure the refrigerant level and check for any leakage.
Clogged condensate drain
The drain pipe that carries out the condensed moisture from the air inside the room can be clogged up with dust and covered with algae after some time. When this happens, you would notice that the aircon is not cold as usual and carries a musty smell.
If you take a closer look there's usually water puddling on the condensation pan. This happens because the water collected in the pan is unable to travel down the drain and leave the system. A clogged drain problem that is not tackled immediately will cause your aircon system to malfunction and lead to other water damage at your home.
These problems can be easily avoided if you make sure your aircon is serviced regularly. If we were to compare the rate for regular maintenance service and major aircon repair, the former is always cheaper.
Book a contractor to service your aircon with fast-booking confirmation and enjoy a 14-day warranty.
Our highly experienced contractors can service and repair wall units, cassette units and centralised units from all brands available in the Malaysian market. Chemical cleaning for a wall unit aircon starts from RM135.
Book Aircon Servicing and Chemical Cleaning