Most homeowners will avoid putting cabinets along any wall that has windows. But these beautiful bay window ideas show that you can add storage to a windowed wall, and make it look gorgeous!
A bay window is a type of window that "juts out", allowing the homeowner to have a good view of the outside. In a condo or apartment in Malaysia, bay windows are sometimes built in the corner of the room with a 90 degree sheet of glass.
Adding storage cabinets around a window lets you create a cozy and relaxing reading nook. This works great if you have a nice view of the outdoors, and have your books within easy reach. You can add more cabinetry under the window to create a bay window seat. You can even build all the way to the ceiling for extra storage.
It's no wonder window seats are often the most loved element in a home. They offer comfort, especially with a thick cushion on top and views to the outdoors. And they provide extra storage when fitted with drawers, cabinets, or a hinged bench top.
We have compiled a few bay window designs for you to take inspiration from.
Need contractors to help you with these ideas?
Recommend.my
is the best place to find the best renovation contractors for your home.
1. Window storage with bench seating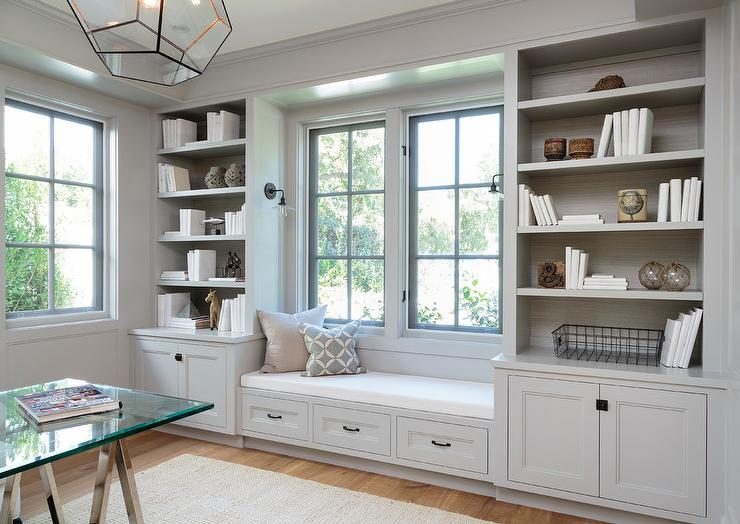 This kind of bench seating area definitely adds charm to your home. The simple concept of a cozy and scenic bay window seat can be that of a place to sit and store stuff under the seats. You may also build shelves with cabinets to display decorative items or books.
2. Walk-in closet style bay window storage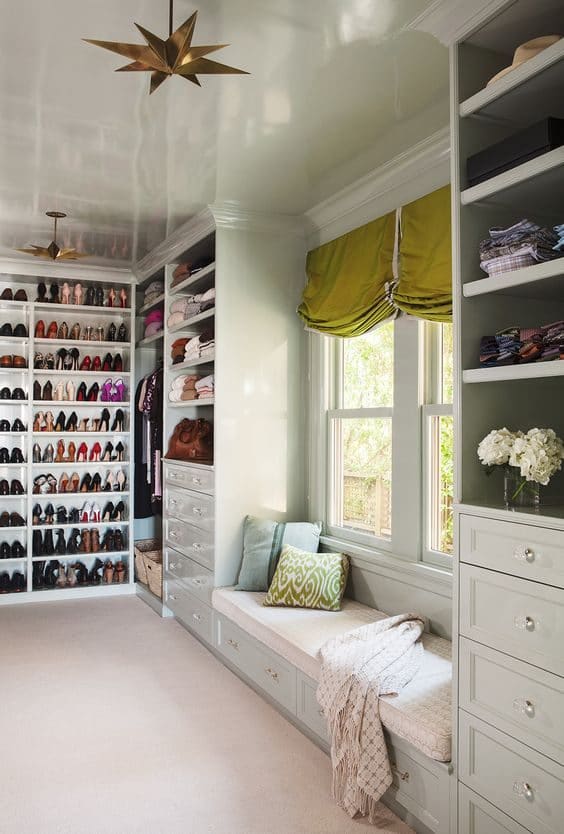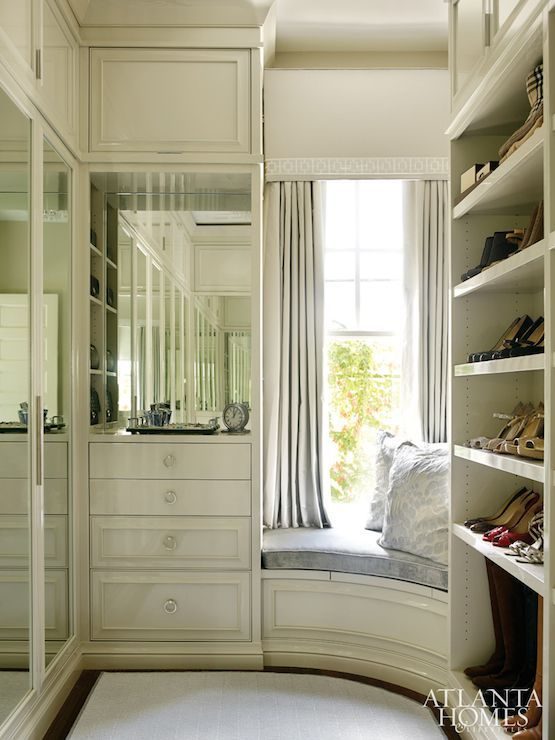 There is no better way than to maximise your closet space with bench seating area near the window. You will get a functional and beautiful closet. This closet provides many shelving and cabinet storage for your shoes, bags and clothes.
Those windows can also be covered with blinds if you would like some privacy when in the closet. Besides, decorate the bench area with fancy cushion pillows to make a cosy bench seating area.
3. Built-in shelves around window with storage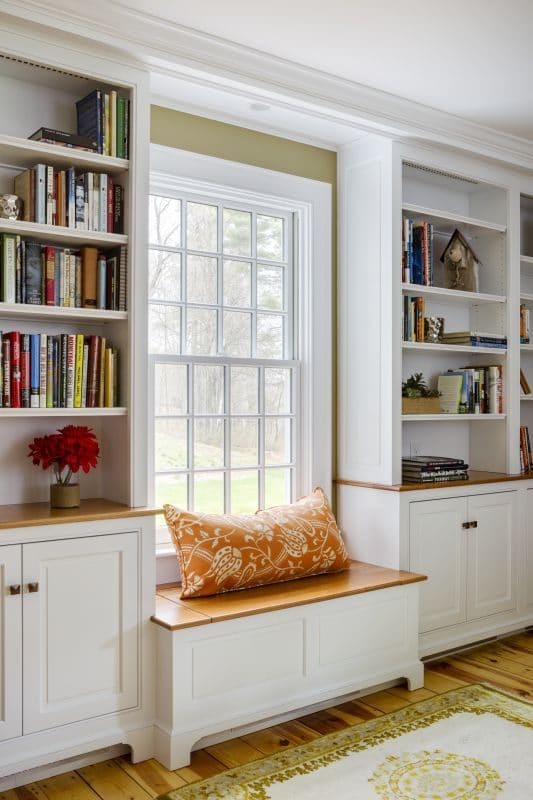 This traditional inspired wood and white combination around the window storage shows good amount of storage. Creating window seat offers you benefits like: you will have extra storage items and shelves for keeping your books.
This area in your home is such a relaxing area to chill out with its natural lighting coming through from the windows.
4. Minimalist bay window design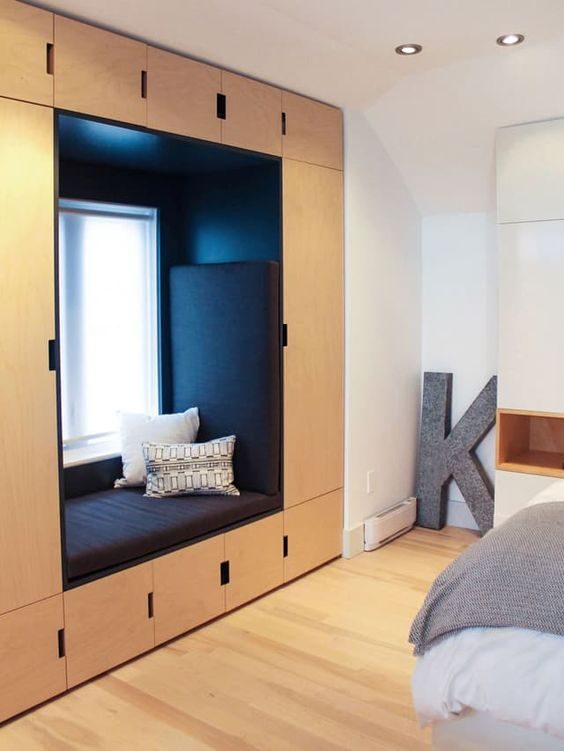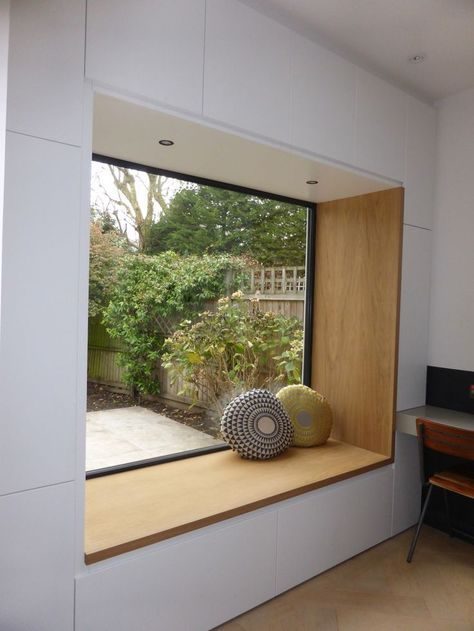 This minimalist-inspired bay window storage shows a clutter-free space with concealed cupboards. You may also customised cushion seat all over the window. Your kids will surely enjoy this place for relaxation.
Beautify this bench seating area with plenty of comfortable cushion pillows. Besides, those cabinet storage space is where you can keep all of your kids toys, clothes or necessary items.
5. Bedroom around the window storage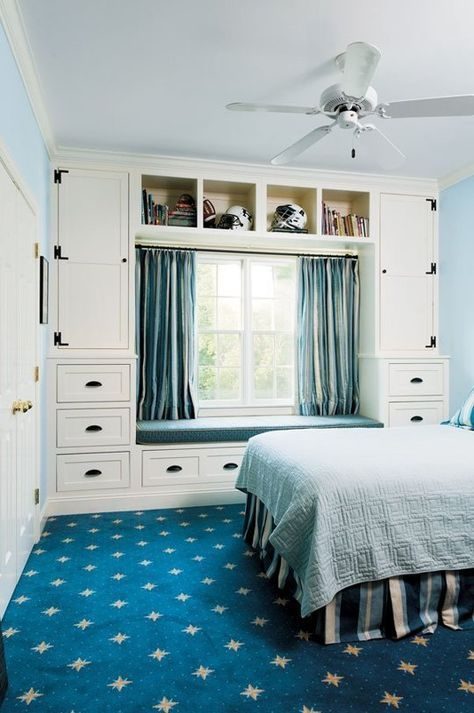 Building around a furniture piece creates a cozy, architectural feel. Not only that, you have plenty of storage space all around the window even with a bench seating area. Install upper shelving to display your decorative items or books.
Those stripe curtains gives such a cosy feel to the entire bedroom. With this around window storage design, you will never run short of storage in your bedroom.
6. Around window storage with coloured wall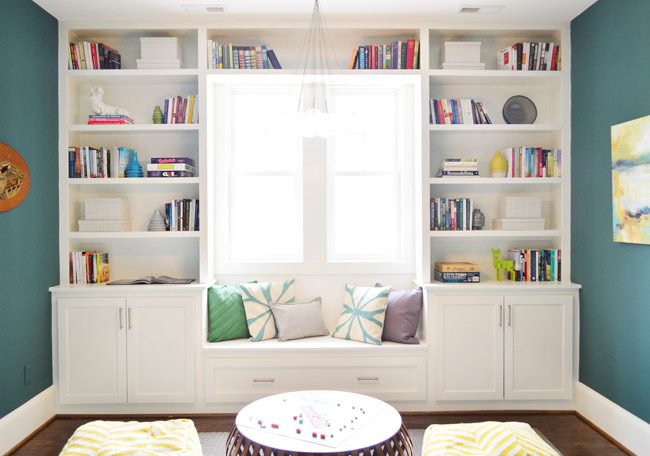 This minimalist-inspired around the window storage creates a beautiful place for relaxing at home. It has lots of shelving to display your book collection along with lower cabinet storage. And, this around the window storage space design can definitely help you save a lot of space while keeping it organised and neat.
7. Traditional bay window design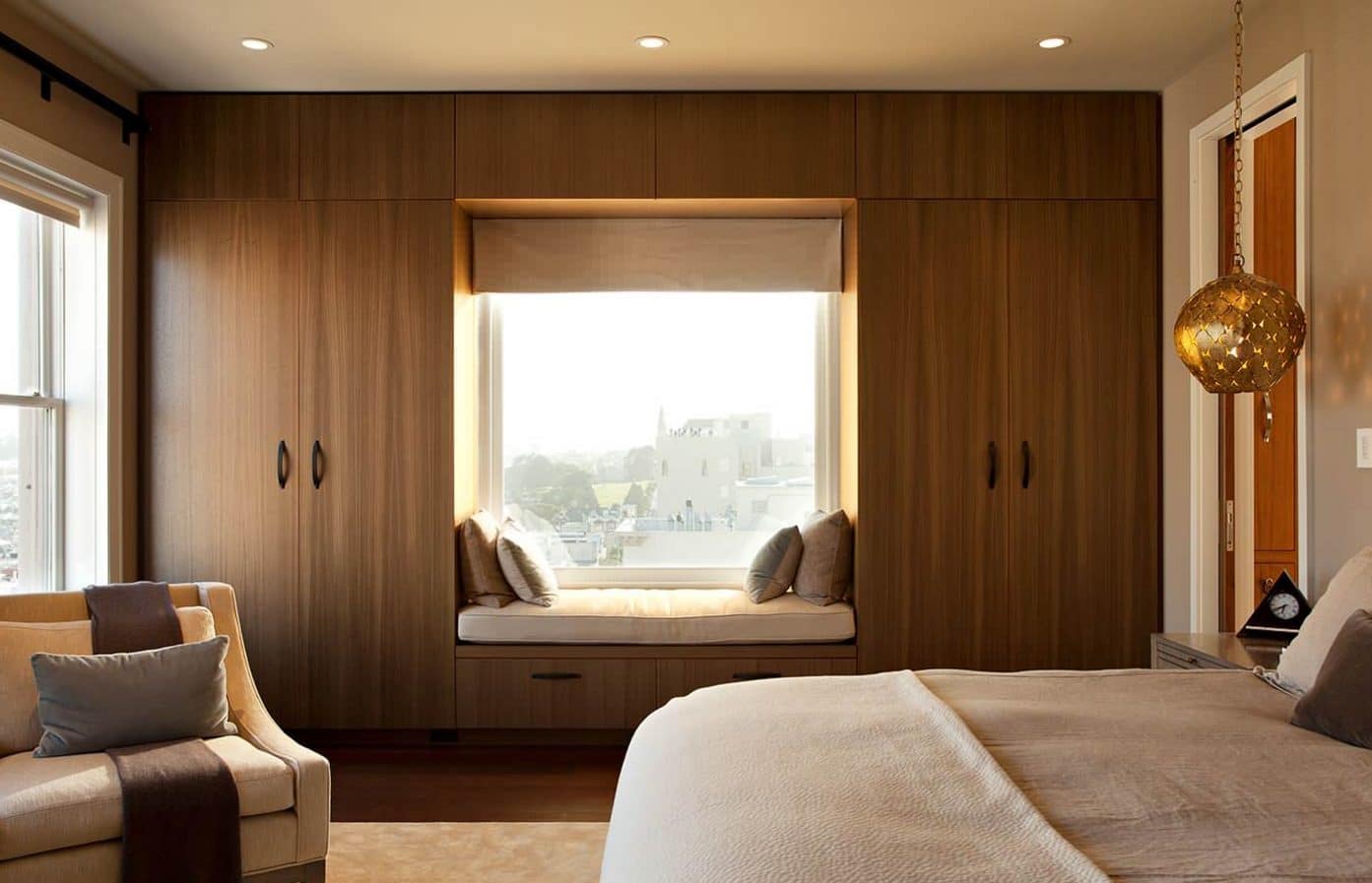 This traditional-inspired modern interior for around the window storage makes the space clutter-free and beautiful. This area can also be use as a closet space with bench seating. With that said, you are getting plenty of storage space in this room.
8. Extra-deep bay window design for additional storage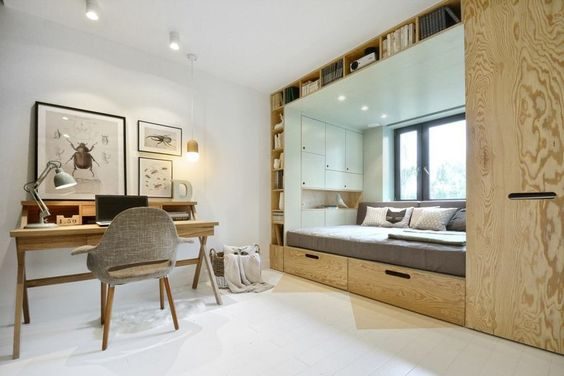 Why stop at just a reading bench? Create a deep bay window daybed and convert your study space in your home into a super-relaxing space to chill with your family. This spacious around the window storage has upper open shelves, lower cabinet and on the sides as well. Overall, this place is definitely a perfect place to relax during the day.
9. Colourful window storage with seating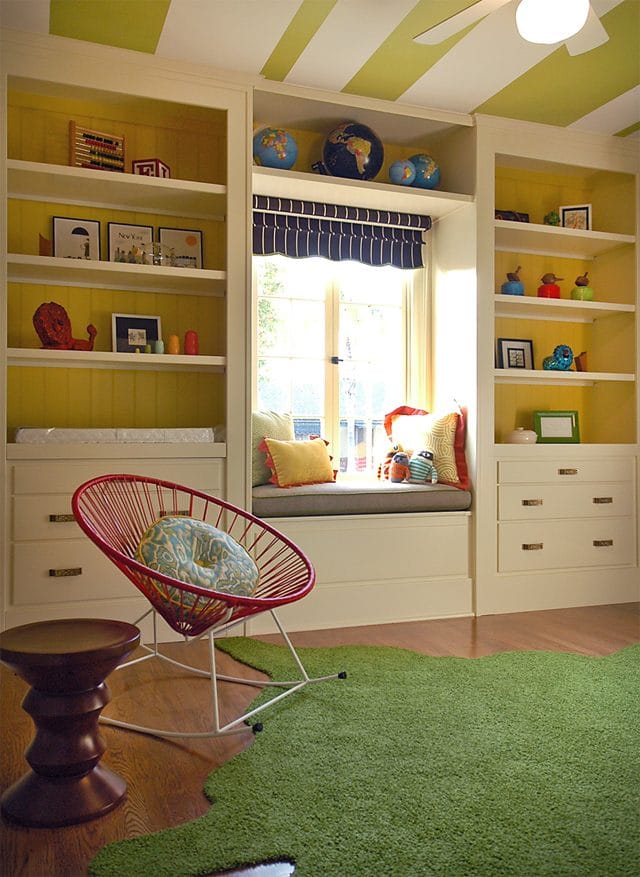 This colourful around the window storage theme is the perfect hangout spot for your kids at home. It has bench seating area, pull-out drawers and shelving space for you to organise your kids toy. You can beautify the space with artificial grass style carpet and an extra chair to the room.
10. Nursery style window storage with bench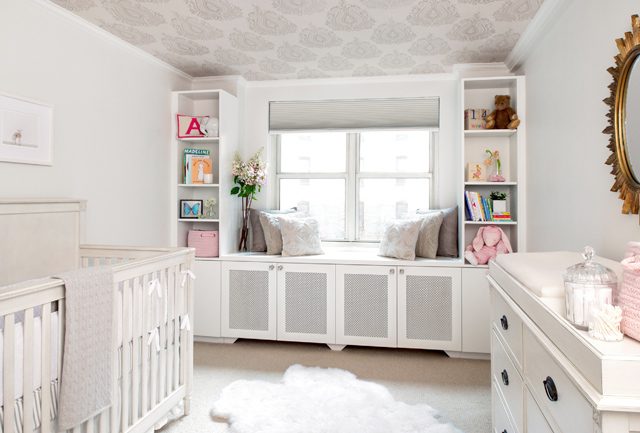 This minimalist-inspired around the window storage is like everyone's dream nursery to have. Because of its storage space that it provides, bench seating area where you can read stories to your kids before bedtime. Those open wall shelving is very useful to keep baby supplies.
11. Kitchen window seating with storage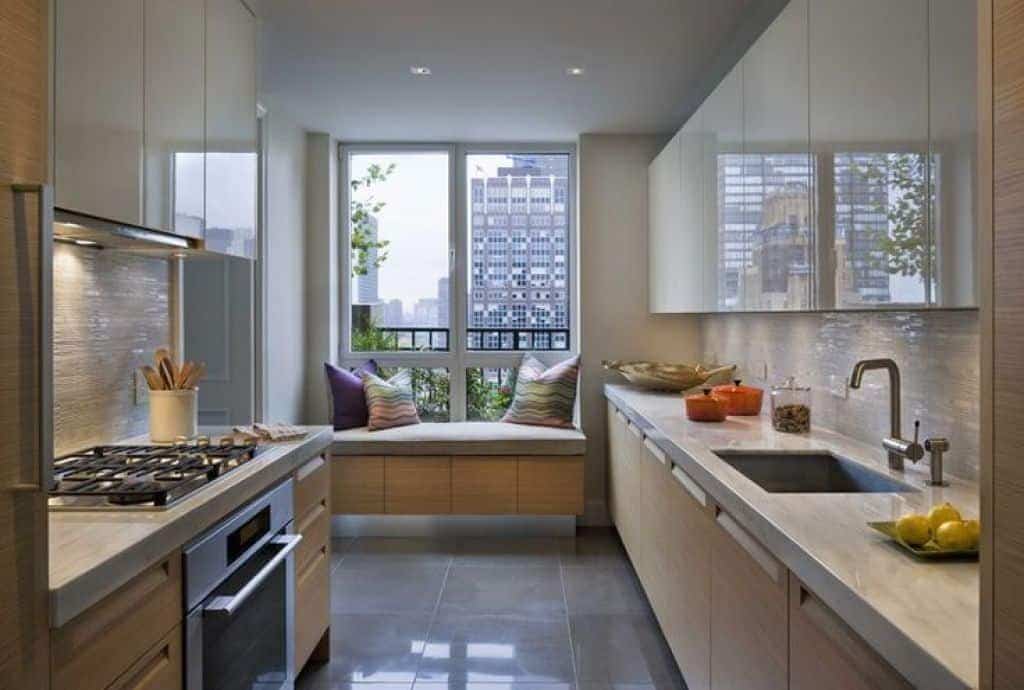 What better way than to have a window seating with storage space in your kitchen? Utilise your window area with built-in storage with cushioned seating. It's a brilliant idea where you can keep extra kitchen supplies or appliances.
12. Around window storage with a great view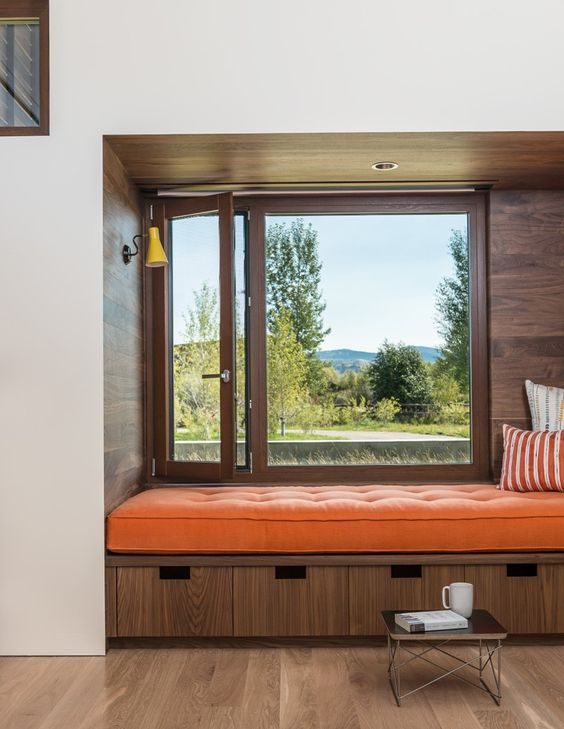 If your home has a nice view outside, why don't utilise it with around the window storage with bench seating. You can organise your books in the lower drawers so that the area is always neat and tidy.
13. All-white storage space with seat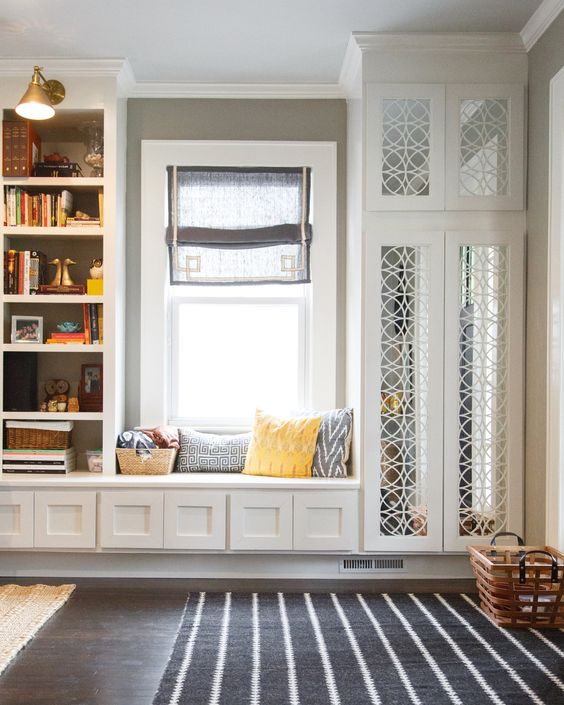 This modern around the window storage has wall shelves, cupboard and drawer space to store all your household necessities. Those patterned cupboard doors are so unique and it blends well with the overall design of this space.
14. Around window storage with customised blinds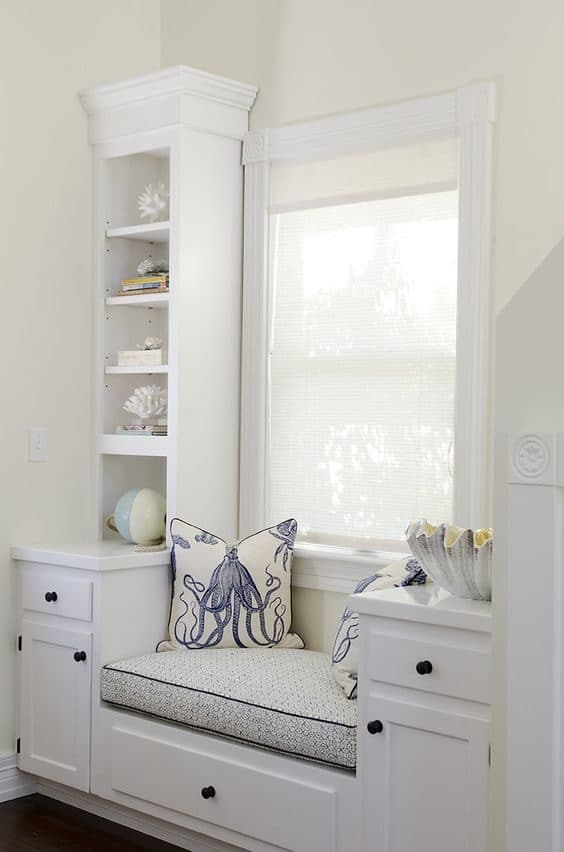 This around the window storage has bench seating with a small countertop space that you can decorate. Those wall shelves are also customisable to your own preference and how much space you have.
Besides customising your own wall shelves, you can also customise blinds fitted to your window.
15. Classic navy storage space with customised window blinds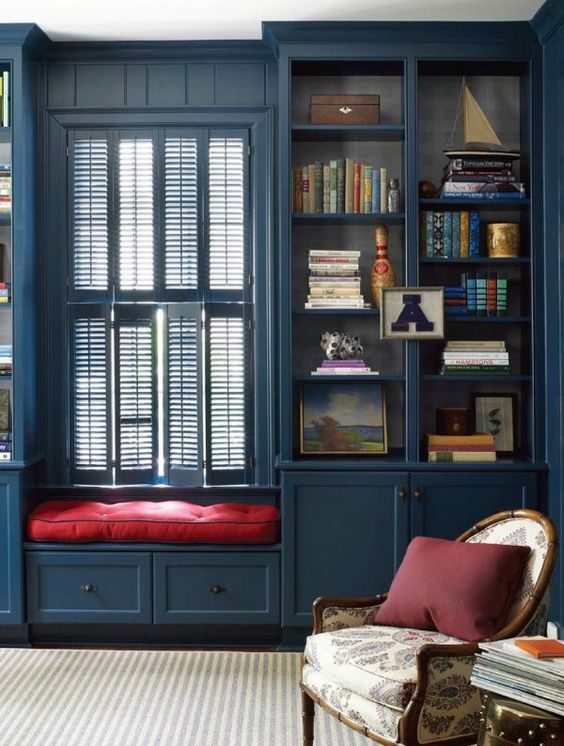 This classic design around the window design adds such a powerful statement to your home because of its colour, blinds and the wood element. The colour navy blue promotes a very classic feel to the environment.
Those shelves provides good amount of storage space, thus you need not to worry about running out of space. You can utilise those shelves with displaying book or any other decorative items for your home.
16. Scandinavian-style storage space with bench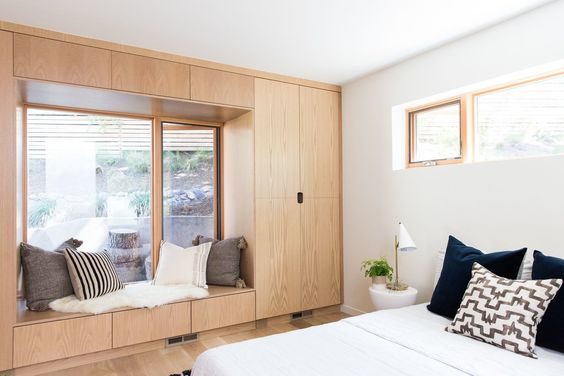 If you love bright interior design or more natural light, this Scandinavian-inspired design is perfect for you. A cosy filled room with plenty of cushioned pillow for extra comfort. This type of around the window storage fulfils all the storage space you will ever need in your home.
Need contractors to help you with these ideas?
Recommend.my
is the best place to find the best renovation contractors for your home.