It has been more than 1 year since the outbreak of coronavirus, which did not only changed the way we live, but also the way we work. 
Other than wearing masks and sanitising our hands, working from home (WFH) is also part of the new norm. 
However, WFH can be difficult for some people. For example, it can be hard to concentrate if your workspace is in the living room, with people constantly moving around.
If you don't have a dedicated room for study or work, why not use your bedroom? And a great way to incorporate a private study area in your bedroom is to build it right into your wardrobe.
PS: View our directory of the best cabinet contractors in Malaysia
Here are  7 stylish ways to combine your wardrobe and study area.
1. Full-height study area with feature wall
This works particularly well if your wardrobe is also full-height like the bookshelf. By putting these two together, it creates a pleasing sense of harmony that makes you feel peaceful, thus boosting focus.
In addition, adding a feature wall in a full-height study area is another great way to tidy up your workspace in the bedroom. The wood paneling adds great style to your entire bedroom and it matches the beadhead, depending on its colour.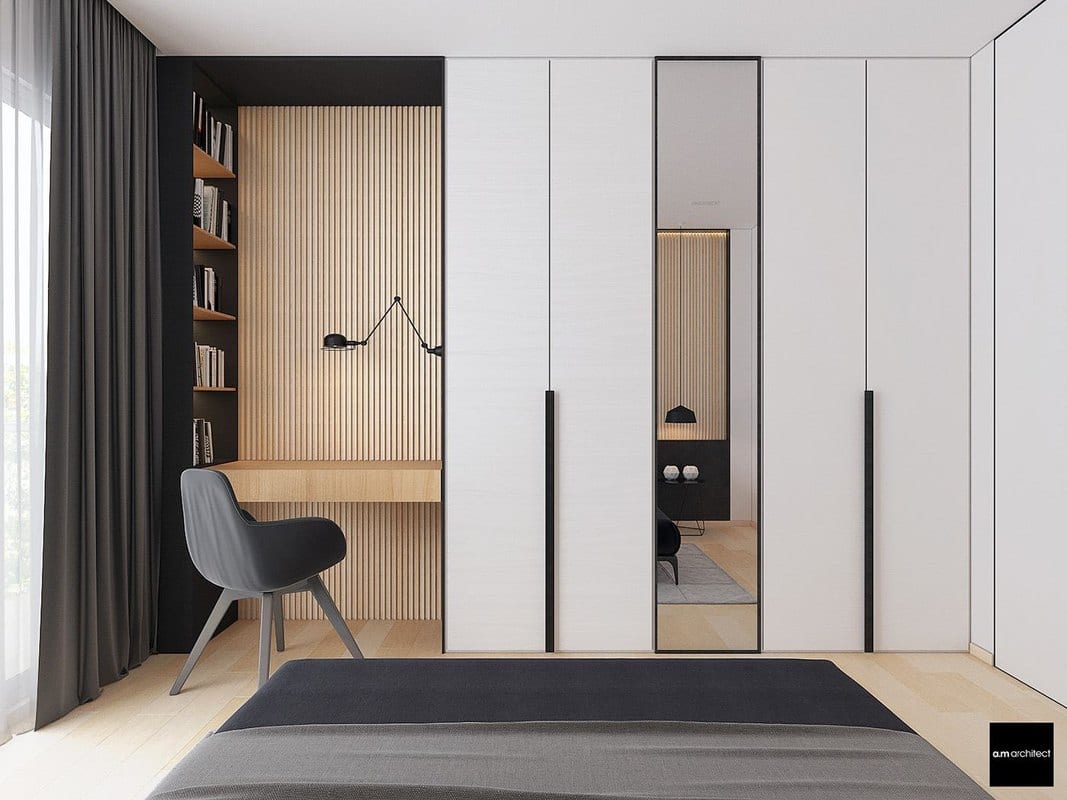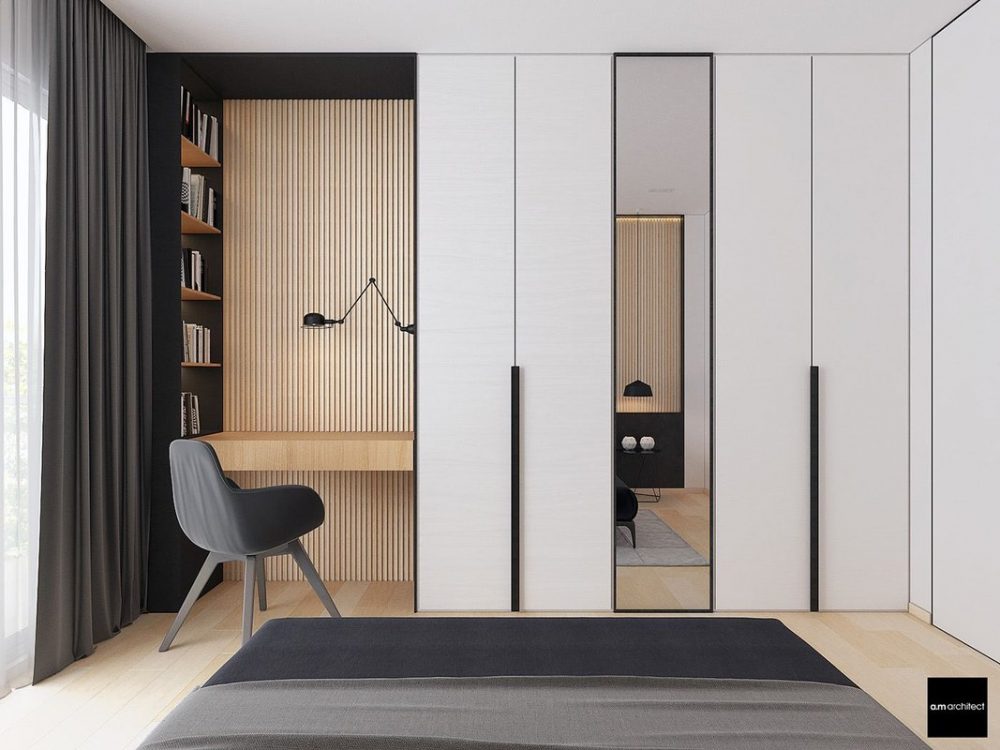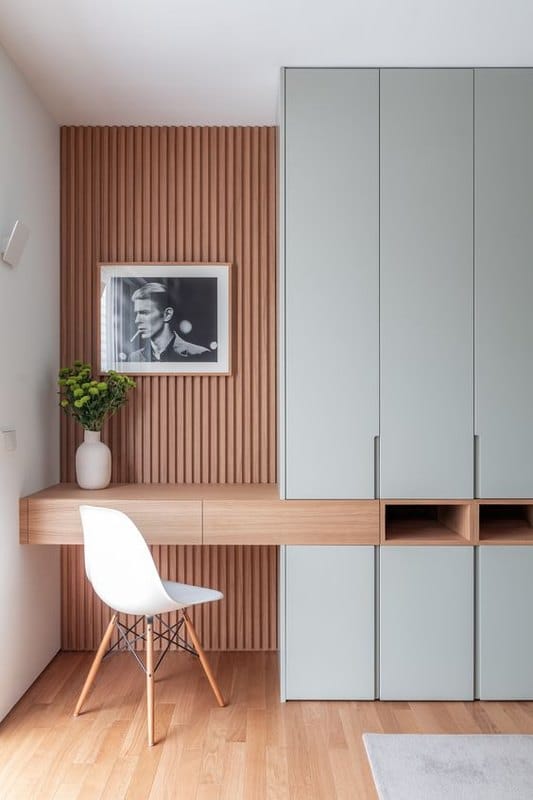 2. Study nook with display shelves
Having a study nook can indeed save lots of space in your bedroom because it consists of a fitted desk with built-in drawers and bookshelves, which instantly puts an empty side into good use for productivity.
However, it is not perfect without the attractive display shelves. It is where you can put your favourite collector items, souvenirs, decorations or plants. Using integrated lighting to display your admired items is an advanced happiness hack for WFH.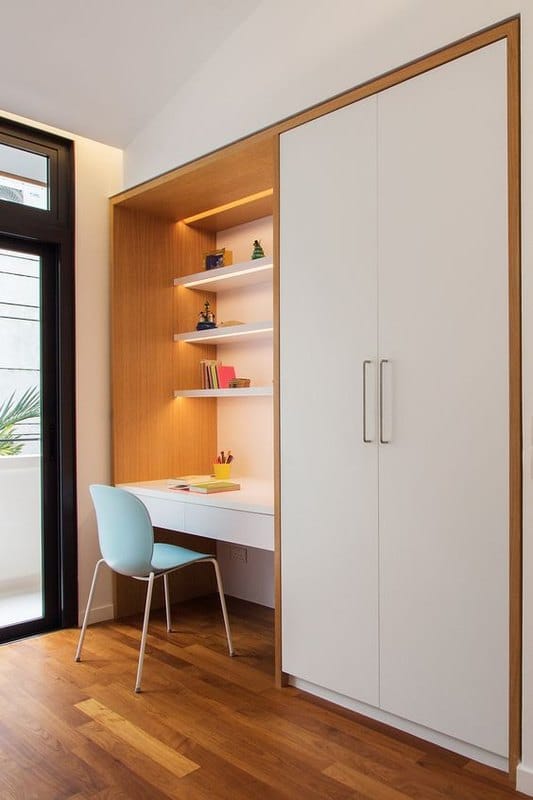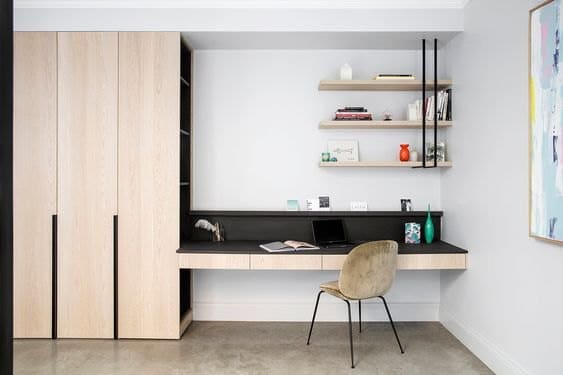 3. Study area with overhead wardrobe cabinets
Building a study table into your wardrobe could eat up valuable storage space. To minimise this problem, make sure your cabinet contractor designs a full-height wardrobe.
Then, you can maintain a row of overhead cabinets above the study area. What's more productive is that you can also store items that usually scatter across your desk into one of them.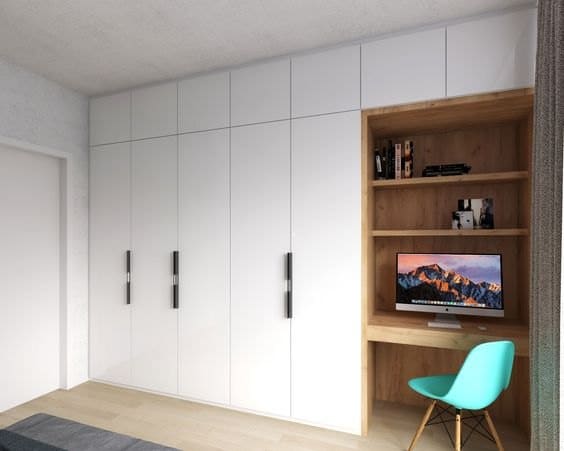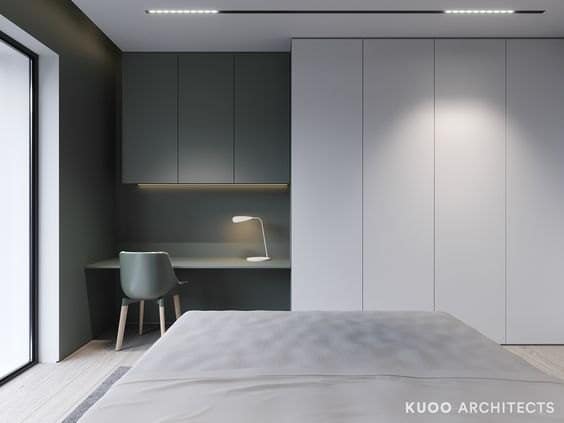 4. Concealed study
If you are dreaming of a workspace that comes straight out of an spy film, a concealed study nook might be what you need. It is basically a study area hidden behind a pair of unique wardrobe doors. When you open the doors, it reveals a neat and complete study area with all the essential accessories.
Fantasy aside, what is actually great about this workspace is that it will keep your bedroom clutter-free. It promotes clean lines as the area can be concealed behind doors. Furthermore, there will be a little to no dust on your workspace. 
Combine this idea with a set of overhead wardrobe cabinets, and you have an excellent study and storage area!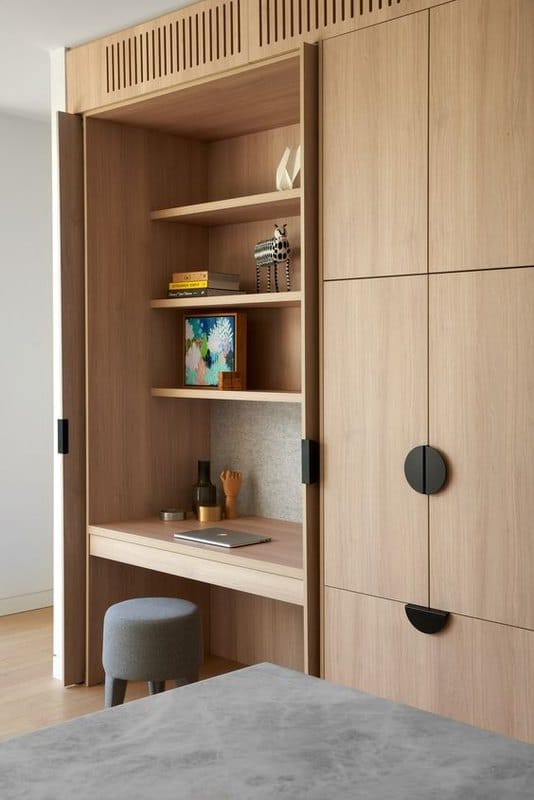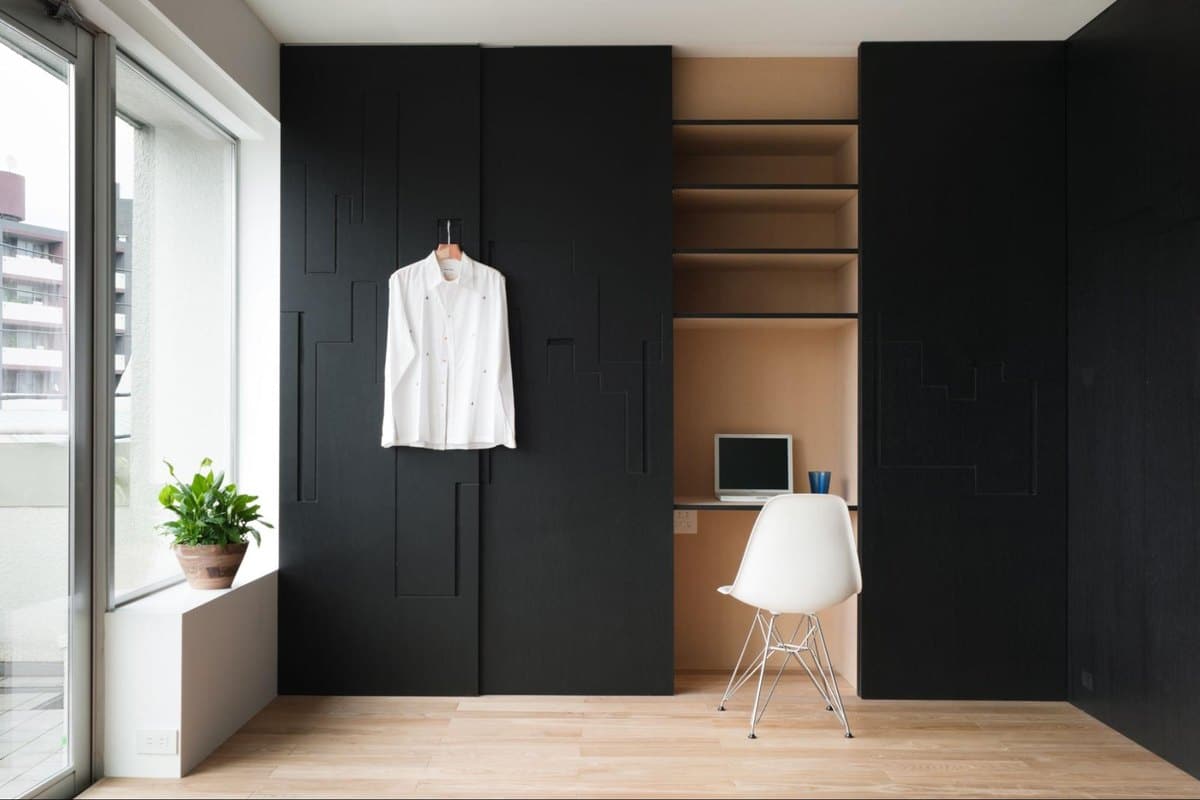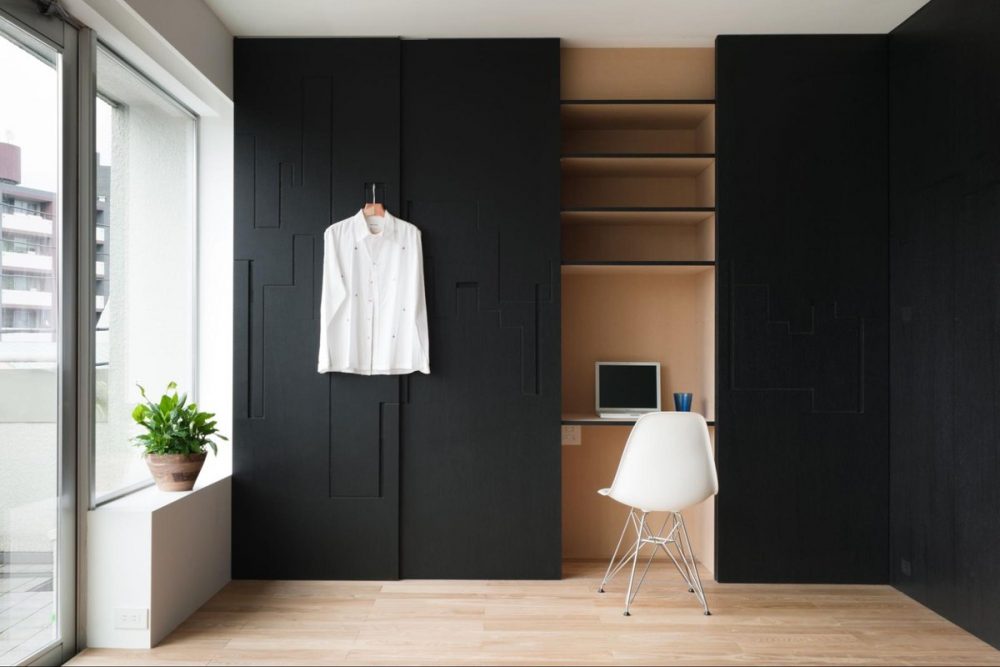 5. Wardrobe corner extension
Besides extending your wardrobe all the way to your ceiling, 0ur contractors can also extend your wardrobe all the way into the corners to create even more storage.
Commonly, an L-shape wardrobe is incorporated to maximize space for the bedroom. It consumes less space to store even more items than a regular wardrobe. It can double as a dresser or study desk, meaning one side of the L is the wardrobe while the other side can be either of them.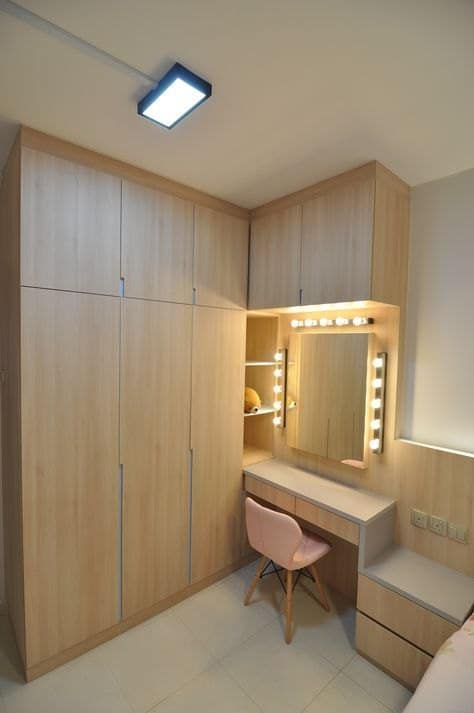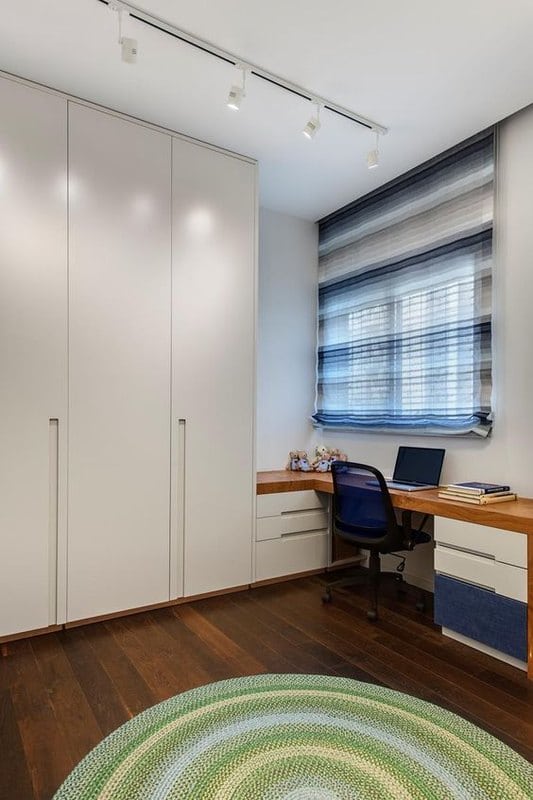 Ready to renovate your wardrobe?
At Recommend.my, you can find the best cabinet contractors in Malaysia ready to create your ideal bedroom. Whether you want to add more storage, include a study area, or even create a raised platform bed with hidden storage underneath, our pros can help.