Kitchens have evolved over the years and are no longer just a preparation area to make your meals.
Now more than ever, the kitchen area is a multi-hub space for cooking, dining, guest entertaining and also part of your living space.
Modern kitchens are also not just about being functional, as there's a lot going on in the design aspects as well.
So, whether if you're going to overhaul your kitchen design or lightly refresh it, we've compiled a list of "before and after" kitchen renovation projects done by our contractors on Recommend.my to inspire you!
1. Dry and wet kitchen revamp, Taman Teluk Pulai, Klang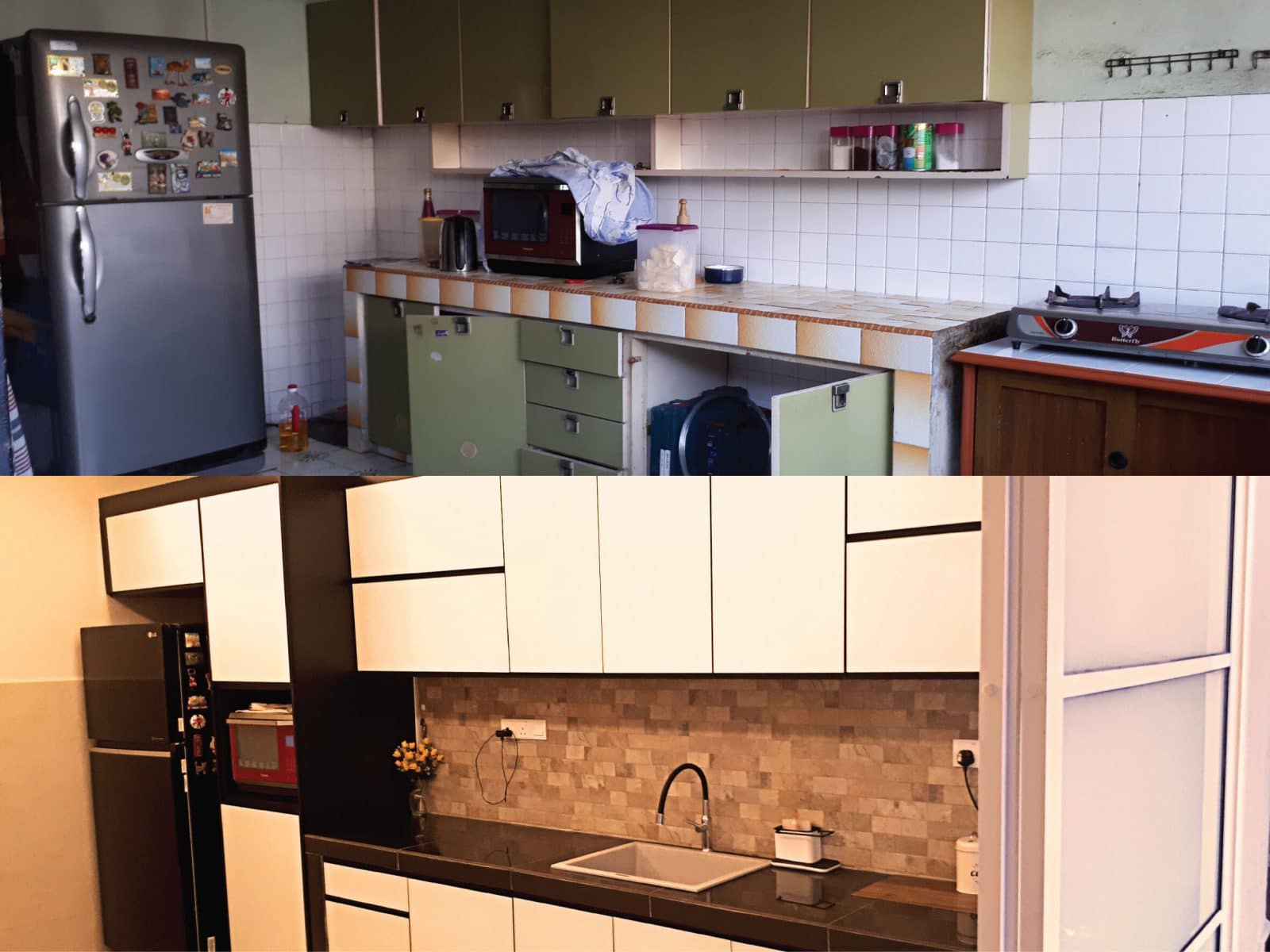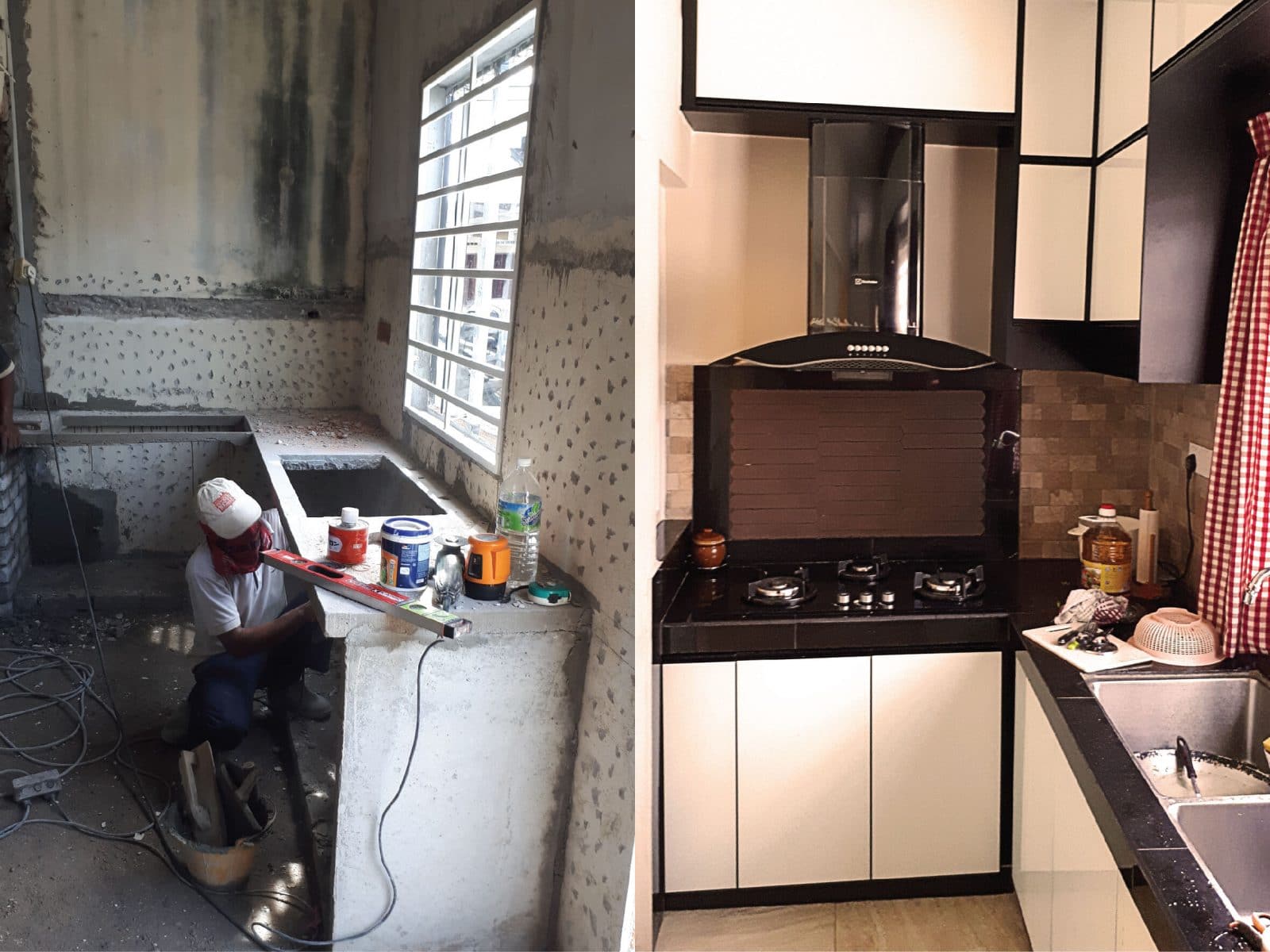 For a longer-lasting fresh new look, this kitchen makeover went all the way with this ultra-modern design. The restyling included new lighting points emitting cosy warm lighting, ceramic beige floor tiles, smooth black and white kitchen cabinets with custom made measurements for appliances such as the fridge and oven to be fitted in.
For a glossy appearance, the cabinet doors were given a 4G glass finish. For a pleasing aesthetic, the textured kitchen backsplash complements perfectly with the floor tiles.
Altogether, the stark contrast of the before and after transformation is enough to say this kitchen makeover is astounding!
2. Adding glass door, Solaris Dutamas Condominium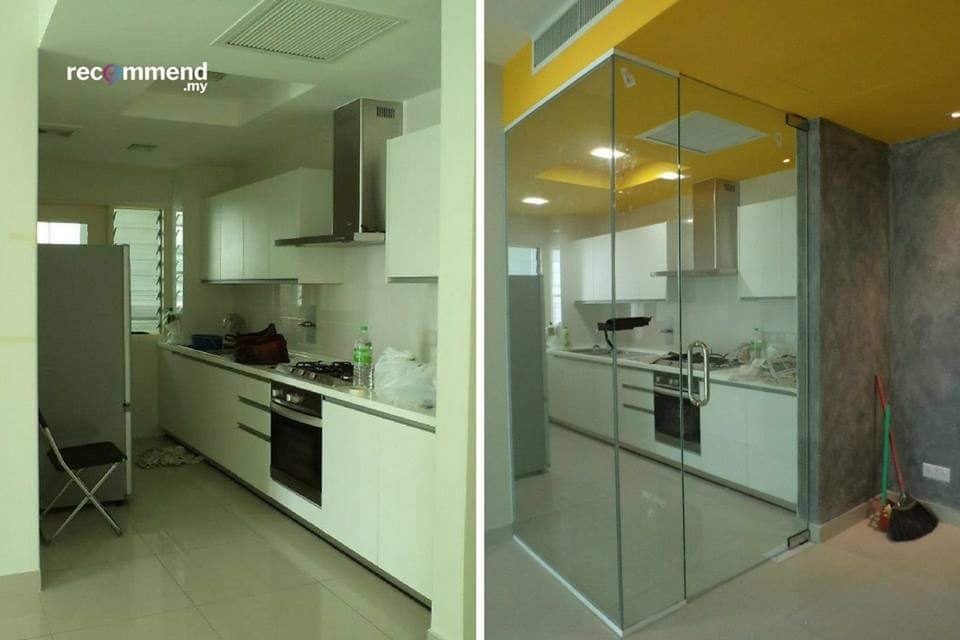 Get instant quotation
This newly renovated kitchen added a bright yellow ceiling and a glass door. The splash of colour gives the kitchen a refreshing look, while the glass door helps to partition and isolate the kitchen (this prevents cooking smell from spreading the house).
3. Replacing the tiles, Jalil Damai Apartment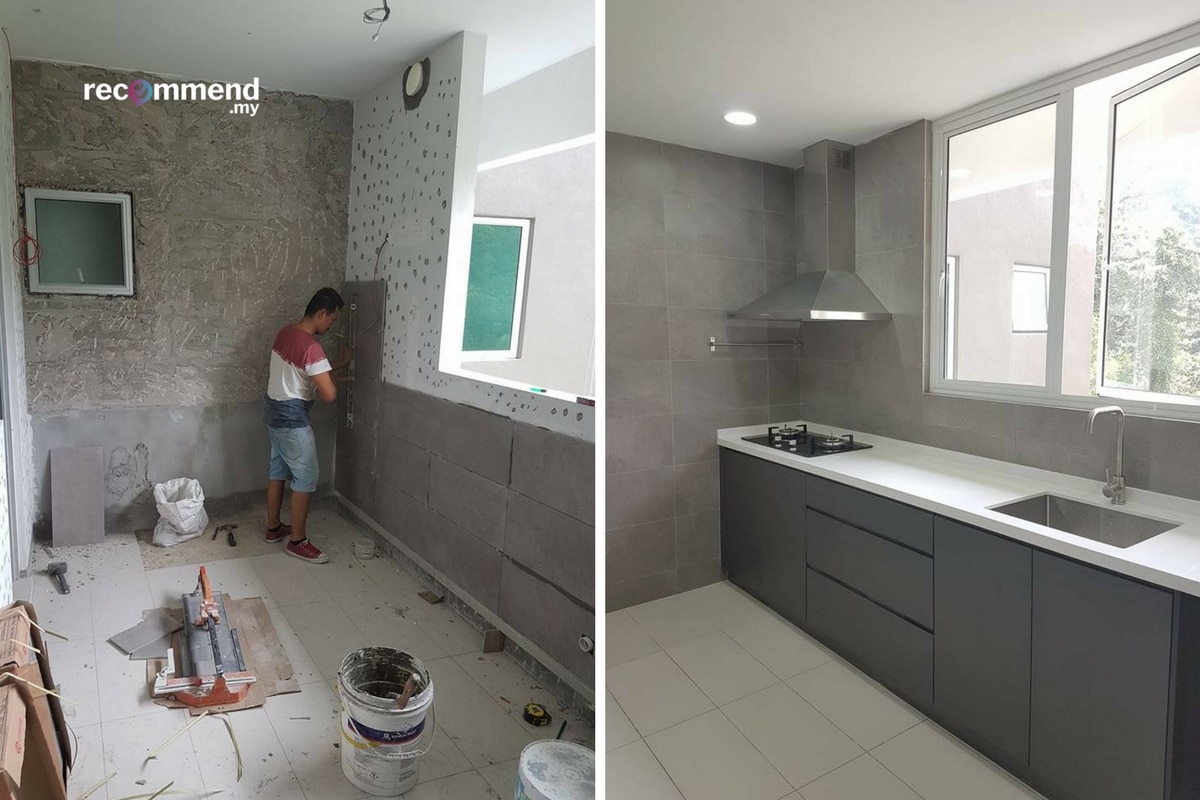 Get Quote From This Contractor
Opting for a clean and streamlined look, the contractors for this stylish kitchen renovation removed an extra window from the wall and covered it with new grey tiles. They also added a cooker hood, spacious kitchen cabinet with a stove and sink.
4. Adding sliding door, Anggun 3 Rawang – Hillside Tropical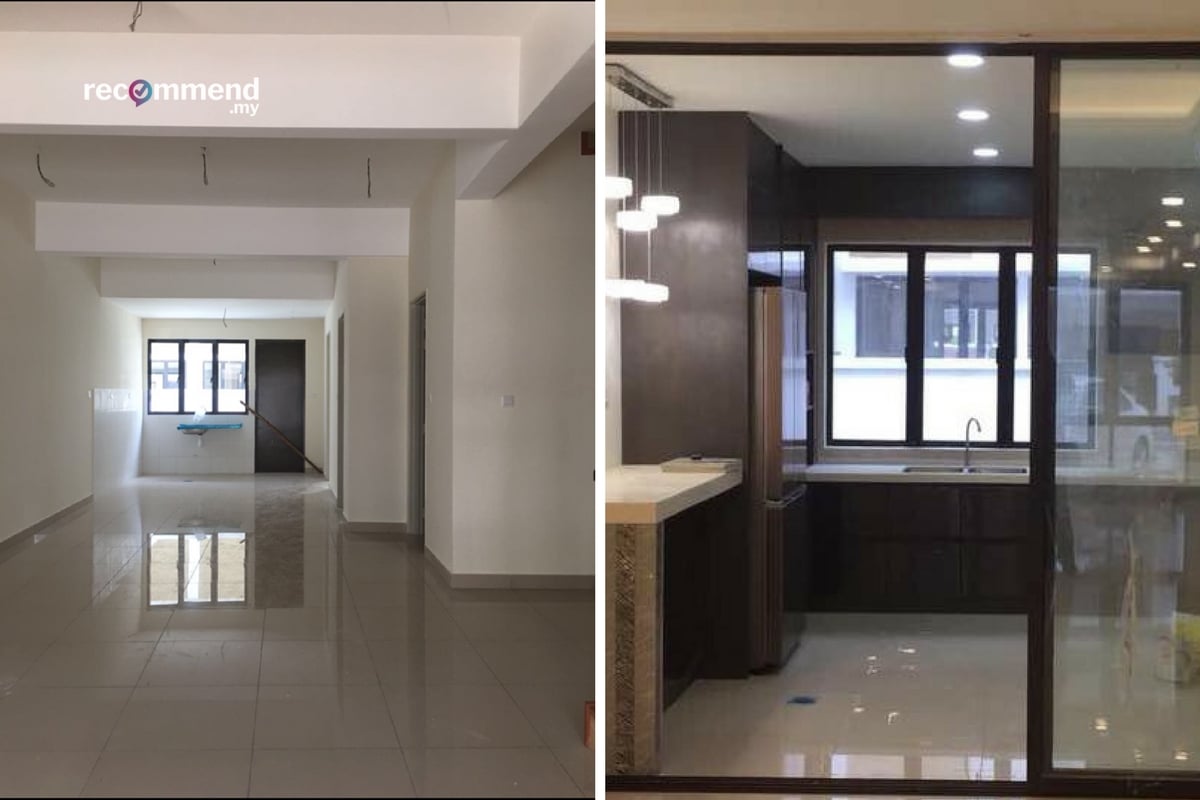 Get Quote From This Contractor
These homeowners reconfigured this kitchen from an empty space to a luxurious dark oak wood kitchen, paired along with glass door, a kitchen island, and beautiful feature lights.
It also has large windows to allow natural light to enter the kitchen, while the new tiles reflect light to help illuminate the kitchen.
5. Adding a serving window, The Scott Garden, Kuala Lumpur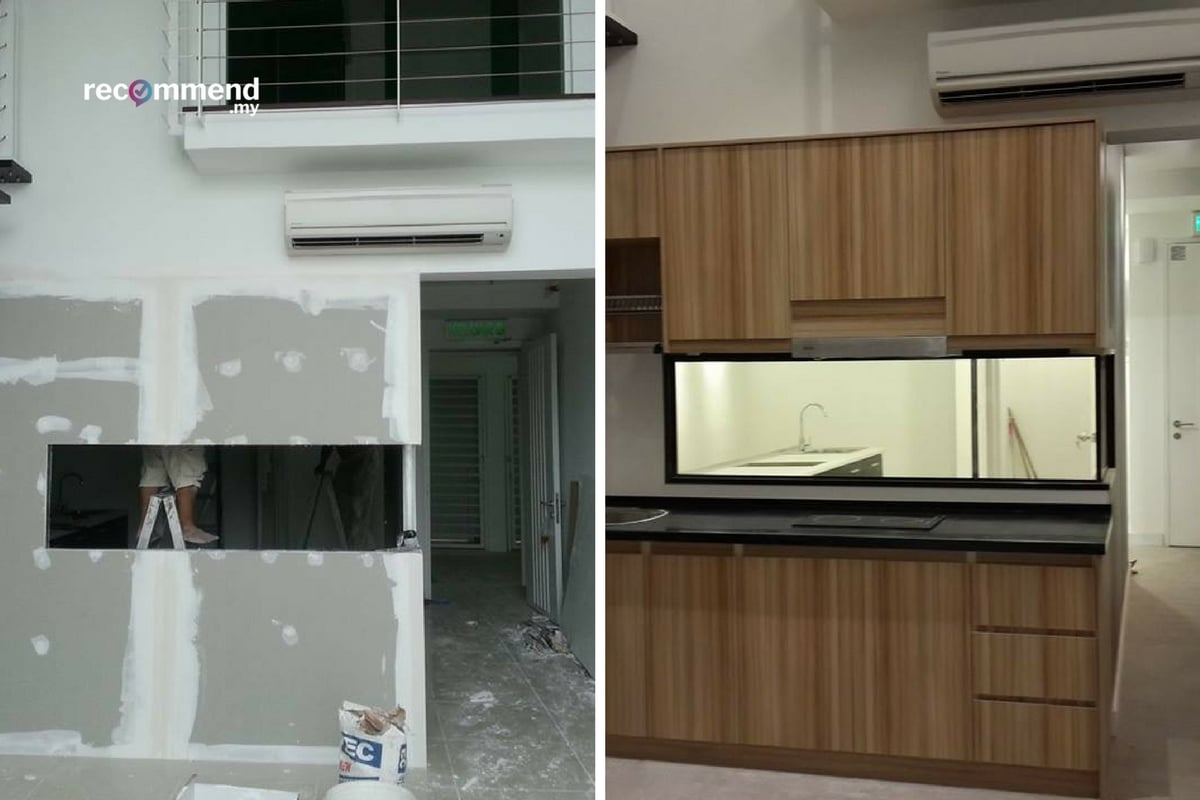 Get Quote From This Contractor
New laminate kitchen cabinets were installed in this kitchen to amplify its storage capacity. It also features a transparent glass in the wet kitchen.
6. Adding a breakfast counter, Park Villa Puchong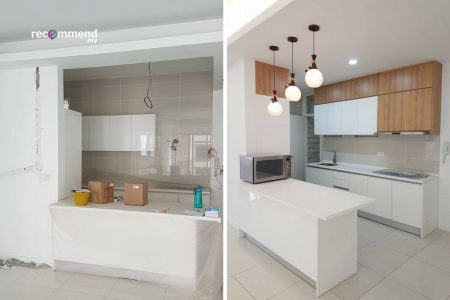 Get Quote From This Contractor
New shades of brown give this kitchen a nice mix of colour and clean lines. The hanging pendant lights also give this place a cosy ambient setting.
7. Adding more wall cabinets, Shang Villa – Kelana Jaya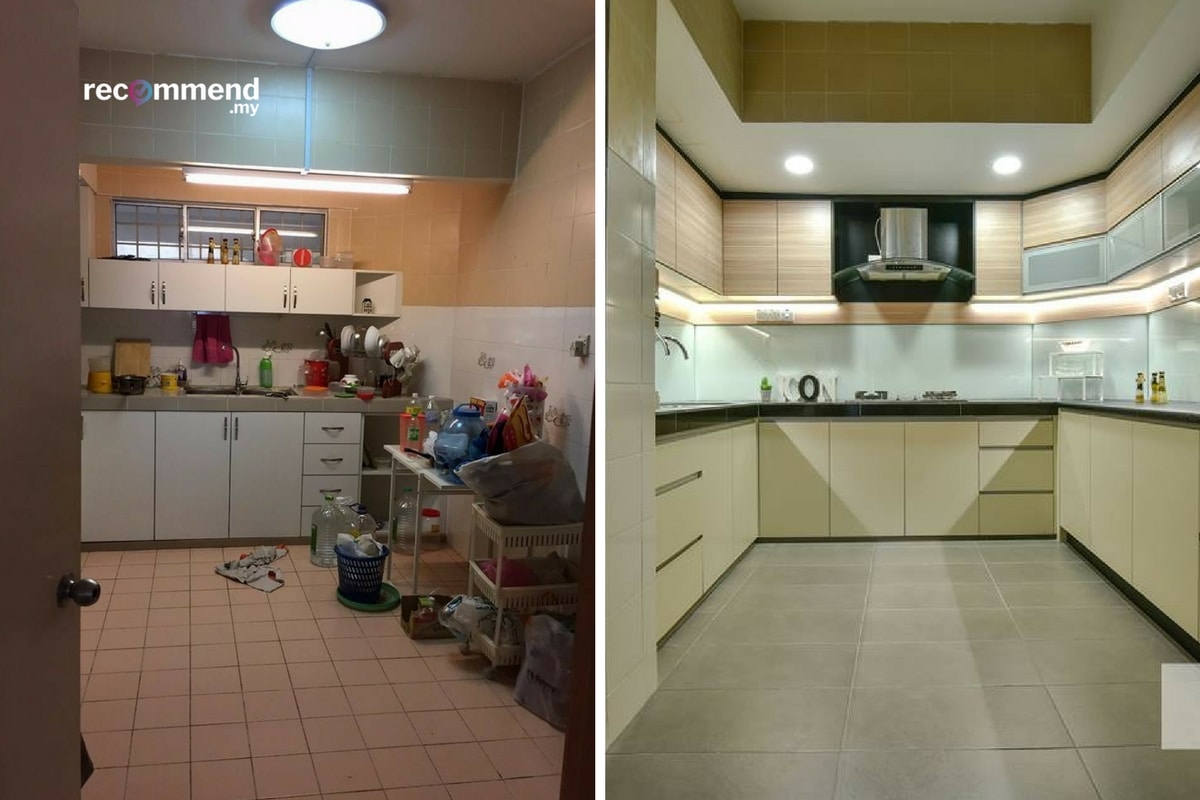 Get Quote From This Contractor
These homeowners utilised the entire space in the kitchen with added built-in storage for organisation purposes.
The contractors have also completely freshen up the tiles, added a glossy backsplash, and a new false ceiling to give the kitchen more depth.
8. Add dry kitchen, Tropicana Avenue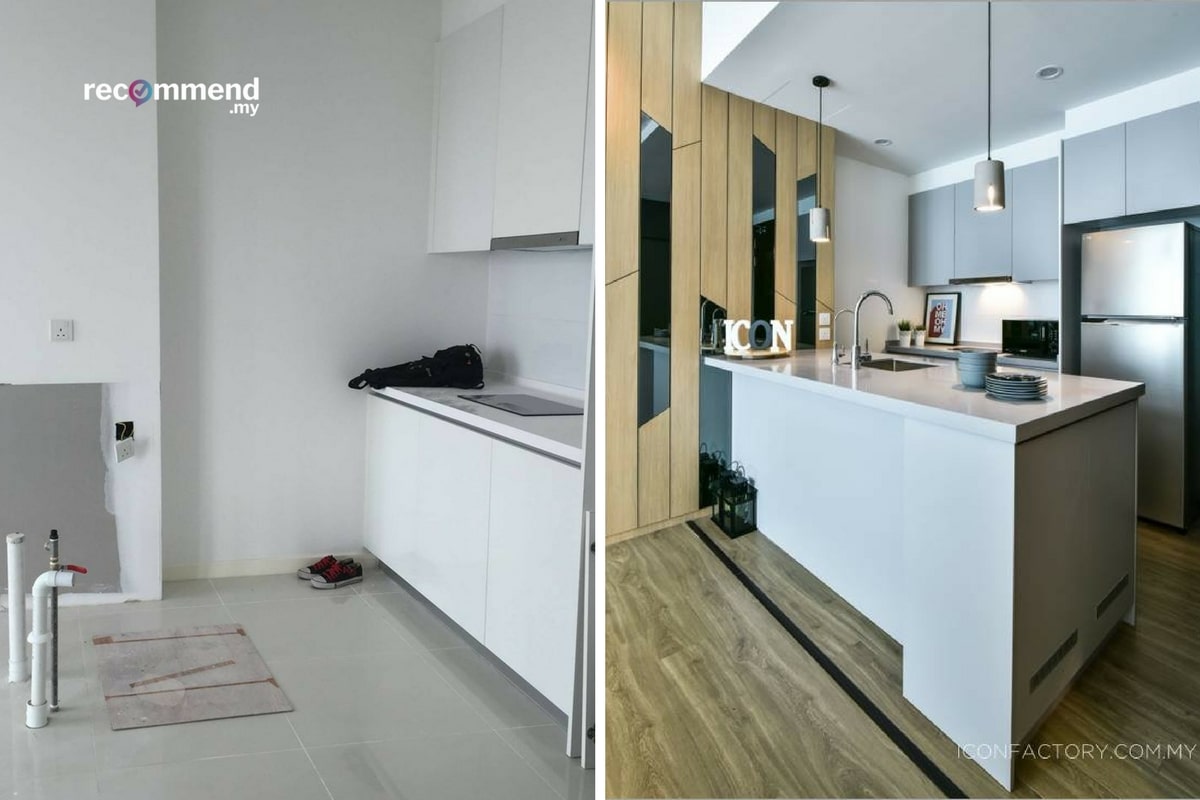 Get Quote From This Contractor
This office kitchen underwent a complete revamp in style with new updated elements to enhance the look of the kitchen.
A new feature wall consisting from mirrors and melamine panels and mirrors add more interesting depth, while the laminate flooring adds textures.
To balance the textures and colours of the kitchen space, the old cabinets were replaced with cabinets with smooth finishes.
There's even a new countertop installed that packs form and function in one cohesive space.
9. Extending cabinet length, Brio, SetiaWalk in Puchong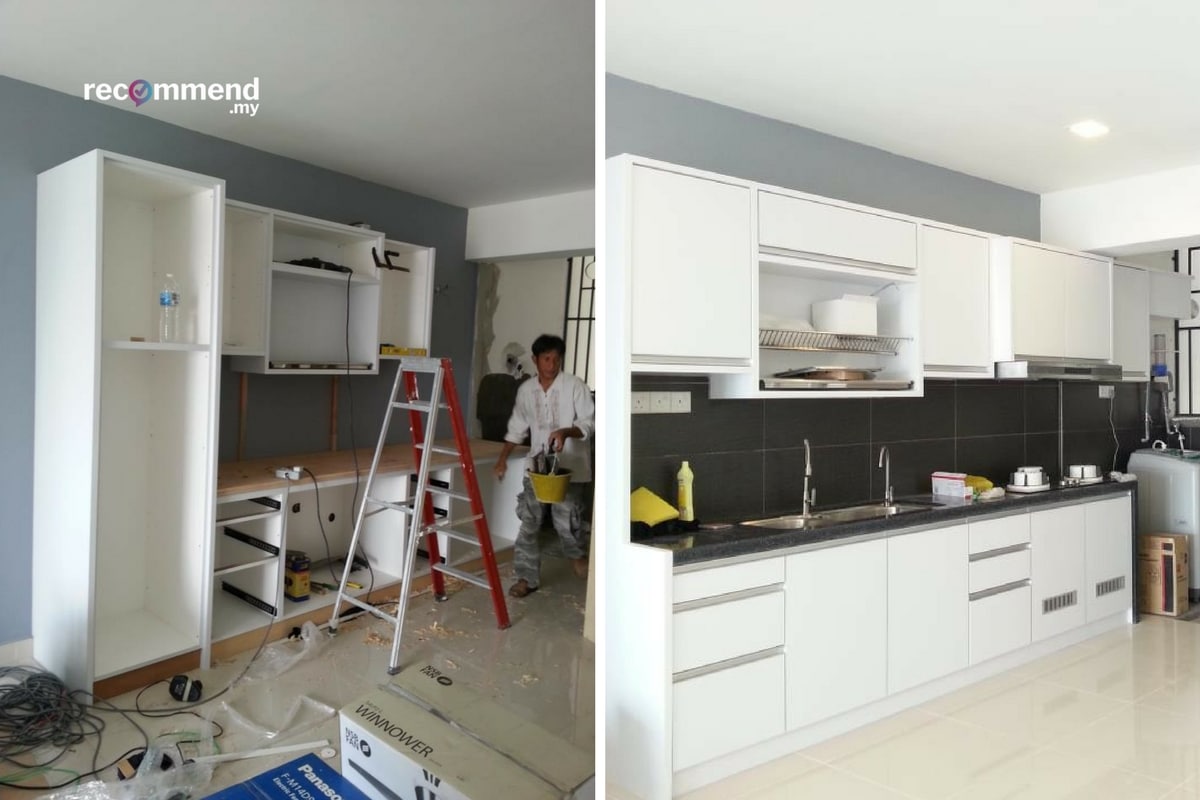 Get Quote From This Contractor
The clean and white finish of the cabinets creates a contrast with the black ceramic tiles for a monochromatic effect. The open shelves above also serves as easily accessible dish drying area.
10. Replace floor tiles, Bukit OUG, Bukit Jalil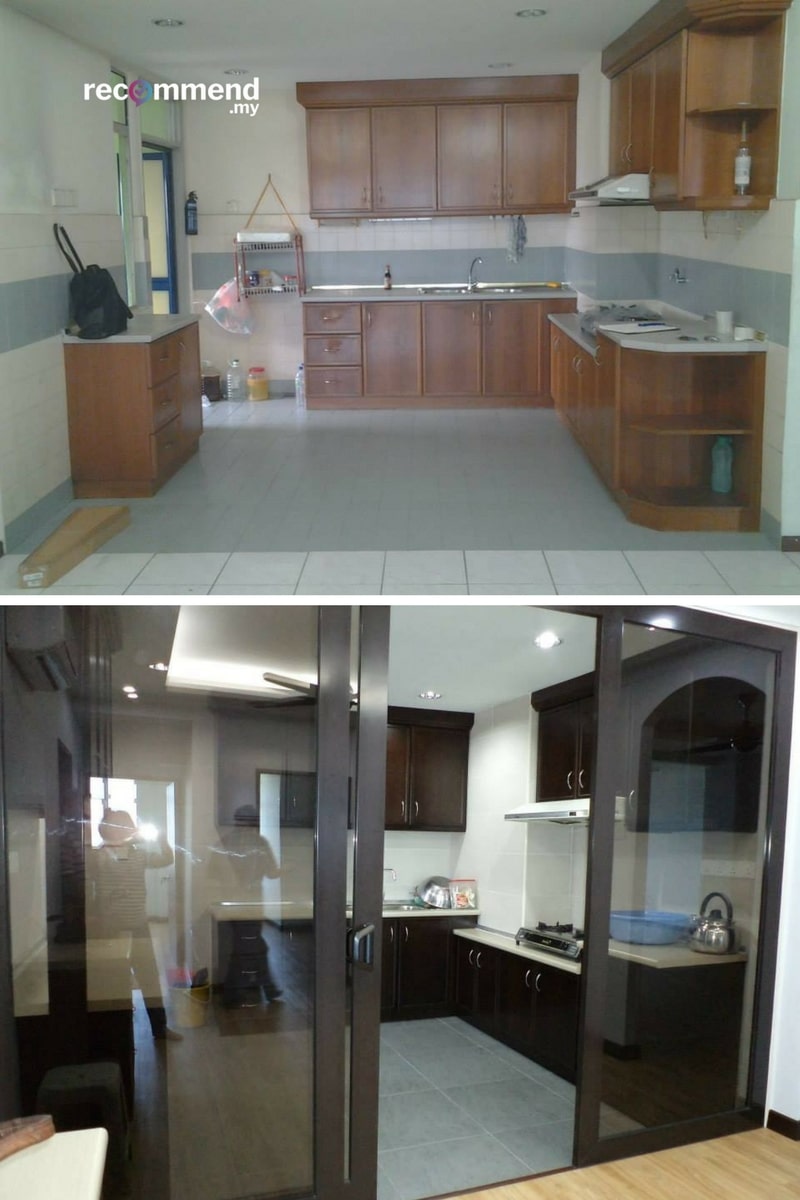 Get Quote From This Contractor
These cabinets were given a new refresh in colour, which now features dark oak wood for a more premium feel. There's also a new glass partition installed to separate the kitchen area.
11. Adding more storage, Kuchai Lama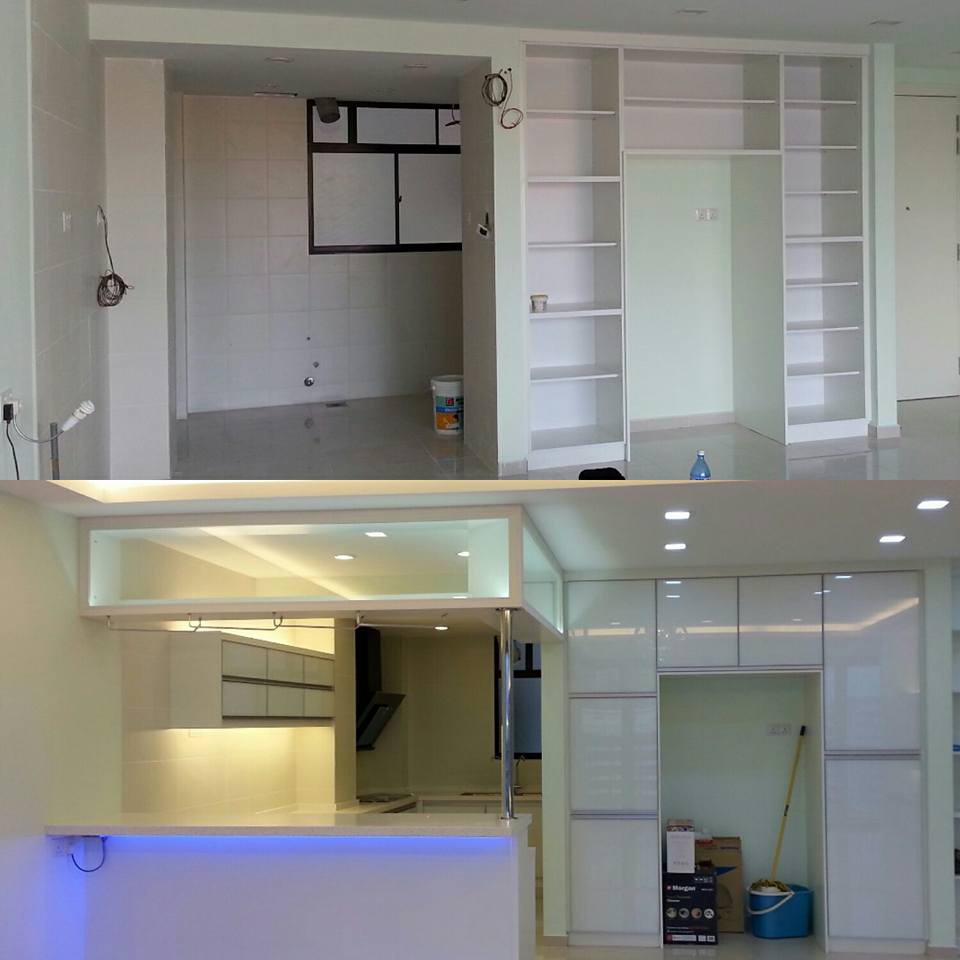 Get Quote From This Contractor
This kitchen has a futuristic look thanks to a combination of ambient lighting, glossy cabinets, and translucent suspended shelves. The extra countertop space also makes it great for entertaining and cooking.
12. Adding more lights, Rimba Residence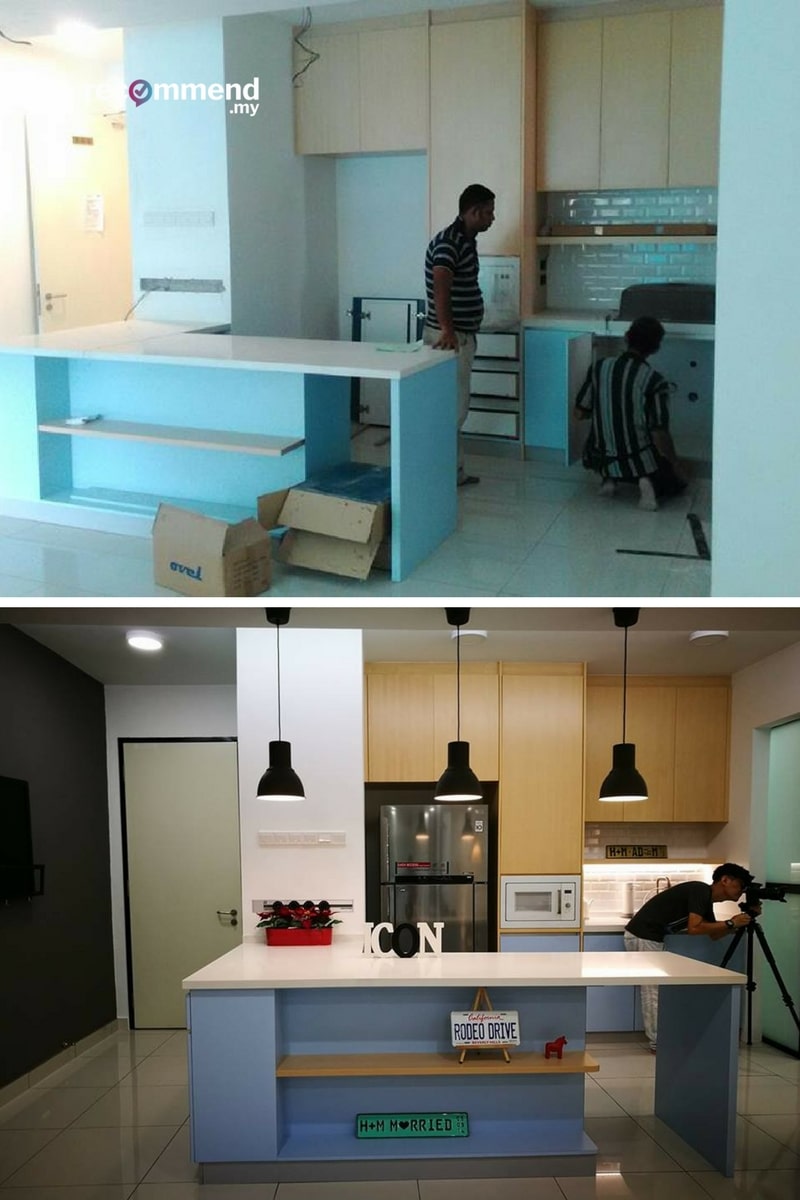 Get Quote From This Contractor
This kitchen in Rimba Residence proves that you won't go wrong with a Scandinavian design; it's airy, exciting, and filled an interesting mix of colours and textures, such as the exposed brick wall.
Being creative with your kitchen interior can turn out special and attractive. Plus, a kitchen island adds counter and storage space just where you need them: between your kitchen's cooking, cleaning, and food-prep zones.
13. Extend cabinet height, 1226 sq ft home in Park Villa, Puchong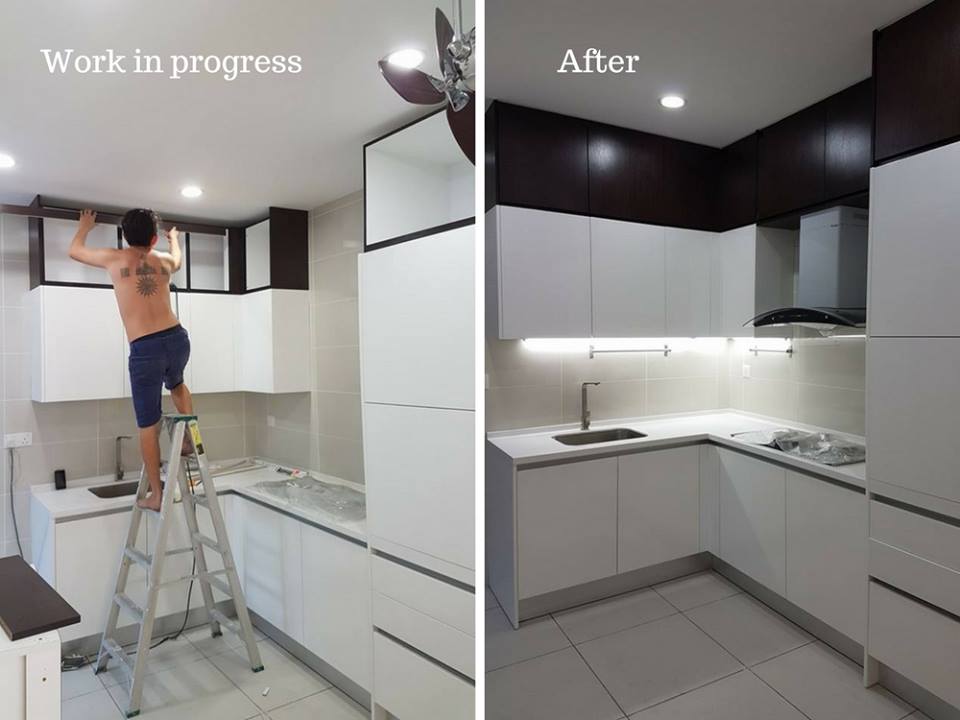 Get Quote From This Contractor
White kitchens are classic and sleek. They're bright, clean, and don't require a lot of stressful colour decisions when decorating because it's simply all white.
You may install under cabinet lighting to brighten up the countertop area and to highlight the backsplash.
14. Replace kitchen countertop, Genting Highlands, Bentong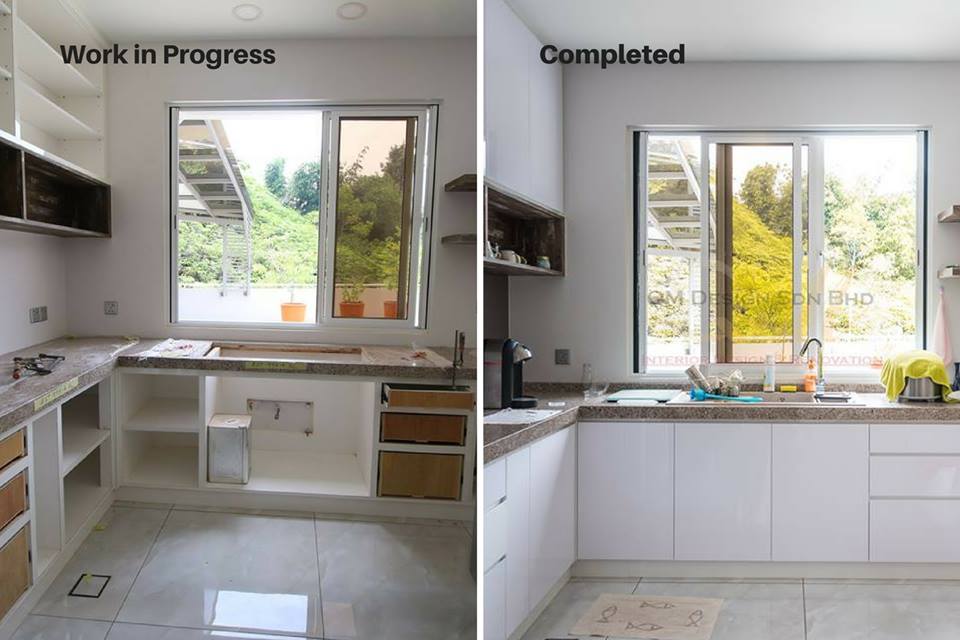 Get Quote From This Contractor
This minimalist-inspired kitchen renovation has plenty of clean lines for a stylish yet simple design. The gorgeous brown marble countertop contrasts well with the white background of the room.
Large windows by the sink area allow natural light to peer through, illuminating the space with a warm glow. You may also customise your preferred amount of drawers and cupboard for storage organisation.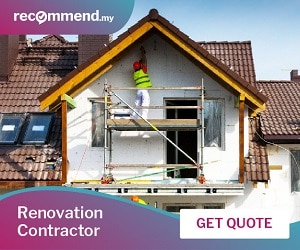 15. Replace old windows, USJ, Subang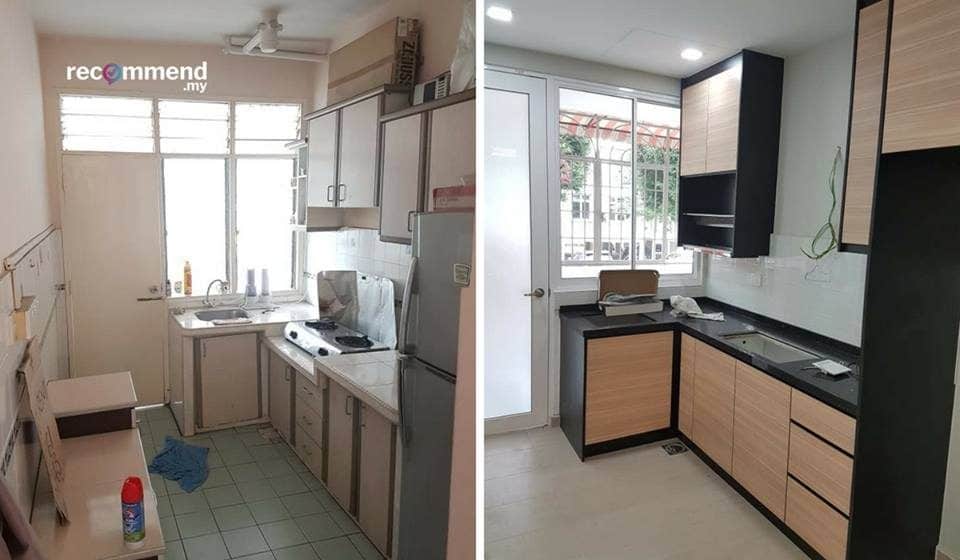 Get Quote From This Contractor
For a more toned down kitchen upgrade: This kitchen features an updated renovation from a totally outdated kitchen design to a modern design. It has new lightings, revamped cabinet designs and a new glass door. The new countertop colour also generates more visual interest.
16. Whole kitchen makeover and cabinet installation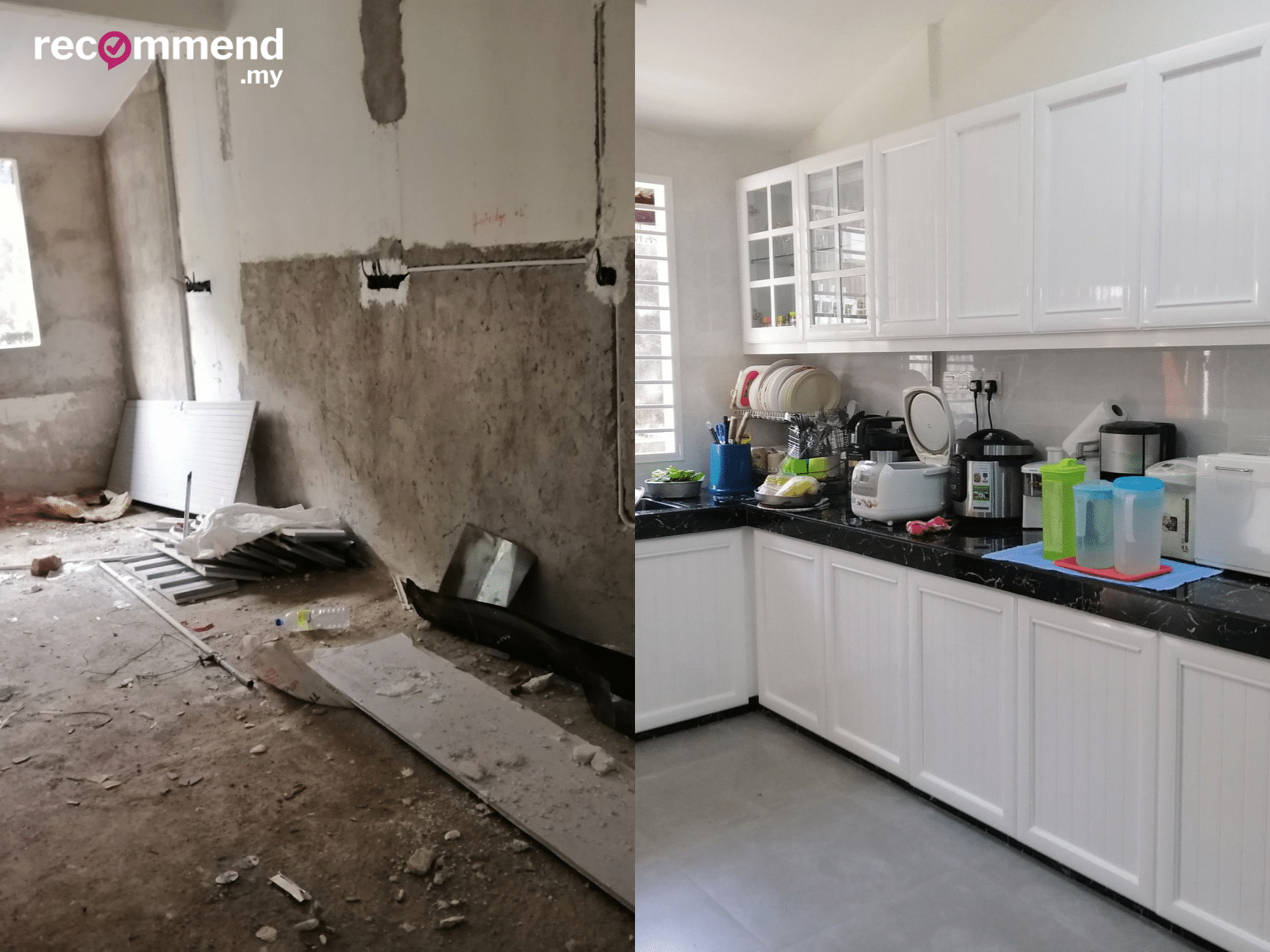 Get quote from this contractor
Tearing down the kitchen and starting from scratch gives you the power to design it whichever way you like, and this kitchen is remarkably unrecognizable from its former state.
Clean white kitchen cabinets create an alluring contrast against the black marble countertop. A classy reflective illusion made by the glossy white tile backsplash further beautifies this elegant kitchen. To finally complete the look, matte grey floor tiles bring the whole room together for an ideal modern minimalistic design.
Need contractors for your kitchen renovation?
As Malaysia's #1 home improvement website, Recommend.my can help you find the right contractors for any project. Tell us about your home renovation ideas, and we will find suitable contractors to meet you!