Recently, there have been many reports of Malaysians falling victim to online scams through fake home cleaning services.
These scams target consumers who are searching online for house cleaning services, but end up having their bank accounts hacked instead. Victims have lost up to RM20,000, and the losses can happen in minutes.
These scammers are causing huge amounts of damage and heartache for busy people who were just looking for some help around their home.
To expose how these scams work, we did some undercover research and pretended to be a customer. Here's what happened:
How the cleaning scam starts
The scam starts off with an ad on Facebook. Customers who are browsing Facebook will see ads for a home cleaning service that look similar to trusted brands.
To attract the customer, these ads offer extremely low prices for first-time customers.
In our investigation, we found over 7 different ads, all for different cleaning companies. All of them also used a similar pricing of RM30 for 4 hours of cleaning work, making it an irresistible offer.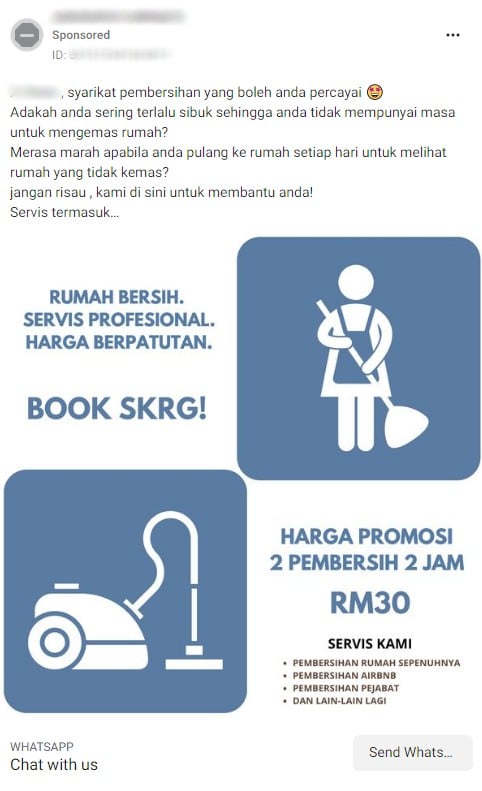 Above: A sample of the house cleaning scams we found on Facebook ads
From what we can tell, a new scam Facebook page and Facebook ads are created once every 2 or 3 days. But, they also get shut down pretty quickly, within a couple weeks. But, even in that short time, a lot of damage can be done to unsuspecting victims.
What happens if you respond to the scam ad
All the ads we found will ask you to click a button to launch a WhatsApp chat.
In the chat, a "sales representative" will explain more about the RM30 deal and how to book the service.
The scammer will tell you to make a booking by installing their mobile app. They will then provide a link to click, which will install the app on your phone.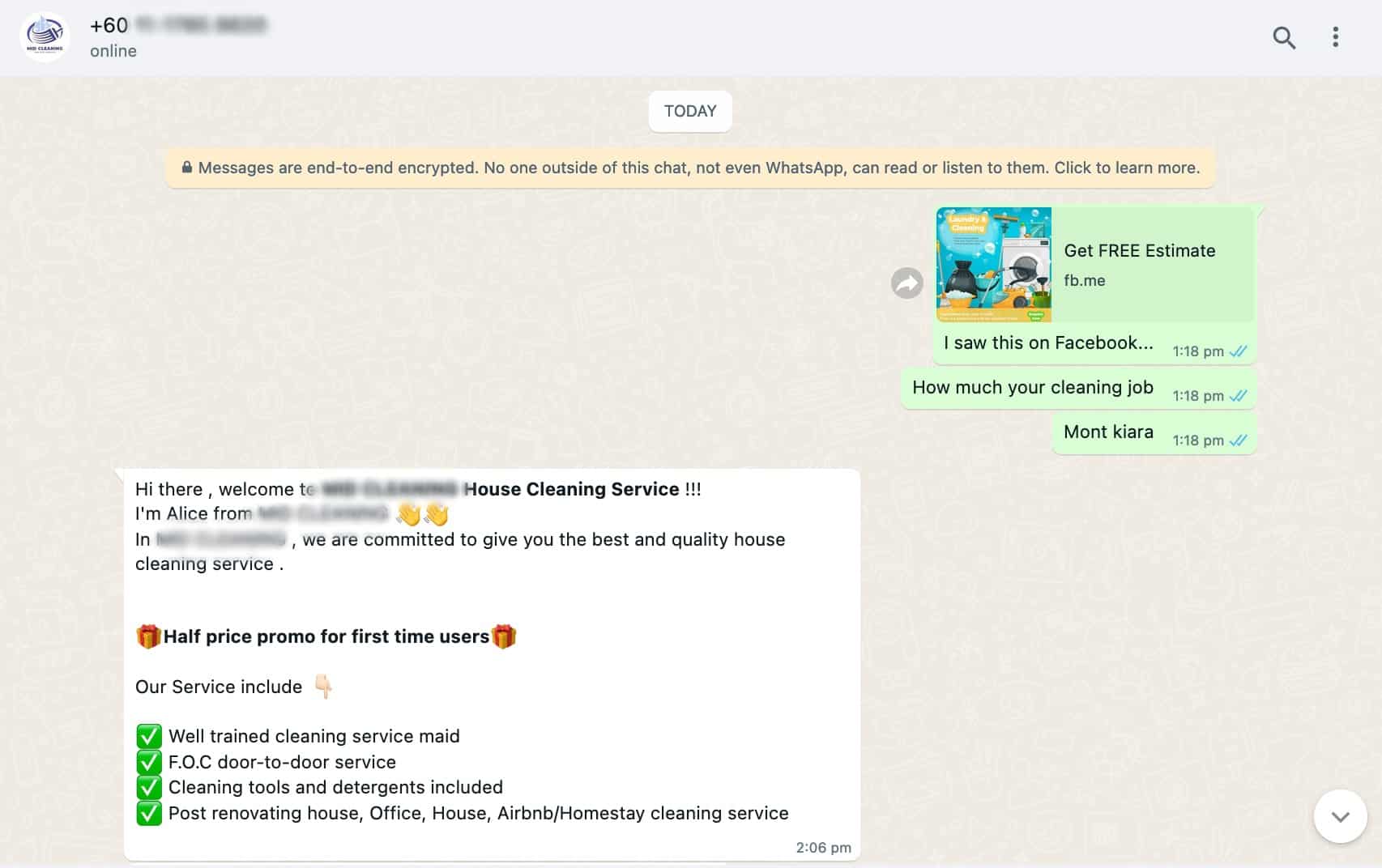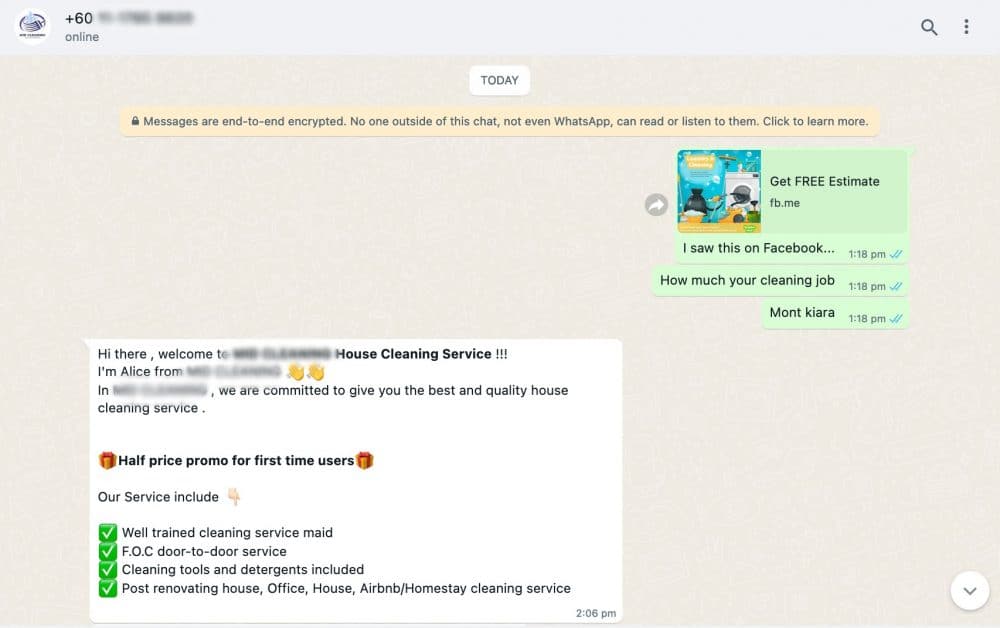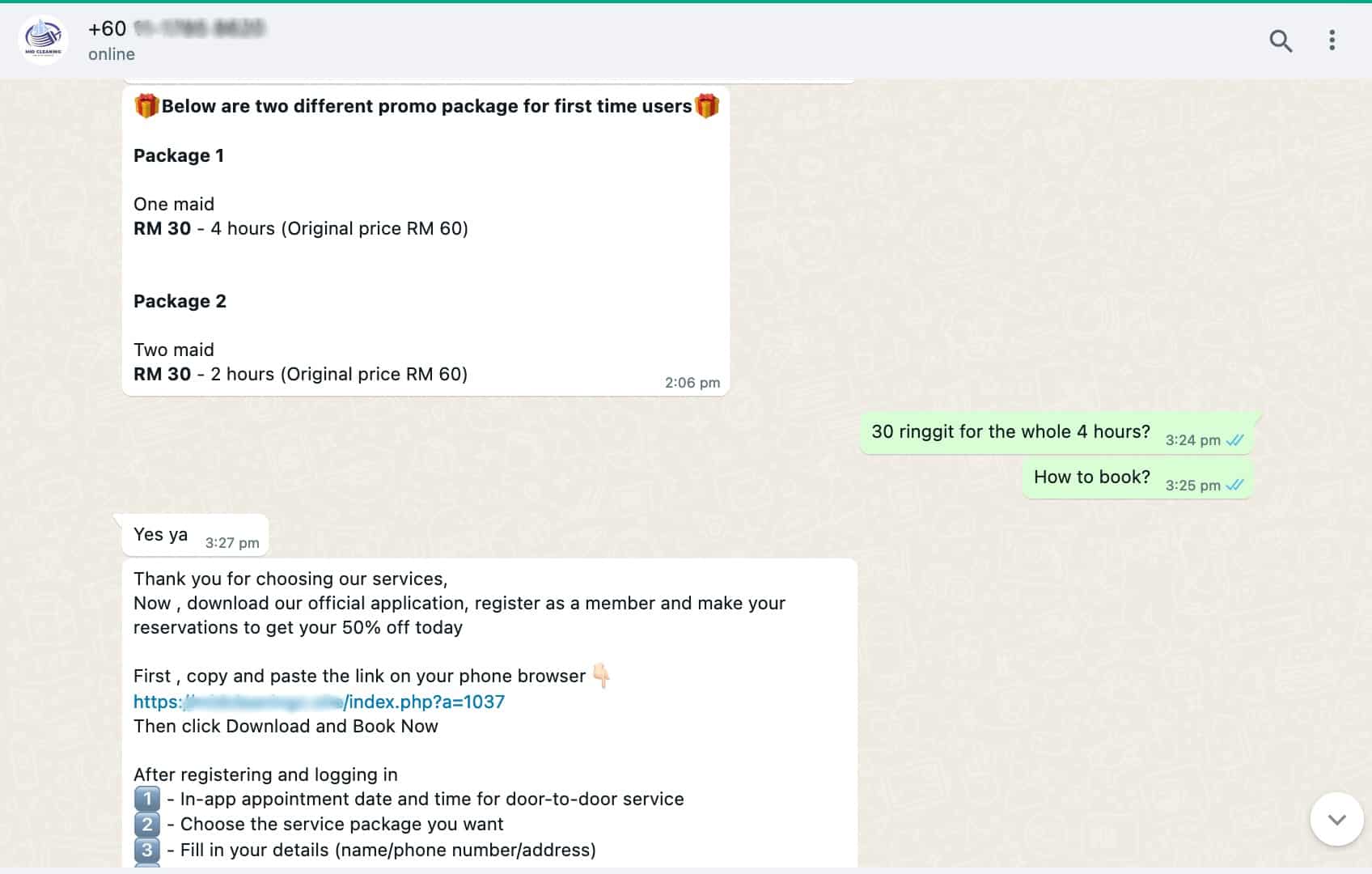 But, what you are installing on your phone is not a booking app at all. When installed, this scam app will be able to read your SMS messages. Essentially, you have unknowingly installed malware onto your device.
When you launch the app, it will ask you to register a new account. Then, it will show you a booking form to input the date you want the cleaning. Then, it will redirect you to a "payment screen" where you can choose to pay with credit card or FPX.
The credit card option will be unavailable due to untrue technical issues, so you are forced to choose the "FPX" online transfer link provided by the app.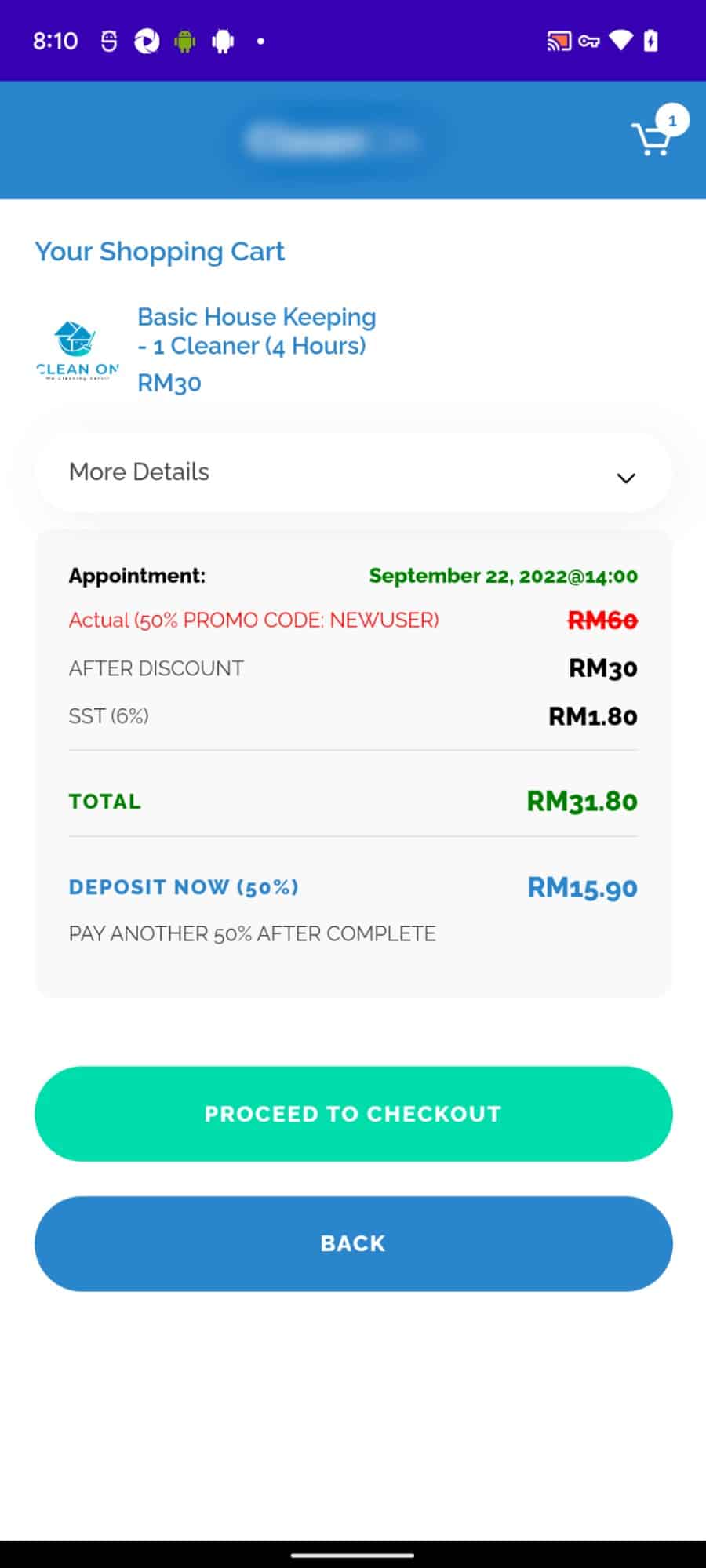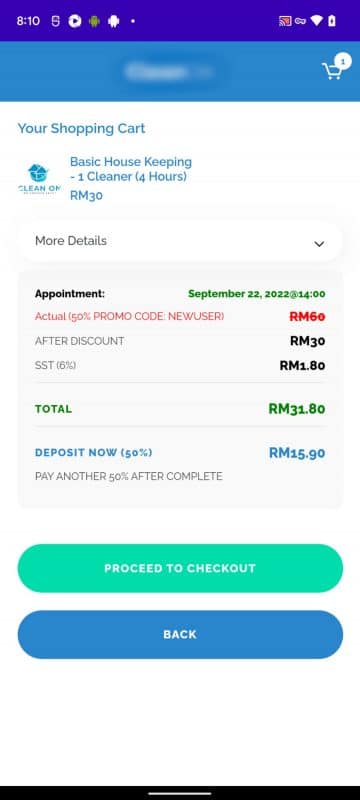 Above: The fake cleaning app will force you to choose FPX as the payment method, and direct you to a page that looks like the real bank, but is actually designed to steal your username and password
Then, you will be asked to choose the bank you want to do the transfer. This will bring you to a fake bank home page, where you will be asked to enter your username and password.
If you try and input your real banking username and password, it will be sent to the scammers. On their end, they will quickly use this to login to your real bank account.
Then, when the real bank system sends your phone an SMS one time password (OTP) for verification, the malware app will intercept it and send it to the scammers. That means, they now have access to your bank account, and can transfer money out of it.
How to Spot a Home Cleaning Scam
It's easy to spot these fake cleaning scams, if you know what to look out for. Before booking from a cleaning company you have never heard of before, remember to check the following:
How many Facebook followers do they have?
Before clicking on the scammers Facebook ad, click on the company name at the top of the ad to view their Facebook page. When I checked the Facebook Page for one of the ads, I saw that the page had just been set up a few days ago, and had zero or less than 10 followers.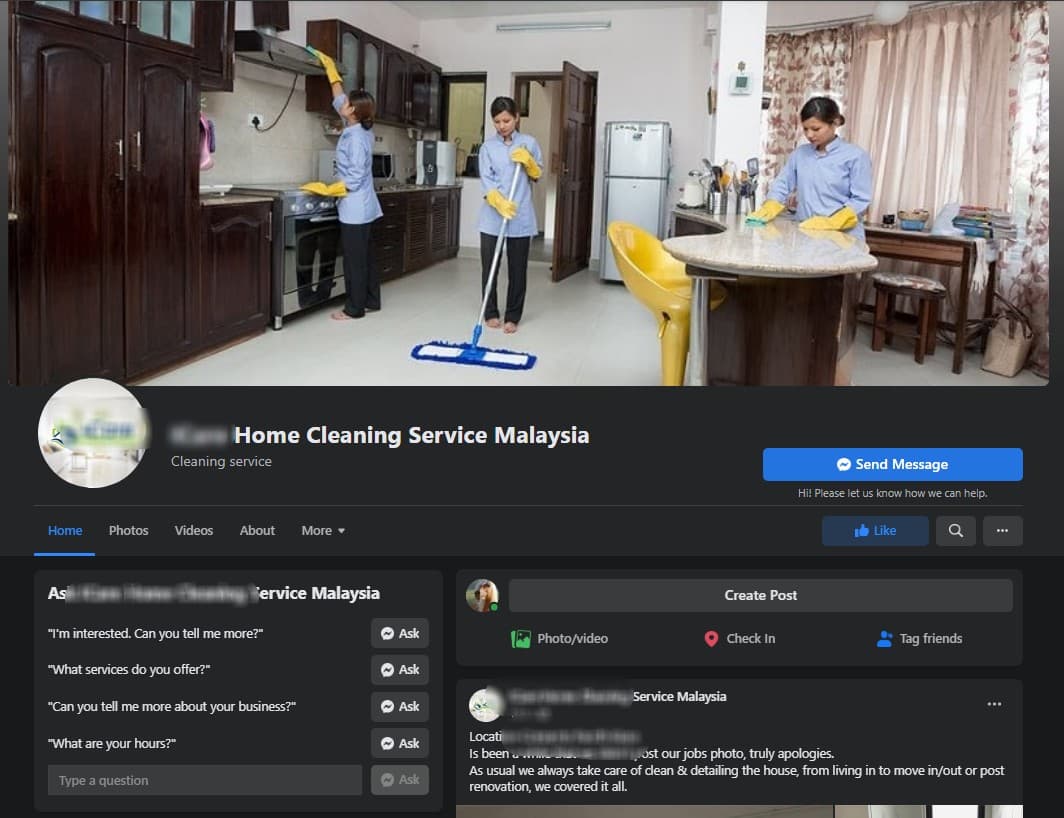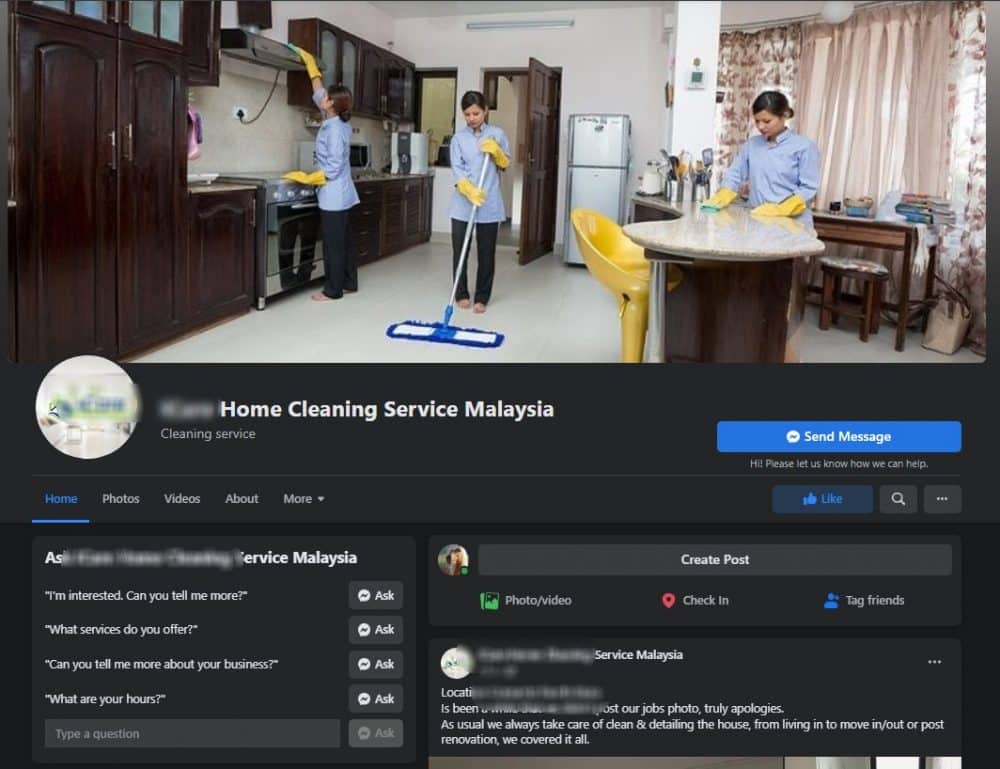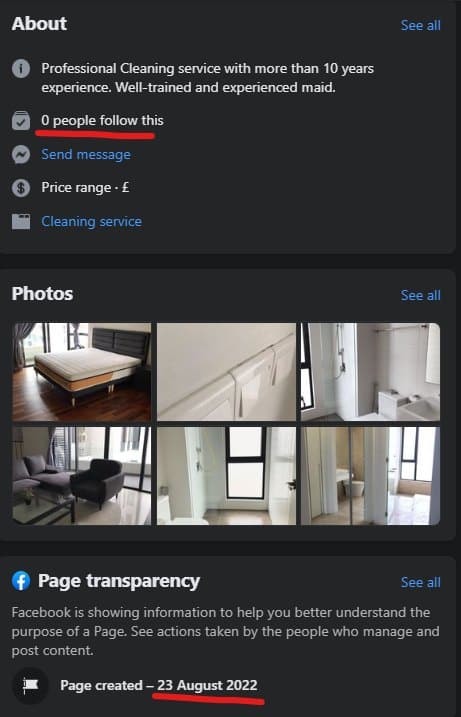 In contrast, a legitimate company that has been operating for a few years and running Facebook advertisements would have taken an effort to grow their followers.
Side note: Recommend.my has nearly 150,000 Facebook followers, and we have been operating for eight years.
Do they have any presence outside of Facebook?
A proper cleaning services company will likely have a website, with different ways to contact them, such as email, phone call, or WhatsApp.
They might also have a Google Maps business listing, a listing on service directories such as Recommend.my, as well as other social media accounts.
And each of these accounts would have recent activity (such as recent posts, as well as comments from followers).
They should also have customer reviews. For example, their Google Maps business listing should have reviews.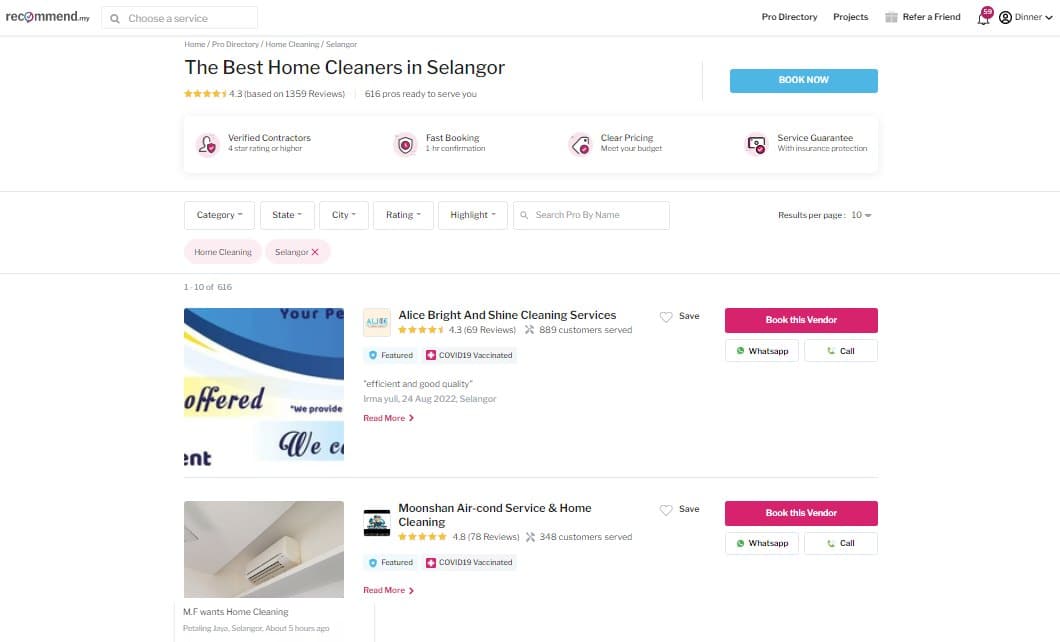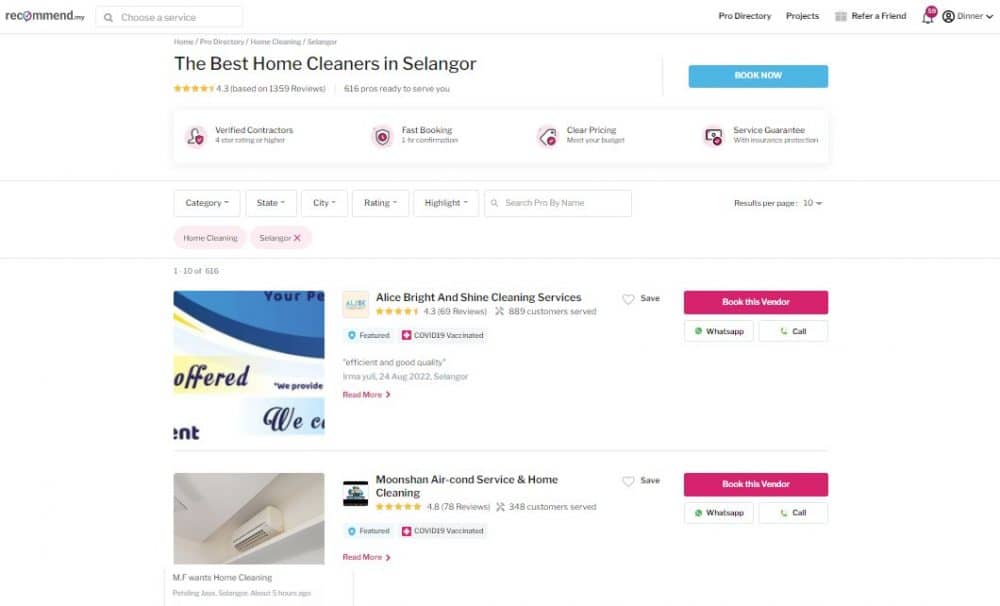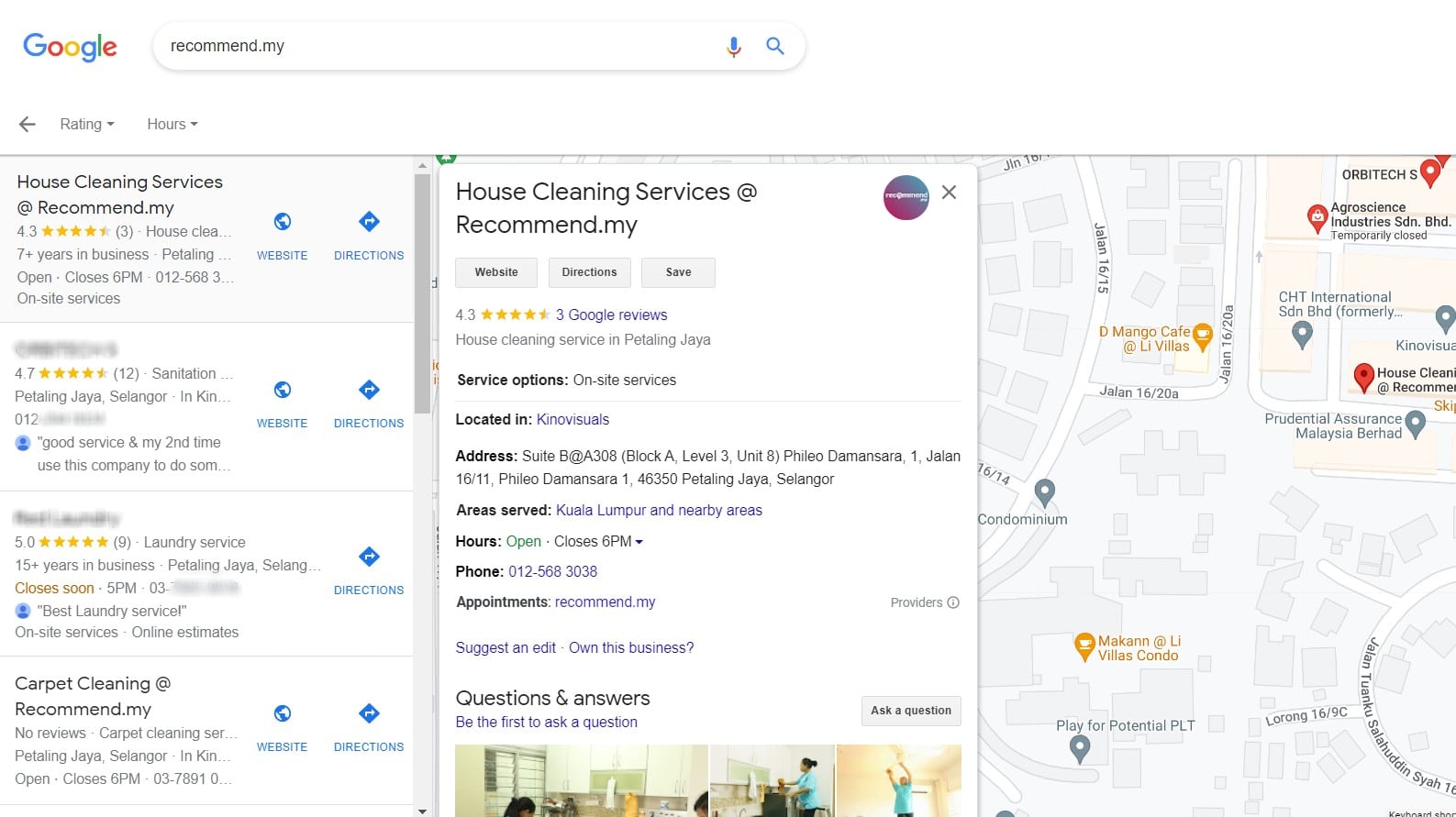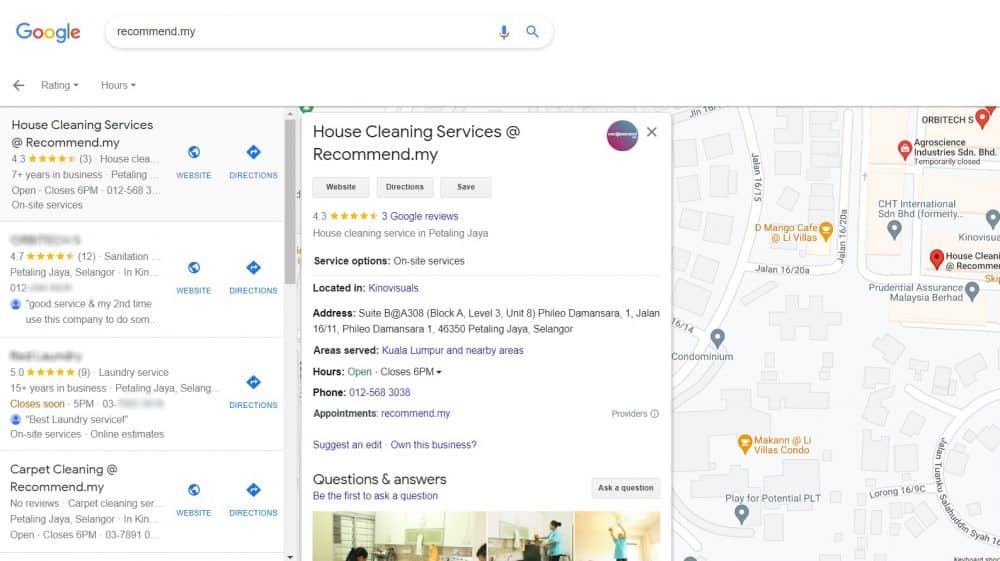 Do they have a proper business registration, or SSM Number?
Any legitimate business entity will display its SSM number on its website. It's usually located at the very bottom of the website footer. An SSM number means the business has been through all the necessary and legal processes of being approved by The Companies Commission of Malaysia.
Can you pay by credit card?
The scam app did not allow me to pay by credit card, because it wanted me to use their fake banking page.
A proper online home cleaning booking form would have multiple methods of payment, including credit card, GrabPay, Boost and more.
And, if paying by card, always use your credit card rather than debit card. That's because a credit card payment is protected by VISA or Mastercard, and you have 90 days to report a fraud or dispute any transactions you did not do. Consumer protection on these platforms are high.
But, if you use a debit card, the money is deducted immediately from your bank account, making it very difficult for the banks to recover that money if it was a fraudulent transaction.
Can you install their mobile app from the Google Play Store or Apple App Store?
In the scam above, the scammers sent us a link to download an APK file of their mobile app. This is dangerous as the app could contain viruses, spyware or steal your banking passwords.
If you have an Android phone, you should only install apps from the Google Play Store. Similarly, if you have an Apple iPhone, you should only install apps from the Apple App Store. Apps that are listed on Google Play or App Store have been checked by Google and Apple.
If the company sends you an installation link that does not contain google.com or apple.com in the URL, it's most likely a fake app.
If an app is not available on the Google Play Store or Apple App Store, it could mean that it was rejected by Apple or Google for containing malware.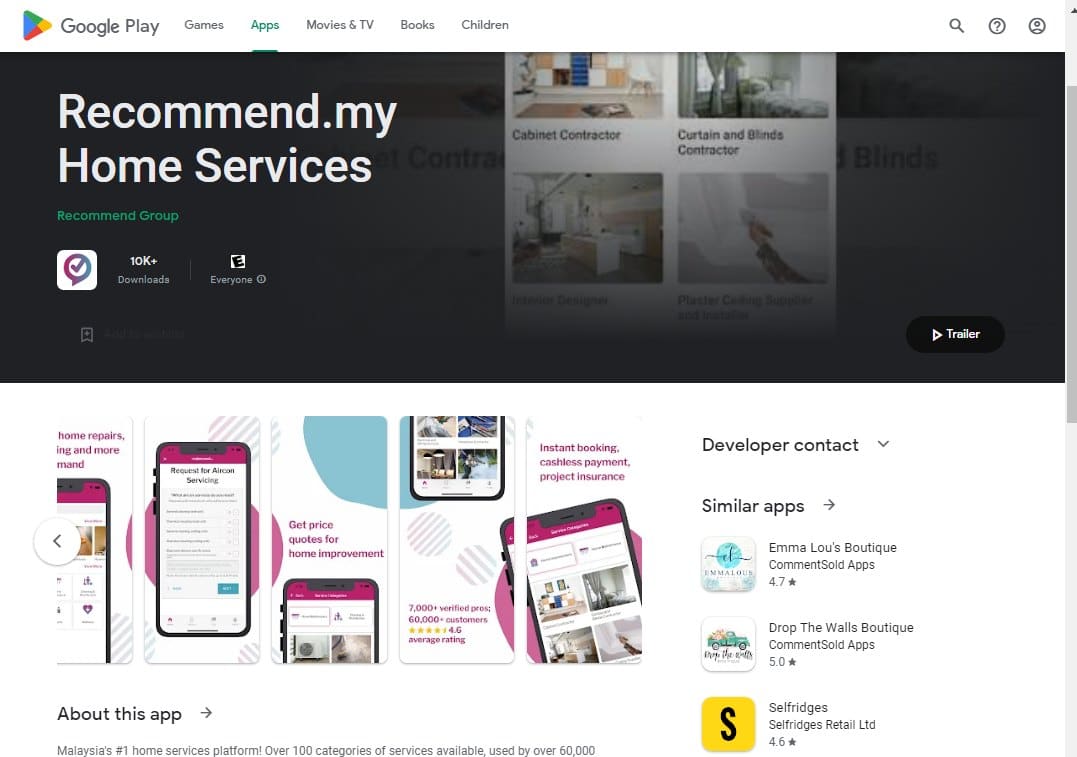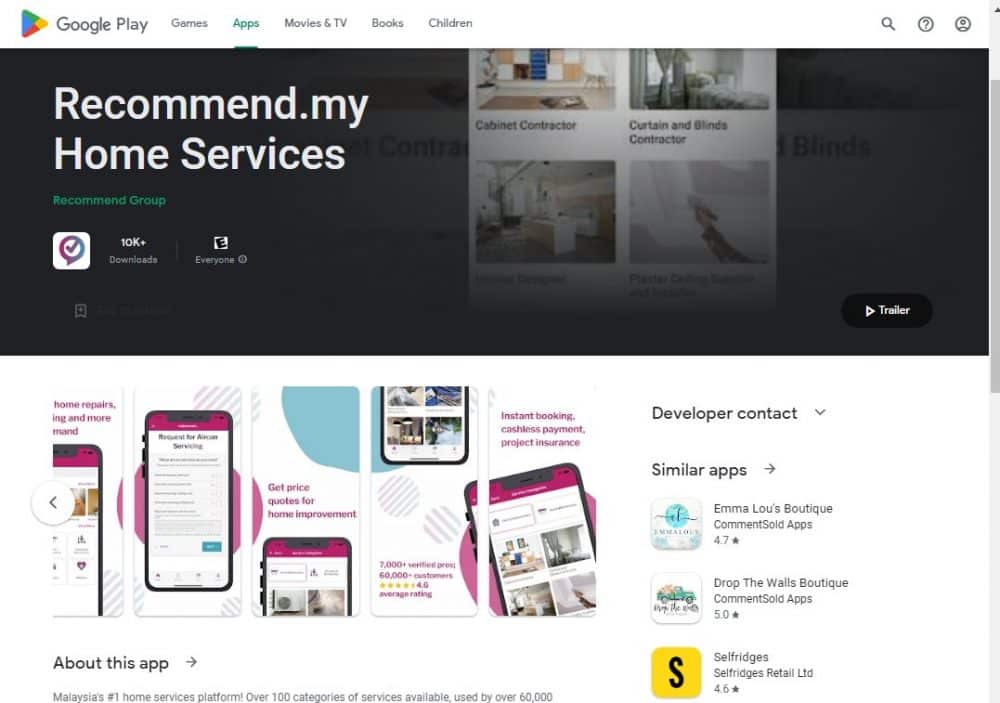 Is the offer too good to be true?
If the offer feels like it might be too cheap, then it's most likely not real. Even if it's stated as a first-time offer for new customers. In the scam example above, they were offering 4 hours of cleaning for RM30, which is simply not possible. This price is unbelievable and would not be worth it for any cleaner to earn a decent living.
Book Trusted Home Cleaning Services in Malaysia
We hope the details above will help you to spot fake cleaning apps that are trying to hack into your bank account.
To avoid getting scammed, it's important to only book from established cleaning companies that have a company registration, and a listing on trusted directories, with customer reviews and photos, as well as regular updates on their social media.
As Malaysia's #1 home and local services platform, Recommend.my also offers on-demand home cleaning services. We only allow vetted cleaners to join us, and provide 30-day warranty, so you don't need to worry about getting scammed.
Or, you can book through our mobile app (we will never ask anyone to download our apps directly as APK file. It can only be found as a legitimate mobile app on the Play Store and App Store).