We are excited to announce that Recommend.my is partnering with IKEA Malaysia to offer safe and convenient installation services to all its customers in Klang Valley!
IKEA is a household name in Malaysia. This globally recognized Swedish furniture retail company has four branches in Malaysia: in Damansara, Cheras, Tebrau and Batu Kawan. They offer a myriad of ready-to-assemble furniture, kitchen appliances, home accessories and more.
With this partnership, the next time you buy your lights at any IKEA, you can immediately make an online booking for a Recommend.my technician to do the wiring and installation.
Our light installation services cover the entire range of IKEA lighting products, including popular products such as the ÅRSTID and HOLMÖ floor lamps, LAMPAN and TÄRNABY desk lamps, NYMÄNE and FRIHULT ceiling or wall-mounted lamps and more.
Besides assembly and installation, our technicians can also help you to extend your existing home wiring, add or move lighting points, do electrical trunking, install new power outlets and more (additional charges will apply).
Installation prices begin from as low as RM80 per unit with no hidden charges, all across the Klang Valley! We also offer a 14-day service warranty, insured and money-back guaranteed (T&C applied).
Details on how to make a booking can be found in the lighting section in the IKEA Damansara or IKEA Cheras store (we will expand to the other branches soon). You can also find details online at https://ikea.recommend.my/.
To make a booking for our light installation service, all you need to do is scan the QR code on the IKEA product tag, or visit the link provided. Then, fill up your details in our request form. Our highly-experienced and verified technician will contact you in a matter of hours to confirm your appointment!
How to book your IKEA lighting installation service:
Here's a step-by-step guide on how to request for an IKEA lighting installation service from Recommend.my.
In-store at IKEA Damansara or IKEA Cheras
Step 1: Visit the lighting section in-store. You will see instructions to book a light installation service displayed on the price tag for the product, as well as a banner in the lighting session with a QR code shown above the display.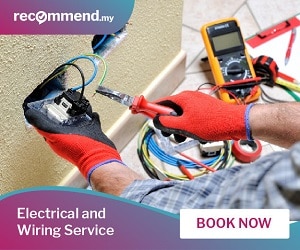 Step 2: Scan the QR code with your mobile phone or visit the link to view our booking form. You will be redirected to our site. Fill in your details and submit the request form.
Step 3: Within 3 hours, you will receive a call from our installation technician to confirm your appointment.
Already have your lights? You can also book your light installation online
Visit Recommend.my for all your home improvement needs
After installing your lights, why stop there? Besides light installation services, we also offer general handyman tasks, plumbing, electricals, renovations, interior design and more!
All our pros are highly-rated and trained, and all jobs are protected by the Recommend Guarantee, so you get 14-day warranty and accident insurance. It's the safest and most convenient way to upgrade your home.
See you at IKEA!