Since the Pakatan Harapan (PH) coalition took power last year on May 10 2018, the majority of small businesses say that they have experienced a negative, or no impact to their business, one year on. However, more are feeling hopeful for the second year. This was the results of a survey conducted by Recommend.my, the leading local home services platform.
Background
It has been slightly more than a year since the Pakatan Harapan (PH) government took the reins of the Malaysian government on May 10 2018.
Since then, the government and ministers have made significant changes to some fundamental components of the economy, including calling a stop to the GST, implementing revised tax structures, and lowering broadband costs.
But, how have these efforts impacted small businesses in Malaysia, and what is their outlook under the new government?
According to a survey conducted by Recommend.my, the leading local home services platform, Malaysian small and medium enterprises (SMEs) in the services industry continue to lament about the sluggish economy, with no or negative impact to their business in the past 1 year. However, they remain hopeful and positive for the 2nd year under Pakatan Harapan.
This survey was conducted among Malaysian service providers active on Recommend.my, primarily representing the home improvement, home cleaning, home repairs and maintenance, as well as events and party planning services.
Survey highlights:
What sort of impact has the new government had on your business in the last 1 year?
26% of respondents experienced a positive impact during PH's first year. The main anecdotal reasons given were that there is less corruption and red tape, and more opportunities opening up to new players, as stated below:
"A cleaner way to compete for jobs"
"Freedom to do business without interruption"
"Some government work has become easier to handle"
"GLC's more willing to work with new blood"
On the other hand, the majority of respondents (74%) experienced none, or negative impact from the last year. It is important to note though, that the majority of comments were less about the new government, but rather the general economic climate – customers seem to be having a wait-and-see approach, conservative on demand and spending, whereas the cost of doing business seem to have increased
"Slow economic climate, less jobs"
"People not willing to spend"
"Many customer projects have been put on hold"
"No new projects put on tender"
"No business pickup but prices continue to increase"
What is your general business outlook for the second year under Pakatan Harapan?
While 74% of respondents experience negative, or no impact over the 1st year, the overall sentiment has shifted to "neutral or positive" for the 2nd year.  In fact, 39% of SMEs surveyed expect a positive impact to their business, up from only 26% in the first year.
Some SMEs that were "very negative" or "slightly negative" about the last year moved to being "neutral" or "positive" about the year ahead, indicating that they were hopeful of better times and felt that the new government needed more time to carry out business reforms.
Which business areas would you like to see the government improve in the second year?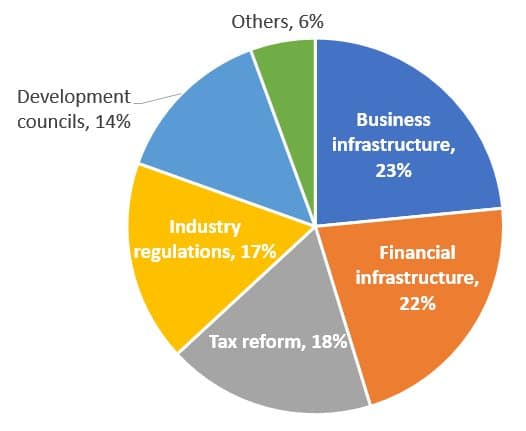 Improve business infrastructure (23%)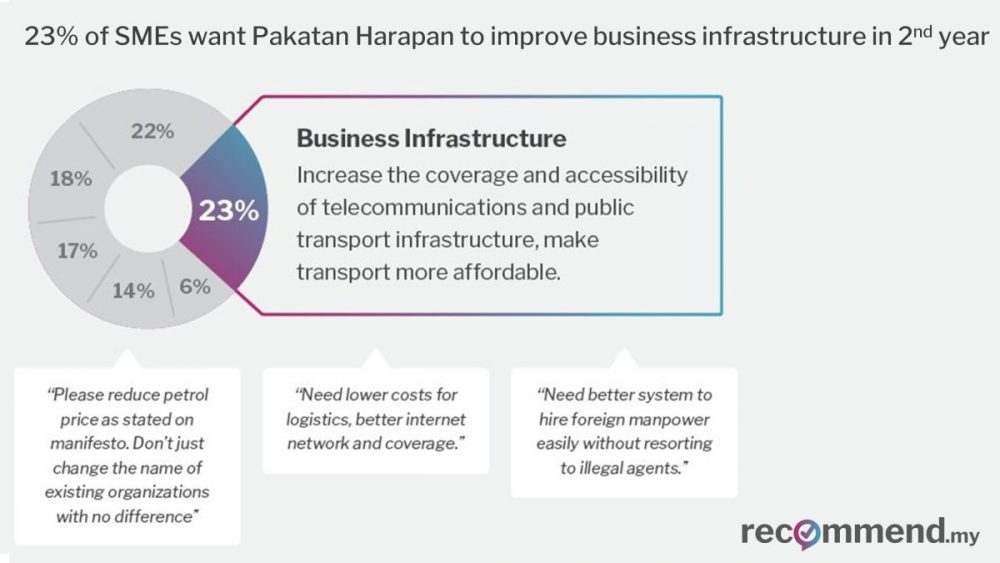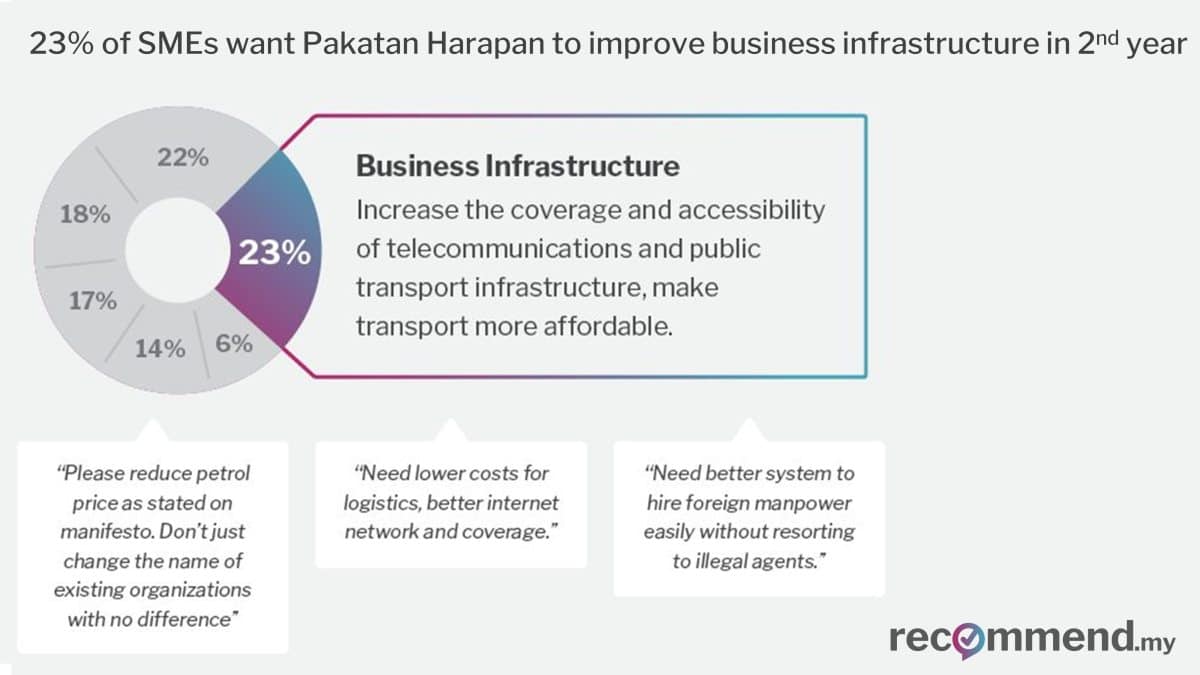 The most requested improvement among respondents was to improve business infrastructure (23%). This may include increasing the coverage and accessibility of telecommunications and public transport infrastructure. Since most service-based SMEs in Recommend.my need to travel to the customer's location, reducing the cost of fuel was also high on the list of improvements.
Comments received:
"Please reduce petrol price as stated on manifesto. Don't just change the name of existing organisations with no difference"
"Need lower costs for logistics; better internet network and coverage"
Improve financial benefits (22%) and tax benefits (18%)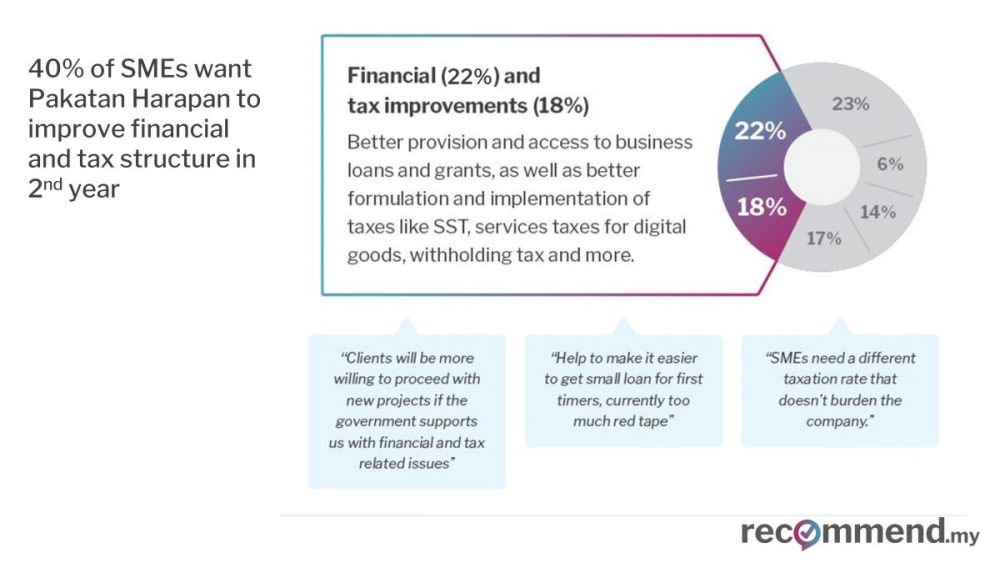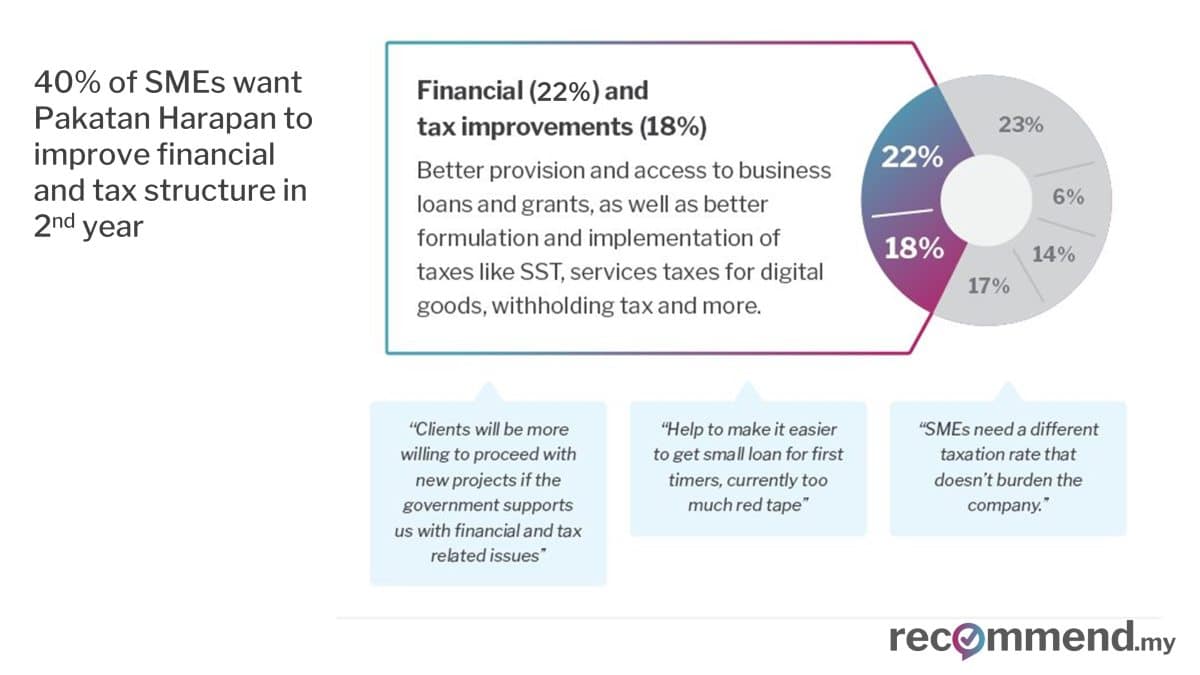 The next most requested improvement was around financial benefits as well as tax benefits, making up 22% and 18% of all respondents. This includes better provision and access to business loans and grants, as well as better formulation and implementation of taxes like SST, services taxes for digital goods, withholding tax and more.
Comments received:
"Help to make it easier to get small loan for first timers"
"Currently too much red tape in getting a business loan"
"Clients will be more willing to proceed with new projects if the government supports us with financial and tax related issues"
Improve industry regulations (17%)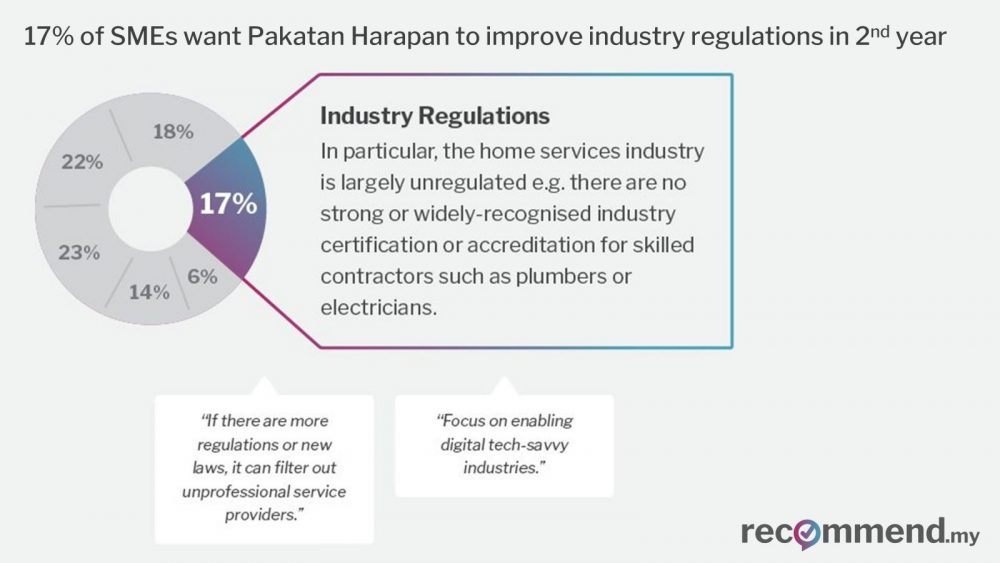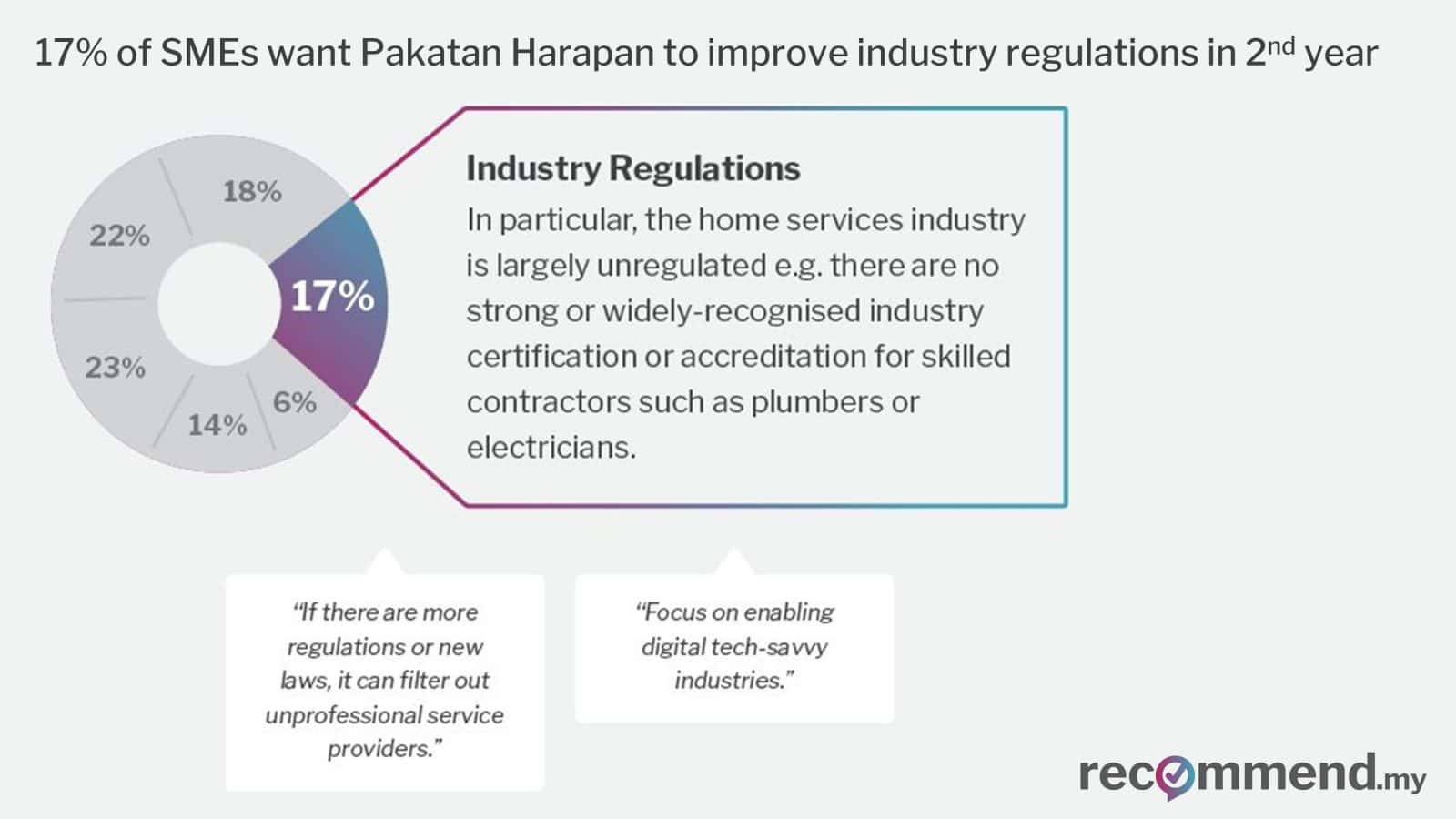 Interestingly, 17% of respondents wanted to see improvements around industry regulations. In particular, the home services industry is largely unregulated. For example, there are no strong or widely-recognised industry certification or accreditation for skilled contractors such as plumbers or electricians.
Comments received:
"If there are more regulations or new laws, I believe it can filter out unprofessional service providers in every industry. This will benefit end users"
"We are in the tech savvy age now, so the government needs to focus on enabling our industries to take advantage of it"
Improve support from development councils (14%)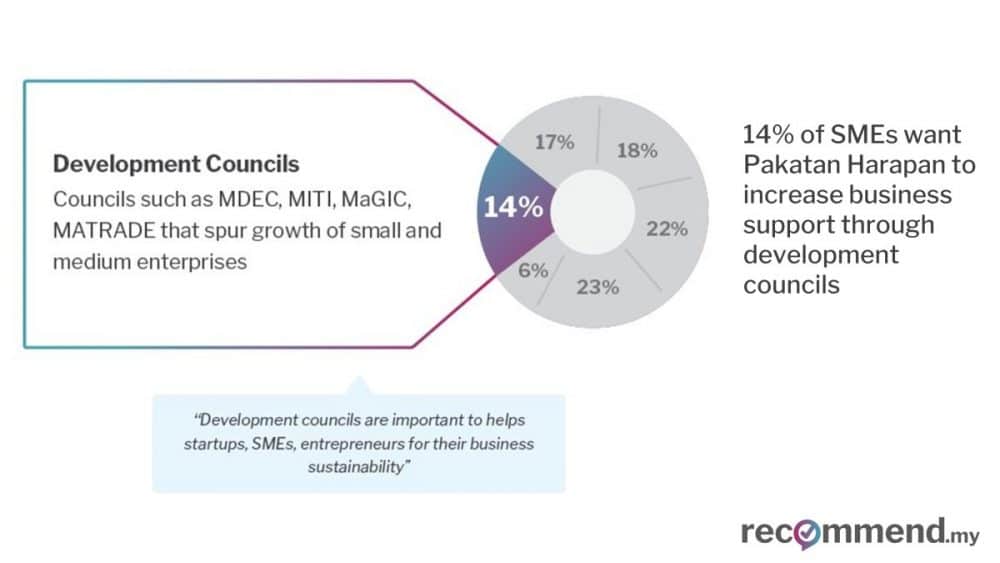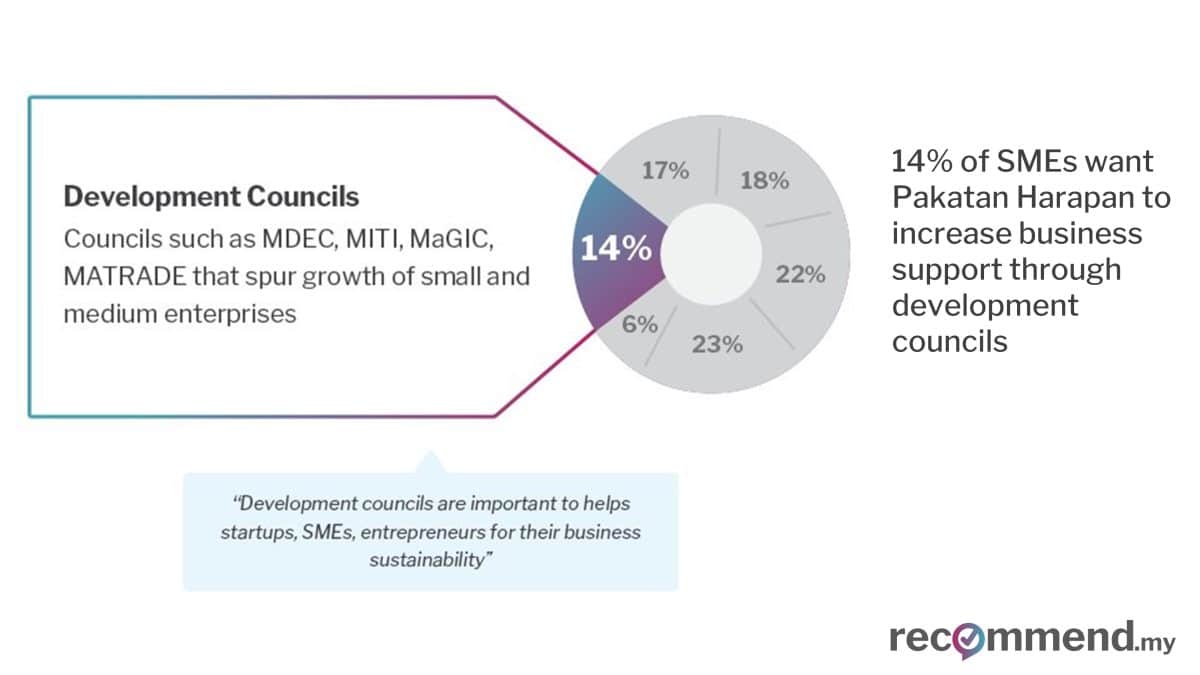 The survey also found that 14% of respondents also mentioned the importance of development councils such as MDEC, MITI, MaGIC, and MATRADE that spur growth of small and medium enterprises.
Comments received:
Development councils are important to helps startups, SMEs, entrepreneurs for their business sustainability. If the government can improve on all these areas, I believe it will help economic growth.
Download full infographic below:
About this survey
This survey was conducted online by Recommend.my, a home services platform in Malaysia. A total of 75 responses were received from small business owners located in Klang Valley. 89% of respondents had an organisation size of between 1 to 10 employees.
Out of all the service-based industries represented in this survey, the majority was received from the home improvement sector (such as renovation contractors and interior designers) (39%), home maintenance sector (including handyman contractors, cleaning services and aircon service providers) (28%), and event services (including caterers, photographers, emcees and makeup artists) (18%). The remaining 14% was represented by lifestyle and B2B services such as wellness, lessons, IT, accounting and marketing.
About Recommend.my
Recommend.my was created in 2014 with a simple goal; to make home improvement a joyful and memorable experience for homeowners, and bring trust and transparency to the process. With Recommend.my, your home is in safe hands.
Through the Recommend platform, homeowners can hire over 10,000 service providers such as renovators, interior designers and cabinet contractors, as well as book aircon, plumbing or handyman services on demand. All projects can be paid conveniently online, with strong guarantees against damage and non-completion.