As a building material, concrete has been around practically forever. Centuries-old structures still survive to this day thanks to this material.
Concrete (or a precursor to its modern-day form) has been used in construction since 6500 BC, but the modern recipe for concrete was invented in 1756. Reinforced concrete was then invented in 1849.
But, concrete can hardly be thought of as "stylish". The idea of using raw, exposed concrete to create fortress-like structures became popular in the 1970s, especially in the architecture of government buildings.
These days, concrete is returning in a big way as an integral part of "industrial interior design". Many homeowners are attracted to concrete as home fixtures, as they give a unique look that is hard to replicate with other materials.
Concrete interior also gives such an earthy tone to the whole house. Using concrete element isn't complicated to match with your home interior as it is very versatile. For example, concrete works well in modern, industrial, zen and minimalist design.
Whether if you are looking to incorporate concrete to your home interior, then these ideas will help stir up your imagination!
Need a renovation contractor to help you incorporate concrete industrial design into your home?
Recommend.my has hundreds of contractors ready to work with you. Submit your request and schedule an appointment today.
1. Concrete kitchen countertop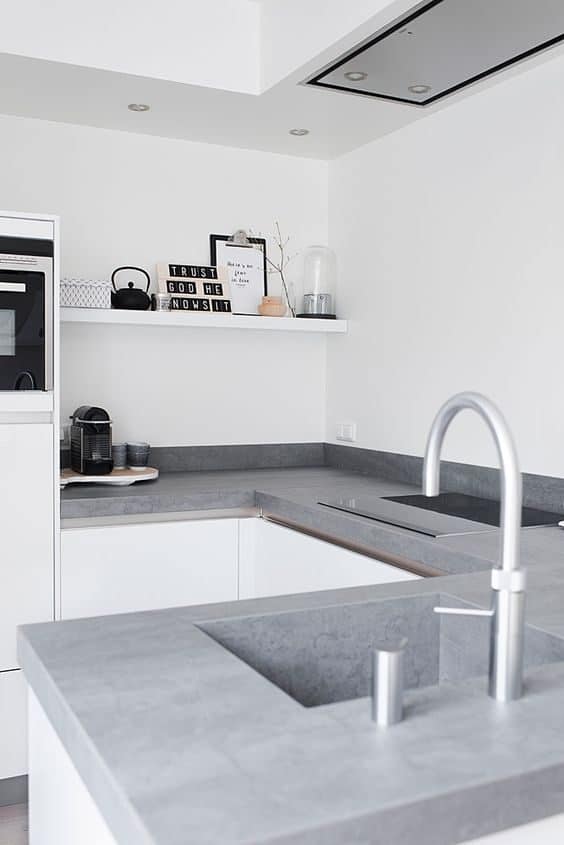 This contemporary kitchen, with concrete element added onto the countertop makes such a beautiful kitchen. Concrete countertops are durable and stylish for the kitchen that many homeowners would love.
Concrete matches well with all white interior and it gives such a sleek finish to the space. You can have built-in stove and sink area to make it fully functional.
2. Concrete kitchen sink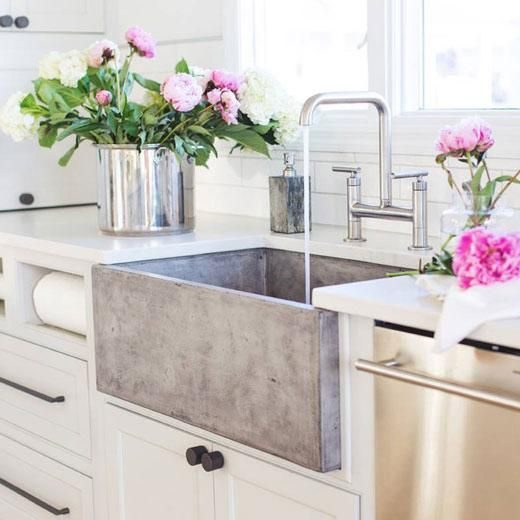 These days, concrete farmhouse sink is a very popular pick by many homeowners. Not only it looks stylish, it has that extra depth and wide in size.
This concrete sink is definitely an attention grabber because of the modern look along with the all-white kitchen cabinet.
3. Concrete bathroom sink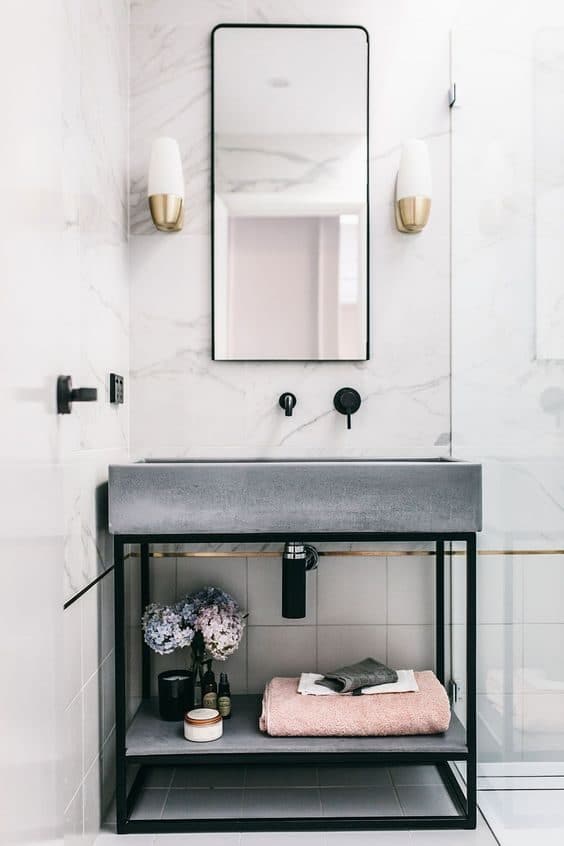 Use simple lines and keep the decor minimal, this concrete countertop sink is wonderfully paired with shelves underneath the sink. Marble and concrete makes such a good combination when it comes to bathroom interior because of its modern look.
Those bottom shelves makes a good storage space for you to display towels or bathroom supplies.
4. Concrete bathroom divider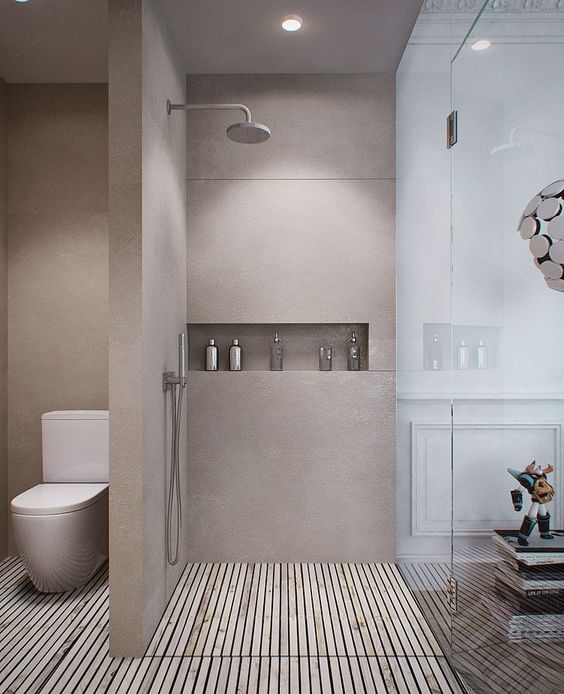 Use concrete as a divider in your bathroom for the shower area. This concrete style divider helps open up space for a more open concept feel. You can also customise your own shower head and space for you to keep your daily shower essentials.
5. Concrete stairs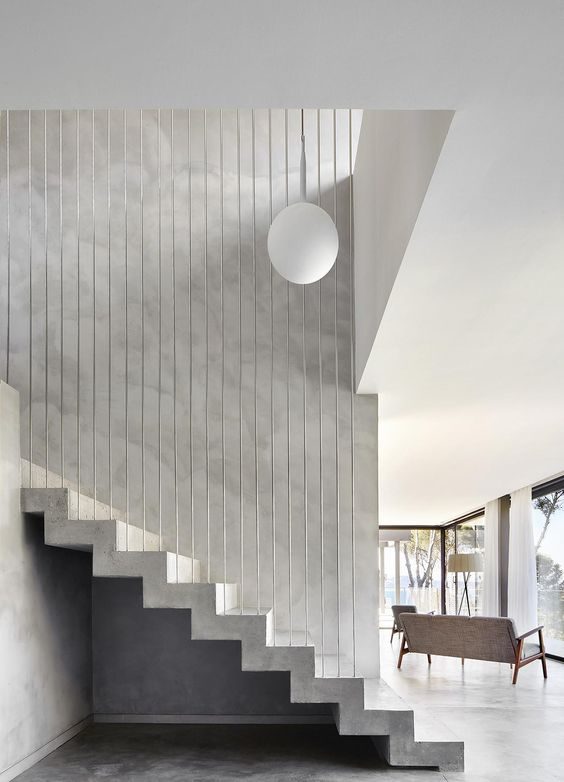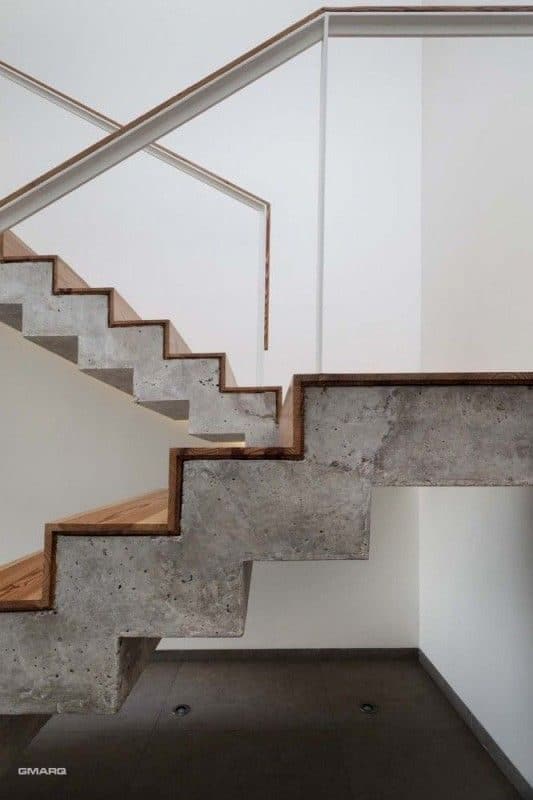 This concrete stairs idea looks light and airy in your entire home. The staircase should blend with the concrete wall along with the light or dark flooring. Overall, concrete stairs give such a beautiful appearance to your home.
6. Concrete wall panel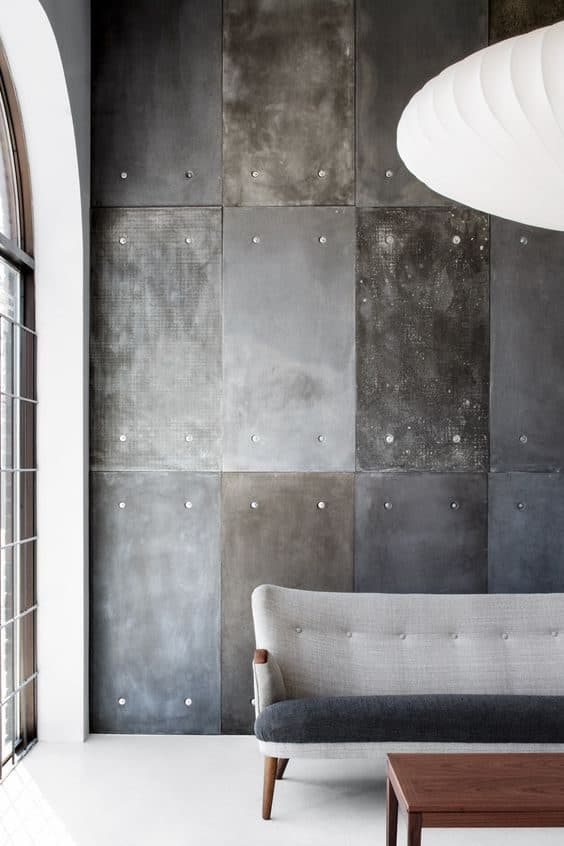 If you're all in for the concrete trend and to live in a minimal home, consider adding a concrete accent wall. This concrete wall adds personality to your living hall space because it has 3D element texture to it. And overall, it gives your home such an interesting and modern look.
7. Concrete barn doors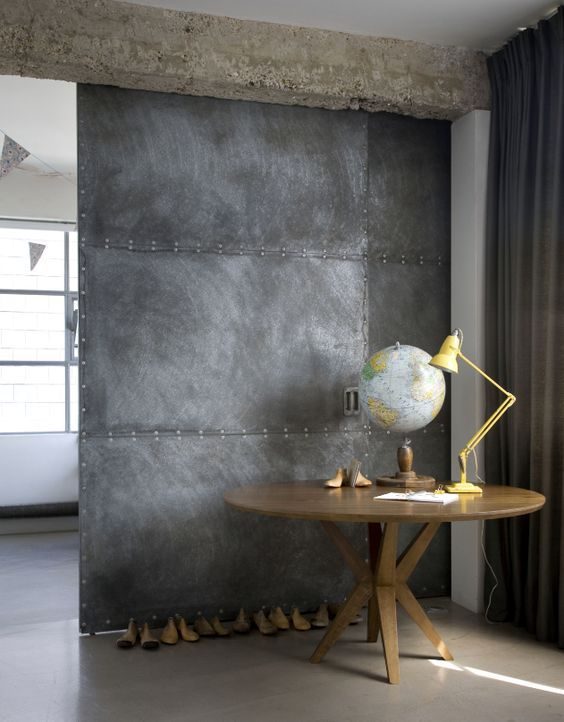 Barn doors are traditionally known as rustic or country style decor. Recently, barn doors have been designed in a much more modern and minimal way. This concrete door is full of personality with the texture and patterns on the door.
8. Concrete flooring in the kitchen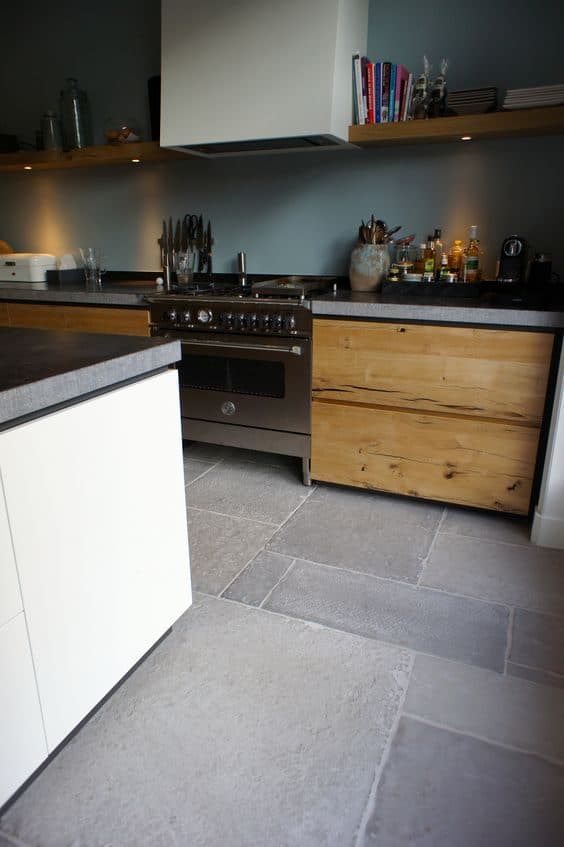 Concrete works well as a flooring in the kitchen as it's easy to clean with a quick sweeping. This cement floor not only gives a minimal feel to the space, but it's also quite industrial. Besides, light-coloured wood contrasts well with the raw concrete feel to the kitchen area.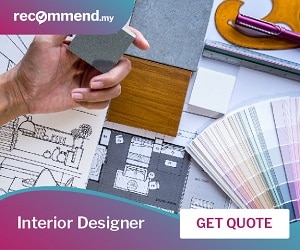 9. Concrete backsplash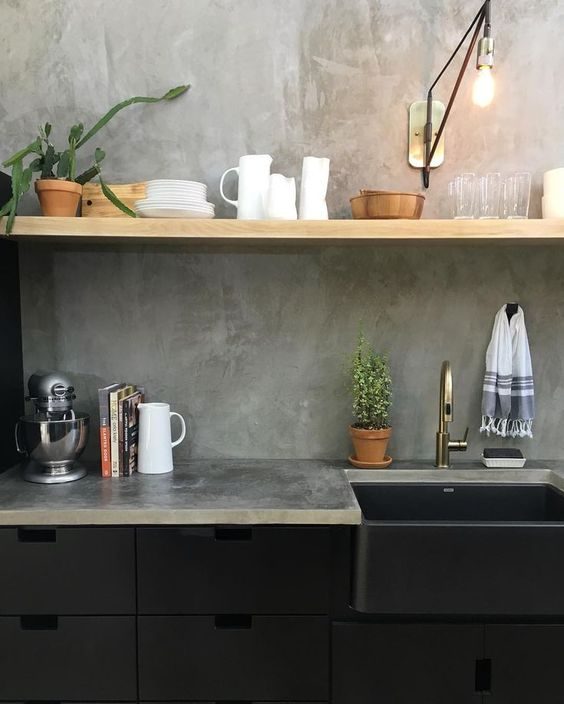 Transform your kitchen with adding concrete backsplash. Those all-black cabinet and sink looks amazing with the concrete countertop and backsplash. Plus, spice up your kitchen with gold tap on the sink for a bold statement to your kitchen.
10. Concrete TV feature wall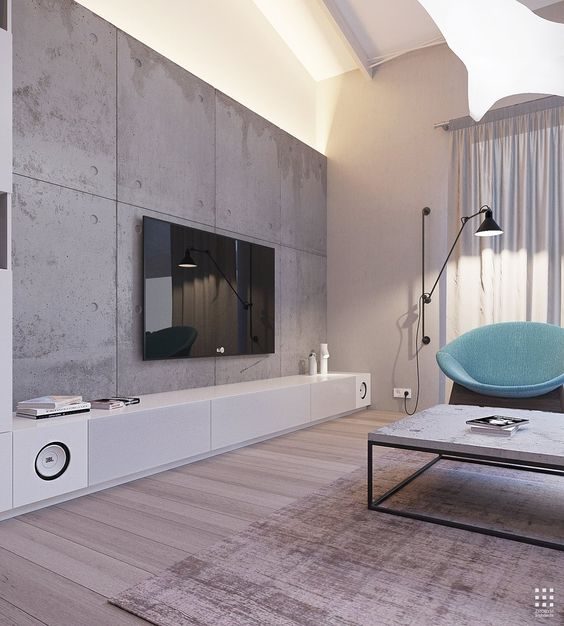 A living hall feature wall is made to look good to make a lasting impression when someone enters your home. This light and modern concrete feature wall is absolutely stunning with the built-in cabinet. They are a great and practical way to keep things neat and tidy for your home.
11. Exposed concrete ceiling subfloor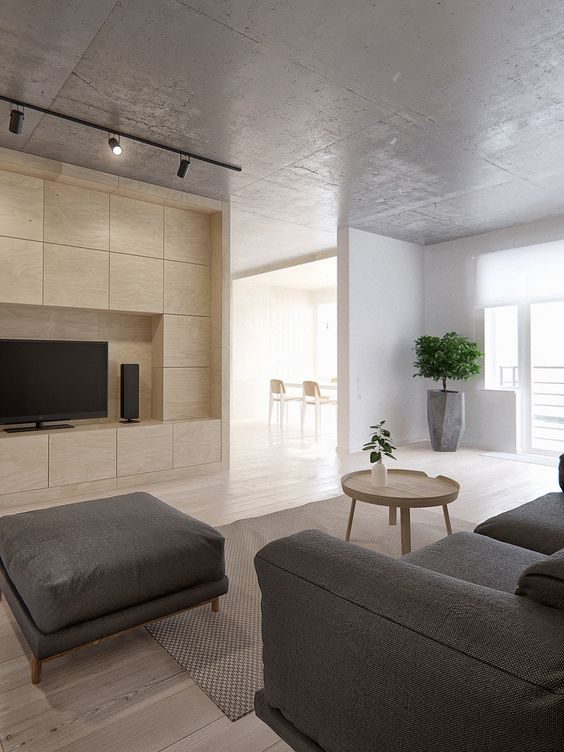 This concrete ceiling ensures that it easily blends in with the curated living room below and also adds to the light-filled and airy appeal of the interior.
The concrete ceiling makes such a streamlined and sleek look for your living hall. By choosing light coloured furnitures definitely helps you achieve this minimalist design for your home.
12. Concrete kitchen island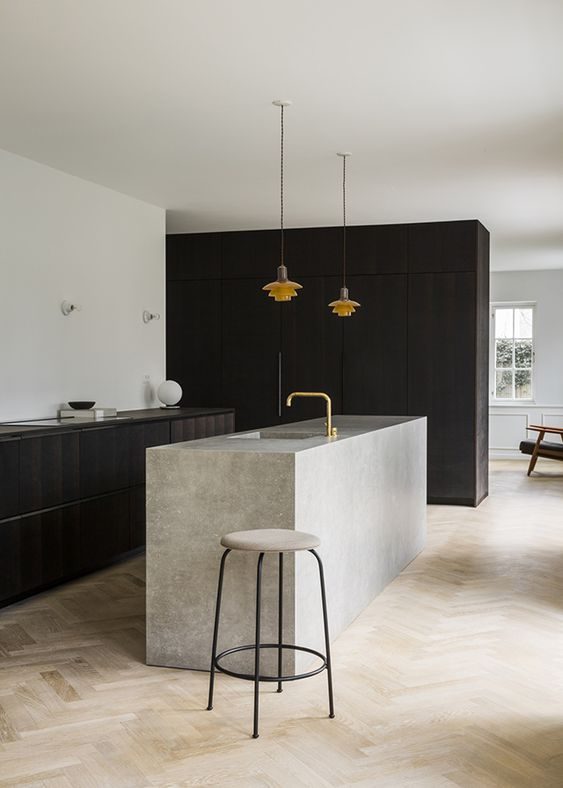 Customise your kitchen island with concrete as it's very durable and more stylish than you think. Concrete material is commonly added in many minimal and industrial home interior.
This concrete kitchen island stands out well with those gold tap on the sink. To achieve an aesthetically pleasing kitchen space, opt for black cabinets to go along with the concrete. Overall, it does compliment each other very well.
13. Concrete wall divider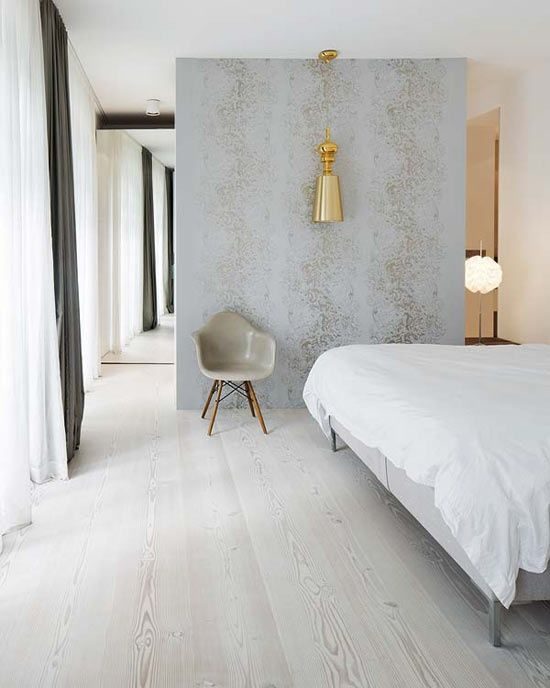 Dividers are very useful to help separate rooms. For example, if you want to separate the closet and bedding area in your room. This minimalist-inspired bedroom with concrete wall looks beautiful as a wall divider. You could add gold light fixtures to bring out the concrete style wall for your bedroom.
14. Concrete platform bed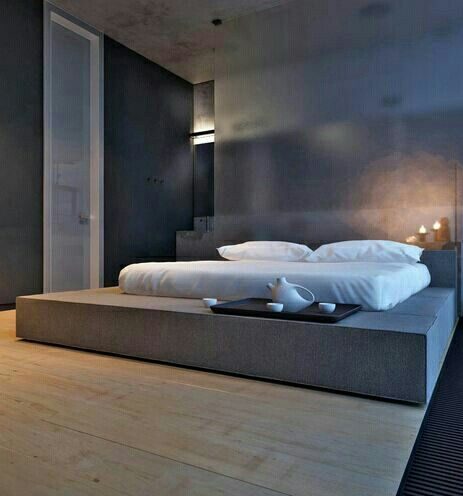 This idea of building a concrete platform bed is genius, its minimal yet trendy these days. The platform bed looks very spacious and wide in size as well. Besides, concrete is often perceived as dark, so lighting additions would do just great for this bedroom.
Need a renovation contractor to help you incorporate concrete industrial design into your home?
Recommend.my has hundreds of contractors ready to work with you. Submit your request and schedule an appointment today.