Who doesn't love the luxury of relaxing in a comfy 5-star hotel room, tucked away safely in a comforter away from the noise and hassle of the city life? It won't be less than a dream come true if you could transform your own bedroom design and make it look like it belongs in the Four Seasons.
These Malaysian homes seem to know the secret to a good night's sleep, with these beautiful and luxurious bedroom design ideas. Get inspiration to make your bedroom a safe haven from the outside world.
1. This elegant bedroom design in Bandar Kinrara, Puchong.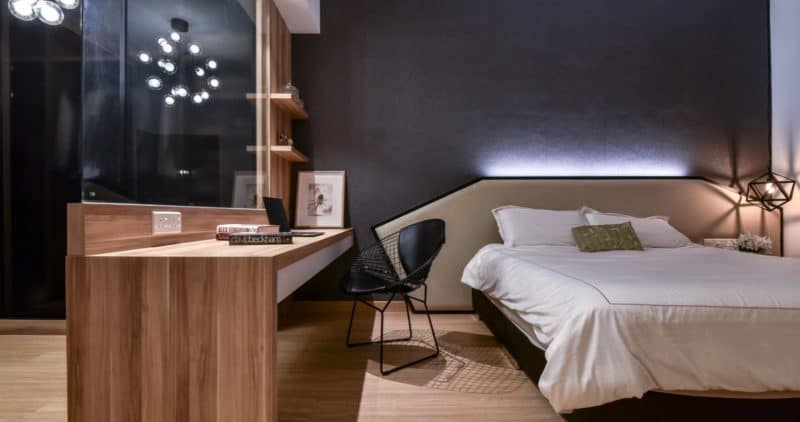 One look at this luxurious and classy bedroom in Bandar Kinrara, Puchong, and you'll end up wondering whether you've stepped into a house or a 5-star hotel room. Our designers make sure the design of the bedroom complements your personality.
2. This warm and cosy bedroom in Casa Tropika, Puchong.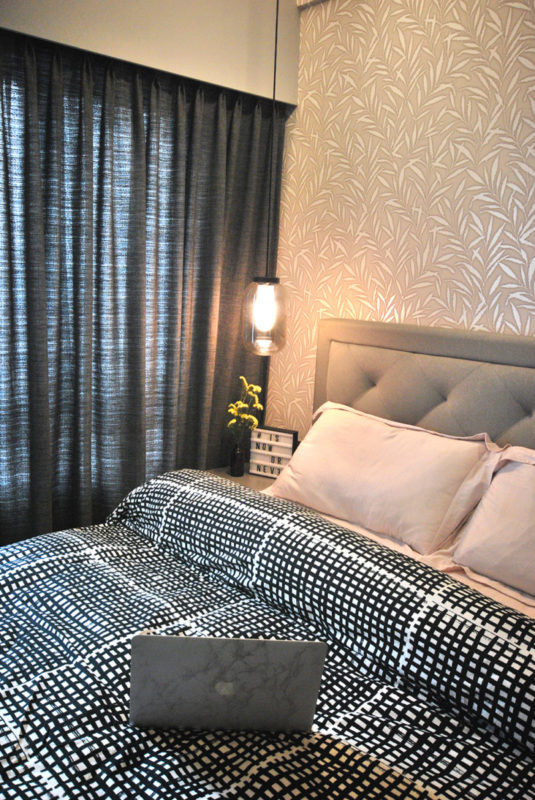 Why do we feel so relaxed and completely at peace when we bunk into a cozy, soft and comfortable bed in a luxurious hotel room? The answer is more detailed than you expect. It's because they understand the science behind making you feel comfortable and give you a calm free experience in the room you have booked. This master bedroom at Casa Tropika, Puchong, offers you're the same experience.
3. A sofa in the bedroom for ultimate relaxation in Bandar Baru Bangi, Selangor.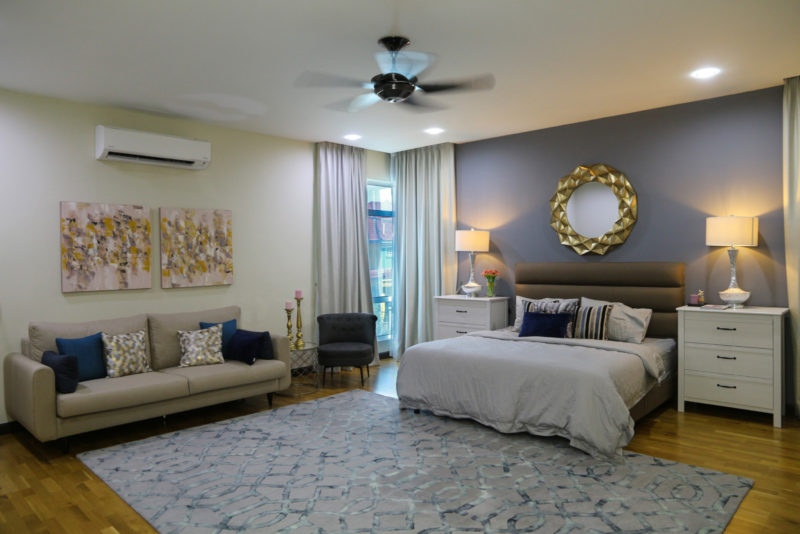 Take the concept of homely comfort to a new level with this bedroom that looks nothing less than a hybrid mix of a bedroom and a living room. The sofa next to the bed with a night stand on the other side will redefine comfort and ease of being at home. A mirror on the wall above the headboard and a rug that matches the interiors are a sight for sore eyes.
4. This minimalist and trendy master bedroom design in Mont Kiara that transforms into a home theatre.
Experience ultra-modern living with this bedroom that comes packed with the arrangements to turn a bedroom into a home theatre.  In line with the philosophy of minimalism, the bedroom takes the cake of modern housing with its wooden flooring and a TV stand that looks larger than life.
5. A fairytale bedroom in Cheras, Kuala Lumpur, that you can enjoy sweet dreams in.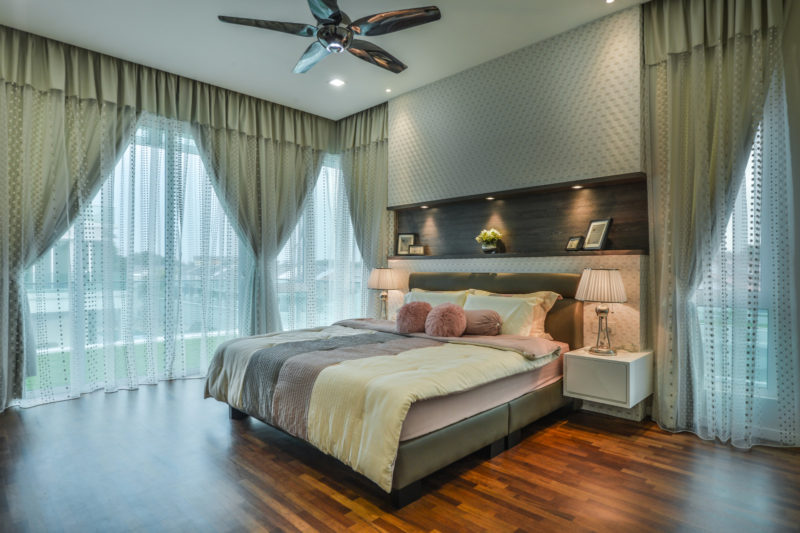 Now there's a bedroom that looks something straight out of a fairy tale. Beautiful wooden flooring with dreamlike curtains are more than enough to make you fall in love with your bedroom. With simple yet elegant lamps on either side, the bedroom doesn't burden you with unnecessary and heavy décor.
6. This comforting and contemporary bedroom in Saujana Residences.
White walls and nude tones set the stage for a relaxing atmosphere in your bedroom that you can't wait to come home to. A stunning piece of artwork brings the whole room together while the contrasting blue curtains give it a modern look. Design your room to look like this and you'll feel like you actually live in a 5-star hotel.
7. A monochrome bedroom in Cheras that exudes simplistic elegance.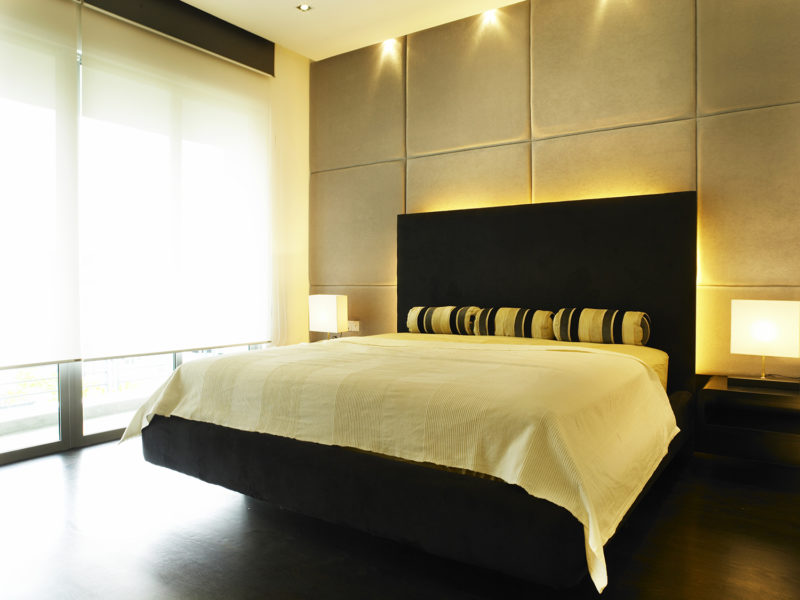 What is it about classic black and white that makes us feel peaceful and relaxed? Defining chic and class with a simplistic approach –that's what this bedroom is all about. No need to spend big bucks for just one night when your own bedroom beats the luxury of a five star hotel room.
8. This rustic bedroom in Mont Kiara with ample storage space and backlit shelves.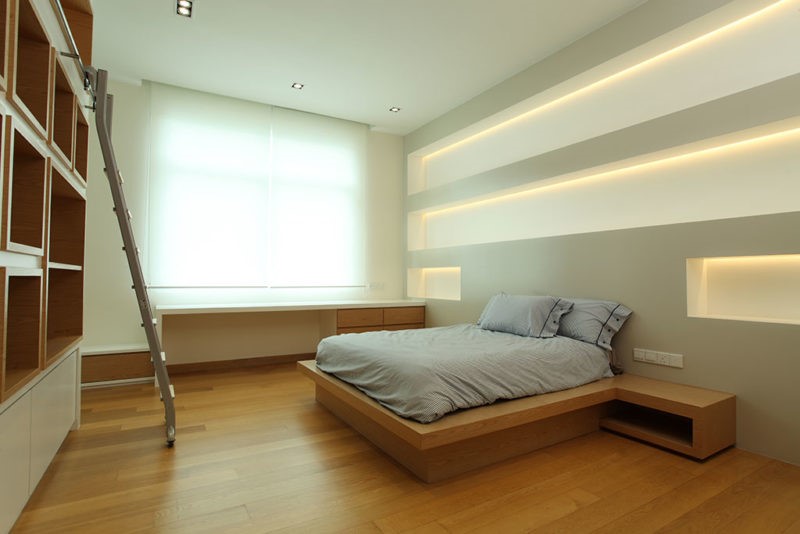 Need a bedroom that combines the power of comfort with utility? This is the bedroom for you. Simple wooden flooring and wooden cabinets with backlit storage shelves in a seamless and eye-pleasing design will make your bedroom as comforting as it gets, just like a boutique 5-star hotel.
9. This romantic bedroom in Dutamas, Kuala Lumpur, with great lighting.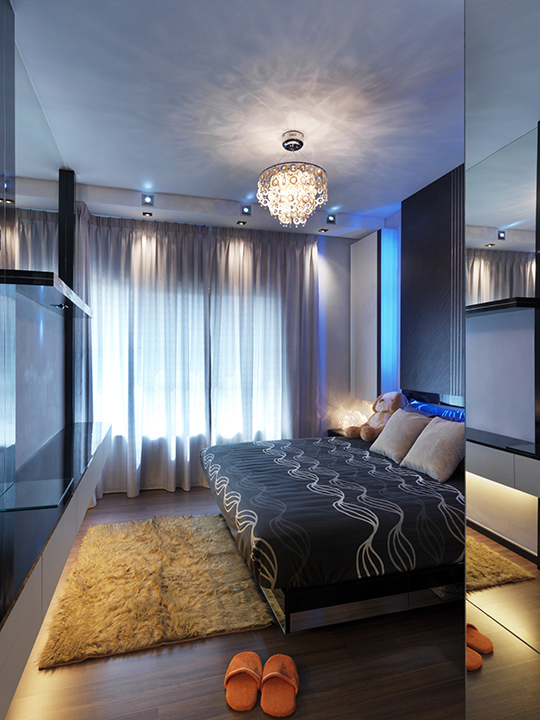 The chandelier on the ceiling lends a romantic feeling while the plush rug is easy on the feet. Dark grey tones soothe the mind and soul. You'll soon forget all your worries with a bedroom like this one.
10. A chic bedroom with tasteful design in Medini Signature Villa, Terengganu.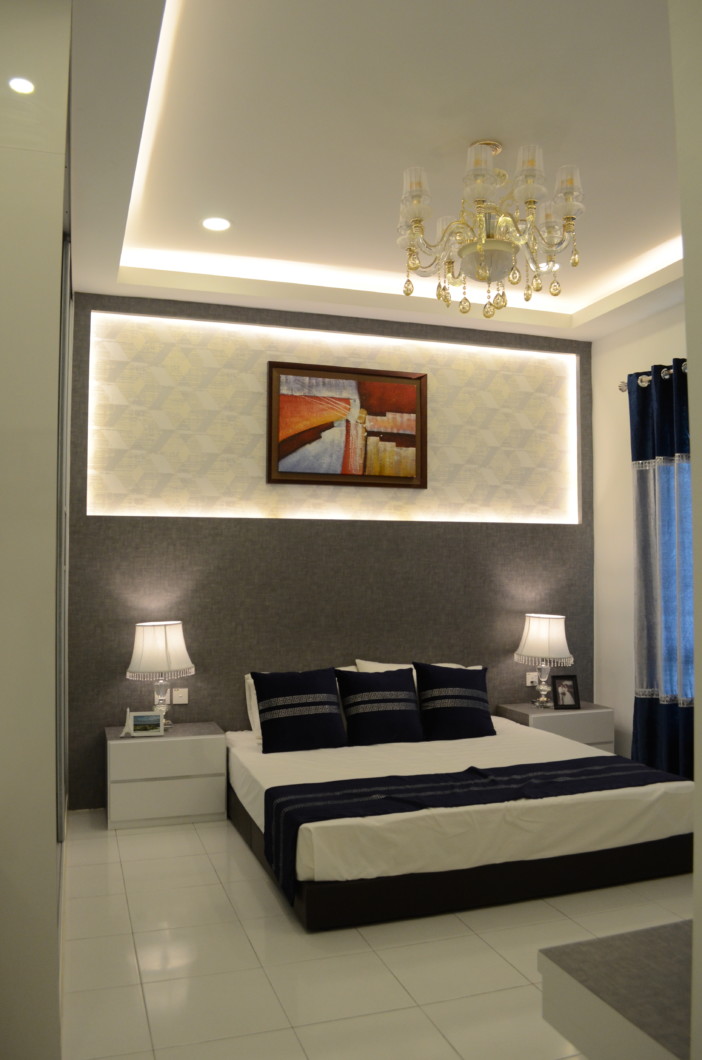 The chic monochrome design along with the chandelier lighting gives it a trendy vibe. The bright artwork contrasts with the neutral colours of the bedroom, lending a warm feel. A beautiful bedroom that looks just like a 5-star hotel room.
Like these designs? Hire an Interior Designer to make your dream bedroom that looks like a 5-star hotel room.