When your kids are old enough to have their own bedrooms, it feels like an impossible task to keep it neat and tidy. Toys get flung everywhere; sheets of paper and crayons slide under the bed; and clothes and towels are strewn all over.
But, what if you could design a kids room that looks so gorgeous and suited for them that they can't bear to make it messy? One of the most important pieces of kids furniture you need is the wardrobe.
A kids wardrobe is not just great for storing clothes and toys, they can also double as a study area, reading table, and a display shelf.
From superhero-themed wardrobes to bright cabinet colours, your kids will love these stylish designs!
Get free cost estimates from contractors
Schedule an appointment with the best cabinet contractors in Malaysia at Recommend.my and receive FREE quotes.
Natural timber kids cupboard with bright blue display shelves
This kids bedroom in Melbourne has a ceiling-height wardrobe with pretty circular handle. While the wardrobe is perfect for a boys' bedroom, it's the display shelf next to it that gives the room a playful vibe. Lots of open storage gives plenty of room for books and toys, so your kids will want to spend all day here.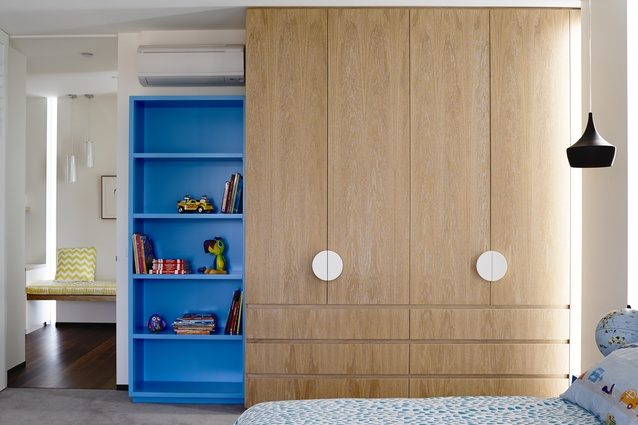 Source: architectureau.com
Kids wardrobe with geometric lines and play area
In the same Melbourne home, another kids wardrobe is full of geometric details, like the big red hexagonal handles, and the stepped wall shelves. There's even a low cabinet so that smaller kids can play and act out stories with their toy cars or action figures.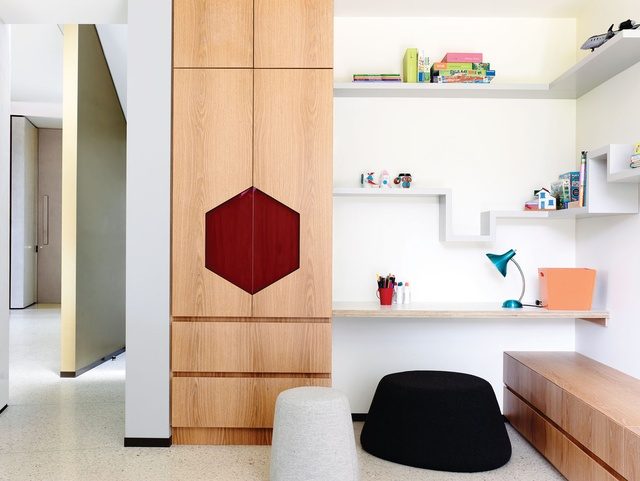 Source: architectureau.com
Sibling's bedroom with shared wardrobe
This small bedroom has been maximised for two kids to sleep and read comfortably. With individually lit bunk beds and a wide shared study table separated by a tall cabinet in royal blue. The yellow chairs add a nice touch to the shades of blue and light wood tones.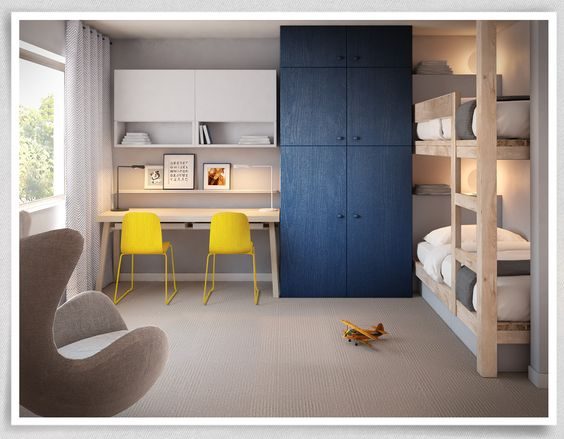 Source: pinterest
Superhero-themed bedroom wardrobe for two boys
This cozy 107 sqm apartment includes a shared bedroom with an interesting Lego-inspired cabinet door, superhero-themed wall art, as well as a fun climbing apparatus.The largely monochrome bedroom uses blue and gold accents to add visual interest.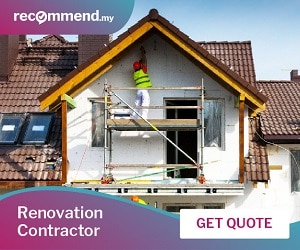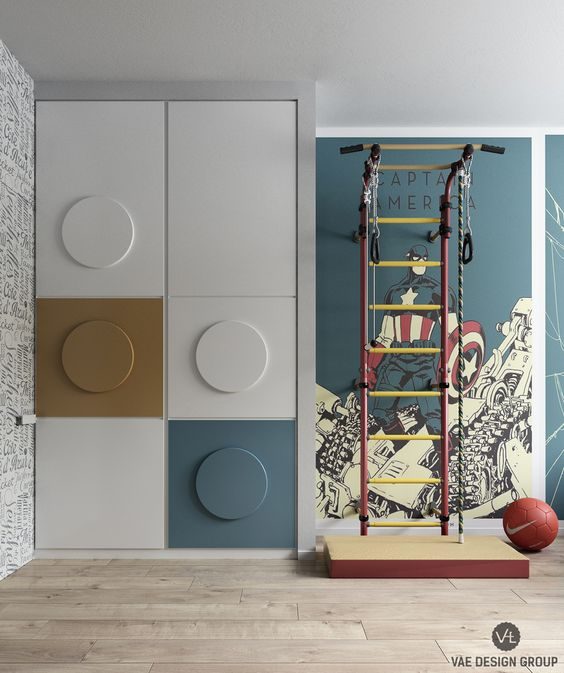 Source: vae.by
Baby bedroom with wood cutouts on wardrobe door
This mostly-white nursery adds a natural touch to the wardrobe doors, by sticking lovely wooden cutouts to resemble apartment blocks.The little window and door details add beautiful textures to the room and create a soothing view.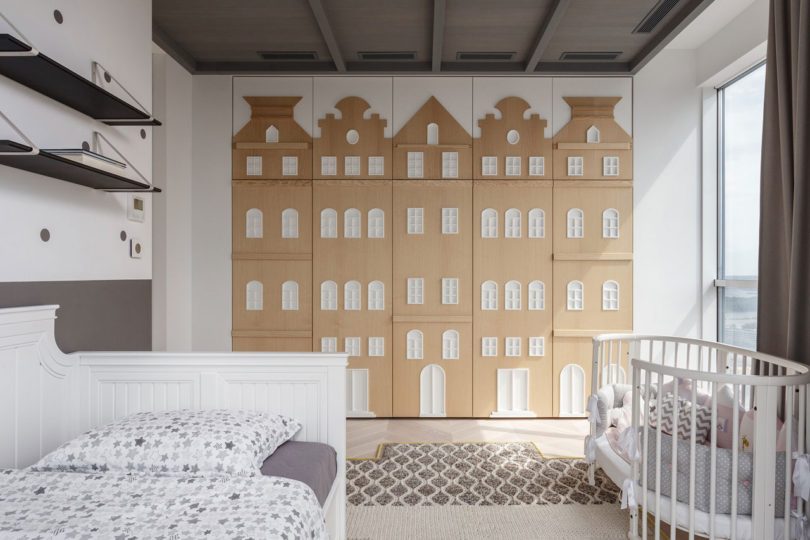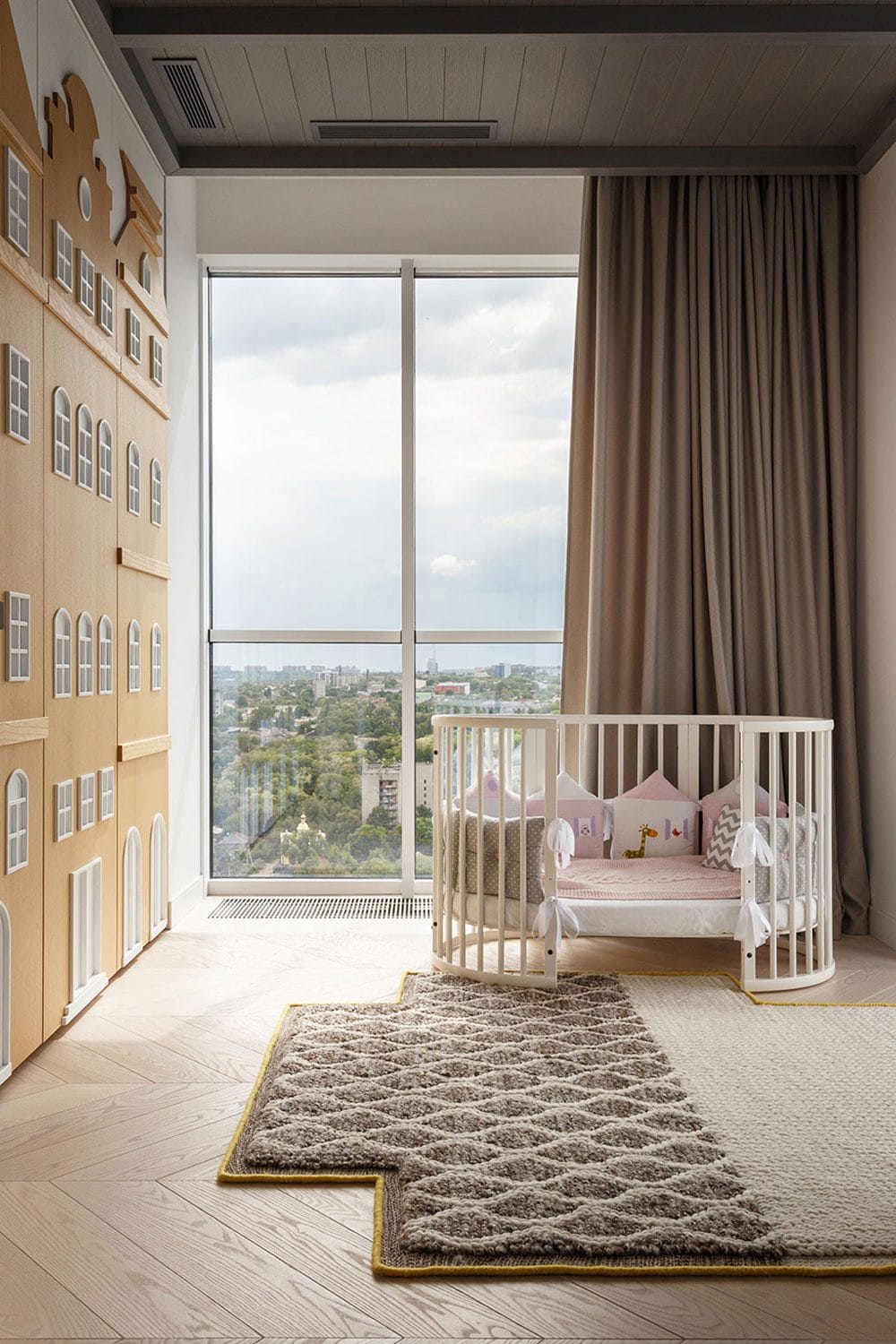 Source: design-milk.com
Kids wardrobe with house-shaped drawers
This kids bedroom in Taiwan uses clever open shelves built into the doors themselves to provide a small display niche for toys. The house-like design also appears on the painted door, creating a lovely set of spatial patterns that tie the room together.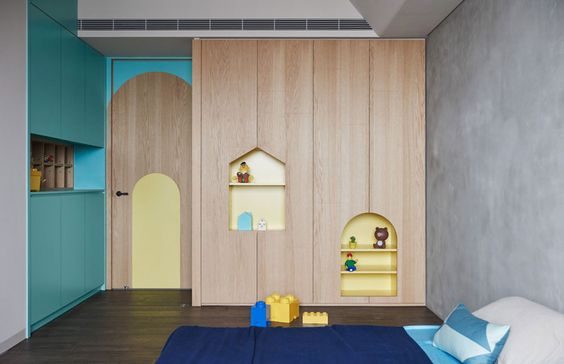 Source: designboom.com
Square grid kids wardrobe design
This Minecraft-inspired wardrobe mixes natural wood panels, with white, blue and green laminates. Along the floor, a row of low drawers make it easy to reach for toys. The wardrobe also comes with a set of open wall shelves that extend to a window-length study table.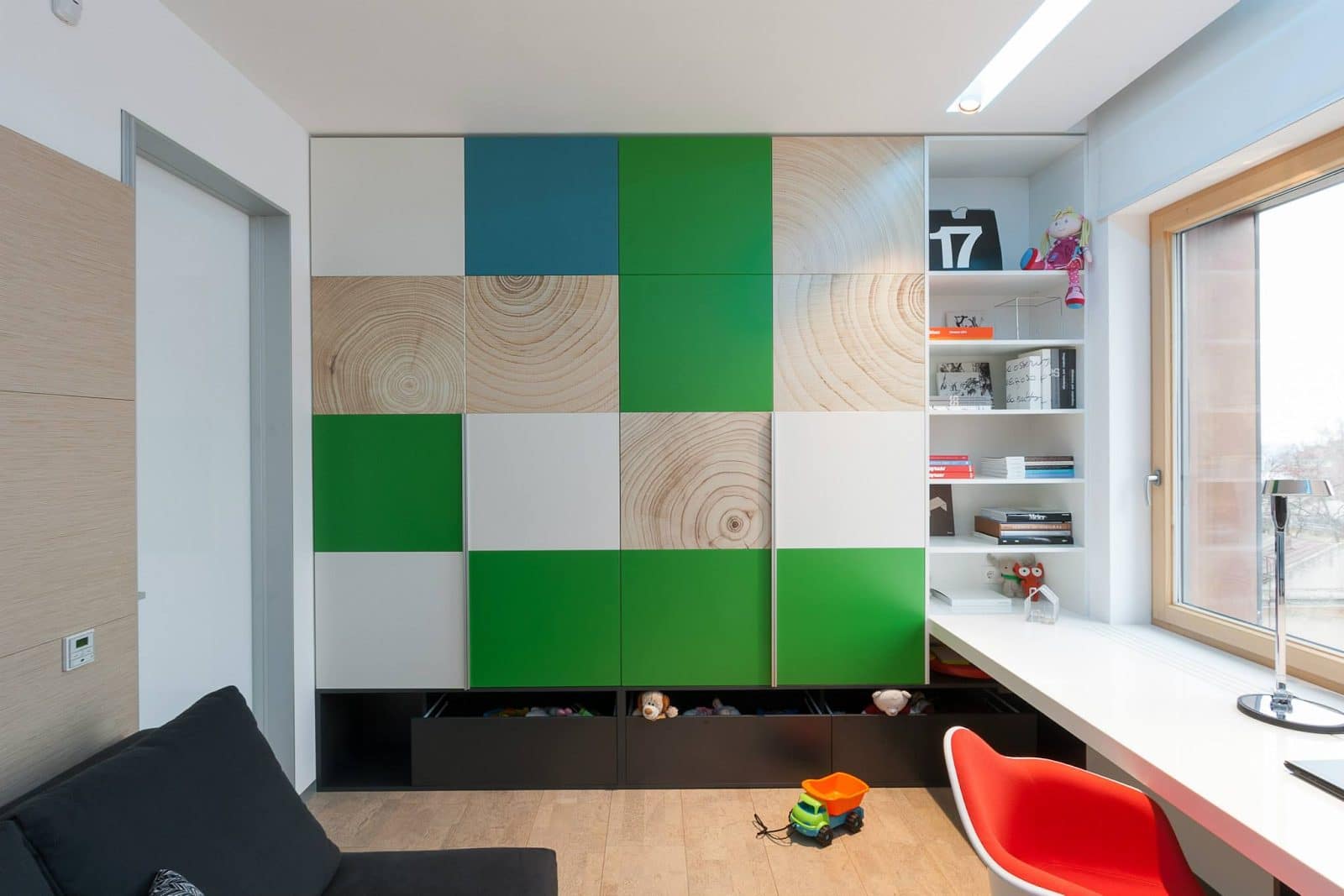 Source: Valentirov and Partners
Pastel-themed kids wardrobe with sliding doors
This beautiful pastel wardrobe is done in a milky yellow frame with turquoise sliding door. Even the bedroom door is painted baby blue to match!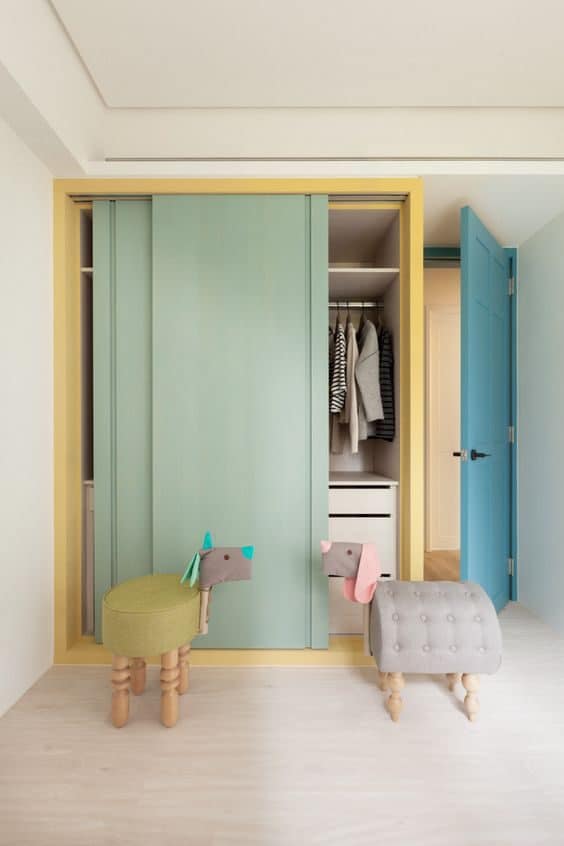 Source: artelsv.com
Kids wardrobe with padded doors
This design uses light wood laminates, with uneven circular handles to give it a quirky touch. At the lowest row, the cabinet doors have been padded to give it a softer look (and also makes it safer for younger kids)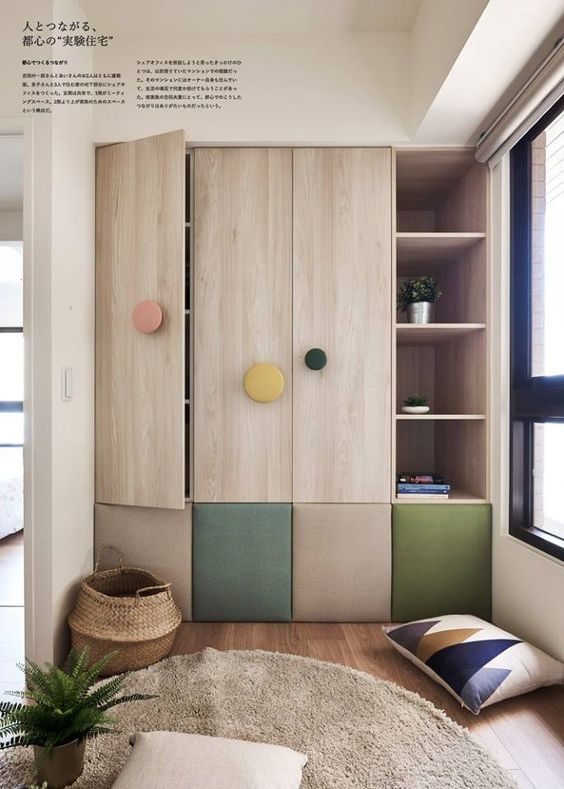 https://kknews.cc/zh-sg/design/62539bq.html
Yellow wardrobe with sliding chalkboard
A great wardrobe to let kids get creative! The closed wardrobe doors are painted in light yellow, while the rest of the wall features open shelving with a single sliding door panel that is layered in chalkboard paint. This makes it a great place for doodling.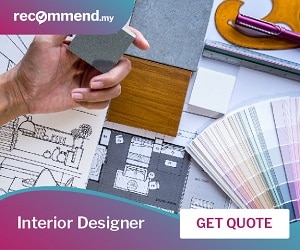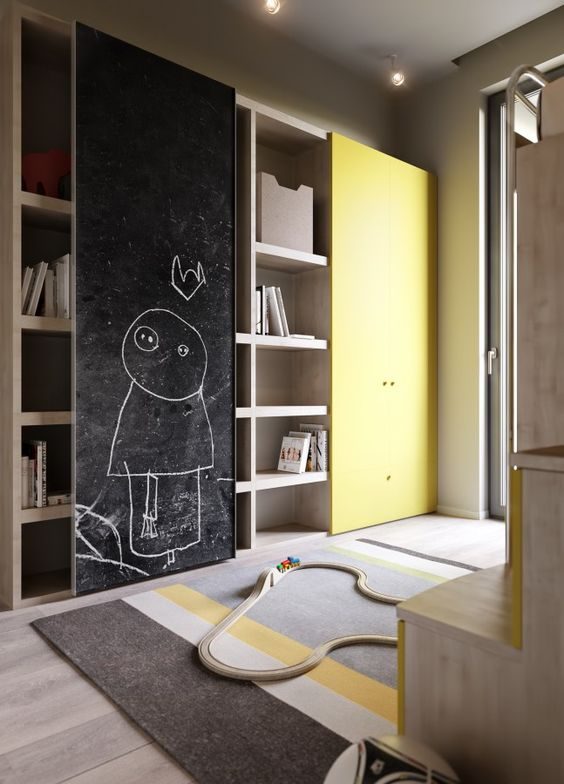 Source: behance.net
Pastel blue wardrobe for boys bedroom
This wardrobe is designed with clean, flush lines that hide all your belongings, with simple horizontal door pulls for easy access. Several cabinets have been left open by the window, and the wardrobe extends to a window-length study desk.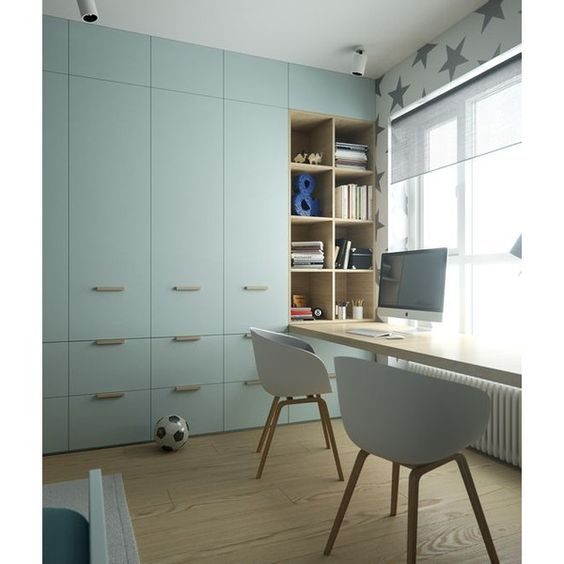 Source: polyvore.com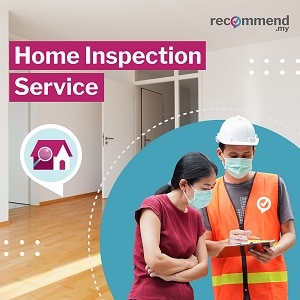 Stacked blocks
This wardrobe uses the idea of stacked blocks to create a combination of closed cabinets, open display counters and even a tall chalkboard for taking notes. The doors handles are cleverly designed as finger holes.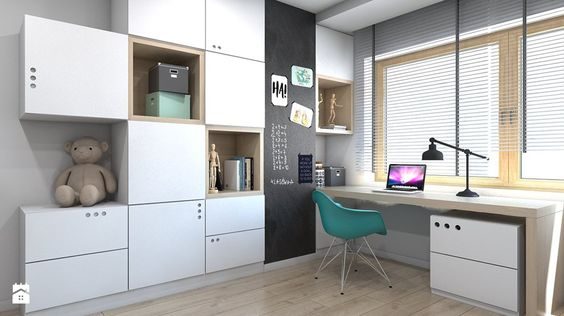 Source: homebook.pl
Glossy wardrobe with flush doors and low open shelving
This modern wardrobe uses push latches (where you press the door and it opens with a click) to create an almost seamless cabinet wall with thin gap lines. At knee level, two rows of cabinets have been left open so that kids can reach for their books and toys easily. It's possible to create this using Ikea BESTA.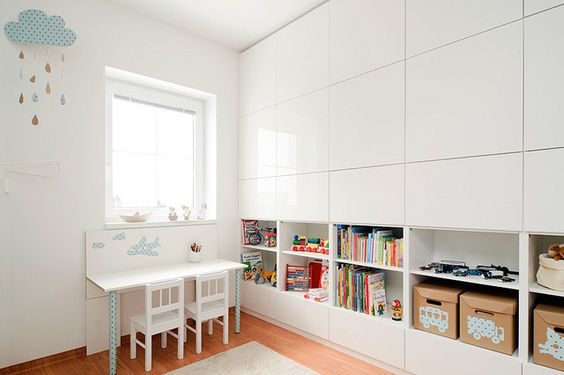 Source: flickr.com
Want to build a wardrobe in your kids' bedroom?
Recommend.my is Malaysia's #1 home improvement site (also in Singapore as Recommend.sg). Get competitive quotes from our network of hundreds of cabinet contractors. Tell us your requirements and we will find contractors to respond quickly with an estimate.