The last couple of years have all been about self-care. And the bathroom is the first place you think about when it comes to this.
But, how do you create a luxurious bathroom (or toilet design) that invigorates your senses, while being relaxing and comfortable? In this article, we take a look at examples from bathroom interior designs in Malaysia.
These interior design projects in Malaysia managed to create a hotel-like feel for each of their client's bathrooms. From clever use of bathroom tiles, bathroom fixtures, colours, textures and materials, there are so many ways to achieve a luxurious and indulgent look!
Use wood textures for an outdoor feel
Wood is not limited to the living room or bedroom. You can incorporate wood textures and colours in your bathroom to add a natural feel and organic appeal. In this bathroom, the light wooden frame of the mirrors and undersink counters helps to soften the hardness of the ceramic tiles. The flooring also uses vinyl planks in wood grain pattern to give it an outdoorsy vibe.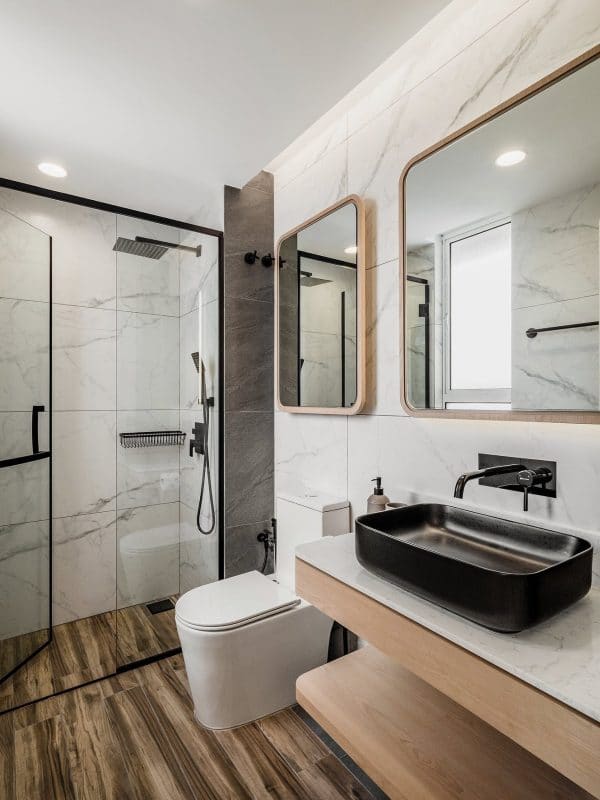 Add hidden lighting
Don't rely on a single ceiling light. The right mix of bathroom lighting can transform a mundane space and add depth and dimension. For example, under-cabinet lighting helps to add details to the sink and countertop, or bounce light off the ceiling to create a flattering glow. Ambient lighting around the mirror helps you when you need to apply your makeup, and hidden lighting at the bottom of the cabinets can be set to turn on automatically when you walk in in the middle of the night. It also creates a neat floating effect.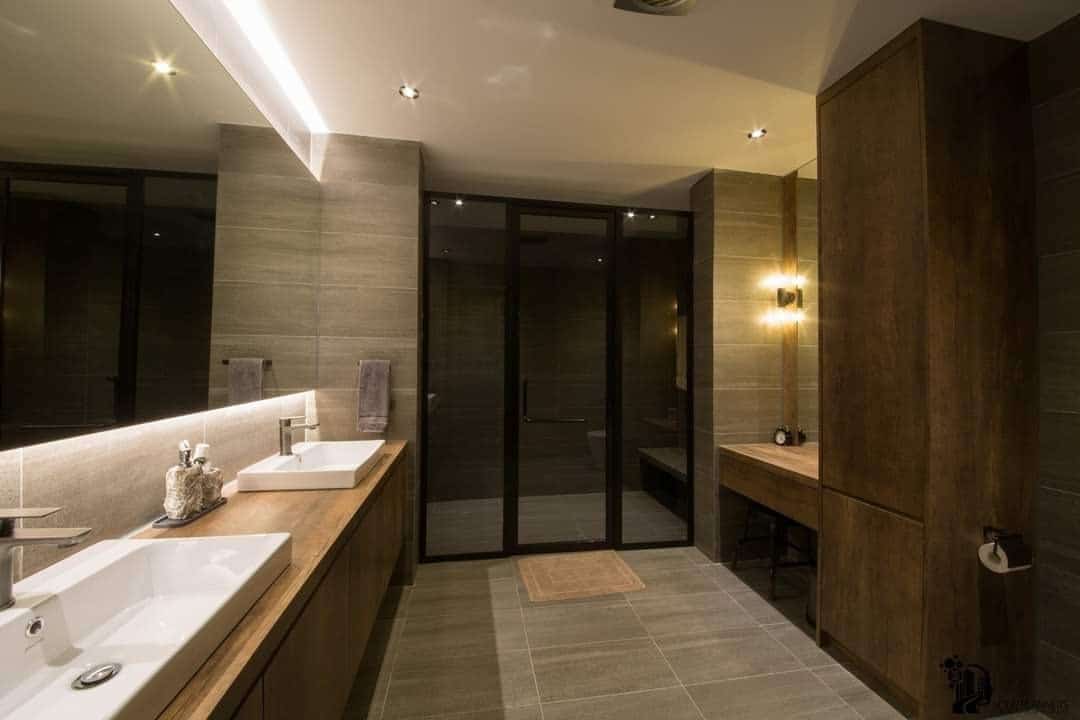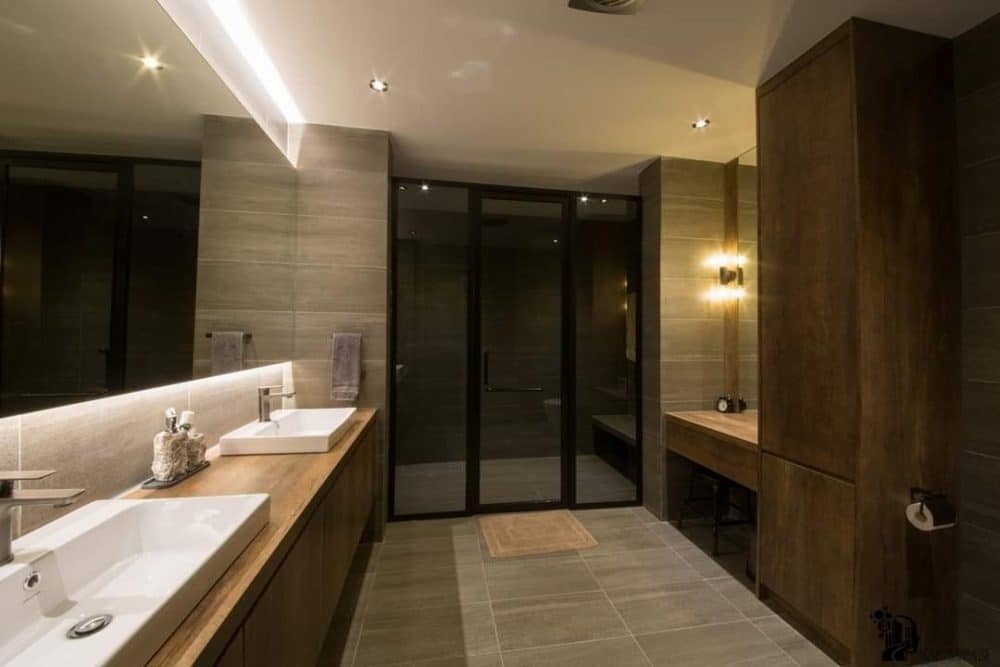 Add a designer mirror
Any type of mirror is essential in the bathroom for everyday tasks like brushing teeth or putting on makeup. But mirrors can help to inject style and glamour, add more depth to the room, and create a focal point. Mirrors designed for the bathroom are usually frameless to maximise space, and can also come with lights built around.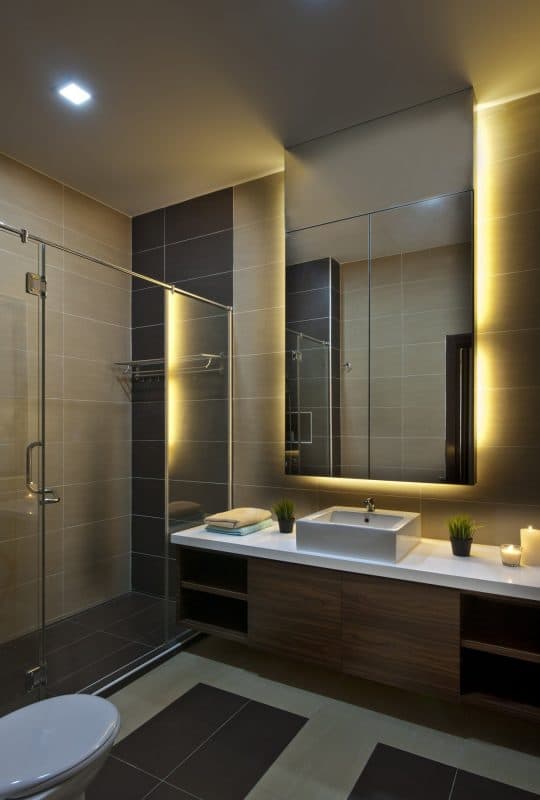 Hang artwork
If you have a section of blank wall in your bathroom, why not display some artwork? These could be framed photos from your travels, art posters, paintings; anything that fits your style! It gives the bathroom a finished feel and makes the space much more comfortable.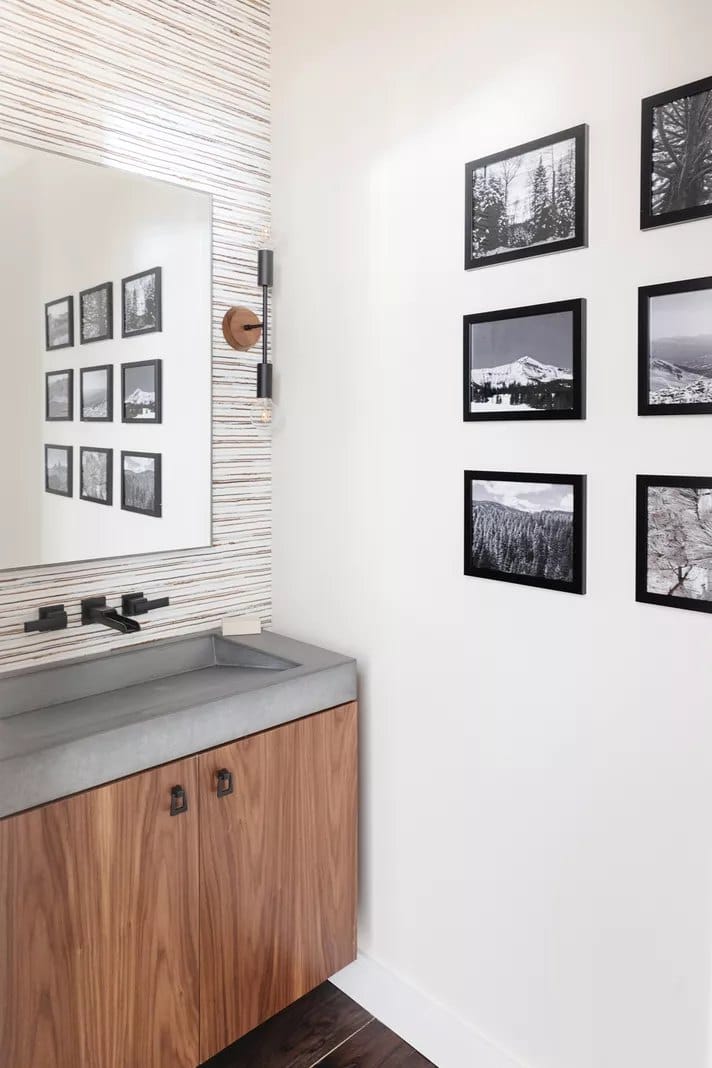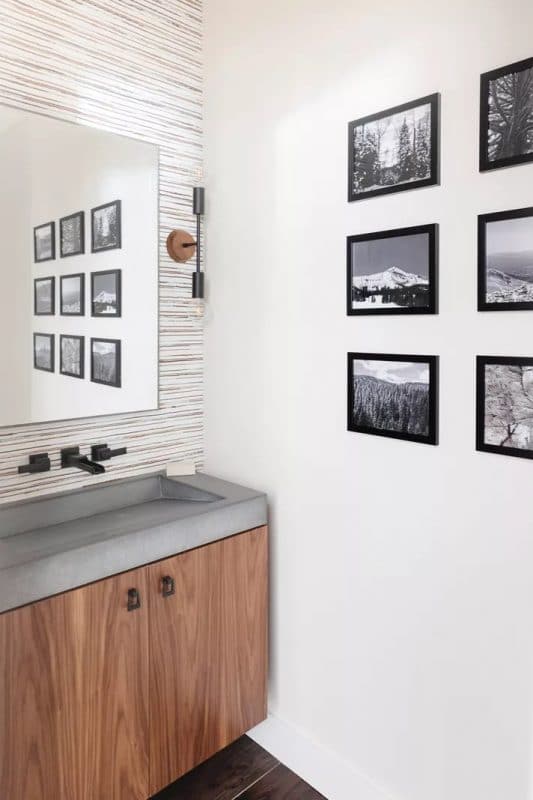 Add a unique conversation piece
Like the name suggests, a conversation piece gets your guests talking about it. In the bathroom, it could be a small piece of furniture, a chandelier, or a designer bathroom fixture. In the example below, the owners opted for a patterned ceramic bathroom sink to add a surprising pop of colour and texture without taking up too much space. We found a similar bathroom sink online.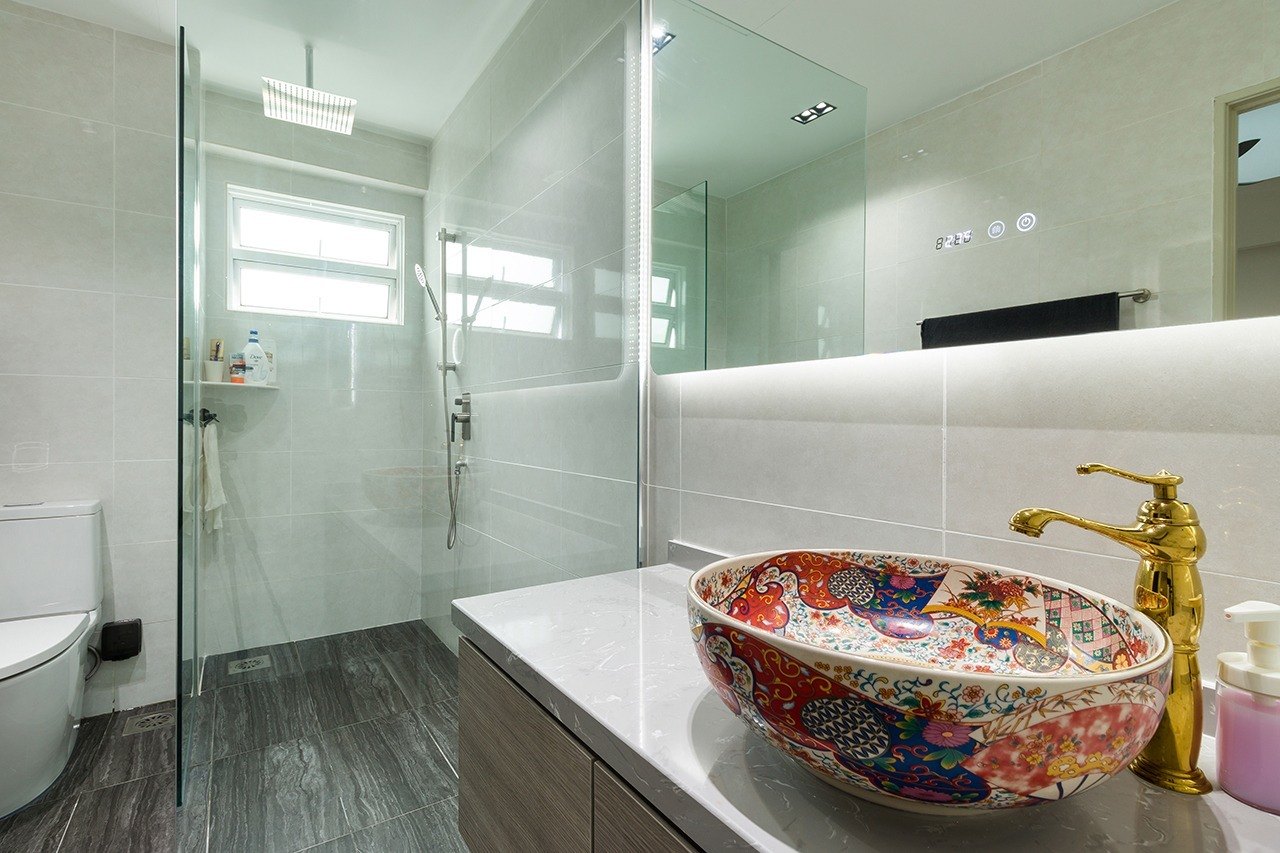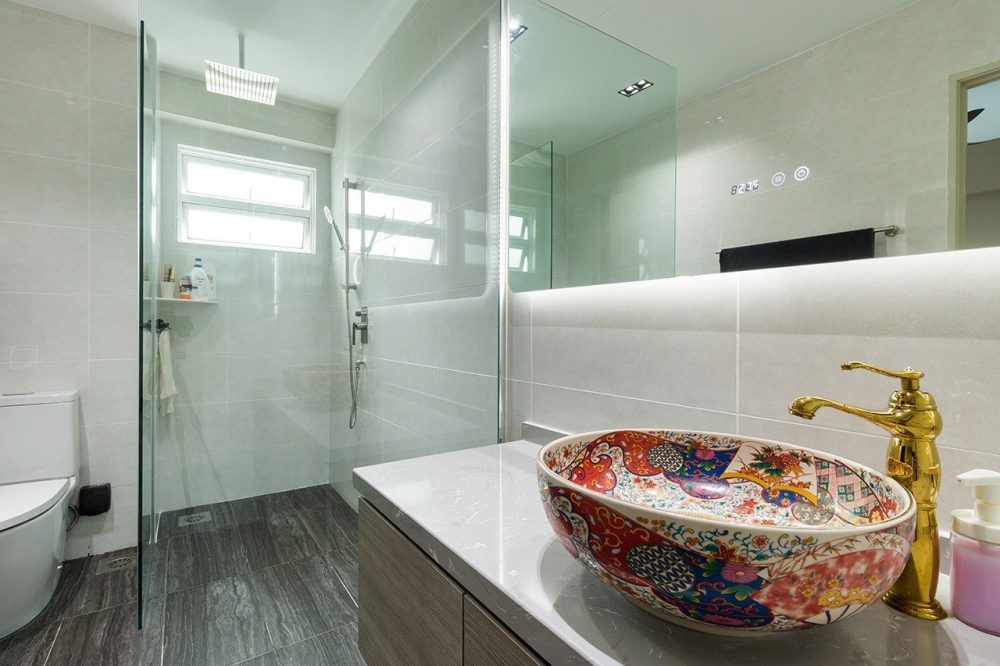 Build your faucet and shower mixers into the wall
This is a great way to maximise bathroom space and hide the installation hardware. Less exposed pipes makes your bathroom look larger and cleaner. But, your interior designer will need to plan for this carefully, so that the piping will match the location of the fixtures.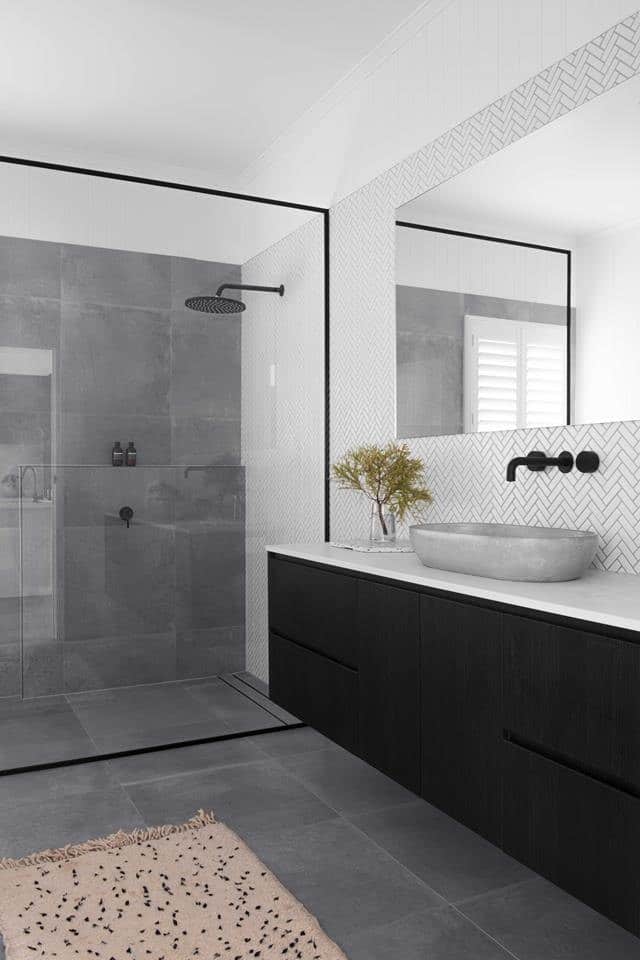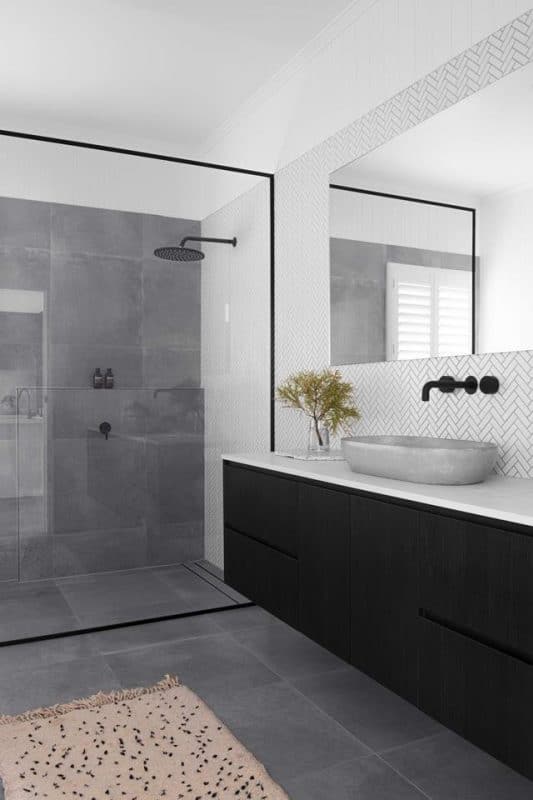 Add a bathtub or jacuzzi
A luxurious bathtub or jacuzzi is a great way to relax and unwind in the privacy of your own space. Add one to your master bathroom so you can always indulge in a little pampering and enjoy a spa day, everyday!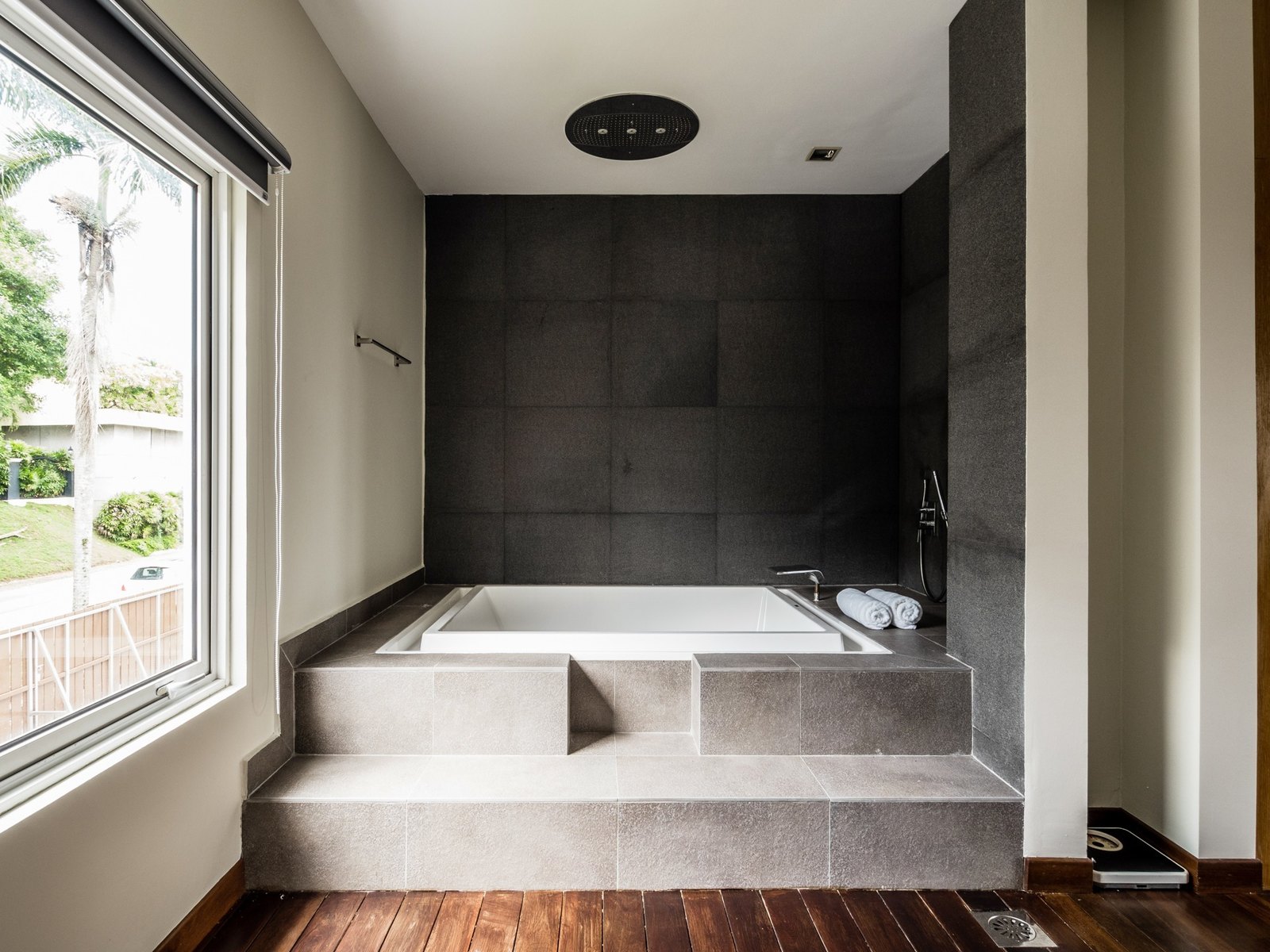 Add gold or chrome accents
The bathroom taps usually come in chrome silver colours, but many homeowners are starting to use matt black as well. But what about gold accents? Gold works especially well in a modern bathroom design, as the warm colour pairs well with white, and gives off a luxurious vibe. In the example below, the interior designers added gold strips on the floor near the toilet, and also along the walls, at stomach level. Even the power sockets were replaced with gold-coloured faceplates.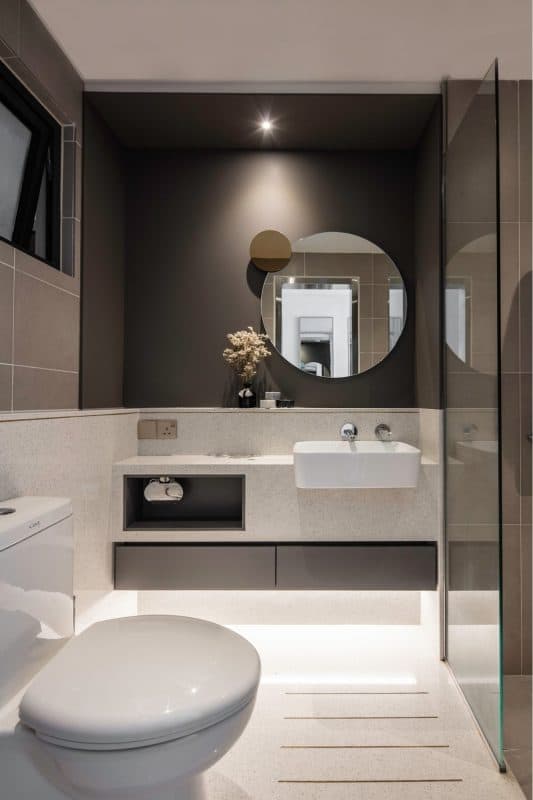 Add lots of shelf or cabinet storage to keep the countertops clear
The bathroom in any luxurious 5-star hotel is always clutter-free. But that's because it only needs to hold the toiletries and towels for a single day. You can achieve the same feel at home by installing enough cabinet and shelf storage to hide your items, such as under-sink or wall cabinets to store cleaning supplies and spare toiletries.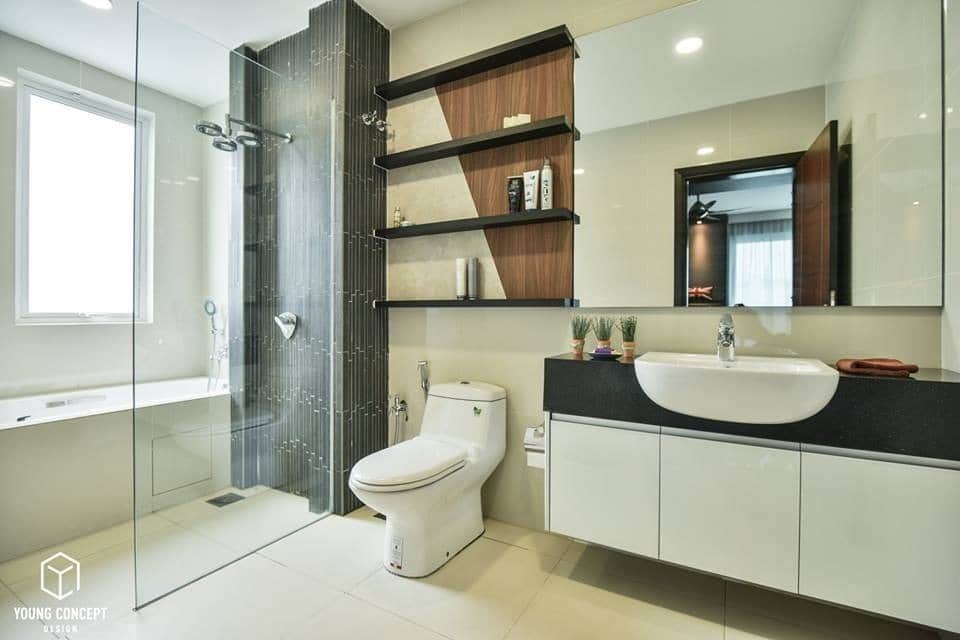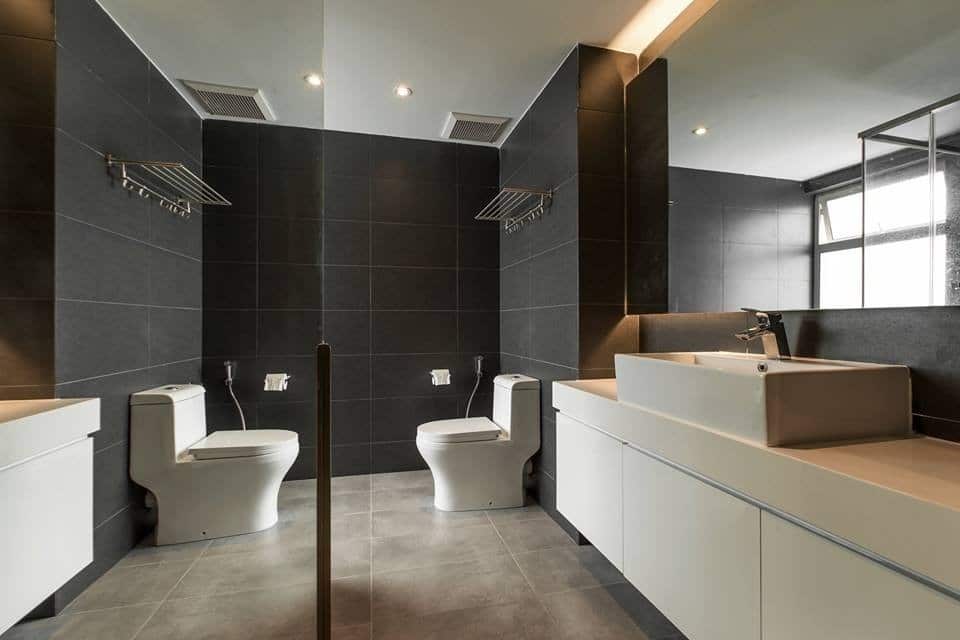 Use granite or marble for a real hotel feel
The timeless style of natural stone in the bathroom makes it a great choice for any luxury bathroom. It's versatile since it goes perfectly with chrome or wooden accents. You can put it on your walls and the organic patterns and cooling feel will instantly elevate any bathroom, big or small.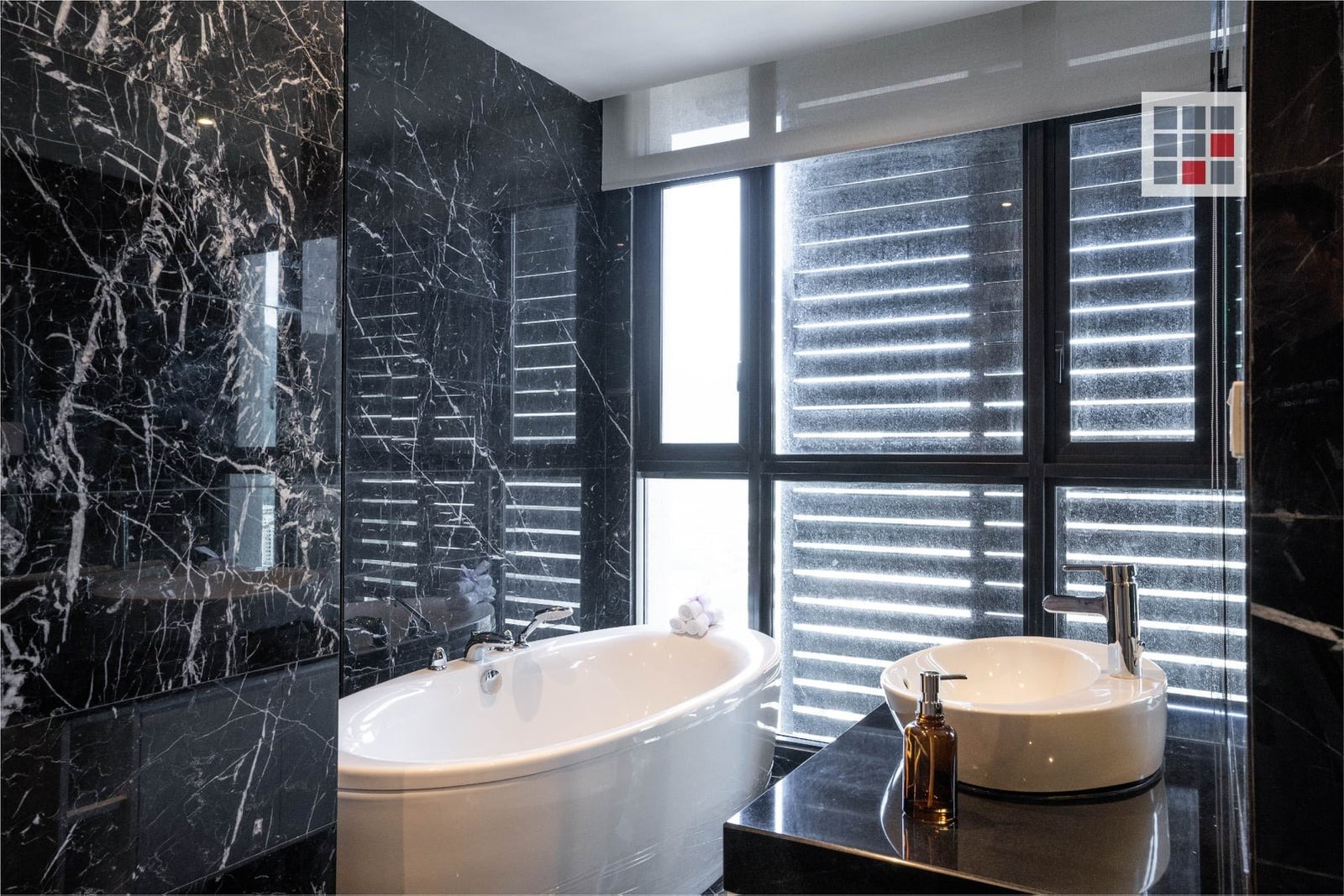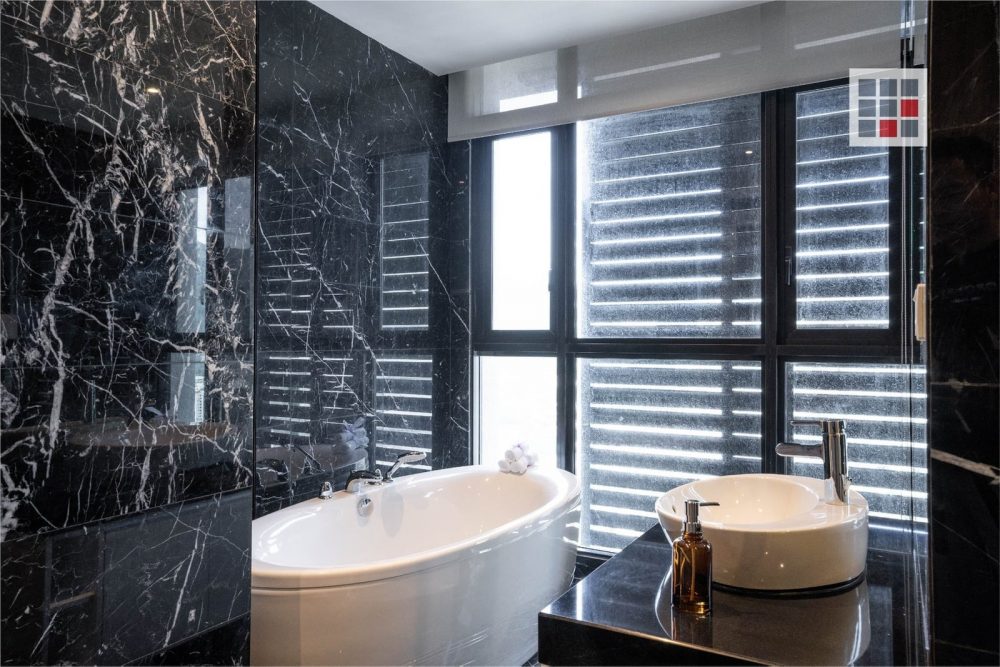 Play with patterns or mosaic
Patterned tiles, such as Peranakan tiles or Moroccan tiles add great contrast to the bathroom. Even a contemporary, monochromatic, or Scandinavian bathroom design that features clean lines and minimalist appearance will benefit from the addition of a striking pattern or mosaic. Add them to the walls, the floor, or create a small vertical strip in the shower area.
Learn more: Choosing the right type of tiles for your home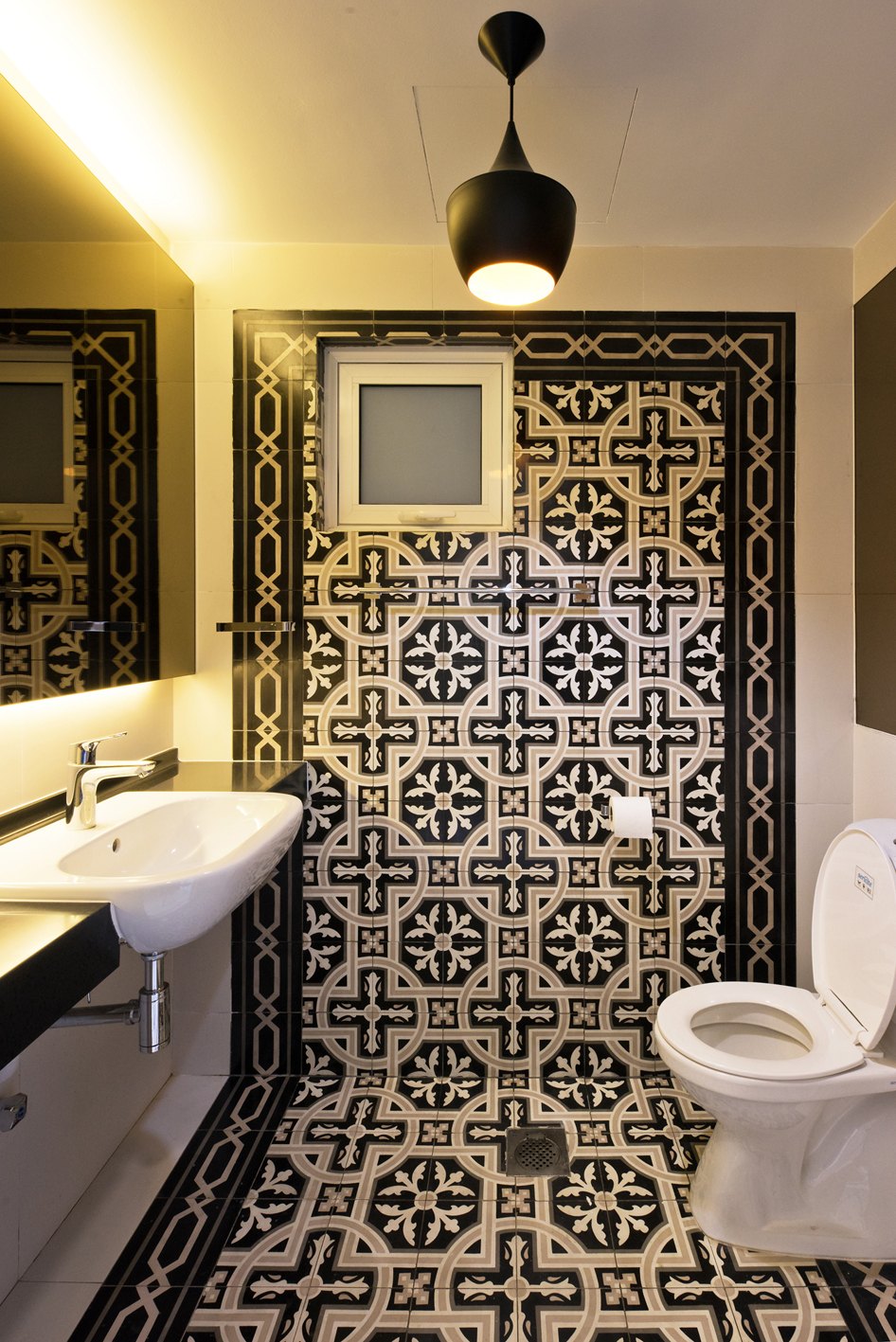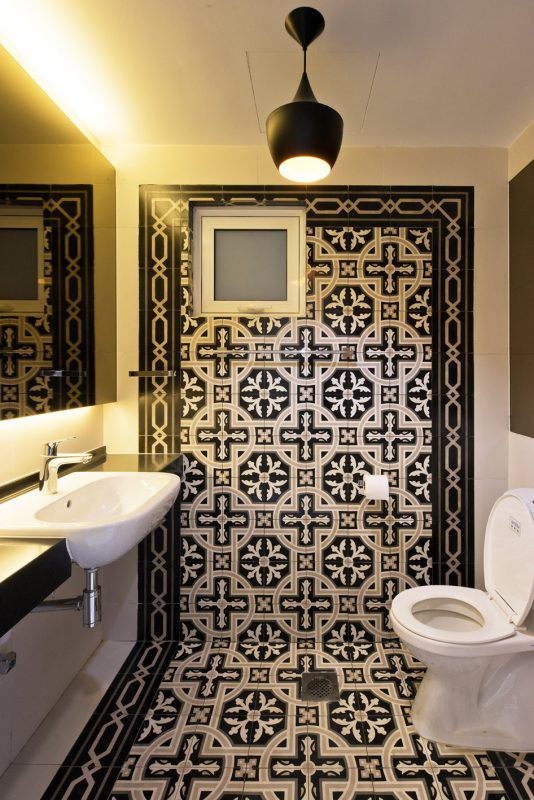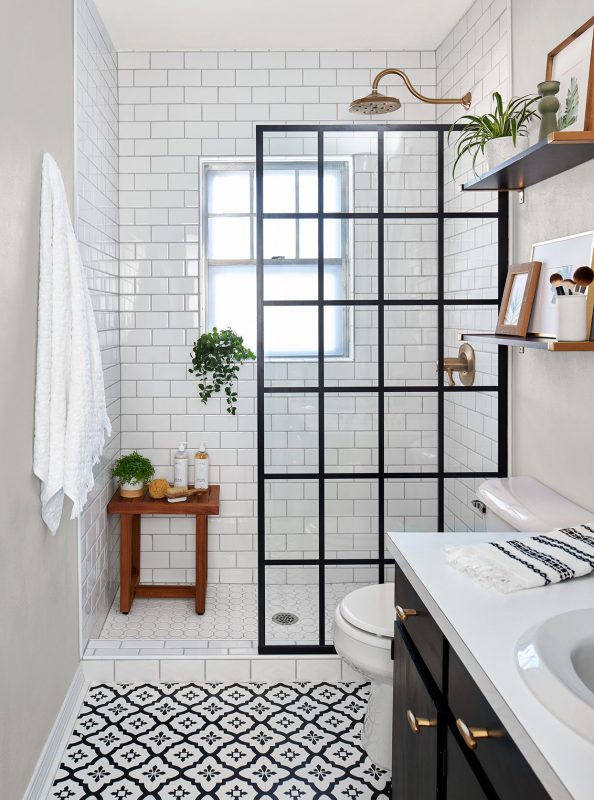 Play with colour
Bathrooms don't always need to be all-white. Adding a different hue immediately turns an all-white bathroom from boring to stunning. It could be coming from the coloured tiles, the frame of the shower screen, cabinetry, or even from a painted ceiling. Or go dark and add deeper colours that contrast with the chrome-plated fixtures.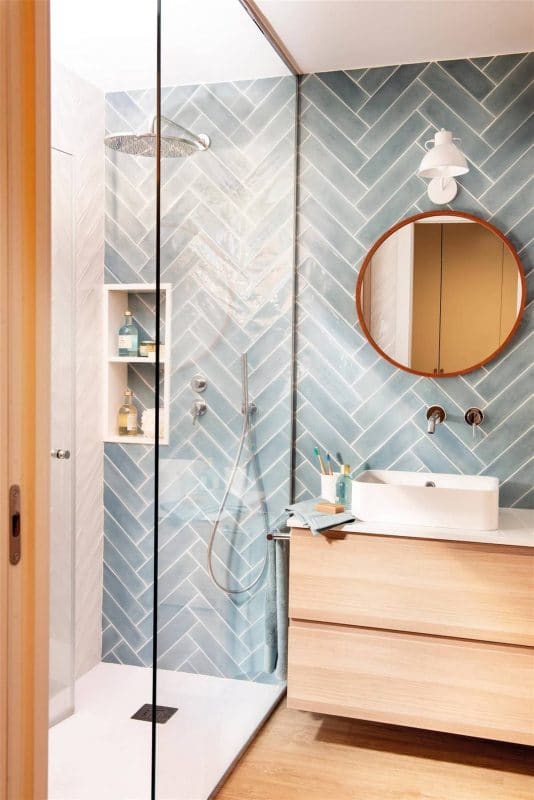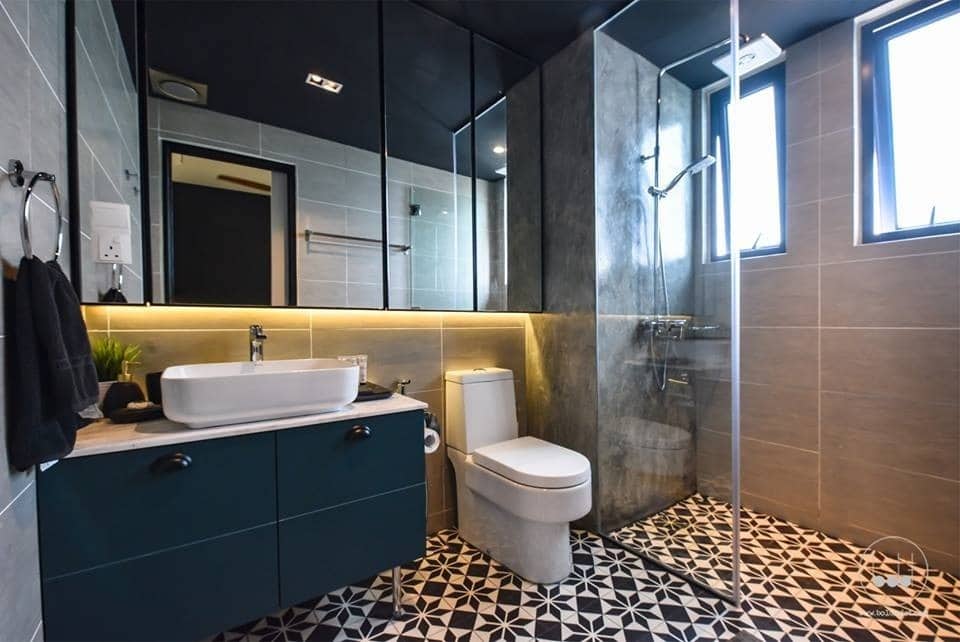 Install a double sink
If you have the space, a double vanity sink is a great way to add comfort and a high-end luxe feel to your bathroom. You can build it out of a custom-made Caesarstone surface, or add vessel sinks or farmhouse sinks to an existing countertop.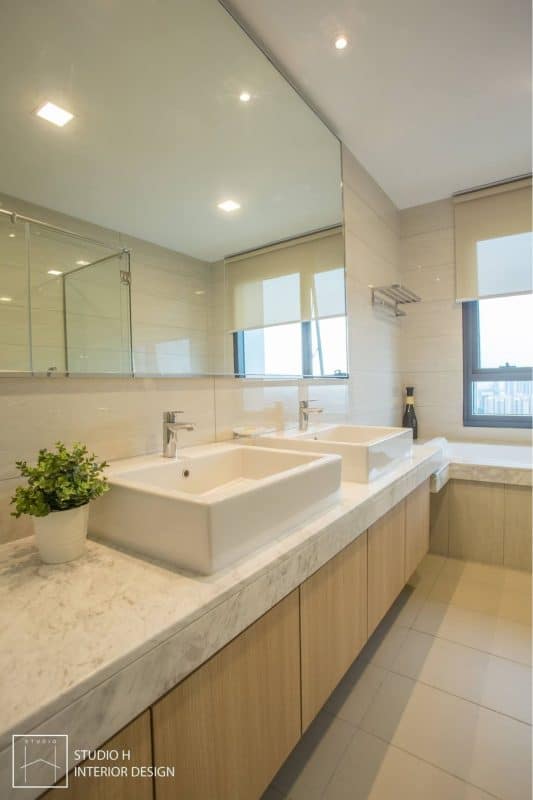 Add hanging lights
Lighting is usually an afterthought in the bathroom. Install a ceiling light or LED downlights with a cool daylight bulb, and most owners will be done. But, to really add a luxurious feel to your bathroom, consider hanging lights to illuminate the countertop. They turn an ordinary lavatory into a welcoming and comfortable space to relax.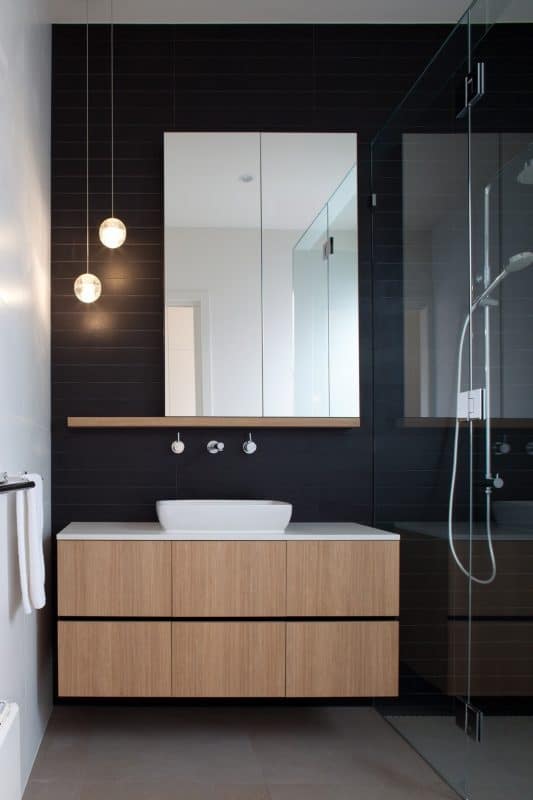 Add plants or greenery
Get away from the cold sterile look of typical bathrooms and embrace nature. Adding indoor plants and pairing it with natural wood elements invoke the luxury of a Balinese resort. If you really want to embrace nature, install a skylight and add even larger plants.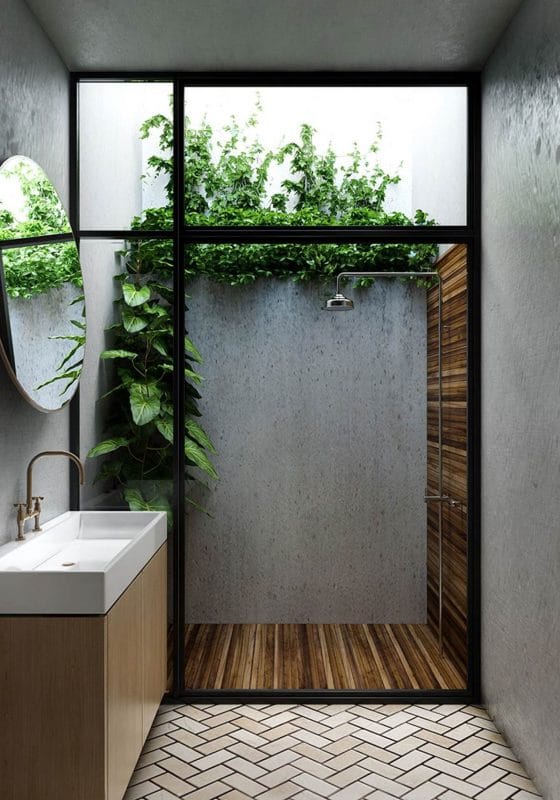 Want to redesign your bathroom?
Talk to our panel of interior designers in Malaysia! Whether you are taking possession of a new, empty unit, a resale unit, or simply want to upgrade your current home, we have the right people to help. With over 4000 customers served to date, our pros will discuss your unique style and plan your budget to create the home you want.