This article explains why you should get a 3D interior design drawing before you start any renovation.
A home design project is a big investment. This is true whether you just bought your first home, or are trying to do up your third rental property.
But. if you don't plan your interior design, or hire an interior designer in Kuala Lumpur that knows how to do it properly, you may end up making lots of mistakes, and going way over budget.
That's why 3D visualisation is so important. It lets you see what your room is going to look like before starting any construction work.
Why do you need 3D visualisation services?
Before you embark on your home renovation or home interior design project, you need to have a clear idea of what the finished work will look like.
At the start of the project, your interior designer will try to understand your requirements. For example, they may ask you to describe the style that you like and interview you to understand how you and your family will use the space.
Then, they may show you a mood board to get an agreement on the colours, textures and fabrics. A mood board is a way for interior designers to present their initial ideas to you to align the creative ideas between you and your designer.
It can consist of photos from completed projects, images of individual furniture or lights, or images to show the types of materials that they have in mind for the floors, walls and counters.
Here's why 3D interior design is a great idea:
3D interior design can show your new room in great detail
While mood boards are great to establish the initial design, the best way for your interior designer to show you how the design looks in your actual room, is to create a 3D design drawing.
These days, interior design drawings are done on a computer using 3D software. The interior designer will create a 3D model of your room, based on actual room measurements, and then layer on their suggestions for the lights, cabinetry, flooring, colours and more. 3D space planning also helps make full use of your floor plan and storage cabinets.
It avoids costly U-turns later
A 3D design drawing is cheaper than correcting a mistake later on. For example, let's say that you need to hacking to remove a wall. The design drawings let you see what it will look like. If you don't like it, you can always change it.
But, if you proceed without it, and you change your mind later, it will be very expensive to change the plans since the work may already be halfway done.
It serves as an agreement between the homeowner and the designer
The 3D design drawing is one of the last documents before the actual work begins. So, it should be the latest and most accurate representation of the design. Once you are happy with the 3D design drawings, you can sign off on it, and the actual renovation or construction work can begin.
Learn more: What you need to know about the interior design process in Malaysia
Ready to redesign your home in 3D?
How much does it cost to get 3D design drawings?
It doesn't cost much to hire an interior designer to create a 3D interior rendering of your home. Prices can start from around RM1,200 for up to 3 rooms in a condominium unit of around 1200 sq ft. See example below: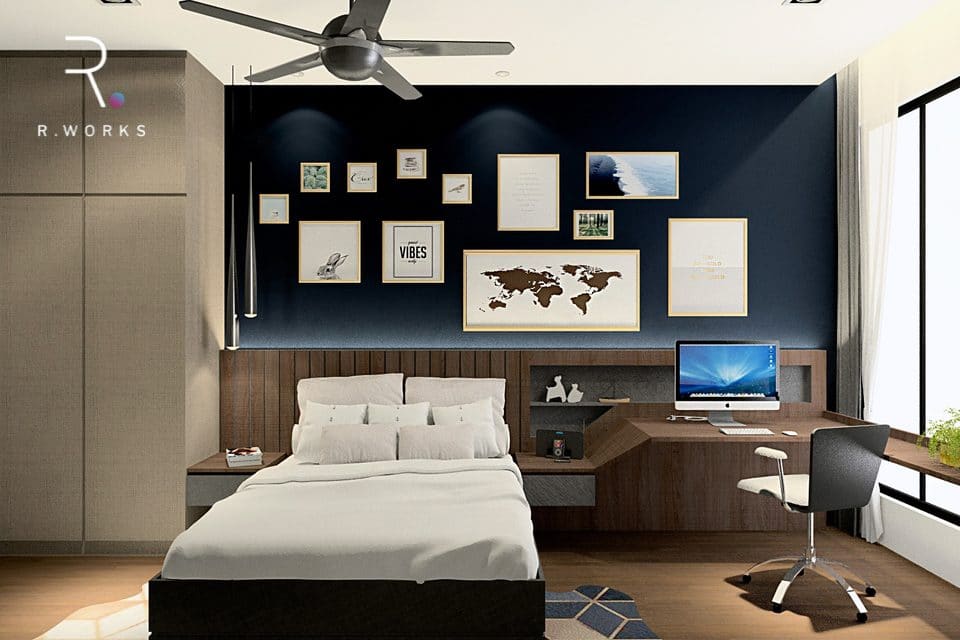 Above: Example 3D bedroom design by R.Works
However, you can also get 3D interior design services that go up to RM10,000 or more, as shown in the example below: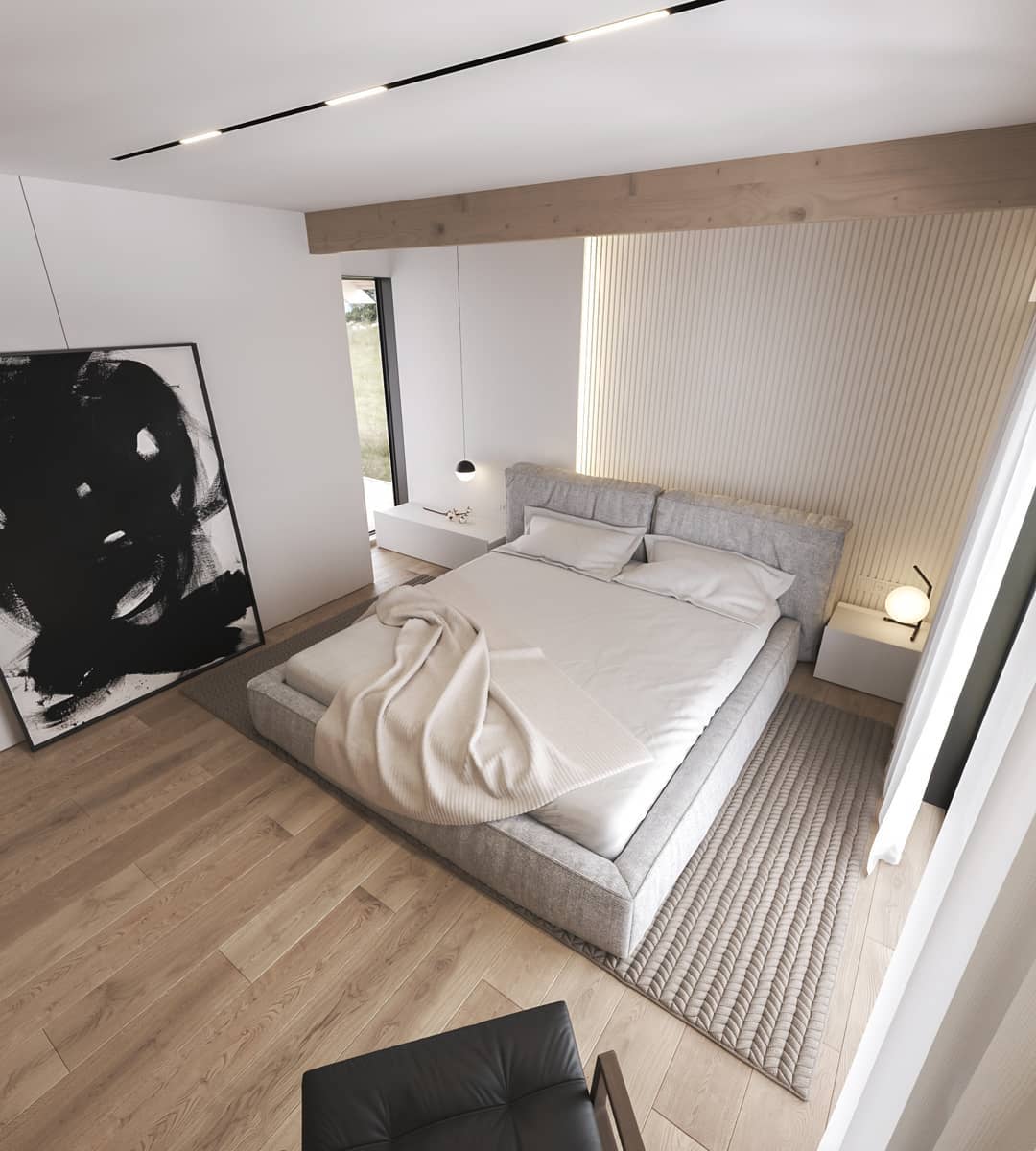 Above: Realistic 3D bedroom design by Stephen Tsimbalyuk @stephents3d
What's the difference between a RM1,200 vs an RM10,000 3D visualisation service?
As you can see from the examples above, the quality of the renderings can look very different between an RM1,200 visualisation vs an RM8,000 one.
That's because it takes a lot more time and effort to add fine details to the rendering.
This level of detail may be necessary if you are creating images for a magazine or design catalogue (for example, did you know that all the photos in your IKEA catalogue are completely virtual?)
But for the average homeowner, the simpler rendering may do just fine. That's because even the lower quality rendering helps you understand all the important elements of the design. For example, where the lights and furniture will be placed; what colours will be used; and what your cabinets will look like.
Yes, a more affordable 3D rendering may not look as photo-realistic, but the main point of hiring an interior designer is to use her talents to help you create a functional and stylish home; and not to focus all their time on renders. Think of it this way, why spend time to create Avengers: Endgame levels of CGI just to visualise your living room?
With that in mind, here are some examples of 3D interior design drawings that helped these owners visualise their homes:
Santorini-inspired interior visualisation for 450 sqft serviced apartment in H20 Residences, Ara Damansara
3D Interior Design Price: RM1,200 (living, dining and bedroom)
In this Airbnb project, the client wanted to create a feeling of being in Santorini, Greece. This inspired the interiors for her 450 sqft condo unit. By creating a home inspired by the colours and charm of the famous Greek island, the designers used unique structures such as the cut-out partition in the bedroom to unify an all-white aesthetic mixed with blue accents and light wood for a dreamy Greek escapade.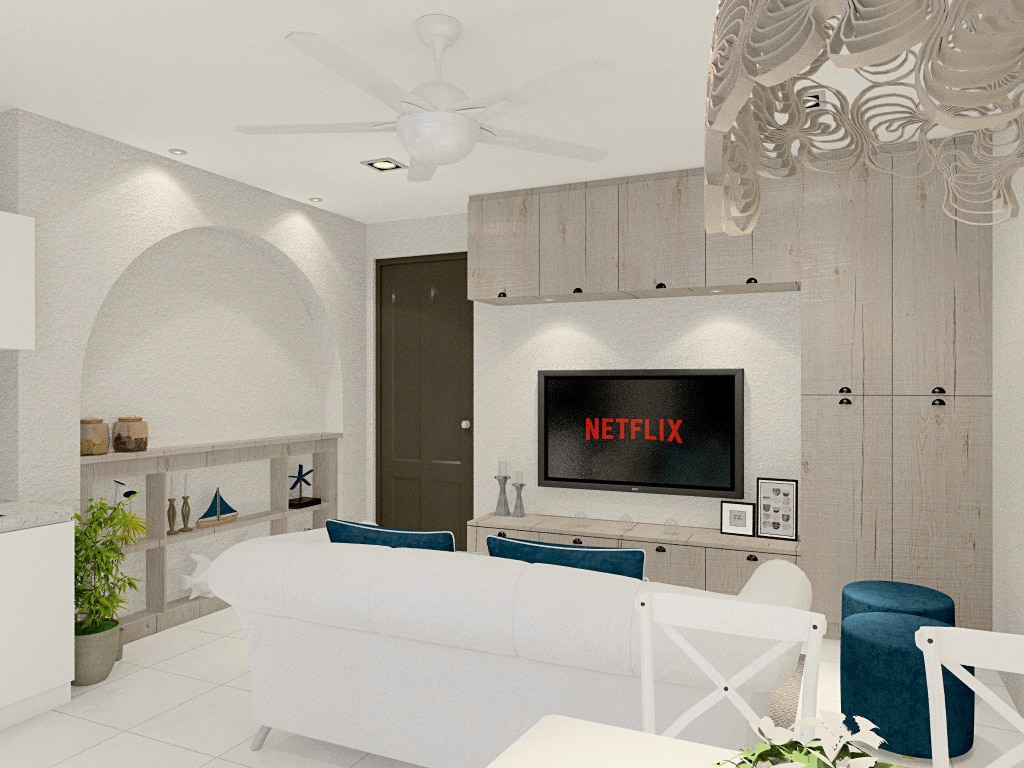 Blue and white interiors unify with light wooden cabinets for a Greek-inspired escapade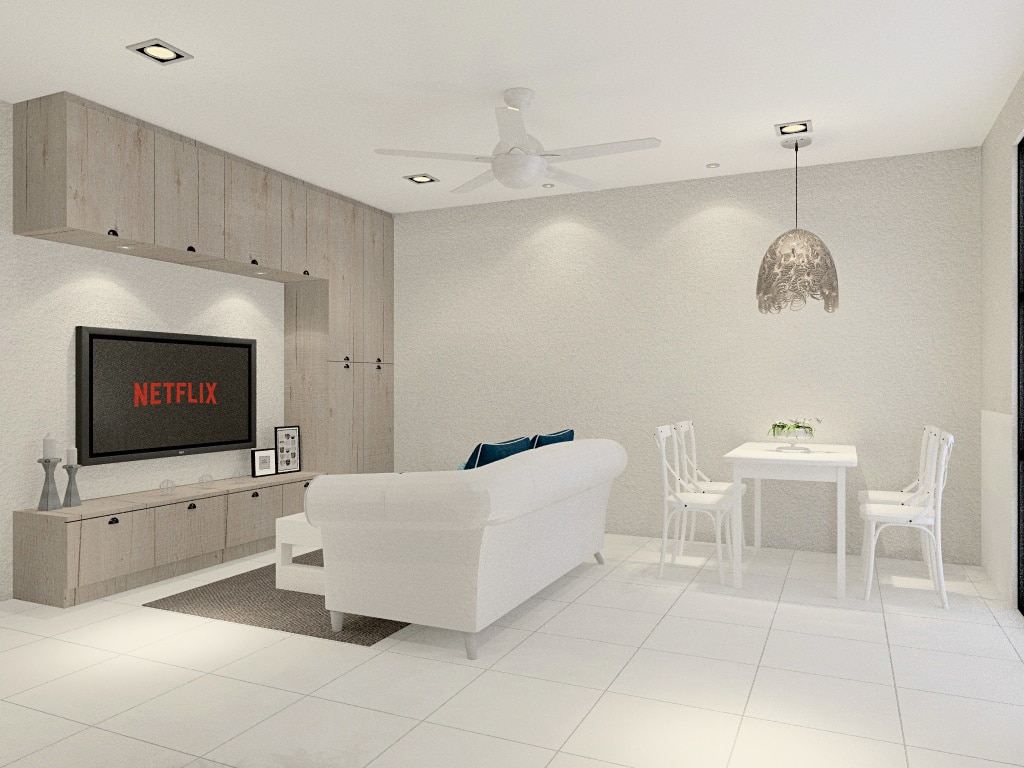 The designer uses white as an undertone to give the illusion of a wider space within the area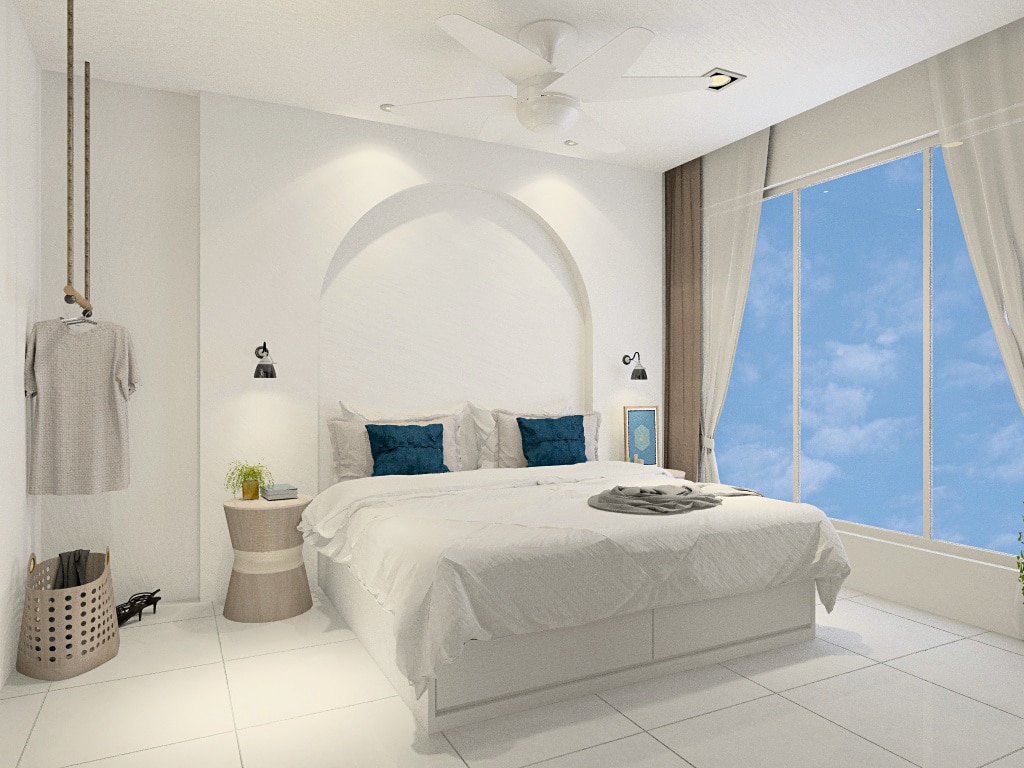 A splash of colour to your throw pillows, table settings and other small decorative pieces can add personality to your space
D'sara Sentral
3D Interior Design price: RM1200
Bringing life to a modern yet classical concept to life, the designers curated this space to gain maximum rental yield for its owners. The textured paint injects texture and personality into the space without overshadowing the rest of the elements in the room.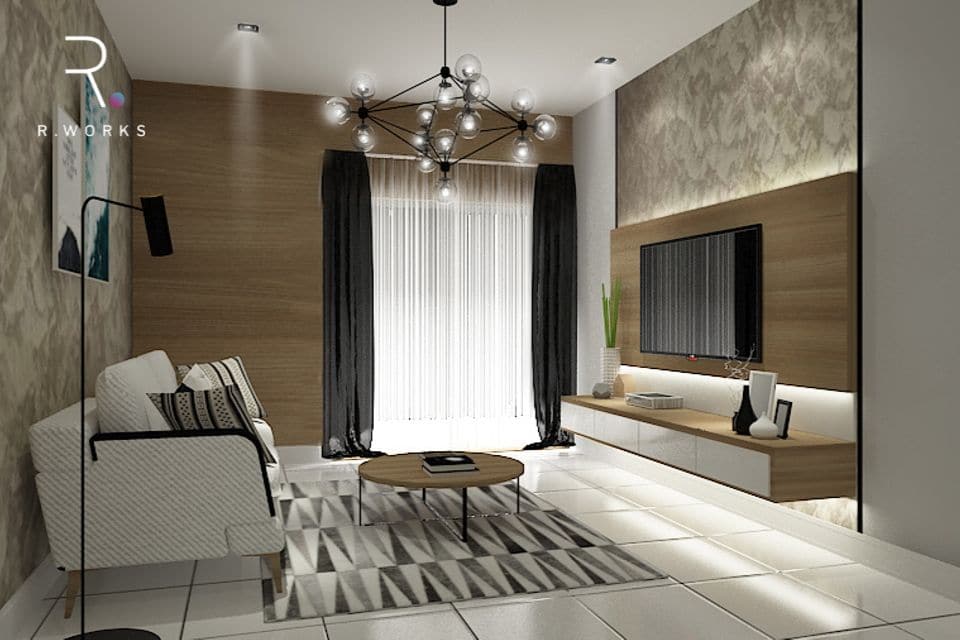 Textured paint provides an elevated aesthetic for these interiors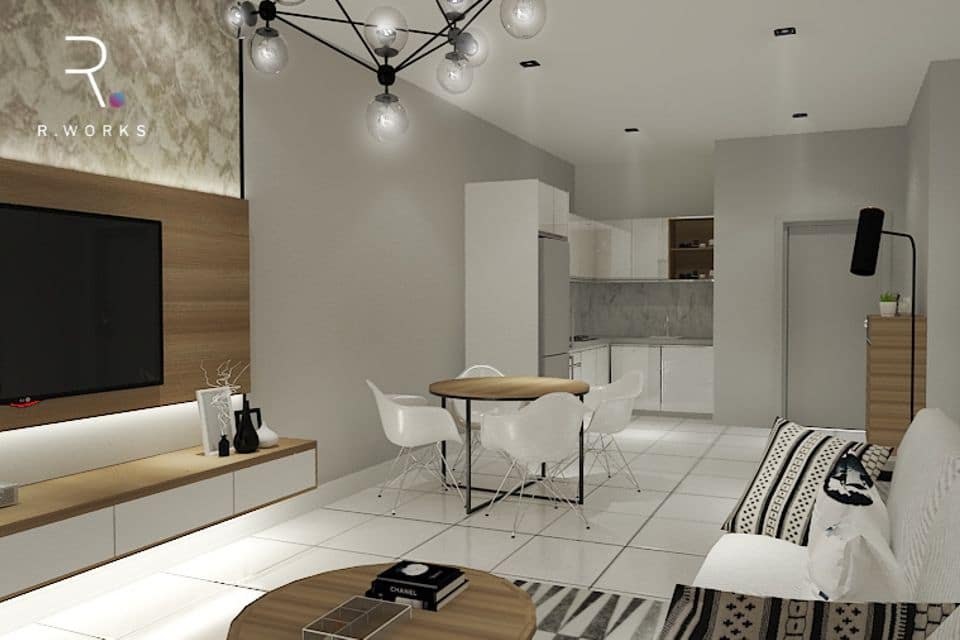 A clean and minimal aesthetic is achieved by keeping colours minimal
Urban-inspired 3D interiors at Robertson Condo, Kuala Lumpur
3D Interior Design price: RM1200
Situated in the heart of Kuala Lumpur's city centre, this Airbnb home emulates a hotel suite interior by using a blend of wallpaper and paint for its wall finishings. Various textures and shades of wood helps to add warmth, depth and style to create a designer unit that will be comfortable and stylish to welcome Airbnb guests.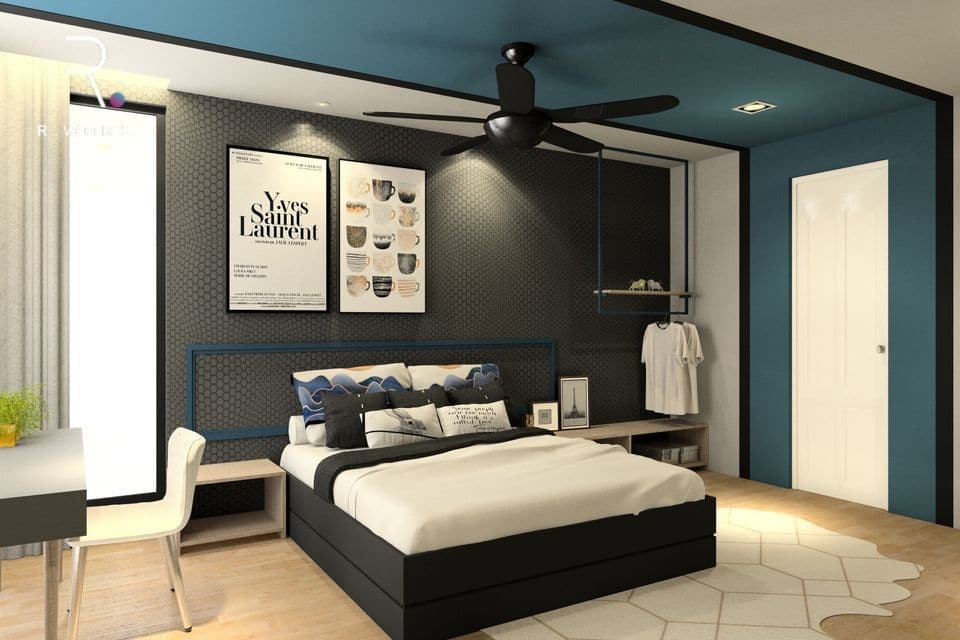 Hues of teal blue frame the bedroom ceiling to create spatial depth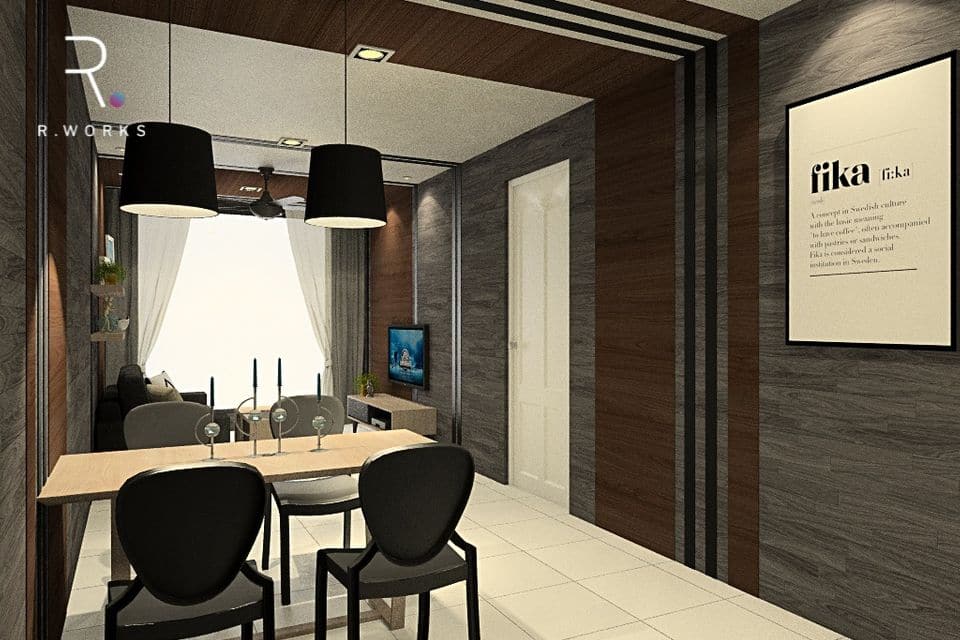 Warm earth-tone shades connect the dining room to the living space to complement the open concept interior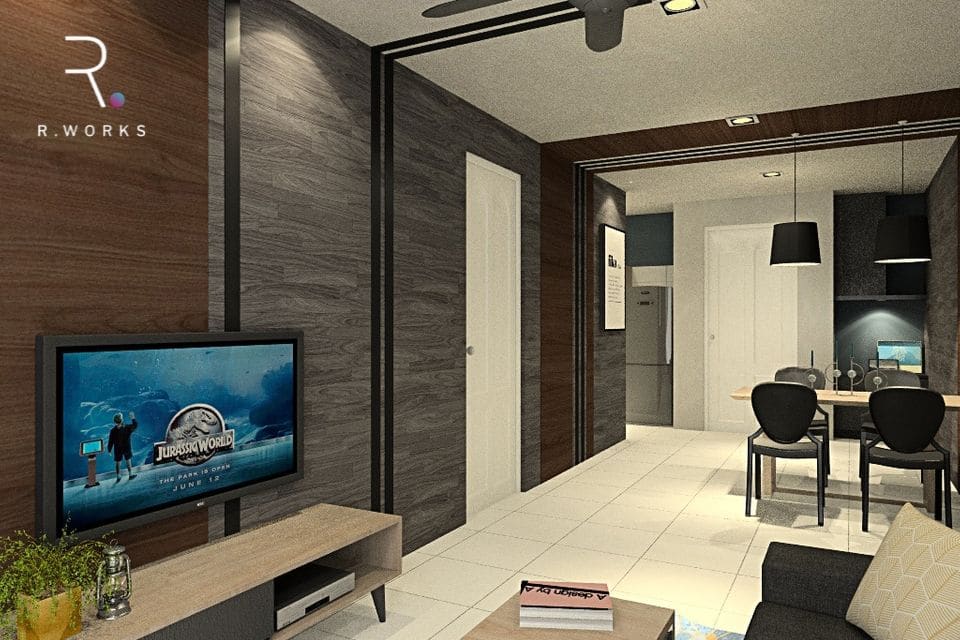 Above: An overview of the unit's layout
3D Interior design in Sunway Velocity, Cheras
3D Interior Design price: RM1600
Approached with an eclectic combination between an industrial-inspired style with a take on contemporary design, this client from Hong Kong wanted our team to help him style his bachelor pad with a timeless elegance that will retain the property's resale value. The result? A refined, modern and sophisticated loft perfect for intimate social gatherings or spending quality time with family and friends.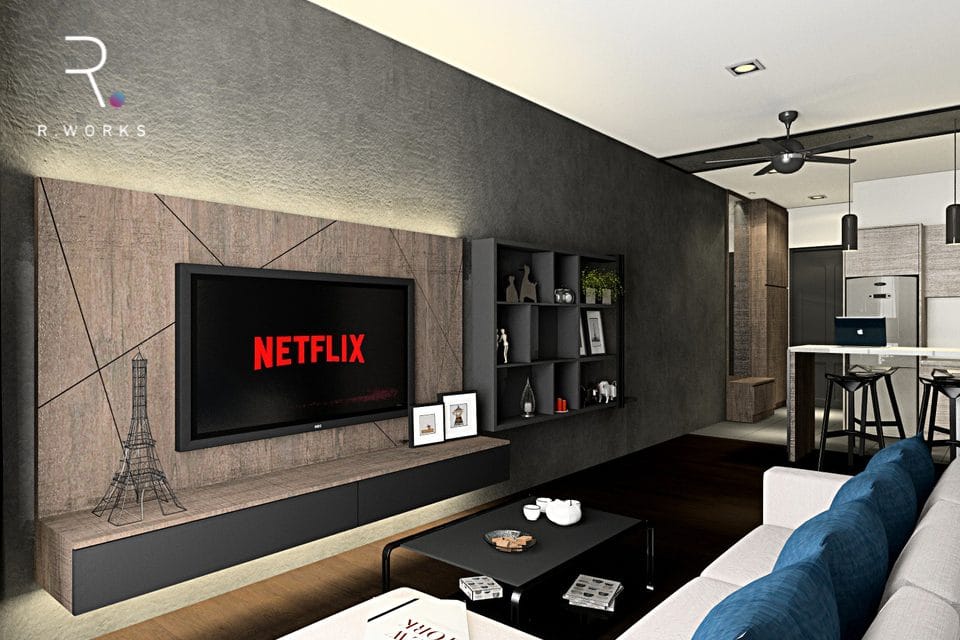 Cement textured paint is used for the TV wall to achieve a unique highlight for the home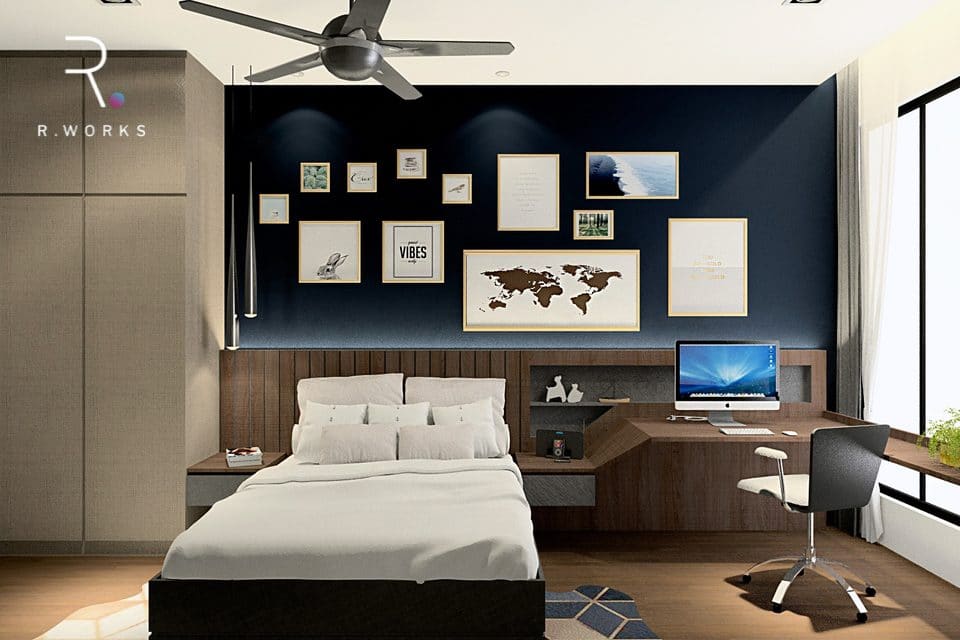 Suitable for work and leisure, this bedroom uses ebony blue paint with shades of wooden accents for an executive suite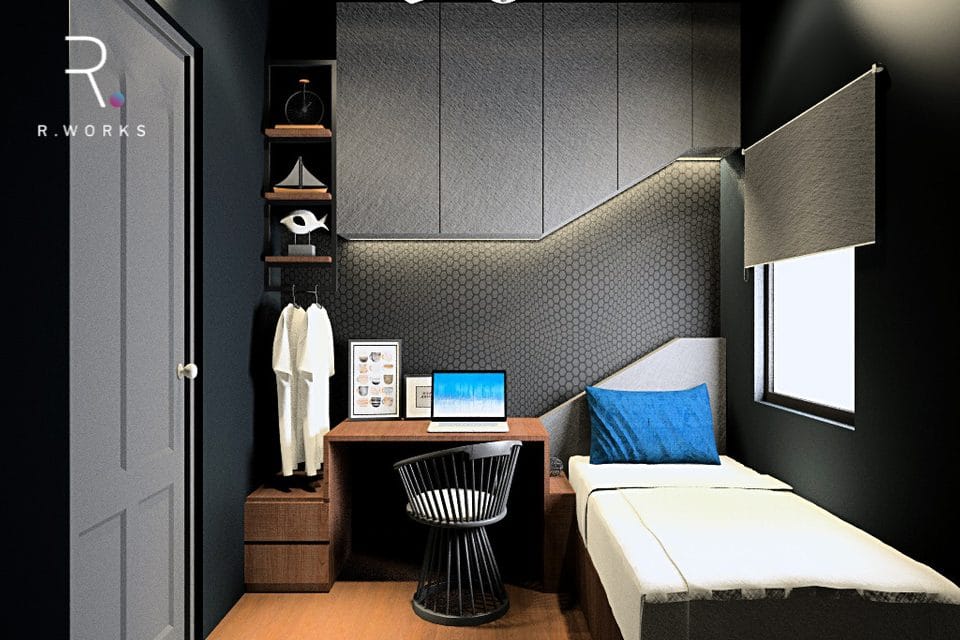 Compact and stylish, the guest bedroom is styled with dark, bold colours without compromising on comfort and functionality. Additional lighting underneath the wall hung cabinets adds a cozy ambience and brightens up the room.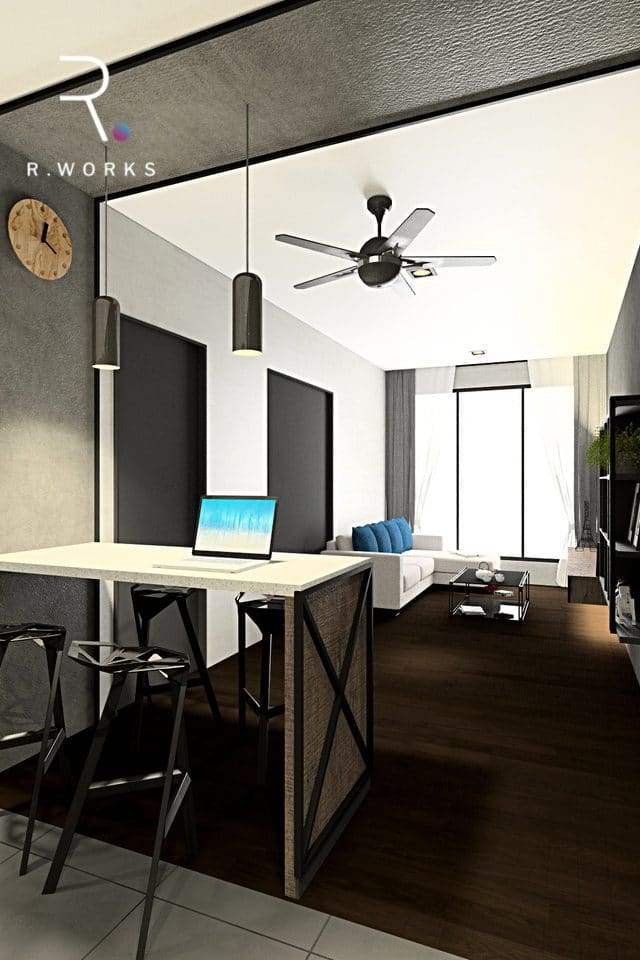 Monochromatic colours streamline a calm and restful interior for the living and workspace area
3D Interior design in Capers, Sentul
3D Interior Design price: RM6000
Taking stride in a minimalist industrial inspired interior, this apartment in Capers, Sentul makes use of four vertical rods sourced from galvanised iron for an overall design that's practical and unique for its living space.
Intended for the homeowner's personal lodging, this 3D interior was tailored according to the needs and demands of the homeowner and her family. Using a blend between light wooden shades with a subtle grey detailings such as the curtains and cabinets, the designers created a comfortable atmosphere for the family to enjoy family or leisure time together.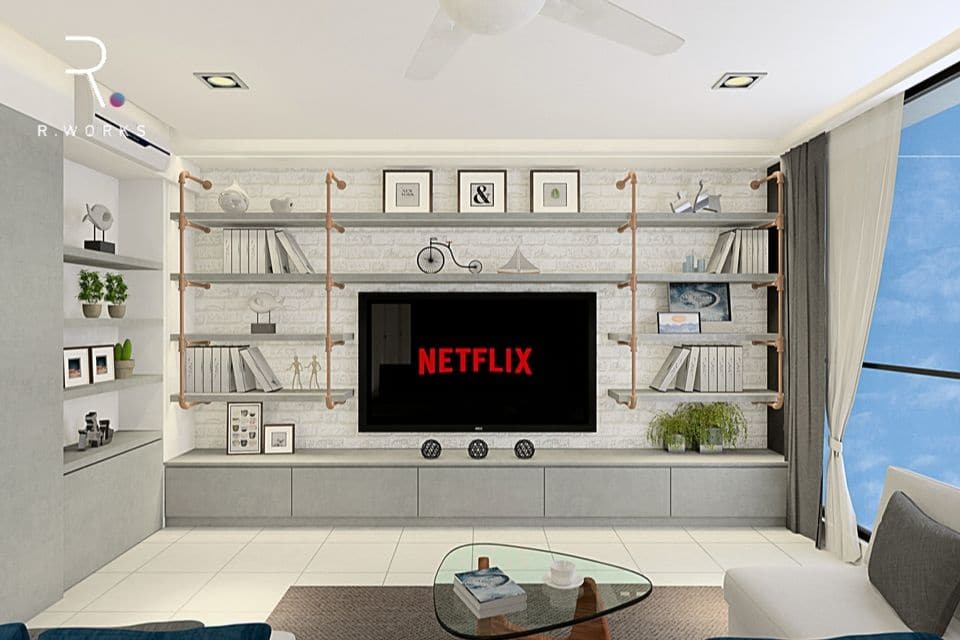 Exposed pipes, bare beams and visible ducts are signature statements of industrial designs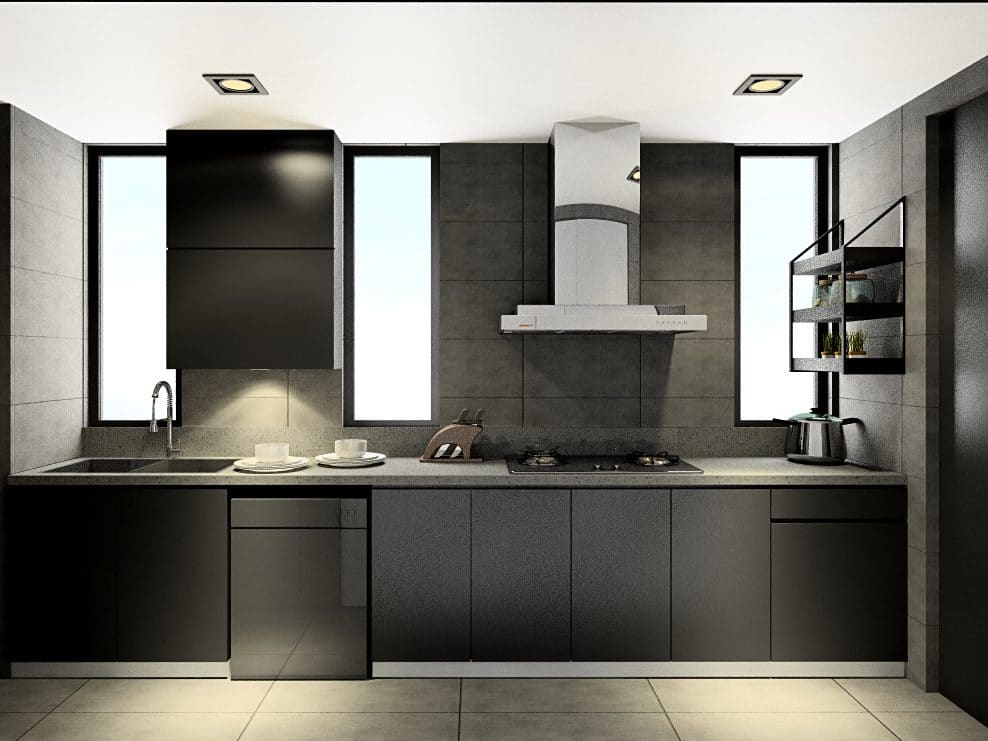 Sleek, dark kitchen cabinets cast over warm lighting to create a cosy minimalist setting for the kitchen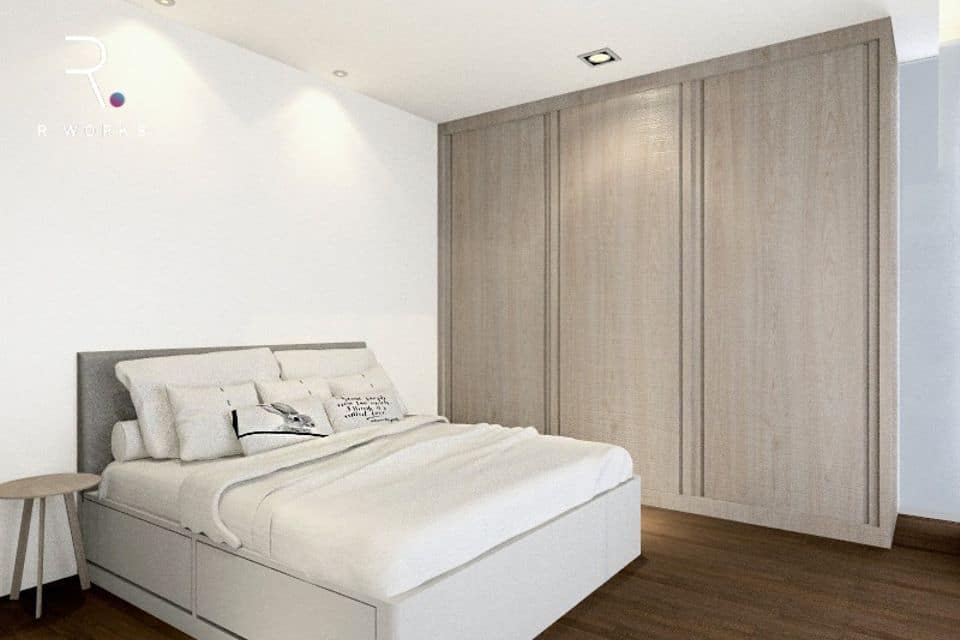 Less is more: With an emphasis on simplicity in form and function, the bedroom sticks to neutral colours and textures to achieve a minimalist aesthetic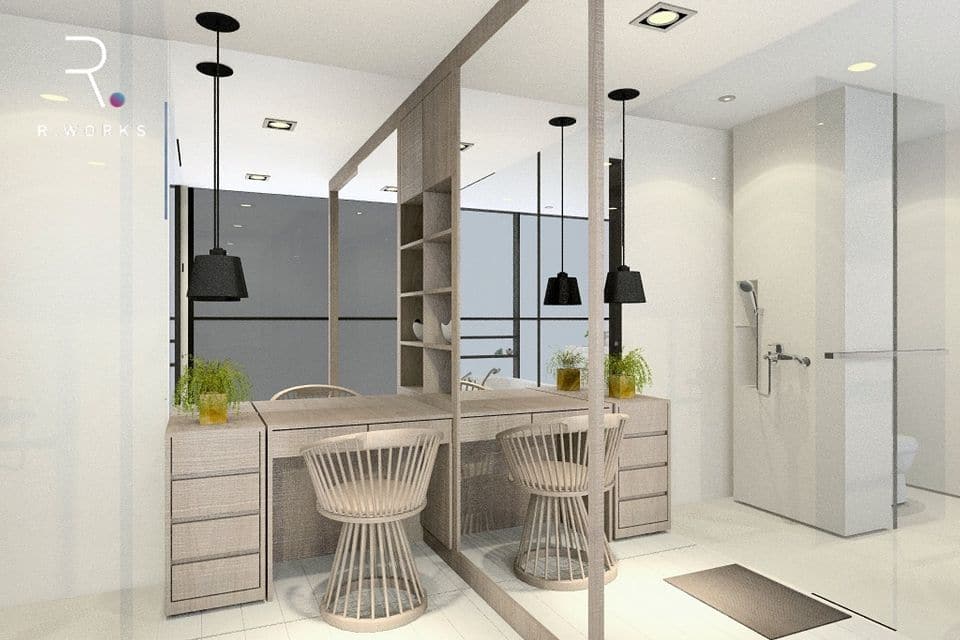 Full-height wardrobe doors and mirrors help to give an illusion of a spacious setting in an otherwise narrow wardrobe area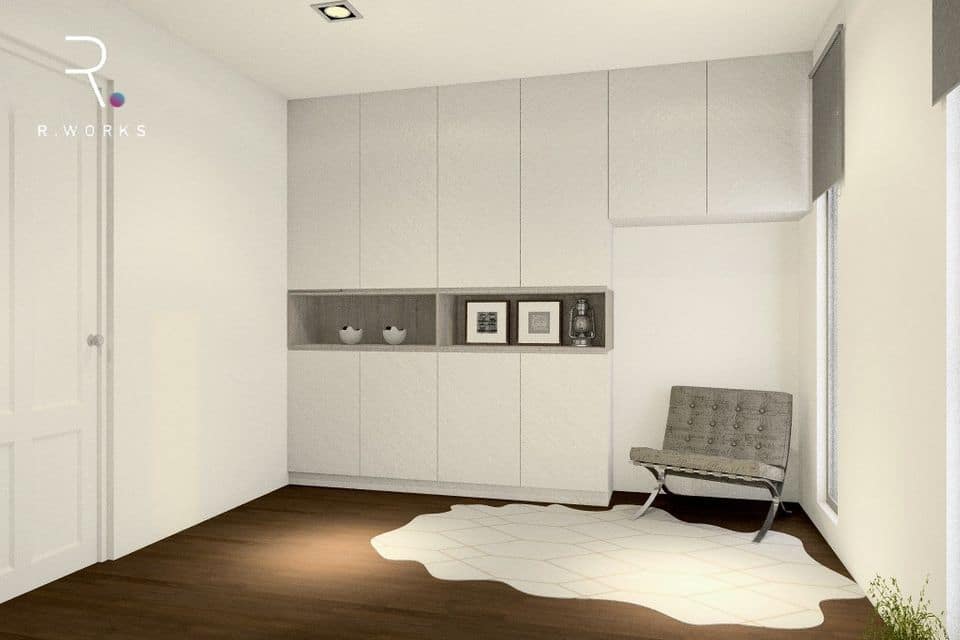 The lounge room is decorated minimally for the homeowner to meditate or do yoga in a calm and restful setting
3D Interior design in 9 Bukit Utama, Bandar Utama
3D Interior Design price: RM1200
The secret to a family-friendly home is taking into consideration the needs and preferences of every family member living within the confines of the space. This home located in 9 Bukit Utama, Bandar Utama furnishes its interiors harmoniously while keeping practicality and style in mind. The wooden wall shelves blend cleanly with white walls to allow display items to stand out.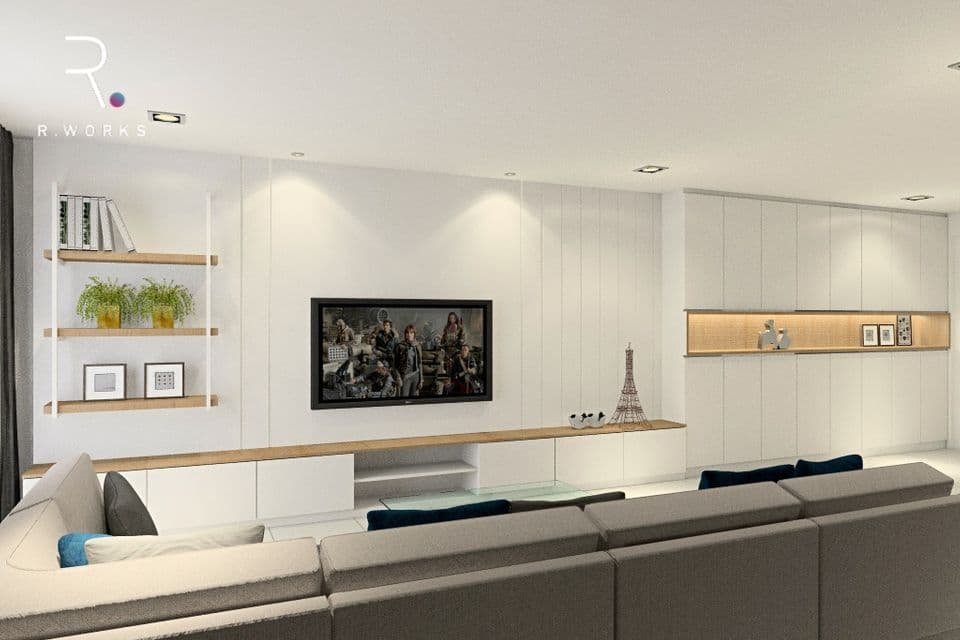 Warm up white walls with wooden panelling to add some Scandinavian charm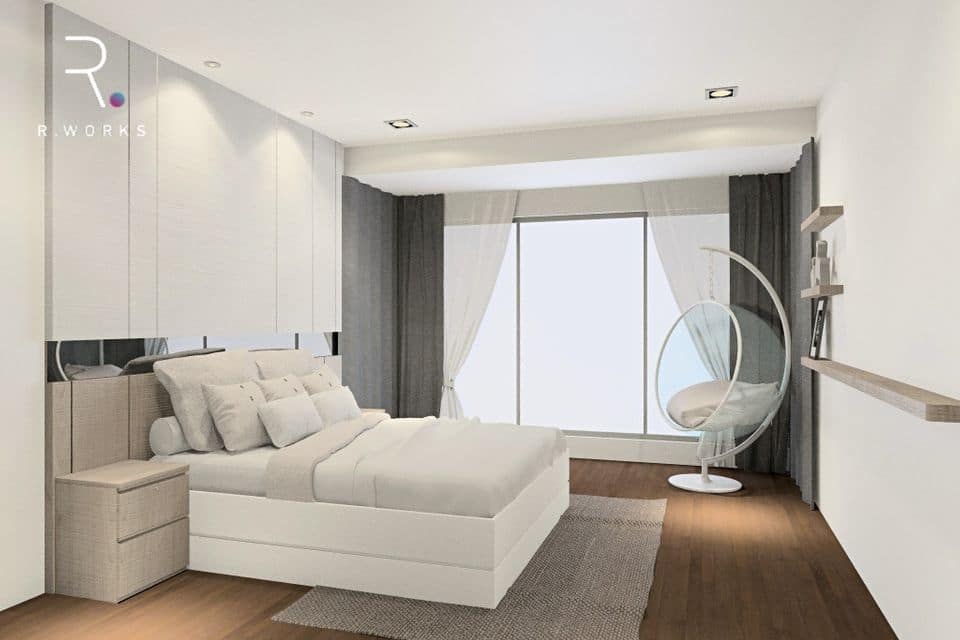 Dark wooden floors harmonise between the neutral coloured furnishings for the bedroom
Radia Residence in Shah Alam
3D Interior Design price: RM1200
This unit was inspired by a monochromatic colour scheme to welcome a cosy, elegant and romantic setting for this 1,300 sq.ft unit in Shah Alam. To achieve a modern contemporary conceptual design, the designers used plenty of built-ins to organise the homeowner's belongings to preserve a clutter-free environment.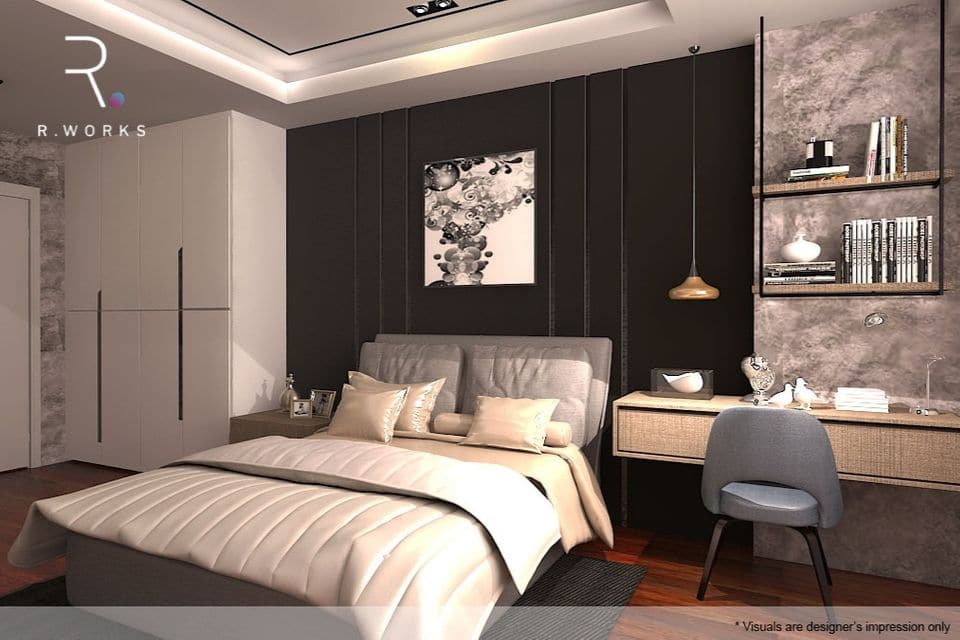 To add depth and warmth, a combination of moody colours, high-end contemporary furnishings and statement lighting are used in this bedroom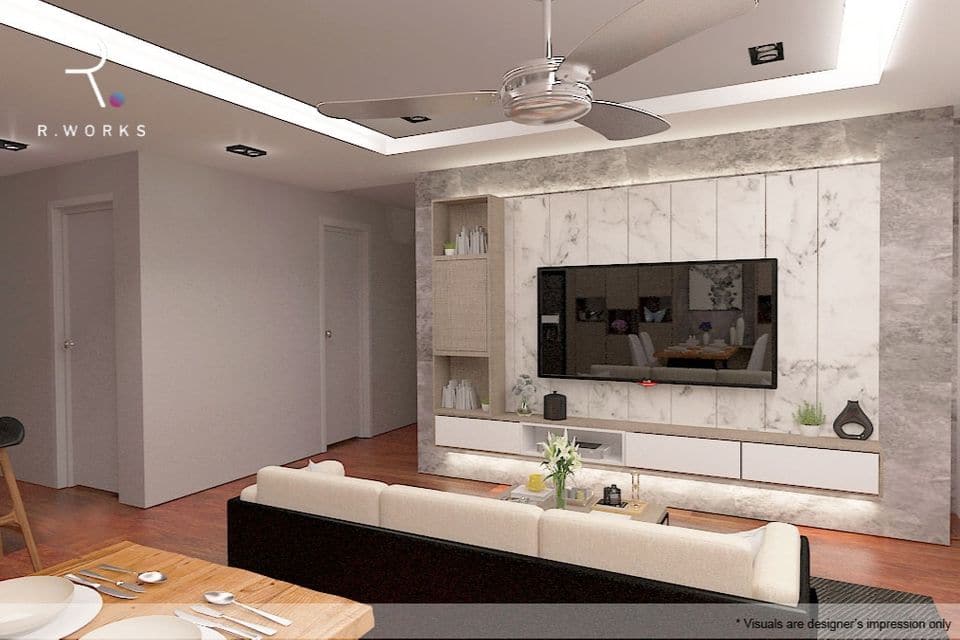 The marble wallpaper for the TV backdrop adds a touch of luxury to the living area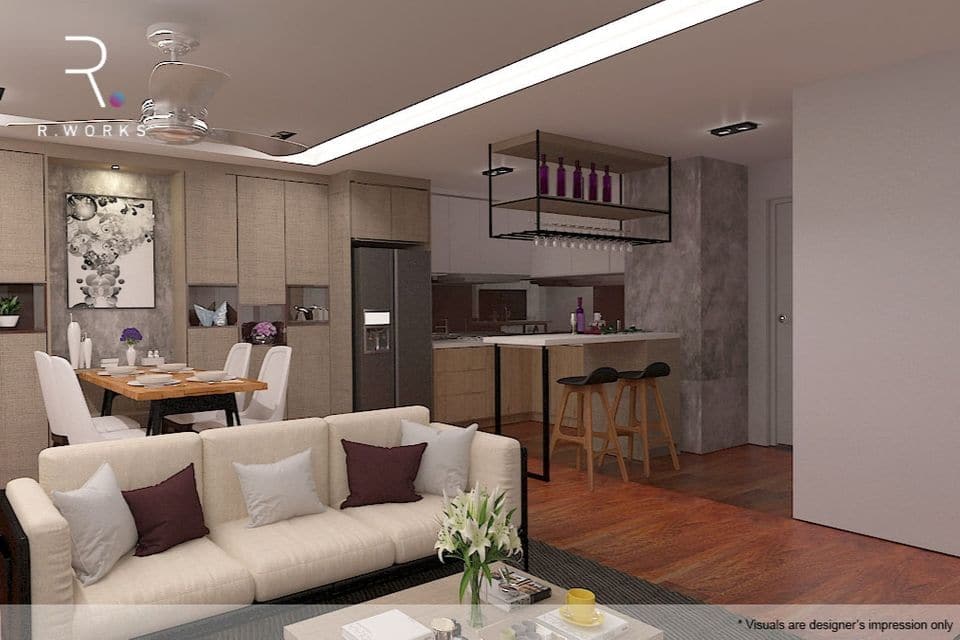 Above: A mini bar displays the homeowner's collection of wine glasses above the kitchen island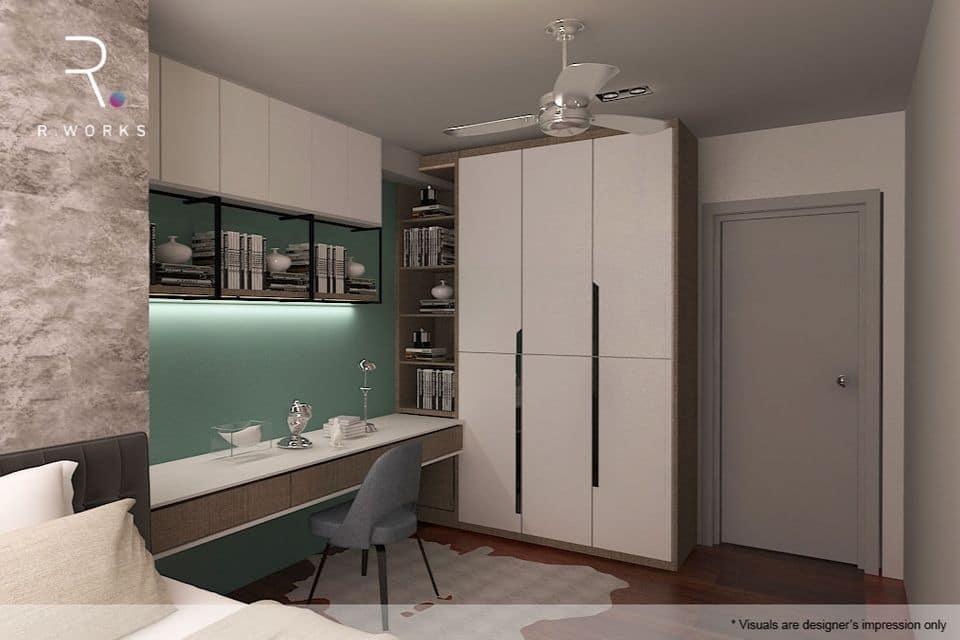 A splash of colour invigorates the space to emulate a touch of nature for the bedroom
D'SARA Sentral in Sungai Buloh
3D Interior Design Price: RM1800
Integrating an uncommon shade into the living and dining area, the designers lit up this home by choosing a trendy shade of light purple for its walls combined with elements of wood to set its interiors apart. Extended with lots of built-ins to ease storage headaches, this 1,018 sq.ft condo unit represents the ideal family home.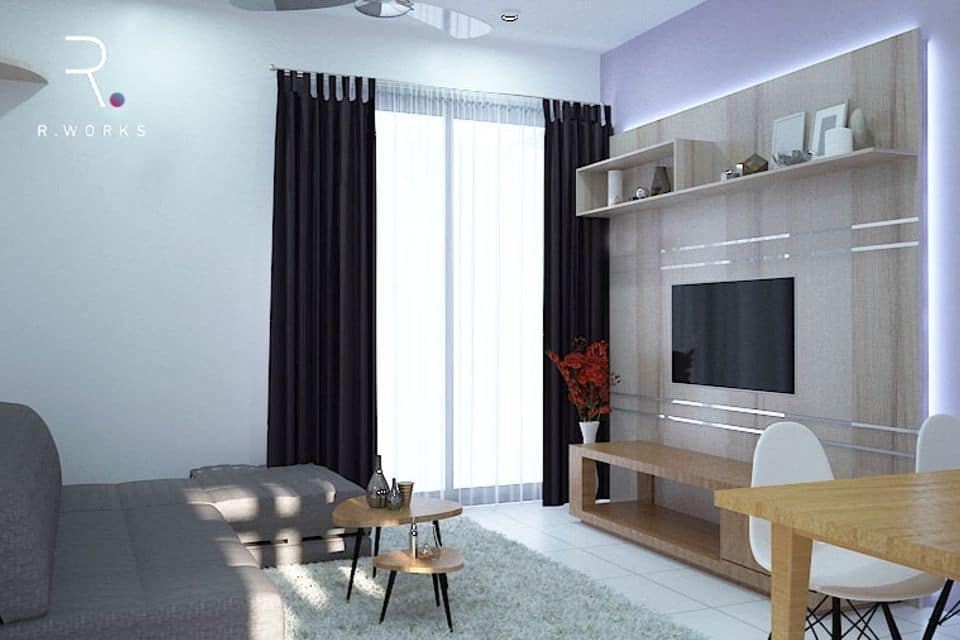 Above: The living room uses wooden furnishings for an earthy element in the room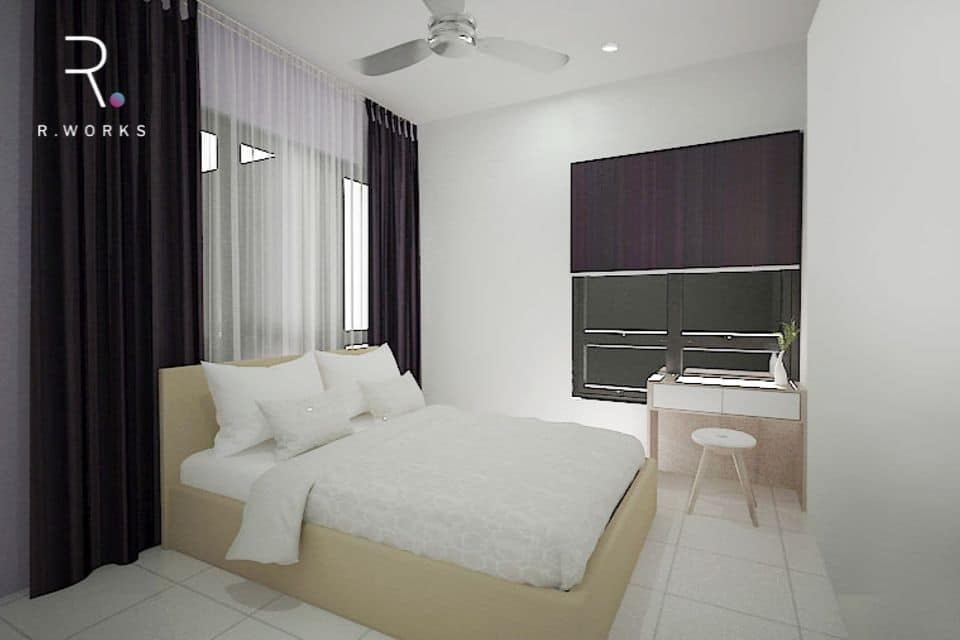 The bedroom is furnished with neutral colours inspired by a zen oasis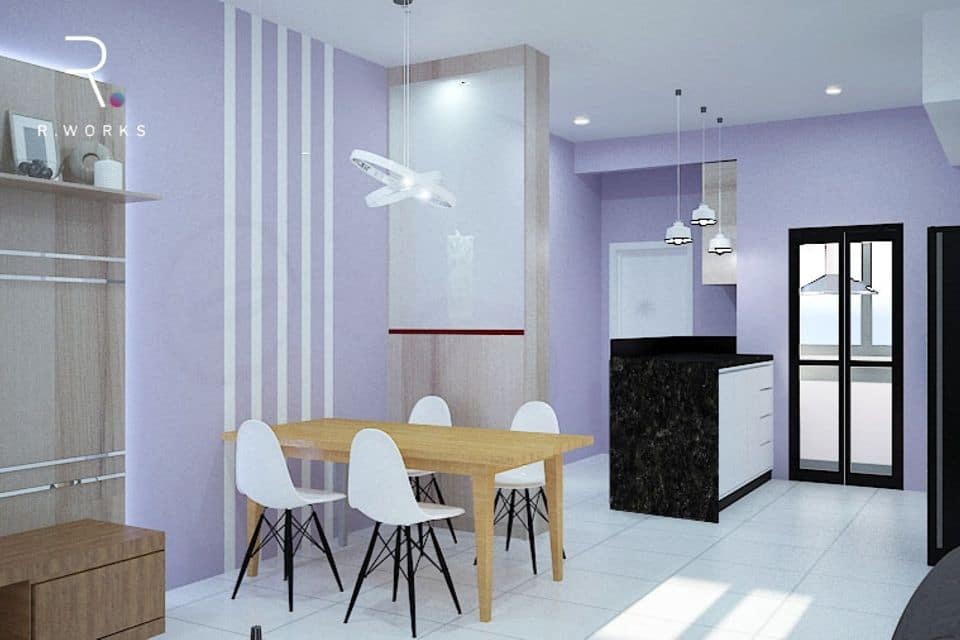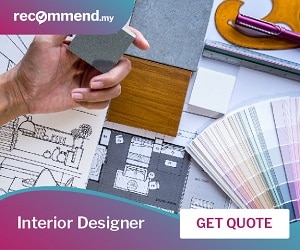 Striking: Graceful hues of purple paint on its walls draw immediate attention to the living and dining area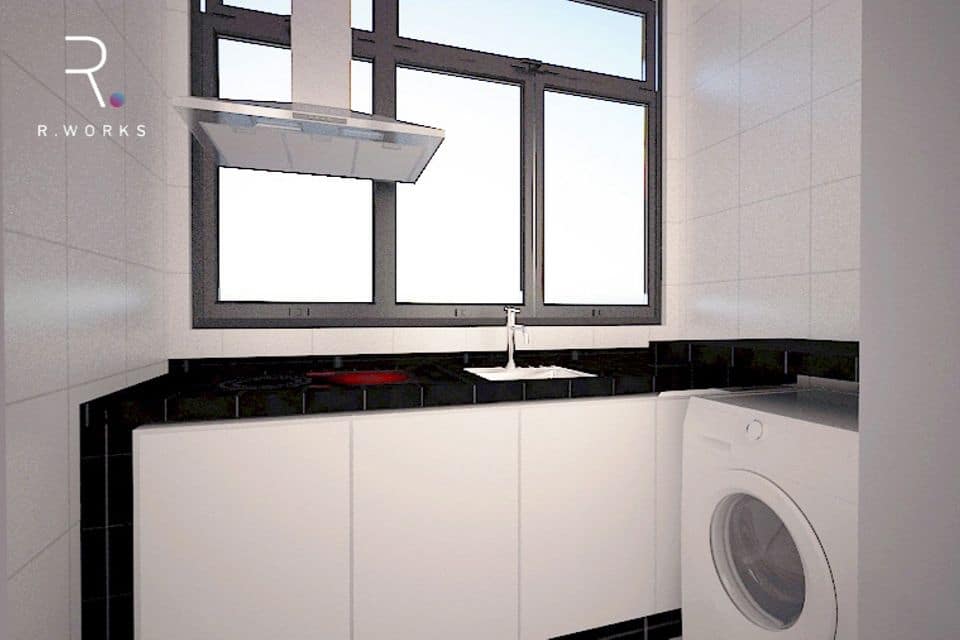 Small and compact, the kitchen and laundry yard is decorated in monochromatic colours for a clean and minimal aesthetic
Will my completed renovation look like the 3D proposal?
If nothing changes during the construction, the answer is yes! The 3D design normally creates and the furnishing and fittings to scale, so that it will look almost identical to the finished product.
For example, in the project at BU9 mentioned above, the finished renovations match the 3D designs almost exactly.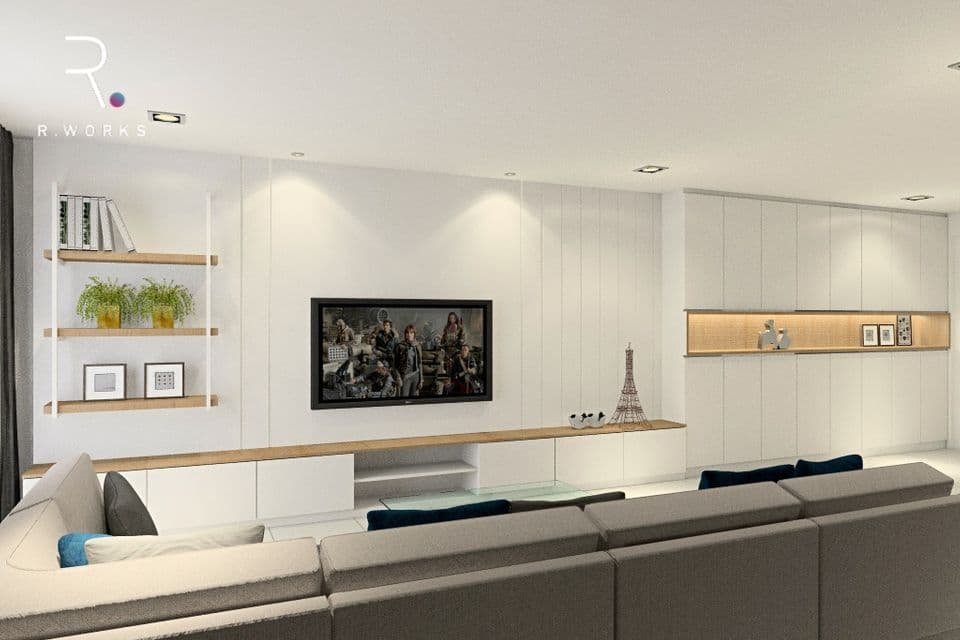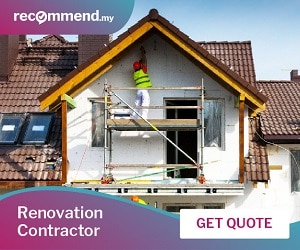 BEFORE: 3D design for living room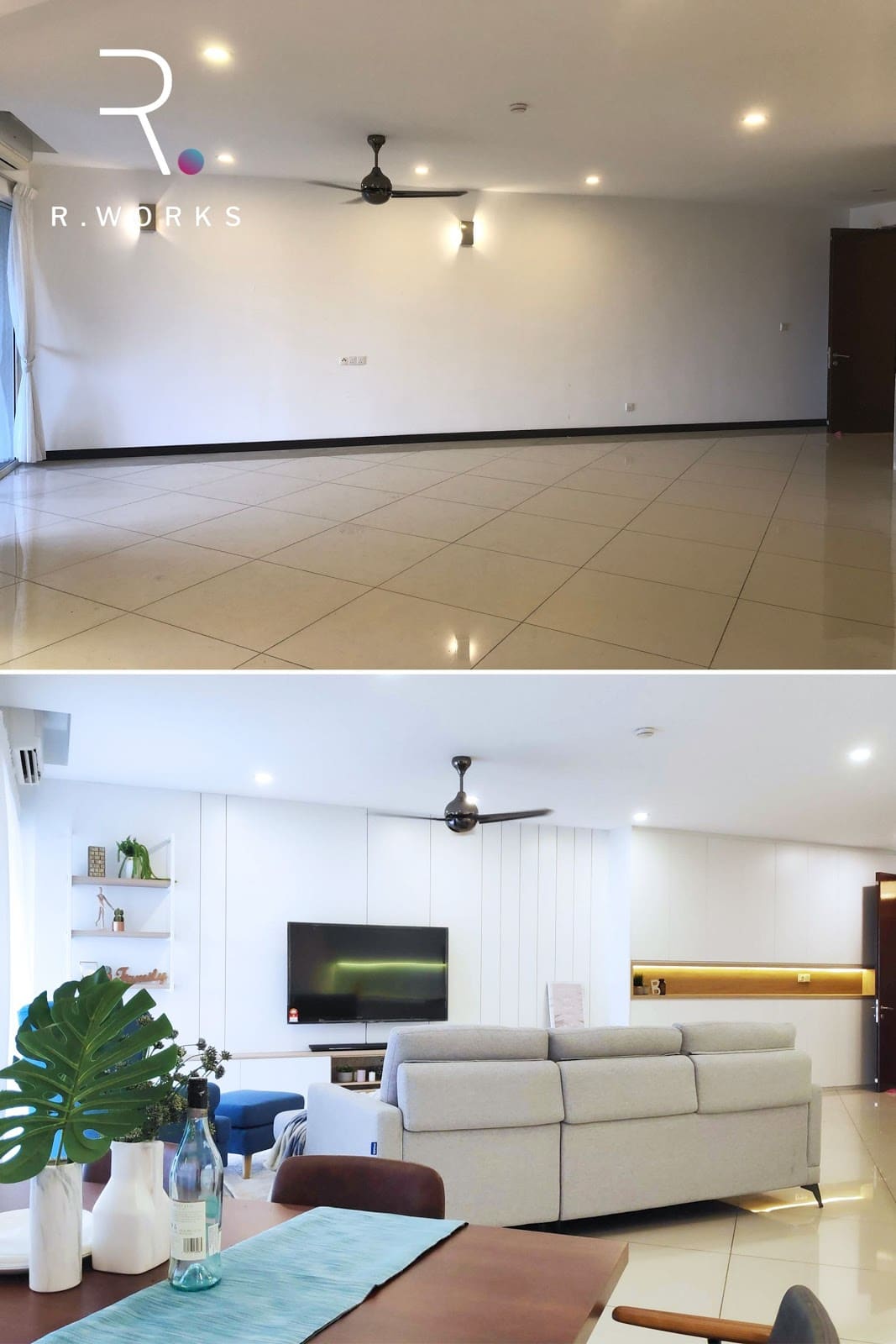 AFTER: Completed space after makeover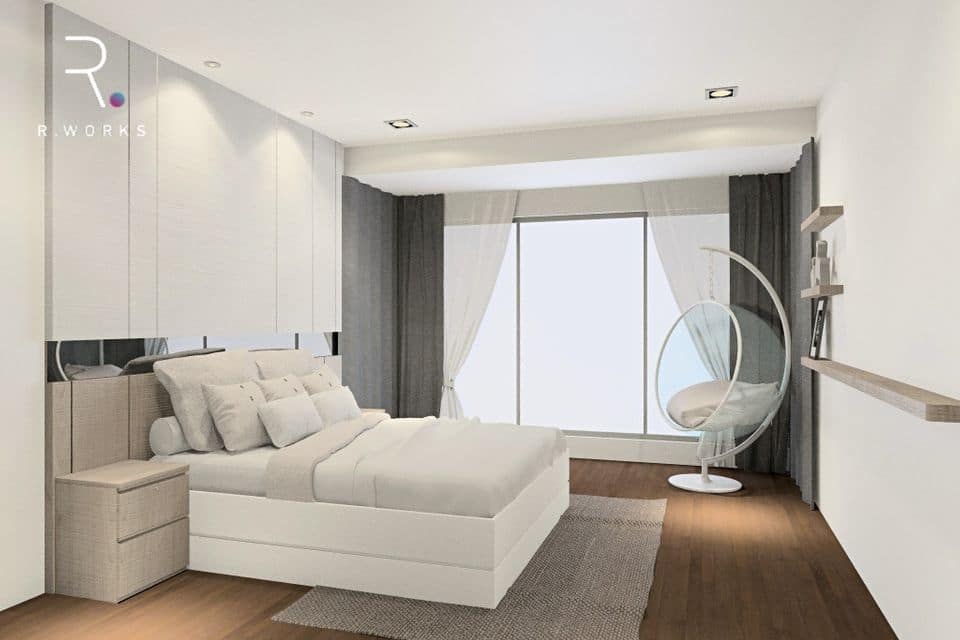 BEFORE: Bedroom 3D design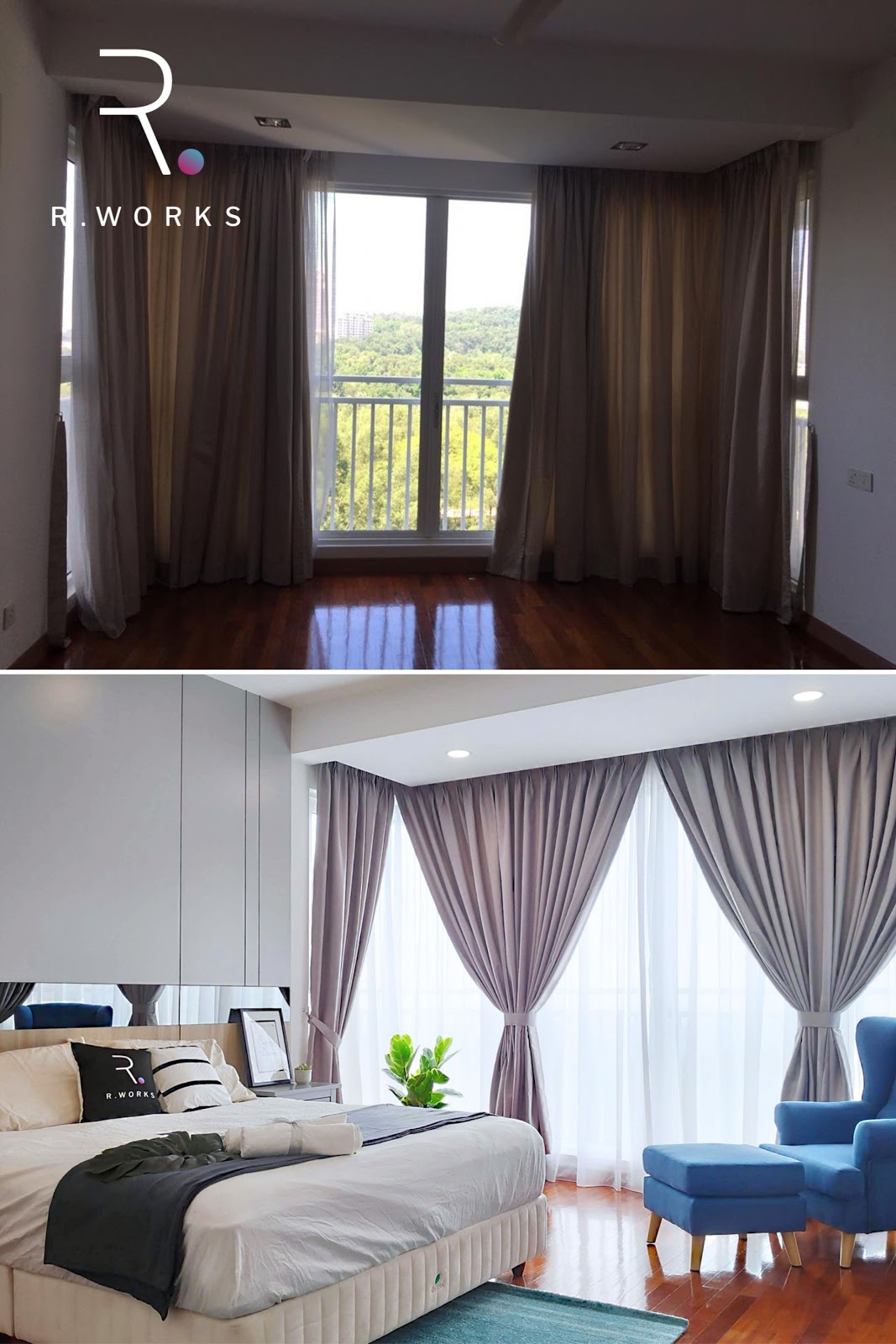 AFTER: Bedroom after makeover. In this case, the design of the curtains was modified to have 3 panels instead of 2, and the bedroom armchair was changed to give the room more colour.
Ready to redesign your home in 3D?