We asked readers to send us photos of their living room to get interior designer advice. Here is our featured living room; a small space that is just perfect for a bright and modern makeover!
Dear Recommend.my,

With three kids between 5 and 16, and a full-time job as a procurement executive, my living room is a mess. It is about 10′ by 16′, and I need a new look for it. Can you recommend a redesign to make it more comfortable and classy without too much effort? #AskRecommend.

Jessica in Seri Kembangan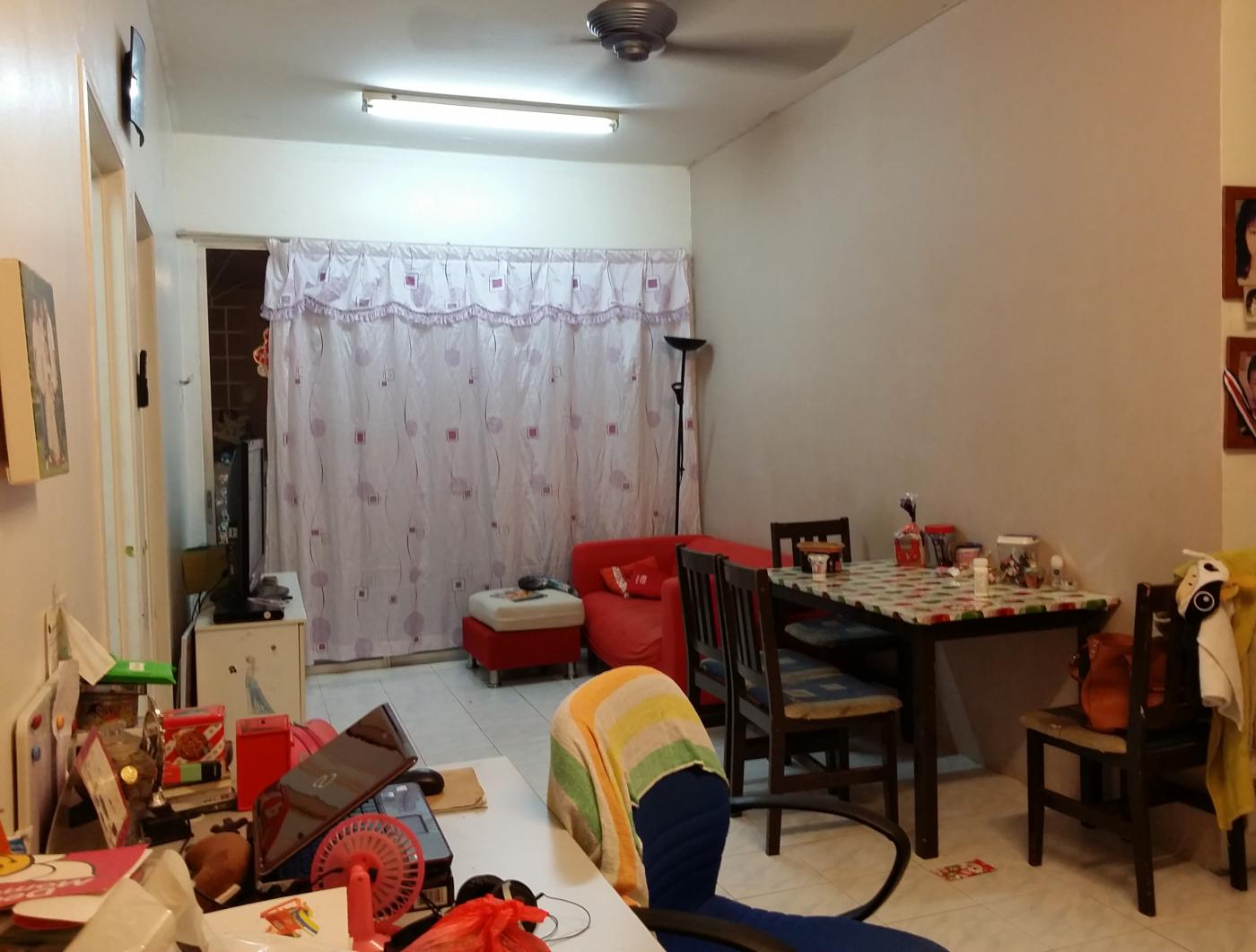 Dear Jessica,
We reached out to one of our top recommended interior designers, Valarie from Bonnieblue Furniture & Interiors for living room makeover advice. This is what she suggests:
Jessica's living room size and floor plan is typical for most condominium or apartments. Because of the limited space, the key is to find a layout that maximises the floor plan and create opportunities for storage spaces, using carefully selected furniture and fixtures that serve both style and function.
Here are my five suggested makeover steps that will dramatically change the room:
1.      Keep to neutral colours
Keep all the big pieces that take up a lot of visual space in neutral colours or off-white colour. This includes the sofa, curtains, tables, cabinets, and rugs. This will give the illusion of a bigger space while increasing the functionality of the room.
2.      Storage and Organisation
With a small living room, keeping it neat and organised is most important for comfort. As Jessica is a busy mom of three, she needs to have lots of storage to easily hide things away. Try not to accumulate too many items, and throw, sell or donate items that you have not used or seen in a year. Clean out your cabinets and closets and make new space.
After that, plan out a dedicated space for everything. Even something small like paper clips or bath towels should have its own place.
I love IKEA because it has a fantastic range of storage products that caters to the art of small living. Some of the items I would suggest:
Put more open and closed shelves along the wall. You can try to add a FAKTUM wall shelf on top of the study table.
You can also get furniture with dual purpose. For example, an ottoman with hidden storage or coffee tables with drawers.
For small items like vitamins, pens, papers, even bread and jams, use cute baskets or boxes to keep things in.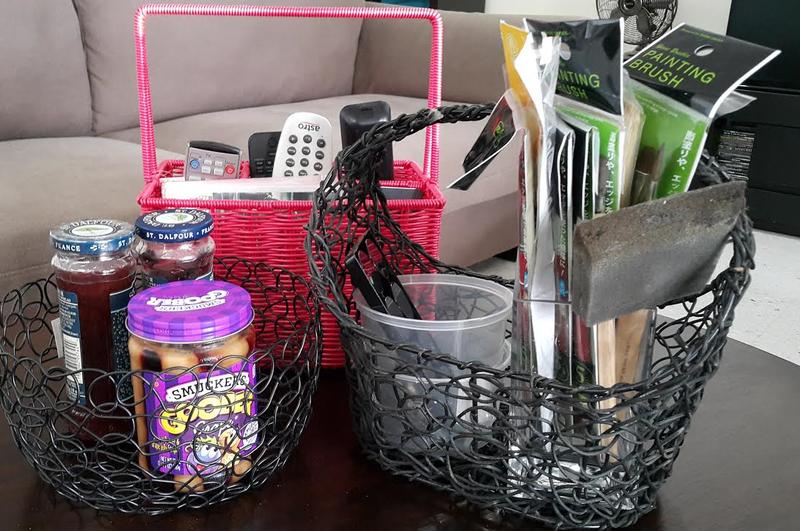 You can also separate the entrance from the living room with a shelving unit. VITTSJO shelving unit (from Ikea) is the perfect choice. Its thin black metal frames and glass shelves keeps the space light and the industrial look is the "in" thing these days. Complementary baskets that go with this unit are essential to store things quickly without much fuss. I have a similar one and I use it for DVDs, CDs, toys, etc. Just throw things in and voila, instant organisation!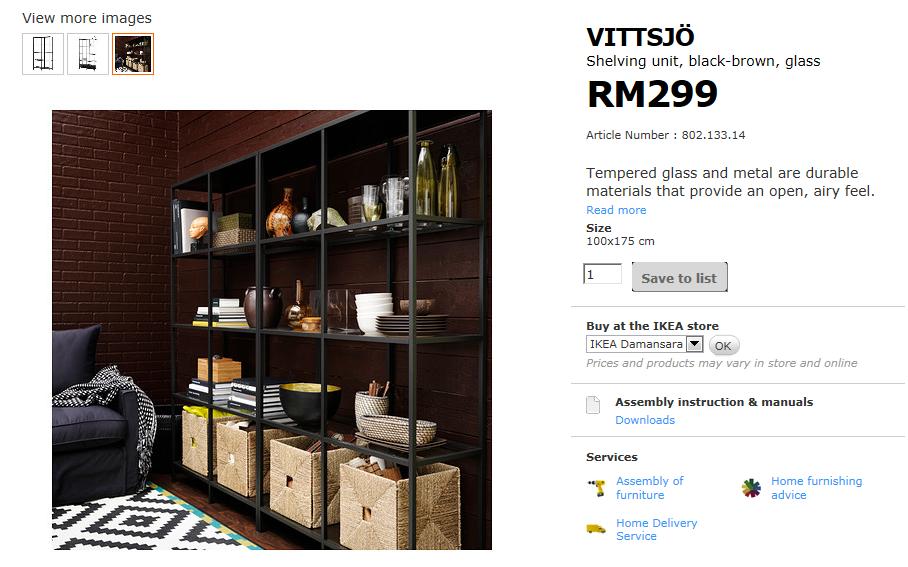 3.      Change the Curtains
To give further illusion of height and elegance, shift the curtain pole all the way up to the ceiling. For the curtain fabric, choose one with a soft pattern print. Since Jessica likes something classic, a Damask-style print pattern with a colour palette of cool blues and greys is a great way to go.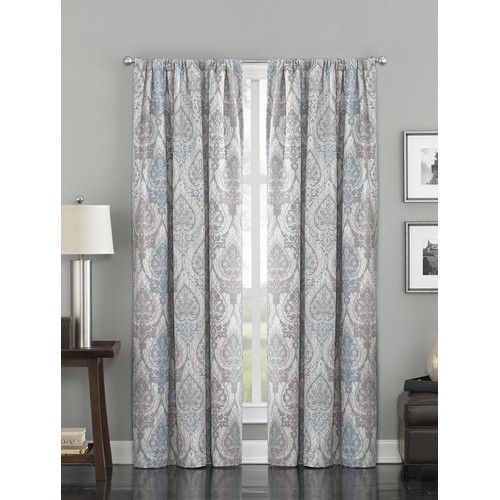 4.      A Punch of Colours
Now that you have worked out which of your big pieces are neutral and light, it's time to have some fun! Choose your favourite colour, perhaps red, orange, blue, or purple. Then use it on the small pieces, e.g. pillows, cushions, decorative items, etc. It can be in a variety of patterns as long the colour tone remains the same. Over time, you can change out the pieces to another colour of your choice.
5.      Light it up
The final touch that will give the room a designer feel is to choose a lighting piece which has an interesting architectural detail. Don't be afraid to go big something around 2 to 3 feet in diameter and drop it by 6 to 6.5 feet from the floor.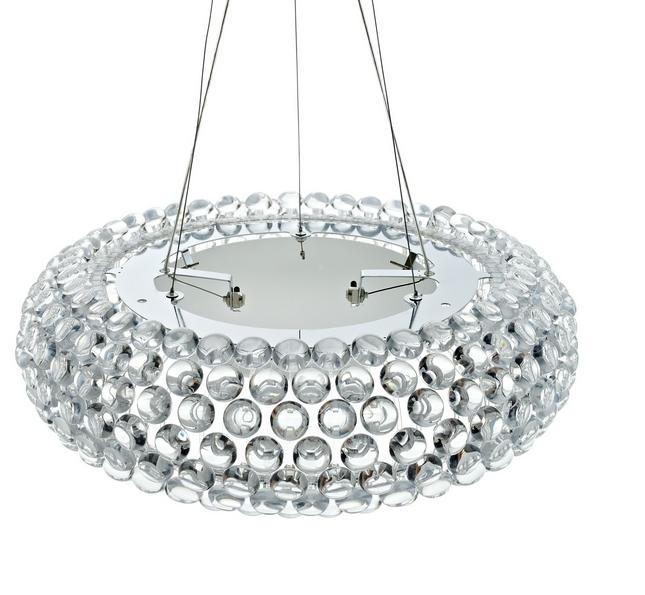 Putting it all together
This is what your living room could look like after the makeover.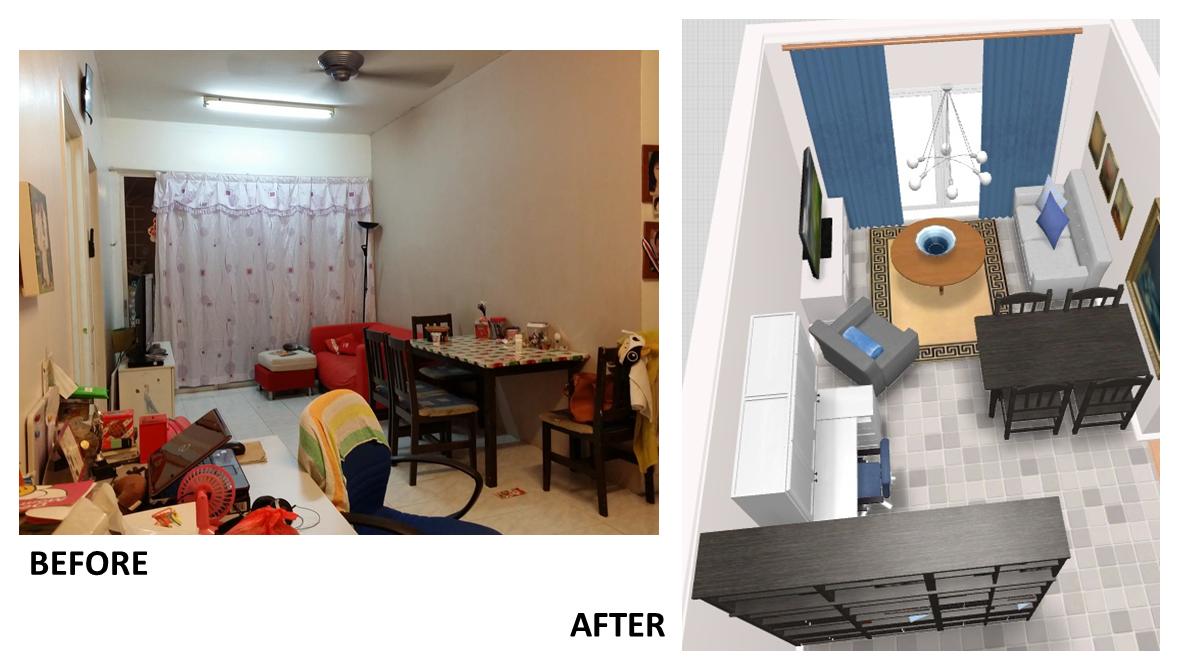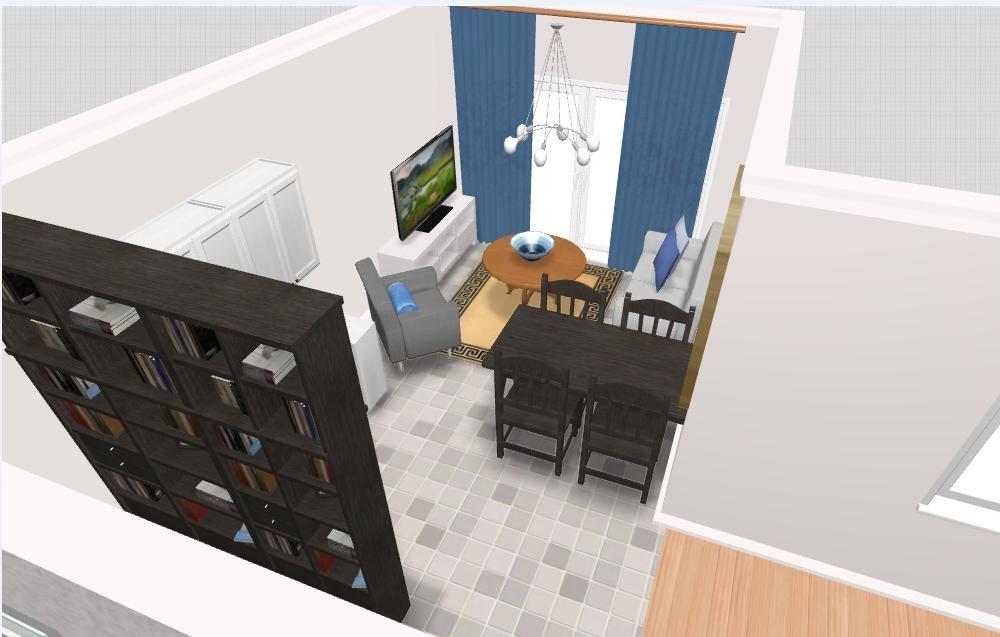 Using the dark shelving unit to partition the space between the entrance and the living room.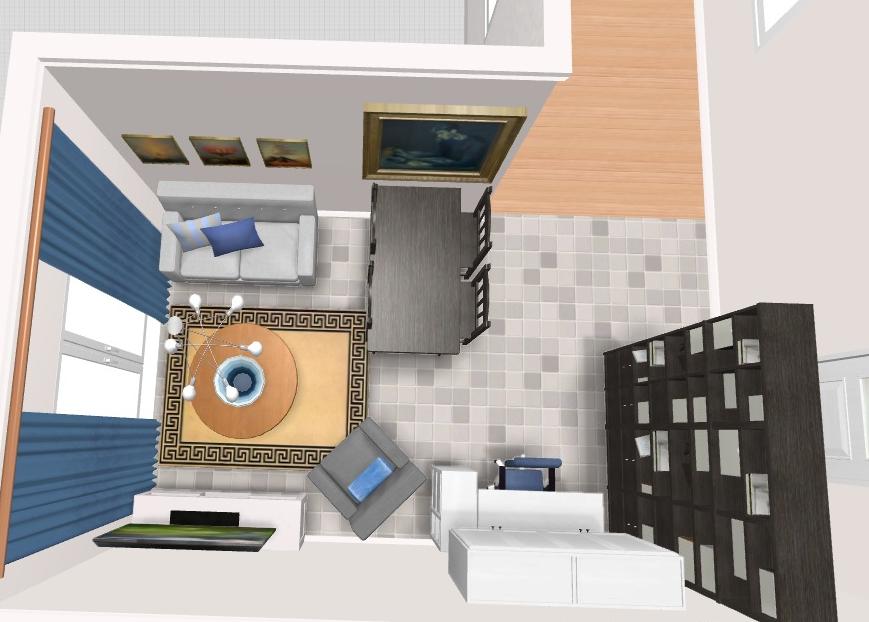 Neutral colours with splashes of blue keep the room comfortable and modern.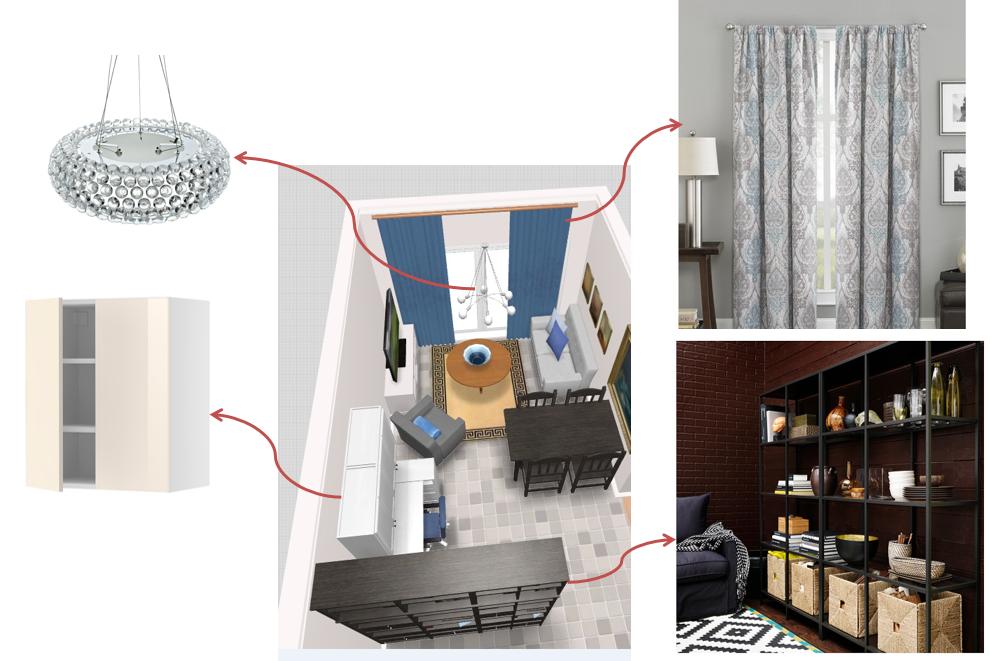 Thank you Jessica for your question! To show our appreciation, we are sending you a complimentary house cleaning session, courtesy of Cleaning Commandos, one of our recommended cleaning services on Recommend.my
Thank you Bonnieblue Furniture & Interiors for such great advice!
Need recommendations for an interior designer?
Get a personalised list of top 10 designers at Recommend.my and ask them to quote for your project.