The first thing you see when you step into your new home is the living room. And in any living room, one feature wall serves as the focus point. This is normally where your TV will go, along with your living room cabinets.
The right TV cabinets will help you show off your style and character, for example, by displaying photos of your travels, your family, and your interests. It serves as a frame for your TV (or a TV stand), and helps to conceal all the electronics and wiring from the TV, gaming consoles, Internet modems and wireless routers.
For extreme affordability, many homeowners may head to Cheras, Damansara or Tebrau to buy a flat packed TV stand, assemble it themselves, and be done with the living room. However, we think this is a missed opportunity.
Why choose a built-in TV cabinet design?
Instead of buying a generic, flat-packed cabinet, why not choose a built-to-order TV cabinet design that will fit the dimensions of your living room perfectly?
With a built-in TV cabinet design, not only do you get a well-fitted piece of furniture that will last a long time, you are also able to choose from a wide range of colours and textures to create a unique style (that your neighbours won't have).
Fully customisable
Recommend.my has created a range of modern TV cabinet designs that are made-to-measure for your living room, and are fully customisable to a different range of colours and textures. Made with high-quality melamine, these cabinets are strong enough to support everything from a 50″ wide-screen LED TV, numerous consoles and networking equipment, while giving you plenty of room for your books or media collection.
Affordable pricing
The best part is, all our TV wall cabinets can be fully installed for around RM3,000. When you consider the total price of flat-packed furniture (including delivery, assembly, and per-hole-drilling charges), the cost of getting a built-in TV console design from Recommend.my is not that much higher. We even include 36-months defect and structural warranty.
Here are five of our TV cabinet designs in the RM3,000 range (including delivery and installation):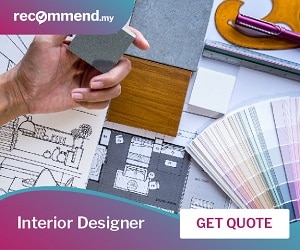 LINEAR TV Cabinet (RM3,000)
This modern melamine TV cabinet design is ideal for a smaller living room as it is fully wall-mounted, providing a clear floor space that keeps the room clutter free. The TV can be wall-mounted onto the cabinet, with the wiring running behind it. Four deep drawers are provided to store your media collection, and there is plenty of display area below the TV. You can also add optional under-cabinet lighting to enhance the floating effect. Dimensions: 2400 mm(L) x 516 mm(D) x 1500 mm(H)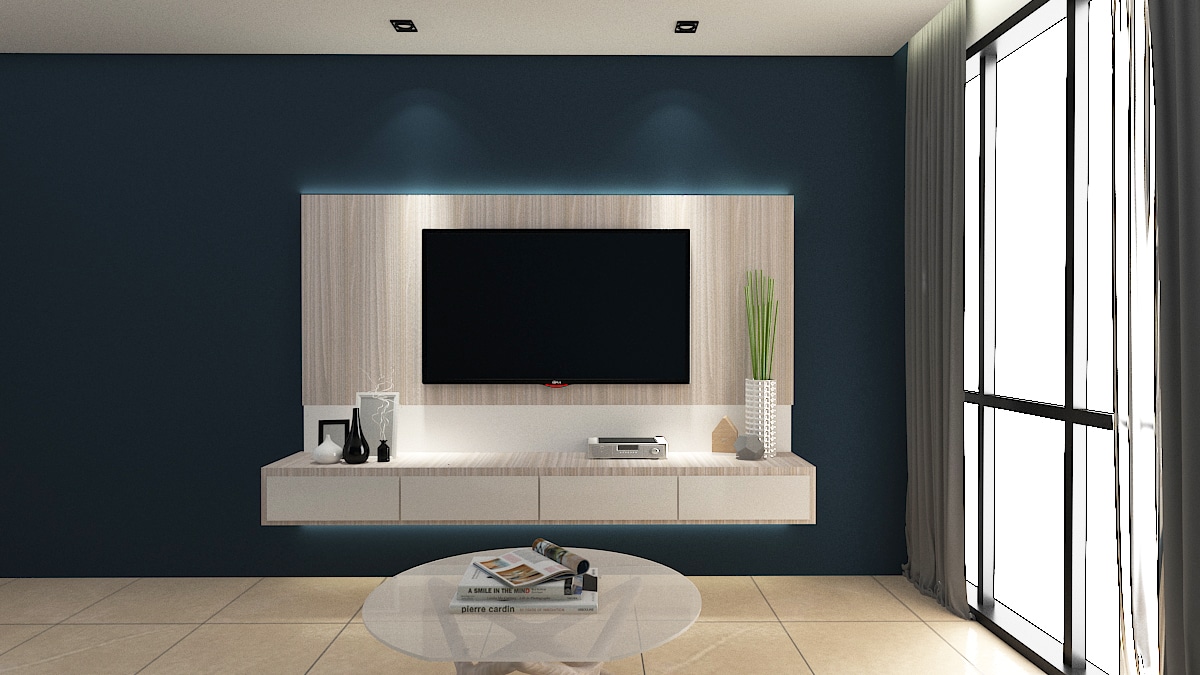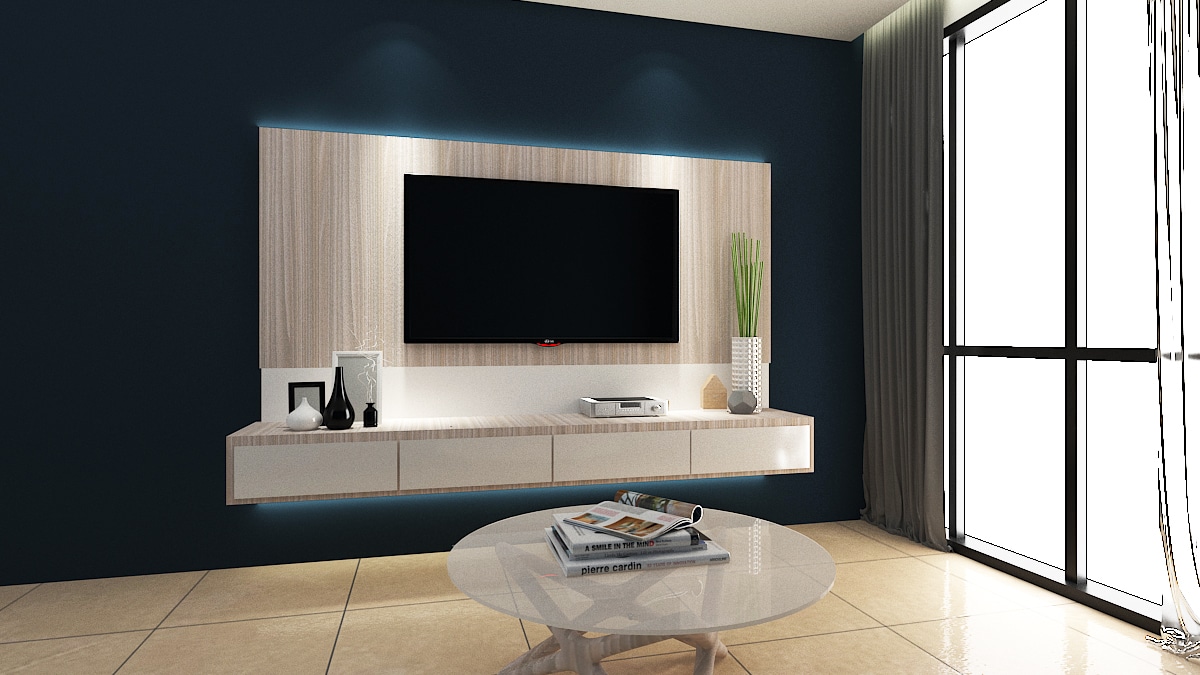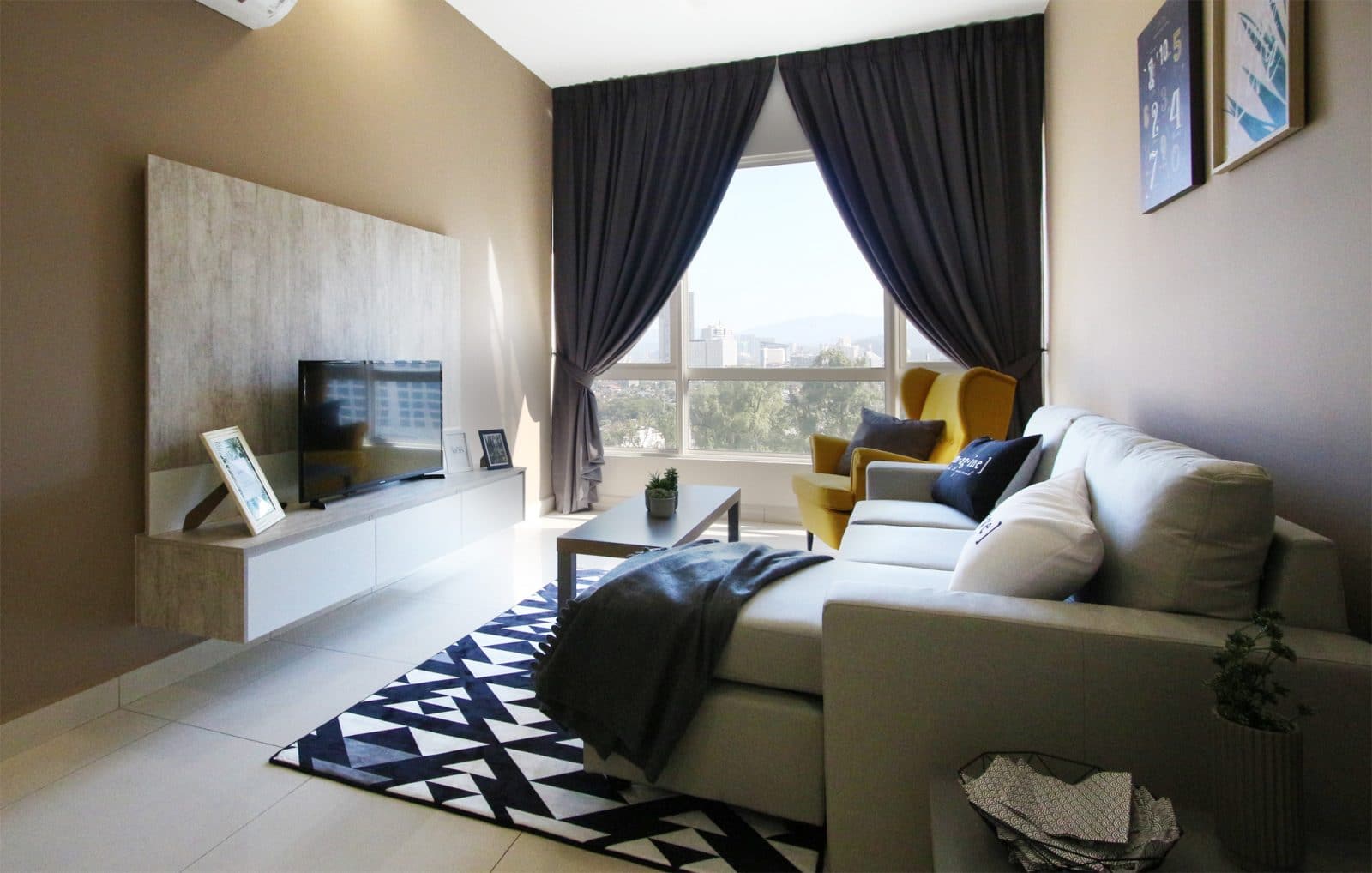 GEO TV Cabinet (RM3,000)
Similar to the previous cabinet, this variation has a unique vertical grain pattern in a light wood tone. In addition, angled grooved patterns have been added to the TV panel to give it a stylish look. The drawer fronts are now in dark melamine, contrasting with the light wood tones of the rest of the cabinet. Dimensions: 2400 mm(L) x 516 mm(D) x 1500 mm(H)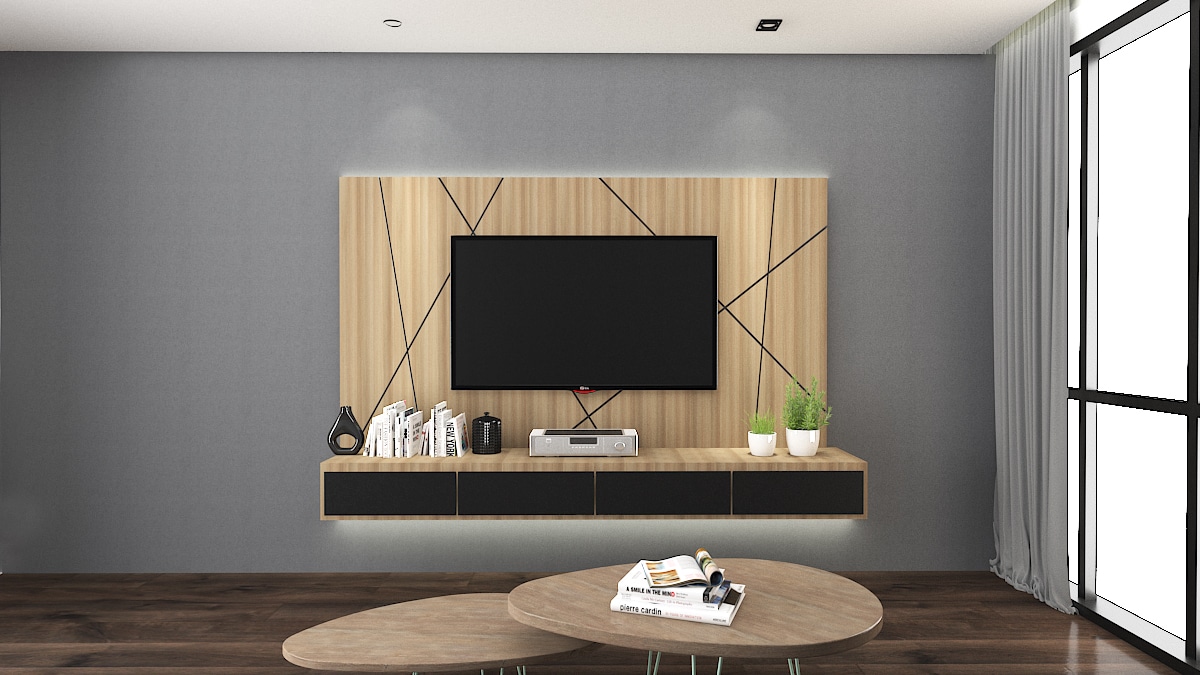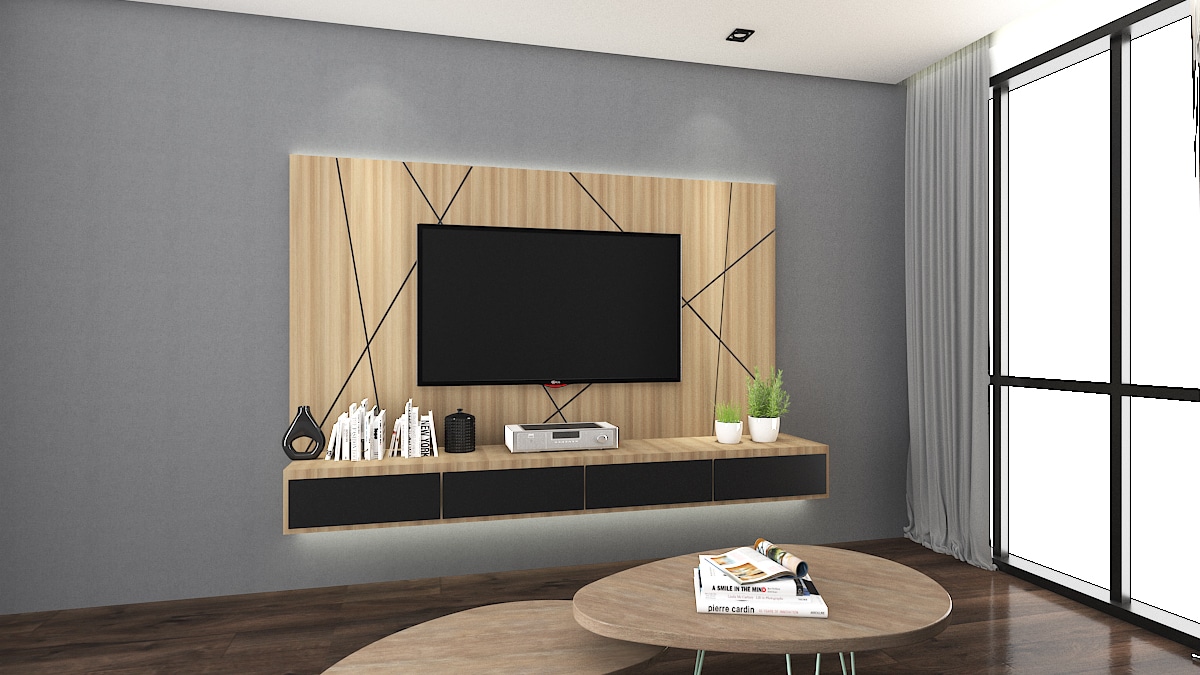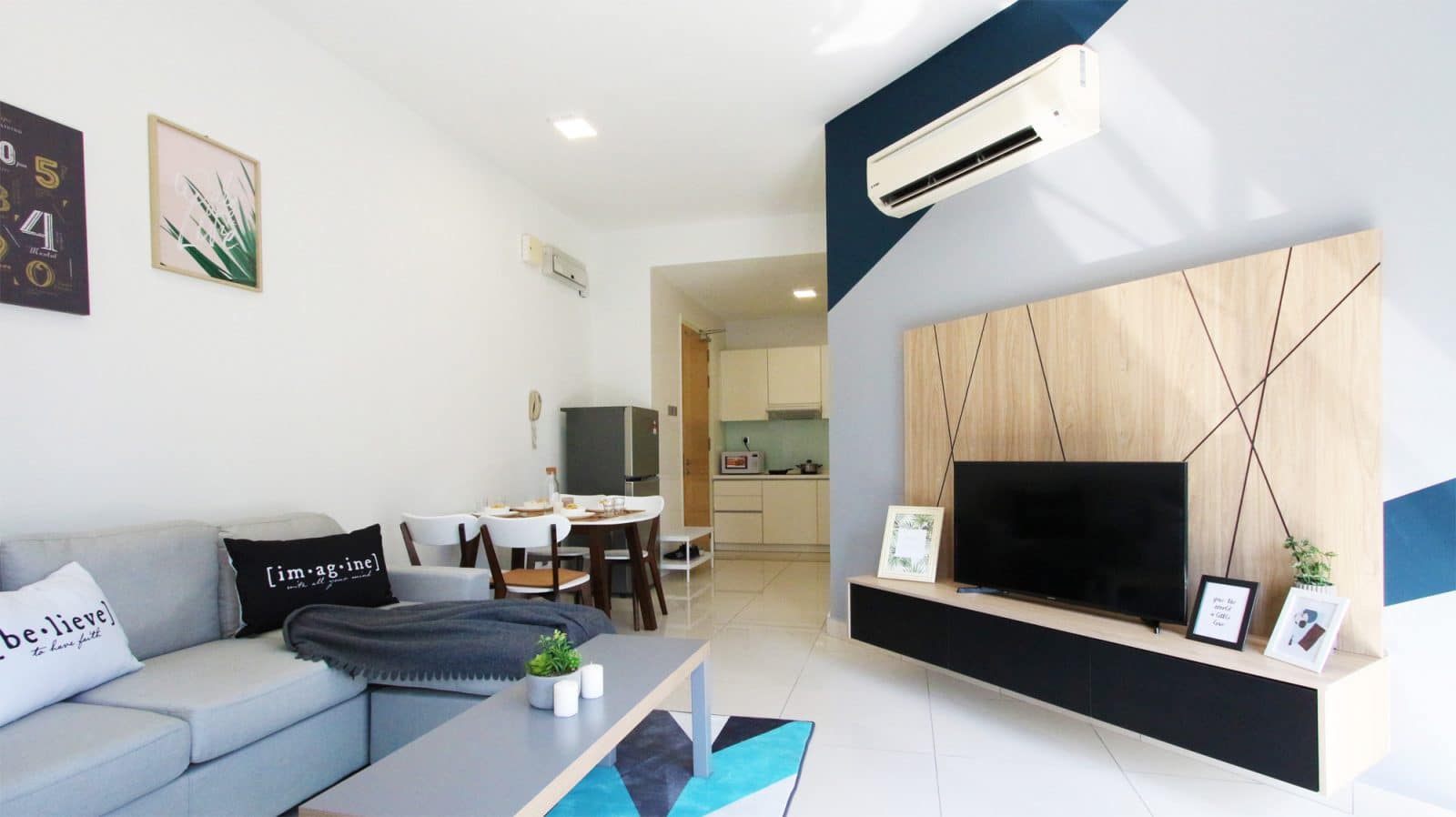 TEXTURE TV Cabinet (RM3,360)
This TV console consists of two pieces; a low wall-mounted TV shelf, and a high wall-mounted mix of open shelves and closed cabinets. The drawer and cabinet fronts are in white, while the frame is made from light beige melamine. With this cabinet, you can choose to wall mount your TV, or simply stand it on the cabinet. Dimensions: 2400mm(L) x 450mm(D) x 1800mm(H)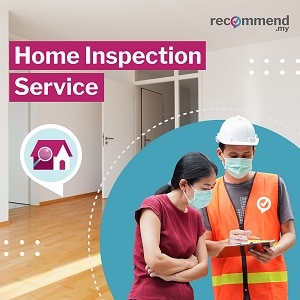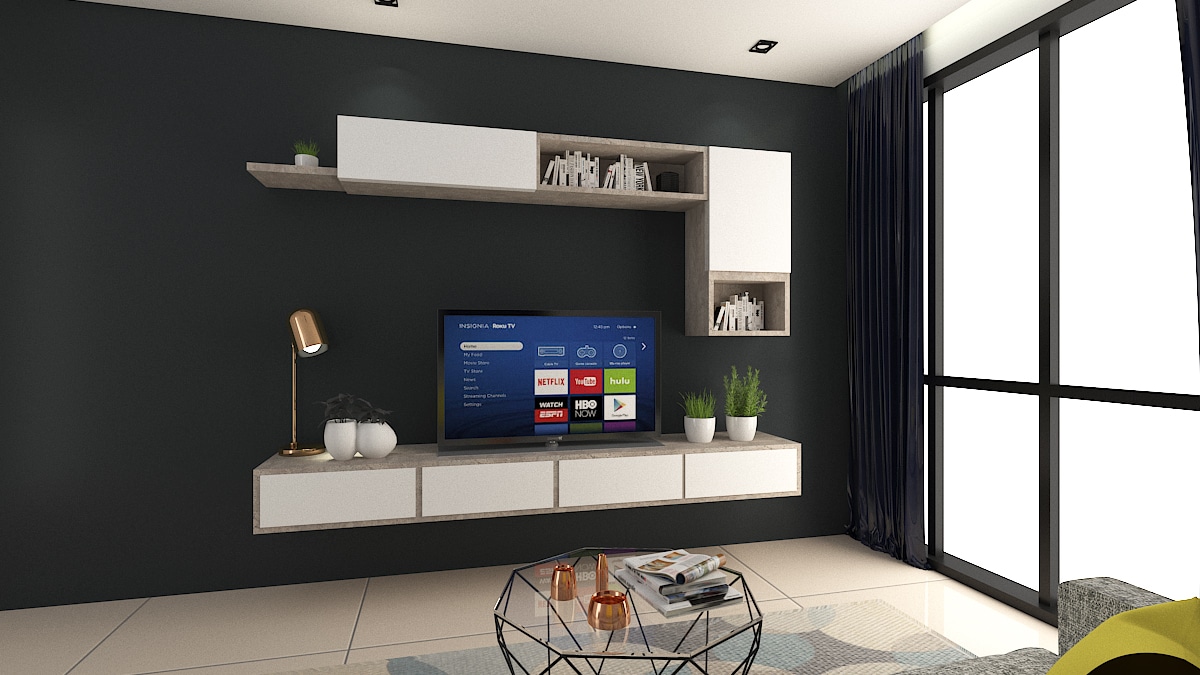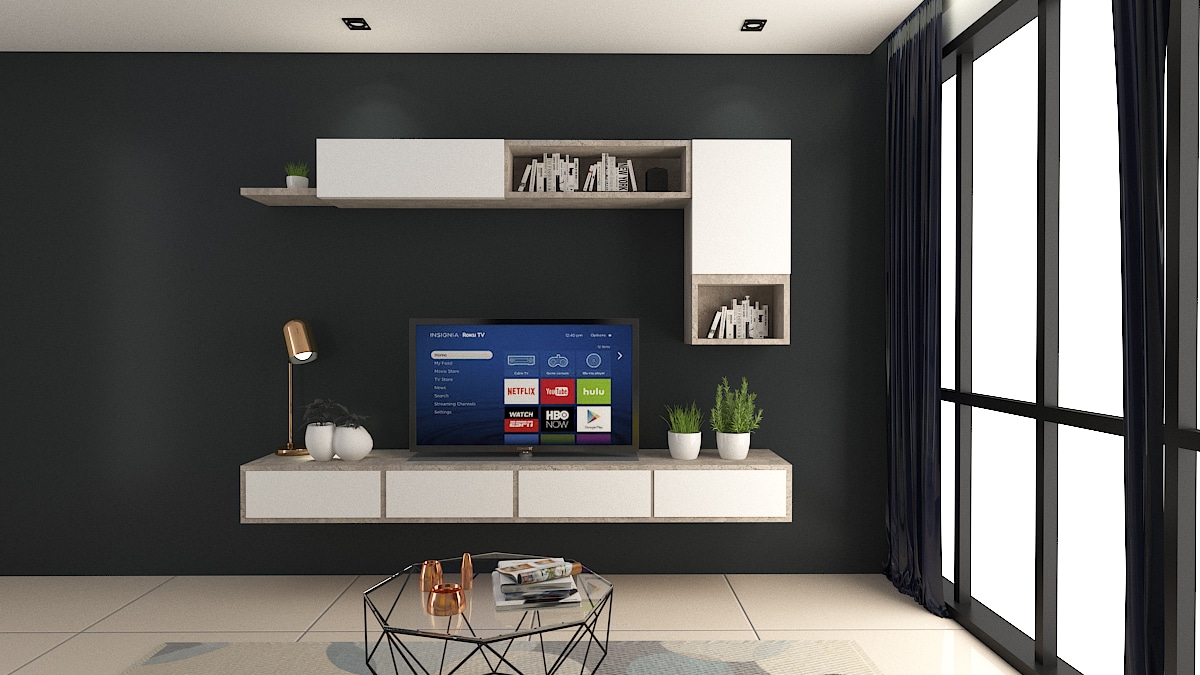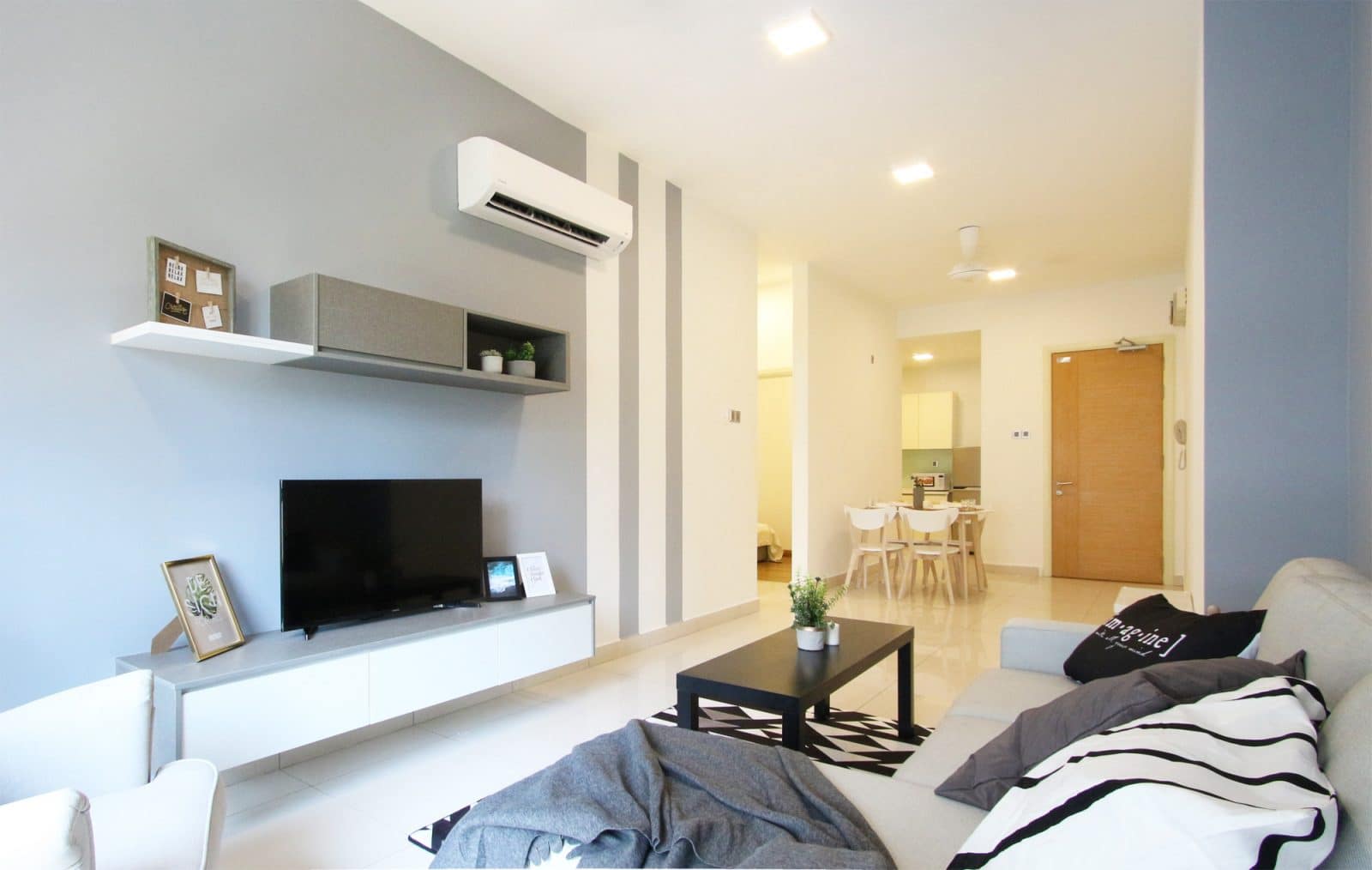 RUSTIC TV Cabinet (RM3,000)
This industrial TV cabinet design includes a suspended TV shelf with a separate suspended wall shelf. Both shelves are melamine with a metal frame of mild steel, powder-coated in matt black finish. The open shelving helps keep the space open, especially if the living room is very narrow. Dimensions: 2400 mm(L) x 450 mm(D) x 2700 mm(H)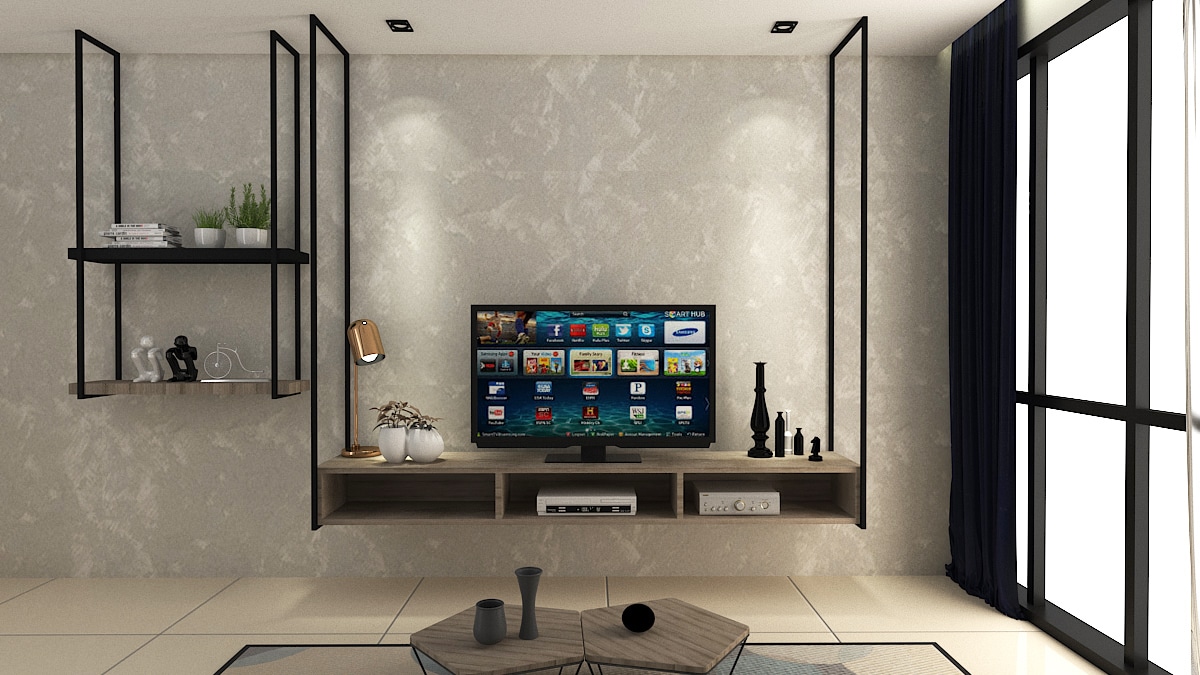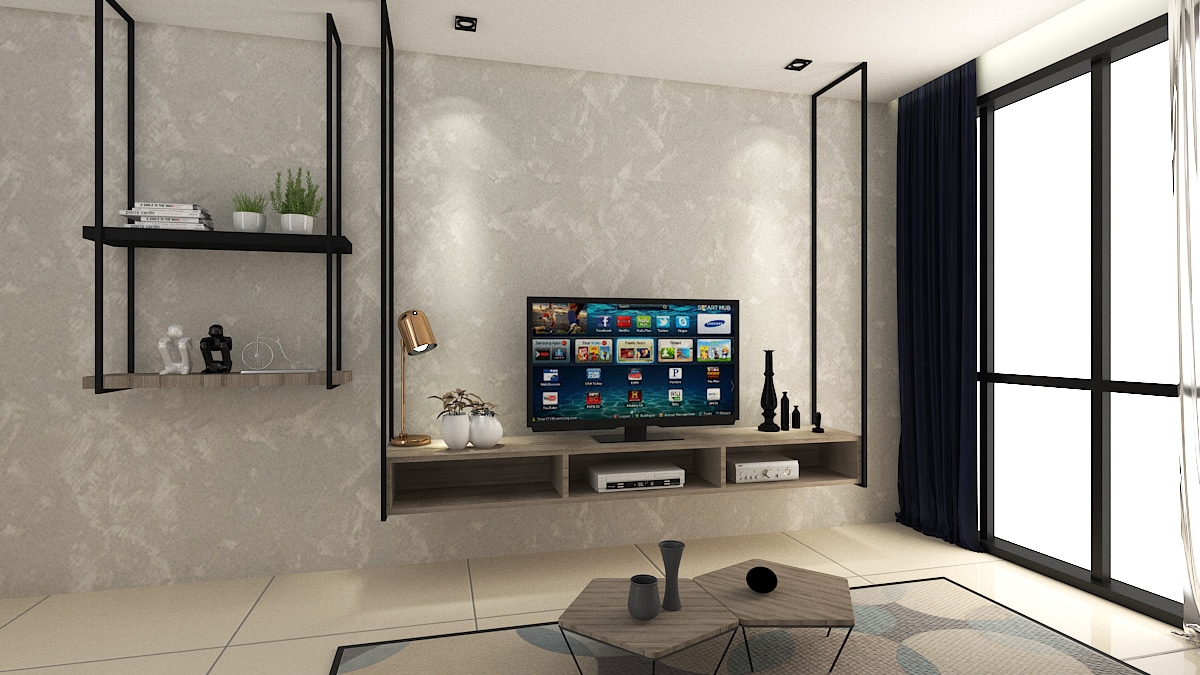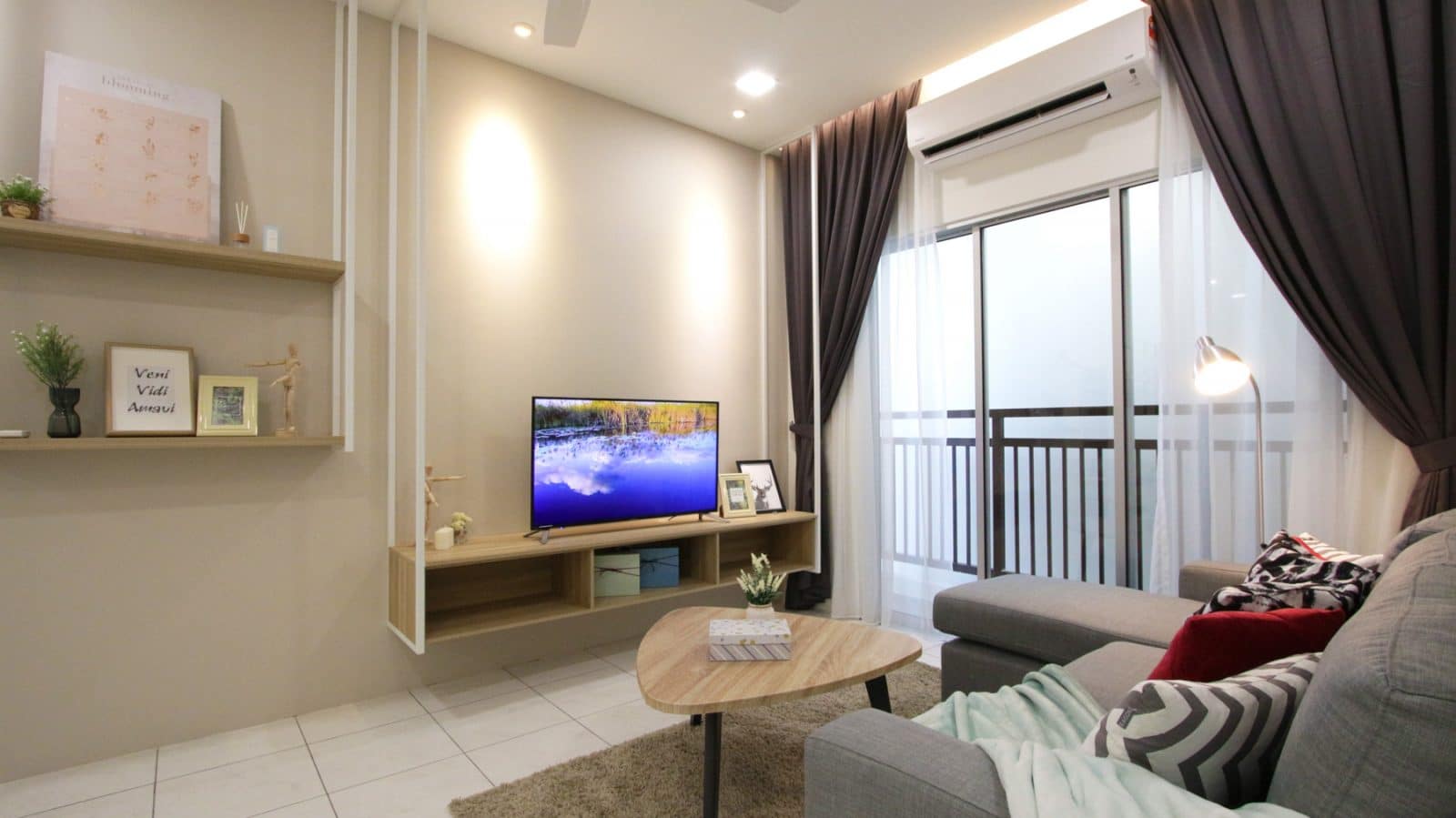 MORK TV Cabinet (RM2,400)
The most affordable of our collection, this TV cabinet is made of a floor standing TV console, with wall-mounted cabinets. The cabinets are made from a combination of melamine in black and oak. The TV can be wall mounted of placed on the cabinet itself. Dimensions: 2400 mm(L) x 450 mm(D) x 550 mm(H)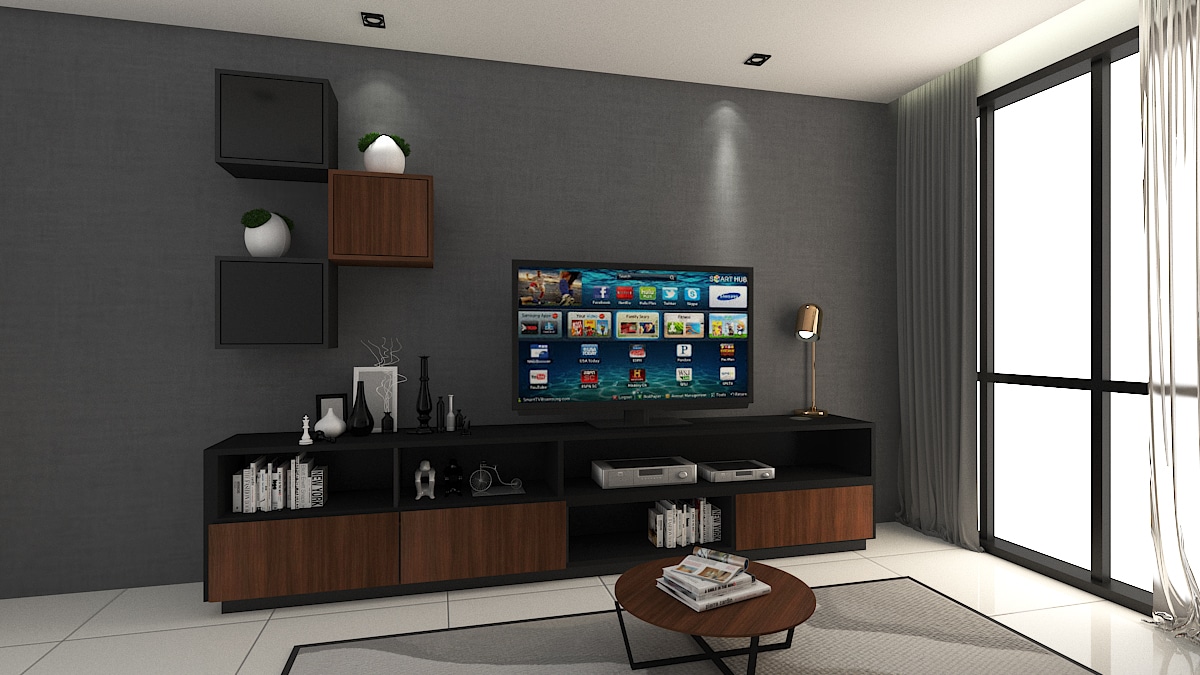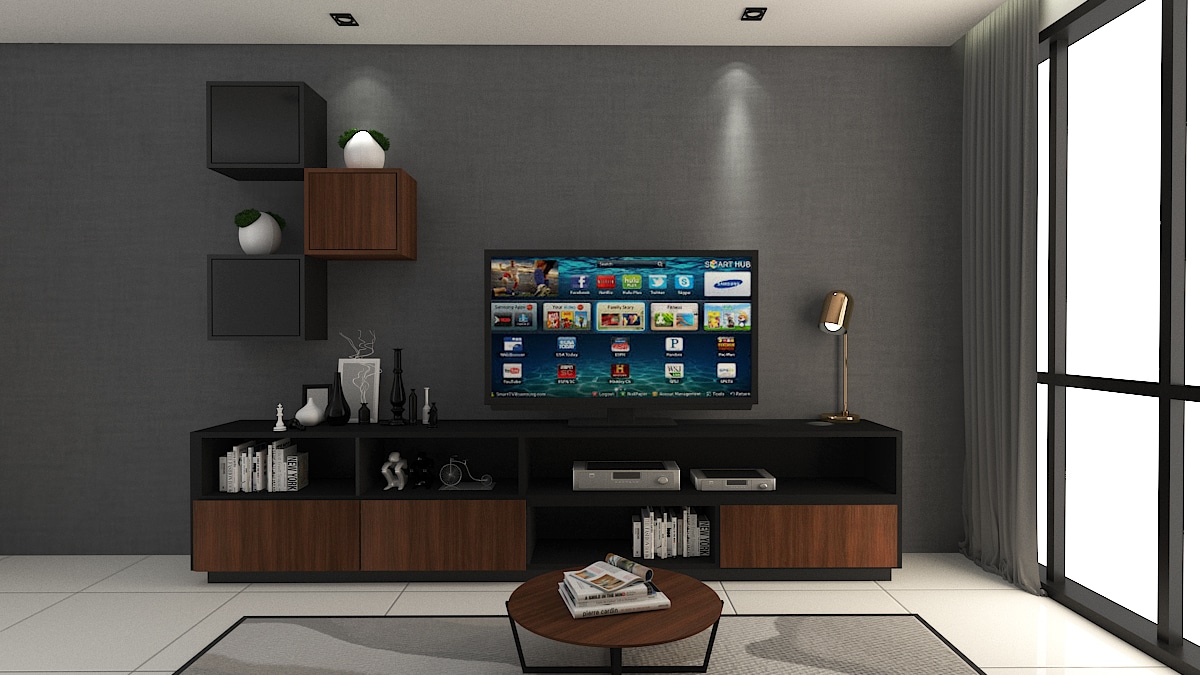 Order a built-in TV cabinet for your living room
Recommend.my is Malaysia's #1 home improvement site for renovations and interior design. Whether you need to renovate a new home, resale home, or set up a property for rental, we can find the right contractors to help. Get a renovation quote
Note: Prices are based on a cabinet length of 2.4m. Any extension to the dimensions may require additional cost. Installation of additional power sockets will also be subject to charges