Unlike other rooms in the house, the kitchen is a place where process flow is important. The kitchen needs to allow for a smooth progression as you gather and weigh ingredients, cut and prepare them, cook them, plate them, and finally wash the used equipment and dry them.
Storage was also a headache. Where should the pots and pans go? Overhead? Below? What about the now-unused Happy Call pan (a craze that swept through Malaysia and Singapore in 2012)? What about the mortar and pestle for sambal? Should you put your soy sauce in a cabinet above the stove?
So when it was time to renovate my kitchen, I started looking at tools that would help me visualise the end result. With all the questions above swimming around my head, I decided to test out a few free kitchen planning tools online. These tools give you a floor plan to add your kitchen components, then let you view it in 3D (no glasses needed), so you really get a sense of what your kitchen will look like.
Hire Kitchen Renovation Specialists
We can find recommended providers in your area. Just post the details of your job for free, and we'll come back with multiple quotes for you to choose.
Here are the popular kitchen design tools I tested, in no particular order:
Planner5D
http://planner5d.com
Planner5D is a nice tool where you can jump right in. Just sign up with Facebook, and you are presented with the option to start a new project, or choose from thousands of samples online.
I chose a kitchen sample that looked simple, and went for it.
Looking good so far. Adding kitchen items to the plan was quick and easy. I just selected the right furniture, dropped it into the scene, and rotated it to my liking.
The part that I had trouble with was choosing the colours of the stove/oven combo. You can select colours or patterns for multiple sections, such as the stove top or skirting, but it was hard to tell which colour corresponded to which section.
Apart from that, once I was satisfied, I clicked the "3D" button and there you go! A nicely rendered kitchen, where you can sit in front of the multi-patterned stove, cook your meals and eat it at the same time!
Verdict: Fast to load, lots of samples to start, lots of options to play with.
Roomle
http://www.roomle.com/
Roomle requires you to register using an email and password. When you get in, however, it does not have any sample, and just plops you into a blank canvas, which is a little daunting.
The interface is simple enough. Start with "draw" to draw four walls, then add a door and windows. Then move to "furnishing" to add the sink and cabinets, as well as my fridge. Then,  hit "3D view" and see what your kitchen looks like.
However, the icons for kitchen furnishings were so tiny that it made it very difficult to know what they were. I also hit a snag, since there were no stove tops at all to choose from.
3D view rendered quite quickly, showing all the elements I had put it.
Not too bad. With a few minutes work, you can approximate your required floor plan quite easily.
The verdict: Reasonably speedy loading times. Fast 3D view. However, small icons and limited furnishings make it hard to get the configuration you want.
PlanoPlan
http://planoplan.com
It took me a while to get this running. First you have to sign up using your Facebook account. Then you need to install additional software in your browser called the Unity Player. And when all that was done, there were only two pre-designed projects for me to play with (a one-room apartment and studio apartment). You have to pay for other projects.
Rendering was also very slow. I fired up the sample project, and it took a minute to load additional pieces of furniture to add to the floor plan. Skipping that, I then went straight to 3D view. After waiting for about 5 minutes, the scene still hadn't rendered yet.
The lines in blue are still rendering. 3 minutes later, a set of knives and a pot appears. Sigh.
Verdict: Too slow to be much use. Close your browser on this one.
IKEA Home Planner
http://www.ikea.com/ms/en_MY/customer_service/ikea_services/kitchen_planner.html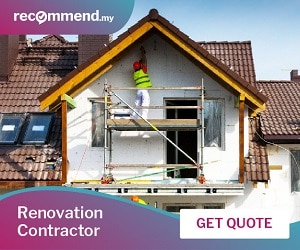 No login is required at the start. However, you will need to install a browser extension (I was using Chrome, and it took just 5 seconds). However, for some reason, the Malaysia and Singapore versions of the site did not work. I had to visit the UK site.
After that, you get an empty 3D canvas to play in. Just start with your room shape, and add more and more items as you move down the folder list on the left. Thankfully, there are also pre-designed rooms to get you started.
Just like the IKEA catalogue, there are a dizzying array of kitchen items that you can add. The layout is simple and there are little touches that make building up the room easier. For example, if you move a fridge from one wall to the other, it will auto-rotate so the doors face outward.
However, one thing to remember is, when you arrive at the tool, immediately switch to "floor view" out of "front 3D view". Adding items in 3D view would always cause the site to freeze. And when I clicked on an item, there would be a long delay before I could add it. No such issues in floor view.
Verdict: A comprehensive list of furnishings, and smooth loading (except when in 3D view). Limited to IKEA items only.
[Update: Lowes (a home improvement retailer in the US) has a
similar kitchen planner
that's based on the same technology as IKEA's planner tool. I tested it and found it to be even smoother than IKEA.]
Autodesk HomeStyler
http://www.homestyler.com/
HomeStyler lets you dive right in without login. However, you're better off starting with a blank canvas, as the user-generated gallery of designs are quite hard to search through. Filtering by "kitchen" showed all the home designs that were tagged with "kitchen" anyway, so it didn't really help in my search.
But with a blank canvas, things progressed quite smoothly. Just like IKEA, they have a huge range of furnishings to choose from, which include branded items from Kohler and Dacor built-in ovens. I managed to approximate my kitchen in about 20 minutes.
In this view, the loading is fast, but there is no light source or textures to give it a photorealistic look. All items are simply "turned" to diagonal 3D view.
But there IS a way to get a photorealistic view, and that is to take a "snapshot". Simply choose where the camera should sit, and the site will generate a snapshot and email it to you. When you try to take a snapshot, it will ask you to create an account.
This is what I received in my email, which arrived about 4 minutes later. Wow, it looks pretty good! Much better than the other tools so far.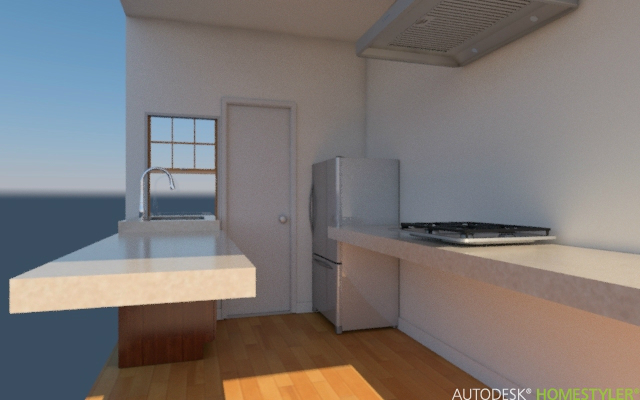 Verdict: Fast and quite easy to use. Generates really great renderings, but getting this 3D photorealistic view requires a separate step to generate it.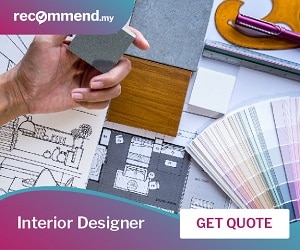 RoomSketcher
http://www.roomsketcher.com
Just like HomeStyler, the site drops you right in without requiring a login or sign up. New users will see a sample floor plan instead of a blank canvas.
Items are pretty easy to drop in, and snap to the walls as you drag them near. Instead of choosing categories of items from a dropdown, such as wall cabinets, you need to type your search. This is because RoomSketcher has the highest amount of furnishings out of all the sites tested here. Searching for "kitchen cabinet" returned 63 items!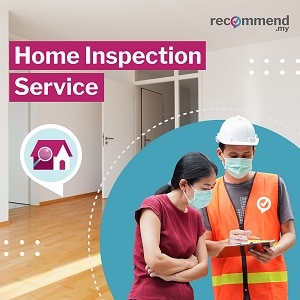 3D view is also one of the best. It takes a brief moment to load, but once it does, you get an array of viewing options, such as an overhead view, eye-level, or even drop a virtual person into the room and walk her around. Awesome!
Verdict: Fast, comprehensive, great rendering options
Conclusion: If you want speed, use Planner5D or RoomSketcher. For mind-blowing 3D renderings, try AutoDesk HomeStyler . If you want to use furnishings from a brand that everyone is familiar with, use IKEA.
Having played with these tools, it's apparent to me that designing a kitchen in such detail only makes sense for the real control freak. Someone who wants to take charge of every aspect of the design, and give the contractor as rock-solid instructions as possible.
If you're the sort of person who doesn't have that sort of time, go with an interior designer or kitchen design service. In the end, this is what I planned out using old fashioned pencil and paper, which I then gave to my interior designer to get creative with:
Hire Kitchen Renovation Specialists
We can find recommended providers in your area. Just post the details of your job for free, and we'll come back with multiple quotes for you to choose.