A bathroom renovation is a great way to refresh your home, and is one of the top home improvement projects in Malaysia. Learn how much a typical bathroom renovation will cost.
When travelling, I love hotel bathrooms with big sinks, nice tiles on the floor and the wall, a rainfall showerhead, a bathtub and a full-length mirror with good lighting. And when I get home, I always feel inspired to do a makeover for my house too. I mean, who doesn't love a stylish and well-thought bathroom in their home, right?
Unlike other areas in a house, bathrooms are usually neglected until they start causing problems. Water leaking to the lower floor, broken sink and toilet bowl (also known as WC) are the common reasons that trigger homeowners to take immediate action to repair it.
However, recently bathroom makeovers and renovations are becoming one of the top home improvement projects in Malaysia. Instead of just hiring a handyman or a plumber to do a quick repair, many homeowners want to do a renovation that gives their bathroom a total makeover. They want to get rid of mouldy tiles, replace stained sink and WC and make the bathroom much safer for the elderly and kids.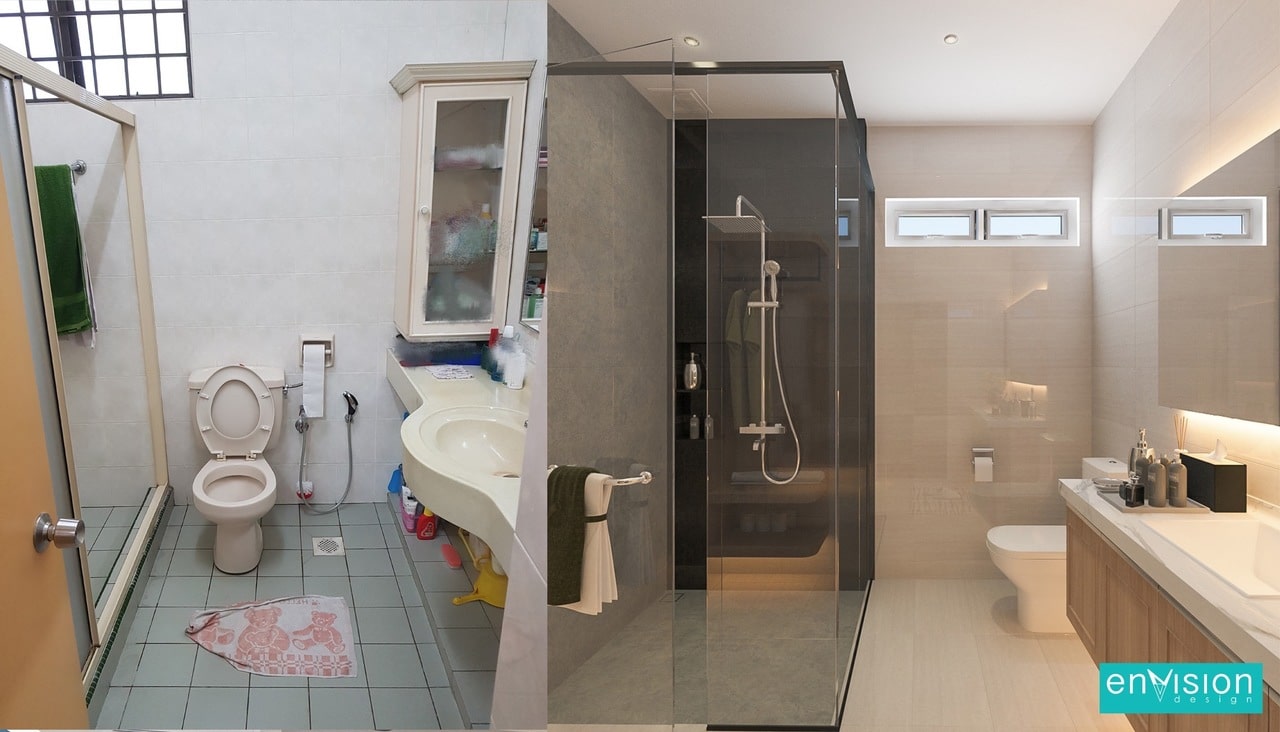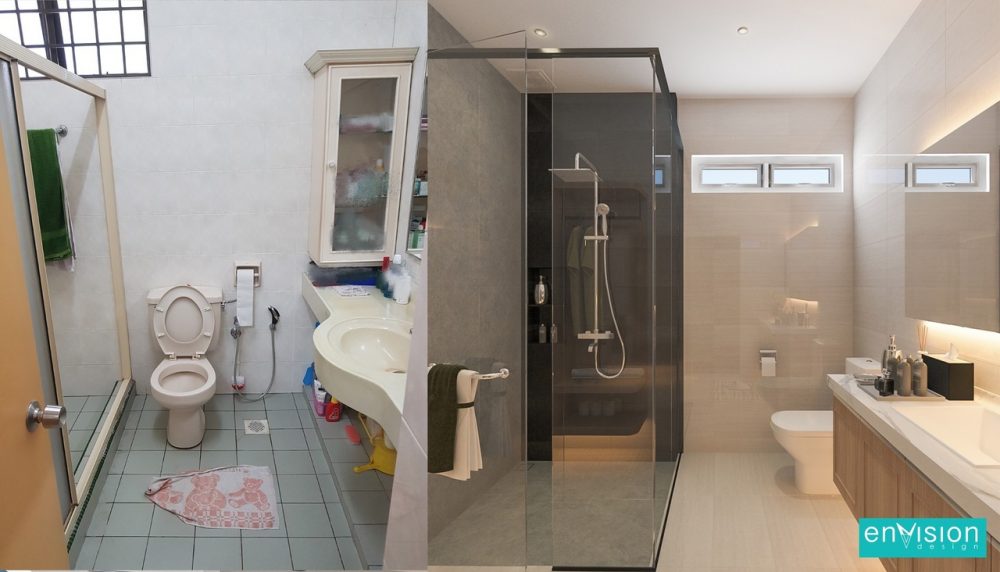 Typical steps in a bathroom renovation
Before we dive into the cost breakdown for bathroom renovation in Malaysia, you need to know what is the standard scope of work (SOW) for a bathroom renovation. Some of the work can be done independently but it usually involves these steps:
Hacking and demolishing of the old tiles (floor and/or wall)
Waterproofing the floor
Plumbing and piping
Wetwork such as constructing a raised divider or shower cubby
Wiring (water heater, lighting and plug points)
Tiling on floor and wall (half or full height)
Installation of new doors and windows, or shower screens
Installation of new bathroom fittings and accessories
Painting work
Factors that influence bathroom renovation costs
The average Malaysian home is around 1200 sqft. And, the bathroom for such homes is usually around 30 to 70 sqft.
At this size, if you were to do a complete renovation, including hacking, waterproofing, new floor and wall tiles, new fixtures (e.g sink, toilet), wall cabinets, and glass shower screen, costs can start from RM15,000).
The breakdown of costs can be something like this:
Hacking and demolishing = RM2000
If you want to give your bathroom a makeover, removing the cracked, dull and outdated tiles will be the first thing to consider. Depending on your request, the contractor will hack the wall tiles and/or the floor tiles. Hacking works also include dismantling of the existing bathroom fittings such as the sink, WC and plaster ceilings.
Waterproofing = RM1500
After the old tiles are hacked, the contractor will level the floor, and waterproof the whole bathroom floor. If the bathroom is on the upper floor, waterproofing is an absolute must. During this process, a floor will be covered with material (e.g: cementitious coating, bituminous coating) that prevents water from penetrating or permeating through the floor. Depending on the material used, it might take some time to be fully cured before moving on to the next process. Learn more: Waterproofing guide for Malaysian homes
New plumbing and piping = RM1000
This is an optional step and only needed if you intend to change the layout, such as moving the sink to a different location in the bathroom. It may also be needed if you want to relocate the water outlet, such as when you are switching from a bathtub to a standing shower. Some older homes may also have an old squatting toilet.
So, if you wish to change the layout by relocating the sink to a different side, or adding a bathtub in the bathroom, new plumbing needs to be done. The water inlet and the drain line need to be carefully planned for practicality and easy maintenance.
Wetwork = RM2000
Wetwork is a term for building something that uses cement, laying bricks, plastering and skim coating. Additionally, it also refers to the process of building a recessed shelf in the shower area, a new concrete top for the sink, a wall/floor divider to separate wet/dry areas as well as installing tiles on the floor and the wall.
Tiles = RM3000
Go with the porcelain tiles that are anti-slip and slightly textured for the bathroom floors. They are more durable and easy to clean. As for the walls, you can choose to install ceramic tiles all the way up to the ceiling or just 6 feet high to reduce the cost. The rest of the wall can be painted with moisture-resistant paint in matching colours.
Bathroom fittings and accessories = RM2200
The price for bathroom fittings such as sink, toilet WC and bathtub varies depending on the size, type and brand. For example, a high-tech TOTO toilet with seat-warmer and built-in bidet may sound cool, but this alone could add RM8000 to your total costs.
The same applies to accessories such as faucet, showerhead and bidet. This is the space where the homeowners need to decide to either splurge or cut costs for their bathroom makeover.
Glass shower screen and door = RM1800
If you are currently using a shower curtain to separate the shower area, you may upgrade it by installing a glass shower screen or door. The tempered glass will be a bit costly as it requires proper mounting and sealing. But this upgrade is more durable, easy to clean and will definitely make your bathroom look more luxurious.
Cabinetry = RM2000
Additional storage cabinets can be installed above and under the sink, or above the WC to keep the toiletries. Some homeowners also opt to install full-height, narrow cabinets and floating shelves at the dry section of the bathroom to store extra towels and toilet rolls.
Plaster ceiling = RM1200
Some bathrooms in old landed houses have very high ceilings with exposed piping near the top. Freshen up the look of the bathroom by covering up any exposed pipes or water heater with a plaster ceiling. The common height from floor to ceiling for a bathroom is 9ft – 10ft.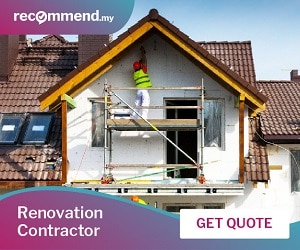 Lighting = RM400
Install an LED light in a cool daylight tone as the main ambient light for the bathroom. Then, you can also add a fancier task light above the sink and mirror, and a hidden LED strip light under the cabinet to create a hotel-like mood for your bathroom. Learn more: Six ways to light every room in your house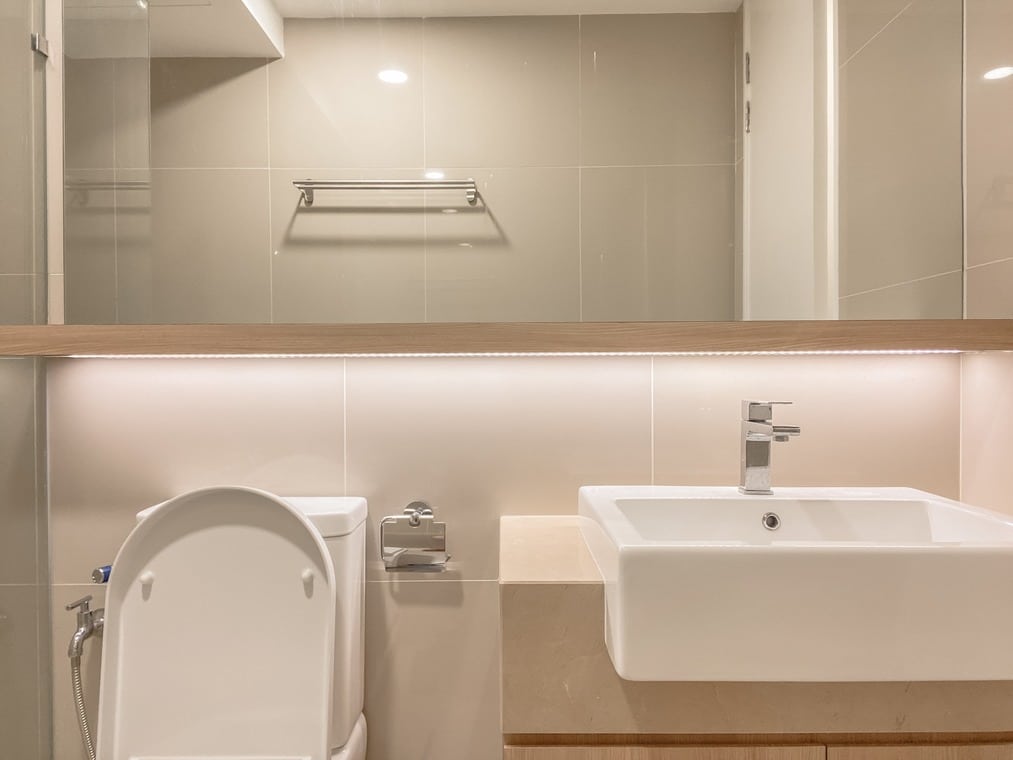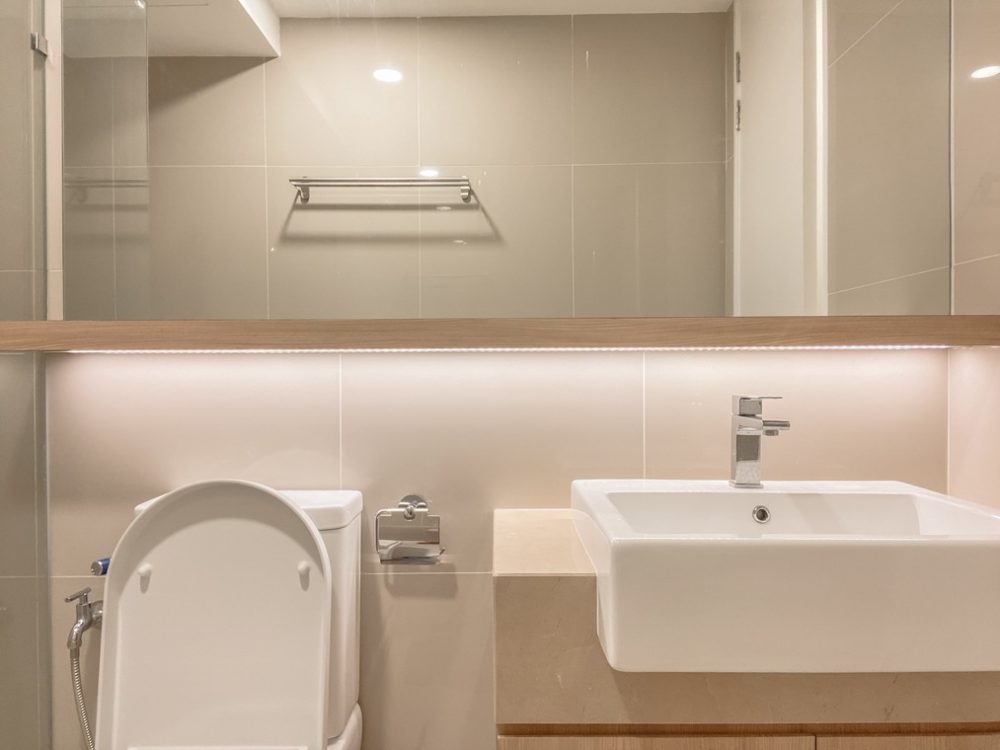 The cost shared above is just an estimate and may vary depending on other factors such as the size of the bathroom, the material that you choose, additional charges for rush jobs and so on.
Have bathroom renovations become more expensive due to COVID-19?
The short answer is yes. Many factors have contributed to an overall increase in costs in materials and labour, including:
A surge in renovation requests
Many homeowners had to put their renovation plans on hold during the lockdown. And when restrictions were lifted, the demand increased significantly, with many renovation contractors unable to keep up.

A shortage of workers
Malaysia's renovation sector is dependent on foreign workers e.g. from Indonesia and Bangladesh. Many of these foreign workers went home at the start of the pandemic, creating a labour shortage. And now that economic activity is picking up, these workers are still not able to return until the end of 2021.

Rising costs of building materials
According to a news article, the costs of wiring, copper and steel have gone up, forcing contractors to increase prices to compensate. And there are even not enough bricks available from local factories, as they were forced to shutdown during MCO.
Learn more: How to start your home renovation after MCO
How to make your bathroom renovation costs more affordable
As mentioned above, your bathroom renovation may cost more these days. So, to avoid bursting your bathroom renovation budget, here are some handy tips to keep costs lower:
Don't change the layout
Moving the toilet from one corner of the bathroom to another may look good, but it will add significant costs. This is because the piping will need to be moved beforehand, and this could result in hacking and new waterproofing.

Don't change the size of the bathroom
You may be thinking of making major changes to your floor plan, such as expanding the bathroom to include a new bathtub. See item 1 above.

Repair instead of replacing tiles
Instead of hacking all the tiles in the bathroom, consider repairing only the damaged ones (provided your contractor can find a matching replacement). Or, why not re-tile only the floor, but leave the walls? These adjustments could knock thousands off your final bill.

Don't make last-minute changes (this will incur additional charges)
As with any major construction project, it's best to plan it well beforehand, and stick to the plan, rather than making changes halfway. Learn more: Hidden renovation costs
Featured image of bathroom renovation at Sterling Condominium, Kelana Jaya by Airhost Design and Build