Watch any cooking show on TV, and at some point, the celebrity chef will snip a few fresh herbs from a pot by the window and add it to the recipe.
Wouldn't that be great? Instead of running of to Tesco to buy a tiny handful of parsley, coriander, cekur (for kerabu), or mint; you can just grow it in your kitchen!
"But my kitchen is too tiny!" you say.
Well, these photos show that it's possible to grow fresh herbs in any kitchen.
Whether it's by the sink, on the walls, or hanging from a railing; you'll never have to pay for fresh herbs again!
1. Hang herbs off the curtain rail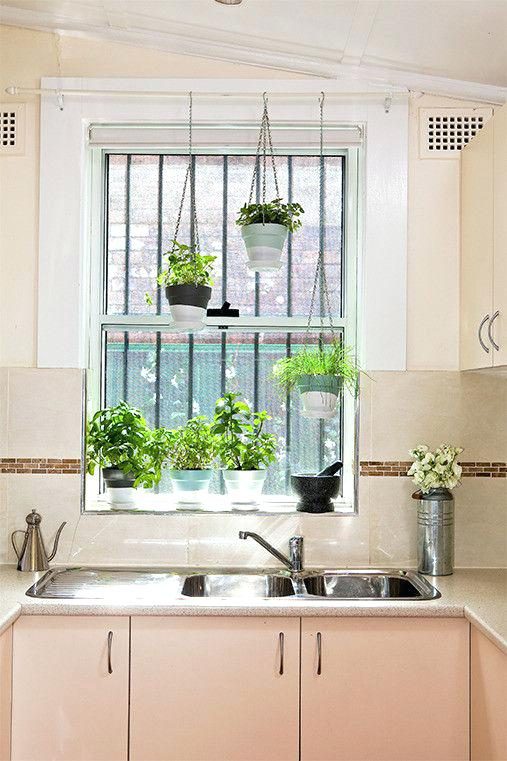 What's a more convenient way of snipping a few herbs than having them right above your kitchen sink?
Hanging them on a curtain rail or sitting them on your windowsill is a practical way to save space in your kitchen, and also creates a nice visual interest. Your mini herb garden will also get a healthy amount of sunlight, plus you can easily dampen them with water from the sink.
2. Install simple shelves on the outer frame of a casement window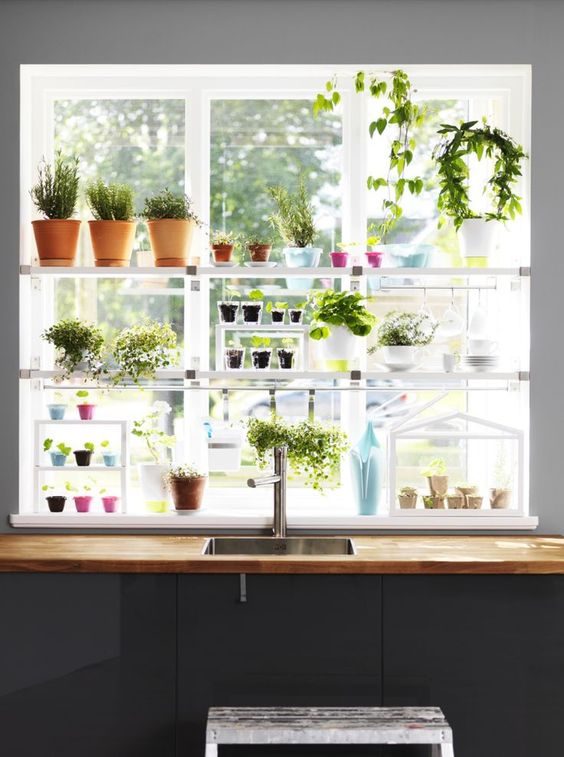 Installing simple shelves near your kitchen window on the outer frame of a casement window is another great way to grow your herbs. The design of this shelf is space-savvy as it makes it look more organised and convenient if you would want to water your herbs while doing the dishes or pluck them out for cooking.
3. Drill some clothes rails into the wall tiles and use IKEA planter pots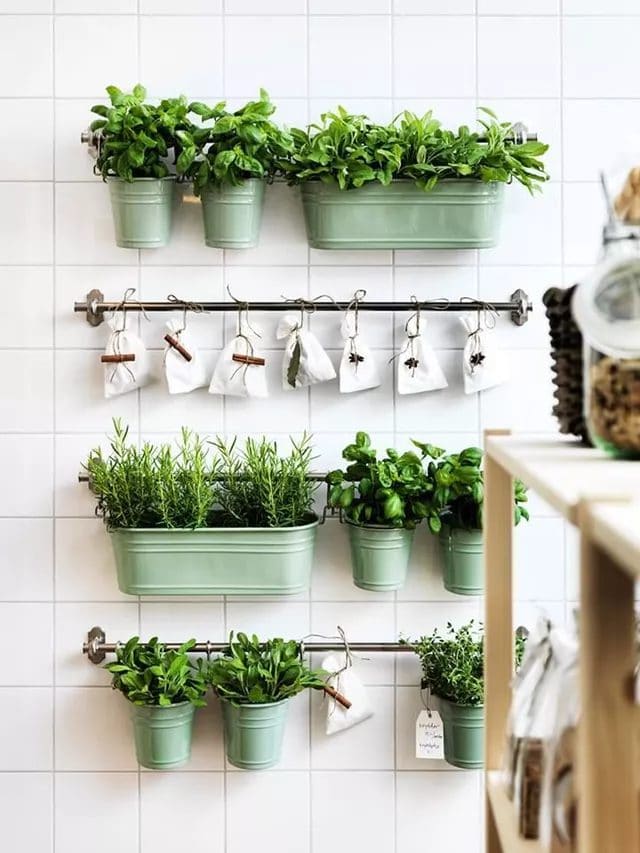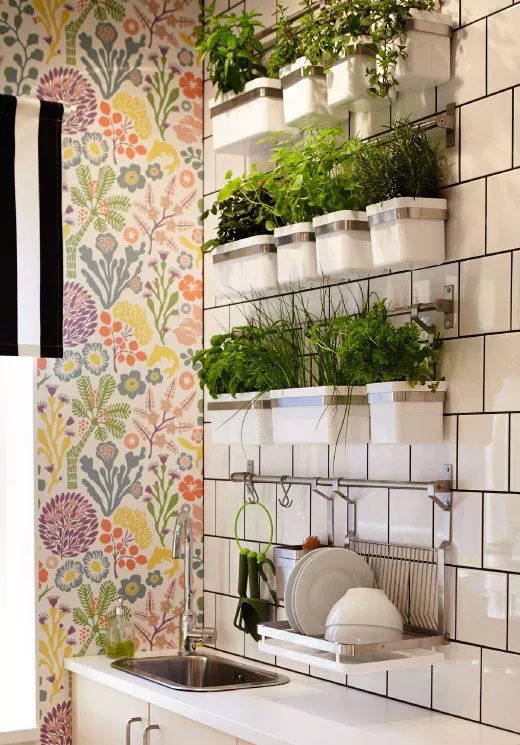 Another great hack is to get some IKEA planter pots and drill it into the wall. All these are pretty much custom-made to your own liking and it's affordable! For example, the height that you want and the type of clothes rail.
You can also keep a couple of basil or thyme herb pots for an instant garnish because of its easy access that these hanging planters give.
4. Herbs growing in a portable trolley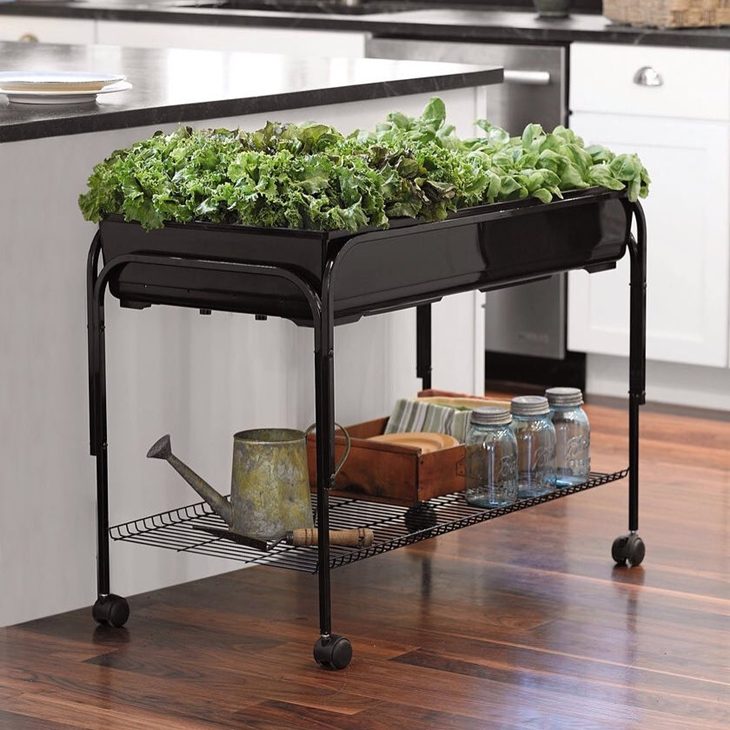 A portable trolley is something that many people will appreciate because the mobility allows you to wheel the cart whenever you like. The great thing about a portable trolley is that it doesn't take up too much space in your house especially if you have a small kitchen.
This will usually be placed right next to an island table in the kitchen where the food preparation will take place. Likewise, it's so convenient, by just reaching out your hand to take some herbs and add on to your dish.
5. Wooden feature wall with planter boxes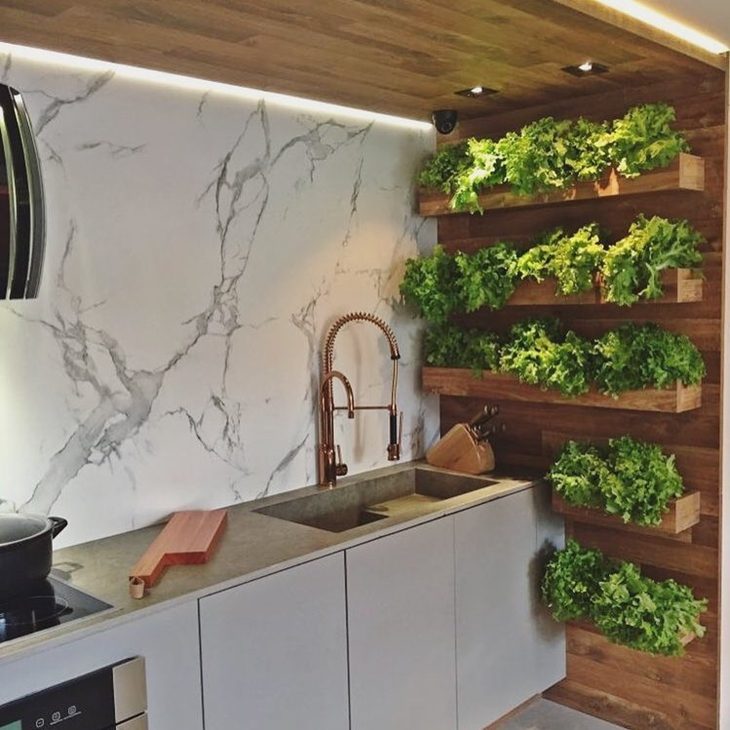 Planter boxes is another creative way to grow herbs in your kitchen as it saves space and makes it look more organised. Also, you may ditch the loose dirt that comes out from the planters and use this idea to grow your herbs instead.
There's possibly nothing not to love about this wooden planters wall because of its modern look and the plant gives it refreshing pops of colour to brighten up the kitchen as well.
6. Custom-built planters through the kitchen countertop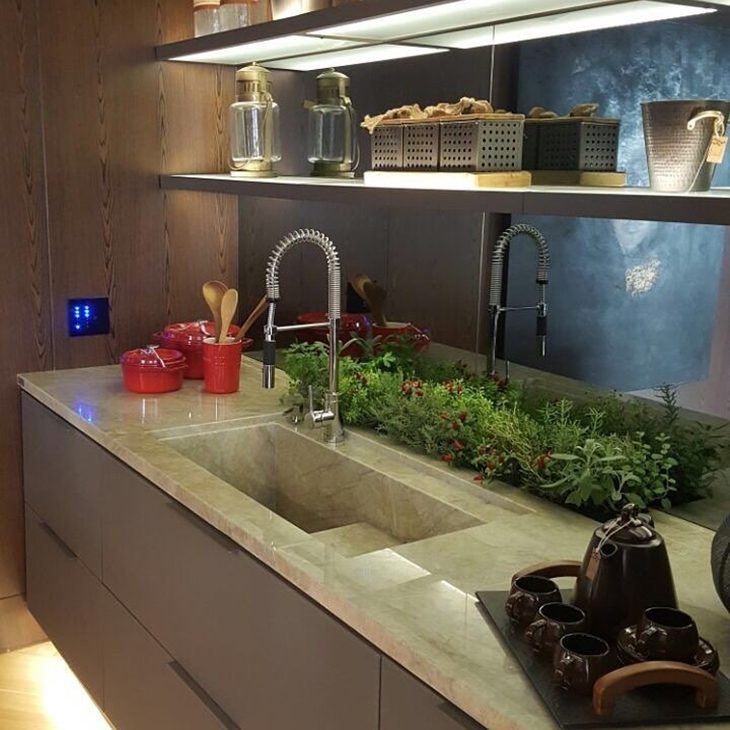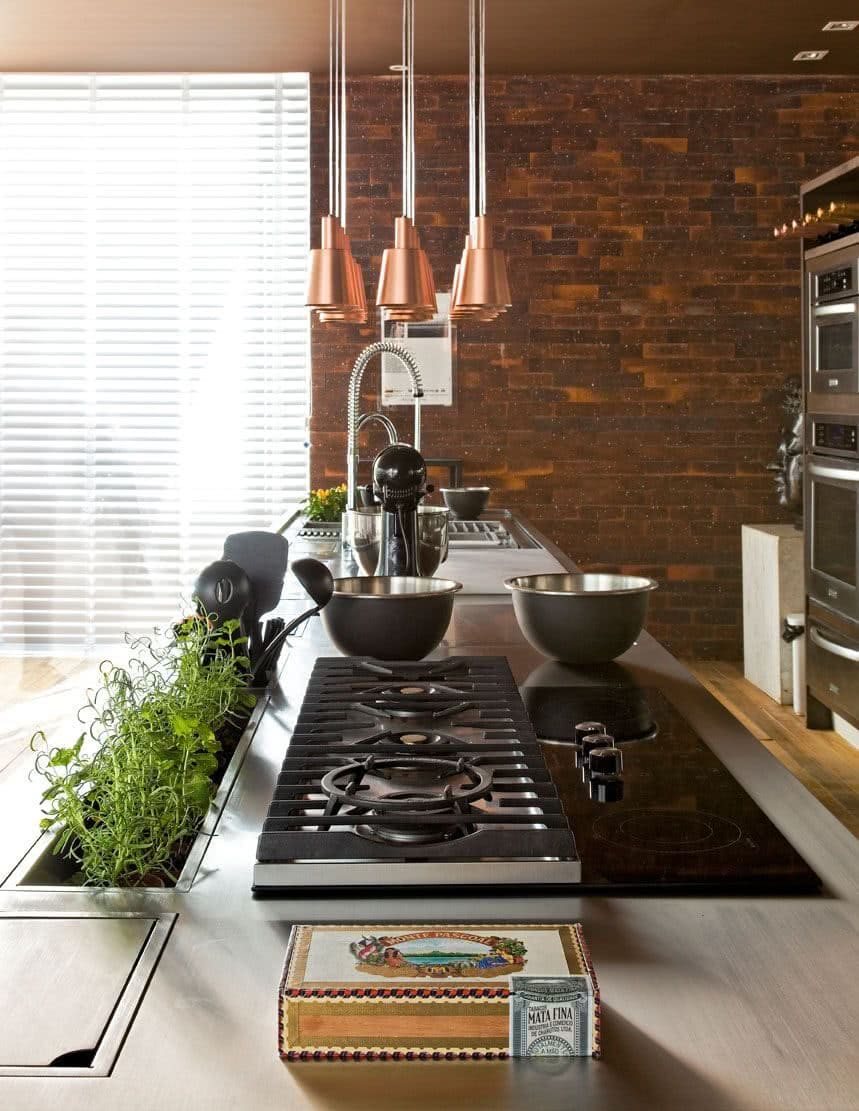 Having access to your herbs right in the kitchen feels so much more convenient especially if you want to prepare a meal.  In addition to that, the special thing about having herbs on the island is that it gives liveliness to your entire home.
7. Suspended shelves above the kitchen counter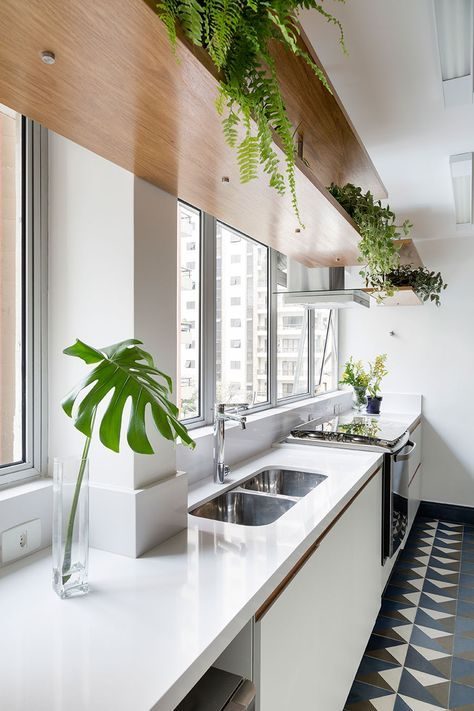 Installing shelves above your kitchen counter to grow your herbs not only helps you to save space, but it helps to showcase your beautiful plants and inject a strong greenery vibe.
Snake plants, succulents and split leaf philodendron (or monstera deliciosa plant) are some of the more iconic plants that are compatible with any indoor environment and requires very low maintenance.
8. Grow them on shelves by the window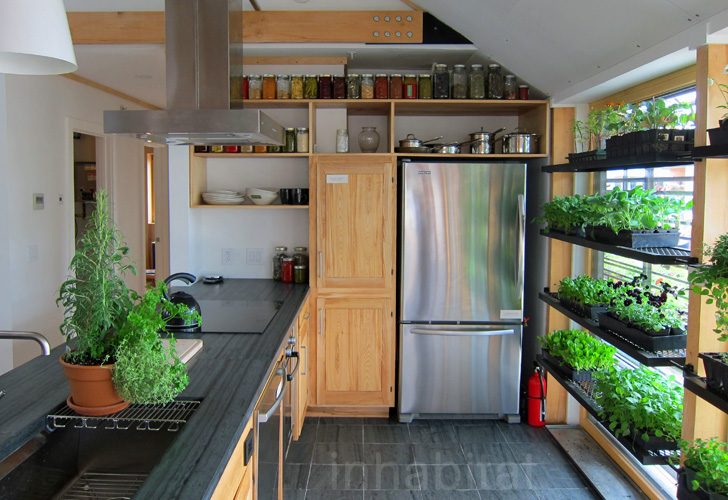 Don't let your lack of a proper outdoor space limit you from growing your own garden, because you can grow an indoor garden as long as you keep the scale small and cultivate your plants in areas with adequate sunlight. With proper placement, you can even have your own garden produce in no time!
9. Magnetic pot holders on the fridge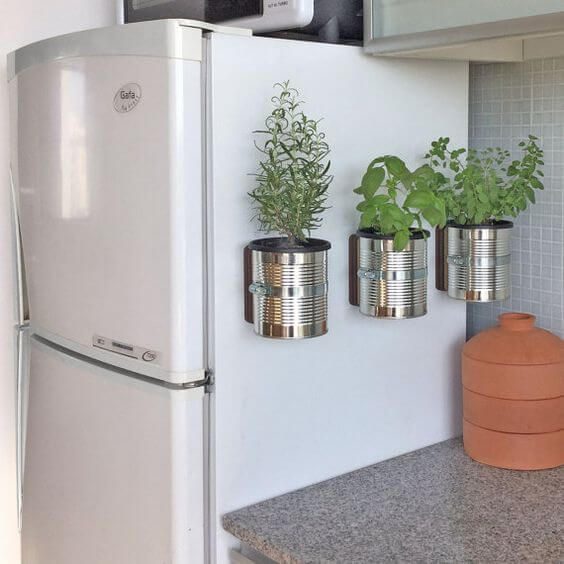 For a budget-friendlier option, you can always resort to recyclable materials in your home, be it plastic bottles or even old metal cans. Place magnets at side of the fridge to attach the cans, and you can start planting your preferred herbs such as mint leaves, basil or parsley.
Another great thing about magnetic pots is they are easy to maintain as there won't be any leakage from the bottom so you don't have to worry about water dripping all over your kitchen countertop.
10. Custom-built planter in the kitchen island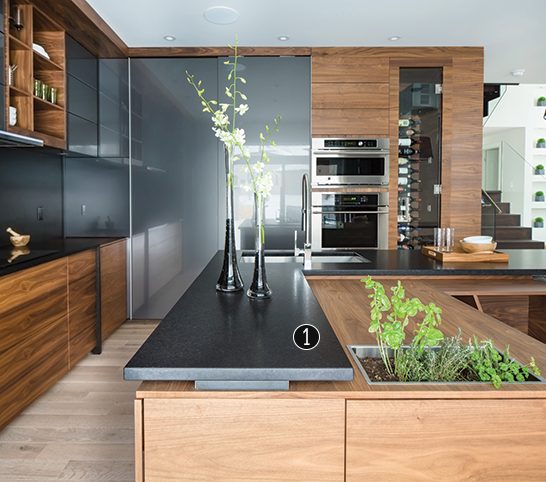 One of the most interesting parts about growing indoor herbs is that you can always grow them in unexpected areas.
Carving a small section of your kitchen island to grow your herbs, for instance, is a bold way to add fresh pops of green to your kitchen, and certainly beats plastic plants any day!
This also handy when you are cooking as you can reach out and grab a few pinches of herbs when you need it.
11. Wall mounted shelves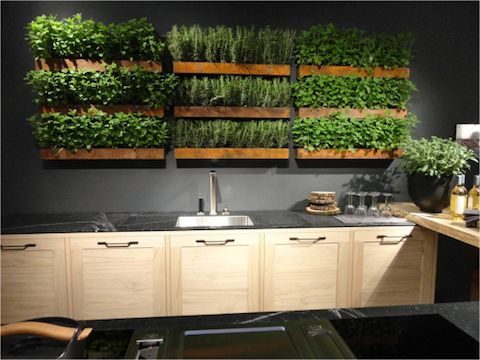 With just a little bit of imagination, you can create an environment where your plants can thrive without sacrificing valuable space, this is especially useful for small homeowners.
One example is by growing your herbs on wall-mounted shelves. This helps to organise your herbs neatly and conveniently, plus all you need are some shelves and an empty wall space.
12. Multi-tiered stands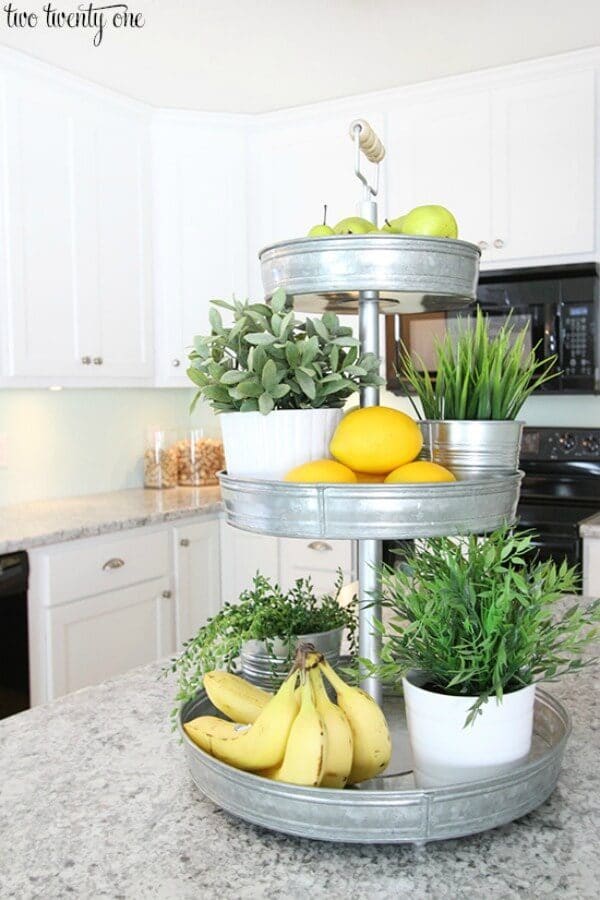 Of course, there's always an easy way for everything, so if you don't fancy the mini DIY projects mentioned above, consider buying a multi-tiered stand.
A tiered stand can be placed anywhere you like around the house and is a very practical area to arrange your herb pots. Moreover, you can make your rotating stand unique by decorating it with special plant holder that has nice colours and design. That way, it will make your kitchen island less boring.
Need an interior designer for your kitchen?
If you want to have refreshing herbs in your kitchen, our panel of
recommended interior designers
can consult you or help you create specialised areas for integrating them into your kitchen.