After getting the keys to your new house, the next step is to renovate and furnish it.
If you're the creative type, or have a strong sense of the look you want in your home, you can hire an interior designer to realise your grand vision. But this could add several weeks to the project before you can finally move in.
But, what if you could shortcut the process? That's what interior design packages try to do. Think of interior design packages as basic templates for home design, where you can choose one of the pre-designed styles that you like, and make minor adjustments. As a result, the project gets done sooner, and you can move in quicker.
Need recommendations for interior designers?
Receive free quotes from the best interior designers in Malaysia when you submit your requirements on Recommend.my – Malaysia's #1 home improvement site.
Interior Design Package for Elmina Valley 1 double-storey link homes
In partnership with Sime Darby Property, our interior designers created a set of ID package for Elmina Valley 1 homes. This package includes kitchen cabinet, TV console, bedhead carpentry, and bedroom wardrobes (4 bedrooms total).
The Elmina Valley 1 homes were launched in April 2016. Now that the units are finally completed, and the keys being handed over to owners, we wanted to offer them a stylish and affordable ID package so they can have a worry-free renovation.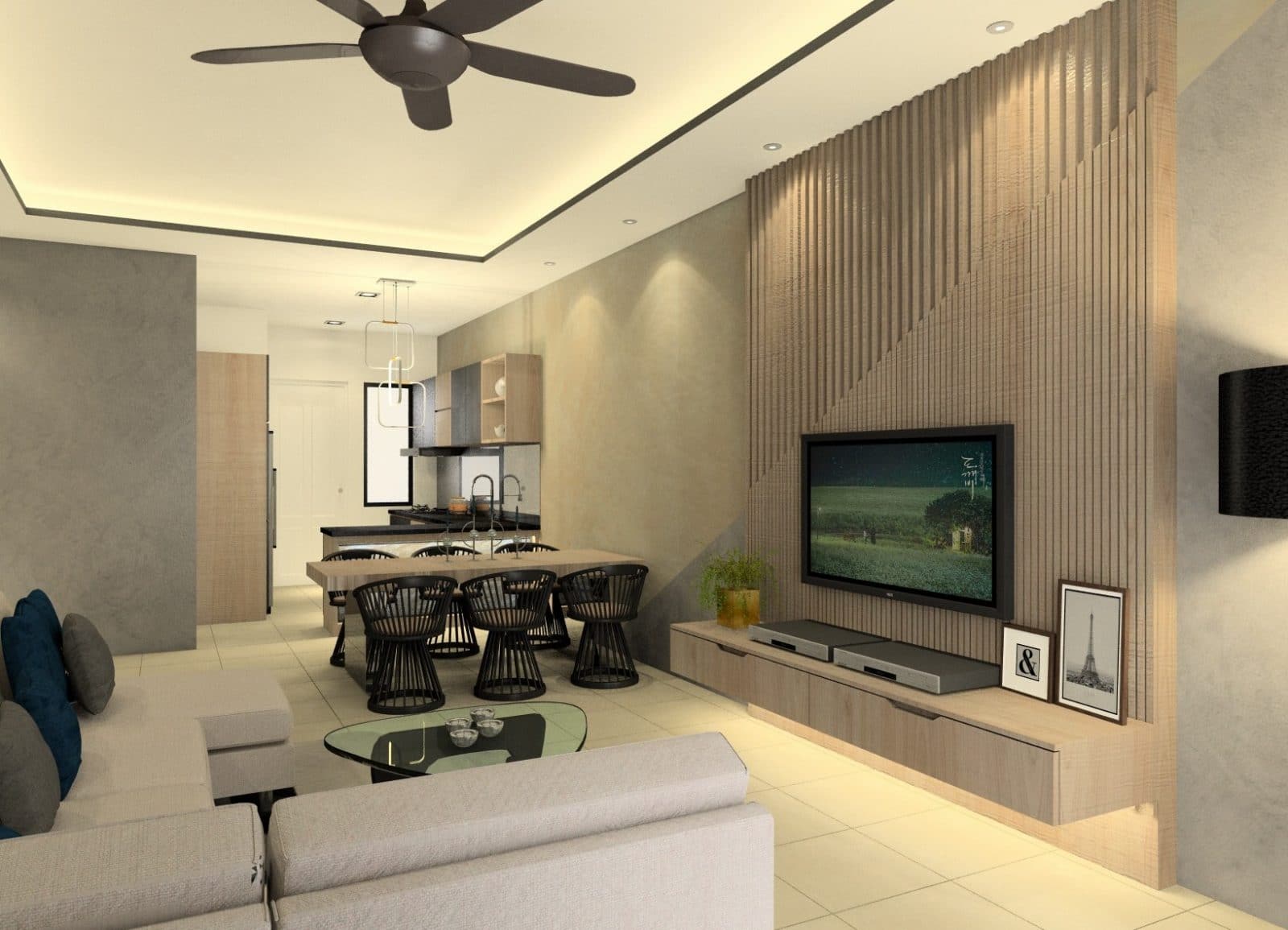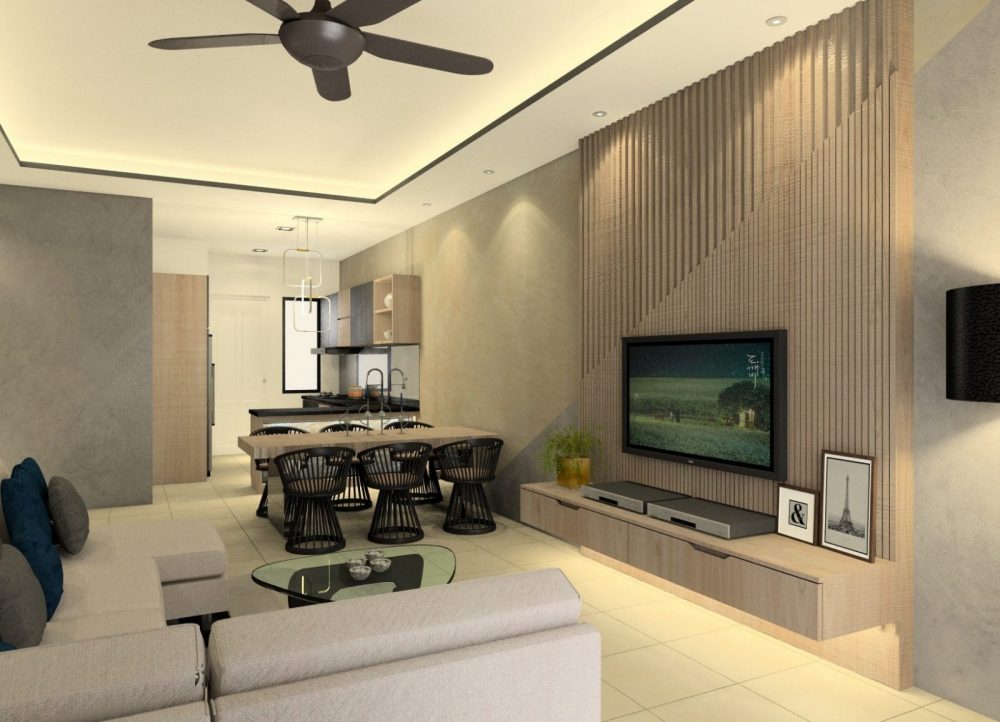 Above: The ground floor of an Elmina Valley Phase 1 home features an open-concept floor layout, so we worked with it to create a kitchen, dining and living area that allows for easy movement around the house.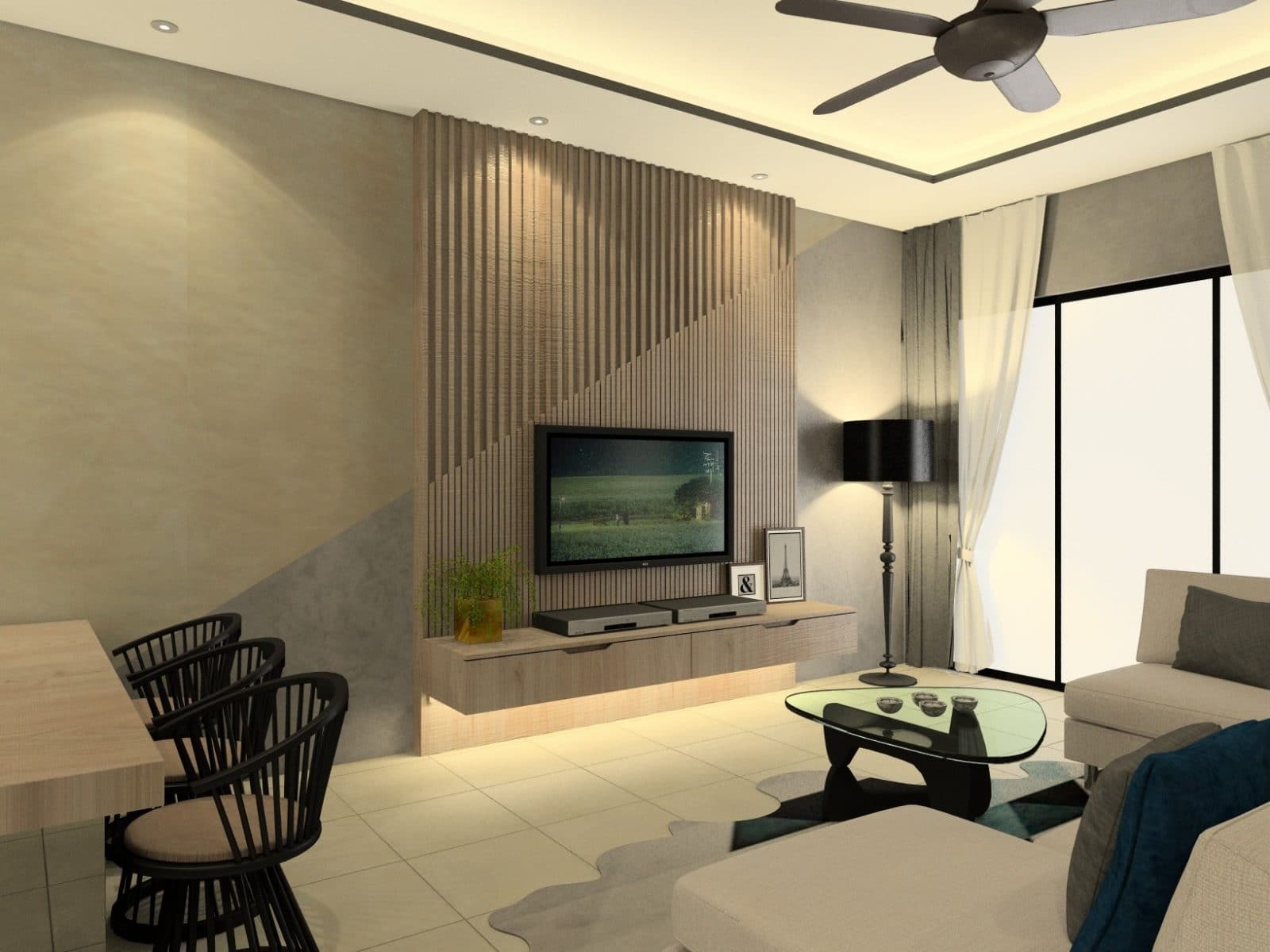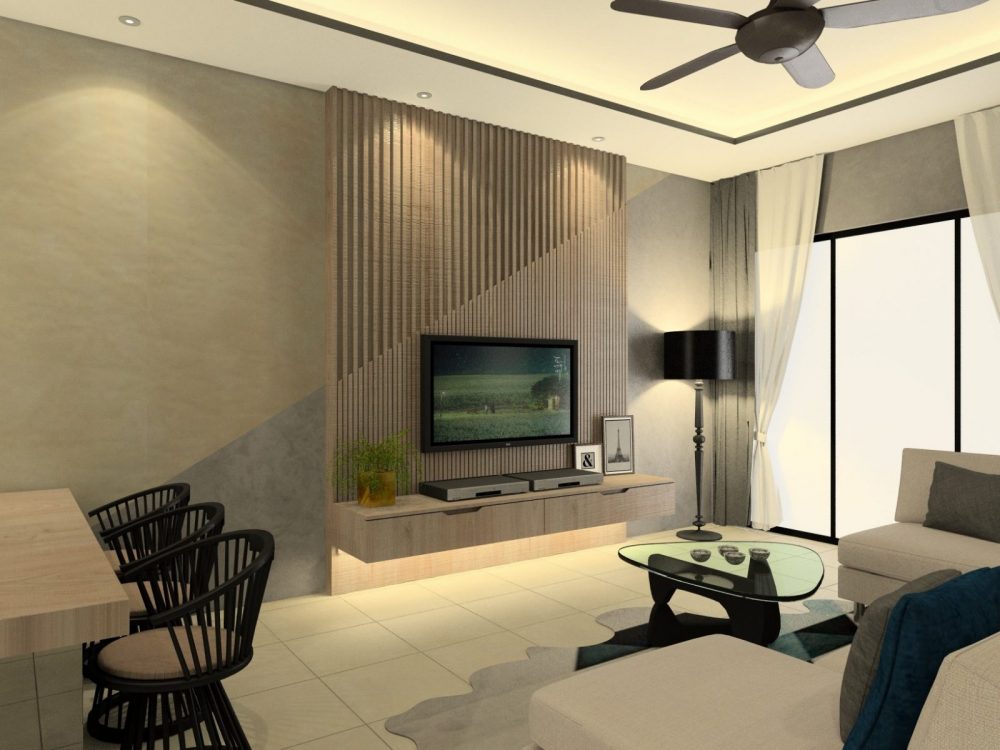 Above: We equipped the living room with a stylish floating cabinet and TV wall panel. This allows the TV to be wall-mounted, while concealing all the wires. The cabinet provides a display space for appliances, gaming consoles, photos and plants, while the drawers let you store cables, DVDs and other items.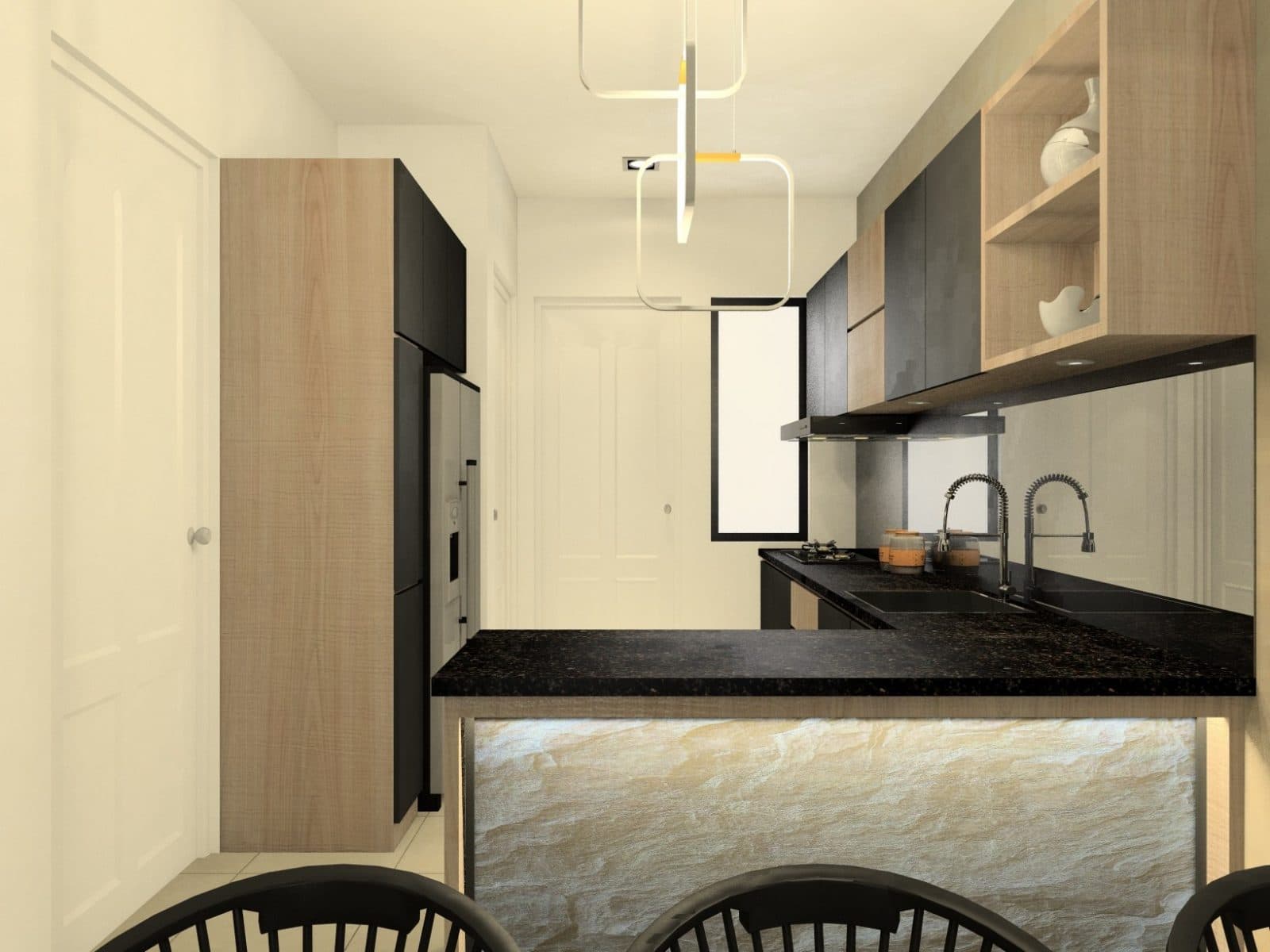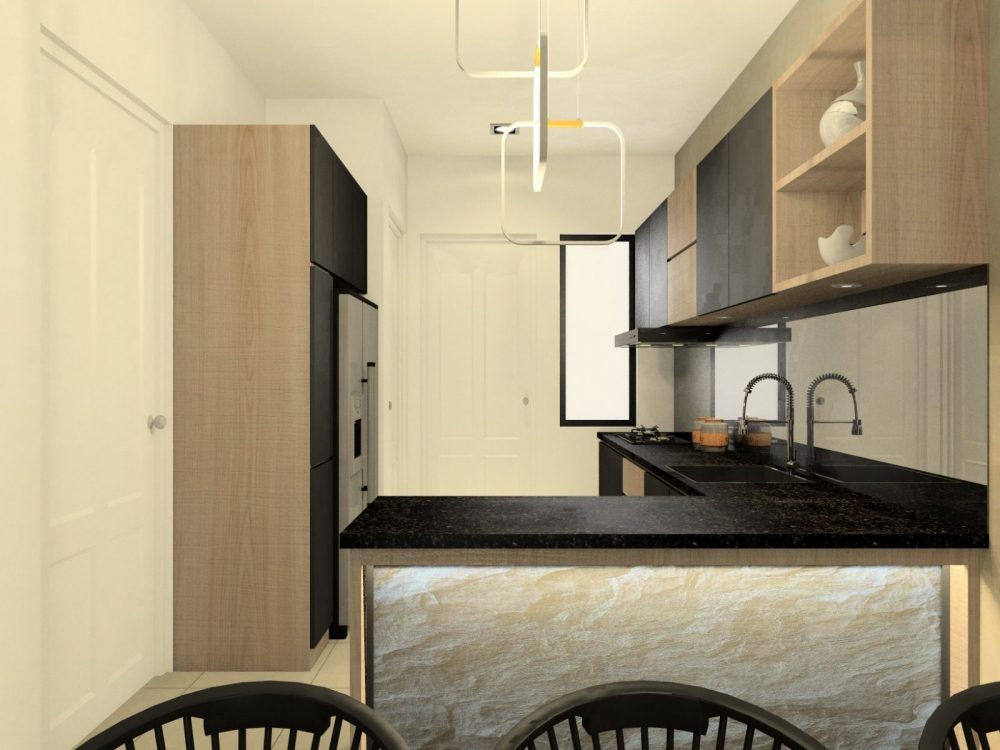 Above: The kitchen design consists of an L-shaped base cabinet with a straight wall cabinet above it, as well as a tall cabinet on the opposite wall. This creates plenty of counter space for food preparation and cooking. And if you need anything, the oven and fridge space is just behind you.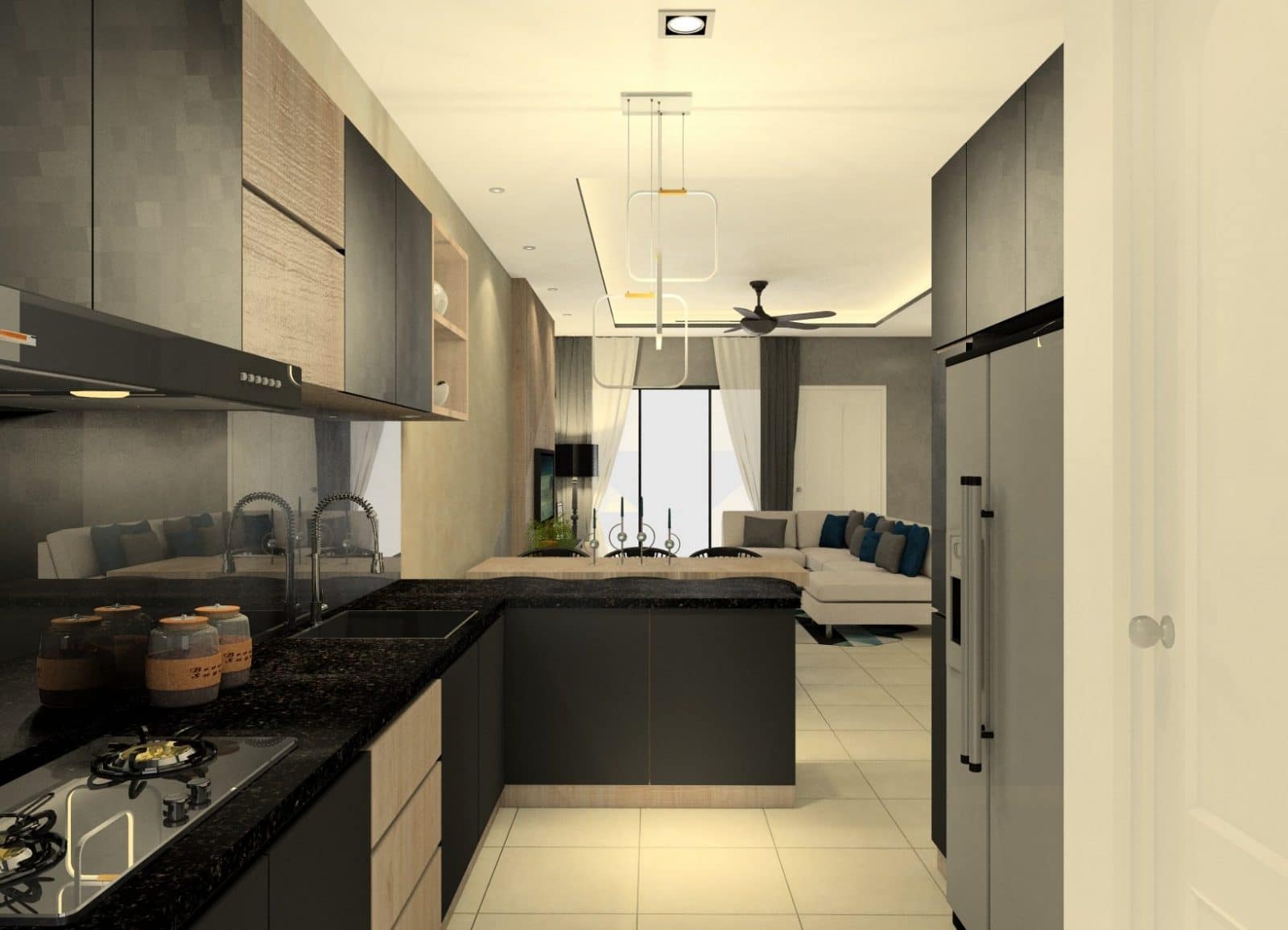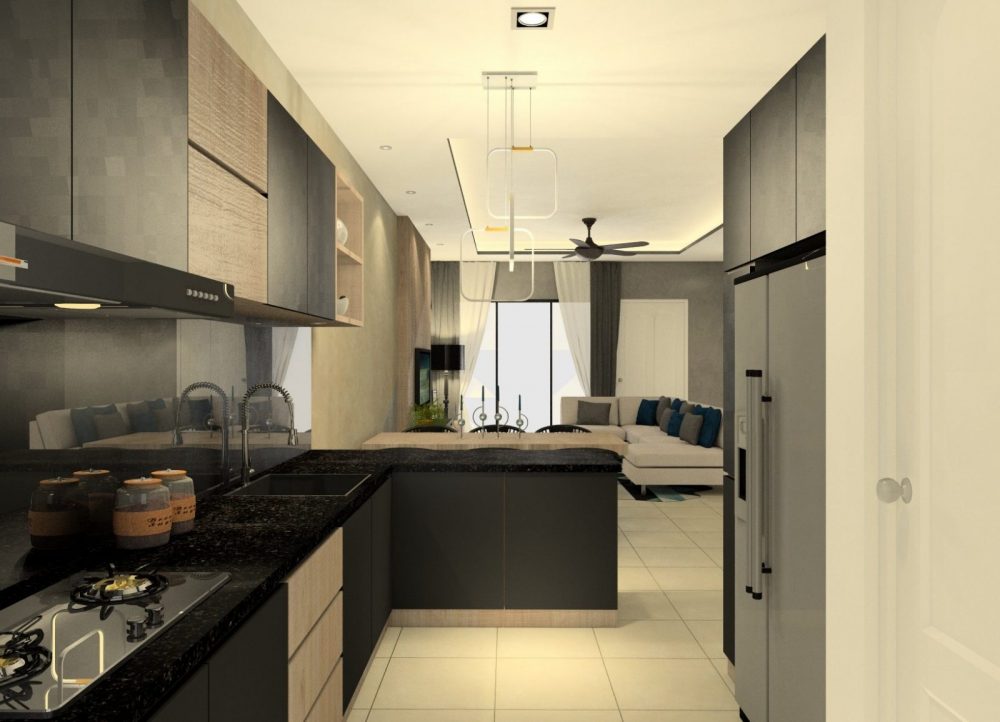 Above: View from the kitchen to the living room. The kitchen countertop is quartz engineered stone. And the cabinets are laminates in a mix of black and light brown. The basic package also includes the glass backsplash.


LEFT: Inside view from the actual site, facing the front door.
RIGHT: Our 3D rendering. Note that the actual site is showing a corner unit with a sliding glass door opening to the garden. In an intermediate or end lot, the sliding door is located at the front of house.
Above: Moving upstairs to the master bedroom, we created a set of fitted low bedside tables with cabinets along the entire wall. This is matched with a custom-built, ceiling height four-door wardrobe in black melamine finish.
Above: The second bedroom features a similar bedside counter with a custom-made bedhead that joins up to a ceiling-height wardrobe with open display shelves.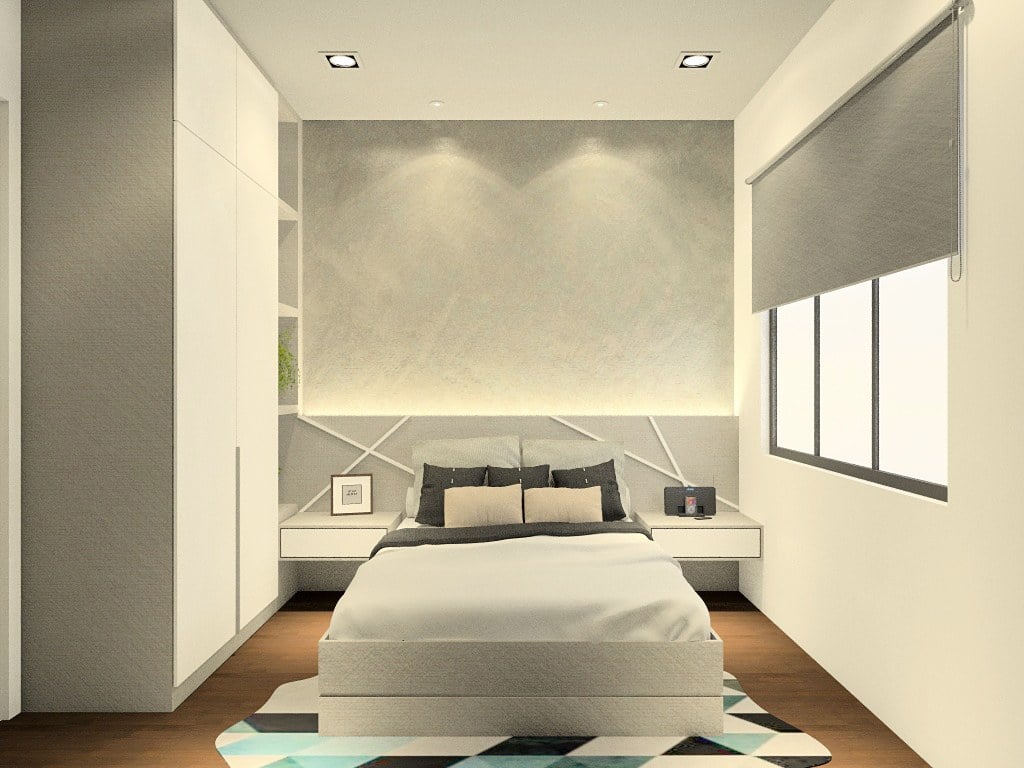 Above: In the third bedroom, the bedside tables are integrated with a bedhead design of angled lines. Again, open shelves sit alongside a ceiling-height wardrobe.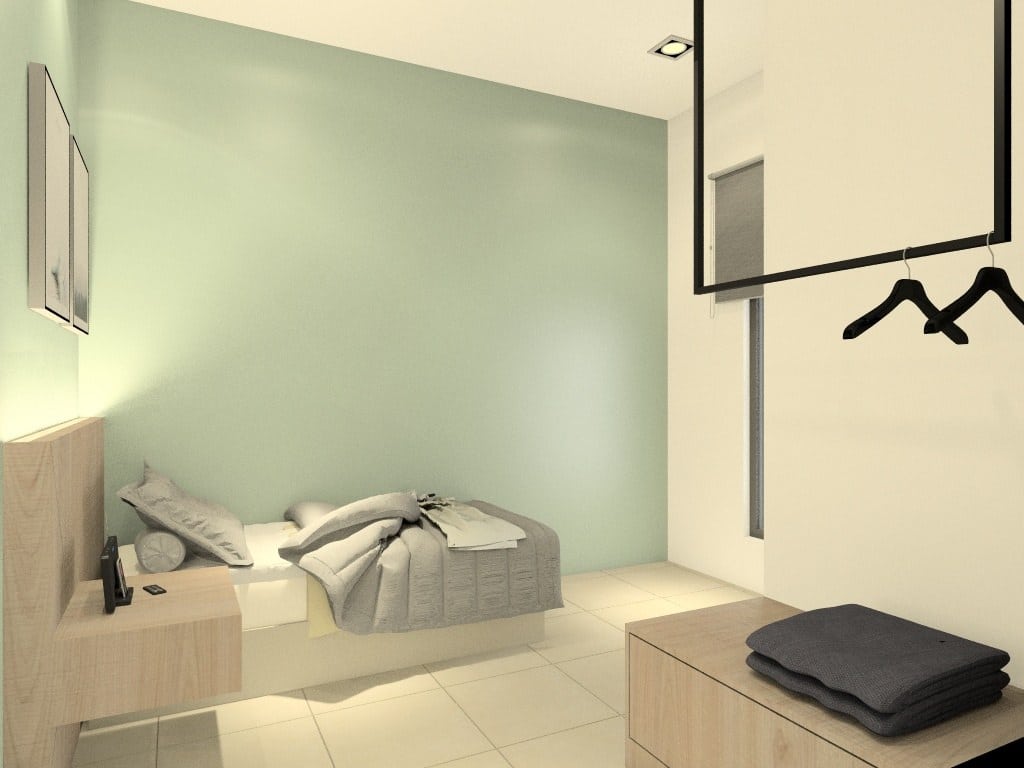 Above: Downstairs, the guest bedroom includes a simple cabinet and bedhead for a single bed. At the diagonal corner, a waist-high chest of drawers sits below a suspended steel frame that functions as a mini clothes hanger and open wardrobe space.
Price for this interior design package: from RM38,953 for all cabinetry works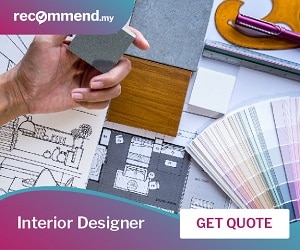 The basic interior design package price for all cabinetry works described above started from RM38,953. This covers the TV console, kitchen cabinets, backsplash and kitchen counter, bedroom wardrobes, bedheads and bedside tables.
All cabinetry was made-to-measure according to the Elmina Valley 1 Type A floor plan. The price already included design, build and installation. The designs could also be customised slightly to specific needs, such as including specific furnishings, lights, appliances, or changing the materials or colours.
This package also included 36 months structural warranty for cabinetry, as well as complimentary insurance against theft, fire and structural damage for the duration of the project.
Find the right contractors for your home
Need interior design for your new home?
The interior design package above is no longer available, but home owners can use Recommend.my to get recommendations to the best home designers, contractors as well as maintenance contractors in Malaysia.
Home owners who are worried about finding the right contractors can rest assured with our home assurance offering. If you hire (and pay) your contractor through Recommend.my, we will protect your renovation project against damages and theft, with moneyback guarantee against non-completion of work.
If you have just collected your keys, tell us about your new property and we will be glad to help!
About Elmina Valley 1
Elmina Valley 1 is part of the City of Elmina, one of the largest townships by Sime Darby Property.
It consists of about 341 units of double storey linked homes (20′ x 60′), located along the Guthrie Corridor Expressway (GCE), and includes Denai Alam, Bukit Subang, Elmina East and Elmina West.
When these homes were launched in April 2016, 95% of all available units were purchased within the first day
Our interior design package has been specially created to balance style and affordability. We also regularly create interior design packages for new developments.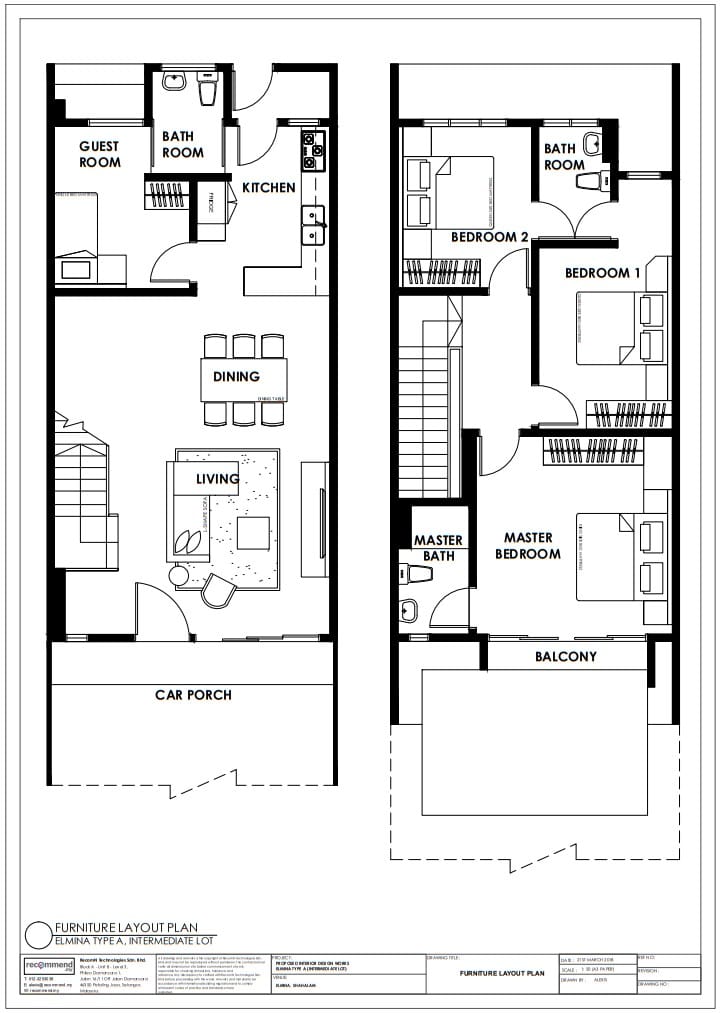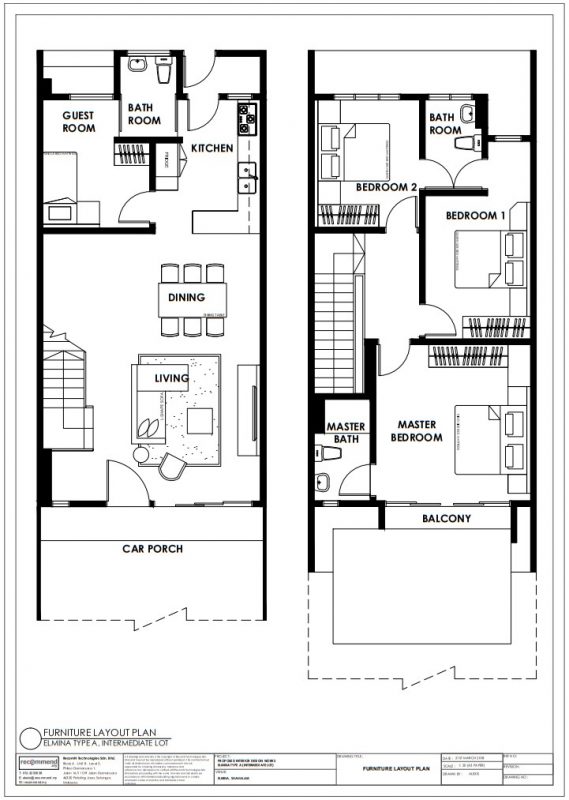 Just got your keys? Tell us about your new property and we will recommend interior designers to help get it ready!