789 sqft condo in Shah Alam is turned into an inviting homestay by a Recommend.my interior designer.

Vista Alam is a serviced apartment located in Section 14, Shah Alam.
Upon taking vacant possession, its owner intended to rent out the property for short-stays.
With that in mind, he hired Valarie from Bonnieblue Furniture & Interiors to design a look that was cosy and practical at the same time.
The work included colour and space planning, carpentry for built-in kitchen cabinets, lighting and fans, and sourcing of furniture, accessories and artwork.
Open Plan Apartment
At 789 sqft, the apartment consists of 2 bedrooms and 2 bathrooms, with a small kitchenette, and open dining and living area.
Upon entering the front door, visitors are greeted by the L-shaped island kitchenette, and the dining and living area that stretches to the far end of the unit.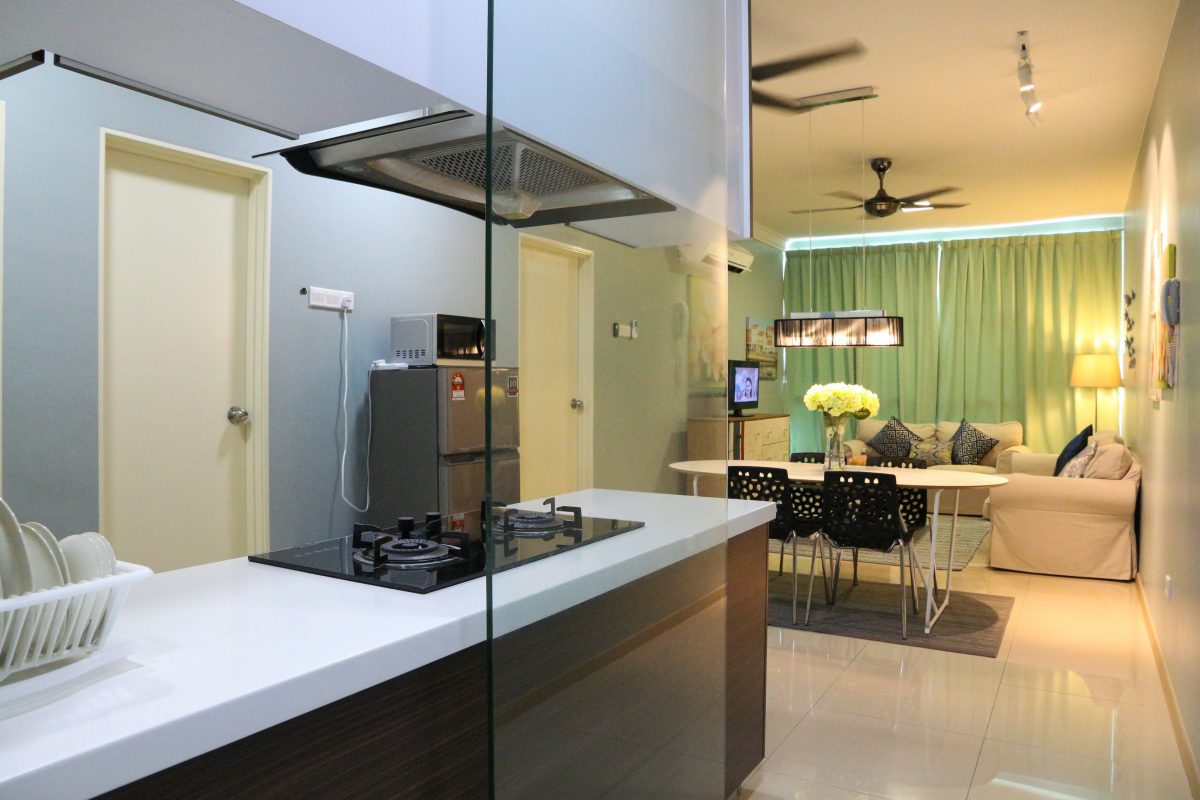 Furnishing the living area
The original all-white walls were repainted in light blue, and matched with the light green curtains.
The designer also sourced for a beige 3+2 seater sofa set, arranged in an L-shape. This furniture arrangement allowed a clear view of the entire apartment from the living area.
"The unit came with white walls and white tiled floors which felt very cold and unwelcoming. So immediately I knew that to counter that was to use colours and comfortable furnishings," – Valarie, Bonnieblue Furniture and Interiors.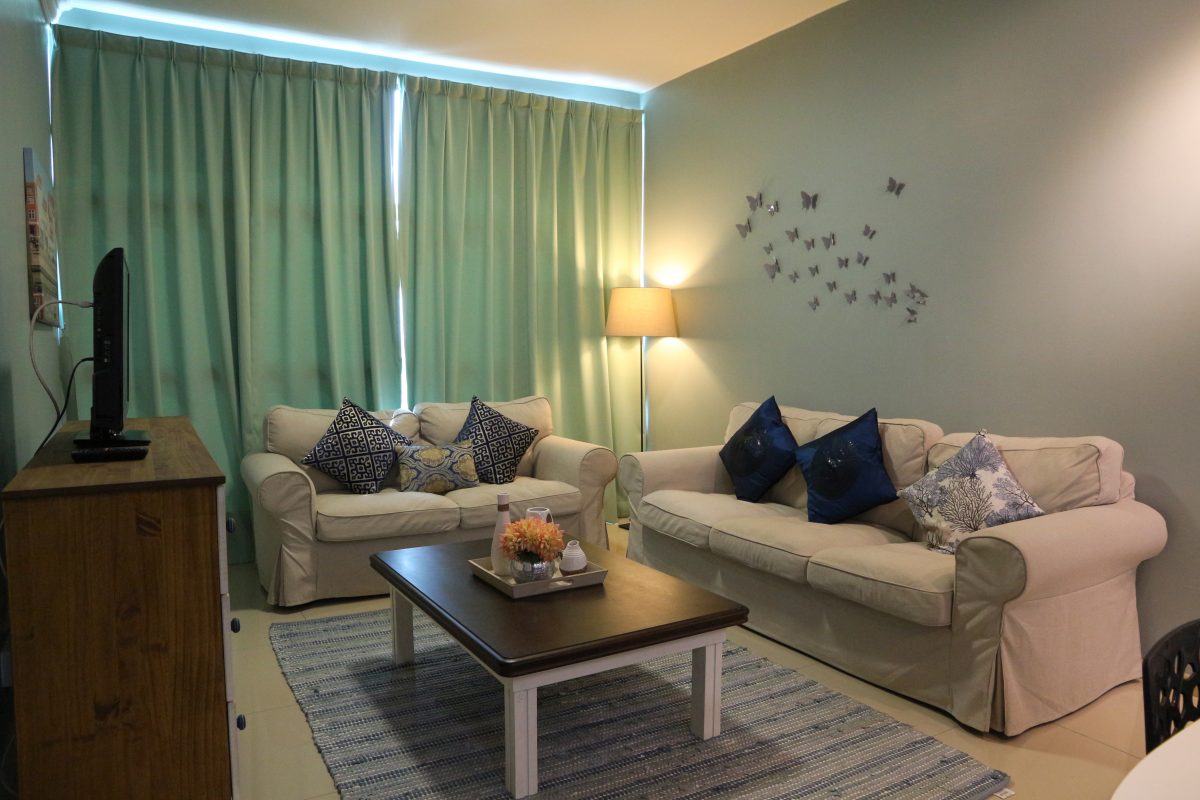 A chest of drawers was added that functioned as both a TV console and storage space; a space-saving move for small apartments.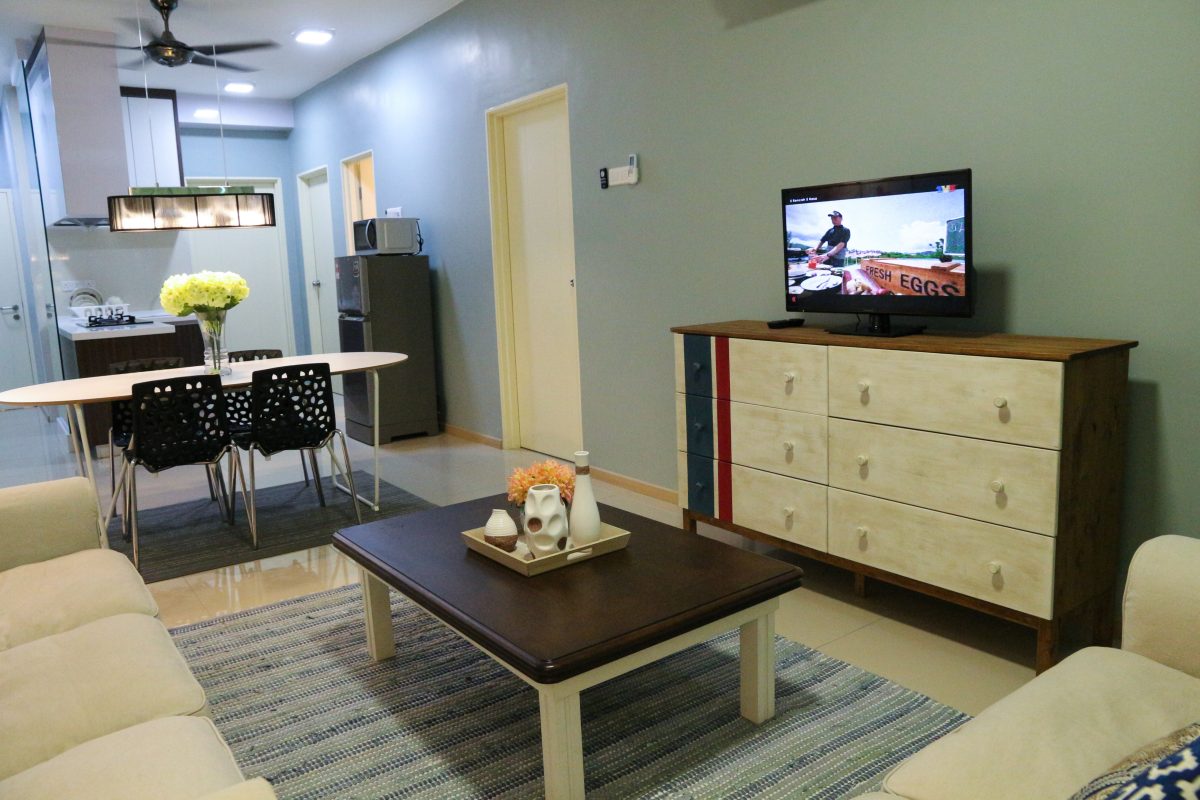 Creating a small dining area
An oval table with four chairs was added to create a small dining area. This also provided a low separation between the living and kitchen area, without blocking foot traffic.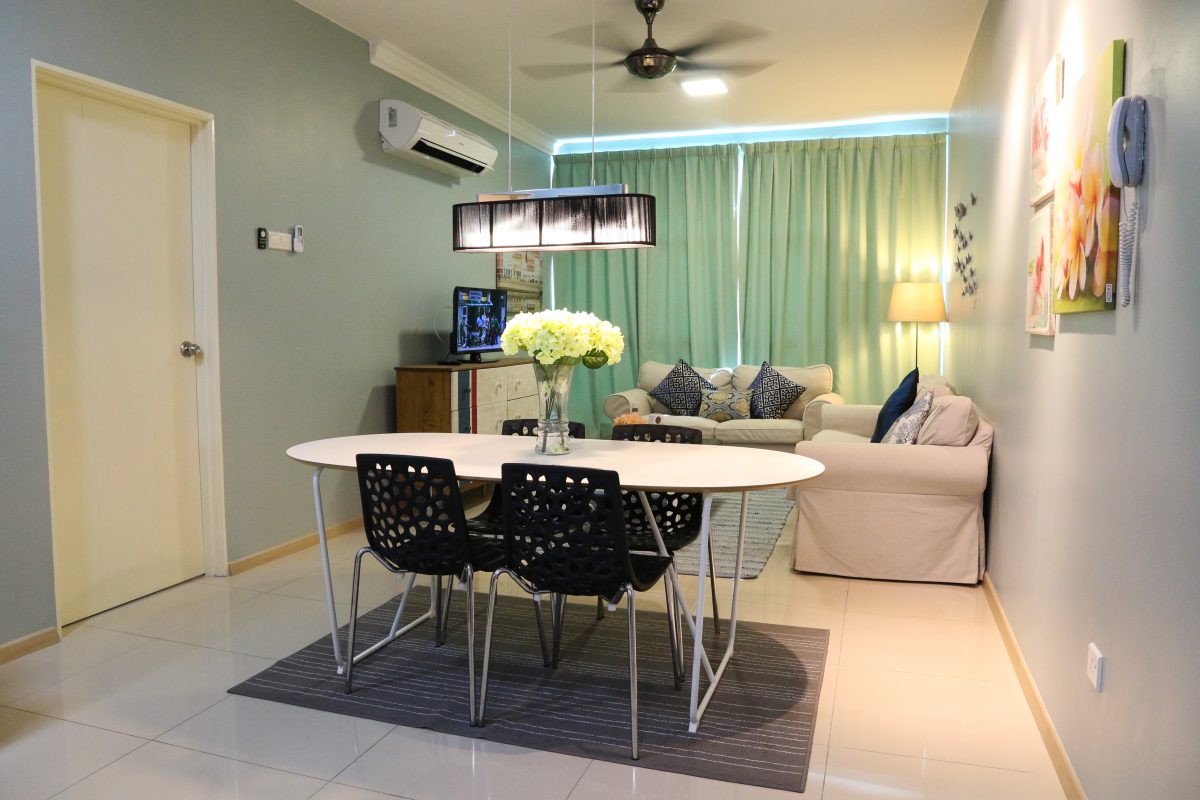 A large oval pendant task light just above the dining table was added to give a more modern touch to the area.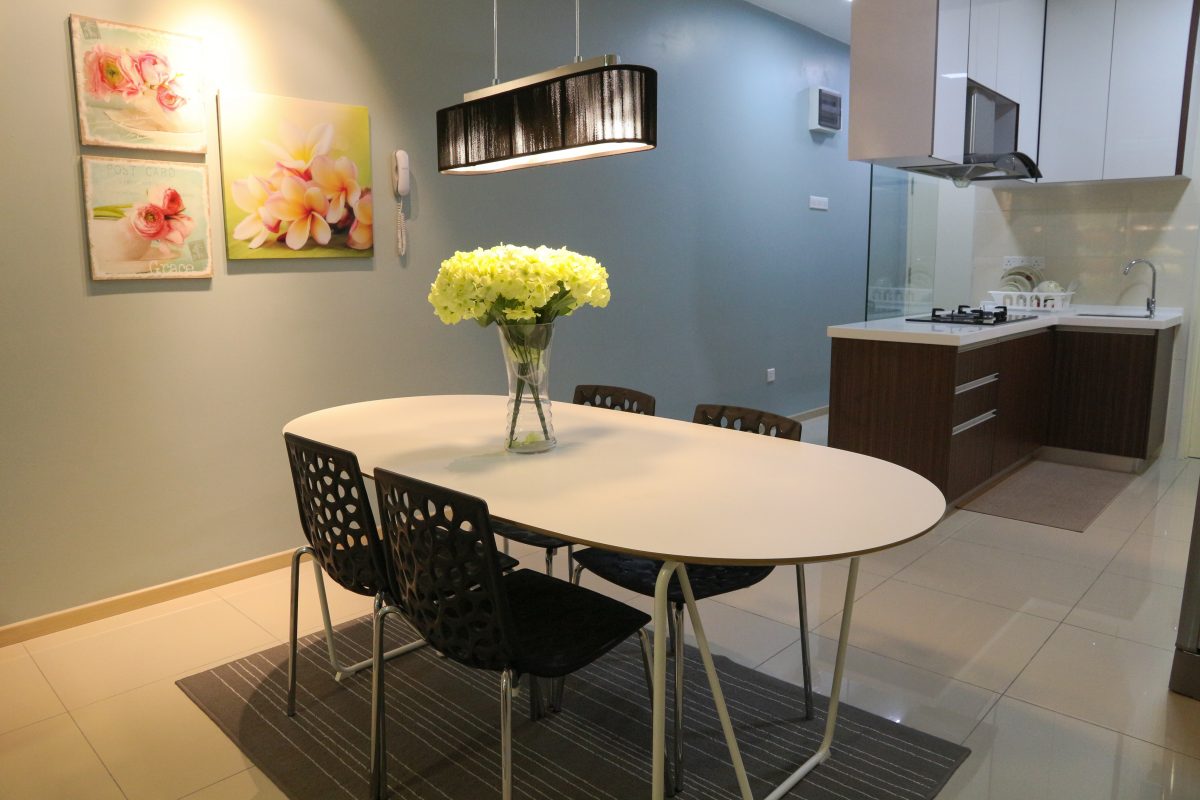 Adding more storage to the kitchen
The original kitchen only came with the base cabinets arranged in an L-shape, creating a small island counter as the visitor entered the unit.
The designer then added a wall cabinet to provide more storage space.
In addition, a floor-to-ceiling glass panel was also added to function as a divider and backsplash.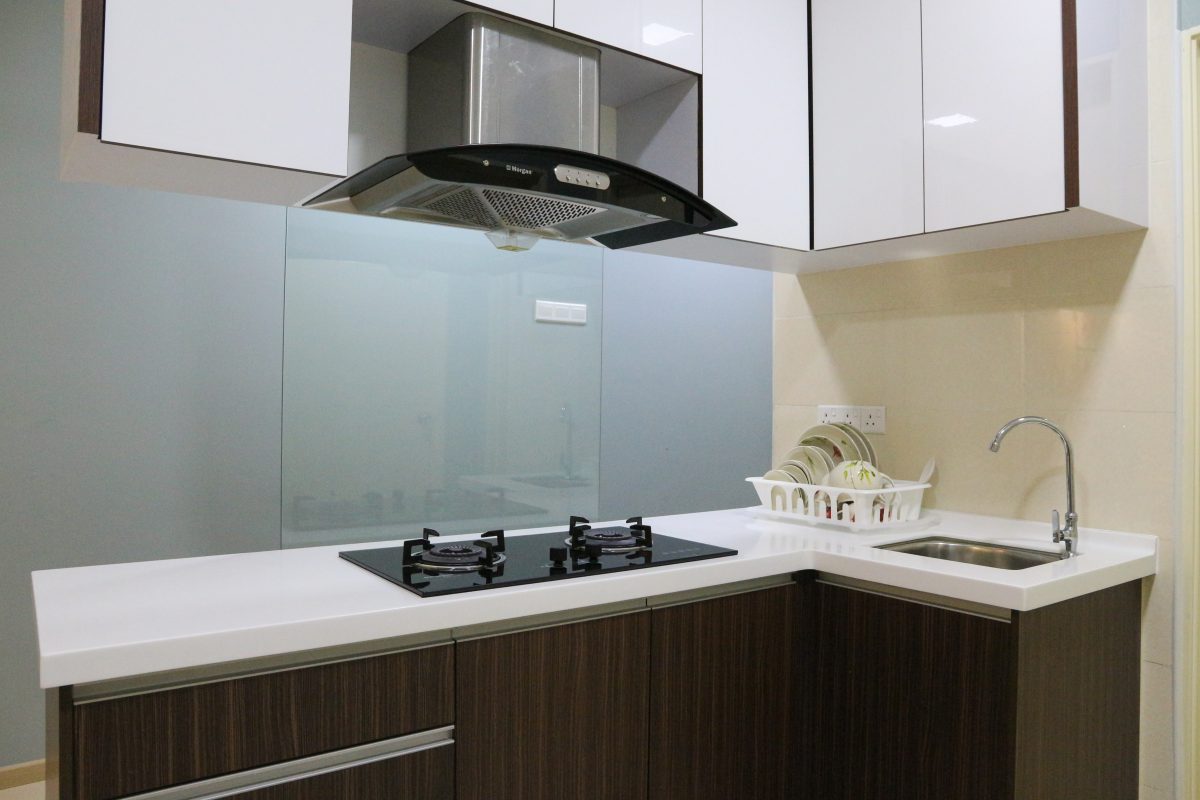 The designer also source for the all the kitchen fittings, including a refrigerator, microwave oven, stove top and cooker hood, so that guests could do some light cooking during their stay.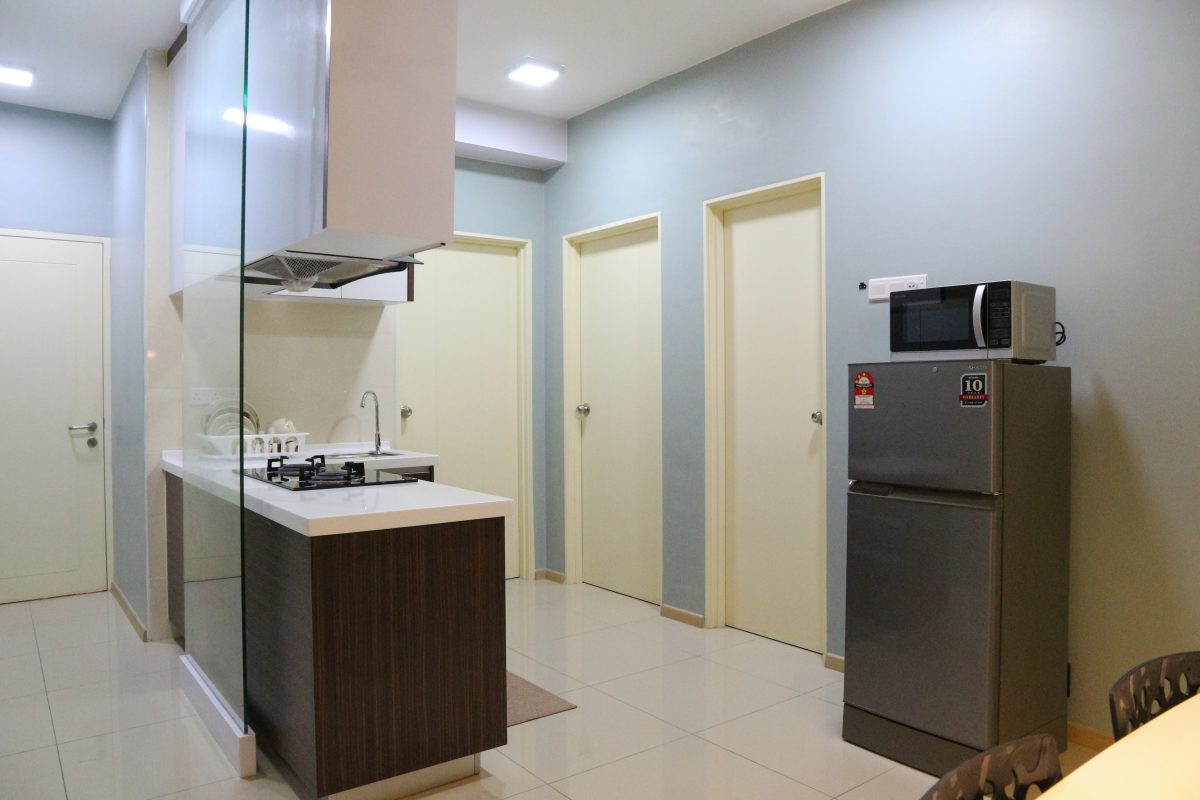 A comfortable stay in the master bedroom
The walls in the master bedroom were repainted with warm colours that matched the curtains to create an inviting feel.
A dressing table / work desk was also added for guests' convenience.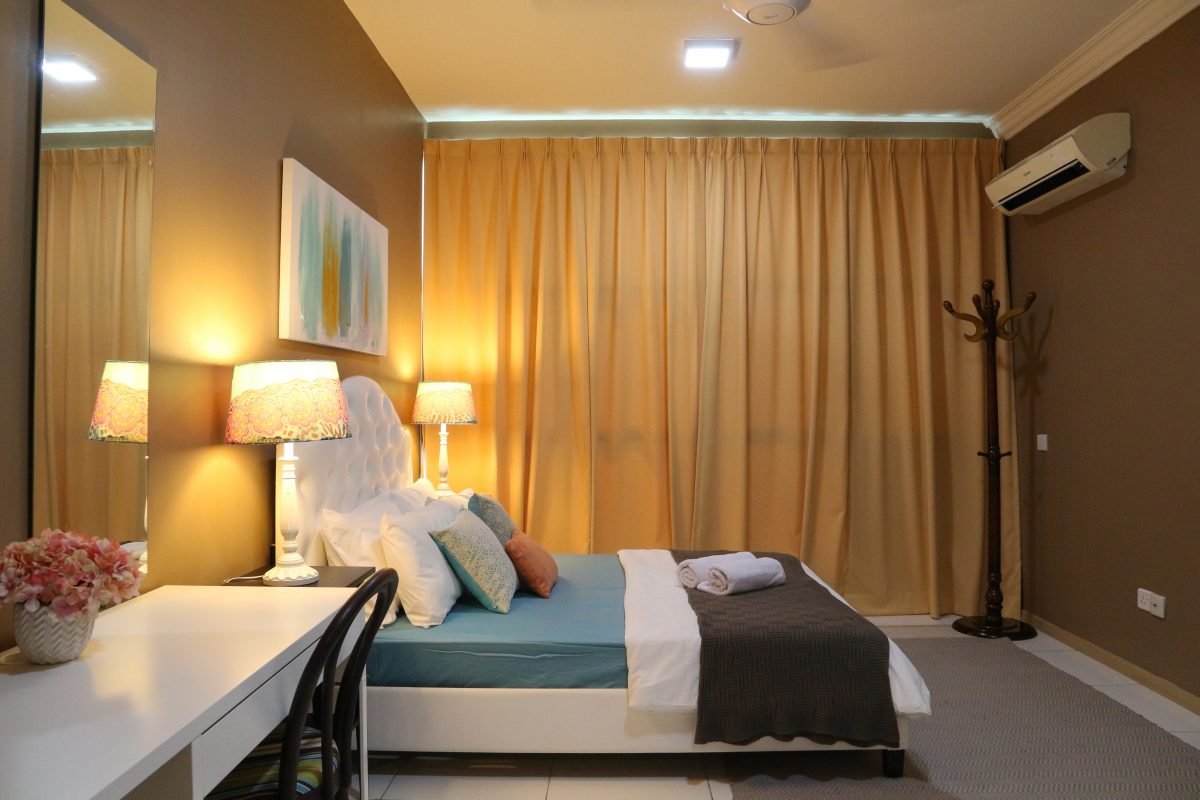 The designer also sourced for the queen-size bed (complete with lots of throw pillows), along with matching side tables and lamps.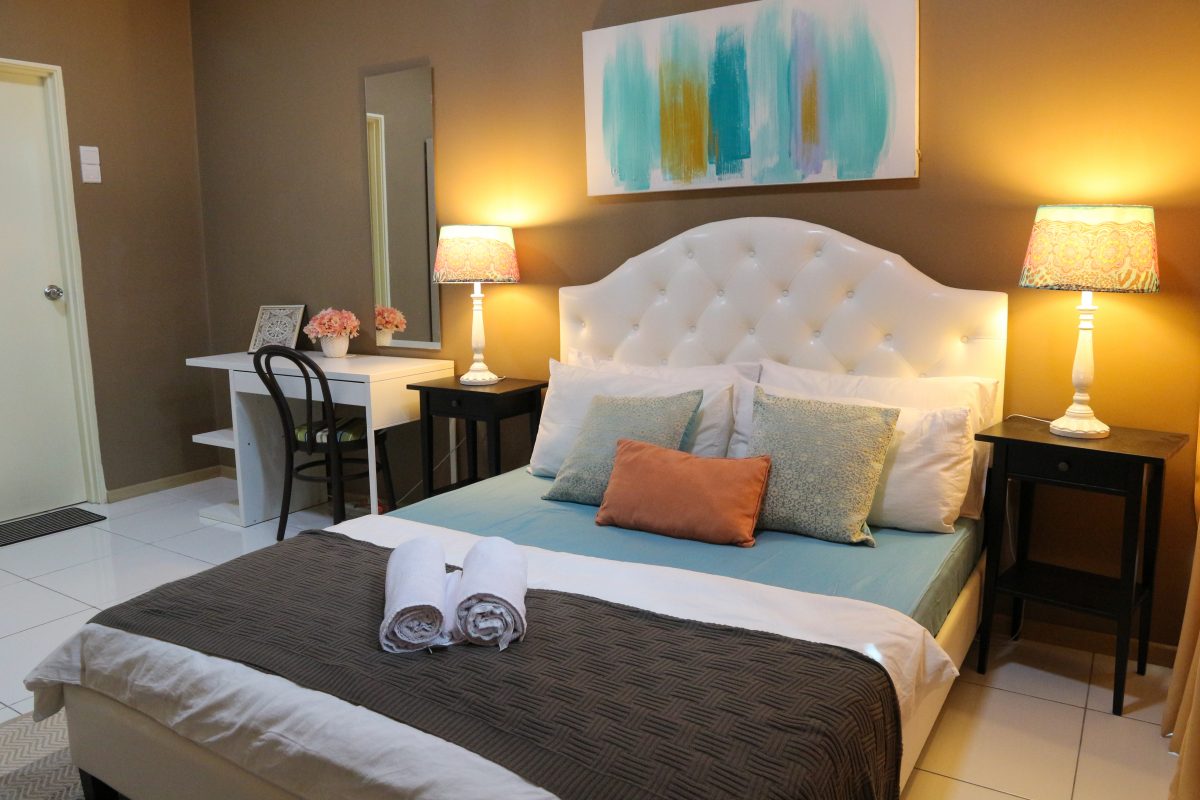 Total cost for this Vista Alam Interior Design?
To turn this 789 sqft apartment from a bare space into a cosy homestay: RM36,500 
Also included in the scope of work: Additional air conditioning unit in the guest bedroom, and bathroom accessories.