A video has surfaced of a large snake entering a house in Batu Pahat.
In the video posted on Facebook, a large snake is seen hiding behind a shoe rack on the front porch of a house.
As the man continues filming, the snake slithers to the front door and starts climbing the metal grille. As the snake continues climbing past the grille, it manages to enter the house through the air bricks above the door.
"(in Mandarin) It's going in! (not in Mandarin) F*cking sh*t!" says the man as he helplessly watches the reptile slowly disappear through the air holes into the house (can't say we blame him).
What should you do if a snake enters your home?
Encountering a snake in your home is not as rare as you might think.  In this article, according to statistics from the Malaysian Civil Defence Department (JPAM), there were over 3000 cases monthly across February and March 2016. The Fire and Rescue Department also recorded 973 cases in March 2016 and 899 cases in February 2016 nationwide.
Selangor has the highest number of incidents.
According to the article, snakes are attracted to homes to escape the heat.
In a separate article,  Fire and Rescue Department Operations Division assistant director-general Zurkarnain Mohd Kassim has this advice if you encounter a snake in your home:
"Do not scream. Please don't panic. Don't disturb the snake, but watch where it goes from a safe distance."
He also advises not to poke the snake with a broom.
"Once it has stopped moving, call the Fire and Rescue Department. Only call us once the snake has stopped to rest somewhere. Keep your handphone ready as you carefully follow the snake," he added.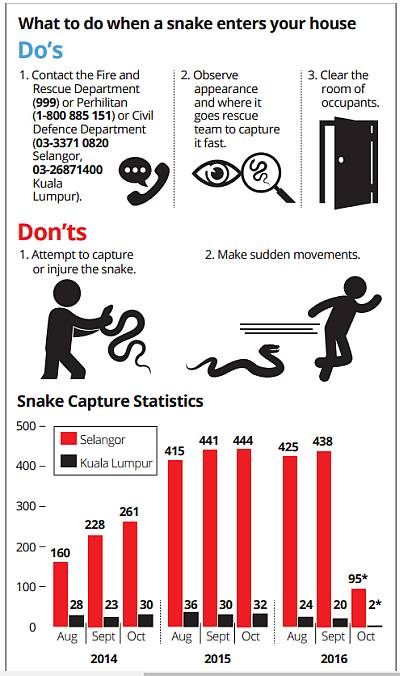 Can you prevent snakes from entering your home?
According to pest control services company Rentokil, you can deter snakes from entering your home by:
Trimming grass regularly to keep it short
Keep wood, rock and debris from piling up
Seal holes that snakes can hide in such as under the sheds, decks and walls
Place fitting fences or walls around ponds as a deterrent
According to this article, the advice is to clear out the rubbish in the yard. Block off drainage holes in bathrooms and kitchens by covering them with wire. Seal drain cracks. The increased presence of snakes in residential areas has also been blamed on the indiscriminate dumping of food waste into drains as well as the reptile's loss of habitat.