Want to add a touch of style to a room? Get inspired with these feature walls!
A feature wall is a way to add something that is both interesting and timeless into a much-beloved space. It is a great decorative focal point that can be a lot of fun to style according to the room's overall design theme. A feature wall can be a weekend painting project, or can be done as part of an overall redesign of a room.
A feature wall can easily refresh the overall look of a space without breaking the bank. It's an affordable way to change things up in your home as you don't have to redo the whole room unless you're planning a major redesign.
There are no creative limits to what feature walls can turn out to be as it's used to add interest to a room or space. Most of these walls will be made up of different textures and contrasting colours or elements, all while managing to stay within a given colour palette or design theme.
Common methods used to create feature walls
We've listed out eight home in Malaysia that created their feature walls using a mix of different styles, from simple to elegant. Each design is creative in its own way and truly ties a room or space together.
Painted Geometric Patterns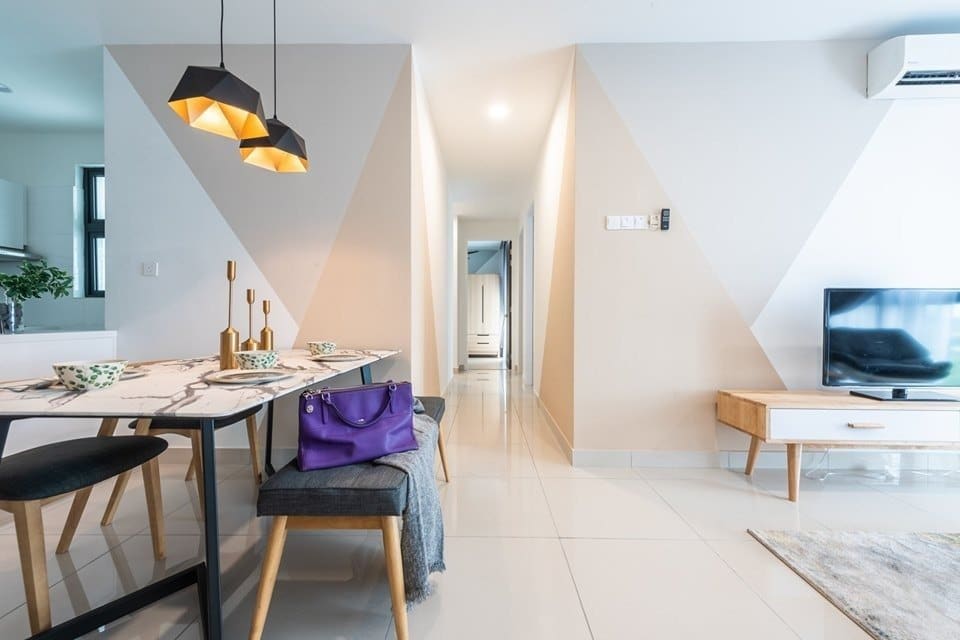 This simple feature wall compliments the overall modern contemporary design in the open living room and dining space. The geometrical design painted on the walls connects to the hallway, creating a more streamlined and cohesive look and feel. The added dimensions of this style create depth without complex ideas.
This feature wall is an excellent way for the interior designers to create a common theme throughout the home. The key to this simple design is not overwhelming the feature wall with too many colours. The shades should match the rest of the room or space's colour palette to make everything flow together harmoniously.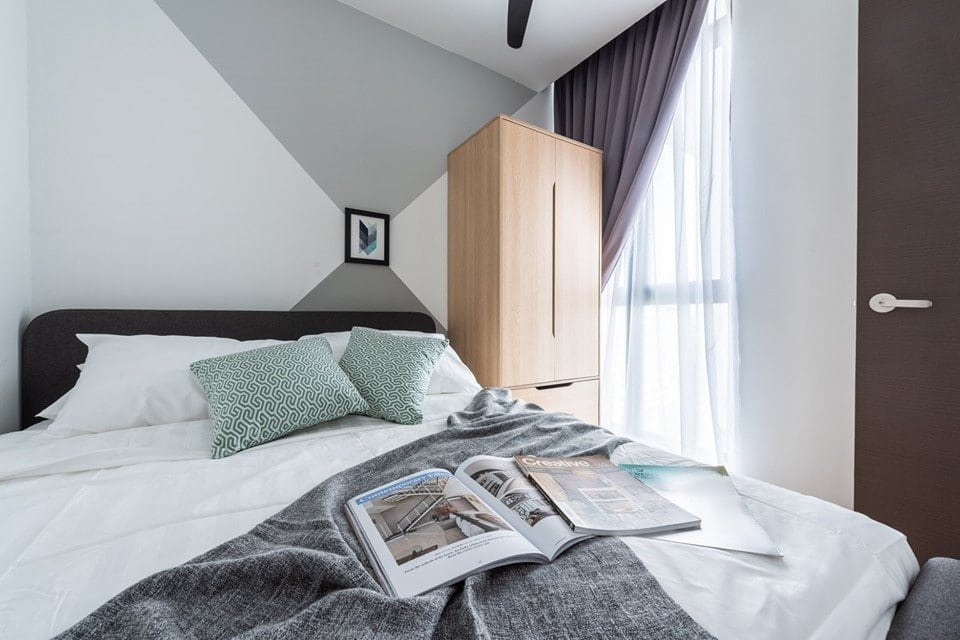 The same design carries over to the bedroom. The placement of the two colours creates a focal point that can be elevated with a hung piece of decoration, such as a picture frame.
This feature wall design draws attention to the middle, making it suitable for smaller rooms and spaces such as a bedroom. Shades of grey were chosen as the colour theme for the bedroom to create a calming environment, in contrast to the warmer tones of the living room.
Laminate wall panels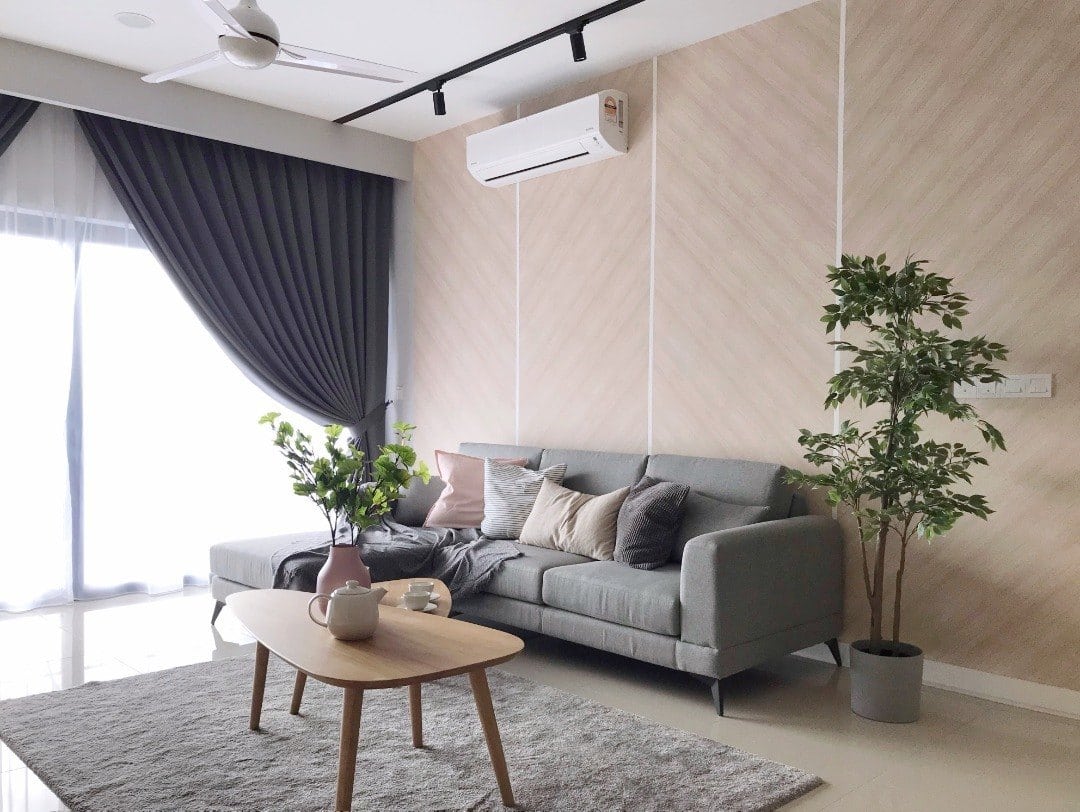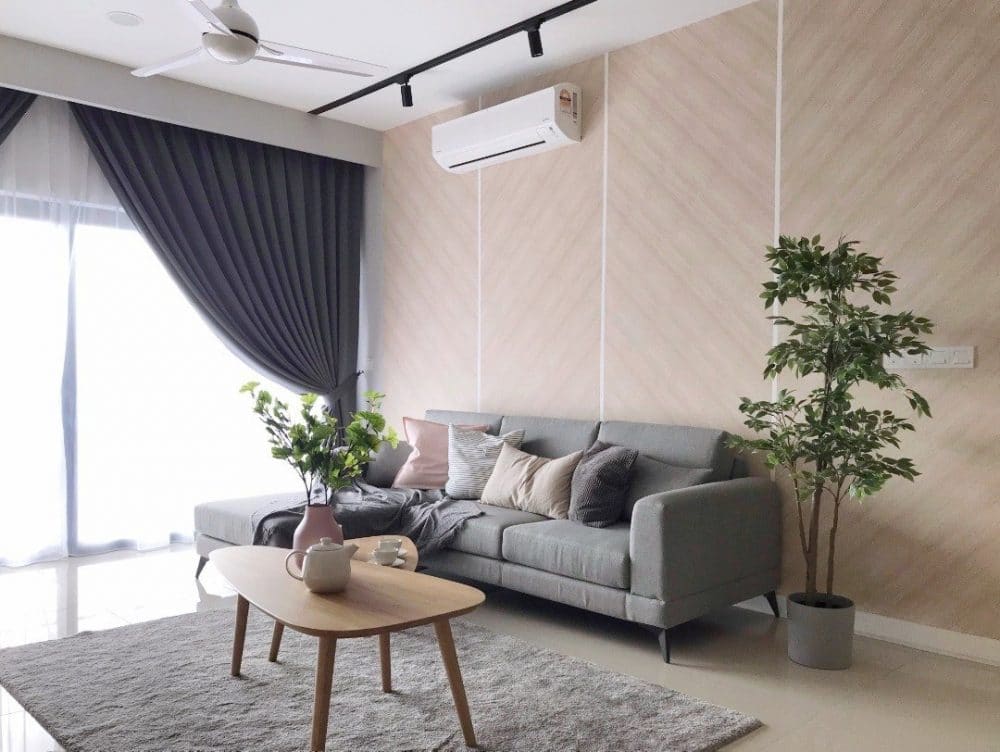 Laminate planks are not just used for the floor. In the home above, laminates with a diagonal wood grain pattern was used to create a herringbone feature wall. The benefit of using laminates is that they provide a consistent design compared to paint, and they can be installed with ease. Another way to achieve the look above is to use wallpaper. In both cases, you may need some professional help to get the wooden panels to be aligned perfectly.
The herringbone design forms a neat zigzag pattern that can be seen even from a distance. A feature wall with this design pattern will create subtle contrast to a space. You can even choose a darker shade to create a bolder and dramatic feel.
Abstract artwork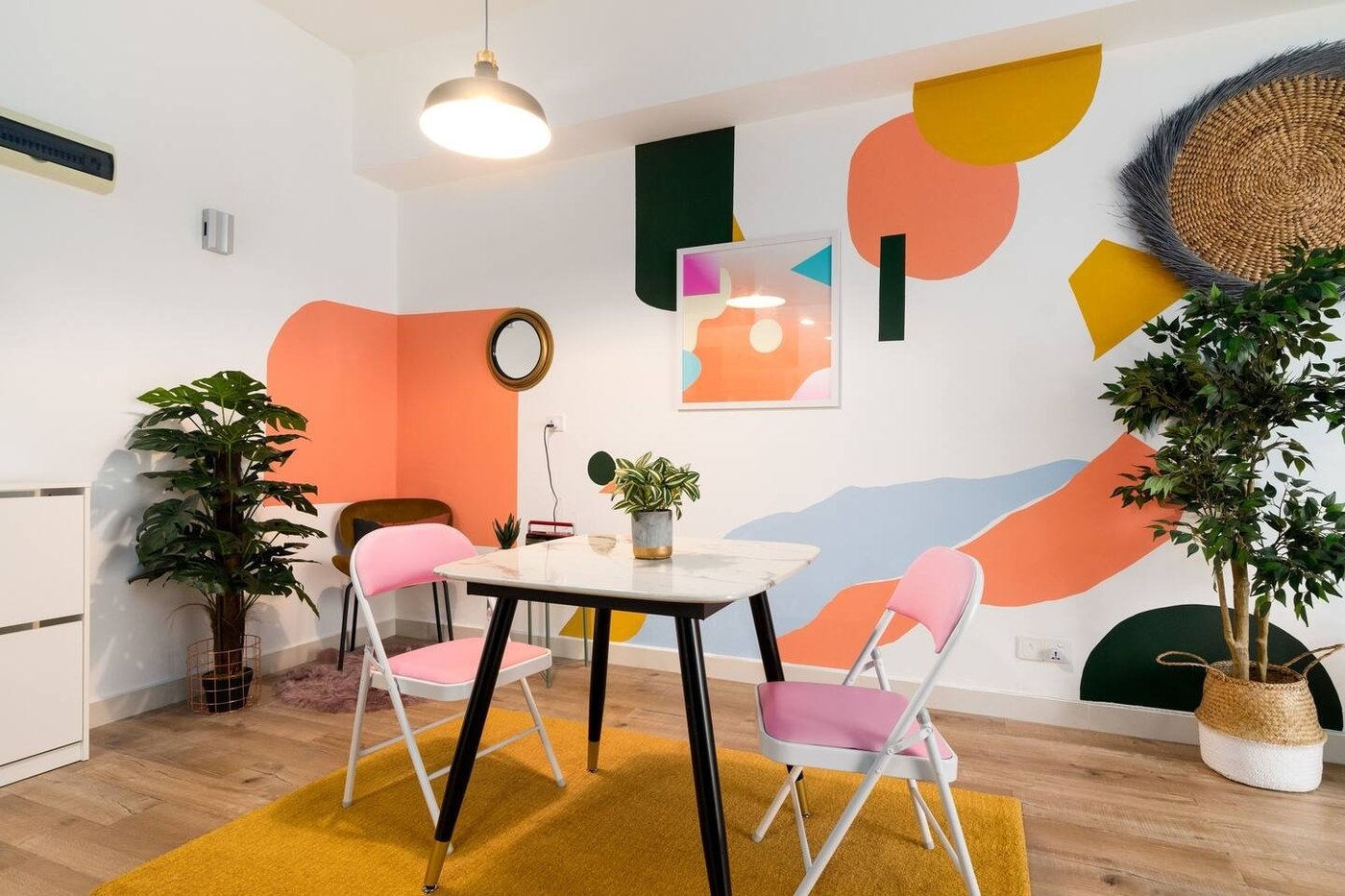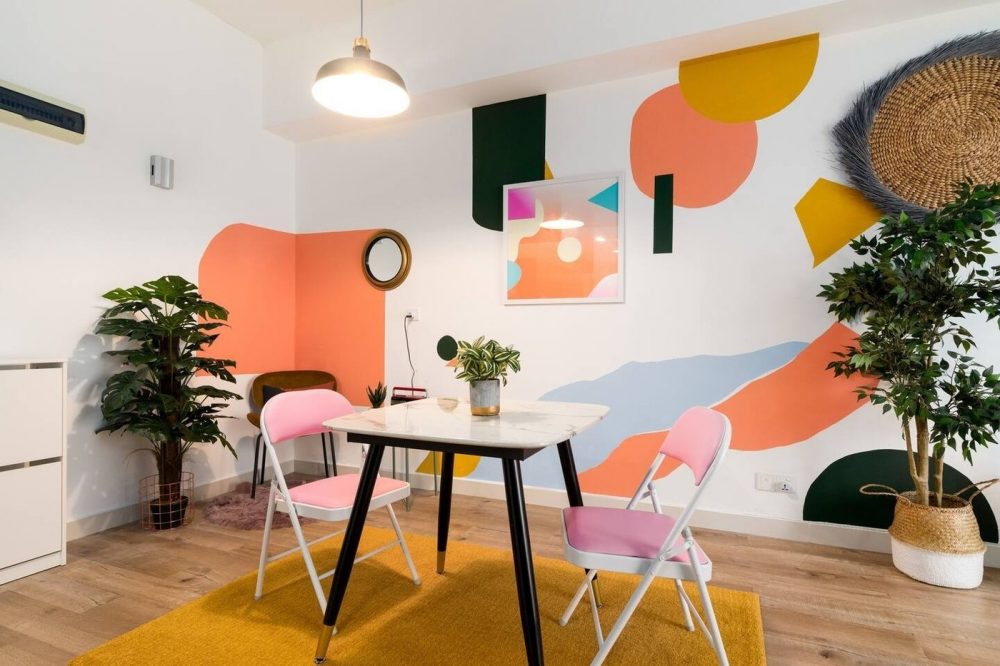 Not every feature wall needs to be designed with fixed lines and repeated patterns to create interest. A contemporary abstract feature wall, such as this one, can add personality to a space or room all while being a design focal point.
Another benefit; a contemporary abstract wall doesn't have to be perfect. You can get creative and use freehand shapes (it's a good idea to plan it out on paper first). The colours for a feature wall like this should be bold, but still tie the room together by matching other elements, such as the rugs or larger furniture pieces. A contemporary abstract feature wall is a great way to liven up an otherwise dull room.
Exposed brick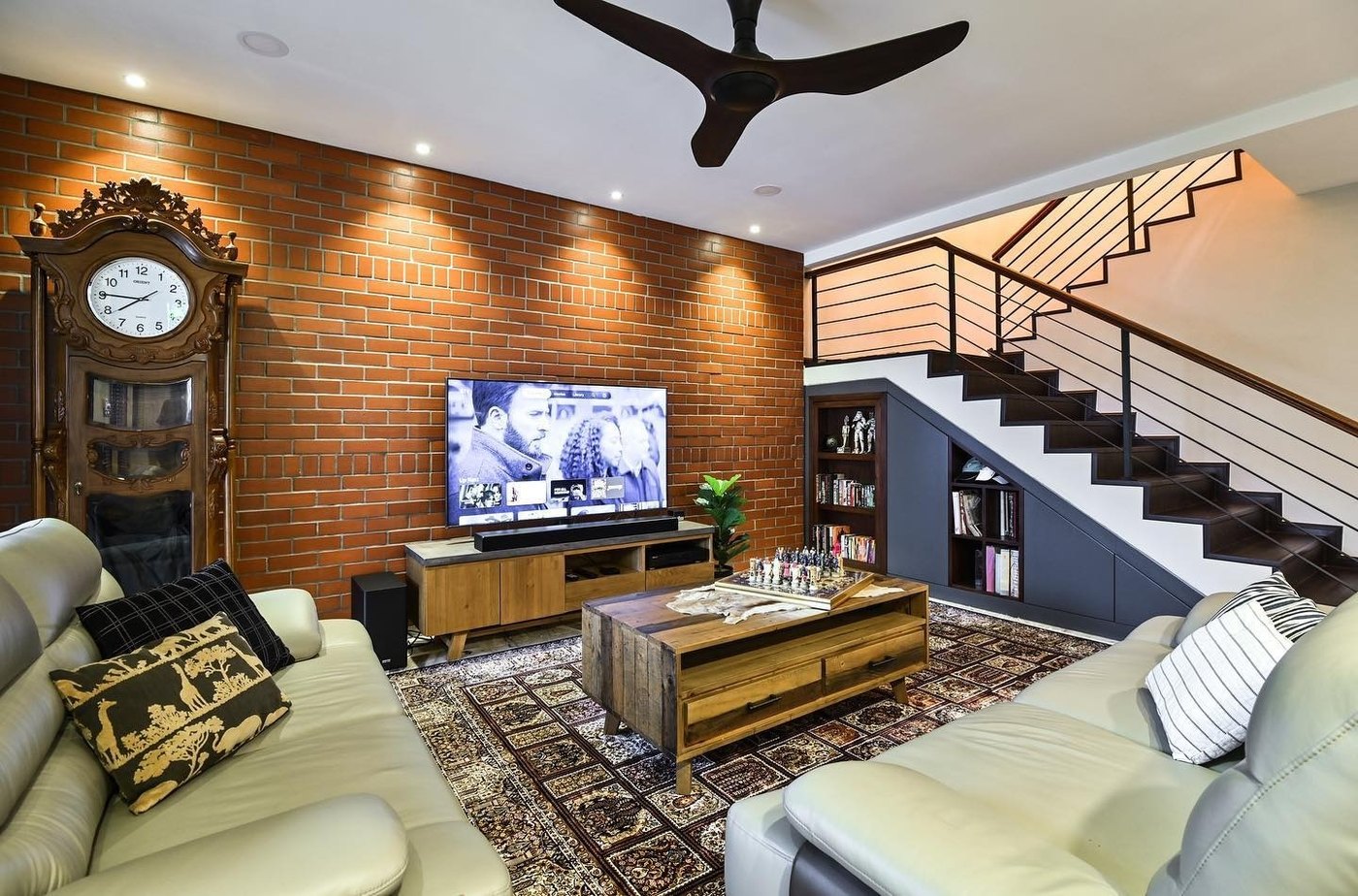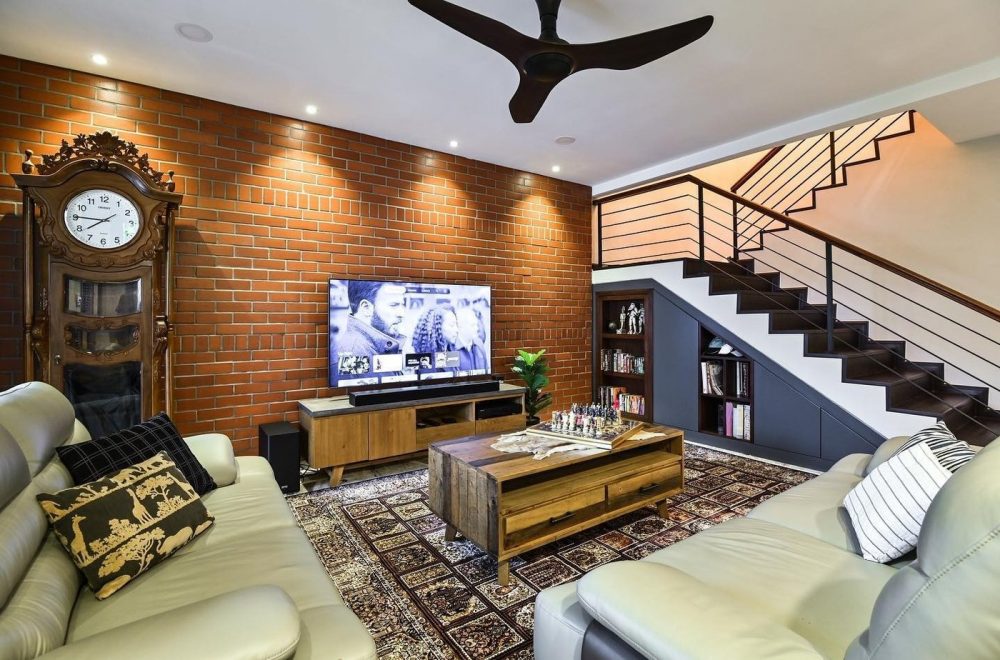 The exposed brick wall is common in industrial-themed interior design. It gives the appearance of a space that is rich with history, and has been really lived in. It's not really "exposed", since the bricks should be sealed with a protective coating to prevent grime and dust. Or, you can achieve the same result with paint, or 3D textured wallpaper. It adds the right amount of an unfinished touch without making the room or space look like a mess that needs to be cleaned up or finished.
An exposed brick feature wall is a timeless design that can be recreated with different brick colours and textures depending on the colour palette of the room. It also requires little to no maintenance or touch-ups.
Display shelves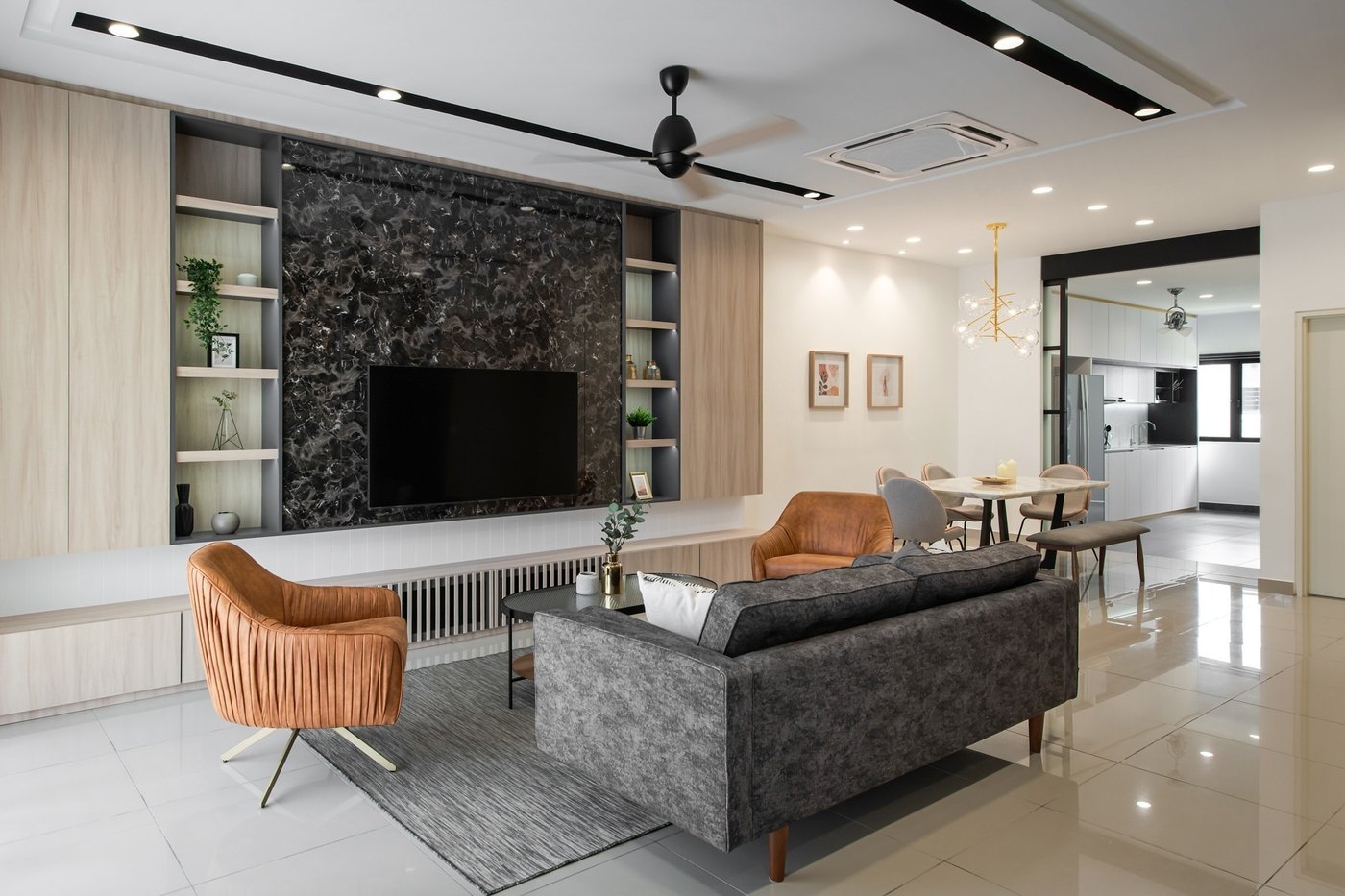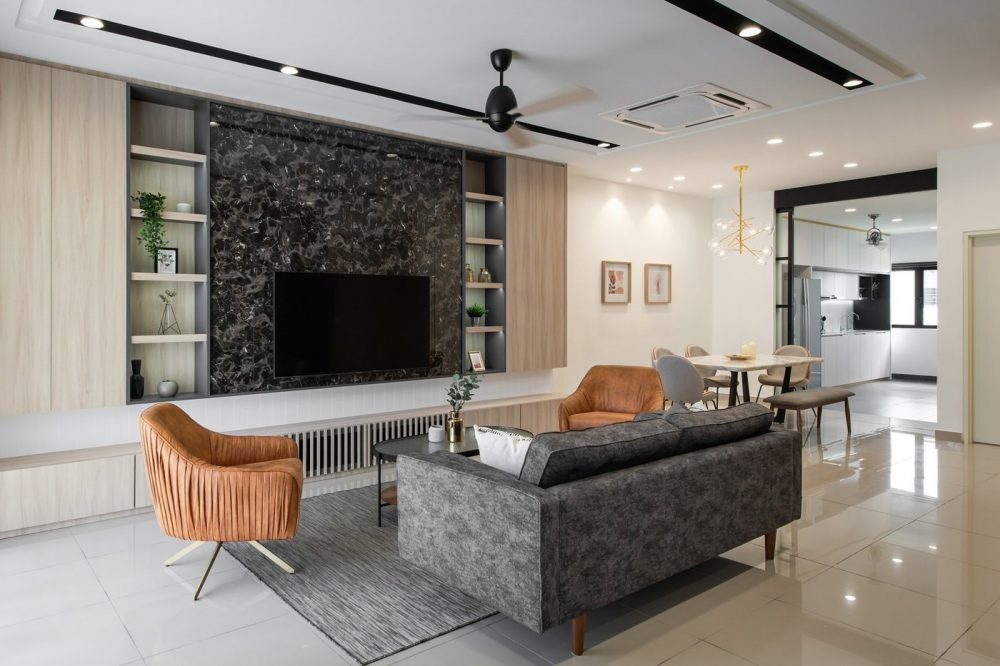 When it comes to design, it's important you try to keep in mind how a space can best function to assist in the daily lives of all those living in the home. A feature wall does not have to only be a design focal point, in fact it can serve a valuable, practical purpose as a storage or display area.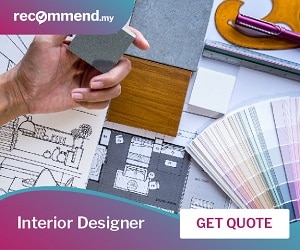 This marble TV console feature wall is a good example of a 2-in-1 functional feature wall. The black marble blends well with the other material elements, such as the wood used for the open shelving and closed door storage on both ends. The colours tie in perfectly with the deep grey textures and neutral coloured furniture pieces of the open space living and dining room. There is an effortless enhanced luxury aura that is created with this marble TV console feature wall.
Wainscoting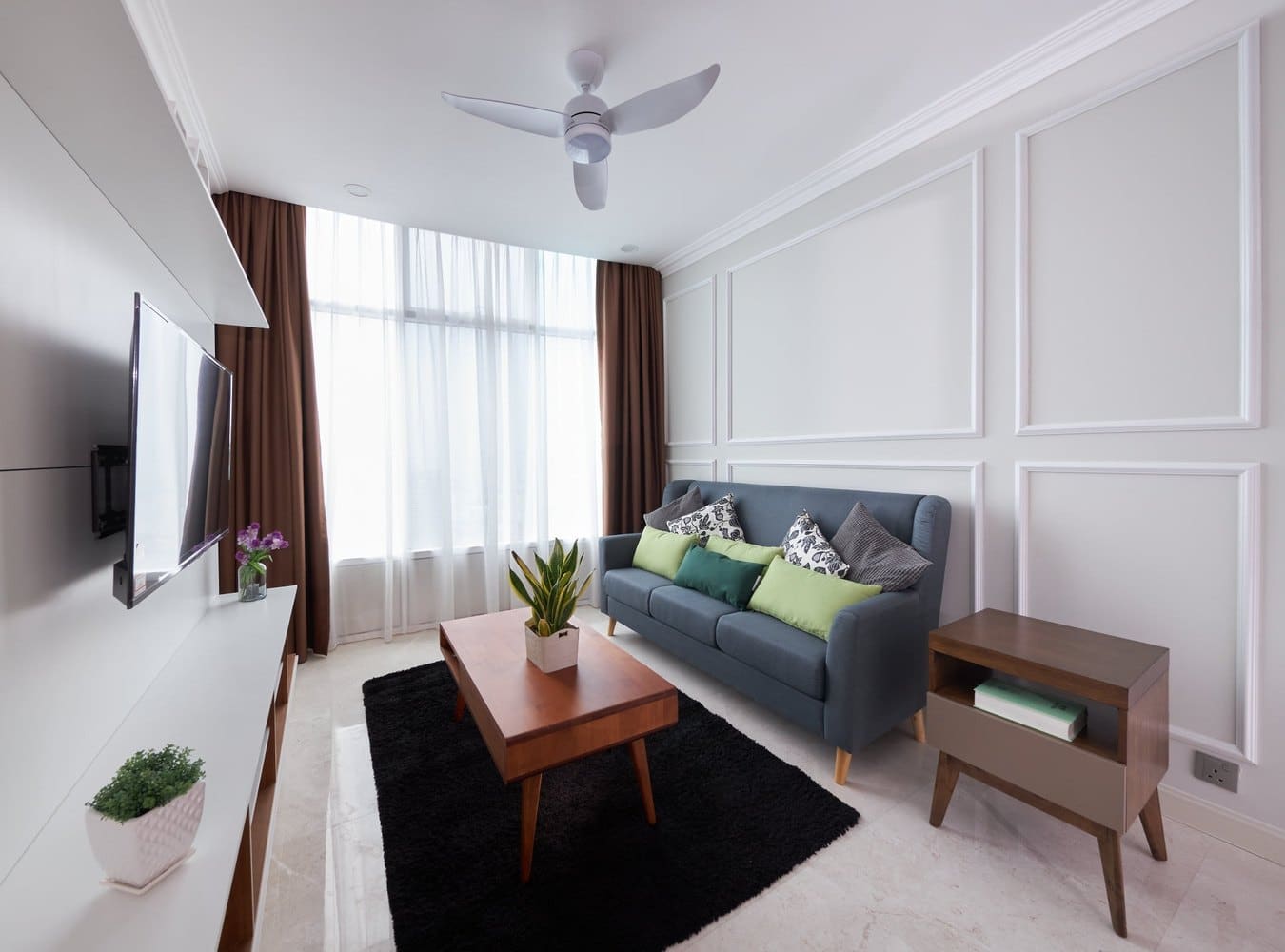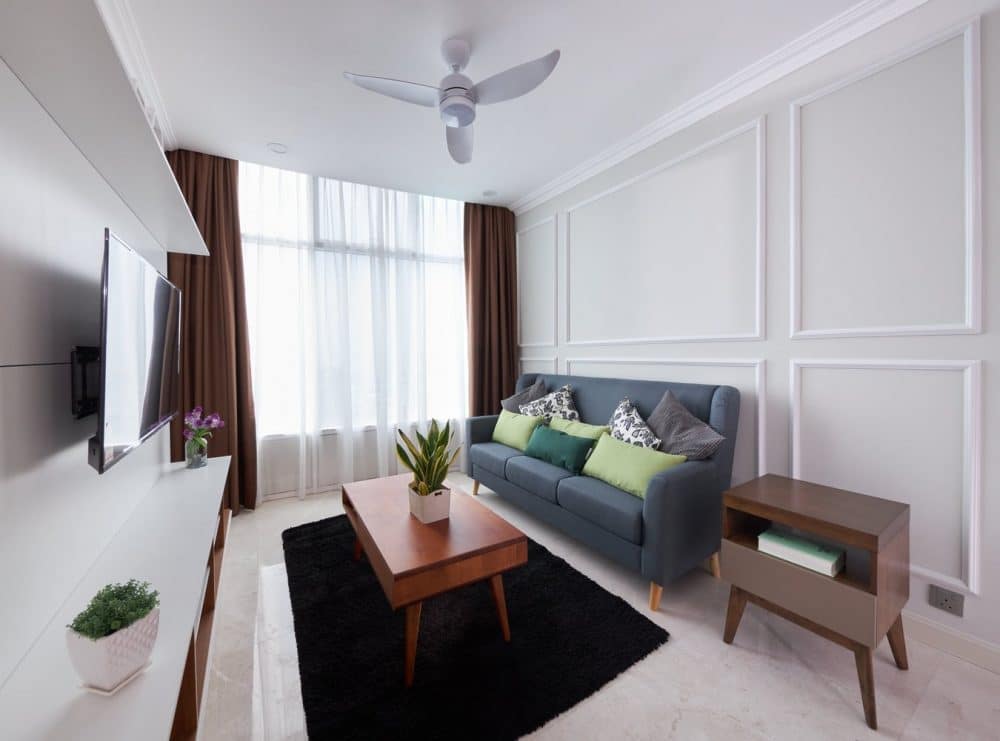 Wainscoting is the addition of decorative wood panelling on the walls. Originally done to prevent the walls from getting scratched, it is now a popular method to add beauty to a room. Consider a wainscotting feature wall for that added classic and serene look and feel to any room or space. This design can be easily created with thin wooden planks assembled into rectangular and square shapes on the wall. This design can be done in all colours such as pastels, warm neutrals, deep shades and even black. It all depends on the colour scheme and design theme.
This elegant look adds subtle interest to a space, and doesn't have to exclusively be a feature wall. In fact this design can be done on all walls in a space or room without making it feel too cluttered or complicated and confusing.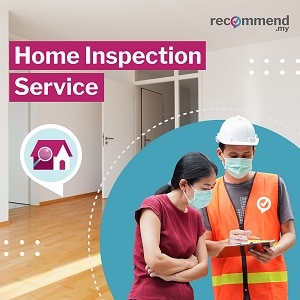 Textured paint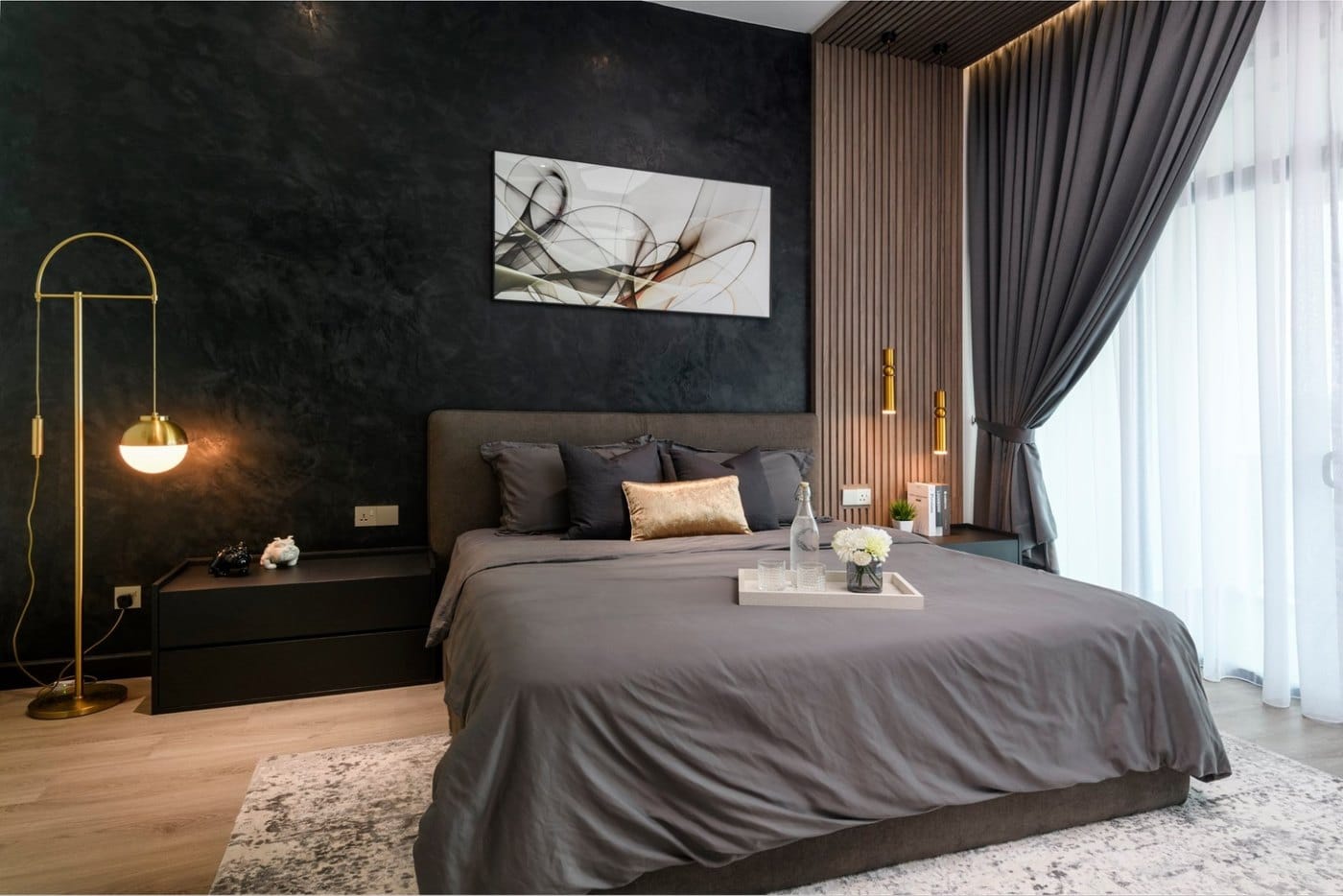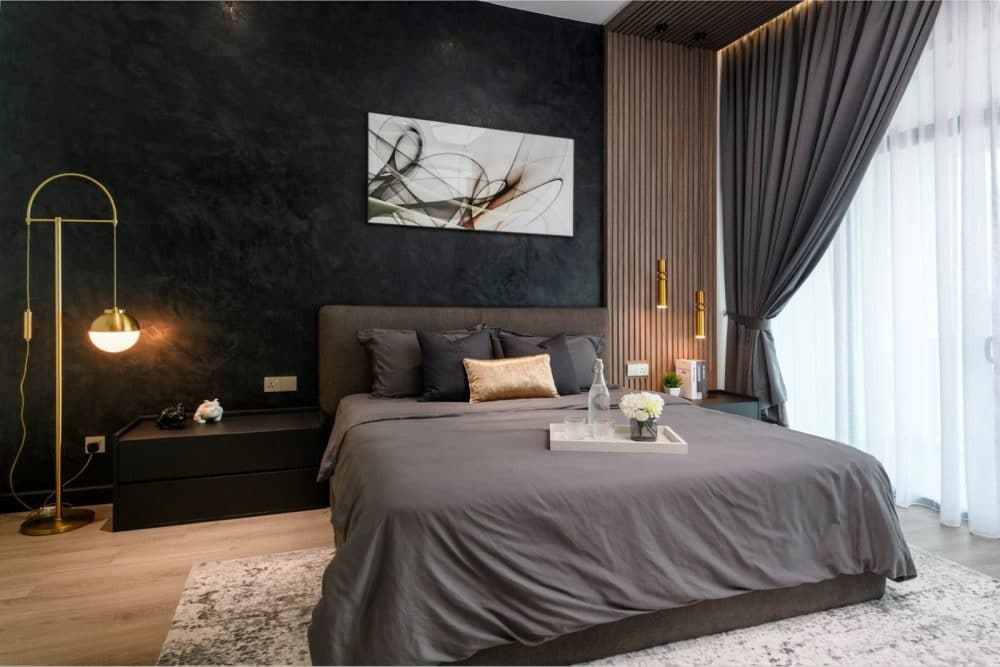 Feature walls can assist in creating a mood of calm or excitement. It can even help set the ambience of a room or space, making it feel more adult and sexy or young and playful. A dark and bold feature wall is one way to create a more moody space and room.
Dark coloured walls work best in rooms that feature a deep colour palette. The inspiration for this feature wall includes added texture created with thin wooden planks to one corner of the wall. The deep and dark colour of the wall helps the wooden planks stand out, creating interest. You'll notice there are also gold fixtures and lights placed against the wall to bring more attention to it. A dark feature wall works best with accents and elements that pop against the wall for a pull-together look.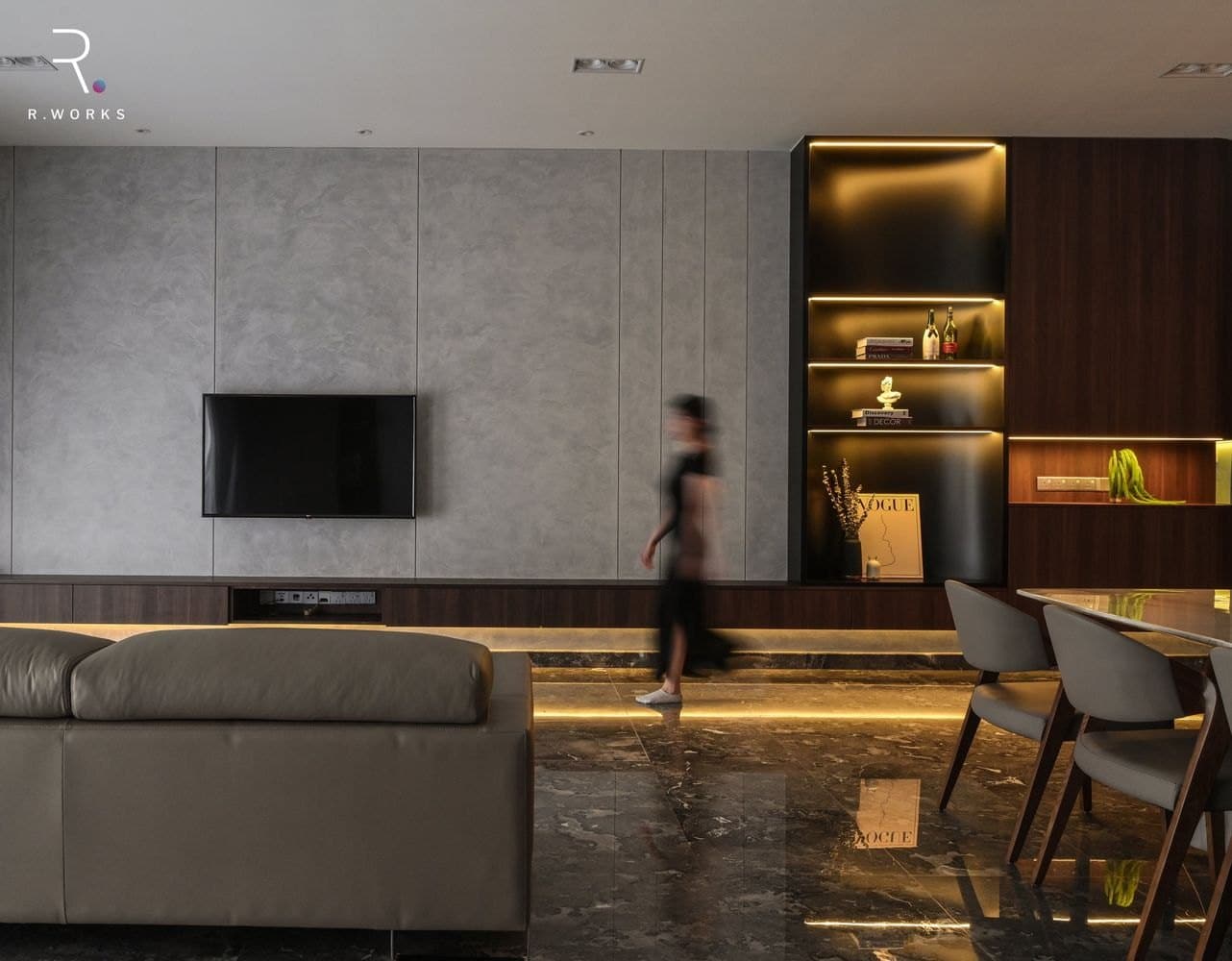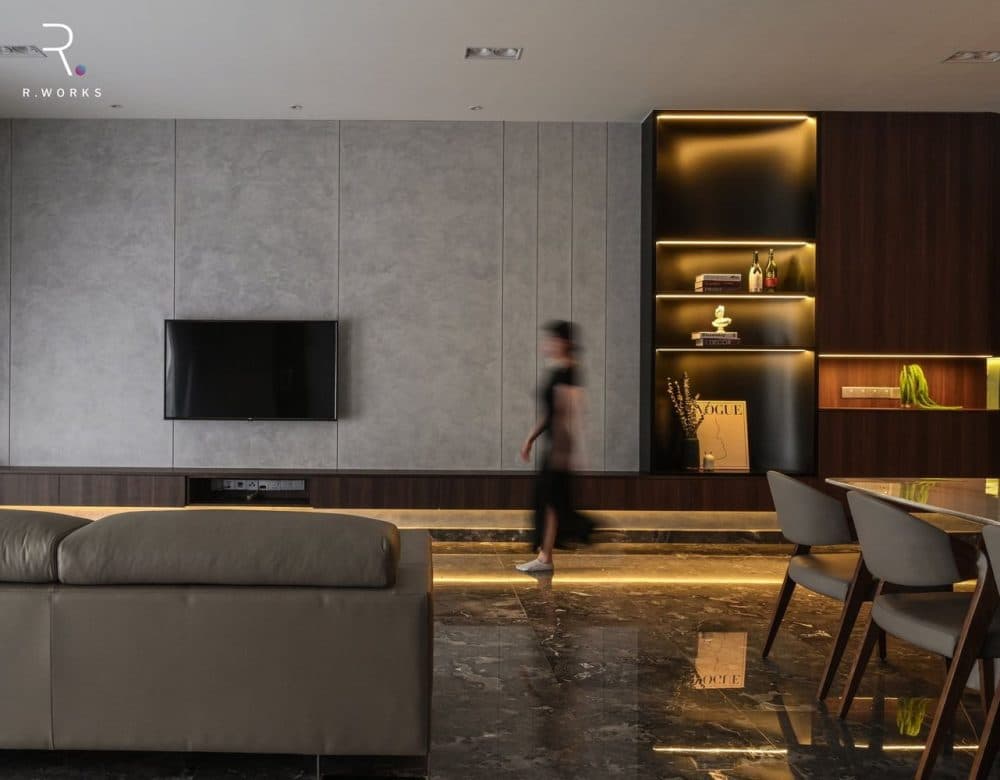 The grey feature wall above was created using Vasari paints, which is a limestone wash that creates a smooth wall, but full of depth and character. Paired with the warm wood and metallic tones, it makes a space feel like an old church or historical home.
Get a house painting pro to create your feature walls
Have you found the inspiration for your own feature wall at home? But lack the time and skills to DIY it? Find the right home painting professionals to help you create the perfect feature wall on Recommend.my. Search through and contact interior designers and contractors in your location, and arrange for a consultation today.