The pursuit of work-life balance continues to be an important talking point among Malaysians.
As the pandemic took hold in 2020, millions of workers transitioned to working from home. But now that we are in the endemic stage, it's hard to give up the flexibility that we have enjoyed.
There are other reasons for workers to want to stay home. Traffic jams have become even worse over the last few months, and vehicles now outnumber the entire Malaysian population.
All this has led to a resurgence in creating a comfortable and productive work-from-home environment. Many have turned spare rooms or corner spaces into beautiful home offices that look amazing (even over a Zoom call). A designated home study serves both working adults as well as students.
There are many clever ways to create a home office, as shown by these designs in Malaysian homes. Renovate your home office by talking to our interior designers
Keep it clean and simple for less distractions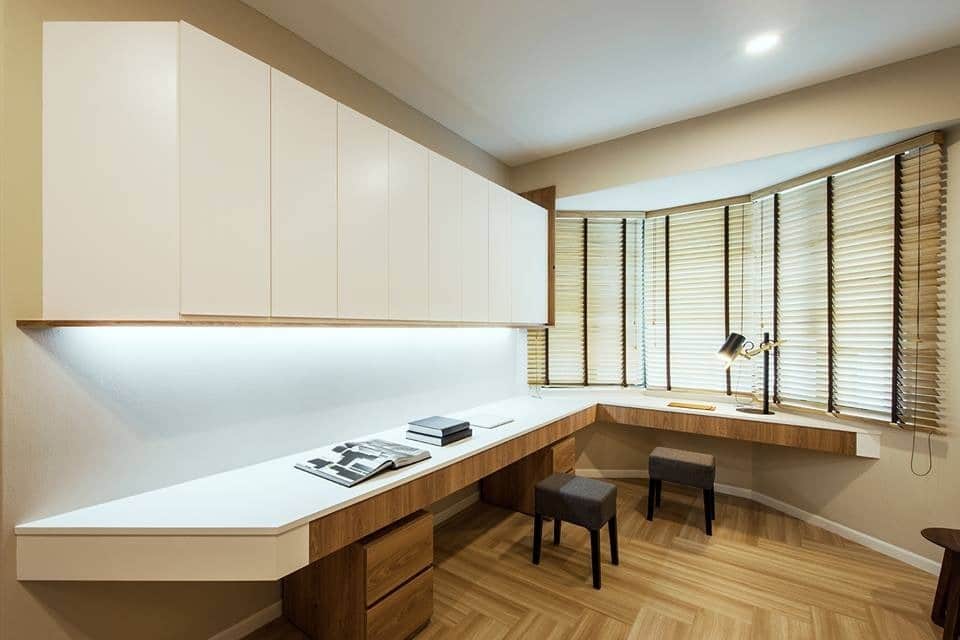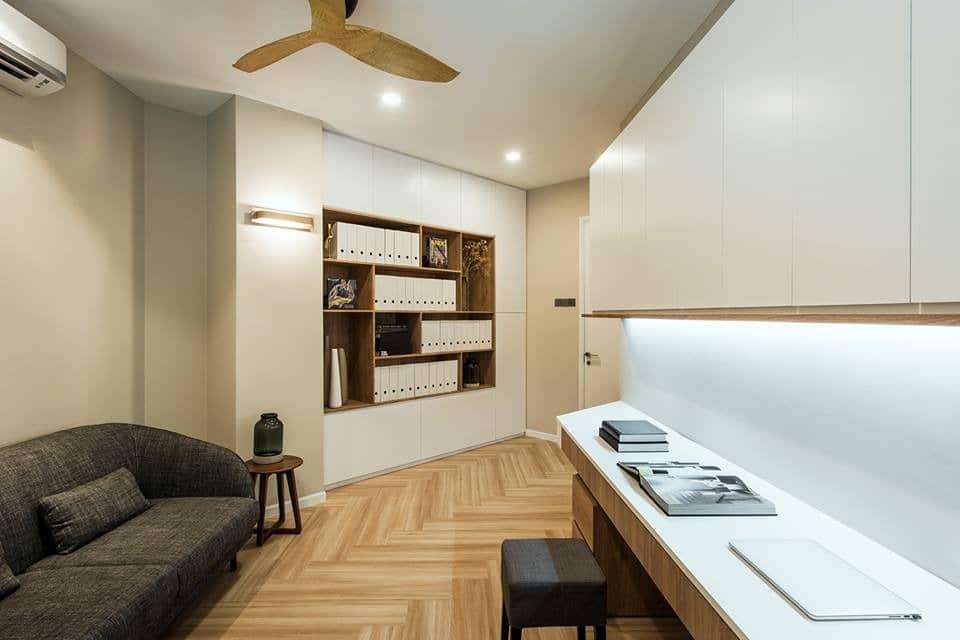 This calm study room features a streamlined and sleek L-shaped desk built right into the wall. Saving space in a tiny area all while providing ample desk space for studying or work. Just above the desk is a built-in clean white cabinet to store clutter and keep the space open and organised. Extra lighting is provided by the under cabinet light source and the table lamp.
On the opposite end of the room, there is more built-in furniture, such as the floor-to-ceiling cabinet. It features both open shelving options and closed cabinets in the same clean white colour. There's also a sofa for those that need to take a 5-20 minute break in between a hectic study or work schedule.
This is a great design idea for those with more than one person in need of a workspace. Even in the irregular-shaped room, the renovation contractors managed to make good use of the space.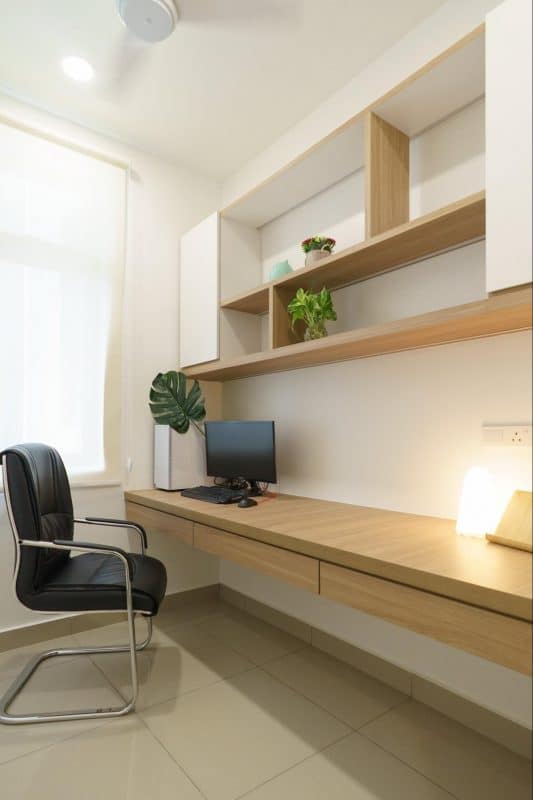 Simple and clutter-free are the best words to sum up this Scandinavian study room and home office design. The colour palette is kept neutral, with natural light brown wood and white walls and cabinets.
The built-in open shelving and white cabinets are easy-to-reach storage options that are decorated with small potted plants to bring some life to the space. It is a wall-to-wall floating desk with drawers for more storage for study or office supplies. The long desk is ideal for more than one person as it offers plenty of space.
Lots of daylight for productivity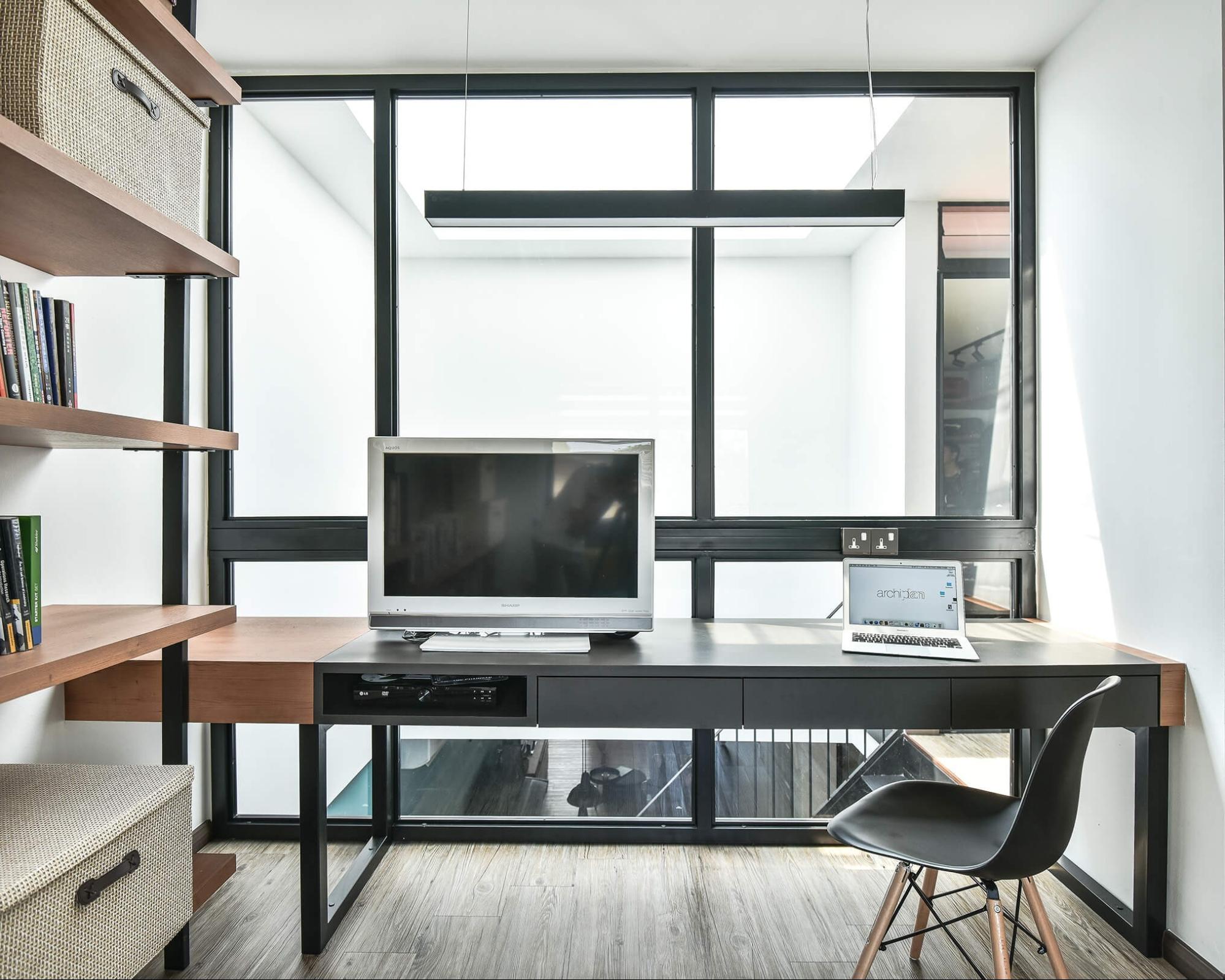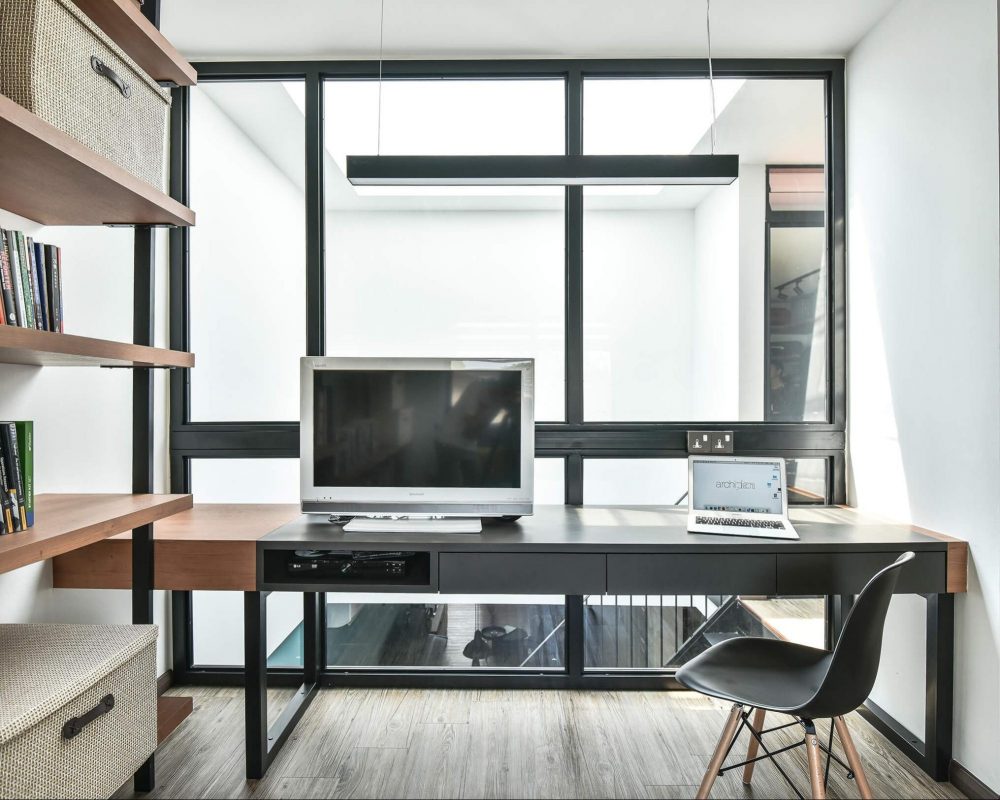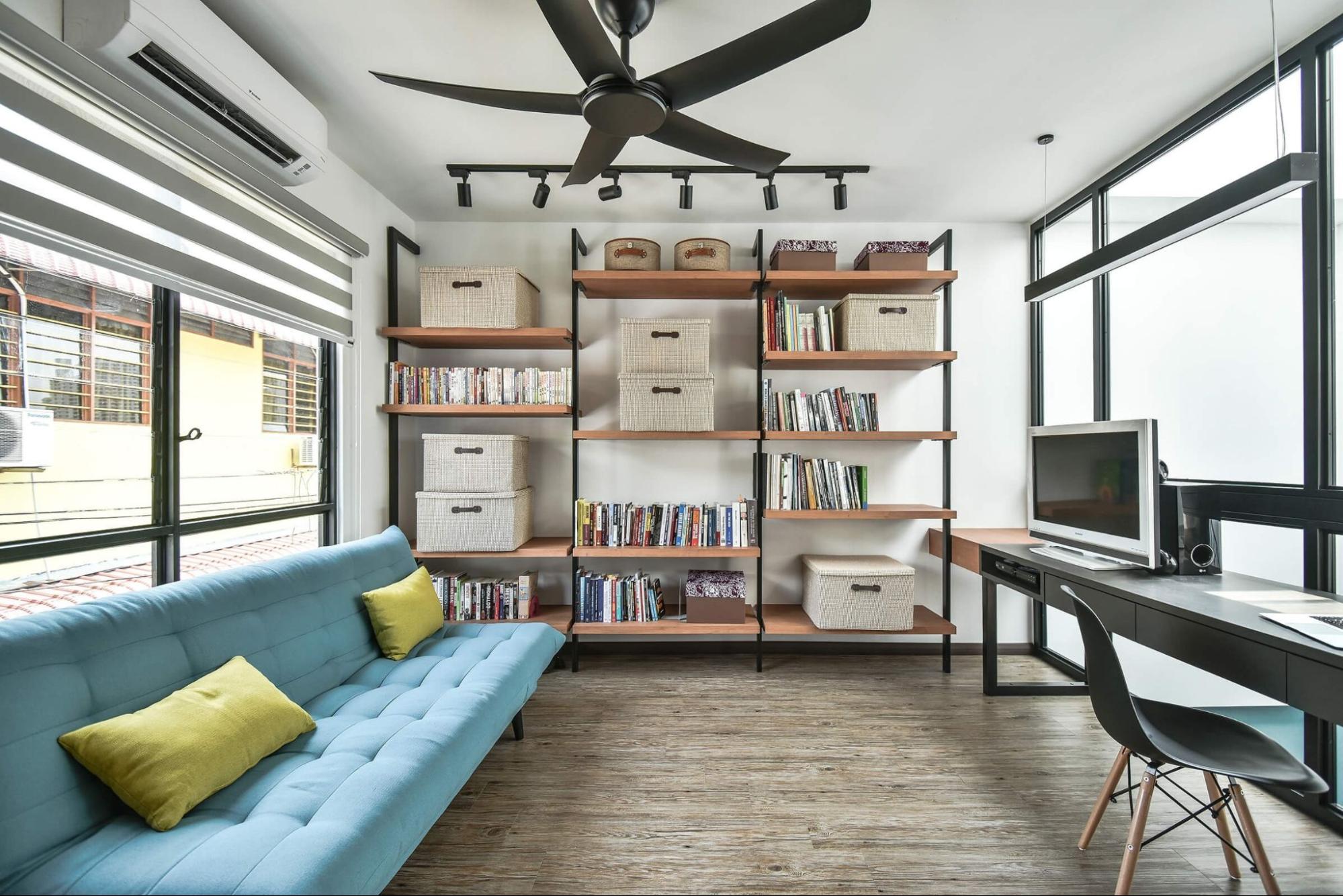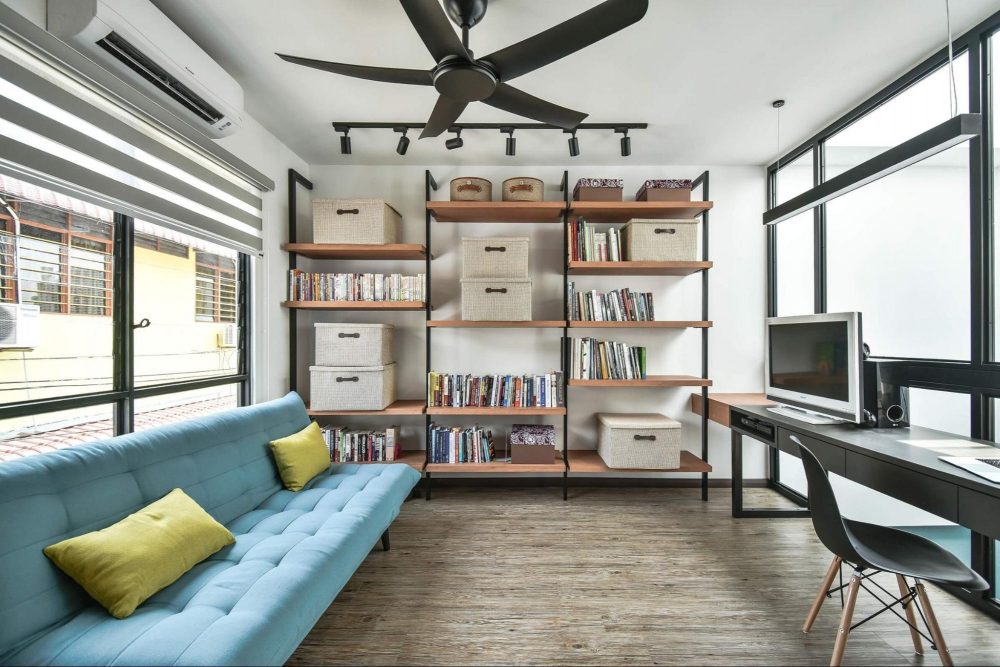 Research has shown that daylight keeps you productive. So, when renovating a spare room into a home office, it's a good idea to choose the room with the most windows, like the one above.
This room receives double the amount of natural light with an extra window overlooking the airwell. Natural elements of wooden flooring and furnishings are paired with a soft colour palette of warm grey and baby blue to create a soothing space.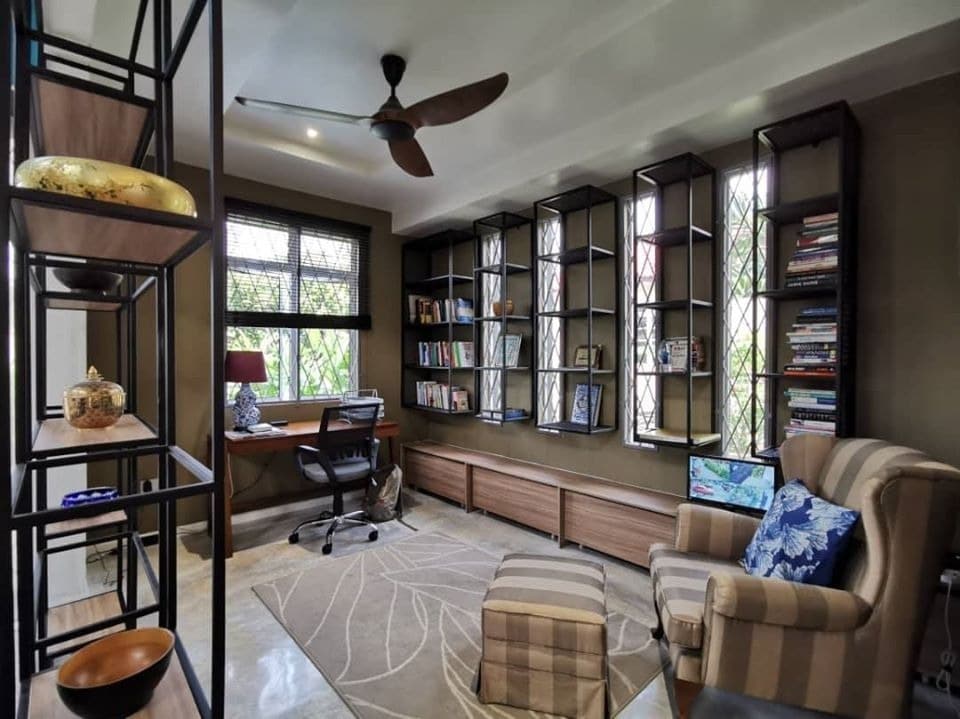 Here's another example of a light-filled study. The multiple narrow windows create an interesting wall for the metal display shelves. The industrial vibe is softened by the plush wingback sofa and ottoman, as well as the rug.
Coloured walls to create the right mood
Coloured walls can add a touch of personalisation to a space. Beyond that, different colours may give us a different psychological response and set the tone for work productivity.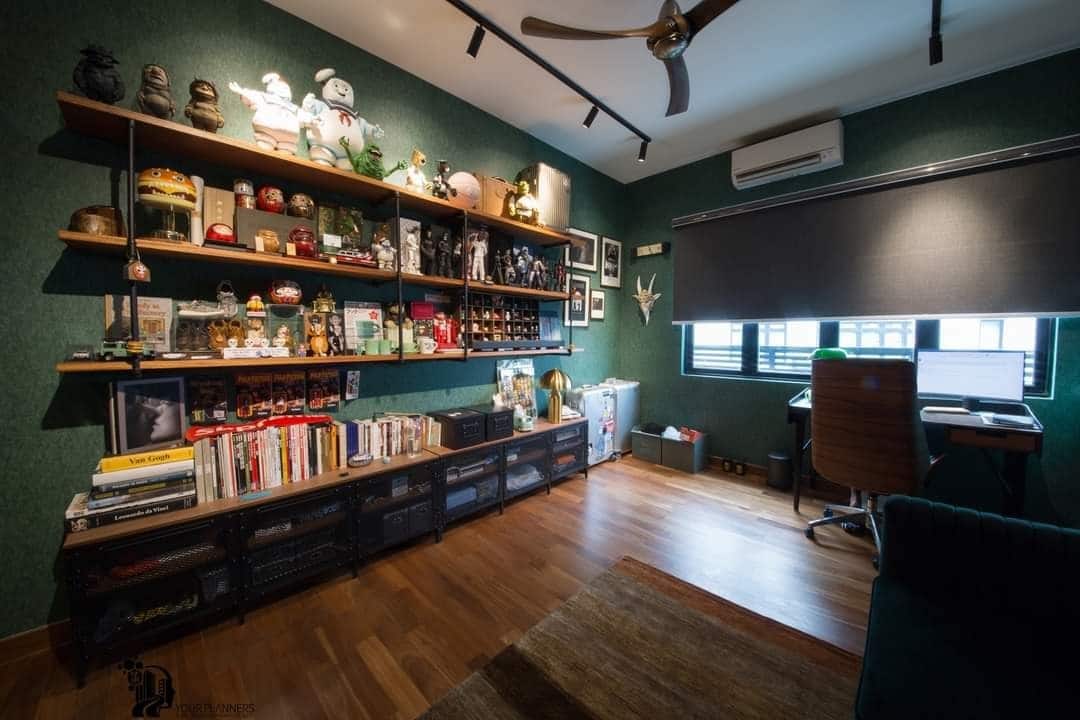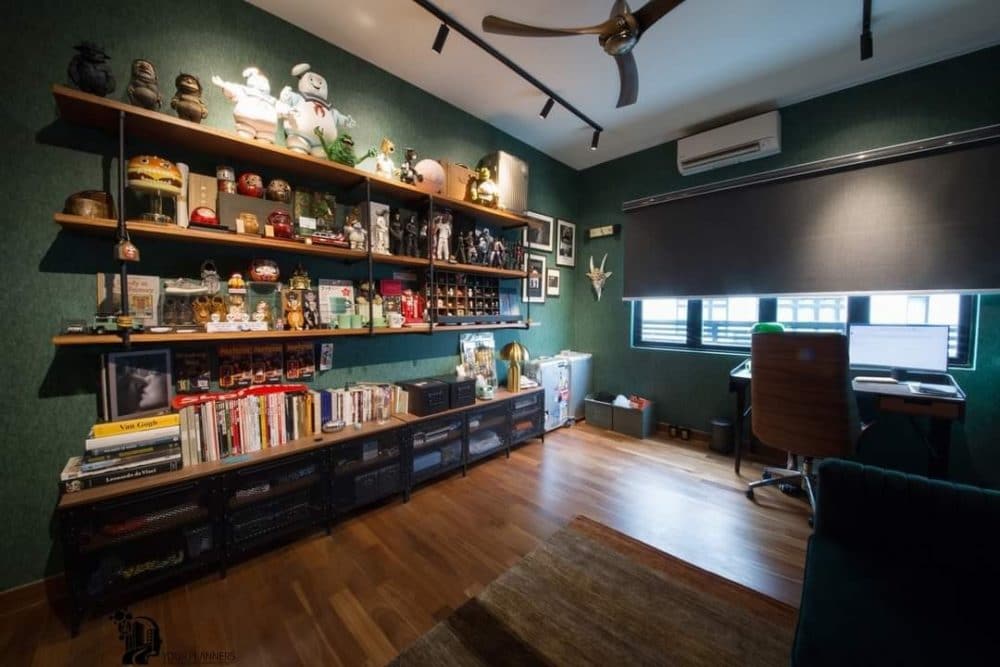 Green is associated with the calm and tranquillity of nature. This dark green study room is styled with natural wooden and brown furniture. The space features a wide-open display shelf with spot lighting. It's perfect for displaying books, awards and nicknacks that inspire. The natural lighting source can be covered with blackout roll-down shades as there is ample mood lighting strategically placed throughout the room.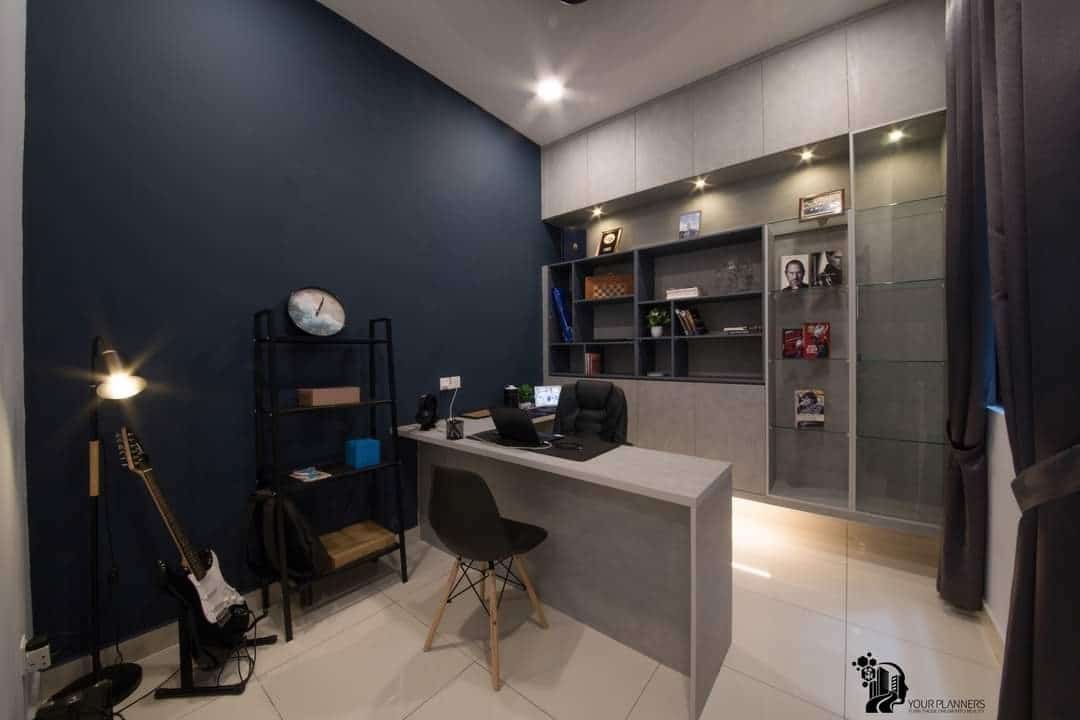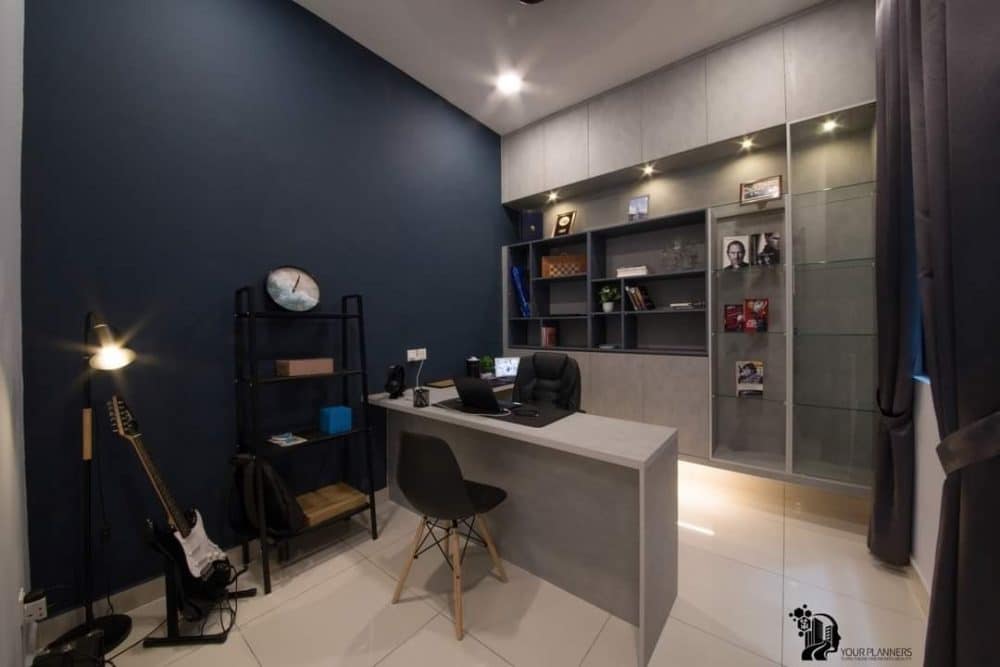 Grey. A cooler tone palette option for a study room or home office is this modern grey workplace area. The deep blue-grey wall is an accent to the grey built-in floor-to-ceiling cabinet and L-shaped desk. The shelving display in this room features glass shelves for a more modern and elevated design look.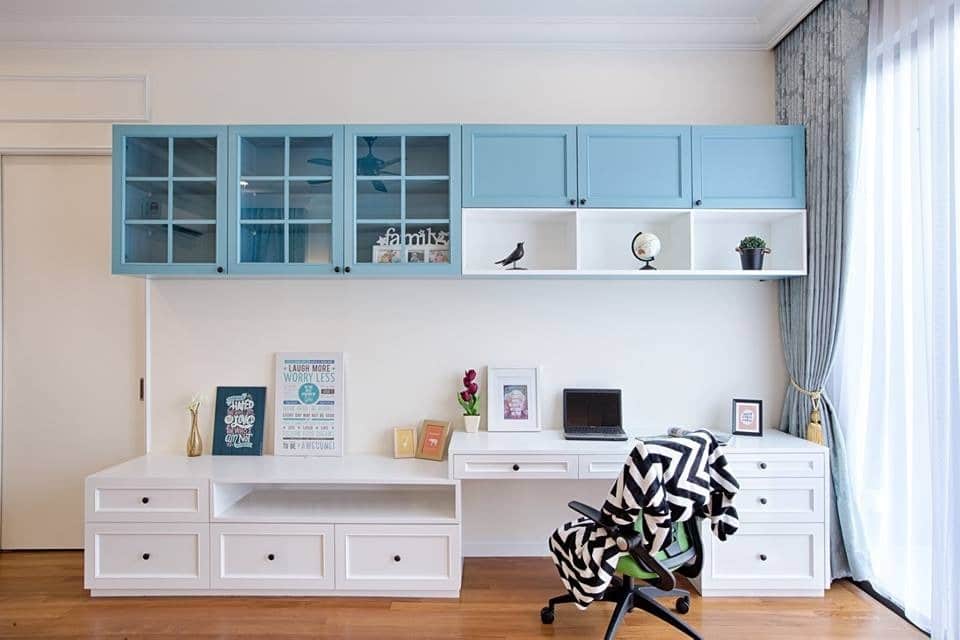 Blue. This brighter-coloured adds baby blue cabinets against an all-white backdrop. Like most modern study rooms and home offices, this room also includes built-in cabinetry, shelving and a desk. The desk is unique in design, as one half is higher than the other, giving it fun decorating options.
Any space can be used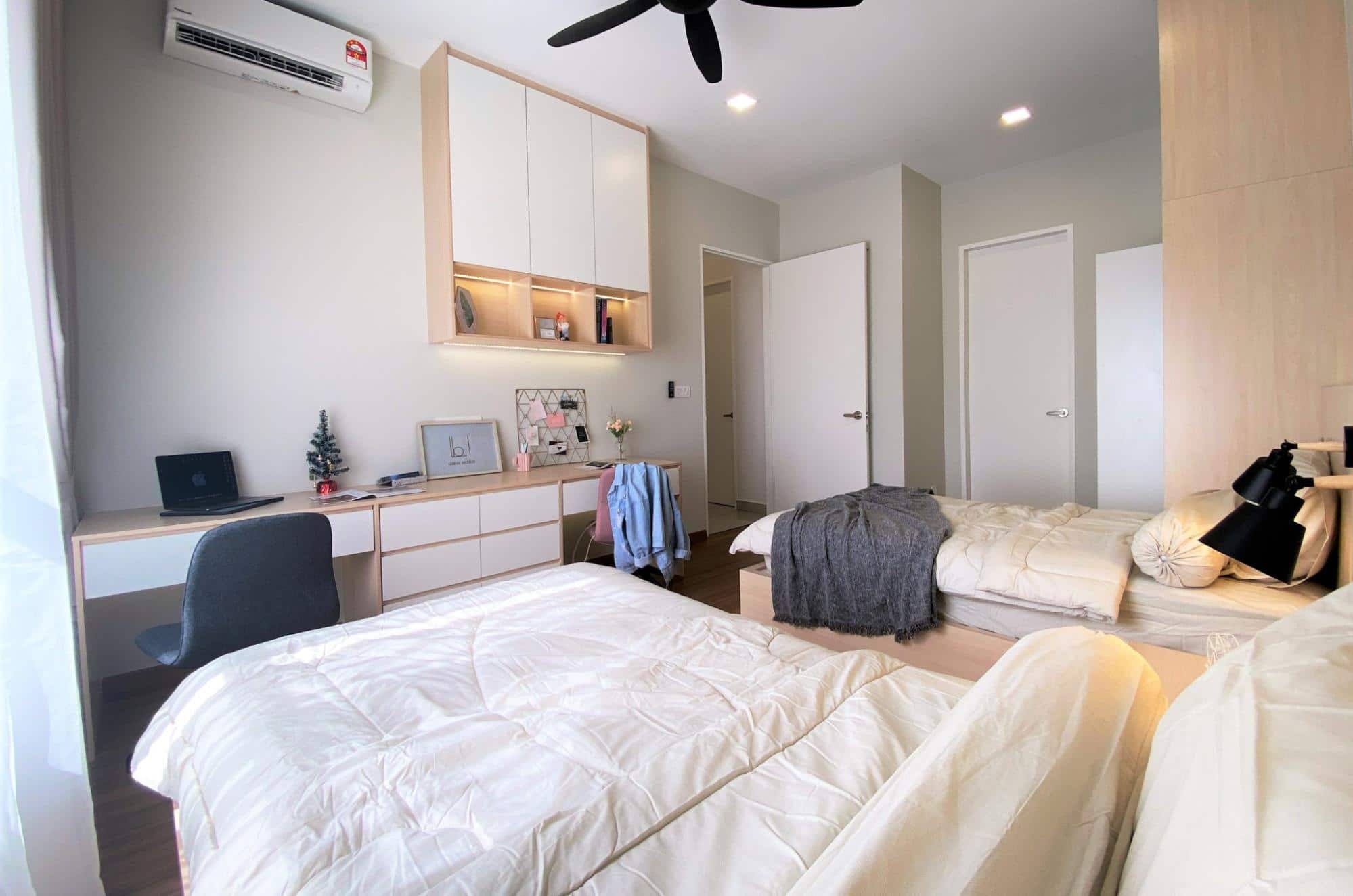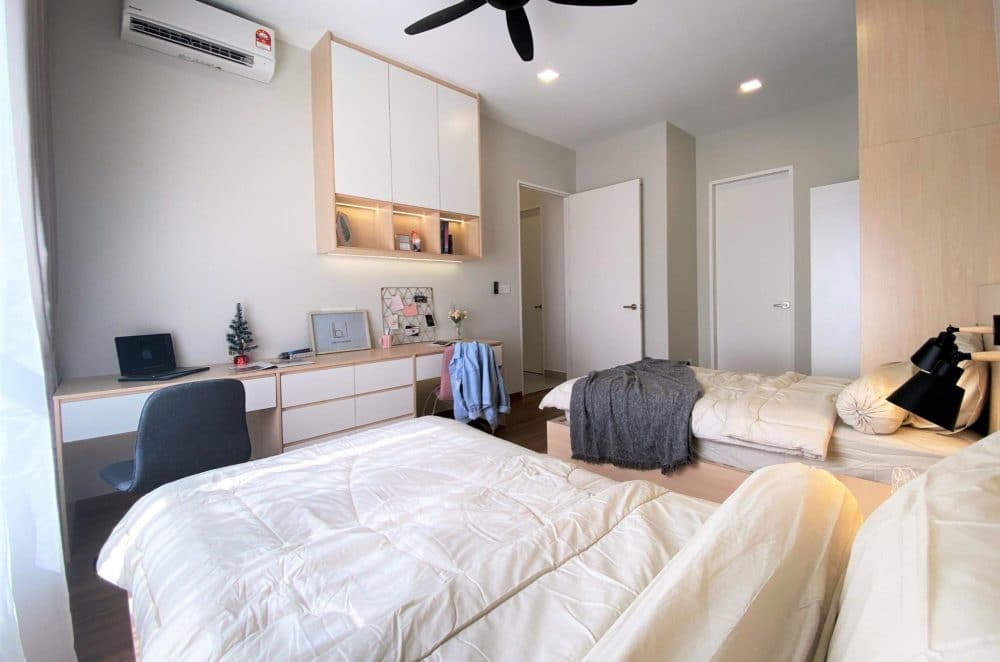 If and when possible, keep the rooms you rest in separate from rooms or areas that you work in for a more balanced life. But that isn't always possible due to the amount of space available in some homes.
This twin bedroom features a study area designed for two, usually siblings. Even though the overall space is shared, much like the twin bed situation, the desk is purposefully made to be two separate spaces. There is an even amount of storage options as the desk is made with a set of drawers to help keep everything on both sides tidy.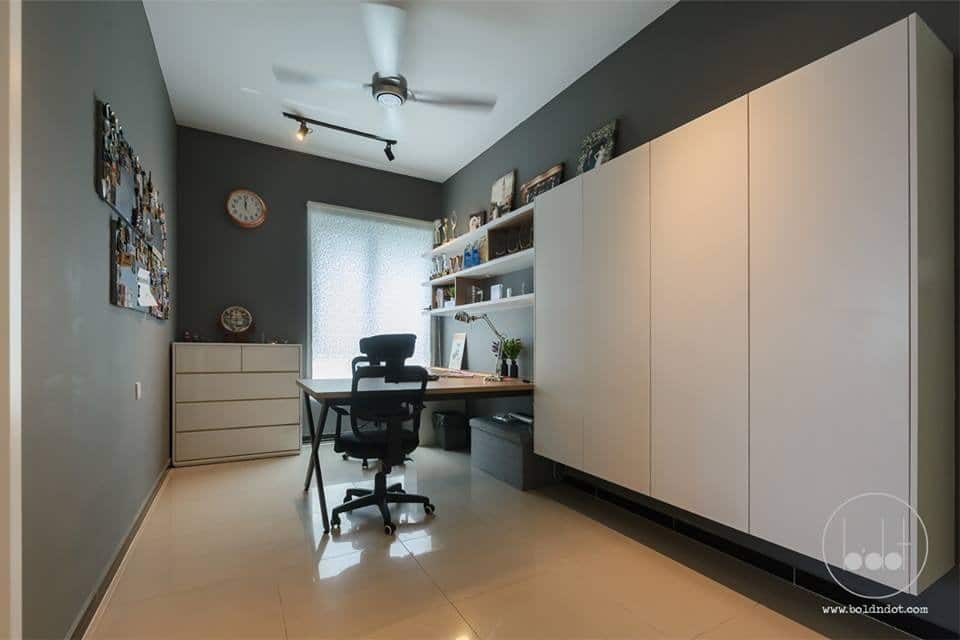 Even in the relatively narrow room above, the owners managed to add an L-shaped executive desk, along with wall shelves for books and photos. The wall cabinets and chest of drawers are clean and simple with no door pulls or handles, so they won't get in the way when walking in.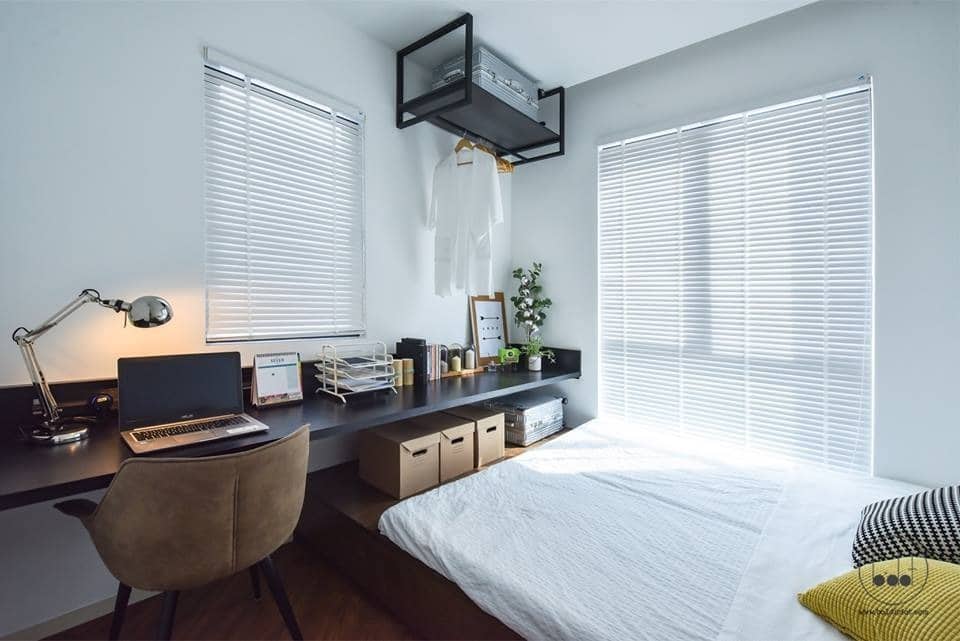 In a small bedroom, good layout is key. This tiny bedroom has a window that reaches the floor, making it even more challenging to fit furniture and built-ins. As such, the designers created a platform bed with storage underneath the mattress. Along the adjacent wall, a long counter was installed as the study desk. Rarely-used items have also been given a space high up on a wall shelf that also doubles as a clothes rail.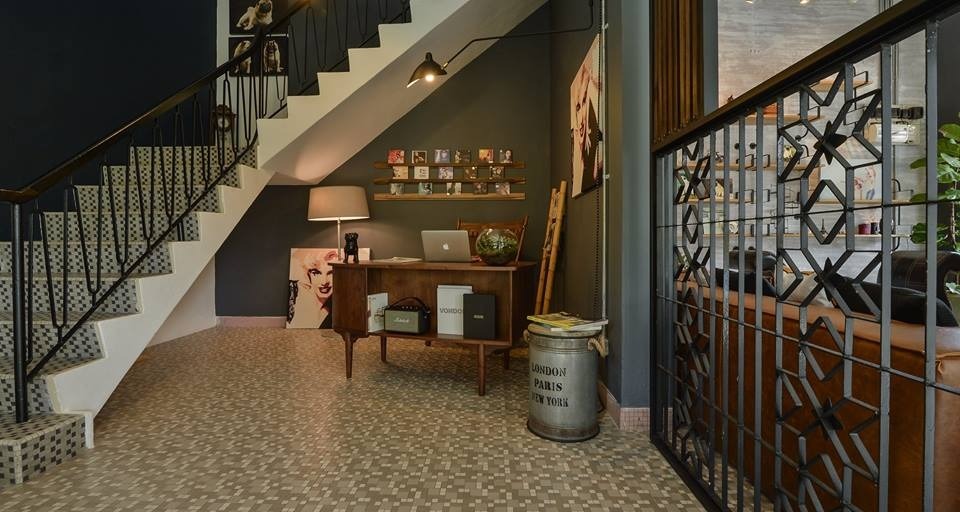 If no room is available, other spaces can be considered. One area often overlooked and used for solely storage is found right underneath the staircase.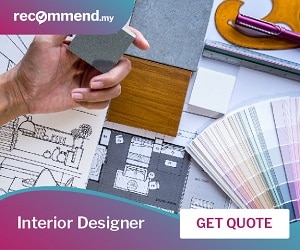 This work area is small, but has the essentials, such as a good desk, focused lighting and comfortable chair. For even more privacy and to block outside noise, some homeowners opt to add a glass partition to close up the area, and keep it cool with air-conditioning.
Creating a hotel vibe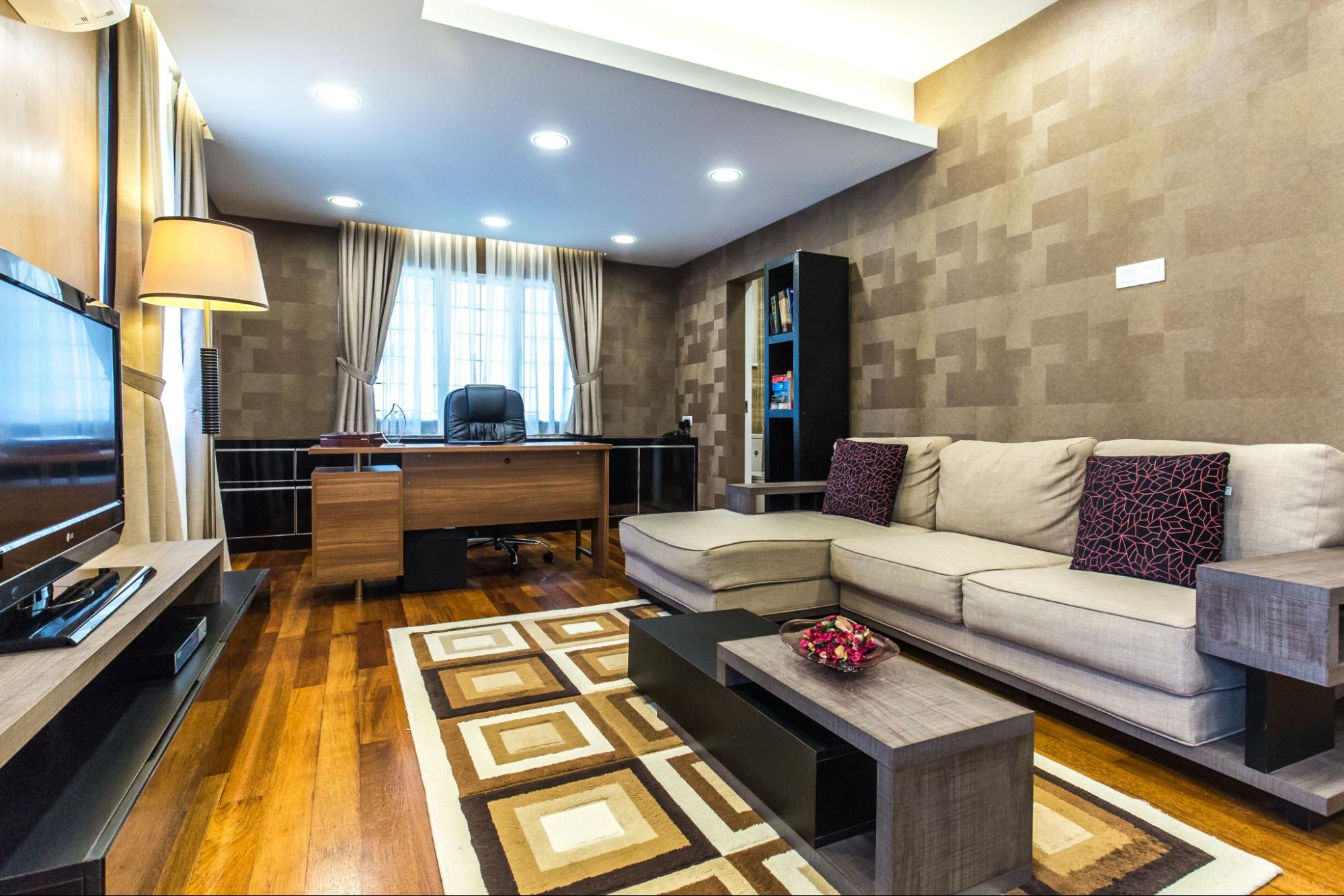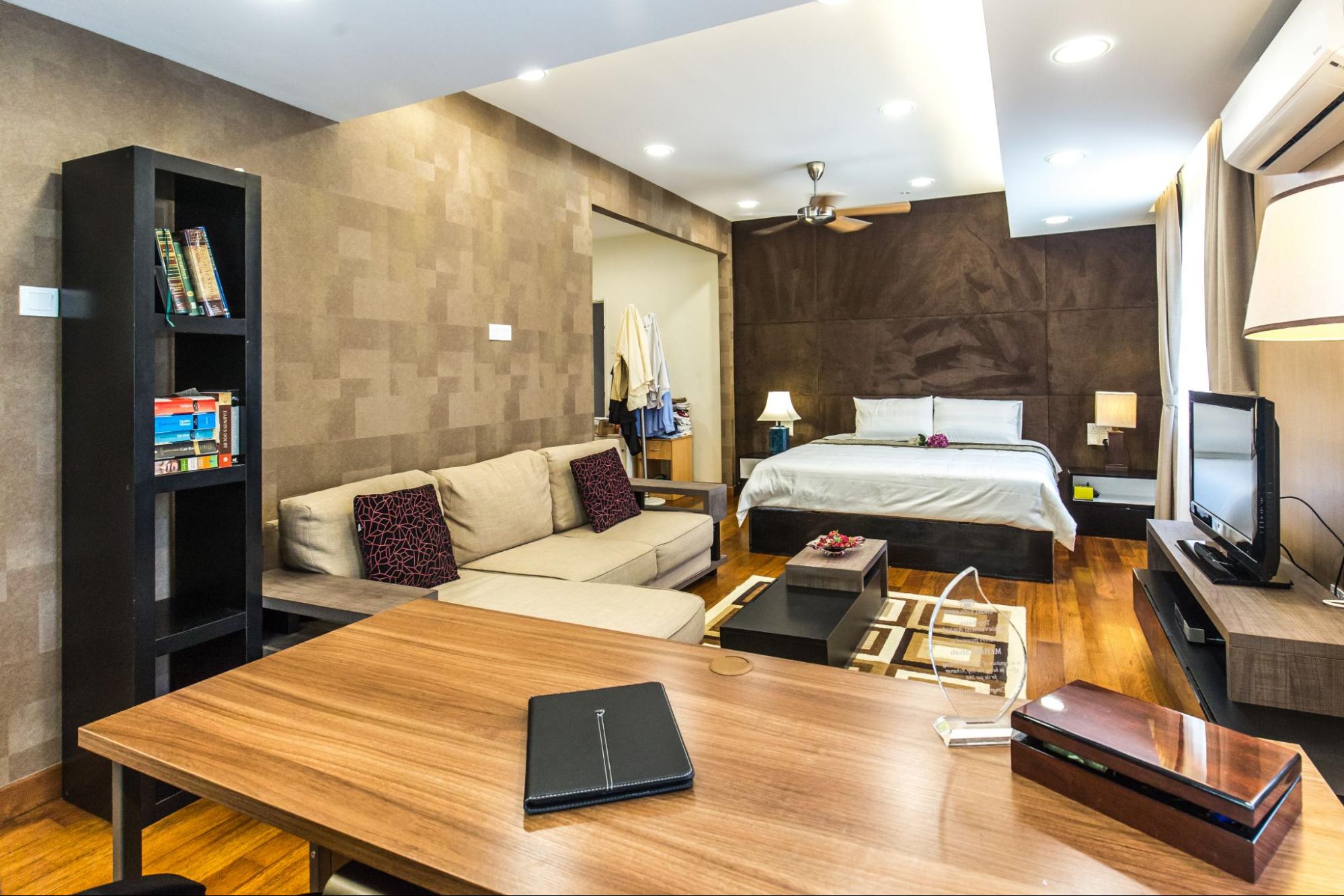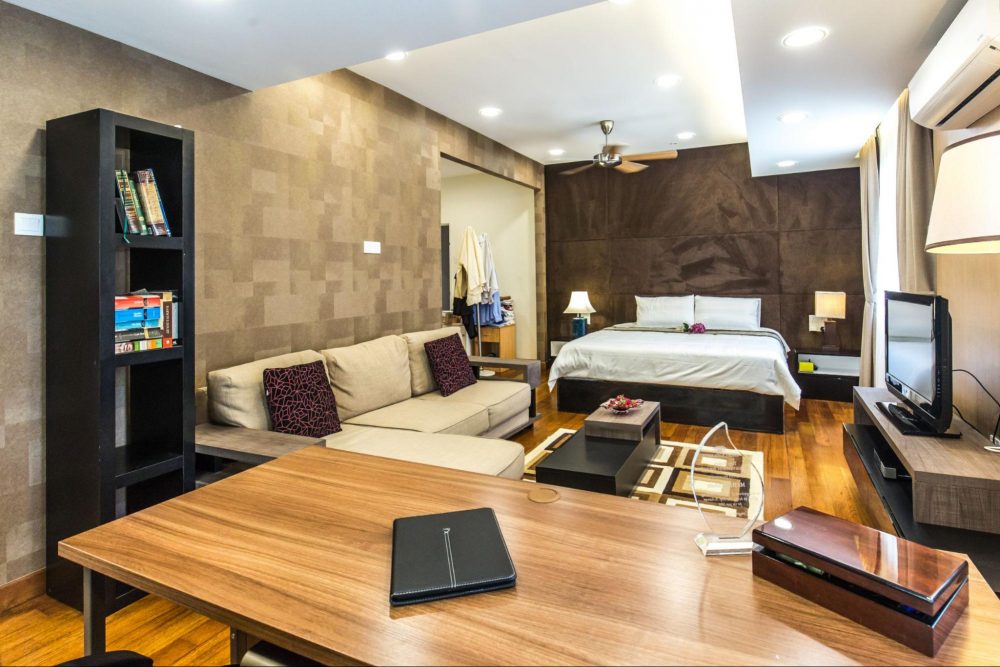 When borders were closed during the pandemic, work-from-hotel packages became popular, because it was a way for people to clear their to-do list away from any distractions at home.
You can also re-create the hotel room vibe at home, as these examples above show. Typically, the room includes work desk and executive chair, carpeted floor (or wallpaper) for noise insulation, bed, TV, lounge chair (or sofa), and full-height windows and curtains.
This elegant dark home office is a lot more compact than the last but still vibrates luxurious energy. There is an ongoing contrast with the dark brown seats, wooden floors and cabinets against the light cream grey walls and gold floor-length curtains. There's also a plaster ceiling with bright white lights that make this room look more elevated than others.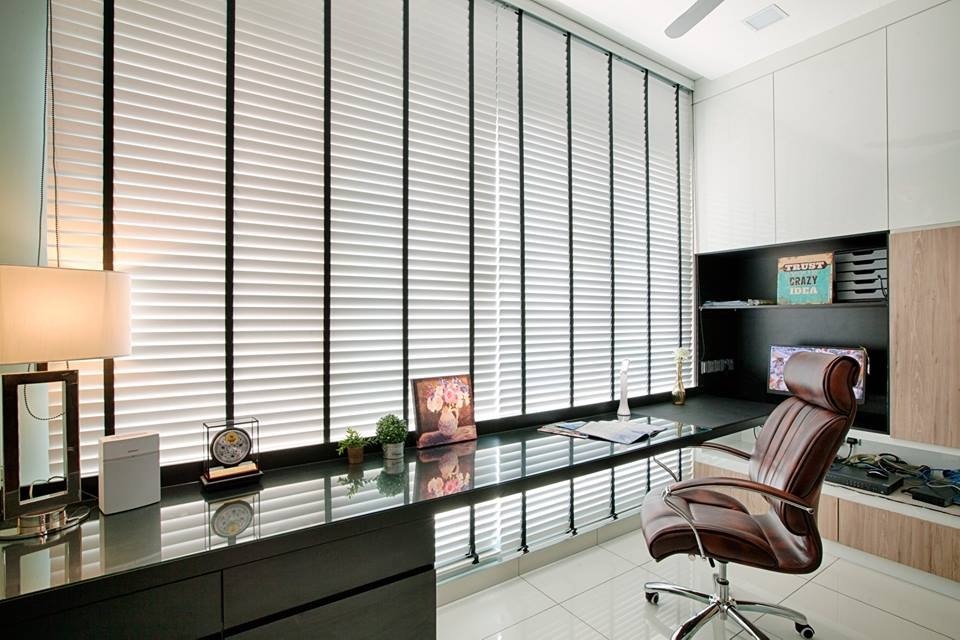 This modern home office has a long black desk that goes all along the wall, topped with a glass cover. It's even facing the window so you can look up and enjoy the view for a break. If it's too bright and sunny, there's always the option to bring down the blinds. There are also cabinets and open shelving options for storage, making it the perfect work-from-home set-up, that feels like a five-star hotel room.
Create your own productive work-from-home space
Have you been inspired to create your dream study room and home office? If you've decided on what you want and what you need in your space it's time to find the right professionals to help bring it to life.
Recommend.my is the #1 home and local services platform in Malaysia, to help homeowners and tenants alike find professionals to help maintain or build their dream homes. Find the right interior designer or contractor to help make your vision a reality.