Add bronze, copper, brass and other metallics for a warm look in your home.
There are many ways that you can be creative with metallics for your home interior. If you would like to update your home, by adding a touch of metallics element to your home can instantly brighten up the place and look elegant. There are many ways you can have that extra boost of glam for your home. Hence, here's how you can incorporate metallics to your home with just 13 ways that you can never go wrong with.
Get quotes for interior designers in Malaysia
At Recommend.my we provide you professional interior designers. Submit a request and
tell us your requirements
 and the professional interior designer will be in touch with you.
1. Brass stools for your bar counter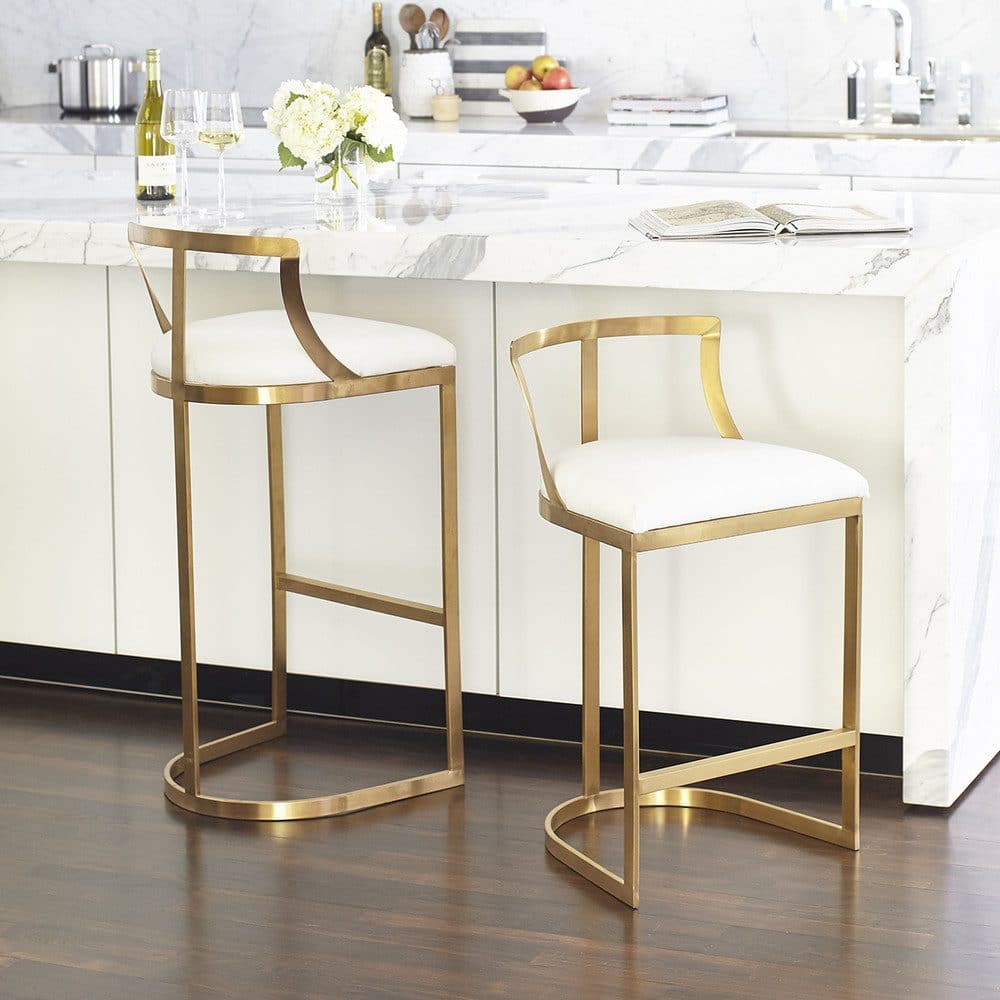 Source: wisteria.com
Curious to know how to use metallics in your home? Whether it be your kitchen that is with multiple different colours, adding this bar stools in brass is a brilliant idea as it brings elegance to your home. These brass stools can really make a strong statement in your home. Hence, you can never go wrong with such metallics. With this bar stools at your bar counter, get ready to receive many compliments by your guest.
2. Metallic bathroom shower faucet and shower heads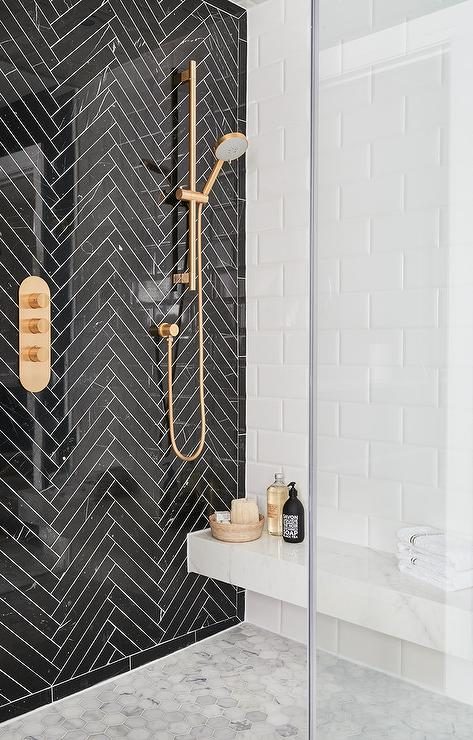 Source: decorpad.com
Have you ever thought of the idea to update your bathroom? Adding a touch of copper in your bathroom is the new modern trend these days. One great thing about copper is that it complements very well with other colours like black, grey or even marble tiles. It's an added contrast that can instantly bring your bathroom into a whole new level. Interestingly, you can customise your own shower faucets and shower head. So, get inspired today with the ultimate look of copper in your home.
3. Copper-lined kitchen stand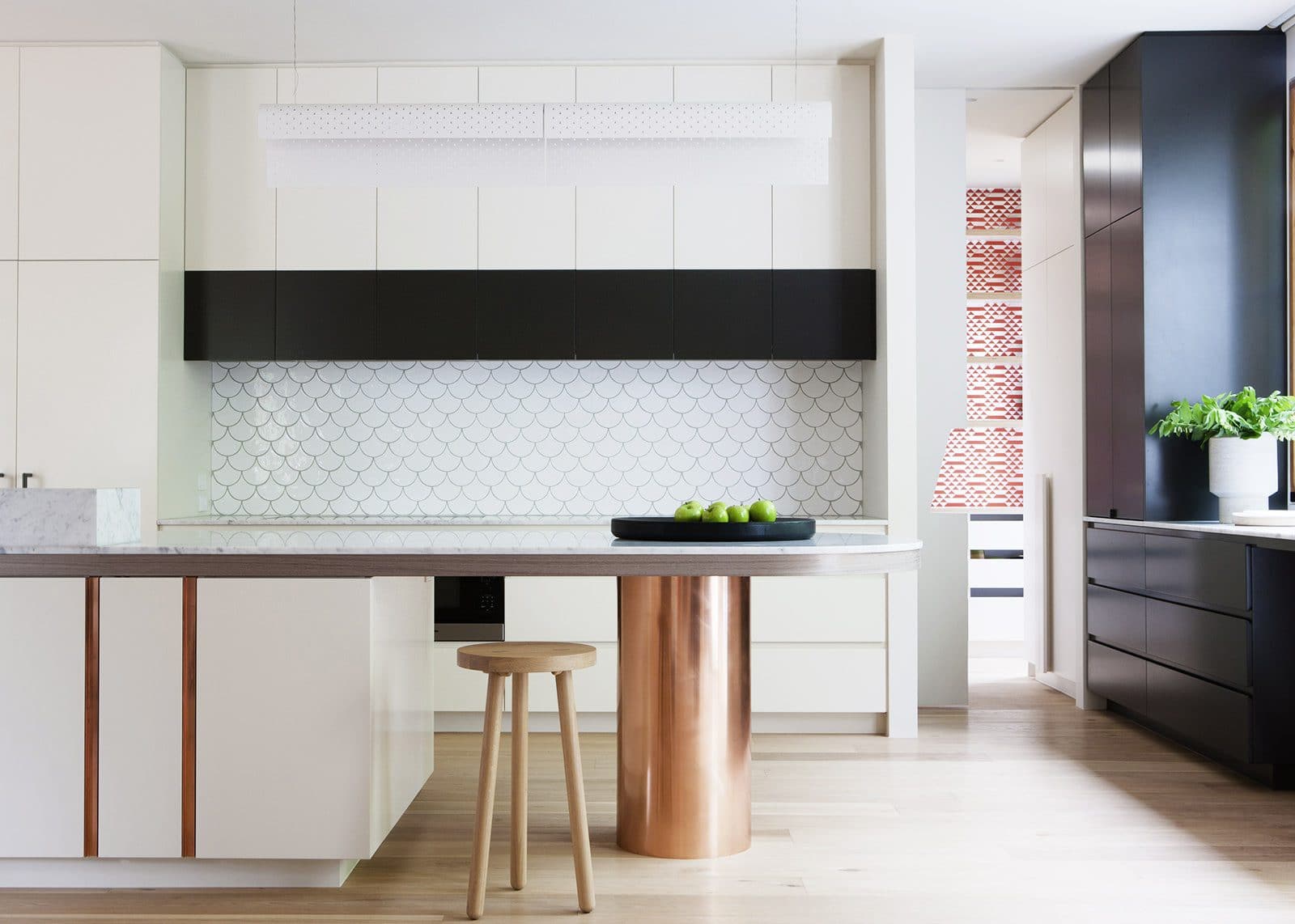 Source: fionalynch.com.au
Another unique way to make your kitchen stand out is by adding a copper-lined and kitchen stand at your island table. This design is truly one of a kind because of its colour and shape. With such design, it blends in very well with all white kitchen cabinets. Without a doubt, copper pretty much goes with everything and is a great way to glam things up in your home and it's so easy to match.
4. Rustic utilitarian shelf.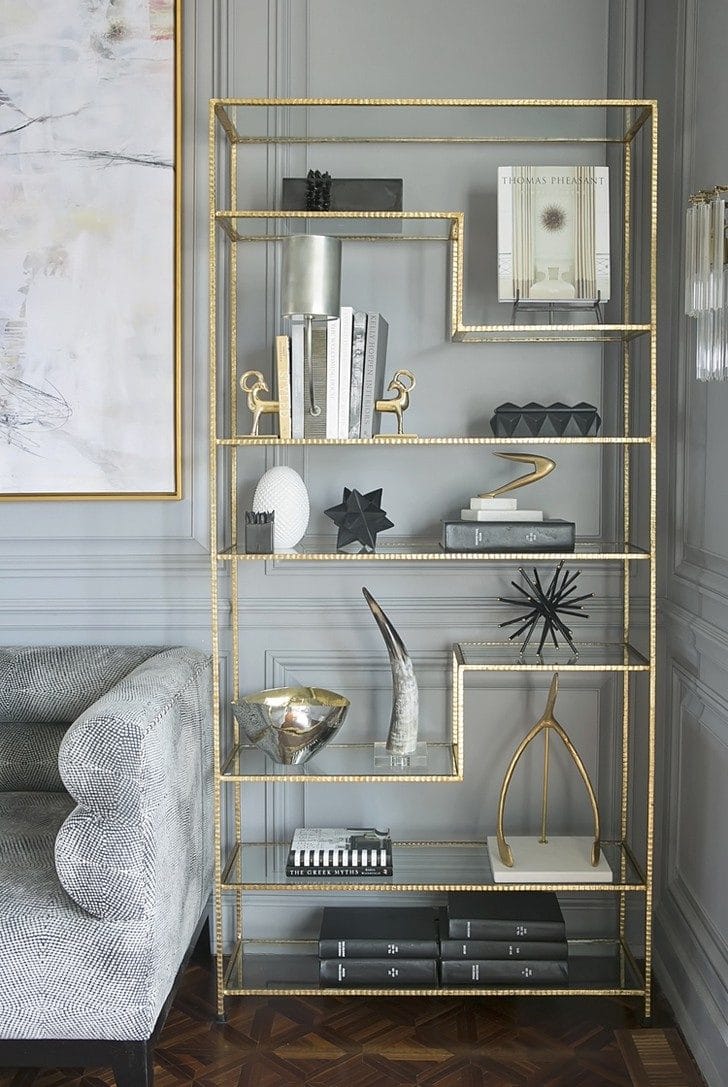 Source: pufikhomes.com
Talk about industrial chic, this rustic utilitarian display shelf is a perfect shelf that can help display all your decorative items. This type of shelves can be easily paired with grey, black, white and brown furnitures. With an accent of gold, it's going to give your living hall a touch of classiness.
5. Metallic Room divider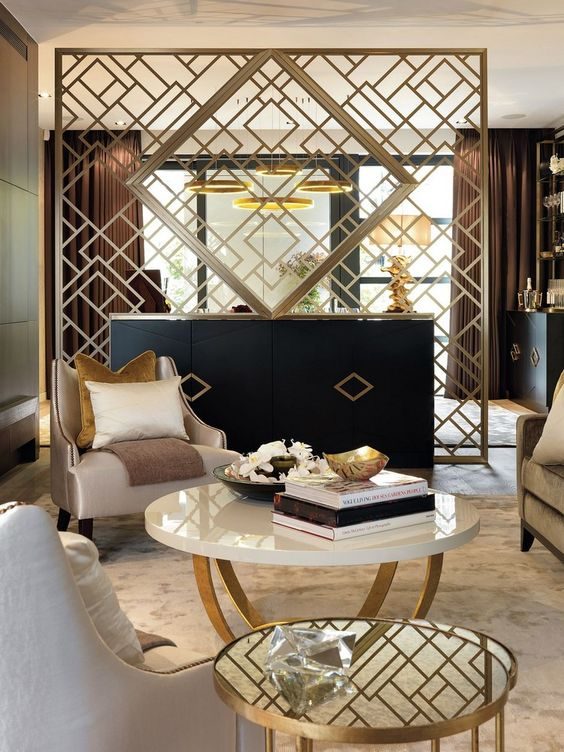 Source: homeinspirationideas.net
Do you love open concept dividers? This unique metallic room divider is the easiest option for instant glamour when placed at the living hall. It goes well with any colours that comes to your mind, perhaps anything black, brown, white and gold. Having this metal room divider will surely be loved by many because of its special look.
6. Wall art and trim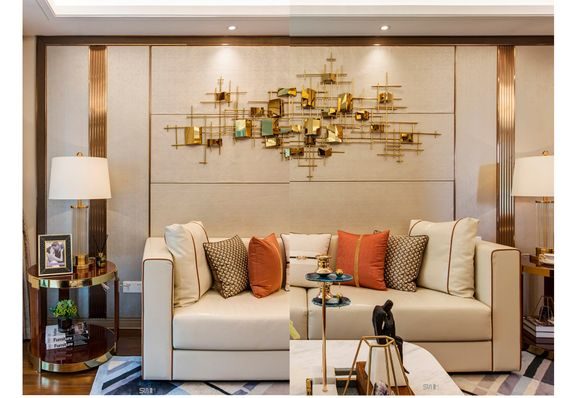 Source:  i.pinimg.com
These type of wall art and trim is like a mixture of modern and traditional that can be added in your living space. Not to forget, this wall art and trim makes your space less boring as the copper colour really stands out the most. If you are someone who is bold enough, then this design might have sparked your interests.
7. Metallic kitchen cabinet fronts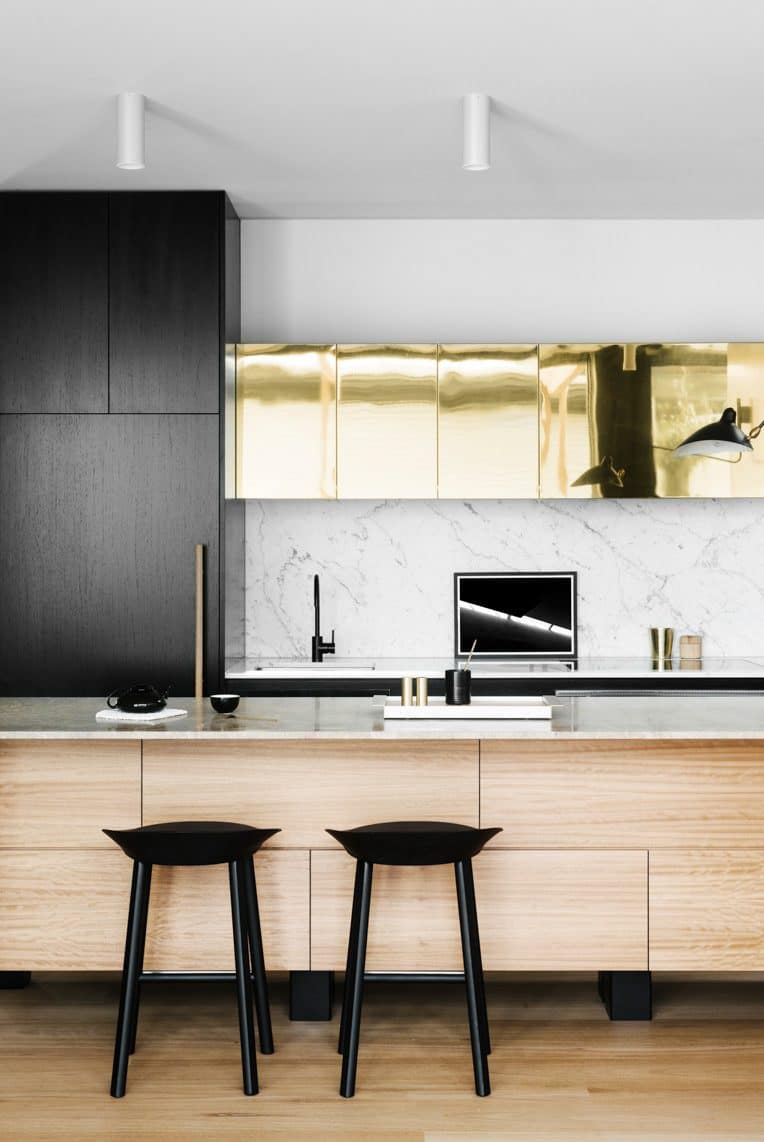 Source: fionalynch.com.au
Can I just say how amazing this metallic kitchen cabinet front looks? It's probably the most unique kind of gold element that you can do for your home interior. This metallic kitchen cabinet is easily paired with marble, wood and black furnitures as gold itself is a very flexible colour that you can play around with for your home.
8. Copper sink and tap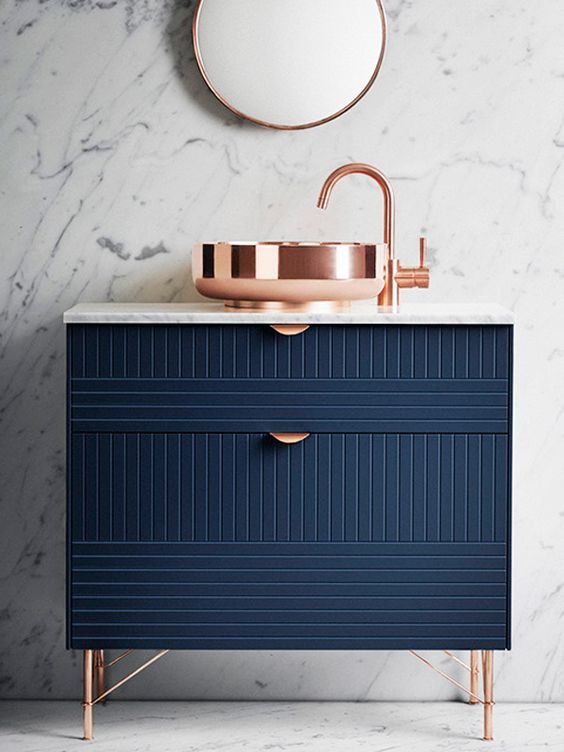 Source: thouswell.com
This unique feature bathroom sink does make your morning more exciting by just looking at how beautiful this copper sink and tap is. Copper has been the hottest trend these days that is admired by many as it's your perfect go-to sink option would be this because of its outstanding color and that it blends in well with anything such as marble and navy blue under sink storage.
9. Metallic pendant lights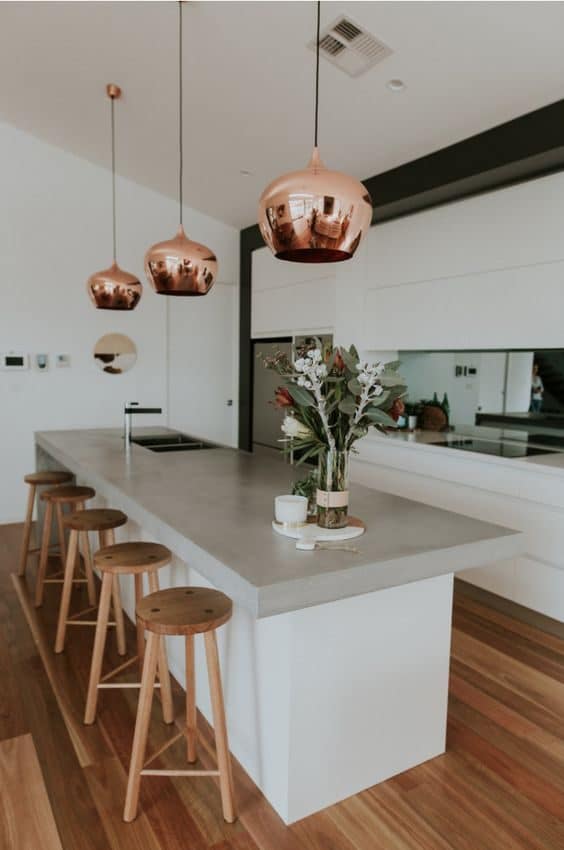 Source: stylecurator.com.au
This copper pendant light has great shine that can be added to your kitchen as it gives a vibrant look to it. Likewise, this copper pendant light is commonly used by many because it can be easily paired with any kitchen design that you have in mind. If you are somewhat a contemporary enthusiast, then this will be a good choice for you.
10. Copper kitchen countertop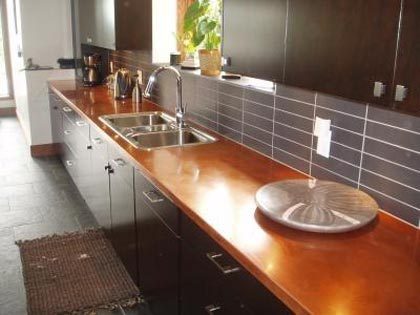 Source: thekitchn.com
Copper countertop in the kitchen is known as a living surface which means it reacts to acid. Overtime, because of the acid reaction, the colour of the countertop will change into a more distinct brown and red colour combination but certain people loves the distressed look it gives. Overall, it is a good look for the kitchen because of its uniqueness.
11. Painted mirror frame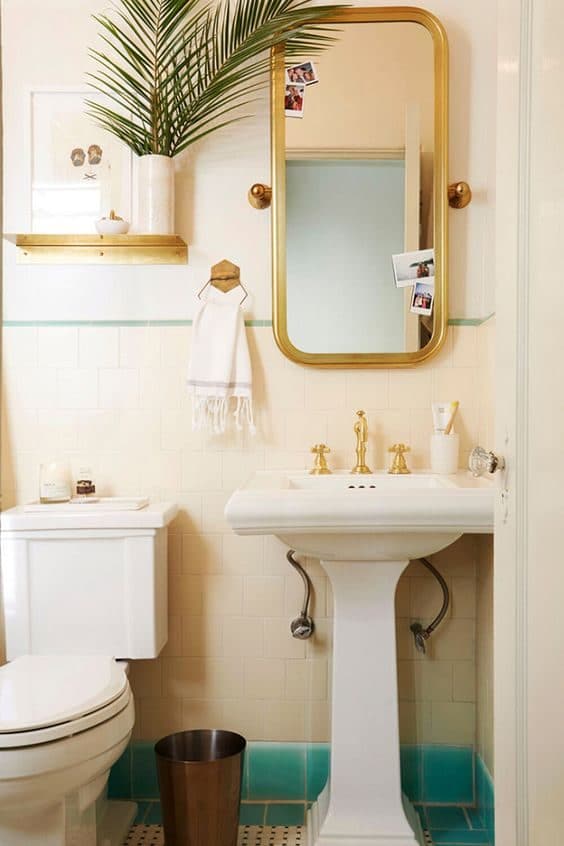 Source: mydonmaine.com
Everyone loves a good mirror in your personal space which is simply the bathroom. The idea of having a painted mirror frame is brilliant as it's more modern and beautiful. In the same way, in a very secluded space like the bathroom, you might want to put a bigger mirror as it helps opens up the space better. Hence, this gold painted mirror frame is the centerpiece of the bathroom because of its modern look that it gives.
12. Metallic use for Open shelves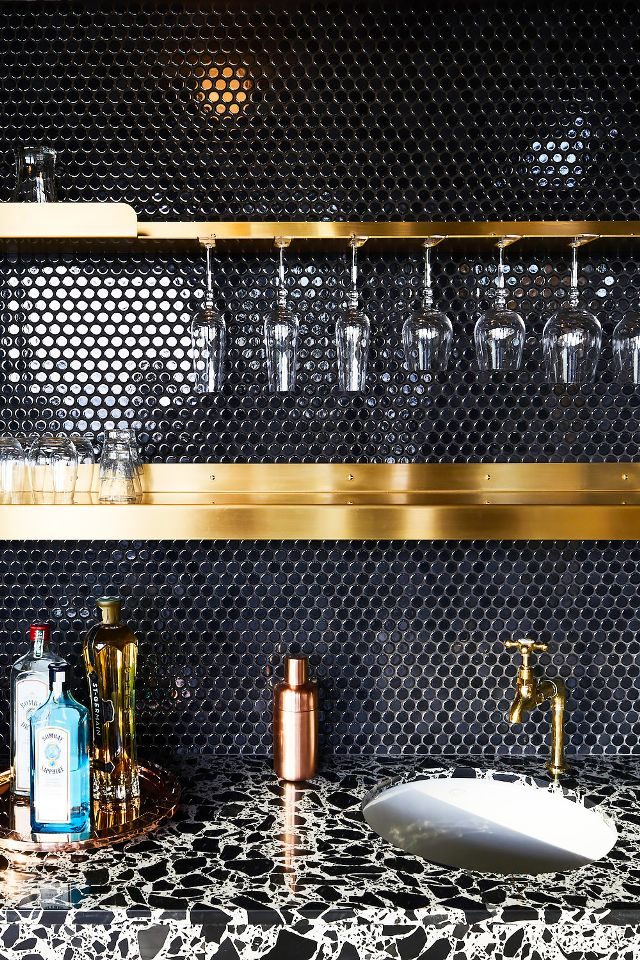 Source:  mydomaine.com
Instead of upper cabinets for your kitchen, an open shelving is a great way to give you that bar feel where you can display cookwares and fancy plates. If you want to open up the space in the kitchen, the open shelves can help make your kitchen space 5 times larger than it is. This timeless piece can make your kitchen look stunning with that added contrast, paired with the black backsplash and you will have a visually interesting texture.
13. Kitchen backsplash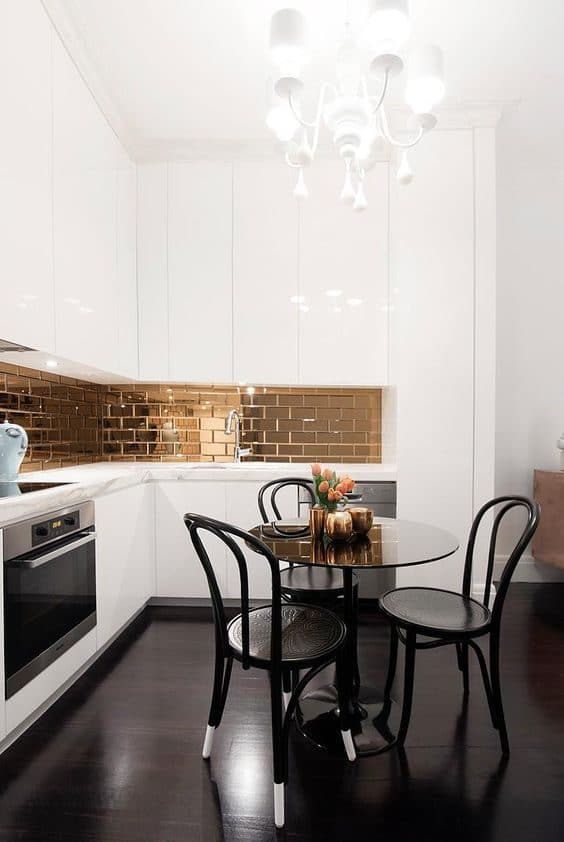 Source: yevettephilips.com
Another great way to make your kitchen look special is to try this copper kitchen backsplash that not many people would have in their home. It definitely gives an elegant look and a great contrast to the entire kitchen. For instance, what makes this backsplash special is that it can lend a high-end aspect to the kitchen.
Recommend.my connects you with professional interior designers
All in all, metallics is a fun colour to play around with for your home.  Whether if it's contemporary, minimal, or traditional, you can still be creative on how to use metallics for your home interiors. Talk to our interior designer to get more recommendations. We have over 10,000 pros in Malaysia. Submit a request on Recommend.my now!