Want a kitchen island? You've seen them in magazines and interior design shows, and they make the kitchen look great. If the kitchen space in your new home is big enough, why not have one installed?
If you are keen to install a kitchen island, here is a list of things you should know about them, along with some examples of kitchen island designs from homes in Malaysia.
What is a kitchen island?
A kitchen island is a free-standing piece of countertop space. It is meant to provide additional workspace to existing kitchen cabinets. Whether you have straight, galley, L-shaped or U-shaped kitchen cabinets, a kitchen island is normally separated from the cabinets and placed in the middle of the room.
Need price estimate? Try our kitchen cabinet price calculator
Why do I need a kitchen island?
A kitchen island adds versatility to any kitchen. For example, you can use the extra counter space to prepare food, or add a sink for washing up. You can also add seats on one side and use it as a bar counter to serve food, chat and entertain guests. You can even add a cooking hob and pretend you are on a food show. The area below the kitchen island counter also gives you lots of additional cabinet space.
With so much functionality, many homeowners love the idea of having a kitchen island and the storage it provides. Designed properly, it can improve the overall look and feel of the kitchen.
What is the normal size and height of a kitchen island?
Height: The average height of a kitchen island is 90cm; the same as your kitchen cabinets. Generally, manufacturers will build the island frame at 88 cm height. The kitchen counter will add about 2 cm, but this will vary depending on whether it is made of a thick hardwood (butcher's block), granite, quartz or solid surface.
Width and length: Kitchen island dimensions generally start at 2m width by 1m depth. However, the actual dimensions will depend on the size of your kitchen. Some larger kitchens will even create an L-shaped or U-shaped kitchen island.
Where to find recommended kitchen contractors in Malaysia?
Recommend.my has listed over a thousand interior designers, kitchen experts and renovation pros across Malaysia, complete with project photos and customer reviews. If you need quotes for your kitchen project, you can submit your requirements and contact details using our online form. It just takes a minute of your time!
Renovating your kitchen?
We have over 700 verified kitchen experts ready to discuss your project. Tell us about your home and we will recommend a few pros to contact you.
Here are some of the latest kitchen islands designs created by our contractors on Recommend.my:
1. Condominium in Casa Tropicana
With luxurious, thick marble countertops and a long marble island, this kitchen is split to wet and dry areas. The dry kitchen includes a long island that doubles as a dining table. Its lampshade style overhead lights add a touch of softness to the room. The kitchen is open to the living room so you can cook and visit with family and friends at the same time.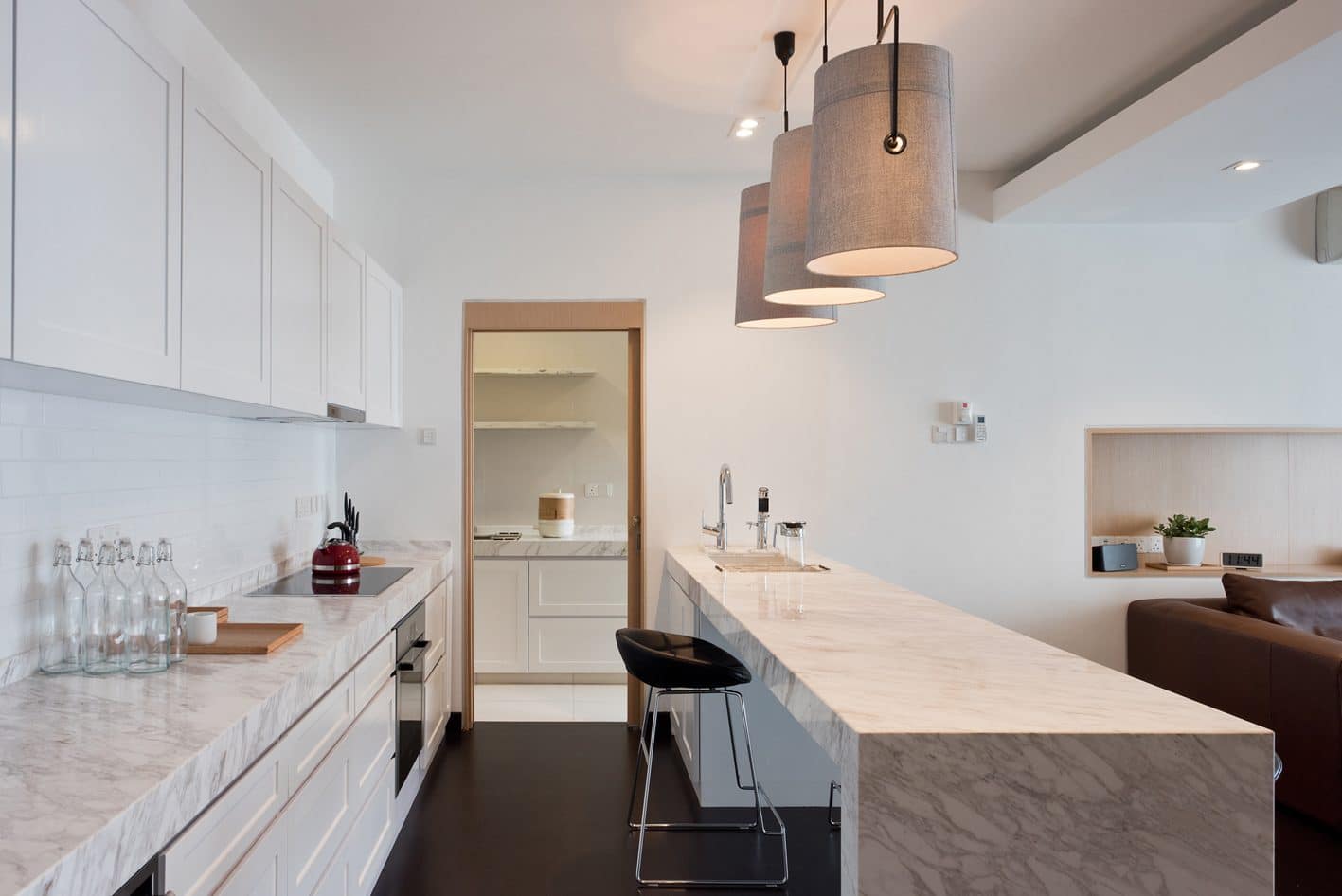 2. Condominium in St Mary Residences, Bukit Bintang
This kitchen island provides ample workspace to prepare food, with the added convenience of a double bowl sink. There is even electrical outlets so you can plug in your blender or food processor. Its unique design repeats the black granite from the cabinet counters, but uses it for all the side panels as well.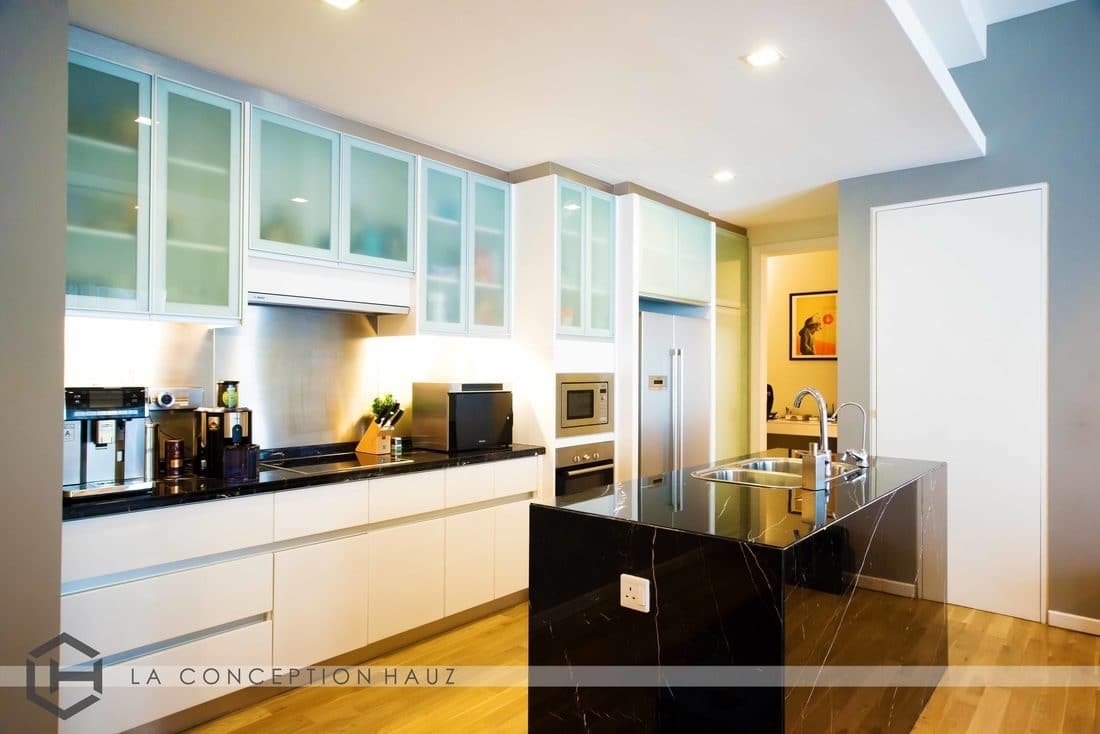 3. Semi Detached House in Ecohill, Semenyih
This kitchen island incorporates plenty of interest by using cement blocks as the structure, then adding a laminate plywood end panel and countertop. It is primarily used as a bar stool sitting area, since the kitchen is already split into wet and dry spaces.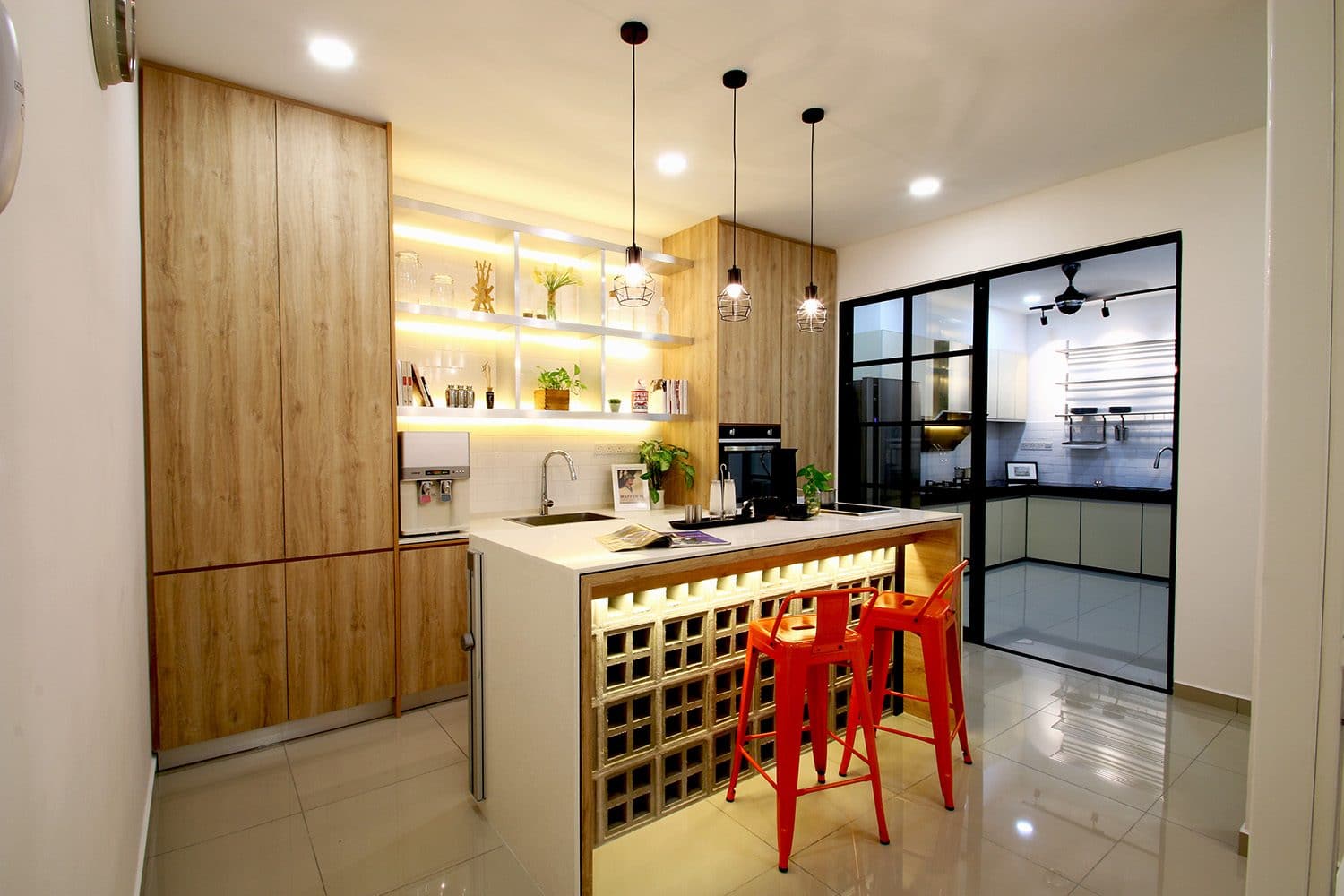 4. Condominium in Cheras
Another kitchen that is split to wet and dry, this kitchen island is cool and clean, yet warm and inviting. It is used purely as a sitting area. With a large black quartz counter that welcomes family and guests to come stay awhile. The ceiling cove lights provide ambient lighting, so the designers install a ceiling fan instead of pendant lights to cool the island area.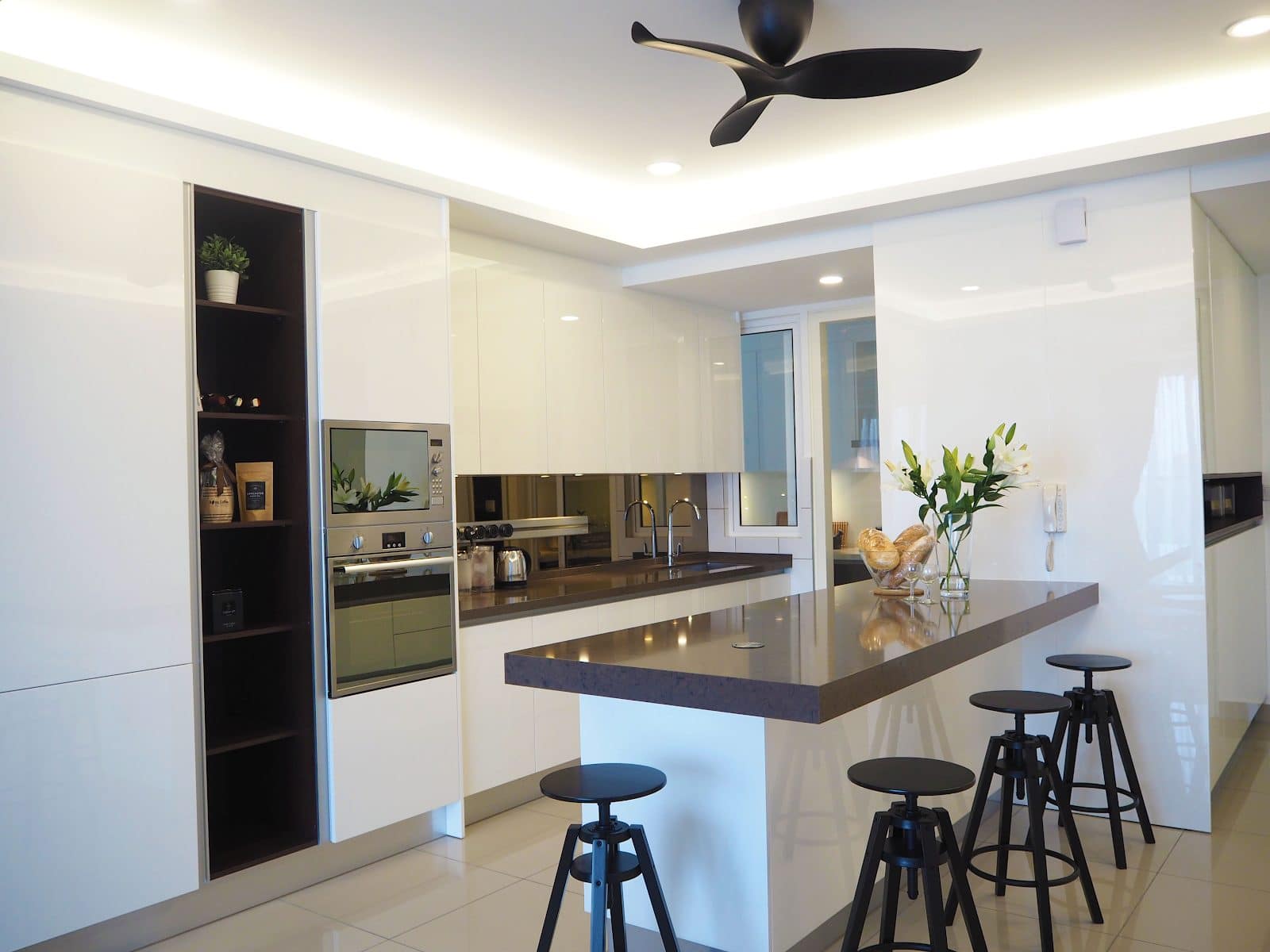 5. Superlink Terrace at Temasya Citra, Glenmarie
Family and friends will feel at home immediately when they step into this kitchen. It is natural, earthy, and warm in the Scandinavian design style. The island provides a wooden workspace for preparing food, or simply sitting with family, as the butcher block counter extends beyond the cabinets on one side leaving room for barstools.  It is a great space for cooking and entertaining.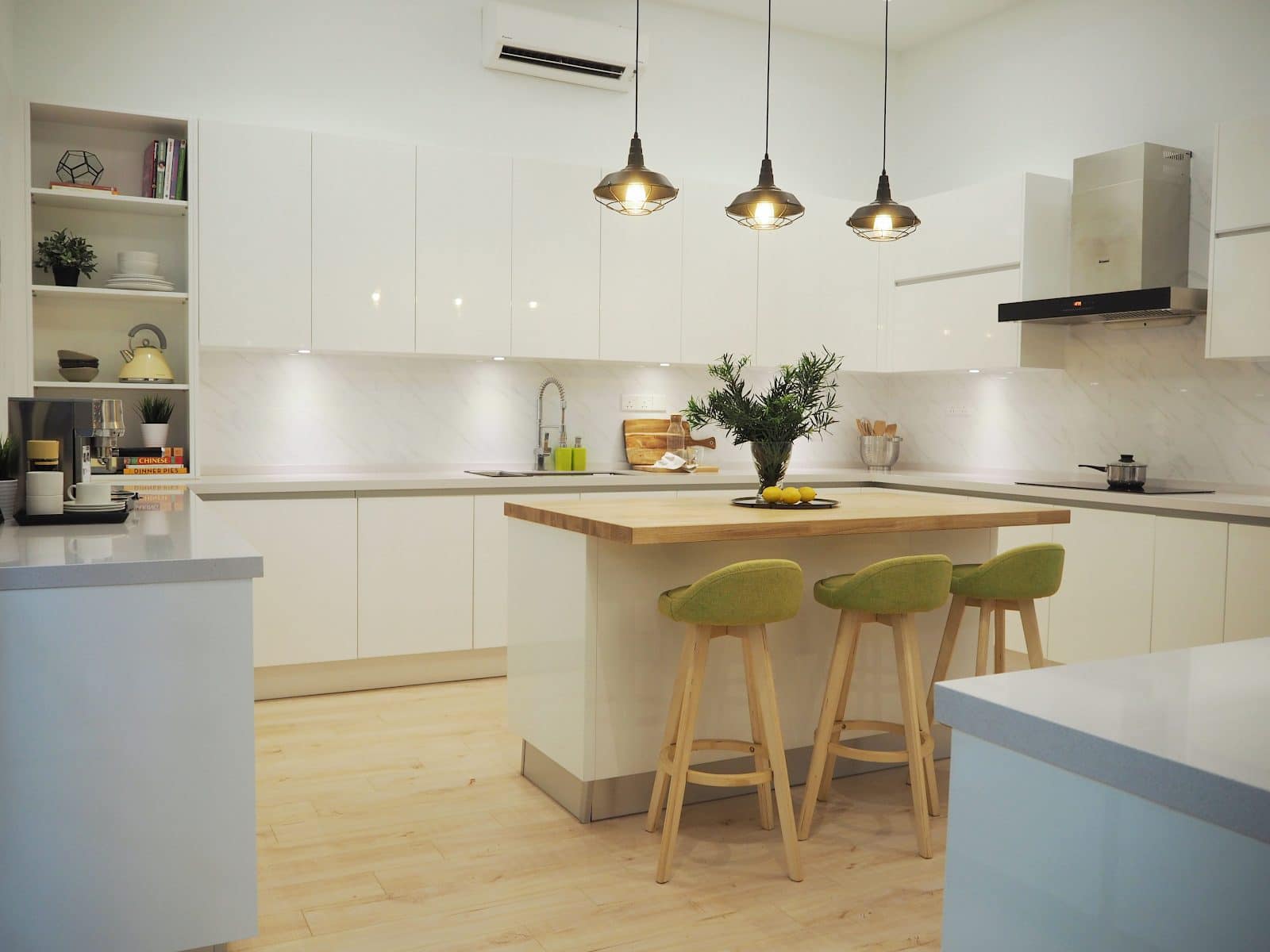 6. Bungalow in Bangsar
This spacious and elegant kitchen includes a solid surface kitchen island with a lower, dark quartz counter attached to it for guests to sit at. The large island leaves plenty of room for kitchen prep work or sitting down to enjoy a meal with family and friends.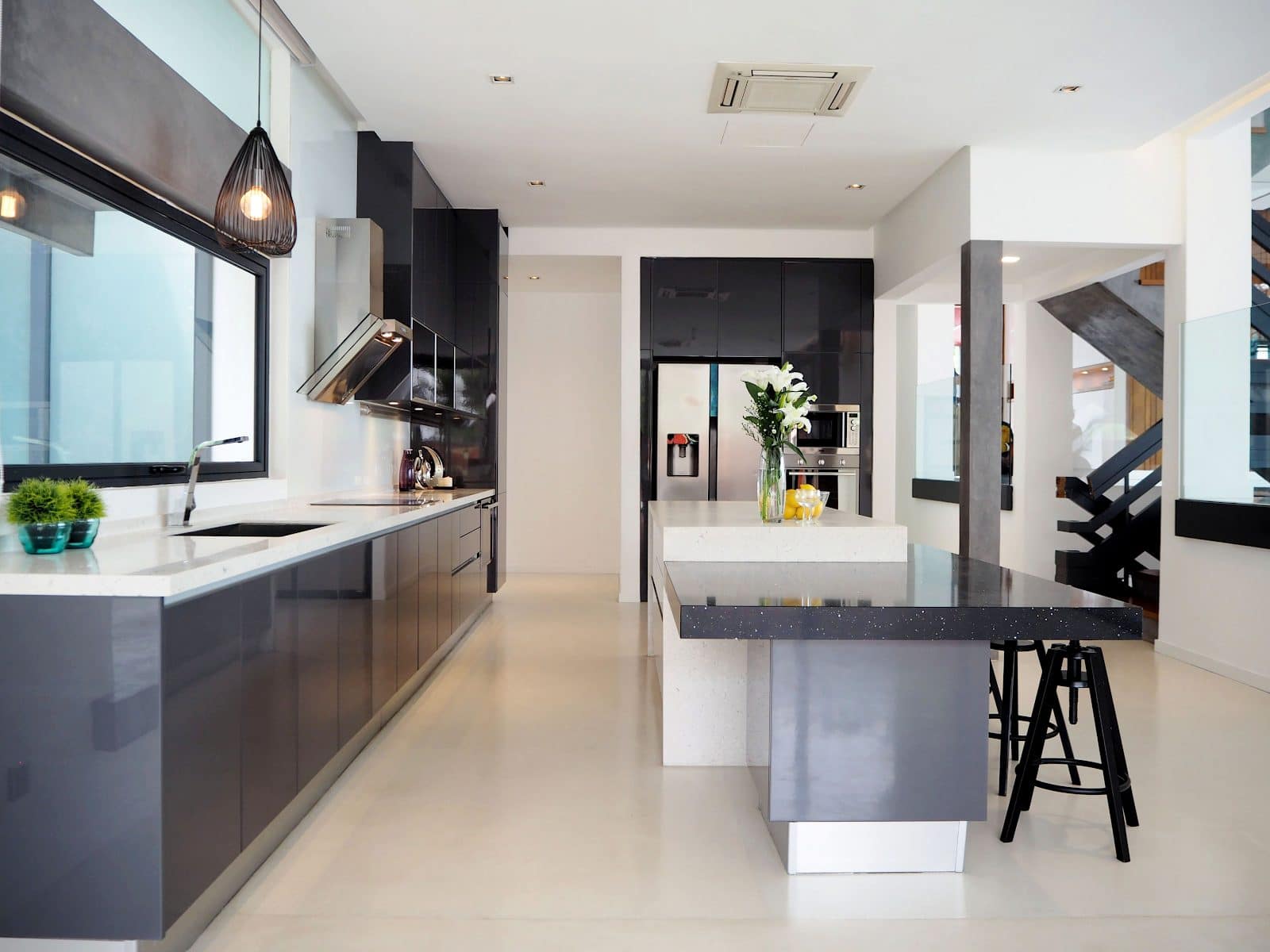 7. Condominium in Vina Residence, Cheras
This kitchen island is pushed against the wall, and provides lots of additional storage space via a set of drawers and two cabinets with chrome-finished pulls. The island counter is done in black granite, with industrial-style pendant lights to complete the look.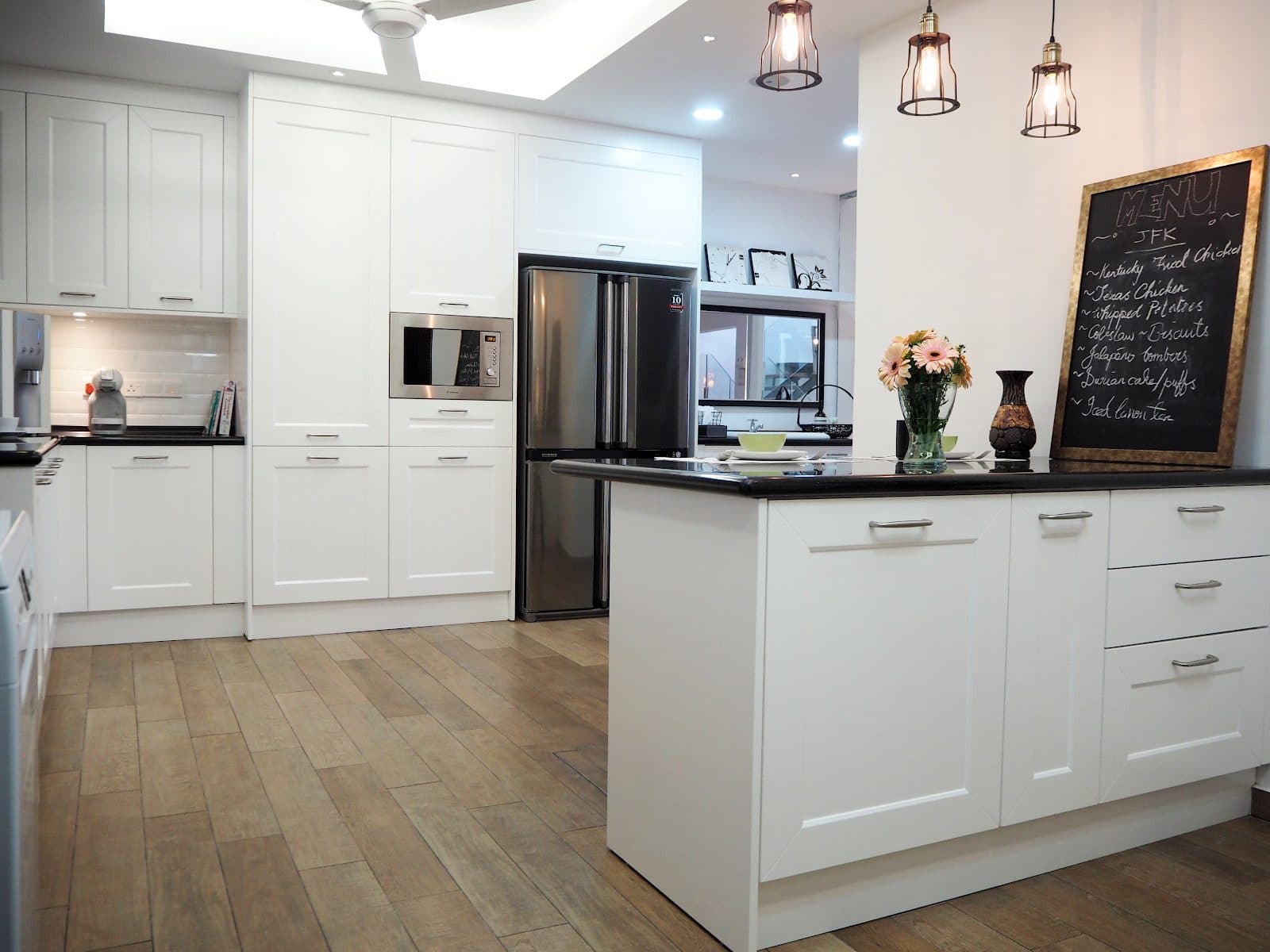 8. Terrace house in Ara Damansara
The kitchen island in this dry kitchen section is made in extra length to provide both storage cabinets and seating area. The designer has also cleverly added track power points so that appliances can be plugged in (or laptops can be charged) when someone is seated there.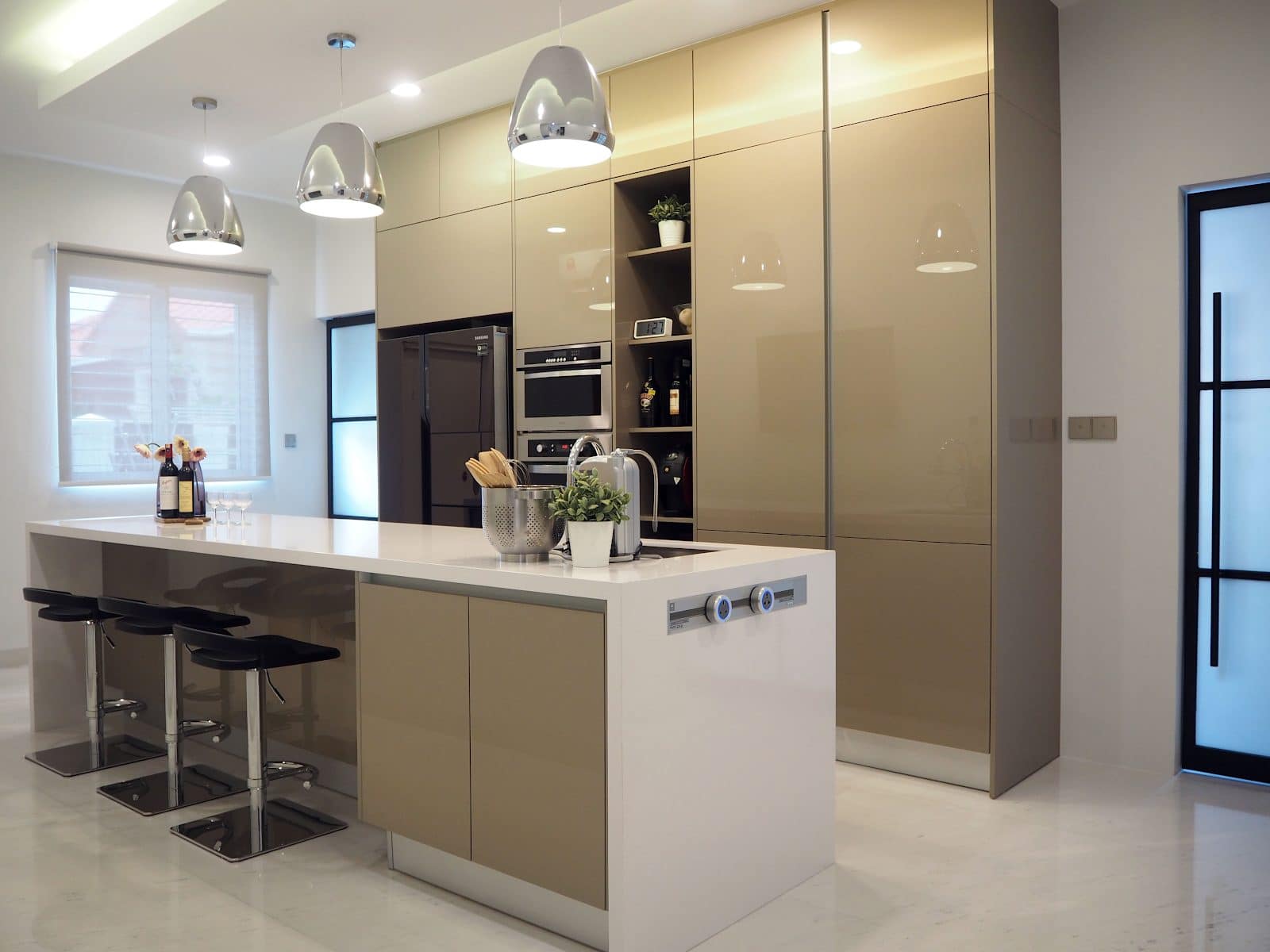 9. Bungalow in Subang Bestari, Subang
This kitchen takes the galley layout to a whole new level of style. It has dramatic lines, built-in appliances, and clean, floor-to-ceiling cabinets. The island is left partially open to allow for a display area and add visual interest.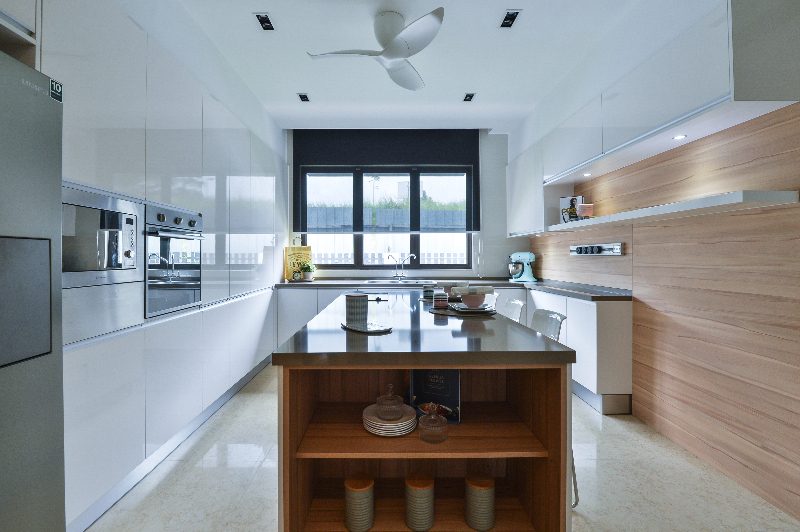 10. Bungalow in Shah Alam
This beautiful stone-and-metal kitchen has a T-shaped island. Along one section, the island is made of black granite that functions as a slim dining table, and the other section is made from white marble, with built-in sink. Clever lighting built into the base of the white section makes the island look as though it is floating.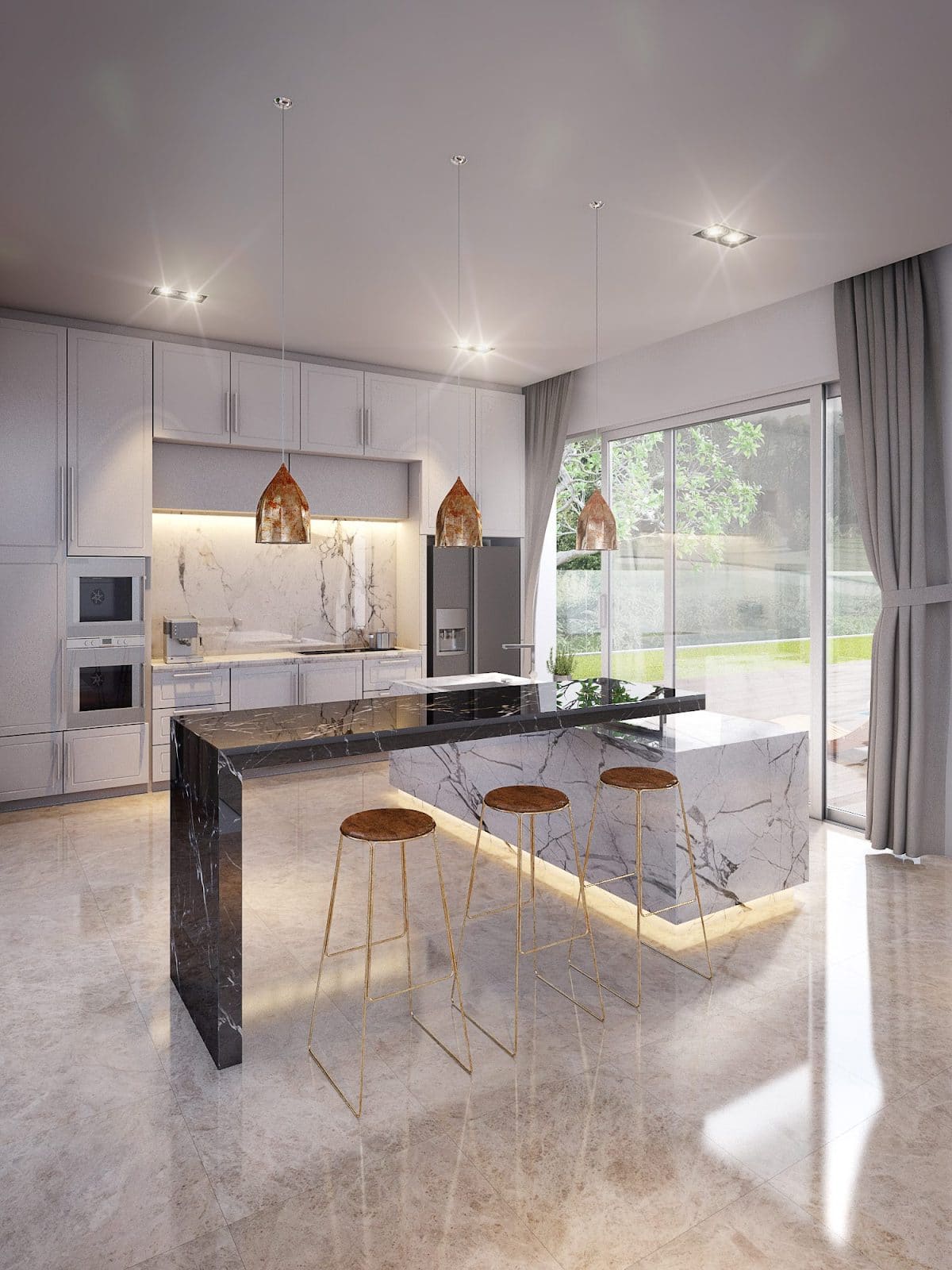 11. Bungalow in Subang Heights
Another luxurious and almost decadent kitchen that looks like it came straight out of a Roman domus. The custom cabinetry doesn't leave a single detail out with beautiful bead trim and a furniture-style large centre island made from natural black granite. A slim length of hardwood has been added to the island to create a seating counter where guests can enjoy a meal.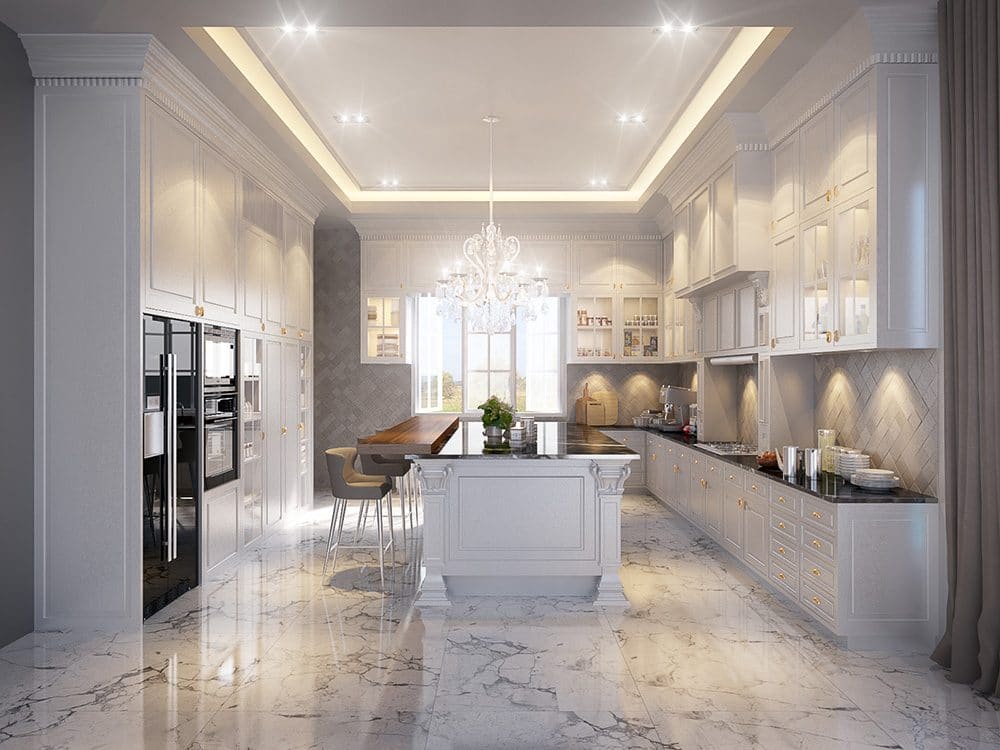 12. Semi-Detached House in Shah Alam
Even in a small kitchen, it's possible to have a kitchen island. This modern kitchen blends neutral and wood tones beautifully for style and function. There is plenty of cabinetry and built-in appliances to effectively utilise all its space. The overhead lighting adds interest and brightness to the centre island.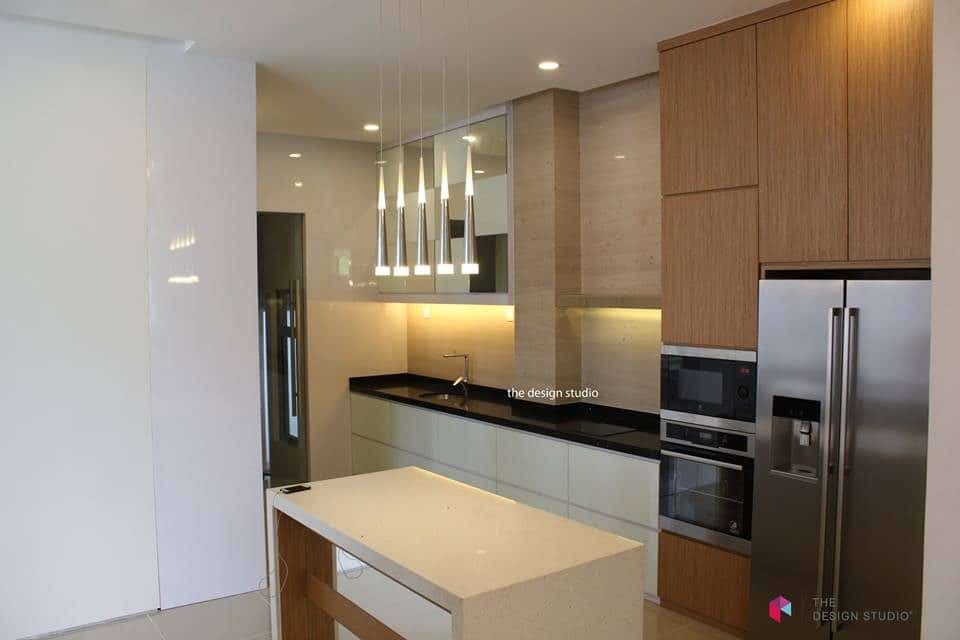 13. Condominium in Serin Cristal Residence, Cyberjaya
This monochrome kitchen island design features soft gray cabinetry with black, wrought iron pulls and stark white quartz counters. Nestled in the island counter is a contrasting statement piece, a black sink. The gas range and range hood are also black and set up against a white, subway tile backsplash.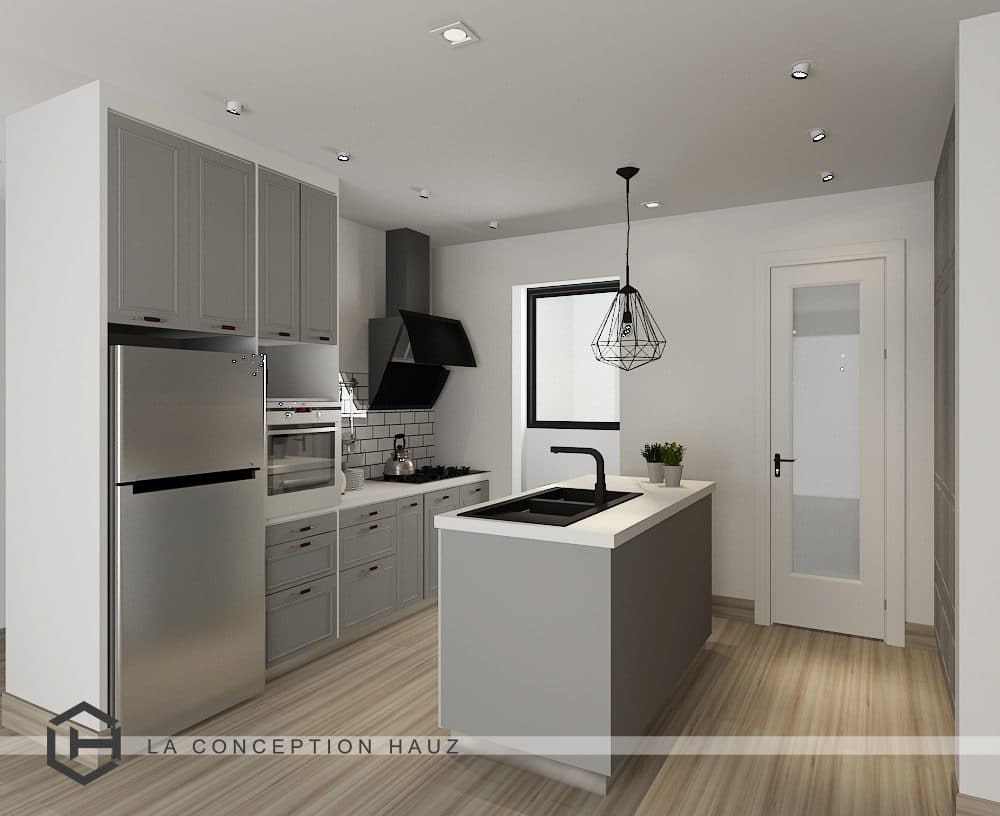 14. Condominium in Ara Damansara
This dry kitchen design features a long island counter that also has a suspended glass display cabinet overhead. The suspended cabinet has built-in lights to illuminate the island, allowing guests to sit and dine in comfort. At both ends of the long kitchen island sit 4G cabinet doors that provide additional storage space.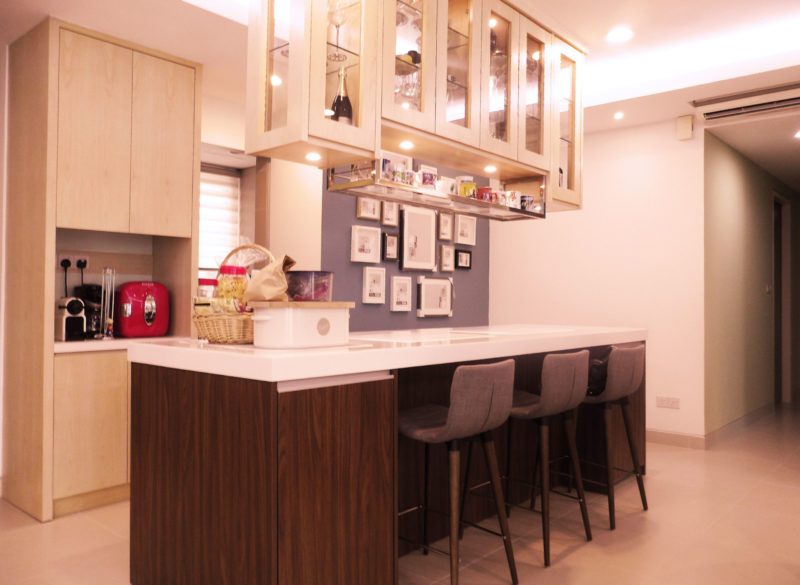 15. Semi-D residence in Sunway Montana
This open kitchen concept is light, bright, and airy. It combines natural and sleek modern elements for a cohesive, unique look. The large kitchen island in the centre has a beautiful white quartz slab counter. It is an ideal space for food prep or social gatherings. The high, white cabinets and three matching overhead lights finish off this bright and open design.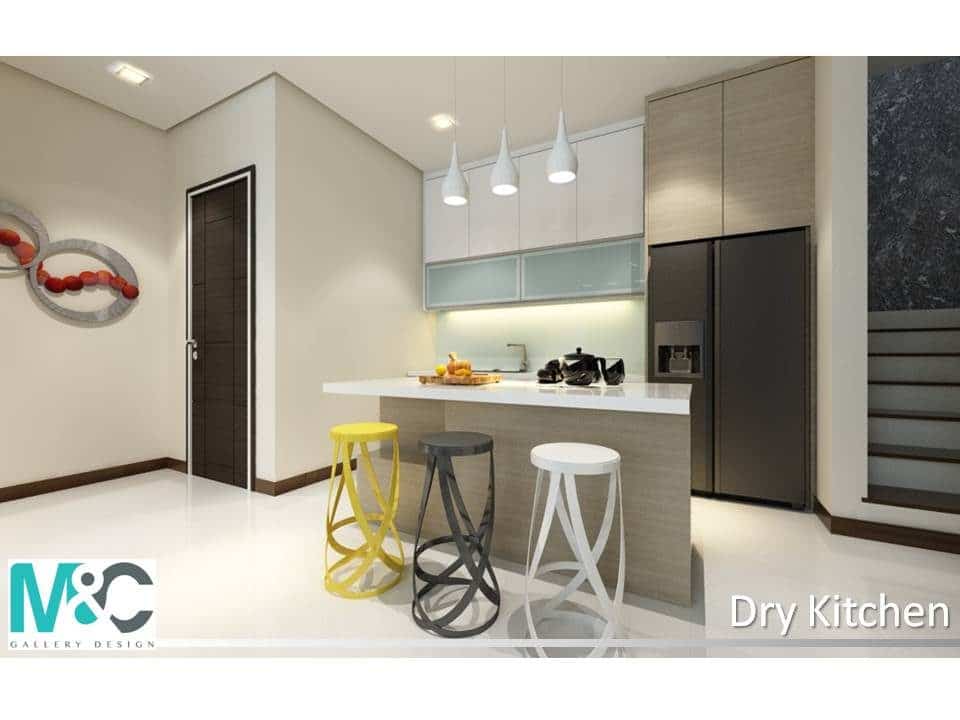 16. Bungalow in Shah Alam
This traditional kitchen look is welcoming and warm. The island provides seating, and the end panels match the cabinet doors. The island countertop is made from marble to match the marble backsplash. Soft, white lighting hangs from the ceiling above for just the right amount of ambience.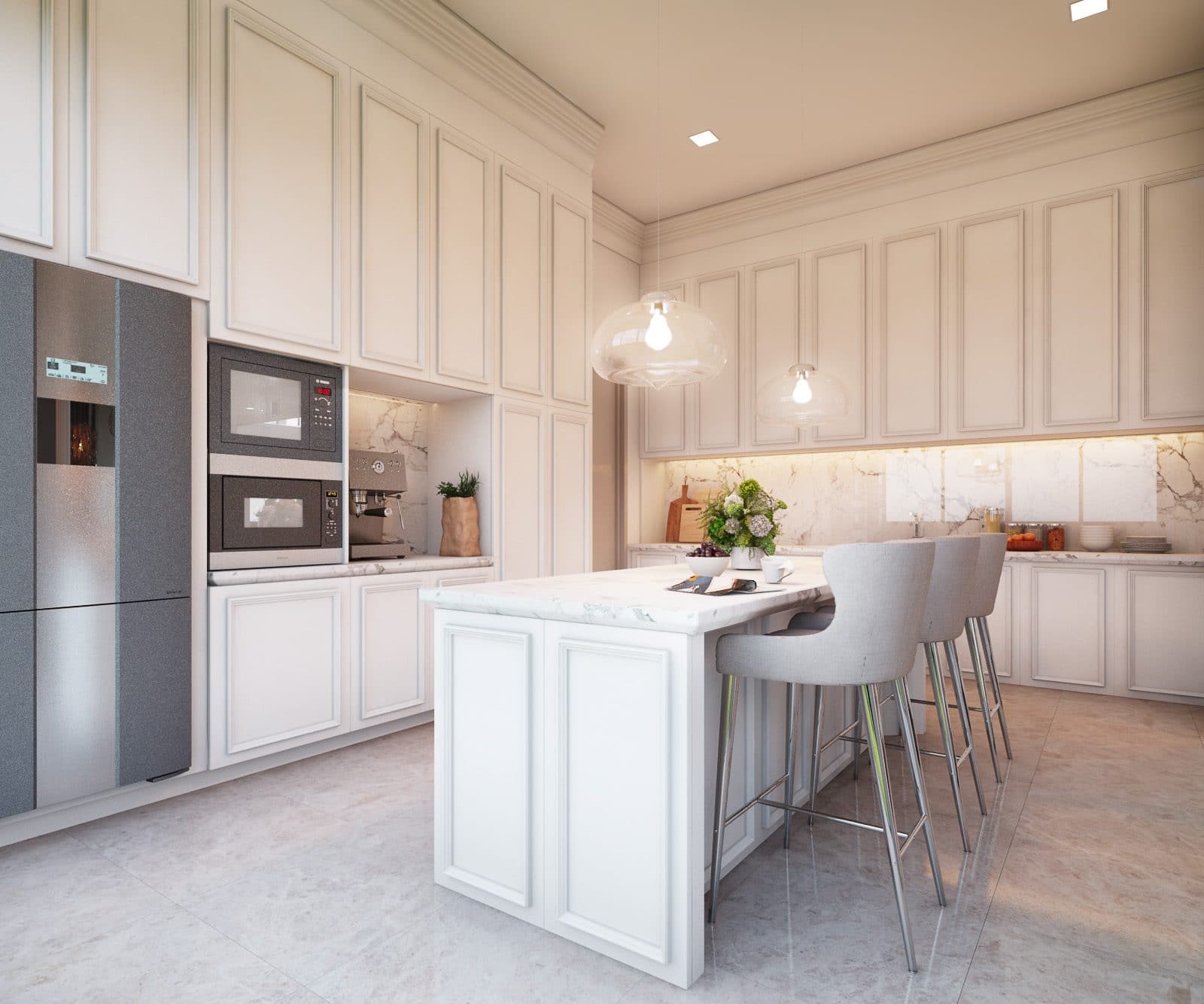 17. Condominium in Cheras
This modern-style galley kitchen combines function with fabulous. The island is large and inviting with a gray stone countertop and ridged end panels. Three black pendant lights hang overhead, and there is a small sink for washing up. The island functions as a natural divider between the kitchen and dining areas so you can visit with family and guests while you cook.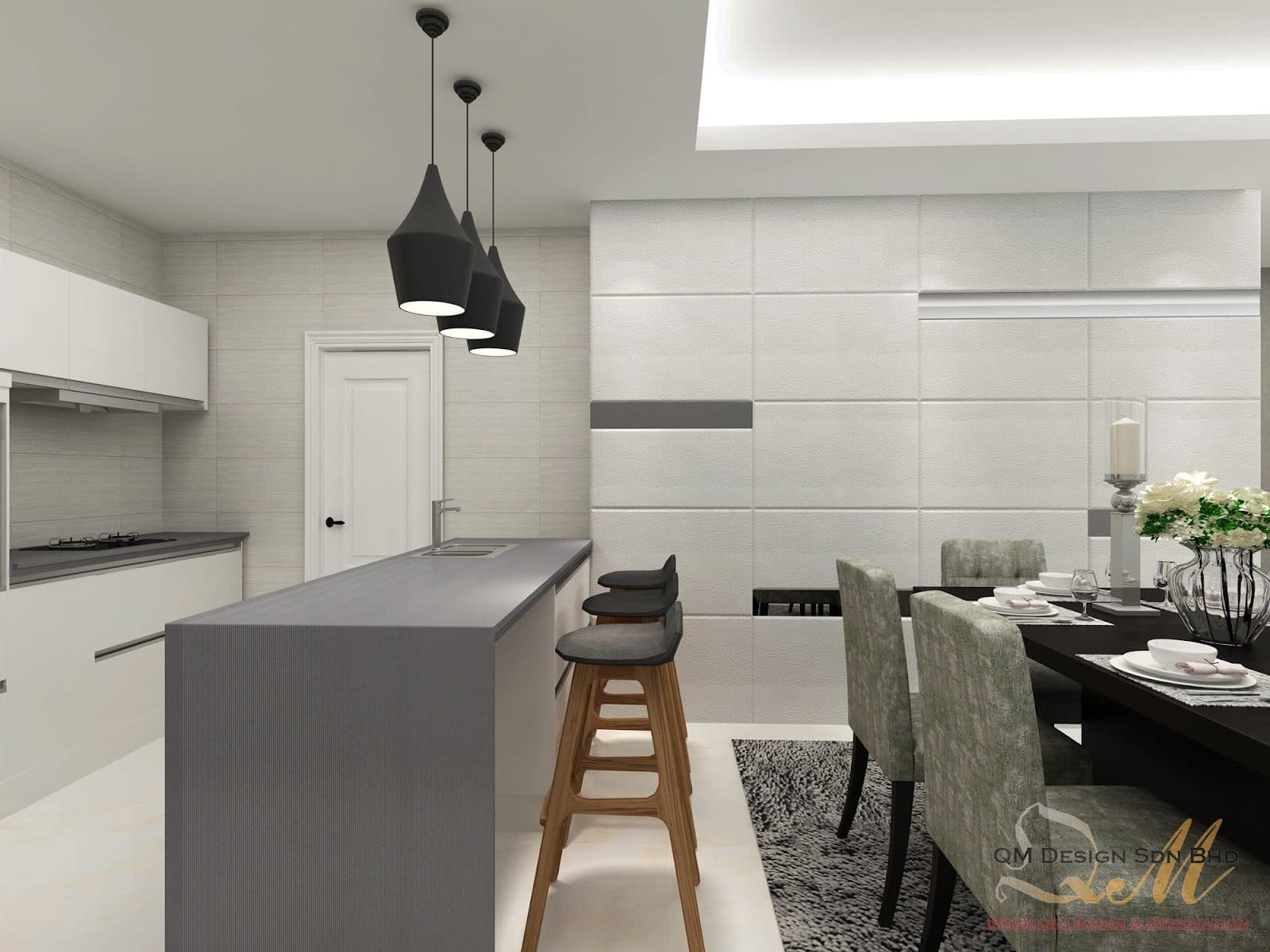 18. Condominium in Mont Kiara
This kitchen design is elegant and luxurious. The white cabinets are dressed with gold pulls and a slab of black granite. The spacious centre island is made of a large marble slab with plenty of room for food prep and seating. The soft gray walls are framed out for added interest. Large natural stone floor tiles complete the look of this beautiful kitchen.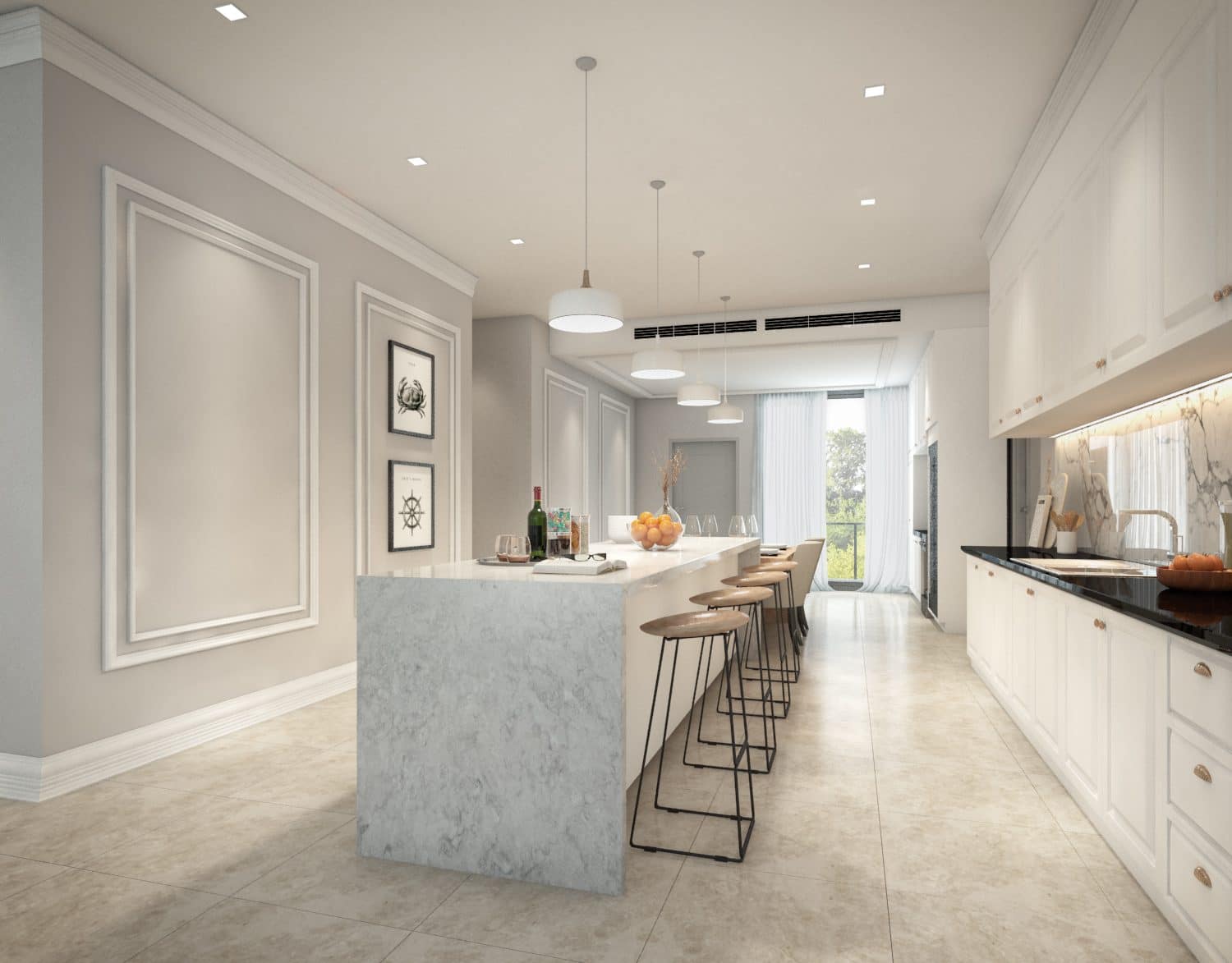 19. Open concept kitchen at Siglap Avenue
This kitchen in Singapore integrates an induction cooker hob into the kitchen island to create a teppanyaki-style dining area. The island frame Incorporates grey stones for a distinct look. A great open-plan kitchen that is airy and spacious enough to throw a party with your friends.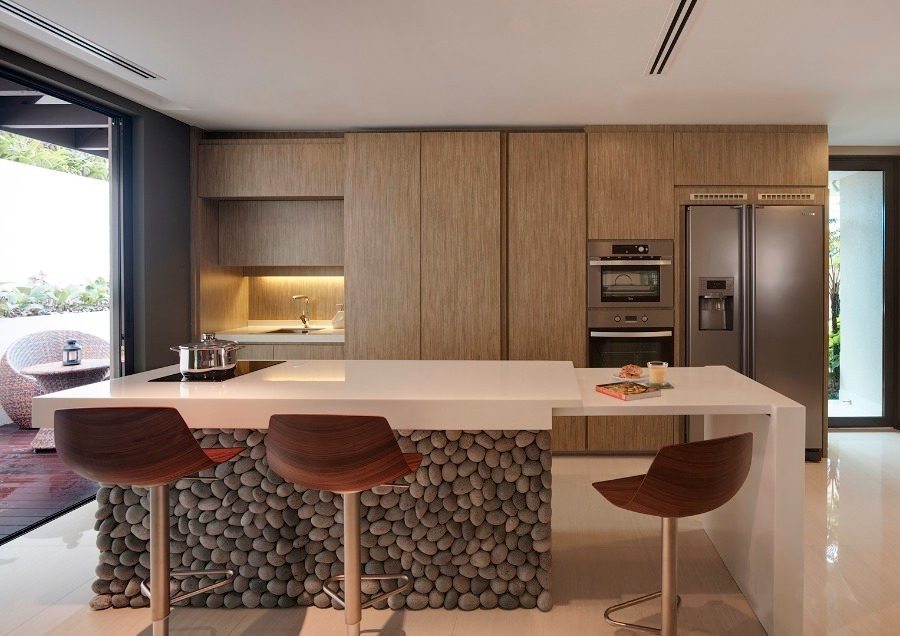 20. Elegant kitchen island design
The modern kitchen uses mirrored cabinet doors and reflective white surfaces to great effect. The square, all-white kitchen island with stone countertop includes a single bowl sink for washing up, and there is also an extension in black quartz that provides seating for four.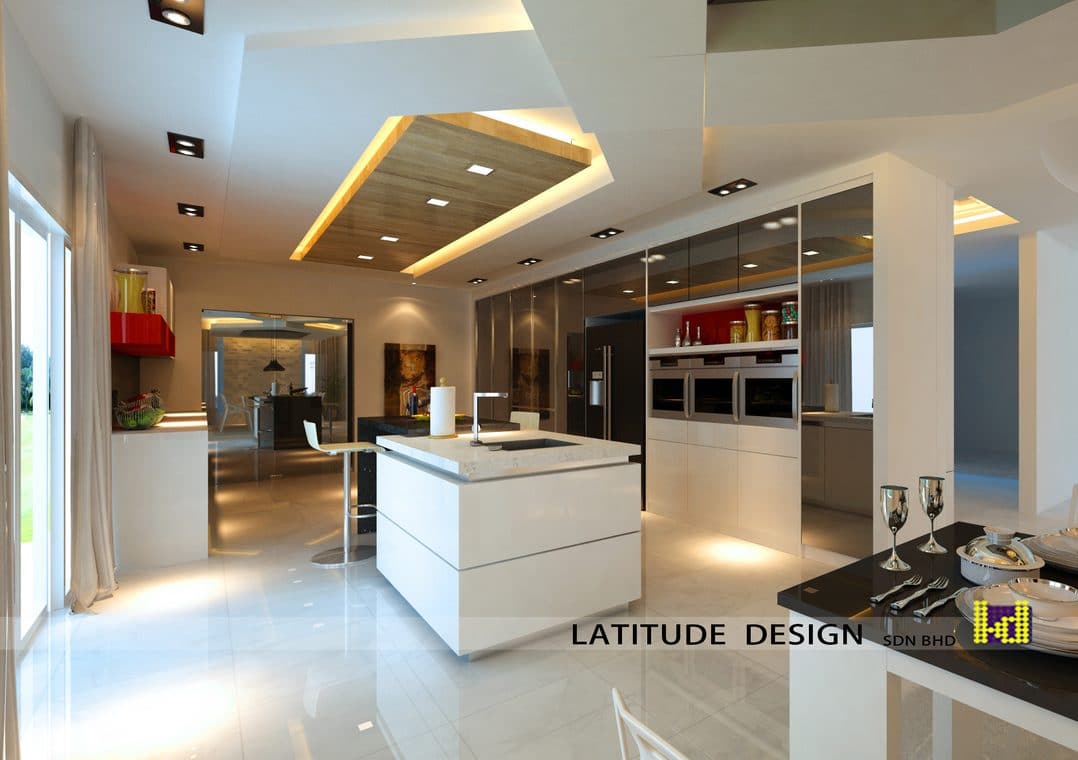 21. Double-storey home at Sunway SPK
Here is a truly functional kitchen island for the budding chef. The island includes a sink, induction cooker, a bar seating section, as well as a cooker hood overhead. Perfect for light cooking.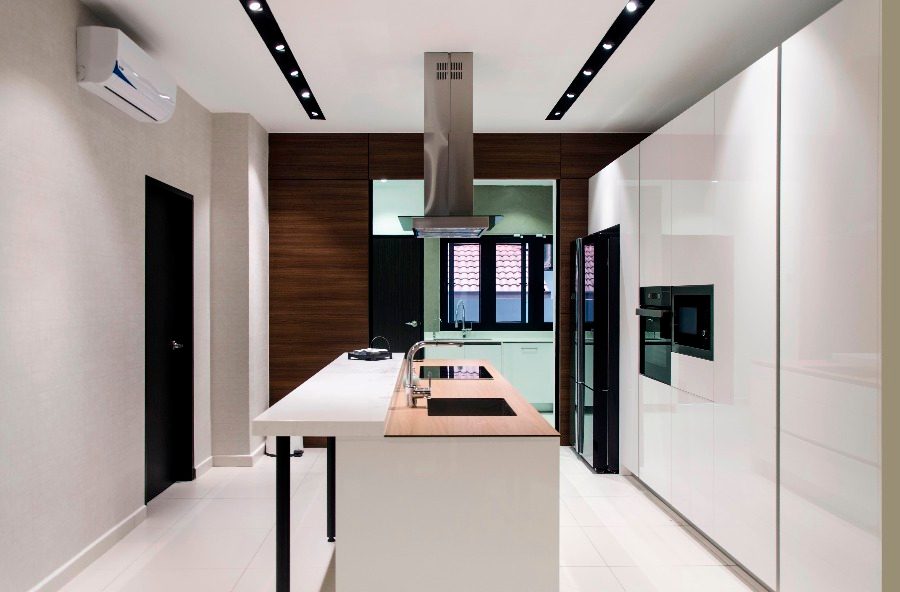 22. Classic English kitchen island
This kitchen island makes a perfect breakfast bar in your home. Black countertops are used across all cabinets, with a unique descending chandelier for added effect.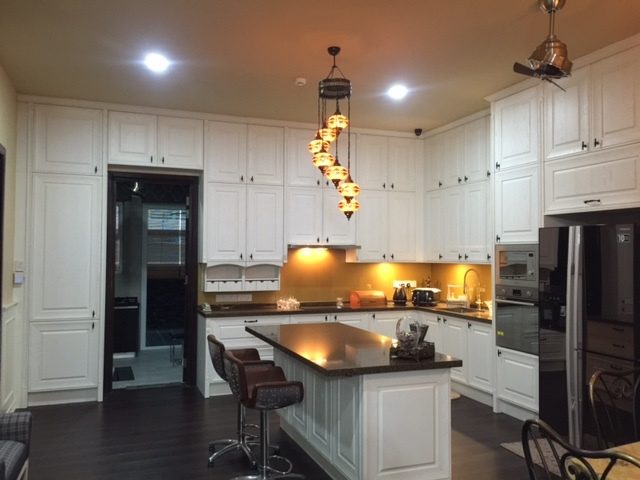 23. Semi-D house in Kiara View, Mont Kiara
This large square kitchen island provides lots of counter space for baking or dining. With a marble stone countertop that extends to the end panels, and wide drawers for added storage.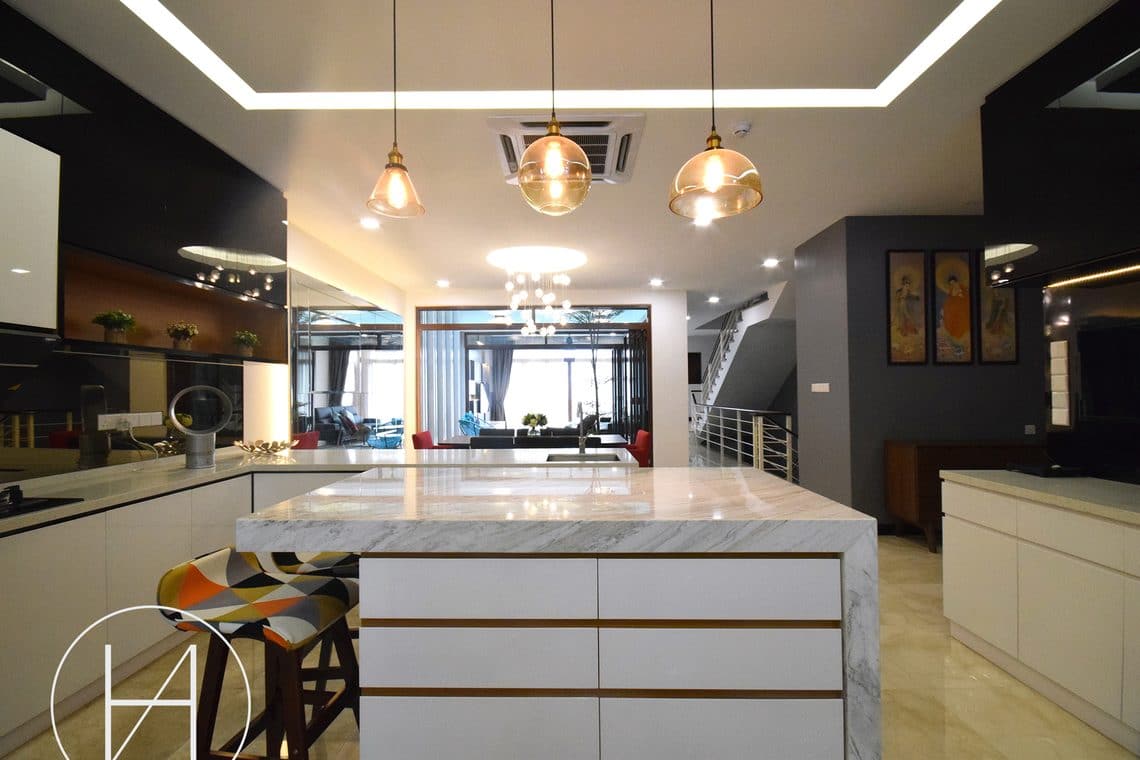 24. Superlink House in Ipoh South Precinct
This dry kitchen has an island with a twist. Clear glass dividers have been added to both sides of the island, with a distinct hexagon design. The island also adds angled lines as a another design feature to its cabinet frame, and the countertop slopes up at one end to house the sink. Those partition glass doors are great to use to divide the wet kitchen. This kitchen island makes a good eating area in your home with added bar stools.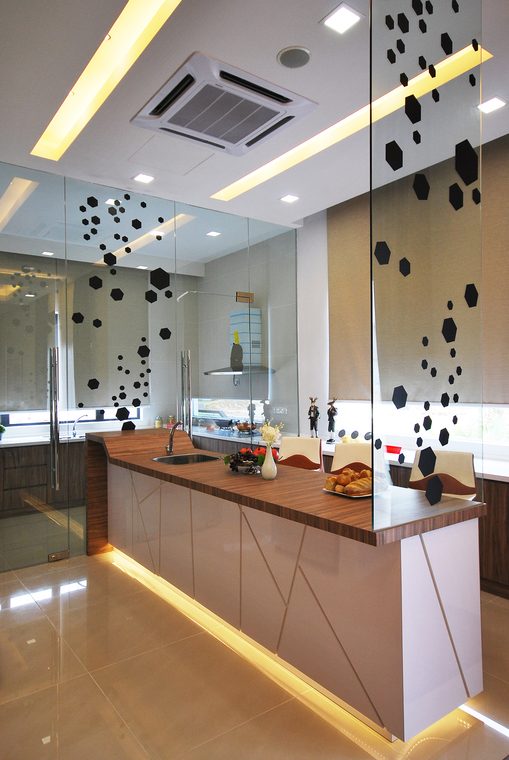 25. Semi-D at Bukit Segar
This long kitchen includes a monochrome kitchen island with sleek glossy panels in black and white counters. A plaster ceiling L-box adds timber strips for a touch of natural appeal.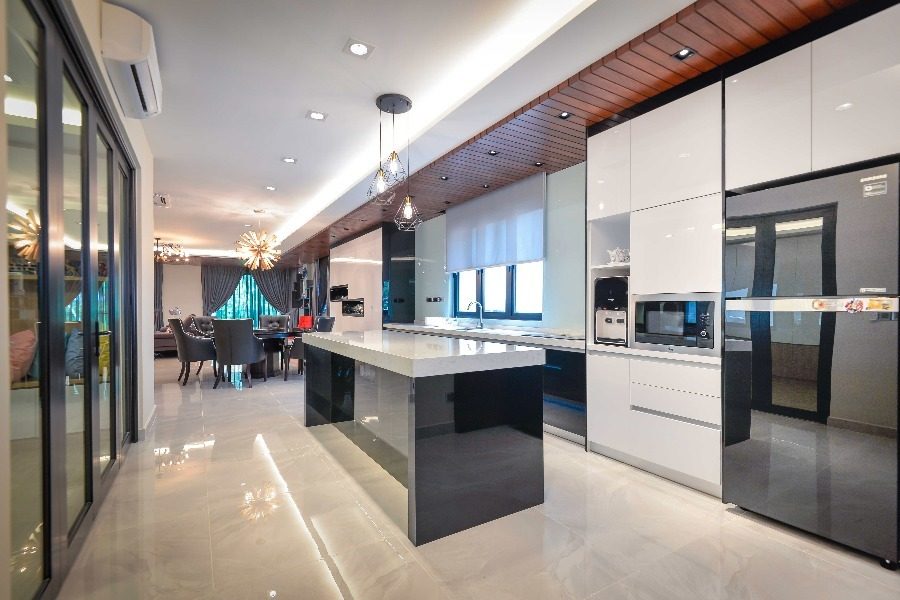 26. Setia Eco Glades (Stafford), Cyberjaya
The beauty of Scandinavian design helps showcase a clean-lined and minimalistic setting. This grey stone countertop with minimal brown wall mounted shelving helps display your kitchen utensils and appliances. Hence, this kitchen style is definitely a clutter-free environment with a good amount of storage.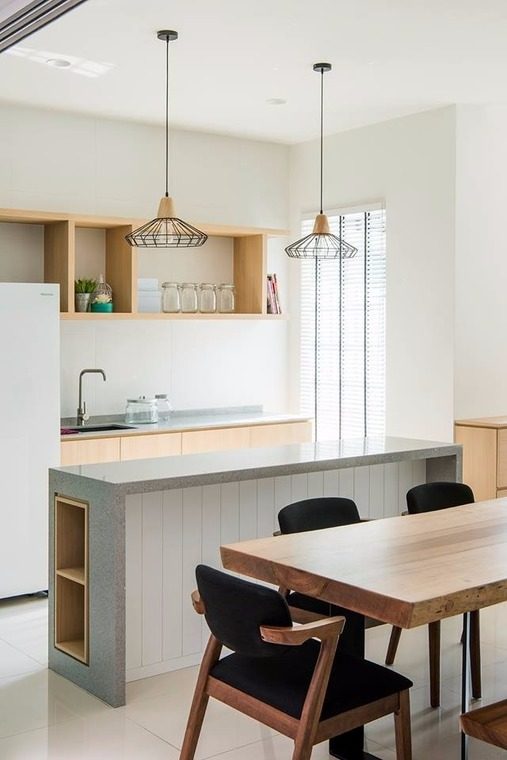 27. Wood laminate kitchen island
Wood laminates are used to great effect in this kitchen. This kitchen island provides ample seating, with track electrical points for appliances.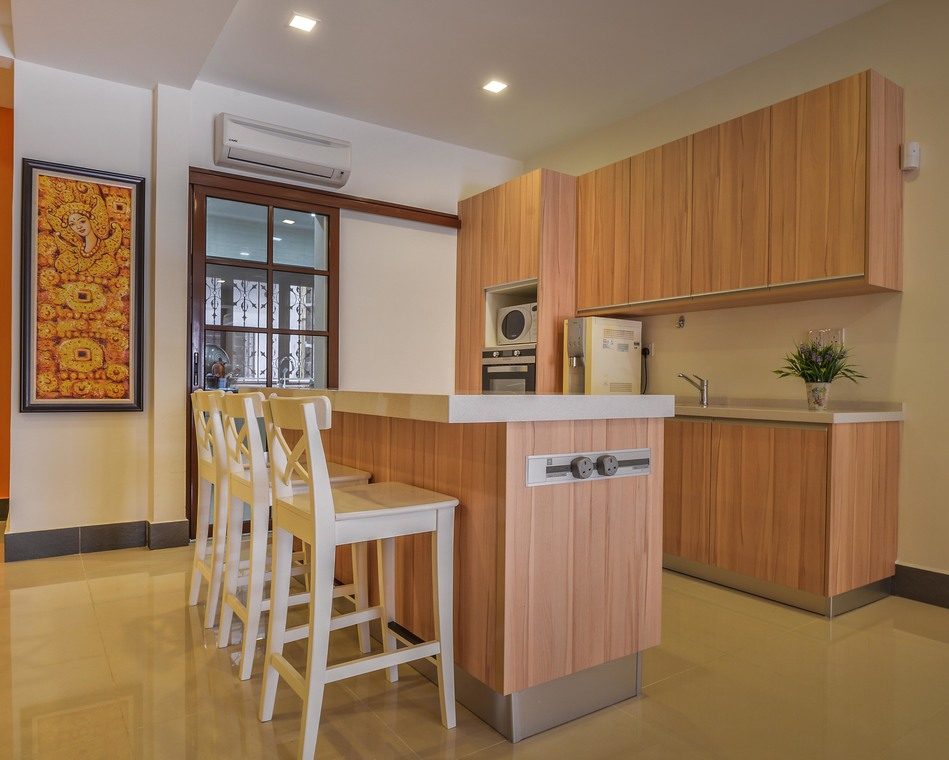 28. Monochrome kitchen island
This black cabinetry with white interior makes such a classy statement. That kitchen island placed at the centre of the kitchen makes a good sitting area or even a food preparation table. Add simple light fixtures to brighten up the kitchen area.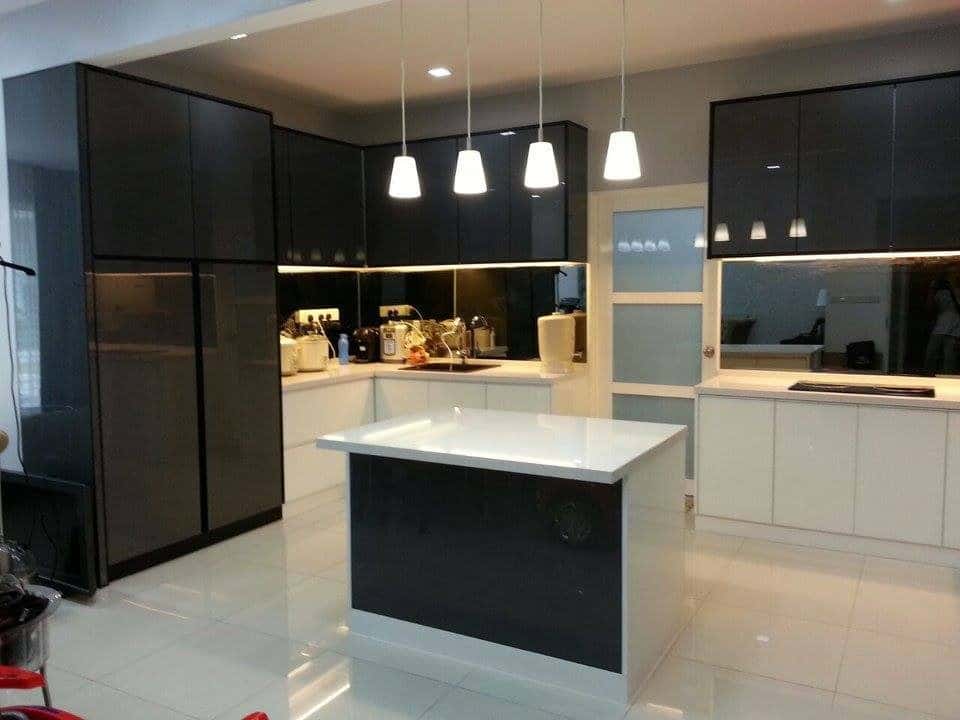 29. Brown and white combination island
This kitchen island does double duty as a washing area and open display shelf for books and crockery. The rich wood tones for the cabinetry, mixed with a white solid surface countertop gives it an elegant look.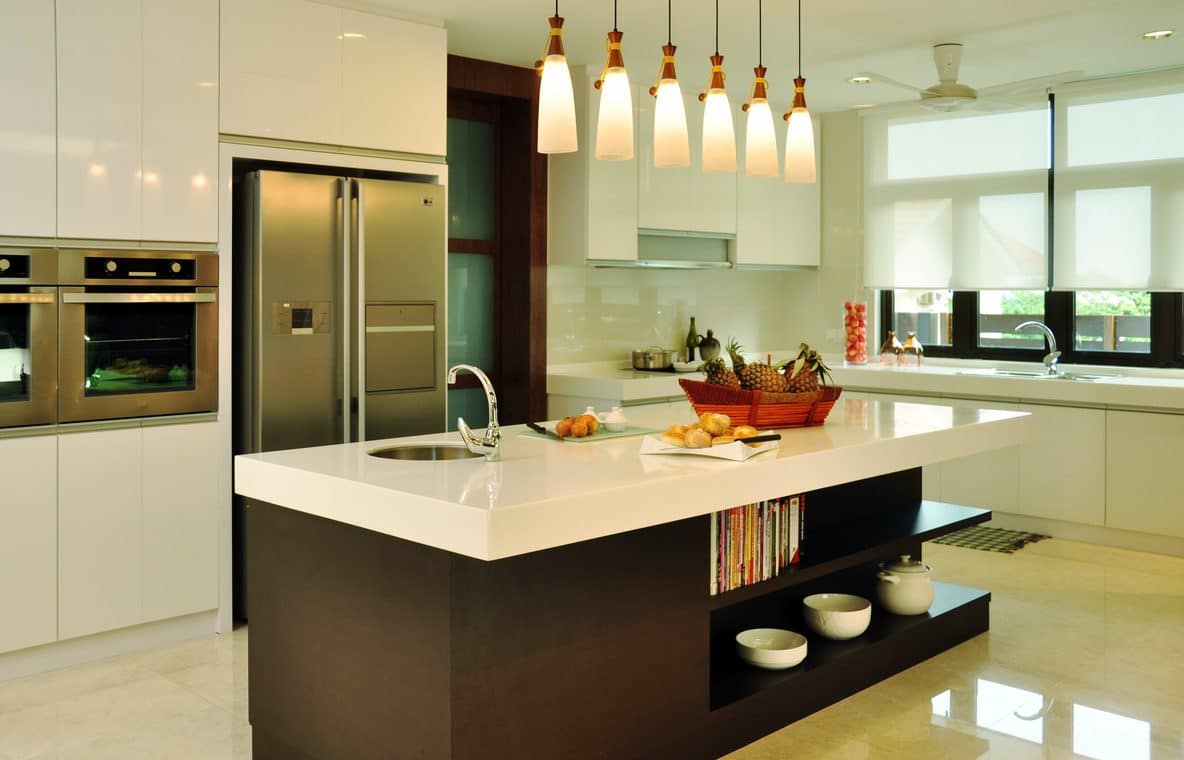 Ready to build your own kitchen island?
Incorporating an island table in your kitchen can improve your kitchen productivity, make it look good, and even increase the value of your home. It is purposeful, functional and yet stylish with all types of designs and sizes.
Recommend.my has listed over a thousand interior designers, kitchen experts and renovation pros across Malaysia, complete with project photos and customer reviews. If you need help designing your kitchen, submit your requirements now and our recommended pros will respond with to schedule an on-site visit.
Our designs have been installed in many new developments, most recently in M Residence 2 in Rawang, a development by Mah Sing Group, as well as Elmina Valley by Sime Darby.