Getting ready for a kitchen renovation? Then you need to know these 6 basic kitchen layouts.
For many Malaysians, the kitchen is the centre of the house, not the living room. And with the right kitchen renovation, it can be a place where people gather, where the host can entertain, and where recipes can be tested and improved.
The right layout in your kitchen renovation can improve the work triangle
Before embarking on any kitchen renovation, it's worth knowing the basic design arrangement known as the work triangle.
The kitchen work triangle is a way to improve the efficiency of your kitchen. As work in the kitchen is done between the fridge (storing), the sink (washing/preparing), and the stove (cooking), an effective kitchen design is one that allows the occupant of the kitchen easy access to all three areas with minimum effort.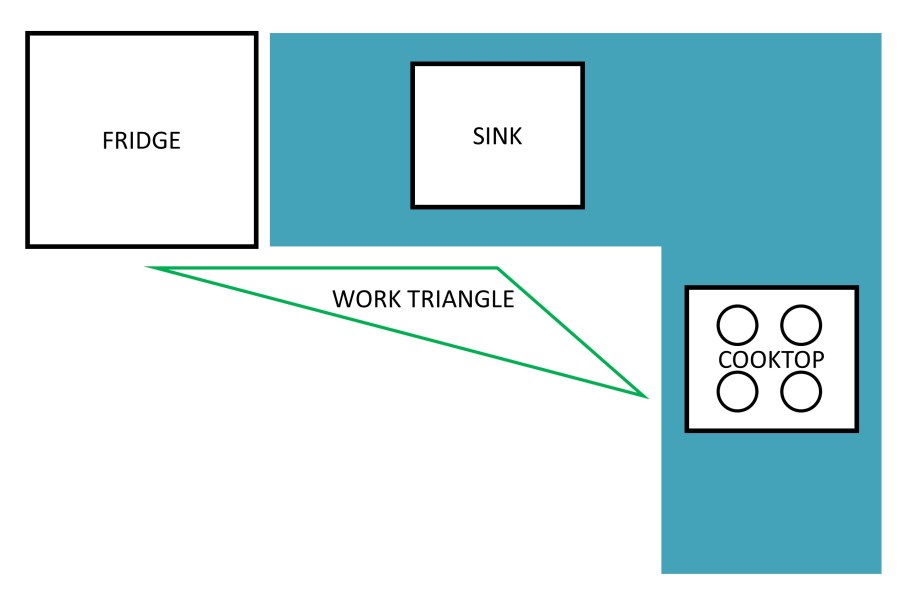 Need Help To Renovate Your Kitchen?
We have compiled hundreds of highly-recommended service professionals in Malaysia.Tell us what you need, and we will get introductions and quotes from recommended contractors for your project. It's free! Submit your request at Recommend.my
Most kitchens fall under one of these six basic layouts:
Galley Kitchen
A galley kitchen features two parallel walls of kitchen counter space with kitchen cabinets above. It is one of the most common kitchen layouts, and also one of the most efficient, as it can fit a lot of work space into a small area. Even large restaurants use a galley-style kitchen, so that many cooks can stand next to each other while occupying their individual stations.
Island Kitchen
This is the kitchen you always see on cooking shows, featuring a countertop space in the centre of the kitchen. Island kitchens are an excellent choice for the homeowner that has room to spare.
Unlike cooking shows where the cook top is situated on the island, most island kitchens feature the sink. This has the added benefit of allowing people to sit at the island and chat. You can also fit lots of kitchen cabinet space below the island counter.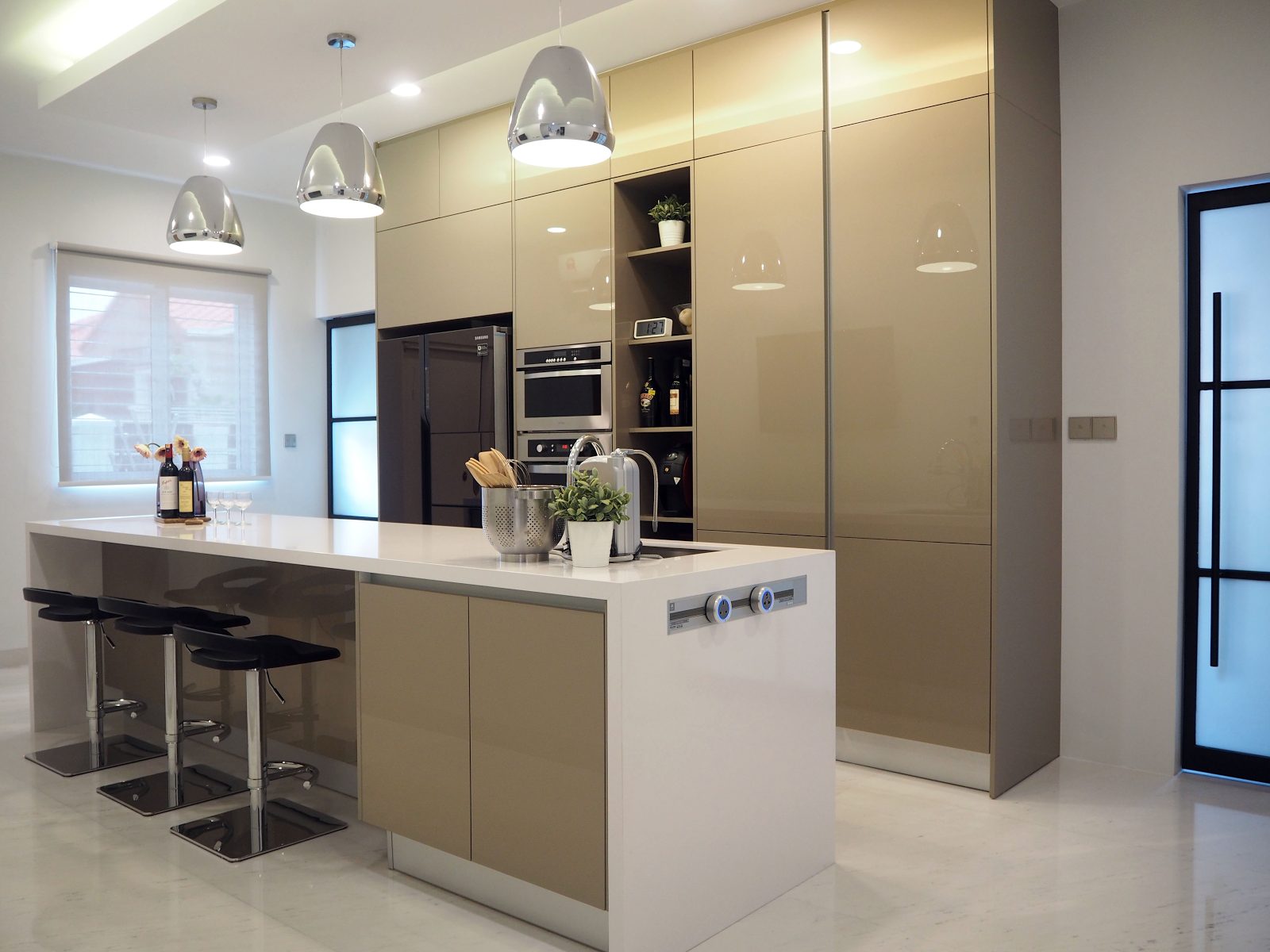 U-Shaped Kitchen
A U-shaped kitchen uses three walls in the kitchen at the same time, giving you loads of work space and kitchen cabinet storage. It also allows many people to mingle in the kitchen during social gatherings.
U-shaped kitchen can also feature an island space in the centre. However, in a smaller floor area, this can make the area feel cramped.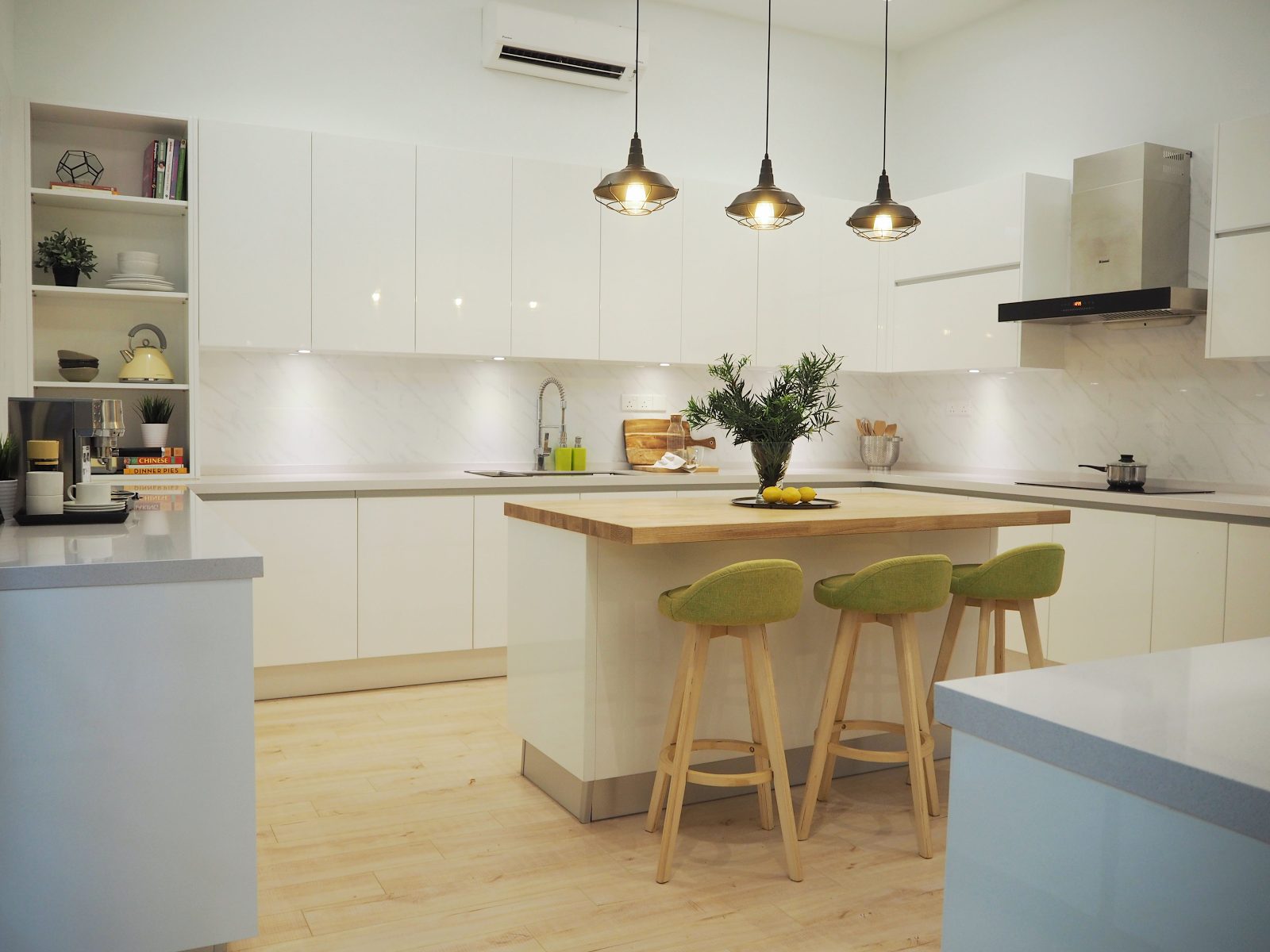 L-Shaped Kitchen
An L-shaped kitchen occupies only two adjacent walls in a room. The compact space is ideal for use in an apartment, allowing the rest of the space for a small dining table.
Single Wall Kitchen
Those looking for a kitchen that is as compact as possible may wish to consider a single wall kitchen design. In this arrangement, there is no work triangle. However, for greater efficiency, you should follow the order of fridge, then sink, then cook top.
In Malaysian homes, a single wall kitchen can be used as the dry kitchen, with a wet kitchen out in the back yard for when you need to make your sambal belacan.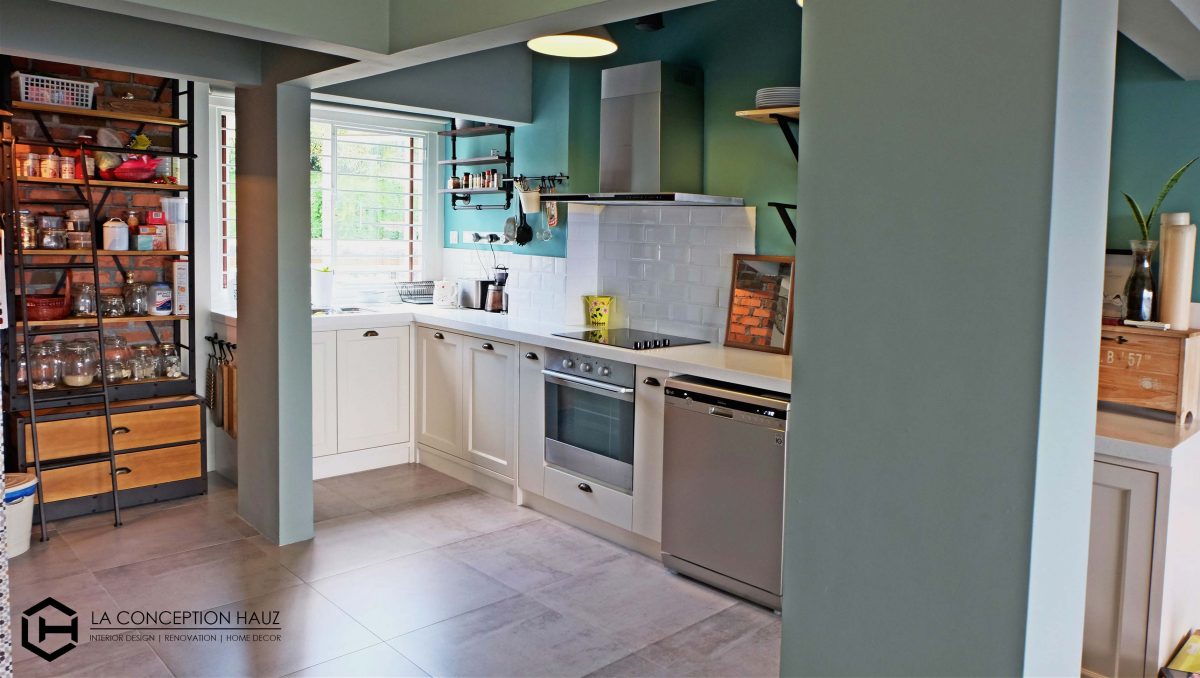 G-Shaped Kitchen
The G-shaped kitchen is one that very similar in design to the U-shaped kitchen, with an added counter for high seating. Many people find this kind of design ideal for their needs if they entertain often and want to have enough space to allow others to participate in the preparation of food there with them.  A G-shaped kitchen can work well in a larger apartment with many family members who want to cook at the same time.
Need quotes for your kitchen renovation?
Hire recommended kitchen specialists in Malaysia

We have compiled hundreds of highly-recommended service professionals in Malaysia, ranging from kitchen contractors, to interior designers, to flooring and ceiling contractors; almost any service you need for your home renovation!
Tell us what you need, and we will get introductions and quotes from recommended contractors for your project. It's free! Submit your request at Recommend.my